As of July 2023, we're all Barbie girls living in a Barbie world. Or at least that's how the recent social media and pop culture landscape has seemed. The release of Warner Brothers 'Barbie' movie has rocked box office sales and the marketing landscape. It brought back a sense of nostalgic childhood joy and sparked conversations nationwide around women's empowerment and what it truly means to 'be a Barbie girl'. And while the bubble-gum pink fantasy world may seem far removed from the traditional B2B marketing landscape, its promotional strategy and a wave of cross-branding opportunities is a noteworthy case study for any industry. And as digital marketing strategists, we must acknowledge some key takeaways that can be used to bring any campaign to life. Let's break down the impressive marketing campaign that brought "Barbie-core" to larger-than-life proportions. 
To promote "Barbie," which stars Margot Robbie and Ryan Gosling as life-size versions of the iconic childhood dolls, Warner Brothers deployed a multi-touch campaign costing an estimated $150 million. As expensive as that may seem, it contributed to box office sales of $165 million in North America alone, and a stunning $337 million globally. More impressively, it led to an undeniable media phenomenon that captured the attention of multiple generations all over the world. Bringing in external brand partnerships and a number of key influencer engagements, the strategy has already been called the marketing campaign of the year. Starting back in 2022, a promotional teaser image sparked conversation and anticipation of the movie even before production began. Leveraging a breadcrumb strategy, the campaign released incremental elements of the movie intended to spark curiosity and conversation. Blending paid media, like trailer placements, and earned media, such as social media buzz and user-generated content, the campaign took on a life of its own. Once the interest was piqued, the co-branding opportunities skyrocketed. From Barbie Dreamhouse-themed AirBnB rentals to partnerships with big brands like Progressive and Nissan everyone wanted to hop on the Barbie bandwagon. Here are some of the ways this campaign found success, and can be used as any go-to-market strategy.
Refined Messaging:
The Barbie brand has historically faced controversy around unrealistic beauty standards and women's stereotypes. To reset how the world considers the iconic brand, Warner Brothers and Mattel needed to shift market perception to a more positive light. To appeal to mass audiences Barbie had to evolve into a more inclusive product that represented viewers of any age or demographic.  The story of Barbie had to be retold into one that promoted independence and various career trajectories Barbie was known for. The brand sentiment pivoted to a more positive light, showing Barbie as more than a stay-at-home Dreamhouse fantasy. One of the most famous taglines of the film, "If you love Barbie, if you hate Barbie, this movie is for you" addressed the past perceptions straight on. It openly recognized the history of Barbie and the fact that everyone has a unique and different relationship with Barbie. The tagline both tapped into and defied nostalgia, the marketing team's willingness to use hate showed their willingness to break the rules. This further promoted the message that this is not the Barbie you think it is and inspire people to embrace the movie with an open mind that Barbie had evolved.
Breadcrumb Strategy:
Preparation for this campaign came long before the cameras started rolling to give small sneak peeks at the production that resulted in cumulative interest. Promotional teaser videos and social media images gave viewers insight into the film and the opportunity to join in on the conversation. People speculate over what the plot would center around, what the set design would look like, and how their childhood fantasies would be brought to life.
Teaser campaigns are an optimal strategy, especially for lead-generation-focused campaigns. Take Bluetext's work with the Thing Tamer campaign, a shortened promotional video was released in two parts to capture interest and drive people to landing pages to sign up for more updates. Ultimately users that signed up were notified when full videos were released, and when and where the event booth could be experienced. 
Leveraging AI:
Curiosity was a powerful tool for this campaign prompting the audience's own engagement with the brand and movie. To create social media hype, the Barbie team employed AI tools to create promotional images that viewers could upload their own photos to create their own movie posters. This took off like wildfire across social media and various meme accounts, because it opened doors to letting anyone imagine themselves in their own personalized Barbie world. Customizable templates went viral, allowing users to show off their own creativity and version of "This Barbie does _____". From famous celebrities to everyday people, the tool has been used over 13 million times since its release.
Nostalgia: 
It's no secret the power of nostalgia has taken over recent marketing trends, as it incorporated relatable elements that bring people back to happy memories of their past. Barbie embraced and defied nostalgia, preparing audiences for the unexpected nature of the movie. Tapping into a 60+ year legacy, the Barbie movie targeted older generations with memories of their favorite childhood toy while staying relevant to young girls buying and playing with the dolls today. The content marketing leg of this campaign was designed to unearth long-lost memories of playing with the dolls and excitement around the various versions while serving as an ode to how much Mattel has matured Barbie as a brand over the years. 
Co-Branded Collaborations:
Barbie tapped into the target markets of popular brands across multiple industries through the power of collaboration. From the obvious fashion and travel industry to more unexpected partnerships with home insurance and the automobile industry, the co-branded opportunities were endless. The unexpected partnerships were key for the Barbie marketing team because they allowed them to make a statement and defy expectations. This generated awareness of the movie amongst untapped audiences and created lucrative symbiotic relationships. From Microsoft creating a pink Barbie-edition Xbox to star-studded Chevy commercial ads, it became almost impossible to not notice the movie's release. People in the market for travel luggage, or even home insurance, were roped into the phenomenon with limited edition deals and product releases.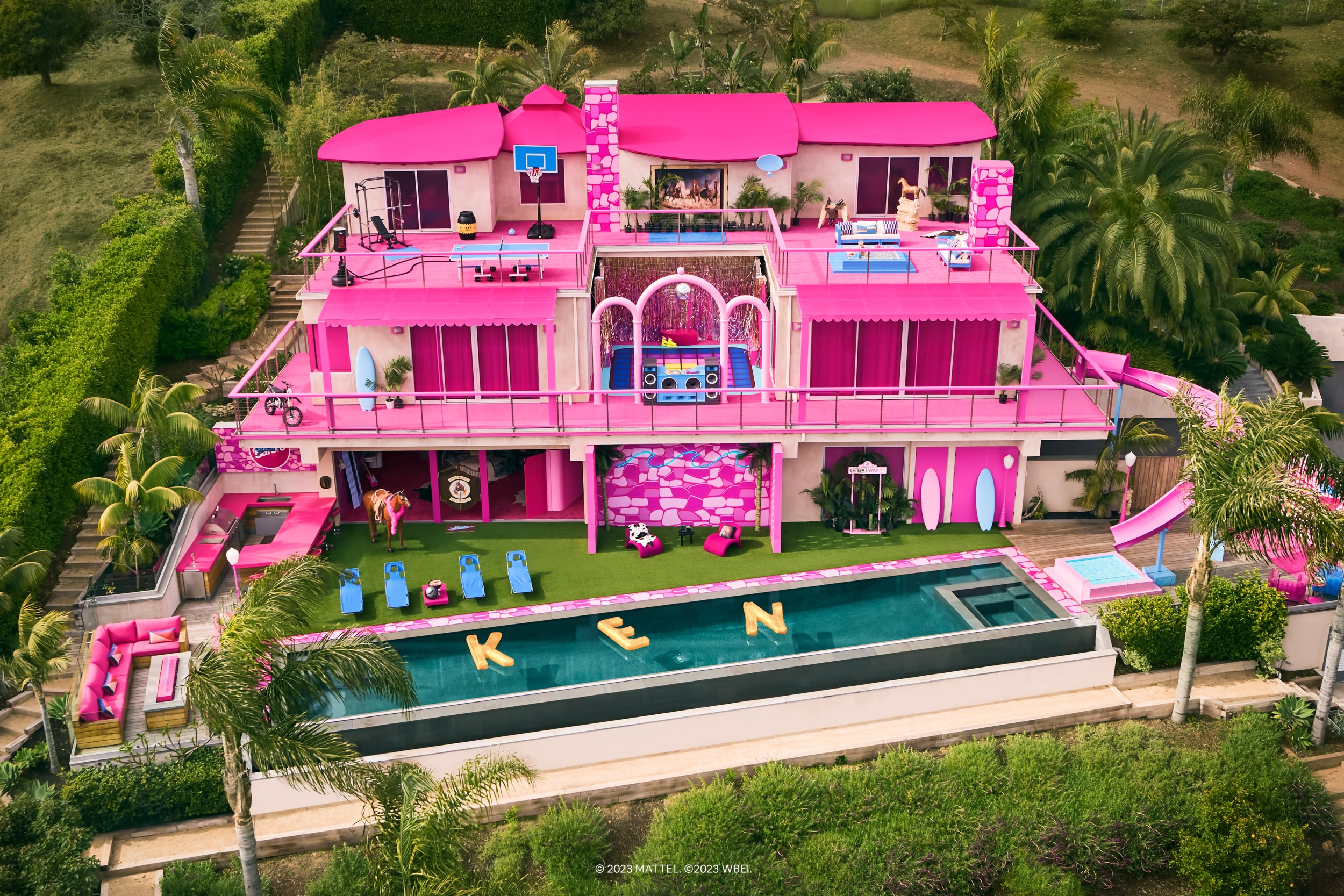 So while this campaign may seem consumer-centric and out of touch for B2B brands, it serves as a valuable case study for any brand awareness campaign. Artfully blending new-age AI tools with deep-rooted nostalgia, and paid media with earned social media hype, the campaign succeeded in winning the heart of Barbie fans and converting previous skeptics into a new perception. Regardless of age, gender, or any demographic the campaign reminded us that with a little imagination and a pop of pink anyone can be a Barbie girl in their own definition of a Barbie world.
Ready to scale your own larger-than-life brand awareness campaign? Get in touch with the Bluetext team to learn more about various go-to-market tactics that can help your B2B brand take off.