They say that fashion cycles every twenty years. If you walked out onto the streets of any city or by any trendy clothing storefront today, you'd probably see a wide array of neon prints, baggy denim, and those teeny tiny sunglasses that will have you seeing flashbacks to 2002. But fashion isn't the only arena in which Y2K inspiration is making a comeback. From interior design and entertainment to digital design and branding, nostalgic nods to the early 2000s are making a resurgence everywhere.
In this post, we'll be diving into the influence Y2K trends are having in the creative digital design landscape today. We'll highlight what 2000s inspiration consists of, why it works, and how Bluetext can help make any of your Y2K design dreams a reality.
Defining the Y2K Aesthetic
In contrast to the clean and sophisticated, "corporate" feel that has dominated digital design trends in recent years, the Y2K aesthetic has a notably less-polished look. This was initially a result of the technical constraints of the early 2000s. However, graphic designers today (with access to significantly more tools and advanced software) are able to mimic the same decades-old vibe with new-life designs that look both tastefully amateur and purposefully quirky. 
The original Y2K design aesthetic was a mish-mash of decades and inspiration. Cues from the 60s and 70s nostalgia were paired with excitement about innovation in tech and the growth of the internet around the year 2000. The result: dynamic futurism and playful interpretation of retro style that we can all recognize today as the Y2K aesthetic. 
Let's take a look at some of the main elements that characterized Y2K design and the trends that are currently making a comeback:
UX/UI
Asymmetrical designs with flat, analog user interfaces. Old-school-looking browser windows and translucent hardware. Deliberate glitches, pixelation, and an overall lo-fi look and feel.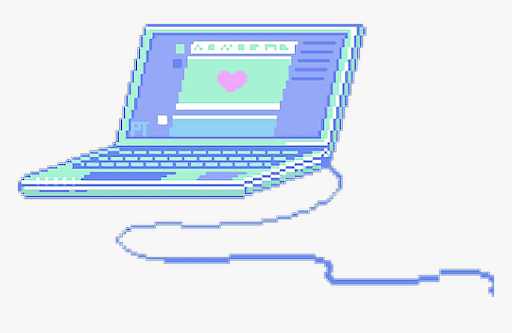 Color Schemes
Metallics and icy blues and purples. Neons and bright retro colors like orange and lime green. Funky gradients and intentional color clashing.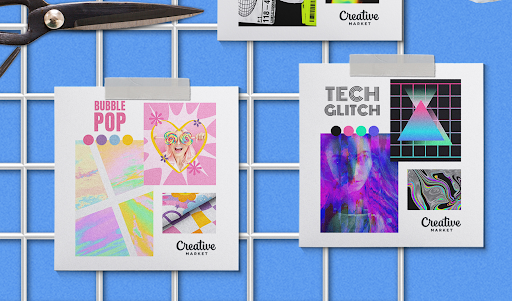 Iconography and Visuals
Use of low-res images. Decorative, clip art style icons and stickers. Pre-emoji emoticons and quirky 2D and 3D iconography.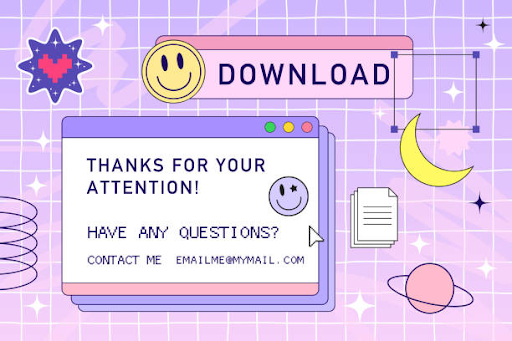 Font
Free-flowing type design using italics and default fonts like Times New Roman and Comic Sans. Blocky text and bubble letters. 3D effects and loud, bold types with thick outlines and shadows.
These Y2K-inspired design trends are showing up across the digital landscape- whether serving as high-level inspiration for visual identity and logo designs or as fundamental elements of websites and rebrands.
Y(2K) it Works
It's Everywhere
We aren't just seeing this on our phones and computers – we're seeing Y2K inspiration on our TVs, hearing it on our radios, seeing it in our homes and in art galleries. The cyclical nature of design is prevalent across all industries and trades, and when it's everywhere, it's trendy. This isn't the first time our cultural zeitgeist is recycling trends of the past, either. Designers of past and present often draw inspiration from previous decades, reinventing them with contemporary, original qualities of their own.
It's Familiar
Nostalgia (defined by the Oxford Dictionary as "a sentimental longing or wistful affection for the past, typically for a period or place with happy personal associations") is a powerful and valuable design tool. For those around in the late 90s and early 2000s, Y2K design can evoke a sense of relatability, sentimentality, and longing in buyers nostalgic about the earlier days. Or, for younger generations, Y2K designs can appease their fondness for an era beyond their own experience. Perhaps not for your overall B2B brand, but certainly for new product logos, campaign themes, or landing pages a nostalgic visual identity can create emotional connections with your audience. In a sea of corporate sameness, nothing catches the eye of middle age business audience like a memorable flashback to their younger days.  
So, are you ready to add some Y2K spunk to your next design project? As a full-service digital marketing agency specializing in everything from website redesigns to entire visual identity overhauls, Bluetext has got you covered. Contact us today to learn how we can bring nostalgic, early 2000s energy to your next project in 2022.
Or maybe, give us a ring to really embrace the Y2K spirit.