Bluetext was asked an age-old question, "How can we make this campaign memorable?"
Break Free with Boundless Cybersecurity
"When cyber threats are limitless, your defenses must be Boundless." To communicate and contextualize this message, Bluetext pitched showcasing the end-user in a gravity-free surrealist state, which literally breaks free of the constraint of cyber threats. The campaign creative was truly brought to life with a subtle parallaxing effect on the homepage and campaign landing page.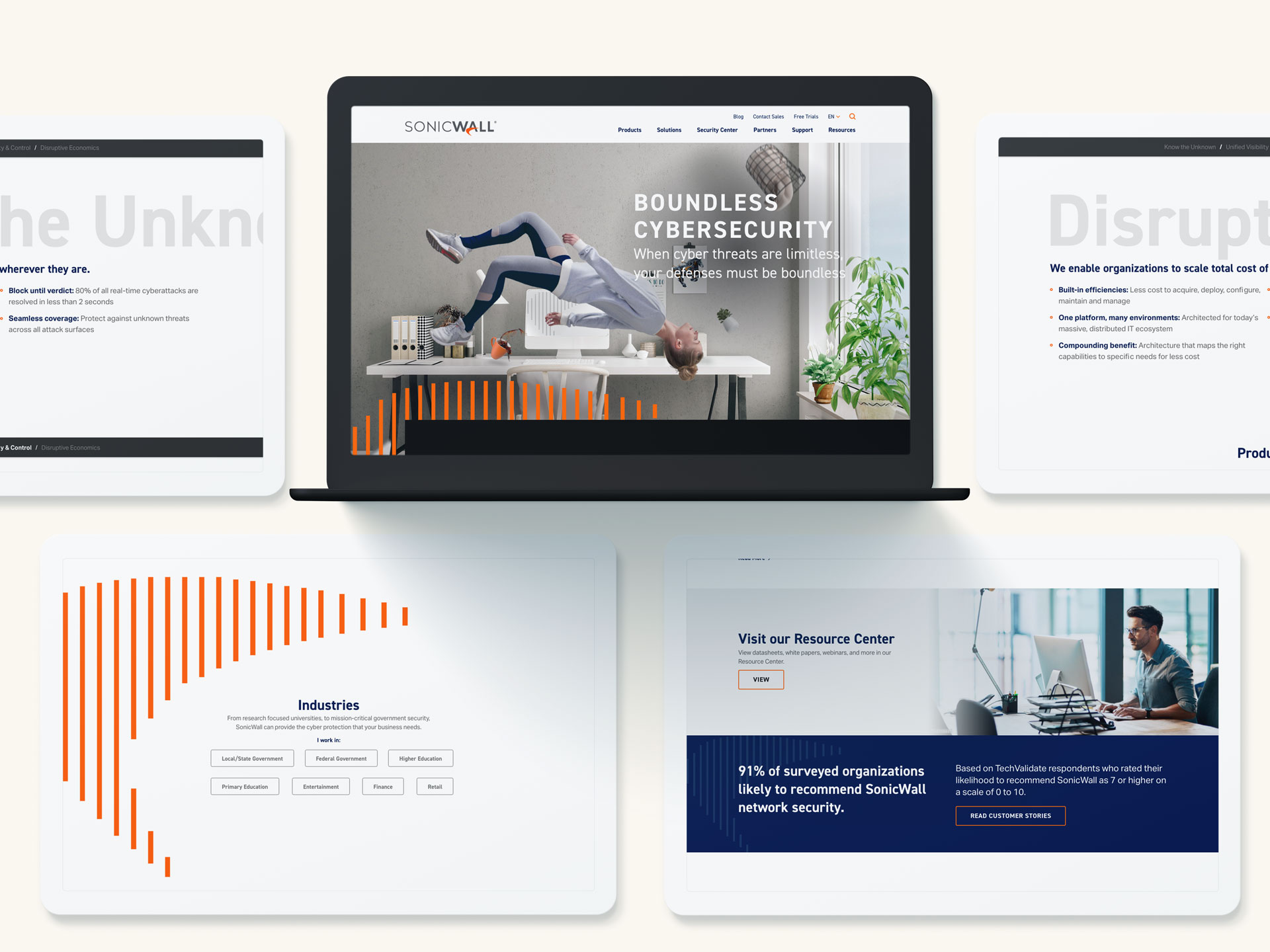 Boundless Vertical Applications
In order to communicate SonicWall's unparalleled value across a variety of businesses, Bluetext prescribed a verticalized approach to target the unique needs of each industry. To truly stand out in a crowded cybersecurity arena, the campaign was centered on fantastical floating imagery, which served the visualize an anti-gravity feeling of breaking free of cyber threats.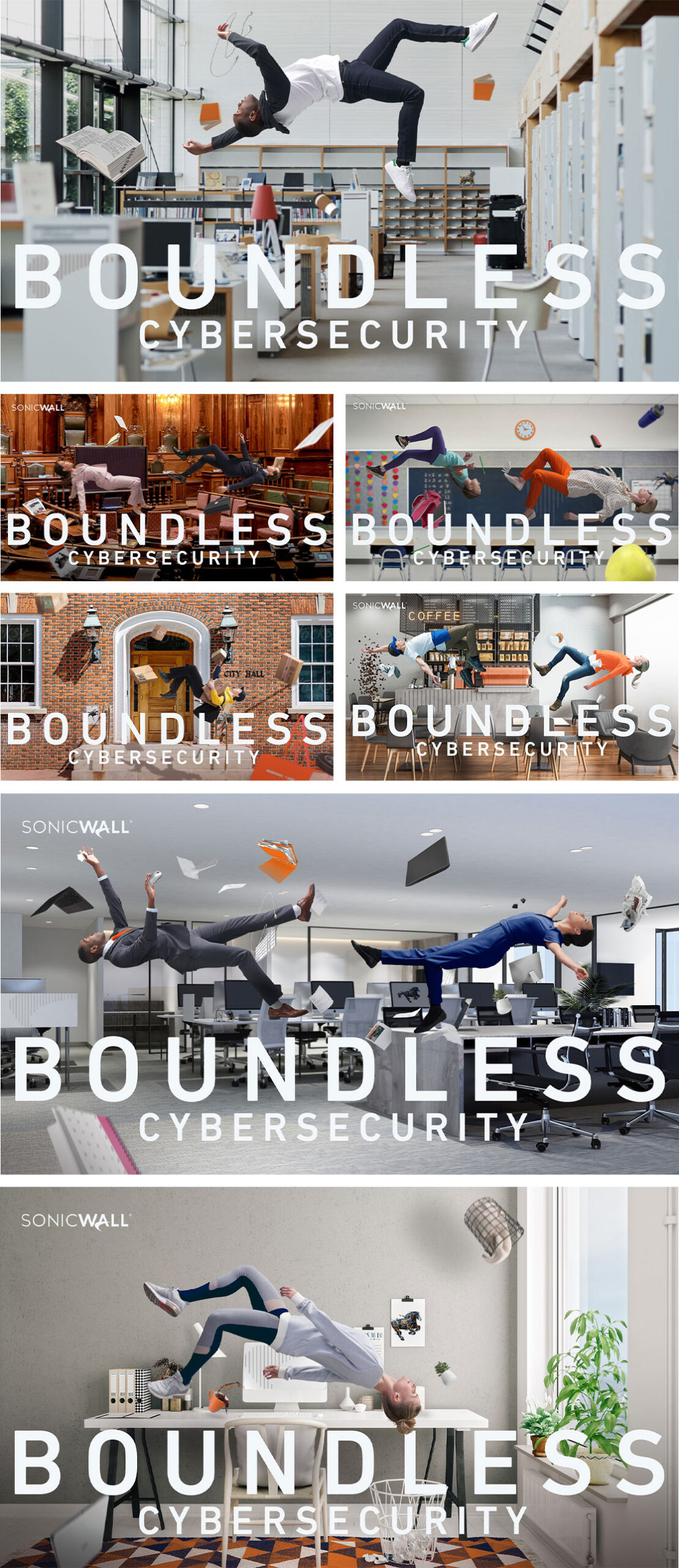 Security Never Felt So Free
The campaign was a roaring success, inspiring a Boundless 2.0 campaign that elevated key art imagery to 3D video production. This time, the campaign focused on the end user's journey into a surrealist, anti-gravity state of mind. 3D video effects bring characters into a state of gravity-free liberation from constraints of the past. The characters "break free" to realize a more secure, yet freer, future with SonicWall.
Boundless 2.0 Website Evolution
To complement the Boundless 2.0 video, Bluetext brought the story to life on the SonicWall website homepage and campaign landing page. Bluetext animators built a custom 3D environment for each character, which is showcased through 360 pan-around camera effects. Attention to detail was everything, the characters even parallax for hyper-realistic body motion. Bluetext website & UX designers to highlighted the campaign's core messaging, featuring new products and industry use cases.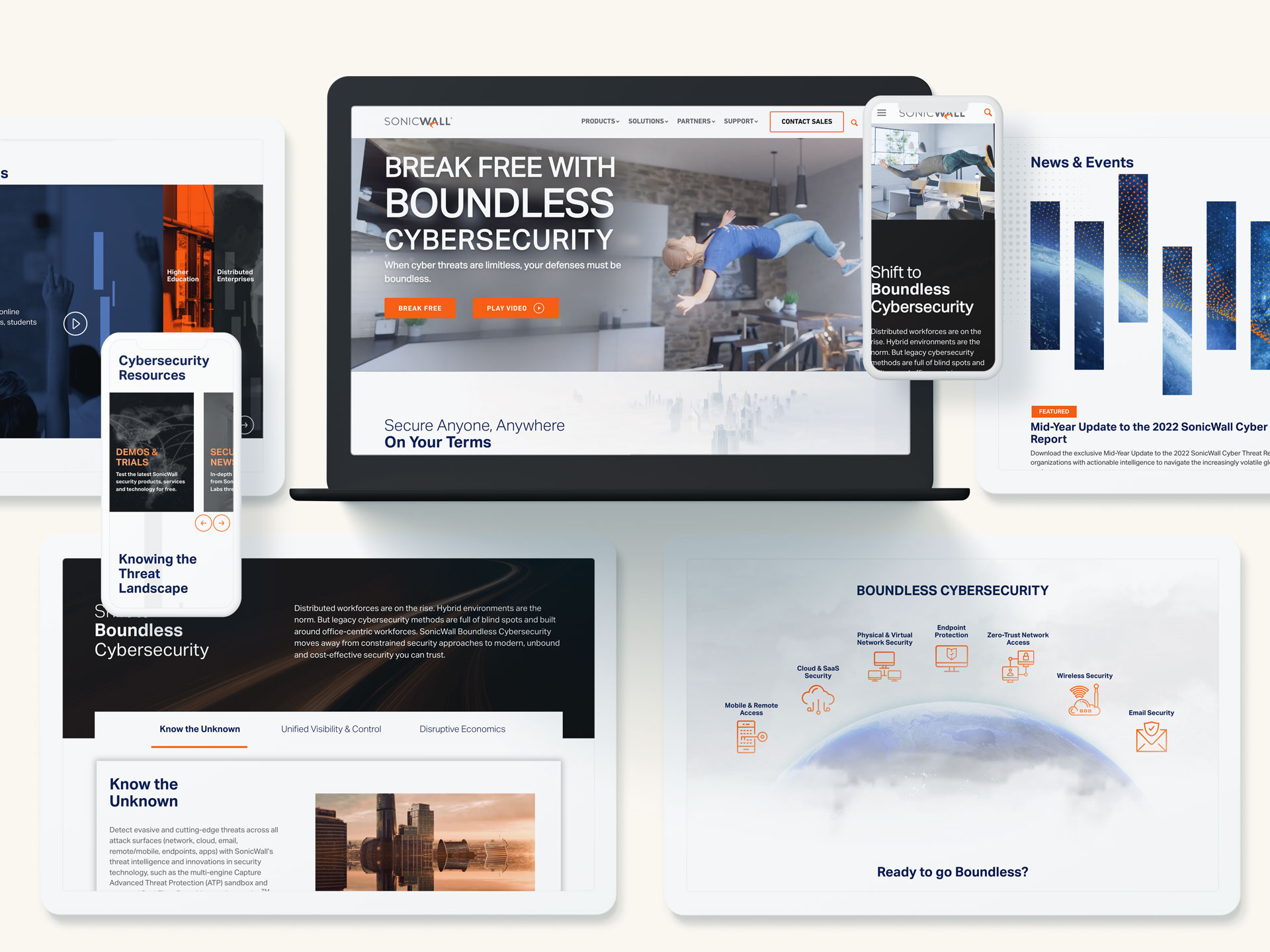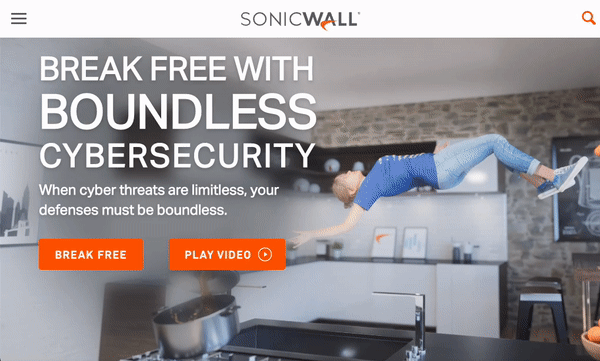 One of our most adventurous creative efforts to date. At Bluetext, we love to visualize messaging and positioning in a creative way. We decided to bring the concept of 'Boundless Cybersecurity' to life with a custom photo shoot featuring a world-renowned dance studio. Using a trampoline, we asked the professional dancers to pose effortlessly in the air, as if suspended in anti-gravity. Dressed to represent the many industries SonicWall protects, we married this trampoline-infused imagery with a new corporate visual identity system we developed to give SonicWall a very progressive new look and feel while we scale that across an enterprise website redesign.
– Jason Siegel, Bluetext Creative Director