2 years ago SonicWall approached Bluetext with a campaign challenge: "Help us infuse originality within an over-saturated cybersecurity market. Portray Boundless Cybersecurity ability to break free of cyber threats." 
Bluetext's response? Hours upon hours huddled over brainstorming sessions until the winning idea came to light. Portraying the end-users in a surrealist, anti-gravity state in which they quite literally "break free" from the constraints and anxieties of impending threats. But how could this be done? With a troupe of ballet dancers, a giant trampoline, and an imaginative team of creative & strategic minds the first Boundless photoshoot was made possible.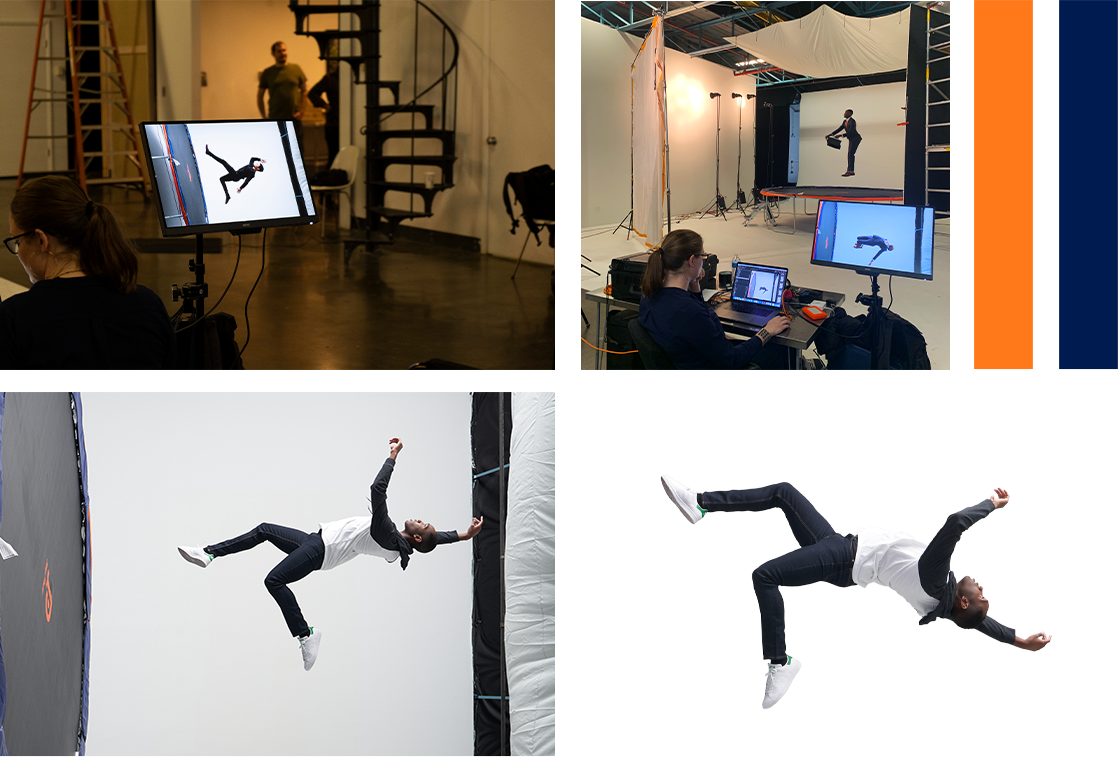 By knowing the unknown, providing real-time visibility, and enabling breakthrough economics, SonicWall protects against boundless exposure points for increasingly remote, mobile, and cloud-enabled workforces. In order to communicate SonicWall's business values across a variety of businesses, Bluetext prescribed a verticalized approach to target the unique needs of each industry. Every detail, from costume to backdrop, was personalized to resonate with distinct audience personas.  To truly stand out and earn attention in a crowded cybersecurity arena, the campaign centered on fantastical floating imagery, which served to visualize an anti-gravity feeling of breaking free of cyber threats. To achieve this vision, action photography of models jumping and free-falling atop a giant trampoline was captured. With custom photoshoots, expert post-production editing, and head-turning taglines Bluetext truly elevated the campaign to new heights. As a collection, the campaign imagery showcased SonicWall's wide range of customer success, and as individual targeted campaign assets, the images emphasized SonicWall's application to industry-specific use cases. New website pages, banner ads, and social graphics were developed to reinforce  "When Cyber Threats Are Limitless, Your Defenses Must Be Boundless."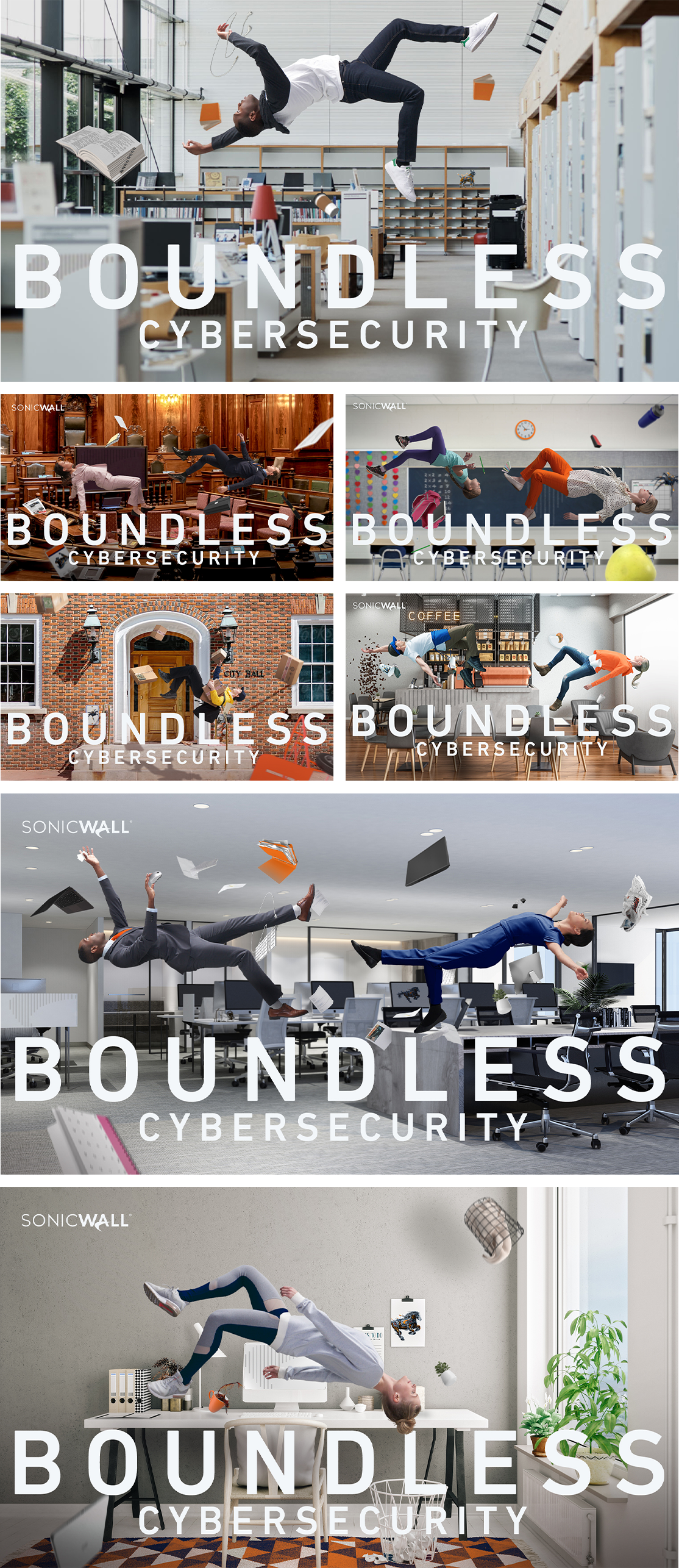 The campaign was a roaring success. So much so that it inspired a Boundless 2.0 campaign that elevated key art imagery to 3D video production to tell the evolving Boundless story. This time, the campaign focused on the end user's journey into a surrealist, anti-gravity state of mind. The campaign video spans a variety of industry applications, from higher education libraries to retail shops, but focuses on the perspectives of an SMB and remote employee. The narrative describes the current state of cybersecurity, being a sense of closed-off isolation to avoid the fear of cyber threats, but begs the question of 'what if?' The main characters are shown proceeding through their daily responsibilities (whether that be commuting into the office, or multi-tasking child care responsibilities at home) until interacting with SonicWall products on their given devices. As these users connect to SonicWall they experience the unconventional possibilities of cybersecurity; 'What if cybersecurity felt…free?' The characters are transitioned to a surrealist Boundless world, in which 3D video effects bring a state of gravity-free liberation from constraints of the past. The characters "break free" to realize a more secure, yet freer, future with SonicWall. 
To further compliment the Boundless 2.0 campaign video, Bluetext brought the story to life on the SonicWall website homepage and campaign landing page. Both of which feature 3D video in the hero zone to showcase Boundless Cybersecurity for both the remote and in-office workforce. Bluetext animators built a custom 3D environment for each character, which is showcased through 360 pan-around camera effects. Attention to detail was everything, from the outfits worn by the character to the interior decor with hints of the SonicWall brand elements. The characters themselves even parallax for hyper-realistic body motion. The rest of the pages were designed by the Bluetext website & UX designers to highlight the campaign's core messaging, featuring new products and industry-related use cases.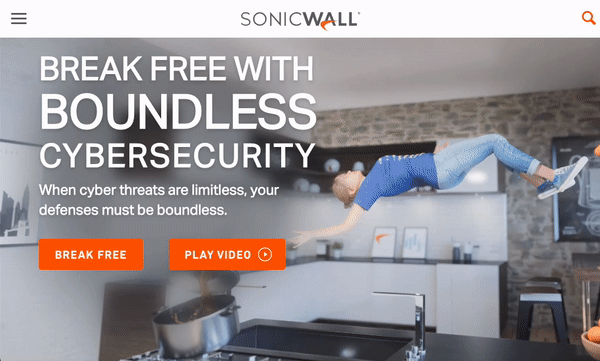 In an impressive feat of animation, website design, videography, and most of all creative brainpower, Bluetext accomplished its challenge. The Bluetext and SonicWall team combined forces to bring new energy and direction to the SonicWall Boundless Cybersecurity campaign. In two years the campaign has evolved to new heights, but just like SonicWall security, the potential is boundless. Stay tuned to see how the campaign further evolves in 2022, and contact us to see how we can develop a state-of-the-art campaign for you.