A fantastical idea, a powerful pitch, and energetic enthusiasm from all sides of SonicWall stakeholders. Only one task remaining: execution of the over the top Boundless Campaign.
SonicWall came to Bluetext with one main objective: bring their Boundless Cybersecurity campaign to life. As such, the SonicWall team needed creative assistance in bringing the campaign visuals up to par with their brand value. The Bluetext team was asked an age-old question of B2B companies, "How can we make this campaign memorable?"
Especially in the saturated cybersecurity market, it can be challenging to differentiate from strong competitors and help visual abstract brand promises. So the Bluetext team presented a thought-provoking approach to the campaign's new creative and campaign taglines.
"When cyber threats are limitless, your defenses must be Boundless." Break free with SonicWall Boundless Cybersecurity.
To communicate and contextualize this message, Bluetext presented a creative direction that would showcase the end-user in a gravity-free surrealist state, which literally breaks free of the constraint of cyber threat. The creative would be scaled across main industry verticals in order to personalize and target advertisements. The idea was over the top, innovative, and ambitious but well-received with client buy-in. Next came the challenge of execution, which was overcome using a custom photoshoot complete with realistic costumes, props, and even a trampoline. In order to achieve the effect of floating in an anti-gravity state, professional ballet dancers were hired to jump on the trampolines. Photographers captured the dancers posing mid-air, then flipped the photo 180°.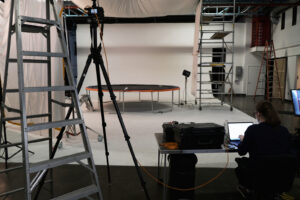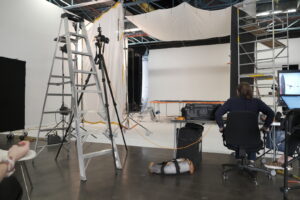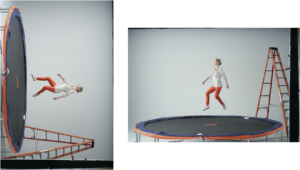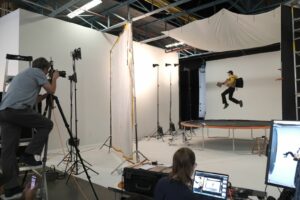 Once the in action shots were captured, the images were edited to remove the backgrounds and impose on industry-specific scenes. Related props were also imposed onto background images to make the scene appear as if person and objects had been magically released from the pull of gravity while the world remains grounded around them.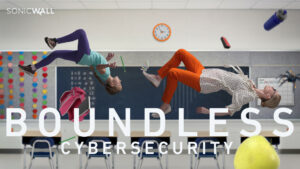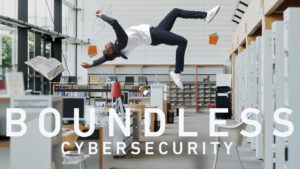 At the time of the new Homepage and campaign landing page launch, these static images truly came to life with a subtle parallaxing effect.
To drive users to these newly premiered pages, SonicWall needed eye-catching advertisements that viewers would — no pun intended — gravitate to. Bluetext designed a variety of verticalized static banner ads and further animations to drive page traffic.

In need of a brilliant campaign that you want to bring to life? Get in touch with Bluetext and see how we can turn ideas into ROI reality for your company.