B2B marketing has gone through numerous shifts in the past few years, but perhaps one of the most significant is the emergence of demand generation. While lead generation used to be the name of the game and dominated sales and marketing strategies, companies have come to realize higher ROI can be found with alternative methods. Enter the wave of demand generation. The name alone sounds strong, confident, and a surefire way to efficiently move customers through the sales funnel. So let's break down the core differences in both strategies, and perhaps why you should consider a pivot to a demand gen mindset. 
Lead generation is the well-known start of the traditional marketing funnel, which typically transverses the customer through the attract, nurture, convert, close and delight stages. The first stage is Attract, where an anonymous customer first engages with your brand through your website, content marketing, or ad. If relevant and of interest, they may engage and share contact information in exchange for more information. If they continue to engage, they become a qualified lead in the eyes of the sales team, who begin outreach with the goal of converting to a customer and hopefully an eventual advocate for your business.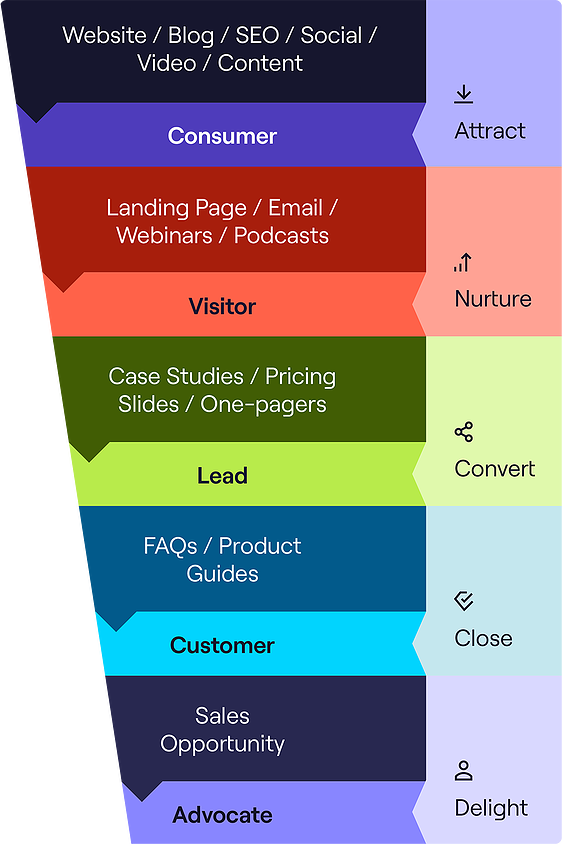 Sounds simple enough right? It's a tried and true traditional strategy for a reason, but it's far from perfect. For one, it's not entirely efficient. It takes considerable time and resources to sort the potentially high-quality leads from prospects who aren't interested in your product. It often casts too wide of a net to include people who are not interested in your product and therefore will never convert. Secondly, it's a very impersonal approach. With recent waves of personalization, many businesses are beginning to phase this approach out so that customers feel more attended too and therefore more loyal. 
Introducing a new marketing mindset: demand generation. This prioritizes direct intent to avoid moving uninterested audiences into your sales funnel. So while prior lead generation focused on gating content to capture as much information about any engaged user, new demand generation takes the opposite course. But this does not mean giving away all your valuable content, but rather recategorizing based on the buyer stage. So some content, like basic product information testimonials or video snippets, may be tagged as bottom-of-the-funnel materials and used as ungated or paid social promotion that allows friction-free engagement. The users that interact with this content the most are then retargeted with specific information based on their interests, pain points and desires. As they continue to engage your team builds insights into what and where prospects consume and share information. This entails some close attention to optimizing content, which has multiple benefits. Consider A/B testing your ads and landing pages, and optimizing around the messages and keywords that get the most traction. This will effectively flip the funnel to put the customer at the top of the funnel, driving a more data-driven marketing approach that will be laser-focused on the customer and their needs. Demand generation marketing means sometimes planning your content calendar on the fly based on trending topics or new data findings, but this in turn creates more relevant and desired content you can be more confident your ICP (ideal customer persona) would be interested in. The more helpful and relevant your business presents itself, the more customers will come to you with the direct intent to contact sales teams and request demos or trials themselves. These inbound leads are much more valuable for short-term sales and long-term customer growth. 
In order to implement this approach your business does need to shift prior practices and adopt a more agile mindset. This involves a considerable appetite for experimentation on both topics and channels that your high-intent customers are using. So for example starting from the broadest bottom of the funnel, you could create a webinar series on a larger topic, then create more specific video snippets on specific topics to use as ungated, organic promotional material on different social channels. Assess what topics and placements work best and continue to optimize around those insights. Perhaps retargeting engaged users with case studies or free tools related to the topics they interacted with. Be sure to include contact forms on all landing pages for an effortless way to express demand, but don't require this information to be shared just yet. These direct intent leads are much more valuable because they want to have conversations with your business, and the sales cycles tend to be much shorter.
Overall, the marketing landscape is in constant flux. Customers may be swarmed by a sea of sameness, have ever-diminishing patience and attention spans, and always looking for new ways to bring value to their own company. With that said, to keep up with these shifts and get the most out of your marketing efforts it pays to be attentive and adaptable. The one size fits all lead generation model may not be the most efficient method for meeting your conversion and revenue goals. A more personalized demand generation approach that puts a little more effort upfront may result in simpler sales cycles and much higher conversion rates. 
Considering a shift in your marketing strategy? Get in touch with Bluetext, an experienced content marketing agency that can prescribe the right approach and implementation strategy unique to your business.