When I think of noisemakers, those infernal childhood contraptions come to mind (pictured below). No, I did not grow up in the 1950s, but sadly the operational concept didn't evolve in subsequent decades. Grab the small handle, twirl the noisemaker around, and try to outrun your parents as they attempted to smash your migraine machine into a million pieces.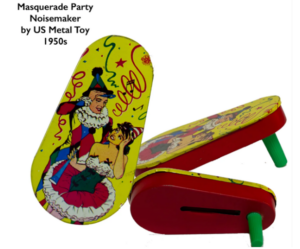 Relax, right? It's fun to make a lot of noise because people pay attention. Maybe that's true…up to a point. If you create too much noise, or the noise has no value, the end result is that the people you want to hear it the most tune you out, and some might even grab your noisemaker and smash it into a zillion pieces.
The same can be said for the company's PR efforts.
The consequences of creating noise are not exclusive to press releases and announcements. The impact of any form of content creation – blog posts, op-eds, social media posts, pitches – is dulled when quantity is prioritized over quality.
The fast-moving narrative surrounding ChatGPT illustrates how critical and challenging it will be to create news over noise. Knee-jerk early predictions that ChatGPT's ability to rapidly generate effective marketing and PR content would sufficiently address quality concerns are now tempered with the realization that the floodgates are open. The number of fake news websites identified as using AI for content generation exploded from 49 in early May to 277 less than two months later. ChatGPT doesn't need to be perfect if you are asking it to plan a weekend getaway to Charleston. The margin for error is far smaller when the goal is to influence sophisticated enterprise or government tech buyers.
This isn't to say that ChatGPT and similar variations won't improve over time. They surely will. But in the near term, ChatGPT is going to create a lot of noise. Also, remember that Generative AI systems learn from human-generated data and large language models train on public data sets. If the share of data sets tilt heavily from human to AI-generated content, it threatens the value proposition of the models.
Clients often first engage with PR agencies as noisemakers. They are churning out so much content, operating under the premise that velocity trumps all. Part of our job, at a PR agency, is to educate clients on the difference between noise and news, and what it takes to drive the latter. Because making noise isn't making news; there is a difference. Several differences actually. And becoming a newsmaker first requires understanding what it means to be a noisemaker.
5 Signs Your Brand is a Noisemaker
Your media engagement is transactional
Press releases, at their most basic, are designed to communicate something of value from the organization to relevant target audiences. In terms of broader outreach to media, value is undermined if the approach is purely transactional. If the only time you reach out to reporters and influencers is when you want something out of them (i.e. – sharing news you want them to cover), that is one-directional noise. They will tune you out and assume the only time communication is established is when you want something from them.  More productive is to evolve beyond a 'taker' relationship; media engagements aren't transactions to be executed but relationships to be developed where PR professionals look to provide meaningful information that is not always self-serving.
You value sizzle over substance
Noise is pure sizzle. News is a strategic combination of sizzle and substance. When it comes to b2b and b2g technology, products, services, and solutions, vaporware doesn't sell. There are ways to distribute news in a compelling way, and there is innovation happening that is transformational enough to make media, customers and prospects stop what they are doing and pay attention.
But we are light years past the dot com era where companies could literally push out a press release, say anything they want, and not have it be pressure tested. Your news needs substance and validators; your audiences are cynical and if you don't have the answers, they will move on.
Your news is episodic
News in a vacuum becomes noise. Your target audiences shouldn't have to figure out how each press release, blog post, case study, presentation, etc. connects to one another.
We talked about the need to tell a cohesive, forward-looking story. Don't message the news in a vacuum; establish a storyline that can link past, present, and future company news and activities. If someone were to read all of your releases, blogs, and other announcement mechanisms, would a compelling and tight narrative emerge? It should.
Your news overpromises and underdelivers
That's the epitome of noise, right? Bold promises that may sound good at first blush, and may even generate attention if spun correctly, but that do not hold up over time. Unfulfilled product and technology promises – even if they are real and not vaporware – undermine the impact of road map announcements down the line. Corporate growth stories are another common stumbling block, as CXOs often feel obligated to project best-case scenarios for hiring and client/revenue growth. If you expect to add 50 employees in the coming year, and only add 12, media and investors will remember that, and ask tough questions about why your organization fell short.
You prioritize quantity at the expense of quality
Finding the right balance of news/content quality and quantity is critical. But too many organizations swing the pendulum way too far towards volume – pummeling the market with press release after press release, blogs that do not capture leads or attention, and other forms of content that target audiences will eventually tune out. Content velocity is important, but not at the expense of quality because people need to read, view, and listen to this content, be motivated to engage with it, and then take action. At the end of the day, the push for quantity may be happening for the wrong reasons. Churning out content because investors are clamoring for news, any news, is counter-productive. Relying on faulty and biased metrics to justify content velocity also negatively impacts broader objectives.
Find out what it means to become a newsmaker able to rise above competitor noise by contacting Bluetext today.