There are no written rules when it comes to determining how to efficiently increase your company's enterprise value. Unfortunately, there is no one-size fits all formula for enterprise success. Simply put, the strategy will vastly differ for every industry, sector, and individual company. That being said, marketing has been proven as a cornerstone of any effective business strategy and critical in raising enterprise value.
Your marketing strategy dictates the overall market's understanding of what your business brings to the table, how you differ from your competition in the eyes of customers and investors, and perhaps most importantly, what the future holds for your business and how you intend to evolve as both the market and overall economy change. Whether your ultimate goal is to take your company public or take on capital investment in the near future, marketing will play a significant part in how you succeed. In this blog post, we'll discuss tips on putting together a sound marketing strategy and how this can lead to an increase in enterprise value. 
Understanding the Current Market and Its Needs
As you know, the competitive landscape is constantly shifting, and any dramatic change in the competition calls for change in your strategy. The first step to putting together an effective marketing strategy is to understand your company in its position within the current market. Customer tastes and expectations are constantly evolving, so being able to adapt to current market conditions is critical in today's economy. It's important to ask yourself: What is your value proposition against your competitors? Are you where you need to be to maximize value? Can customers quickly get the information they need and are questions and service issues resolved promptly? Ensuring you're meeting your customer's needs will set you up for long-term success and increase your value as not only a supplier but also in the eyes of any potential investors. 
When Government technology giants Octo and Sevatec decided to merge, they tapped Bluetext to guide them through a brand evolution, aligning both company brand identities into a new cohesive corporate visual identity. We worked hard to understand both companies' positions in the market and design a message and visual identity that aligned Octo and Sevatec's legacies under one united mission from both an internal and external perspective, increasing the combined entity's enterprise value.
Future-Proofing Your Marketing Strategy
While it's important to understand the current needs of your customers, it's equally important to take a look in the mirror and focus your marketing strategy on your company's future goals, both in the short- and long-term. What are your business goals and objectives? Do you anticipate a significant capital investment raise in the next 2 years? Or 5 years? It's imperative to make conscious, strategic decisions by beginning with the end in mind instead of simply letting tactics evolve.
When Arlington Capital Partners acquired three leading companies in the national security sector, they turned to Bluetext to develop and launch a new unified brand from scratch. In less than six months, Centauri was born. Following the launch of the brand and a successful integrated go-to-market strategy that included PR, digital advertising, and social media, the firm went on a contract-winning spree and in less than two years, was acquired by industrial engineering juggernaut, KBR, for $800m. With an understanding of Arlington Capital's goals from the outset, focused on raising the enterprise value of a combined entity, Bluetext was able to build a comprehensive marketing strategy that achieved the PE firm's wildest dreams.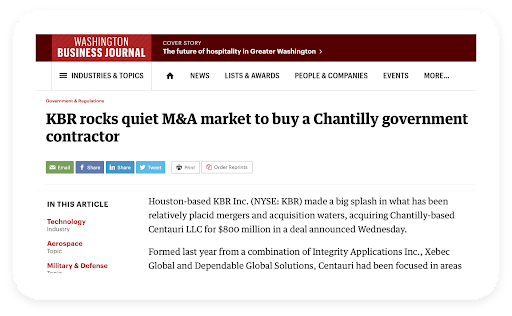 In Marketing, ROI is Everything
Let's be clear, marketing can be an expensive undertaking. When you think about the various marketing tactics you can choose to include in your marketing strategy, consider every channel including but not limited to: direct marketing, public relations, digital marketing, advertising and promotion, and trade shows. While it would be great to put a significant budget toward each of these channels, that just isn't feasible for the majority of companies out there. Just like you would diversify your stock portfolio, you should also diversify your marketing efforts, especially when starting out. Be smart about where you decide to invest your marketing dollars but don't be afraid to commit to a research-driven marketing strategy.
Discuss internally the pros and cons of each channel, especially in the context of your competitors, industry, and customers, both existing and future. Additionally, determine if you can handle the execution of these marketing channels in-house, or if it may make sense to hire a marketing agency like Bluetext to take some of the load off of your internal team. Most importantly, however, is to establish clear metrics designed to capture ROI for each channel you decide to invest in and keep your internal and external teams accountable to them. Diversifying your marketing mix is the best way to ensure you're increasing your brand awareness across a variety of customer-facing touchpoints, which will lead to an effective increase in perceived enterprise value from an investor perspective.
In Conclusion
There is no one-size-fits-all approach to marketing. That being said, having a strong understanding of your market, customer base, and short- and long-term business goals will strongly inform your marketing strategy and put you in the best position to succeed in increasing brand awareness, customer acquisition, and overall enterprise value. If you're in need of support in putting together a comprehensive marketing strategy or a marketing partner to execute an already determined strategy, consider contacting Bluetext. For more than a decade, Bluetext has helped companies and private equity firms raise enterprise value. We specialize in planning, developing, and executing effective brand transformations to exceed business goals, with our clients benefitting from our deep creative expertise, seamless strategy, and innovative way of problem-solving.