It's May and you know what that means, graduation season is upon us. Amongst the throws of graduation caps and kick-off to summer celebrations, higher education gets more attention than ever. And while prestige and name value still play a significant role, numerous other factors have recently come into play for prospective students. Between funding, affordability, student mental health, and diversity initiatives schools are taking drastic steps to stand out and modernize. From the degrees offered and course formats, to who they recruit and more importantly how they recruit. One tactic many higher education institutions have latched onto is branding, especially to portray a bolder more forward-looking image to prospective students, professors, and donors. 
In this post, we'll break down the recent trend toward bolder branding within higher education, an industry that had traditionally foregone flashy aesthetics and in-your-face campaigns. In such a serious industry with a heavy emphasis on facts and figures, many institutions hesitate to emphasize the human element of education. However, to make a memorable impact during the admissions process, many schools are taking courageous steps to graduate toward bold branding. 
The University of Virginia Darden School of Business's "Put Your Why To Work" campaign is one noteworthy example timed with the opening of their Rosslyn outpost. To grab the attention of prospective MBA students Darden chose a people-first perspective that highlighted the 'why' before the 'how'. Connecting the passion and purpose behind the degrees gave the audience a chance to relate and be inspired for the next steps toward their own career. Between clever taglines and artistic photo treatments, real student stories and motivations behind their MBA drove this campaign. The orange duotone treatment of Grounds and student portraits stood out from competitors and instilled the iconic UVA branding with a more grown-up twist.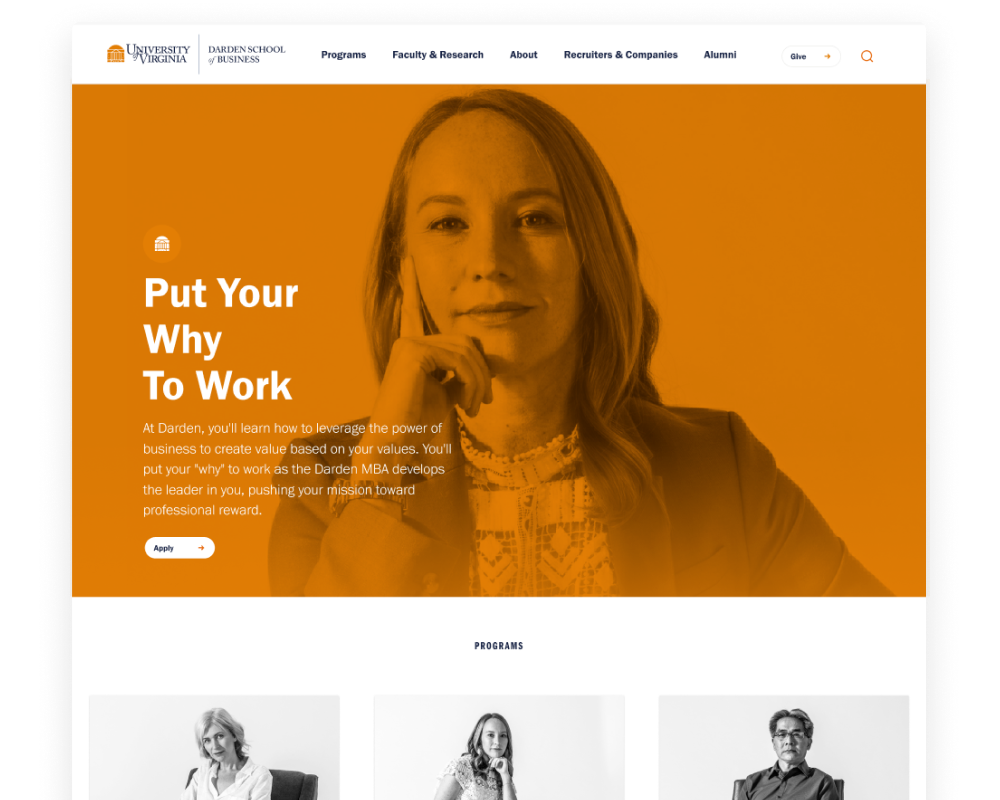 Purdue University recently unveiled a brand evolution with its "The Next Giant Leap" campaign. Intended to harmonize the school's athletic identity with innovative programs into a "One Purdue" shared ethos. Emphasizing the importance of both giant leaps and small steps forward, the campaign and new brand story aim to harmonize the collective efforts of each individual student towards a shared vision. Refining their color palette, logo, and brand materials, Purdue put an emphasis on consistency and unity in their new brand identity.
Watch the brand story: https://youtu.be/uHm63Gpxf_A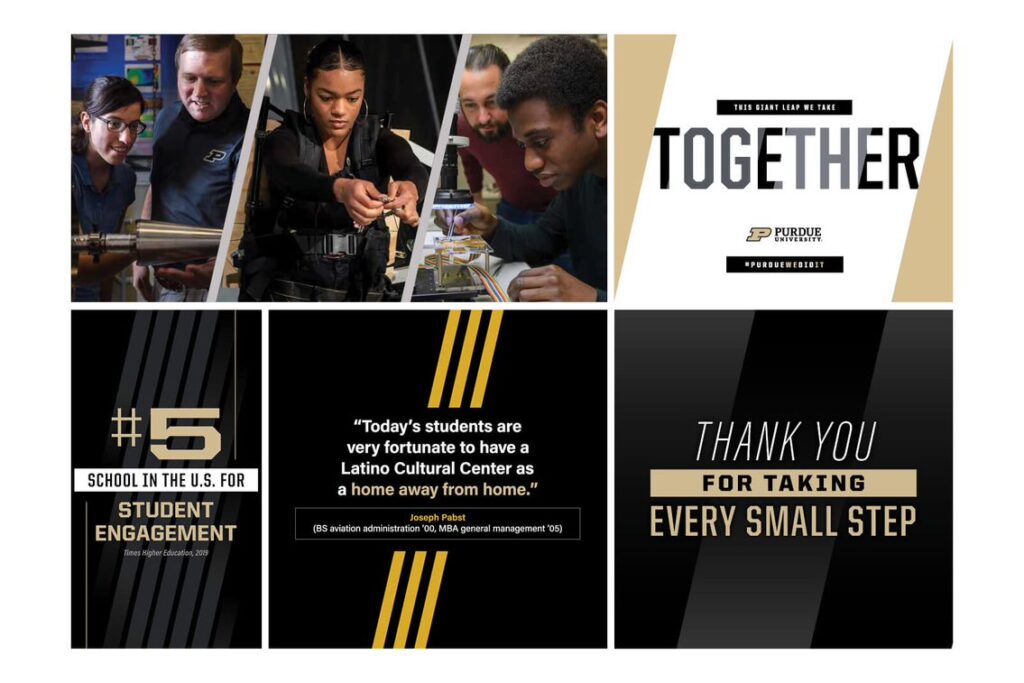 Another example, Bluetext client GMAC, took on bold updates to improve the usability and engagement of their MBA microsite CallingAllOptimists.com. After taking on a bold new brand identity full of vibrant colors and eye-catching animations, they needed modern functionality to match the aesthetic. Bluetext took on the challenge to design and develop a personalized quiz that seamlessly guided the user to customized messaging and content based on their answers, while simultaneously gathering actionable user insights. With over 400K site visitors and 50K+ interactions, the pool of audience data was vastly increased.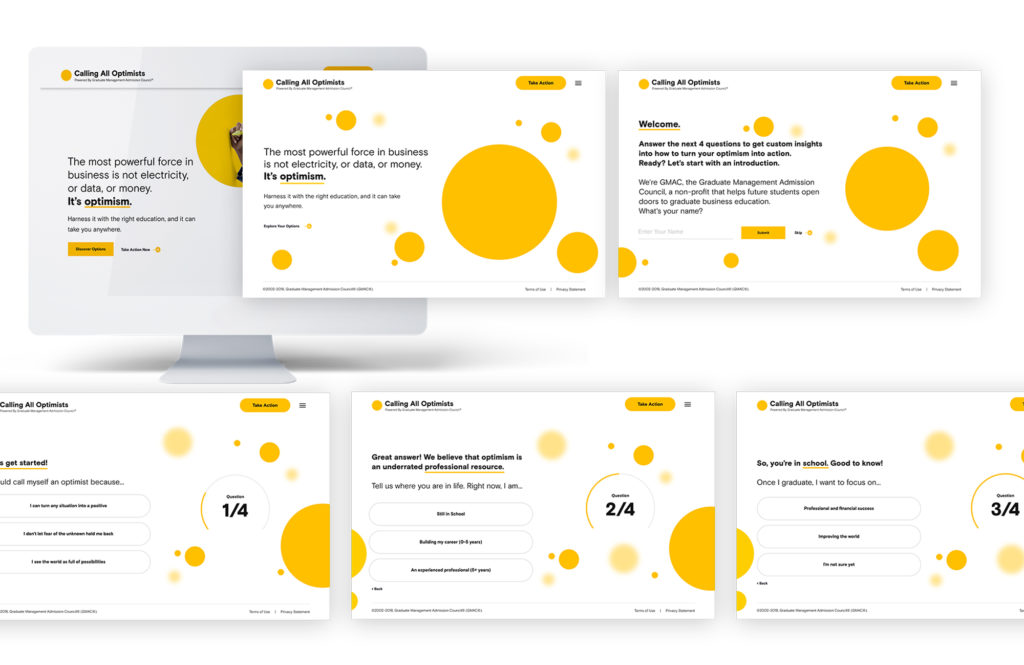 The Bluetext team designed a media campaign to deliver personalized and culturally-agnostic content through paid social and programmatic media, new video assets, and radio advertising. Sensational visuals, engaging messaging, and efficient audience segmentation – delivered the right inspiration to the right person at the right time. Not only did this redesign improve the campaign's functionality and awareness – it created a holistic, and optimistic, brand ecosystem.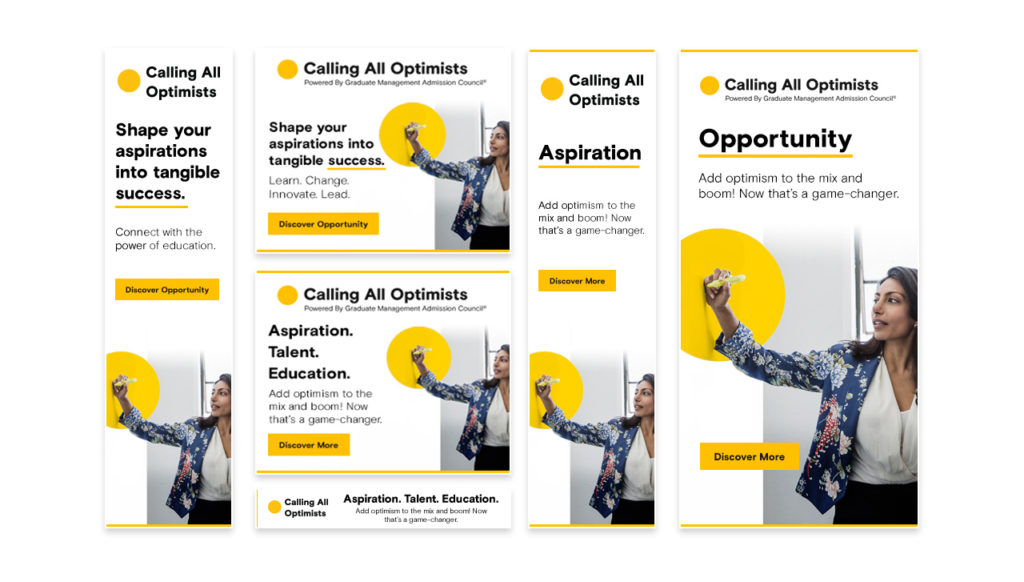 So what have we learned from these examples? Don't worry this is not the final branding exam, but these examples are A+ examples of how traditionally serious institutions can take a more creative approach to their marketing efforts to stand out from the sea of schools vying for students' attention. Incorporating modern UX functionality, human perspectives, and bold visuals can elevate a company of any industry from one of many to a top-of-mind brand name. Interested in taking your brand to the next level? Contact Bluetext to learn about our services and proven approach to success.