Launching your new or revitalized brand is the most important stage of the rebranding process. You've done all the hard work at this point, determining the right look and feel, message, and character for your brand. The crucial next step is to announce yourself to the world, both from an internal and external point of view. In today's blog post, we'll cover how to launch your new brand into the market and how to ensure your employees are ready to be your top brand ambassadors.
1. Brand Launches are Non-Linear in the Rebranding Process. Prepare Ahead of Time.
Preparation is the key to success. Without it, you run the risk of reducing the impact of your brand launch. You only get one shot at this so be sure to make the most of it. Begin ideating on how and when to launch your new brand at the start of your rebranding process. You'll want to have a clear sense of the rationale behind the rebrand and how it impacts the broader narrative you want to communicate to the market. This foundation creates meaning and purpose, giving you a chance to engage with your existing customers and create new ones.
If you wait too long to start planning your brand launch, you risk confusing the market and your employees, leading to increased turnover and a decrease in market share. Be intentional and calculated as you determine the best course of action.
2. Increase Your Market Impact By Properly Determining Your Market
A successful brand launch reaches all notable audiences including both internal and external stakeholders. You'll want to think strategically about your key audiences and prioritize your brand launch activities accordingly. For example, you may want to provide your high-value clients, key partners, and investors with a personalized introduction to your new brand. Making sure you create a positive trustworthy impression with your key audiences will increase the impact of your launch and the chance of success.
3. Communicate Efficiently, Communicate Effectively
The narrative you bring to the market for your brand launch is the most important aspect of the entire undertaking. Document your communication plan via a spreadsheet to ensure your tactics are on track from a timing and budget standpoint. Think through the most effective channels you can use to communicate the launch of your new brand to your key audiences.
Tactics can and should include: emails teasing the new brand, a pre-launch event for your most strategic audiences, and a landing page for people to visit to understand how the rebrand affects them in the short and long term. An effective communications strategy prepares your customers and investors for what's to come and creates buzz around the new brand.
Think through a phased approach to your brand launch, utilizing a variety of tactics and channels to create the biggest impression. We've said it once and we'll say it again: you only get one shot at this. Make it count.
When in partnership with Arlington Capital Partners, we launched Centauri. Our team developed and executed an integrated go-to-market strategy including PR, digital advertising, and social media. A key component of this campaign was a series of emails teasing the new logo, message, and brand into the market.

4. Saying Sayonara to Your Old Legacy Brand
While it may be hard to let go of the past and the brand assets that got you to this stage in your company's lifecycle, you made the decision to rebrand and enter a new phase of growth. Migrating your brand from the old to the new creates consistency in your overarching brand narrative.
Create a brand migration list of all of the places your old brand is visible from both an internal and external view. Your website, building signage, virtual backgrounds, mugs, business cards, ad campaigns, etc. should all be added to the list of touchpoints. Determine what it will take to update each asset and work backward from the items that will take the longest to finalize. Ensuring each of these touchpoints is taken care of prior to your brand launch means minimizing confusion for your key audiences and the market at large.
5. The Key to a Successful Rebrand is Getting Your Internal Stakeholders Onboard
In many senses, your employees are your brand's most important ambassadors. Getting them to embrace the changes and preach the narrative you've created with authenticity will ensure a smoother transition from the old to the new brand. Educate your staff on the brand's mission, vision, and core values, articulating the direction of the new brand. Provide your employees with your updated brand guidelines, outlining how your brand should look in white papers, PowerPoints, data sheets, etc. Outfit your team in branded swag to make them feel like part of the team and drum up excitement ahead of the brand launch. Your people are your greatest asset; use them to their full potential and reap the benefits.
When ARKA came to Bluetext following a merger, they needed new messaging, brand creative, website design, and a brand launch program to unite the legacy companies. As part of the brand launch, our team implemented a full brand ambassador program, email announcements, a central inventory of brand assets, and FAQs. To get employees excited and geared with new brand creative, a 'Welcome to the Brand' kit was designed and coordinated to arrive with the announcement of the new logo & brand.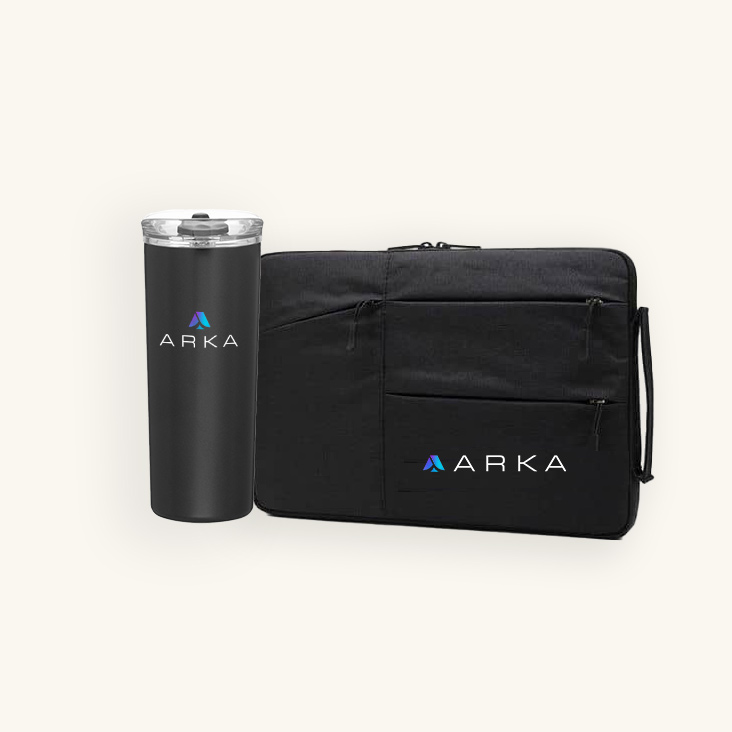 6. Launching Your Brand Externally – Patience is Key
The most important thing to remember for any external brand launch is to be patient. It's an exciting time; pressure is high and the fruits of your labor over the last few months are about to be realized. Just remember, patience is required to achieve maximum impact, and timing is everything. Coordination is an integral component of your brand launch, ensuring everything launches without a hitch, and no one accidentally jumps the gun by updating their LinkedIn header with a graphic featuring your new logo. Using your brand migration list, execute accordingly, launching your new website, updating social media assets, and distributing press releases. Many brand launches culminate in a public event, where you unveil your new logo, mission, core values, etc.
Following a series of mergers and acquisitions, BigBear.ai came to Bluetext with the goal of creating a new unified brand identity, revamped external messaging, and strategic public relations that would help them stand out in the crowded AI space. As part of the external brand launch, our team designed a jaw-dropping trade show booth experience that brought the spirit of the BigBear.ai brand to life with a 3D video wall. It had event attendees stopping in their tracks.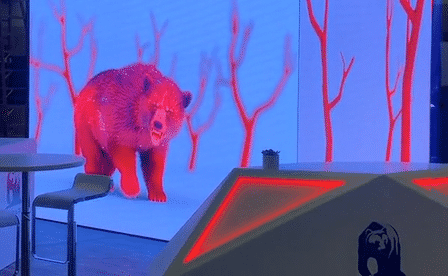 7. Your Brand Launch is Just the Beginning
You did it! Your brand is officially in the market. While you may have thought this day would never come and it feels like you just crossed the finish line, remember that launching your brand is only the start of the journey. Keep tabs on all ongoing brand development and ensure that any new materials stay within your outlined brand guidelines. Consistency is king and has the power to make or break your new brand. Remember, a brand is a living, breathing organism that requires constant upkeep and preening. Conduct regular brand audits to ensure your brand is working for you and not the other way around.
Is your brand ready for a refresh? Contact us today at Bluetext to learn more about our rebranding services. We work with premier private equity companies, launching updated brands for newly merged or acquired companies into the market and generating massive successes.
The XXIV Olympic Winter Games have come and gone, in what felt like the blink of an eye. Even though the Games span only two weeks following the Opening Ceremony, there are years—and sometimes decades—put into their planning. A key piece of that planning is setting the visual identity of the Games, which is no small task. We all know the iconic five-ring emblem that symbolizes the union of international athletes, but each host city gets the opportunity to create its own unique logo. Olympic logos of the past have varied widely in color, type, and style, and each new logo is put to the test to tell a story not only about an Olympic season but about the host country itself.
A quick glance at all the different Olympic logos of the past makes it clear that there's no clear-cut formula for an Olympic Games' brand system (except the inclusion of the Olympic rings, according to the Olympic Charter). We're going to take a look at the Olympic logos of yore and dissect our favorites and not-so-favorites through superlative-style judgment.
Best Abstract Use of the Olympic Rings — Atlanta 1996
Incorporating the Olympic rings is a requisite part of all Olympic logos, but that might get a little repetitive after over 50 Games. We appreciate the Atlanta 1996 logo's integration of the rings with the column—the mark hints at the Olympics' Grecian beginnings, the Olympic torch, and even manages to squeeze in the number '100,' celebrating the centennial of the games.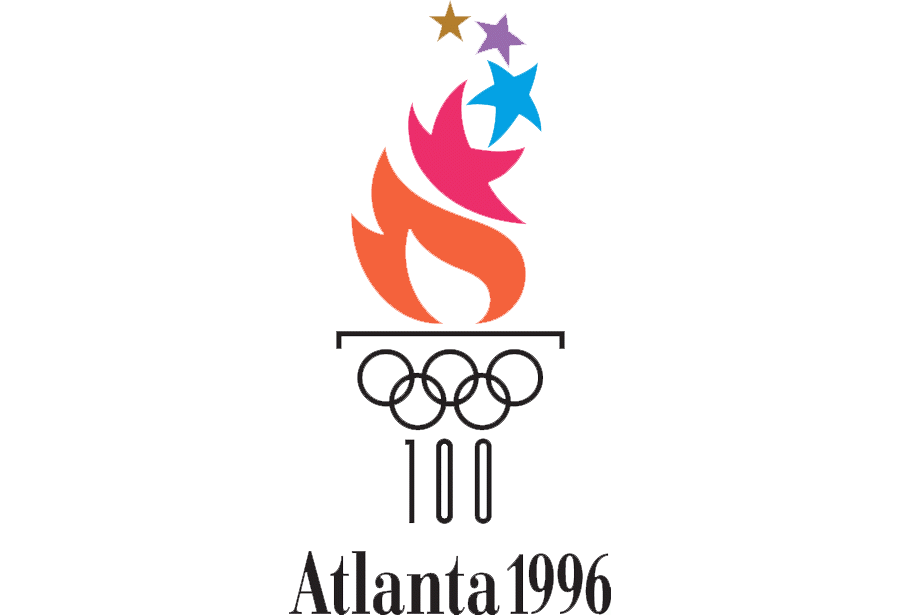 Best Direct Use of the Olympic Rings — Innsbruck 1964
There's something to be said for a simple, classic logomark like the Innsbruck 1964 logo. Using the coat of arms of the City of Innsbruck as a starting point, this logo features the rings prominently and uses an elegant typeface for the host city and year. We can't think of a more classic, straightforward Olympic logo.
Best Out-of-the-Box Typeface — Rio de Janeiro 2016
The logo for the 2016 Rio de Janeiro Games feels like a celebration, exactly as its designers intended. This mark took inspiration from Carnival and uses organic forms and lettering to convey the energy of both Rio and the Olympic Games. This approach brilliantly tells a story while standing out from the crowd.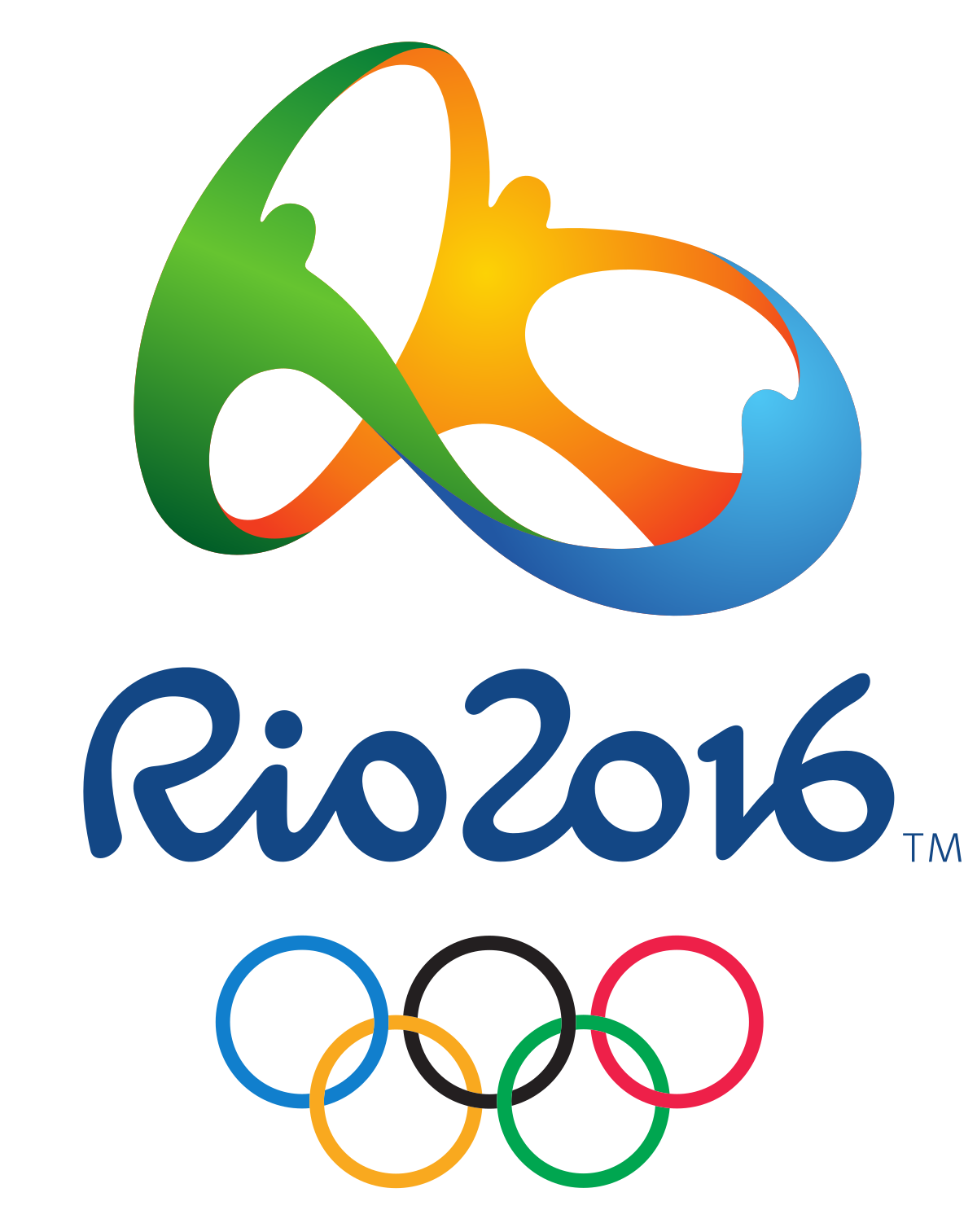 Best Out-of-the-Box Color — Sarajevo 1984
Working with the Olympic rings may feel constricting color-wise since there are already five colors to contend within a design. That didn't stop the designers of the Sarajevo 1984 logo, who washed the whole logo in orange for the primary mark. This approach is particularly interesting because the logo was permitted to appear in any color so long as the entire mark appeared in a single color.
We'd be remiss to close this category without giving a nod to the London 2012 logo which, while controversial, was striking in its use of hot pink. They can't all be winners, but we appreciate the bold approach.
Best Use of a Human Figure — Nagano 1998
In the Nagano 1998 logo, seven abstract human forms make up the petals of a flower, nicknamed the Snowflower. We like this mark not only because it defied expectations for a snowflake or other wintery symbol, but because it was the starting point of an environmentally-focused Olympic identity.
Best Minimal Logo — Tokyo 1964
Stunning in its simplicity and symbolism, the Tokyo 1964 logo is heralded as one of the all-time greats in Olympic logos. With the Olympic rings set in gold beneath a version of the Japanese national flag, this mark features traditional Japanese colors signifying peace and prosperity. Despite its minimalism, this logo manages to acknowledge the host country, the traditional Olympic identity, and the moral foundation of the Games.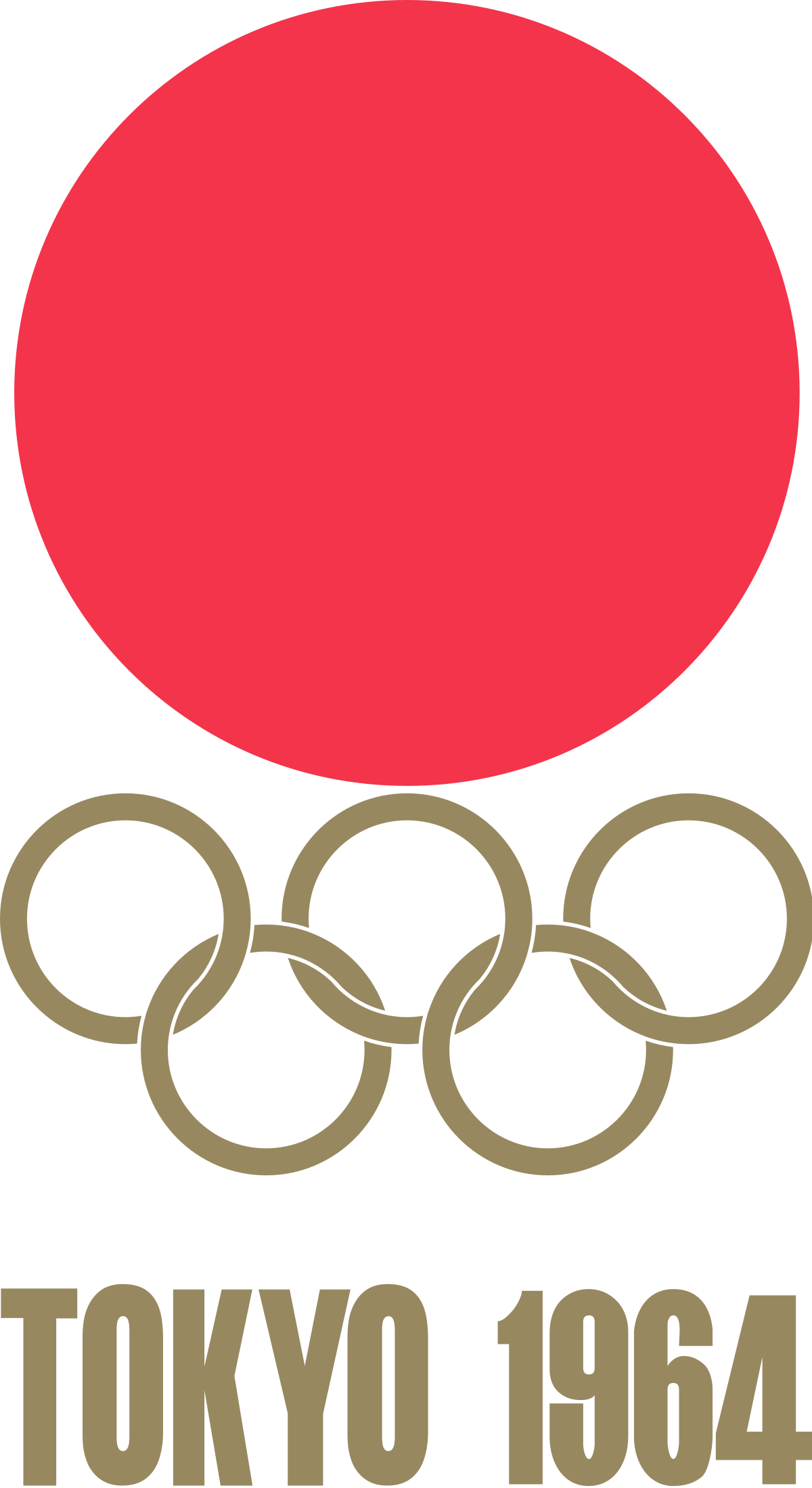 Best Maximal Logo — Rome 1960
Poised between two relatively simple Olympic identities (Squaw Valley 1960 and Innsbruck 1964), this maximalist logo was an obvious pick in this category. In a departure from '60s graphic design trends, this mark harkens back to classical Roman motifs and styling. While it may not be everyone's cup of tea, we admire the dedication to national legend.
Best in Show: Summer — Mexico 1968
Our winner for Summer Games logos has to be Mexico 1968. Not only does the logo incorporate the rings creatively, but it's also reminiscent of athletic uniforms and traditional Huichol art. This mark is the basis of a fascinating brand identity—for starters, the official Olympic poster looks like album art. Sure, this logo may be a little busy, but what it lacks in refinement, it makes up for in energy.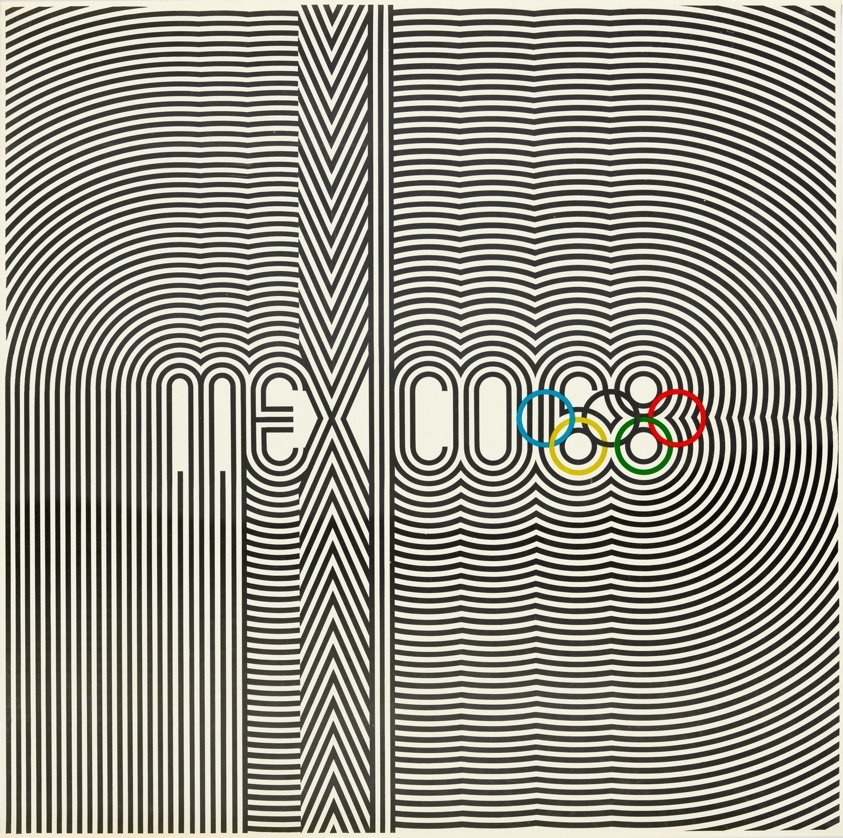 Best in Show: Winter — Sapporo 1972
We love the Sapporo 1972 logo because it's unlike any other Olympic identity, and it was perfect for its time. With a Bauhaus feel, this mark features the rising sun symbol from the Japanese flag, a stylized snowflake, the Olympic rings, and a single line of text. Despite including only basic elements, the unique stacking and coloring of these elements make this logo one of our favorites.
Best Iconography — Tokyo 2020
The iconography that's developed alongside Olympic identities changes with the logo, and we wanted to honor an icon system that we think was particularly elegant. The icon set for the Tokyo 2020 games included icons (or pictograms) for each sport, including the five new sports introduced to the Olympics that year. Each icon is skillfully-made and coincides beautifully with the 2020 Olympic logo.
Judge's Favorite — Munich 1972
A personal favorite that didn't get identified in any of the above categories, the Munich 1972 logo's name says it all—"Radiant Munich." The abstract sunbeams are eye-catching, and the overall brand identity feels both joyful and serene.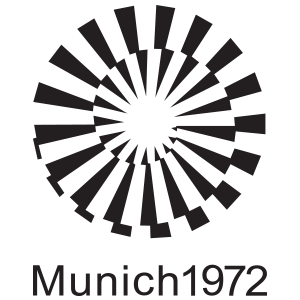 Judge's Least Favorite — Sochi 2014
While this logo was meant to convey sentiments of modernity and the coming digital age, it misses the mark. Suffice to say, there's a reason that no Olympic logos in the 8 years since have included a URL.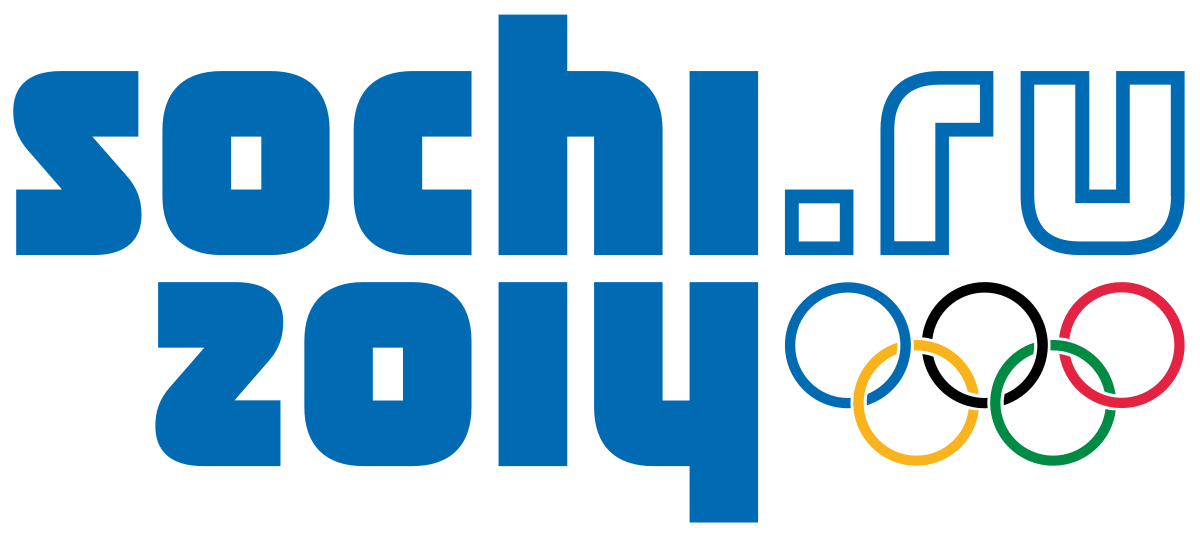 There you have it—our take on some of the best and worst Olympic logos to date. We encourage you to explore all of these logos yourself on the Olympic website, and to explore other opinions like Milton Glaser's for AIGA.
The logos for the Paris 2022, Milano Cortina 2024, and LA 2028 Games have all been unveiled, but given the controversy over and subsequent redesign of the Tokyo 2020 logo, we'll wait to grade those logos until their respective Games pass. In the meantime, if you're in search of a new logo or brand identity, get in touch with the team at Bluetext to learn how we can team up and go for the gold.
Last week the goliath of technology conferences held in the U.S., CES, announced that its January 2022 event will require vaccination proof for in-person attendees. The motivation for the Consumer Technology Association, the show's organizer, to resume a face-to-face component is strong: exhibitors recognize that generating enthusiasm for new consumer products and technologies through virtually is not nearly as powerful as live demonstrations. 
Few in the tech marcomms space have endured a more challenging professional pivot over the past 18 months than those responsible for conference and event strategy and execution – whether it is determining what kind of investments should be made in industry events as well as how to manage their own annual user conferences and smaller events so critical to cultivating customer, prospect and partner relationships. 
Pre-pandemic, there was of course no need to make decisions on whether to hold in-person, virtual, or hybrid events — often several months in advance of the event date itself. And through the first 15 months of the pandemic, COVID-19 in effect made the decision for marcomms and event decision-makers as everything shifted to virtual. This was no easy feat but at least the decision was.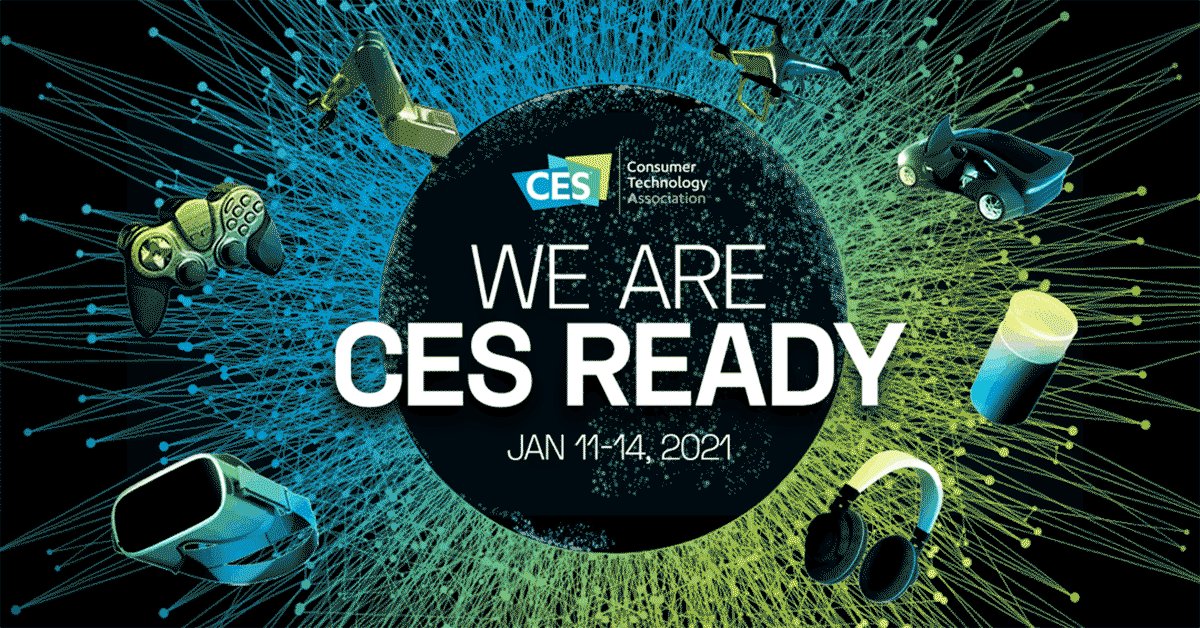 The emergence of the Delta variant, right as tech companies were resuming planning for in-person events, exponentially complicates the decision-making process for the 2021-2022 tech conference strategy. While CES is planning in-person for vaccinated attendees, plans for other events run the gamut. As this Marketwatch article notes, tech companies with large user and developer events are re-assessing given Delta. Salesforce.com's CRM Dreamforce is still planning for an "in-person experience" for the Fall event, but so many others have already reverted back to virtual or hybrid experiences with a limited in-person component. 
As you evaluate your 2021-2022 tech conference and event strategy in light of the Delta variant and other unpredictable developments we should all expect in the months ahead, keep the following strategies in mind:
Look at the event track record
Tech conference organizers that have already executed a virtual event last year during the pandemic offer a track record that can be analyzed when it comes to attendance, engagement, and results. The Marketwatch article raised the valuable point that what virtual events lack in intimacy they make up for in some cases with larger attendance, citing feedback from Juniper Networks that attendance for its virtual Global Summit held in April was more than 2x in-person attendance for recent and similar events. It is of course easier and more cost-effective to hop into a live panel discussion on your laptop at home than it is to fly halfway across the country to attend in-person. 
But for every Juniper, there is a Mobile World Congress, which forecast a significant in-person attendance drop for its hybrid 2021 Barcelona event, where the 50,000 in-person attendees expected to attend was half the number compared to its "normal" pre-pandemic numbers. 
The more information you have from organizations that have already executed events during the pandemic, the less guesstimating you have to do when it comes to the right investment level for attending, speaking, sponsoring, exhibiting, or skipping altogether. 
Track records matter because, with conference and event investments, you can't just assume that all of the money will be recouped if the in-person event is canceled. There can be a difference between an organizer canceling of its own volition, and an organizer canceling because it is subject to city or state directives that are issued prior to the event. The more confidence you can have in the event organizer, the lower the risk of a negative financial and business outcome.
Size matters
If the pandemic has communicated anything to marcomms professionals it is that bigger isn't necessarily better. Most attendees are going to baby step back to live events, so going from working from home to a crowded pavilion with 100,000 of your closest friends may be a bridge too far. 
Dialing it down from potential 'super-spreader' to 'super-intimate' events that still allow for facetime but in a more controlled environment with modest numbers of people can support corporate and sales objectives. If you are a tech company evaluating what in-person events to attend, don't discount these smaller events and if you are an event organizer, converting a large annual event into, for example, quarterly smaller regional events can pay off.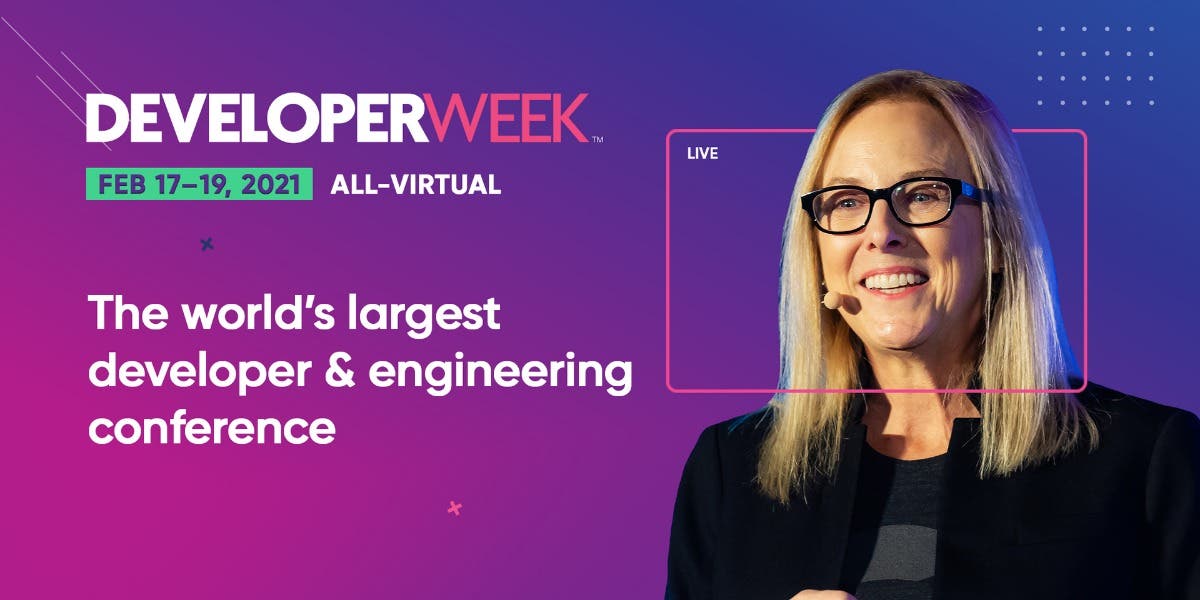 The key for user events is data. You can't just guess how attendees might act when presented with options between in-person, hybrid, or virtual, or what size of in-person event they might be comfortable with. Survey, survey, and then survey again. External third-party data has value, but you know your customers best and keeping your finger on the pulse of their event and travel preferences is critical. 
In its latest PULSE Survey, Northstar Meetings Group found that two-thirds of the 826 respondents will hold their next in-person event in Q3 or Q4 of this year – with half of them requiring attendees to wear masks indoors and 28 percent requiring proof of Covid-19 vaccination. But the survey also reinforces the need for conference organizers and meeting planners to be nimble and resilient in the face of constantly evolving federal, state, and local policies.
Re-imagine your traditional event approach
Pre-pandemic tech conferences and events were far from perfect, which helps explain why many have seen value in the shift – as temporary as it might be – to virtual and hybrid events. Marcomm and conference decision-makers should use the challenging environment as an opportunity to re-imagine traditional approaches.
Virtual and hybrid events unlock new content and access opportunities, new ways to engage with and receive feedback from attendees in real-time to drive experiences not possible with in-person events where individuals are scattered and engagement is harder to measure. While larger tech conferences made great strides in trying to make their events "smaller" when it came to networking rather than releasing thousands of people into venues to try and find each other, the results were imperfect. 
Each event model comes with its own challenge. User conference organizers know that while virtual events may be easier for customers to join, they are also easier for them to blow off because it doesn't require the same level of travel, financial, and planning commitment. Hybrid events create challenges for tech brands unsure of which path provides the better value for lead generation, networking, sponsorships, speaking, and exhibiting. And for all of these models, trying to figure out whether it still makes sense to shell out $20,000 for a sponsored virtual speaking slot in lieu of being on the big stage is no easy task. 
When it comes to working with B2B tech PR, B2C tech PR, and B2G tech PR firms, Bluetext has been helping clients navigate tech conference strategy for industry events as well as client user conferences. If you are looking for the right partner to maximize your tech conference investments in the months ahead, contact Bluetext to learn how we can help.
We're now more than a year into the COVID-19 pandemic and admit it: you miss in-person conferences and events. At least a little. While segments of the country are inching back toward some sense of normalcy, it will be a while before thousands of people are gathered in convention centers and hotel conference centers again. 
This continues to pose a challenge for traditionally face-to-face organizations that need to reach business, government, and consumer technology decision-makers. Additionally, it's why many have been evaluating and participating in virtual technology conferences and events, or even shifting their own user conferences and events from in-person to virtual. 
As your organization maps out its 2021 in-person, hybrid, and virtual event strategy, there are several considerations when it comes to investing time, money, and resources.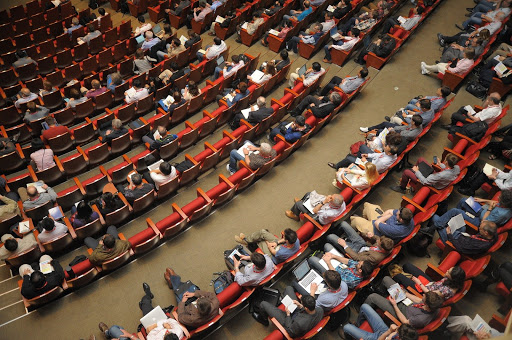 Is This Their First Rodeo?
Technology providers must determine if the event organizer has hosted virtual events in the past. If they are familiar with the virtual event landscape, it is important to determine what attendance and sponsorship looked like at the previous event and if the speaker lineup has been credible and on target. Determining past event involvement can also help speakers form expectations about participation levels. An experienced virtual event host suggests a deeper attendee pool and gives companies a glimpse at the event at hand by looking at past hosted events.
Pay to Play?
It is important for organizations to evaluate investment in sponsored speaking opportunities or sponsorships overall. Speaking engagements provide companies with a hard-to-come-by platform depending on attendance. Speaking slots with no fee associated can be competitive when you're submitting with a pool of people to a program with strict standards. Sponsored sessions, on the other hand, are easier to get if you're willing to pay for it, and give speakers more leeway on what they cover. Because of this, organizations should consider how the event host will drive attendance, especially now that travel doesn't pose an issue, and how the conference content will be made available to optimize virtual viewership.
Try Not 'Playing to Play'
When looking for opportunities, there are a few key things to consider before nominating a subject matter expert for speaking roles. Various event organizers offer calls for speakers when looking for guests to participate in panels at conferences. The submission form may offer a broad nomination for a general conference or may offer categories in which specific topics will be discussed. Categories narrow down the specificities of the topic the thought leader will be speaking about. It allows experts to delve deeper into the topic at hand and, in turn, highlights the speaker's expertise. Finding the right speaking role is important, as is including the right members of the press to listen to a speaking engagement for potential coverage opportunities. Inviting reporters from trade publications specific to an industry, as well as national reporters who cover specific topics are valuable assets to optimize additional press opportunities and increase the overall value of the session.
Host Your Own Virtual Event
While industry events are all reeling from the switch from in-person to virtual, this may be the time to consider hosting your own virtual event – if you are not doing so already. There are more avenues now than ever before to bring customers, partners, prospects, and thought leaders together virtually. Even before the global pandemic, some potential event prospects were limited by the event's location. With digital events, that is no longer an issue. All an attendee needs these days is a viable internet connection. The importance of convening has not gone away, we just had to change the way we approach it.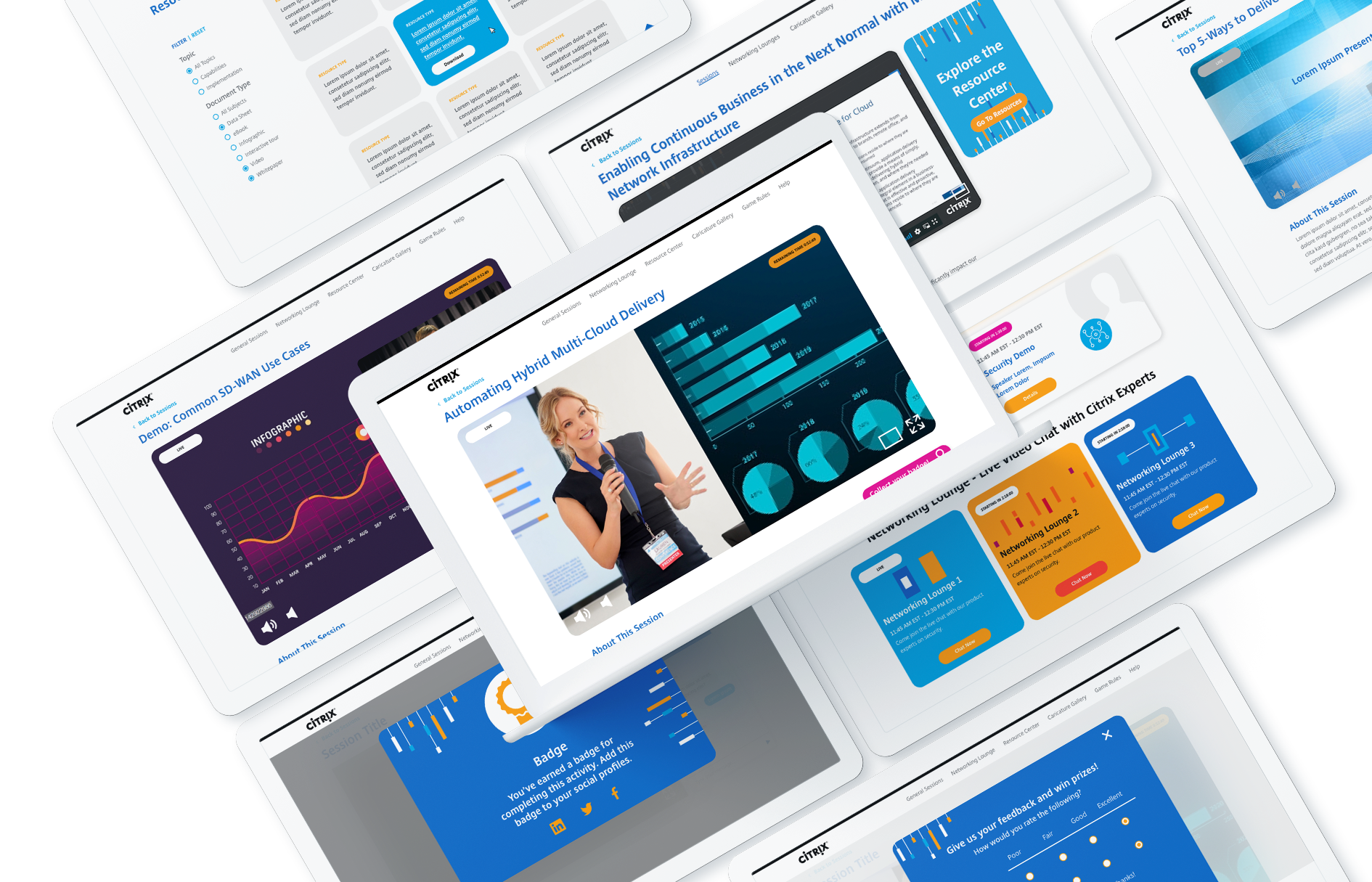 Bluetext Virtual Events are built on the idea that bringing the right people, information, and ideas together is what events are all about. Our platform was designed to feel as close to a real event as possible, rather than just another webinar, video conference, or live stream.
While some may see virtual events as a Plan B to in-person events, virtual events have brought new opportunities to a wider, global audience. Whether you are looking for the right PR agency partner to navigate the virtual and in-person event landscape or leverage our platform to host your own virtual event, Bluetext can help. If you want to learn more contact us today.
Due to the global pandemic, the rise in virtual events over the past year has created a new element of accessibility to gathering. The past year has exposed previously unacknowledged limitations to in-person events, where only a limited number of attendees could be a part of the action. However, the advantages of event accessibility can bring implications to traditional registration strategies that previously relied on limited availability and exclusivity. 
Recorded webinars, streaming services, and many other on-demand materials can remove the sense of urgency from common event marketing tactics. If an audience member knows they will have access to an event at any point in time, they may feel less inclined to participate in, or even join an event in real-time.
At Bluetext, we have found a way to help our clients capture interest and create urgency around virtual events. Leveraging the best industry tools available and reliable systems to create a realistic and professional virtual event experience allows you to open your virtual event to a wider audience, without sacrificing the emotions and experience of in-person, physical events.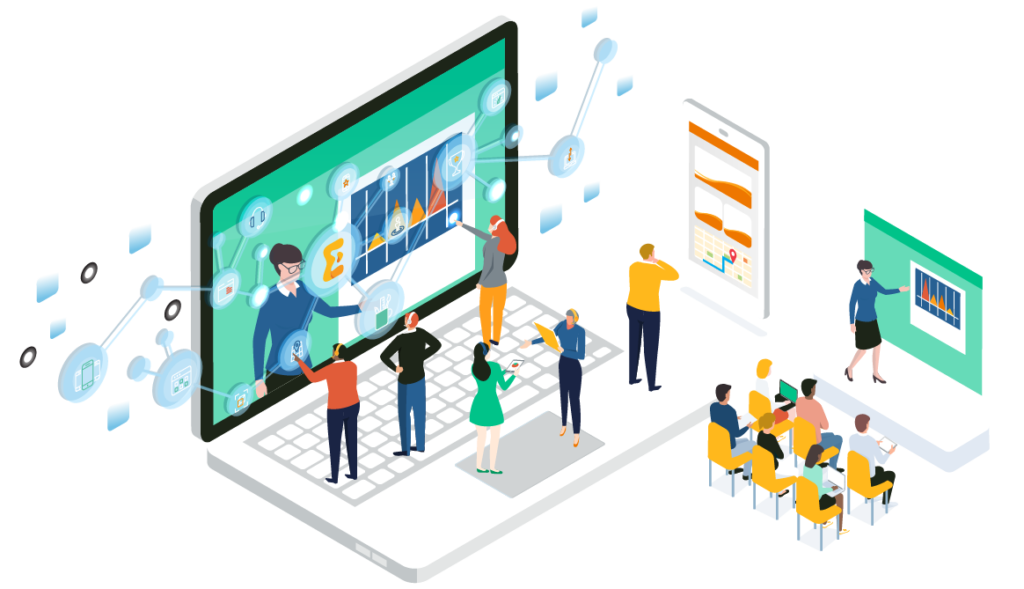 Stay true to your brand
This piece of age-old advice has never been more true. If you get away from your core values and try to create a virtual event setting that would be unfamiliar to your typical target audience, potential attendees and customers may not come away with the right message. A virtual event is an opportunity to get creative with event-specific branding, but make sure that there are still remnants of the brand your users know and love. Take SonicWall's Boundless 2020 event for example. Bluetext created a specific EVI (event visual identity) inspired by their Boundless campaign, new product dark mode features, and existing brand identity.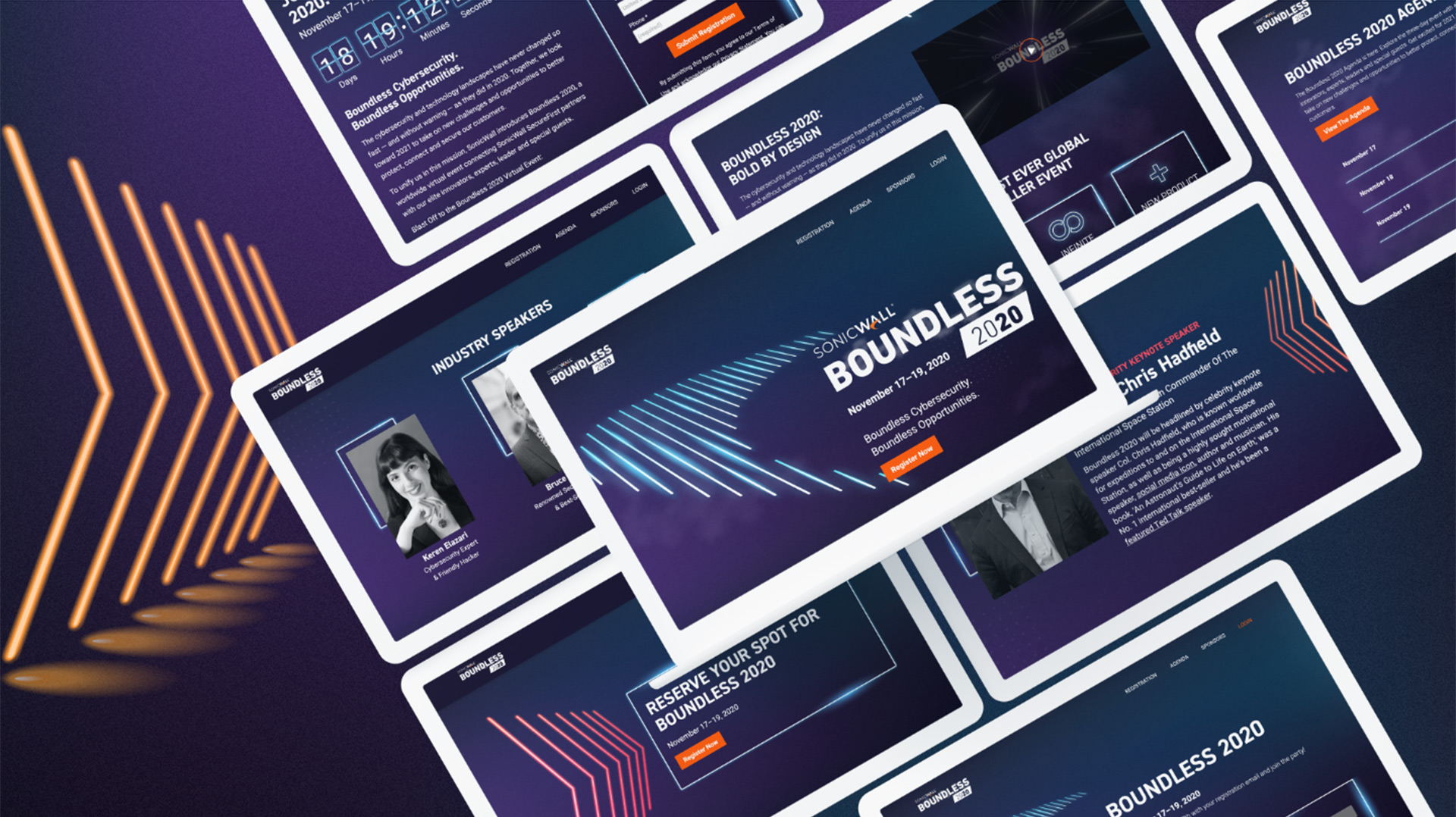 Drum up your attendance
The old goal for larger event attendees was to get people in the room. Now, a successful campaign will convert registrations into live viewers. Everyone wants more eyes on the screen and ultimately your brand.
Everything comes down to how you plan and offer an event. One way to create urgency includes making sure that people know it will only be a one-time opportunity. The novelty of exclusive and experiential experiences very much still exists in the virtual world—it is just a question of making sure the audience knows what to expect and what they could miss out on if they don't attend.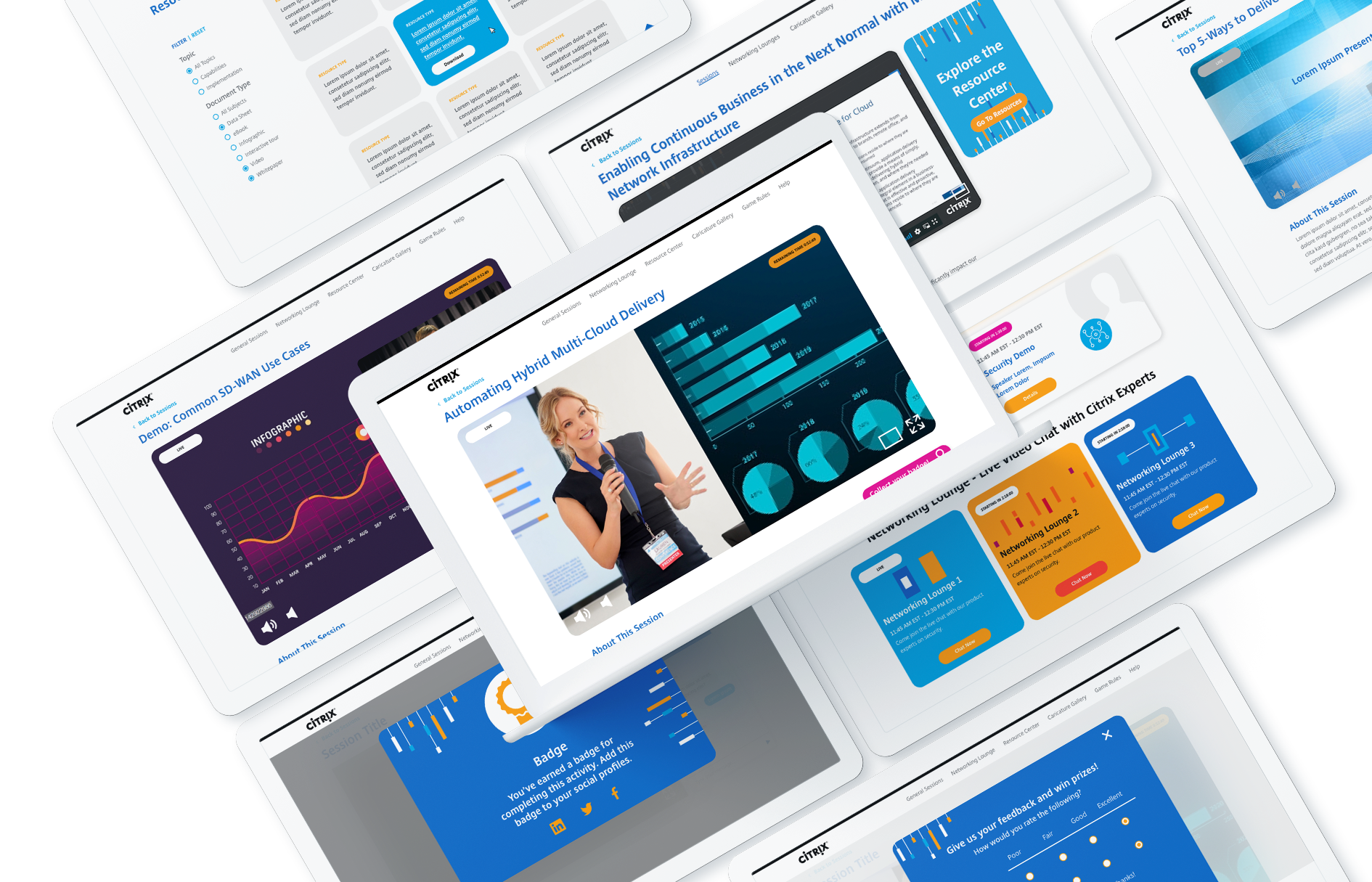 Play the long game 
Many experts are hinting that even after the pandemic recedes, aspects of virtual events may be here to stay. The success story of the virtual event is twofold. Some companies have noticed an increasing number of event attendees due to the ease of people signing on from home, and a hybrid option of partially virtual, partially in-person events will allow non-local attendees from around the world to participate in events they may not have otherwise due to the hard cost and opportunity cost of travel. It is now more important than ever that your company is prepared to comply with today's event regulations by going virtual but also invest in a sustainable digital marketing strategy for future events, campaigns, and more. 
Watch Bluetext founder, Jason Siegel, discuss how to create and maintain urgency in event marketing with Travelocity Founder and keynote speaker Terry Jones in this week's Virtual Marketing Minute.
Thank you for joining us for the Q1 2021 Bluetext Cybersecurity Summit. Exclusively open to CXO's, our goal with this summit is to deliver a value-add platform to network in the C-Suite with businesses facing similar opportunities and challenges.
Topics:
We plan to discuss the following items:
Technology Customer Investment Trends
Technology Consolidation Trends
2021 Trends
Date/Time:
2:30pm-4:00pm EST
Thursday, January 28th, 2021
Where:
COMING SOON: A link will be distributed with a calendar invite to all invited.
Agenda:
Welcome from Jason Siegel: 1 minute
Welcome and Introduction from Moderator, Morgan Wright, SentinelOne: 3 minutes
Introductions of each business by one of the representatives (2 minutes each): 15-20 minutes
Five questions will be softballed out, each receiving 5-10 minutes of airtime.
Summit Specifics: Things to Know
We will mute all microphones for audio clean-ness
The raise hand functionality will be used to orderly unmute speakers
A recording of this conversation will be archived so keep it clean, friends
Moderator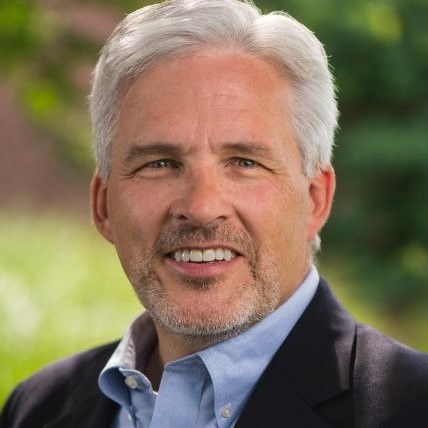 Morgan Wright
Chief Security Advisor, SentinelOne
Morgan is an internationally recognized expert on cybersecurity strategy and cyberterrorism. He currently serves as a Senior Fellow at The Center for Digital Government, Chief Security Advisor for SentinelOne, and is the chief technology analyst for Fox News and Fox Business on cybersecurity, cyberterrorism, national security, and intelligence.
Companies in Attendance:
AffirmLogic
About: AffirmLogic's Hyperion platform applies advanced Mathematical Behavioral Computation that enables security teams to detect, analyze, and defend against even the most insidious malware—including advanced persistent threats (APTs) and other sophisticated, potentially devastating forms of attack.
Invited:
Larry Roshfeld, Chief Executive Officer
---
ArdentMC
About: ArdentMC is a trusted provider for geospatial information, cloud migration, and DevOps in the federal, state, and local business spheres, delivering quality products and outstanding performance initiative to every client.
Invited:
Michael Matechak, Chief Strategy Officer
---
CI Security
About: CI Security provides Managed Detection and Response and Cybersecurity Consulting services to help their customers to be secure, compliant, and resilient against threats to the life-safety, life-sustaining, and quality-of-life systems and services they provide to customers and communities.
Invited:
Jake Milstein, Chief Marketing Officer
---
EnHalo
About:
EnHalo is a group of global companies under one brand that is locally engaged, while globally operated. EnHalo focuses on three business pillars: Reducing Risk through its cybersecurity offerings, Reducing Cost through digital transformation, and Increasing Revenue through automation.
Invited:
Chris Beard, US President
Carol Watson, Director, Sales & Operations
---
Illusive Networks
About: Illusive Networks, the leader in deception-based cybersecurity solutions, empowers security teams to preemptively harden their networks against advanced attackers, stop targeted attacks through early detection of lateral movement, and resolve incidents quickly.
Invited:
Claire Trimble, Chief Marketing Officer
---
Infinite Group (IGI)
About: IGI works with organizations on all levels of IT security. Its areas of practice include managed security, incident response, social engineering, physical & perimeter security, administrative security, and internal security. 
Invited:
Andrew Hoyen, President & COO
---
Kryptowire
About: Kryptowire provides software assurance tools for mobile application developers, analysts, enterprises, and telecommunication carriers.
Invited:
Alex Lisle, Chief Technical Officer
---
Obrela Security Industries
About: Obrela Security Industries (OSI) provides enterprise-class professional and managed IS services to assess and manage information risk in complex enterprise environments.
Invited:
George Patsis, Chief Executive Officer
---
Phosphorus Cybersecurity
About: With a 7 year half-life for vulnerability patching, and infrequent, if ever, credential rotation, IoT is the softest target on the network today. Phosphorus automates remediation of the biggest vulnerabilities in IoT.
Invited:
Chris Rouland, Chief Executive Officer
Rebecca Rouland, Chief Financial Officer
---
Sertainty
About: Sertainty technology implements a proprietary zero-trust architecture by embedding actionable intelligence into data-files. Sertainty makes it possible for data to be self-aware, self-protecting, self-acting. This gives software developers, systems integrators and their end-users a better way to monetize valuable information, lower the cost of compliance and mitigate risk in real time.
Invited:
Rivers Nesler, VP, Communications & Legal Affairs
---
Securonix
About: Securonix delivers a next generation security analytics and operations management platform for the modern era of big data and advanced cyber threats.
Invited:
German Fabella, Creative Director
---
SonicWall
About: SonicWall Boundless Cybersecurity safeguards organizations with seamless protection that stops the most evasive cyberattacks across boundless exposure points and increasingly remote, mobile and cloud-enabled workforces.
Invited:
Geoff Blaine, Senior Vice President, Corporate Marketing
---
SpyCloud
About: SpyCloud is laser focused on preventing online fraud with our proactive solutions, which protect billions of employee and consumer accounts worldwide from account takeover.
Invited:
Company CXO's
---
Stage2Security
About: Stage 2 Security is an Adversary Simulation, Protection, and Prevention company focused on building confidence in our clients' IT systems.
Invited:
George McKenzie, Chief Executive Officer
2020 will forever mark a significant milestone in remote work practices. To comply with COVID-19 safety protocols many companies have closed or limited office capacity and enabled their workforce to work remotely. There is a significant change in everyday work practices, but even more significant change in large industry events from trade shows, networking events, and conferences. While industry events as we know them are not yet possible, business must go on. Luckily, digital-based agencies such as Bluetext, have been hard at work to innovate solutions that can replicate the in-person experience as much as possible with virtual events.  
Virtual events will become a universal industry standard in the future, regardless of when large gatherings become safely possible again. Hosting a virtual event eliminates the time and cost associated with work travel and allows flexibility to attend event sessions while keeping up with the normal day to day operations. Virtual events allow employees or colleagues from anywhere in the world to easily join from the comfort of their own home or office and can choose to be present at only event sessions relevant to them and their interests. Rather than having your whole team out for three days, there is the flexibility to attend select sessions for a couple of hours at a time. 
If your company is considering hosting a virtual event, there's a couple of things to consider first. After the success of Citrix Bootcamp and SonicWall Boundless 2020, Bluetext has rounded up their top tips for the first step of any virtual event: registration.
Ace the Virtual Event Invite
One of the first things to consider with any event is: Who is the audience? Is this a trade show for a number of different companies? An employee only training? Select clientele? A virtual event marketing agency will assist with the outreach to attendees, whether that strategy is based on a specific email list or advertised publicly. From email nurture campaigns to targeted paid advertising, the options are endless for inviting attendees. Based on who the target audience is, a digital marketing agency can prescribe the right strategy for your company and design promotional assets to get people interested in the virtual event.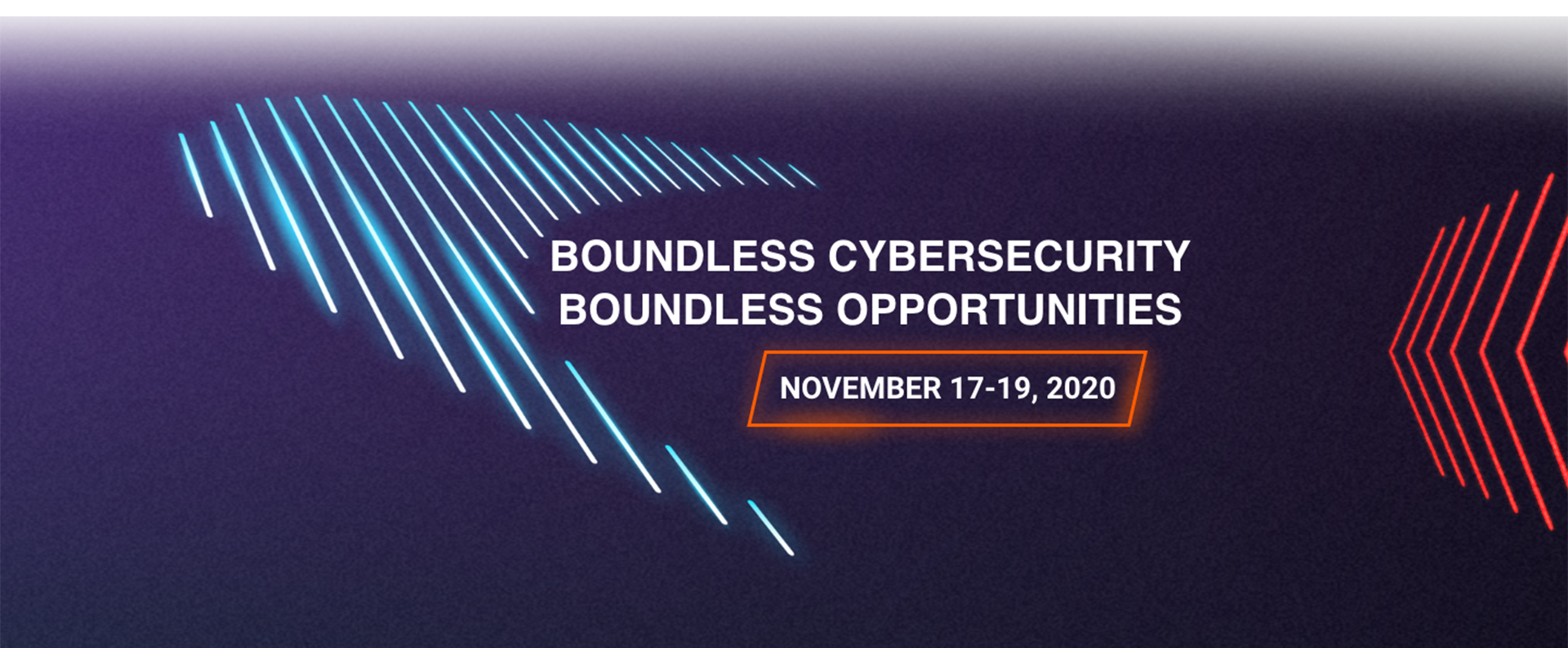 Load Up the Landing Page
Once you've sent out invites or promotional messages, attendees will need a place to RSVP. Just like a traditional in-person event, a headcount of attendees is needed to properly plan and test for specific traffic levels. Registration numbers are also a great KPI to measure event success. To fully close the conversion, the landing page for the virtual event must be clear, concise and enticing. There's no formula for the perfect virtual event registration page, but at Bluetext we recommend the following components:
A concise listing of event details (date, time, time zone, etc.)

Spotlight of the top event sessions to get users interested

A sizzle reel to showcase the event highlights in a minute

A clear and easy to find the registration form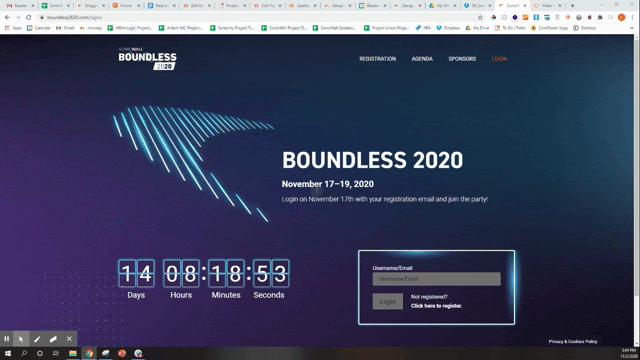 Who's On the List?
A key component to consider with virtual event registration is registration security. Will there be proprietary information discussed at the event? Will sessions be targeted at only your employees to introduce not in market products or strategies? If so, you may want to consider white-listing your company's email domain. If the event is centered around internal strategies and training, you may want to also black-list the email domains of your top competitors.  Depending on the size and subject matter of the event, it may also be important to reinforce security by black-listing personal email addresses and ensuring all attendees are relevant business partners and colleagues.
Always Say Thank You!
Once a user has found your enticing landing page and successfully registered for your virtual event, don't let the excitement end there. Be sure to send them an equally interesting thank you page. In our virtual event marketing experience at Bluetext, we have found that dynamic countdown clocks are a great way to get users excited about the event. A great thank you page may also want to link out to event FAQs, or highlight a special session to look forward to.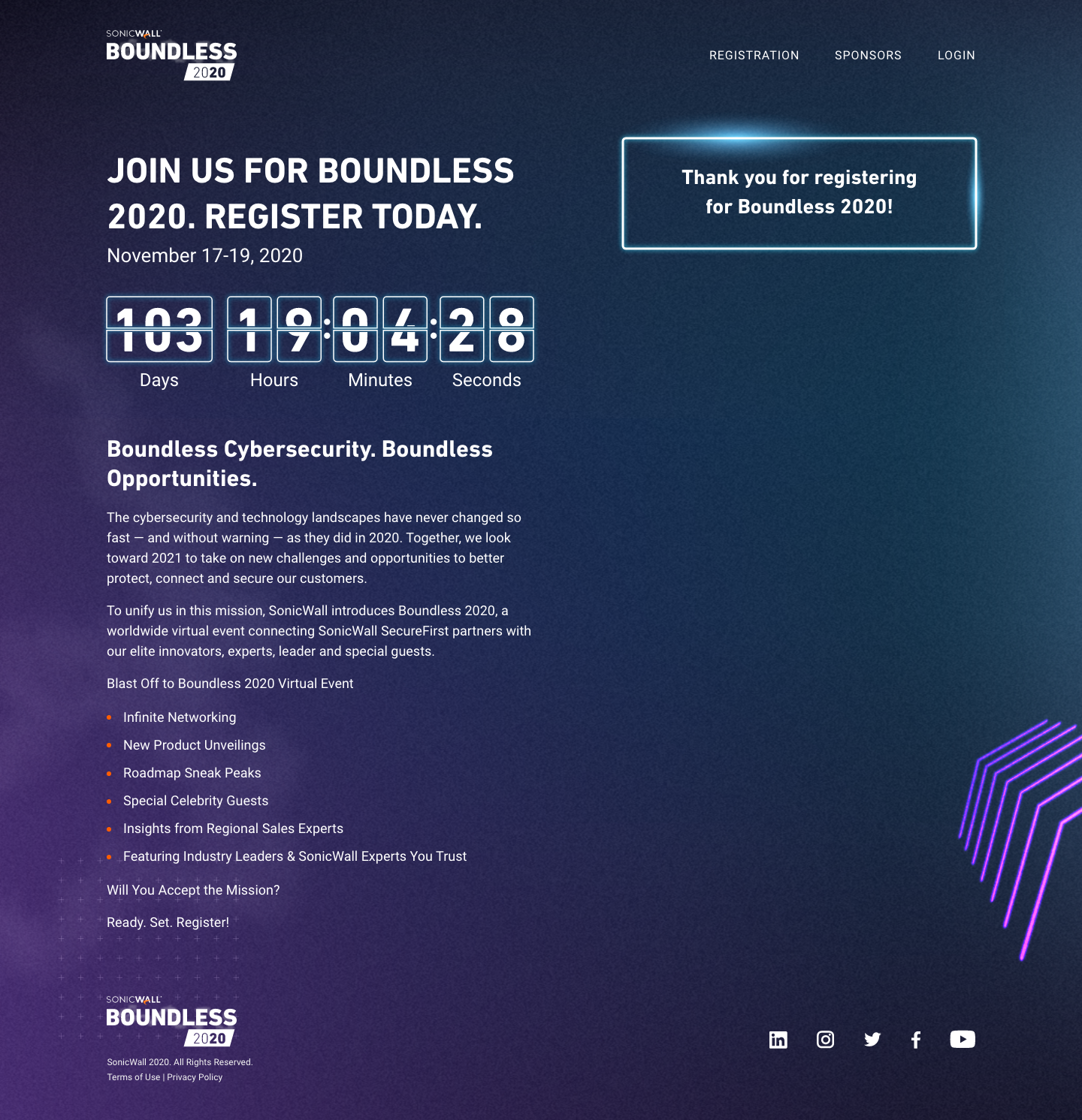 Reminder Emails They'll Want to Read
Once a user is registered don't let your virtual event fall off the radar. Use the registration email list to trigger a nurture email campaign that can send additional event details, reminders, and more! A full event agenda can be overwhelming to a user two months out but would be useful when they're blocking off their calendar a week or so in advance. It's always a best practice to remind users a week, a day, and an hour in advance of the date. Check out the recent SonicWall Boundless 2020 virtual email for some inspiration on event teasers and reminders.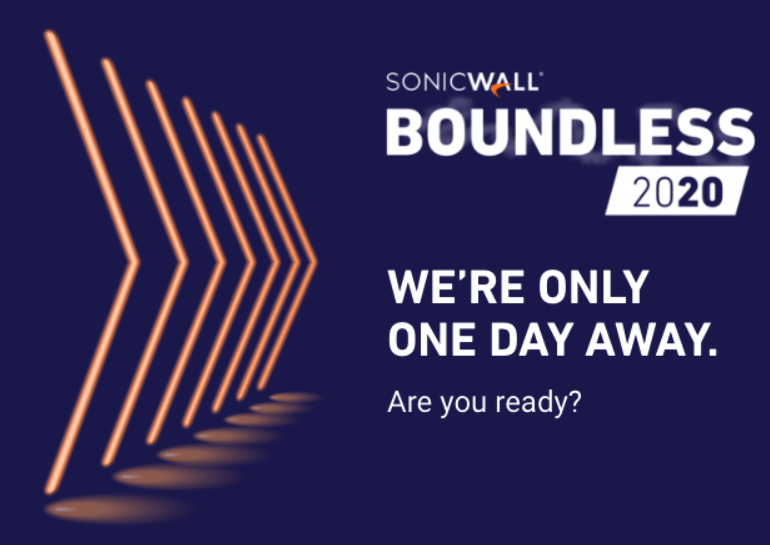 2020 has been the year of transitioning workforces, meetings finally turning to emails, new office place attire, and most of all, virtual conferencing. With pandemic restrictions putting a pause on in-person interactions, many industry conferences, trade shows, and events have been forced to postpone, cancel, or adapt. 
In the spirit of adaptation, many companies have found ways to work around the obstacles of the pandemic and preserve the annual events and conferences that customers and business partners have come to rely on. Virtual events have become the new normal. Businesses are realizing the potential of virtual conferencing and webinars, and using a variety of virtual networking platforms to achieve their event objectives completely online.
As an agency with virtual event marketing capabilities, Bluetext has seen a range of approaches and ways to make businesses virtual. Our favorite virtual event trend thus far has been the "real-corded" style of virtual events. Instead of simply posting videos or recordings online to viewers, some companies are opting to recreate the expected live event experience for viewers. This attempt to preserve the familiarity of traditional trade shows and industry events is well received and appreciated by attendees, as it gives some sense of normalcy and expectancies in an uncertain period of time that we live in. There is a large amount of risk that comes with hosting a completely live-streamed virtual event, including technical issues, presentation quality, user behavior, and platform capacity. However, clever companies have found a way to disguise recordings as live streams and provide some sense of community and group experience to viewers. 
The "Real-corded" Experience

Here are some of our favorite ways recorded events have simulated live stream experiences:
1. Countdown Clocks
For SonicWall Boundless Virtual Event, a dynamic countdown clock was added to the pre-event site to show exactly how many days, hours, and minutes until the virtual event would go "live." The pre-event site was loaded with everything a viewer might need to know about the event, including promotional teasers to agenda and FAQs.
2. Event Log-In
Once the countdown hit zero, the pre-event site updated to allow an attendee to log-in. Very similar to a normal in-person protocol, where a user would sign-in and verify that they had registered for the event before entering the venue. After logging in the user would be greeted with the simulated "Lobby" of the live event site.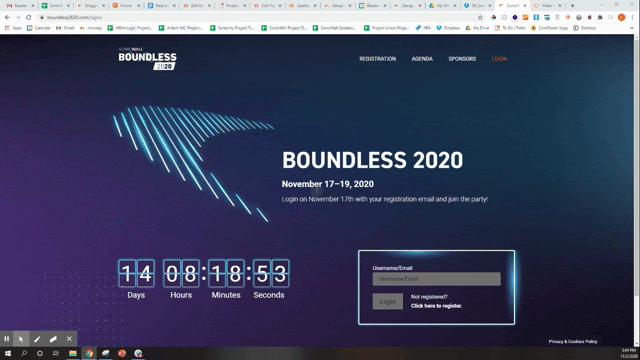 3. Time Gated Resources
The pre-recorded video sessions were locked prior to their specified showtime and featured a branded thumbnail to notify an attendee the session had not yet begun. Just as a live event attendee could not time travel to future sessions, the event site did not allow viewers to fast forward the schedule. Once the session was 30 minutes away from scheduled showtime, a new countdown GIF would replace the thumbnail to announce the upcoming video.
4. Virtual Booths
Another hallmark of the virtual event experience was the affordance of networking. While the majority of the event was pre-recorded to allow for post-production editing and ensure visual and audio quality, there were portions of the event where viewers could join a streaming platform and chat in real-time with hosts.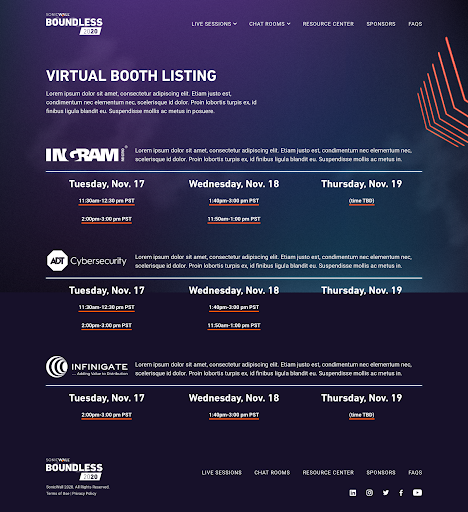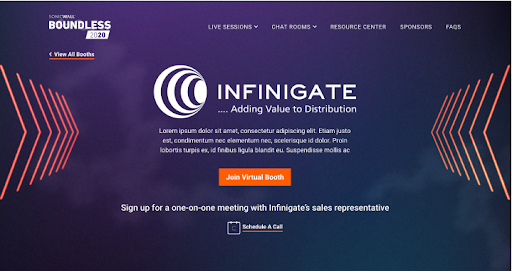 All of these features had guests wondering, real (or recorded?) during the event. The transition between real and recorded video content was made seamless by custom web integrations and streaming platforms. Interested in making your virtual event truly come to life? Check out Bluetext's virtual event experience, and contact us to learn how we can make virtual a reality for your business.
So you want to host a webinar? In the wake of COVID-19, webinars are your safest option for meeting with your network. According to ON24, at the onset of COVID-19 webinar usage jumped up by more than 330% as a result of the work from home shift. Six months later and webinars are the new normal. So how can you ensure yours is as successful as possible? Check out our virtual experience tips below
Timing is Everything
Studies show that unlike before, your webinar is most likely to draw in participants if it's held on a Tuesday. While webinars have increased in popularity across every day of the week, Tuesdays have proven to be the most effective. Additionally, any promotional emails for your webinar should be sent early to mid-week for maximum effectiveness. Let's face it, most of us are most effective early in the week–before the week gets too crazy. Bluetext can help you put together and execute a comprehensive marketing plan to advertise your webinar when audience attention is highest. From coordinated social media posts, designing promotional email templates, and even creating and placing ads, Bluetext is ready to assist you every step of the way.
Tech Support
We've all come to learn with work from home protocols, technical difficulties have been encountered by the best of us. However, they can change the tone and impression of professionalism for every participant. As an experienced virtual event and webinar agency, we've learned a few ways to avoid this frustrating user experience. First, always conduct dry runs internally to ensure all your settings and equipment work properly–the last thing you want is for your host to have AV problems at the start of your webinar. Second, we recommend having team members on standby to provide any last minute tech support to your attendees. Third, have a backup plan! Whether you offer a second platform for viewing the webinar like Facebook Live or Twitch, or a backup laptop for your host, think through any potential issues ahead of time. Lastly, if you need to contact customer support, be prepared to wait. With the increase in virtual meetings, vendors are struggling to keep up with the tech support demand. That's why we recommend preparing in advance and working with a trusted agency, such as Bluetext, that has experience troubleshooting these sorts of technical problems.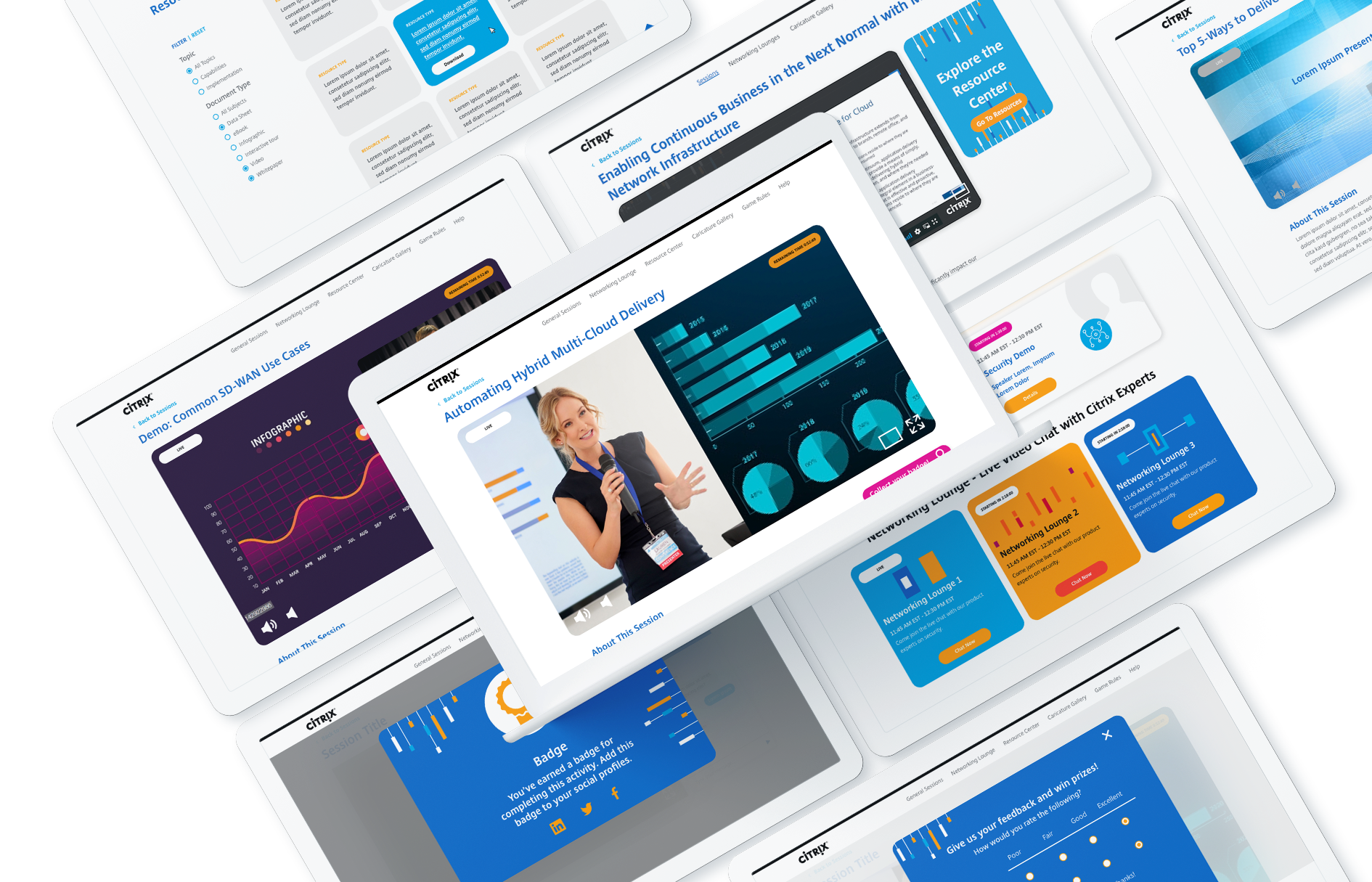 Resources
What good is a webinar if you don't have actionable content for attendees to access? Whether you present a PowerPoint or review a whitepaper, attendees should have access to it all. The goal of a webinar is to engage and inform, so ensure any content you provide will be relevant for a few months. We also recommend having your resources link back to your site to increase engagement and keep your company top of mind. Additionally, ensure the content you share establishes you as a thought leader in your industry. Industry leadership is established by valuable content, but also professional and impressive brand identity. Be sure all of your collateral is aligned with your brand, contains digestible and insightful graphics or diagrams, and above all else creates a lasting and positive impression of your company. If your resources need a refresh, Bluetext is a full-service creative and copywriting agency that will ensure your content is as effective as possible.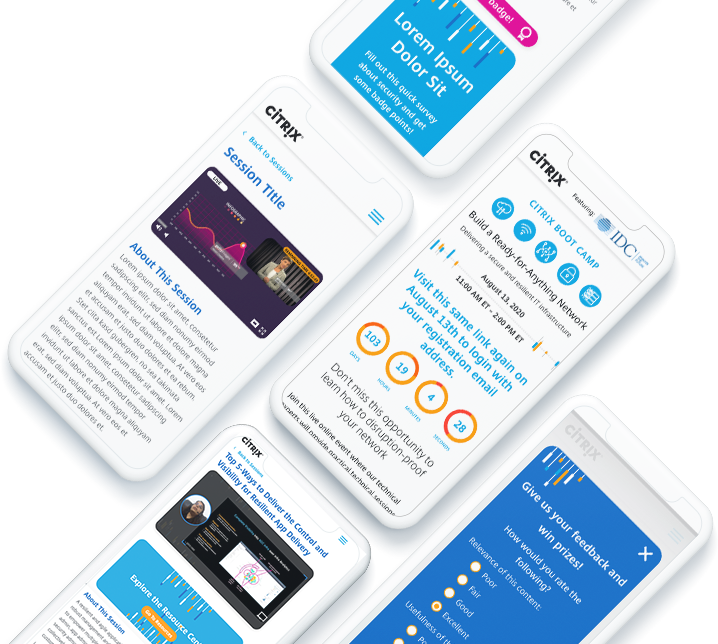 Webinar Platforms
When it comes to webinars, there are countless platforms to choose from, but these are not one size fits all. So how do you know which is right for you? Each platform offers different features, branding opportunities, and security features. From experience in virtual networking and webinars, Bluetext has dug through all the major players and can recommend the platform that best fits your needs. We have been perfecting the webinar experience for the past few months with our virtual events and learned quite a few things along the way. Experience equates to first hand knowledge on what to expect from each platform, and the pros and cons the platform itself may not tell you.  
Why settle for the same old webinar when you can increase engagement and memorability with a fully polished immersive experience. With our customizable virtual events, your users will feel like they're attending an in-person conference again. In these times, a taste of normal is what we all need. Want to learn more about how Bluetext can help your webinar be a hit? Get in touch with us here.
Thank you for joining us for the Q4 2020 Bluetext Cybersecurity Summit. Exclusively open to CXO's, our goal with this summit is to deliver a value-add platform to network in the C-Suite with businesses facing similar opportunities and challenges.
Topics:
We plan to discuss the following items:
Technology Customer Investment Trends
Technology Consolidation Trends
MUCH MORE ….FILL IN SURVEY LINK BELOW
Date/Time:
COMING SOON: PLEASE FILL IN THIS SURVEY
Where:
COMING SOON: A link will be distributed with a calendar invite to all invited once the survey is done below.
Agenda:
Welcome from Jason Siegel: 1 minute
Introductions of each business by one of the representatives (2 minutes each): 15-20 minutes
Five questions will be softballed out, each receiving 5-10 minutes of airtime.
Summit Specifics: Things to Know
Jason will mute all microphones for audio clean-ness (something our 1st Presidential debate should have done)
The raise hand functionality will be used to orderly unmute speakers
A recording of this conversation will be archived so keep it clean, friends
Companies in Attendance:
AffirmLogic
About: AffirmLogic's Hyperion platform applies advanced Mathematical Behavioral Computation that enables security teams to detect, analyze, and defend against even the most insidious malware—including advanced persistent threats (APTs) and other sophisticated, potentially devastating forms of attack.
Attending:
Larry Roshfeld, Chief Executive Officer
Bill Yarnoff, Chief Growth Officer
---
Infinite Group (IGI)
About: IGI works with organizations on all levels of IT security. Its areas of practice include managed security, incident response, social engineering, physical & perimeter security, administrative security, and internal security. 
Attending:
Andrew Hoyen, President & COO
---
Phosphorus Cybersecurity
About: With a 7 year half-life for vulnerability patching, and infrequent, if ever, credential rotation, IoT is the softest target on the network today. Phosphorus automates remediation of the biggest vulnerabilities in IoT.
Attending:
Chris Rouland, Chief Executive Officer
Rebecca Rouland, Chief Financial Officer
---
Sertainty
About: Sertainty technology implements a proprietary zero-trust architecture by embedding actionable intelligence into data-files. Sertainty makes it possible for data to be self-aware, self-protecting, self-acting. This gives software developers, systems integrators and their end-users a better way to monetize valuable information, lower the cost of compliance and mitigate risk in real time.
Attending:
TBD
---
Trusona
About: Trusona is the pioneer and leader in password authentication. Stolen or weak passwords are responsible for over 80% of breaches, and Trusona's mission is to thwart cybercrime by eliminating them from the user experience.
Attending:
Ori Eisen, Founder & Chief Executive Officer
Kevin Goldman, Chief Experience Officer
---
T2
About: T2™ manages large-scale technology projects for some of the most respected health systems and businesses in the United States.
Attending:
Kevin Torf, Managing Partner
Jim Rockenbach, Chief Strategy Officer
---
Verve Industrial Protection
About: Verve Industrial Protection's mission is to protect the world's critical infrastructure. For twenty-five years, Verve has helped its clients simplify and reduce the cost of building and maintaining secure, reliable, and compliant industrial control systems – DCS, PLC and SCADA. 
Attending:
John Livingston, Chief Executive Officer