2020 has been the year of transitioning workforces, meetings finally turning to emails, new office place attire, and most of all, virtual conferencing. With pandemic restrictions putting a pause on in-person interactions, many industry conferences, trade shows, and events have been forced to postpone, cancel, or adapt. 
In the spirit of adaptation, many companies have found ways to work around the obstacles of the pandemic and preserve the annual events and conferences that customers and business partners have come to rely on. Virtual events have become the new normal. Businesses are realizing the potential of virtual conferencing and webinars, and using a variety of virtual networking platforms to achieve their event objectives completely online.
As an agency with virtual event marketing capabilities, Bluetext has seen a range of approaches and ways to make businesses virtual. Our favorite virtual event trend thus far has been the "real-corded" style of virtual events. Instead of simply posting videos or recordings online to viewers, some companies are opting to recreate the expected live event experience for viewers. This attempt to preserve the familiarity of traditional trade shows and industry events is well received and appreciated by attendees, as it gives some sense of normalcy and expectancies in an uncertain period of time that we live in. There is a large amount of risk that comes with hosting a completely live-streamed virtual event, including technical issues, presentation quality, user behavior, and platform capacity. However, clever companies have found a way to disguise recordings as live streams and provide some sense of community and group experience to viewers. 
The "Real-corded" Experience

Here are some of our favorite ways recorded events have simulated live stream experiences:
1. Countdown Clocks
For SonicWall Boundless Virtual Event, a dynamic countdown clock was added to the pre-event site to show exactly how many days, hours, and minutes until the virtual event would go "live." The pre-event site was loaded with everything a viewer might need to know about the event, including promotional teasers to agenda and FAQs.
2. Event Log-In
Once the countdown hit zero, the pre-event site updated to allow an attendee to log-in. Very similar to a normal in-person protocol, where a user would sign-in and verify that they had registered for the event before entering the venue. After logging in the user would be greeted with the simulated "Lobby" of the live event site.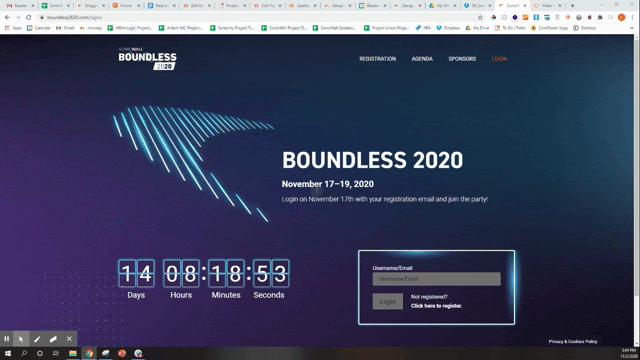 3. Time Gated Resources
The pre-recorded video sessions were locked prior to their specified showtime and featured a branded thumbnail to notify an attendee the session had not yet begun. Just as a live event attendee could not time travel to future sessions, the event site did not allow viewers to fast forward the schedule. Once the session was 30 minutes away from scheduled showtime, a new countdown GIF would replace the thumbnail to announce the upcoming video.
4. Virtual Booths
Another hallmark of the virtual event experience was the affordance of networking. While the majority of the event was pre-recorded to allow for post-production editing and ensure visual and audio quality, there were portions of the event where viewers could join a streaming platform and chat in real-time with hosts.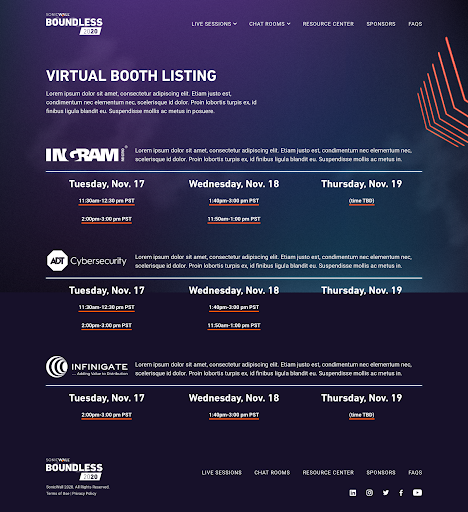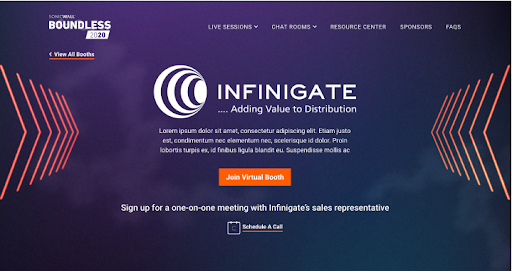 All of these features had guests wondering, real (or recorded?) during the event. The transition between real and recorded video content was made seamless by custom web integrations and streaming platforms. Interested in making your virtual event truly come to life? Check out Bluetext's virtual event experience, and contact us to learn how we can make virtual a reality for your business.