Product-led growth (PLG) strategy is at the forefront of a massive shift in the software purchasing process. Read our most recent blog in this series, PLG Series: Product User POV, to determine if your company is ready to put end users in the driver's seat. For companies looking to make this shift, consider the steps it will take to get there, which will require two major stages of transformation: the evolution of the product, and the evolution of the organization. 
Steps to Becoming a PLG Company
Evolution of the Product
PLG strategy hinges on end users being thrilled by the product the company offers. How can organizations create a thrilling software experience? While it may seem like an oxymoron, thrilling software is possible. It starts with prioritization of design, empathy, and frictionless touchpoints with a combination of user journey mapping, user testing, and intelligent data implementation. The end-user experience is what sets a working product and a great product apart. The product needs to serve as a solution to the user's troubles, not just a jumble of benefits and features. The user journey is top of mind for pioneering PLG-focused companies, rather than the specs and selling points of the product itself. 
A good example of this is the onboarding process for new users. In demonstrating software products, the demo should be focused on helping the user achieve their goals, not showing off features of the software it's trying to sell. Product-led growth really means user-led: anticipating their needs, reducing their friction, and providing ongoing support to create a joyful, exciting user experience with the product. In the PLG model, product enjoyment leads to subscription sales, additional referrals, and customer retention. When shifting to a product-led growth strategy, companies must create sticky products, which capture user interest by delivering consistent value and compel users to use them more regularly. 
Evolution of the Organization
To become a PLG company, the organization must first be willing to turn away from sales-led and marketing-led growth strategies. Instead, the business structure has to support the ability to move faster, more collaboratively, and with more complex dynamics. Collaboration and inclusivity are more than industry buzzwords; they actually can make or break internal strategies. To pull off the rate of product improvement necessary to keep pace with competitors, a PLG-focused company has to run as a democracy, taking input from a diverse group of stakeholders from a variety of different teams. Marketing, sales, CS, design, and engineering teams, for example, will all need to weigh in to make decisions that result in the best product and end-user experience. 
The resulting company structure is often at first more difficult and complex than legacy structures, but it has proven the best way to organize a company that prioritizes the quality of the product for the consumer experience. When scaling, the first thought may be to attempt to grow teams through hiring to accommodate for better, quicker, product improvements. That process tends to be time-consuming, costly, and inevitably leads companies to fall behind their faster, leaner competitors who are prioritizing employee growth, flexibility, and collaboration. As a step toward this organizational transformation, it's important to break down silos to stay communicative, informed, and aligned across teams.
After going through the transitional phases outlined above, the real work of a product-led growth company begins in harnessing value from the Freemium to Premium chain. 
Capitalizing on the Freemium to Premium Chain
For a PLG-focused enterprise, after creating the best possible product and putting the organizational systems in place to support the development of increasingly spectacular products, the value in the product-led growth model comes from encouraging the following: Product adoption, Customer Loyalty, and Advocacy. This growth can be reaped from the Freemium to Premium chain, composed of three stages: 
A frictionless entry point for users, leading to customer acquisition. 
The user's first interaction with the product should be personalized, delightful, and convincing. A free trial or demo experience allows users to self-educate about the benefits of the product and its ability to solve their needs, rather than having to deal with a salesperson or middleman to handle the transaction. This freemium experience can come in a couple of different forms: a reduced features version, a reduced capacity or usage version, or a reduced support version. 
There are a few reasons as to why the free trial method is the best entry experience for customers seeking software solutions. First, the software is an intangible object and can be difficult to adequately describe with marketing lingo; it's better to give users a hands-on experience that shows (rather than tells) the product's benefits. Second, free trials reduce the fear of committing to a purchase, so users can explore the software offerings without concerns about getting locked into a subscription. Lastly, observing or collecting data during a demo experience allows you to gain valuable feedback on the product at hand. By seeing how end users experience the product designed for them, you can get a realistic sense of their positive reactions and friction points in order to continue improving the product offering. 
Features located behind a paywall, leading to expansion. 
The free trial leads the process by introducing the user to a must-have technology (where they're reaping actual value), and the paywall follows by scaling up the pricing for the software as usage or benefits increase. After an opt-in free trial, a good conversion rate should be around 25%, and that rate jumps to 60% for opt-out free trials.
The product-led growth strategy for conversion is simple: freemium users are enticed to subscribe to premium accounts when they enjoy the product. To encourage subscriptions, it's important to remind users of the benefits and product features. In addition, putting a clear time limit on the length of the trial creates a sense of urgency for freemium users to switch to premium subscriptions. Trial period expirations can help push users to take action, for fear of losing out on the benefits that they've come to appreciate while utilizing your software throughout the demo period.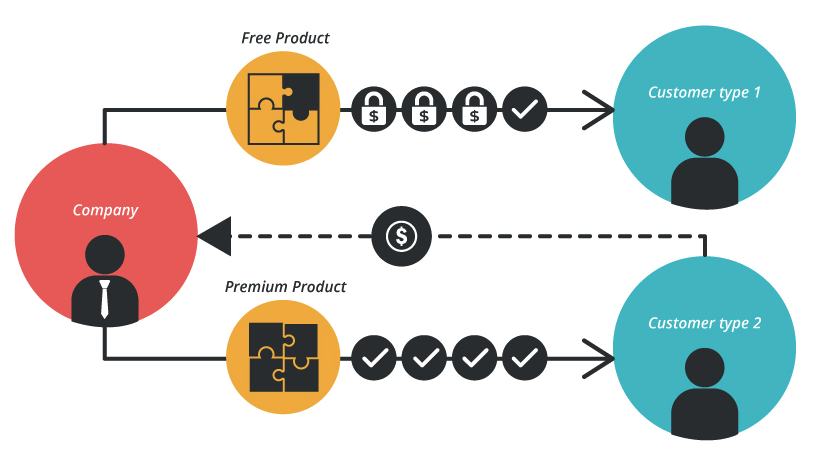 Valuable integrations, leading to retention.
While gaining initial subscriptions is important, PLG strategy necessitates that these users continue coming back to the product. Ideally, each time the user utilizes the product, they should have a better and better experience. The PLG model will not work successfully if the company's product becomes outdated or uncompetitive. Users must not only fall in love with the product but stay enamored. This can be done by continually improving the existing user experience, or by building out additional features and benefits to the product. However, if exploring the latter, keep the user journey segmented so that different audiences are still able to find the most relevant solutions quickly. As the product grows to encompass more features, the UX designers should ensure that the additional capabilities don't cloud the interface to make it confusing or overwhelming. 
For companies in the software technology space, shifting to a product-led growth strategy could lead to a better experience for customers and keep the enterprise at the front of the competitive edge. If you are interested in learning more about how Bluetext could use marketing tactics to help reposition your brand as a PLG-focused business, contact us.