The way that users engage with technology has dramatically changed in the last decade. As SaaS companies are stepping up their game to meet these demands, users are met with an abundance of software available at their fingertips to fulfill their every need. Tech-savvy people are seeking software that is more beautiful, more powerful, and more affordable than ever before. The patience for dealing with clunky designs or a challenging user experience has completely dissolved. Now more than ever, businesses are recognizing the value of leading with a great product and user experience in order to generate growth. Enter Product Led Growth.
Product Led Growth
Product Led Growth is a business strategy for companies to use their product as the primary driver for customer acquisition, retention, and expansion. Imagine a pancake house that is famous for its pancakes. You hear about the pancakes, try them, love them, and tell all of your friends to try them as well; thus, the cycle repeats itself. The restaurant's main goal is to create an unforgettable pancake that keeps customers coming back; they don't have to prove or tell anyone that they have amazing pancakes because the product speaks for itself. Businesses that have adapted Product Led Growth strategies are thinking about how they can put their product at the forefront of every step of the customer journey–the foundation is having an amazing product with exceptional focus on the user. People hear about it, they test it out, they start using it, and all of a sudden it becomes a necessity to run their business. This type of strategy fosters company-wide alignment across teams around the product as the single most important source of long-term, scalable business success.
Product Led Growth allows for a significantly lower cost to acquire customers because existing users are promoting and selling the product simply by enjoying using it. Unlike sales-led businesses, which aim to get a customer from point A to point B in a sales cycle, product-led businesses turn the typical sales paradigm on its head by allowing customers to try their product for free, through a freemium or free trial that eventually becomes a subscription or an add-on purchase. Some of the most successful companies implementing the Product Led Growth approach are Slack, Dropbox, and Zoom, just to name a few.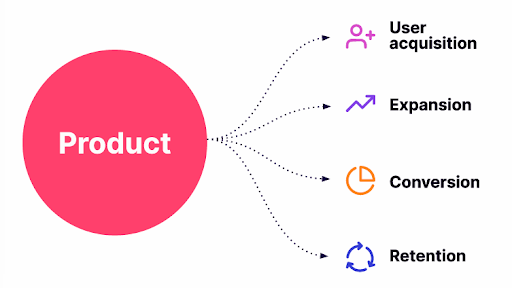 Slack
Perhaps one of the greatest examples of a company that has mastered the PLG strategy is Slack. By creating a completely new way for teams to communicate with each other, Slack leads with a product that is widely beneficial to almost any business, unique in its offerings, and initially free. Customers start with a free sign-up process with frictionless onboarding and are met with a superior customer experience throughout usage. Slack swiftly slides in premium plans for users to expand the scope of the platform after they've already started using it.
The company boasts over 12 million active daily users, with 156,000 businesses subscribing to the app and a profit of $292 million in 2021. They've also uniquely branded themselves with quirky and fun features that cannot be found on traditional messaging or communication platforms. By bridging the favored aspects of modern communications, like the iPhone emoji, the swift speed of the classic IM, and even conferencing abilities of Zoom, they've made a one-of-a-kind product that adopters find irreplaceable. It's the kind of app that sells itself; you hear about it, you try it, and soon enough you're using it every day. Slack is an excellent example of a company that leverages product features and usages as its main driver for acquisition and retention.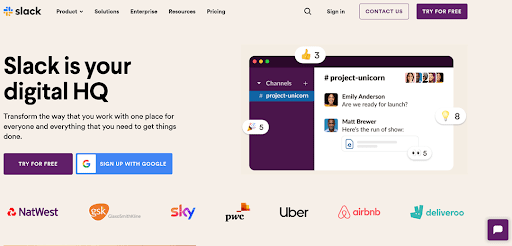 Dropbox
Next up, we have Dropbox. With sales that have surpassed $1 billion in less than ten years, Dropbox has a clear and undeniably successful product-led growth strategy. Dropbox's product-led strategy succeeds in two crucial areas. First, Dropbox has developed a user-friendly product that satisfies market demands by making file sharing simple and convenient for end users. For users, the platform is intuitive and easy to set up, and accessible for recipients regardless of subscription status. Second, the platform encourages users to convert non-users by passing along a referral link that subsequently increases their storage credit. This recommendation strategy has allowed Dropbox to gain new clients while improving the satisfaction of current ones.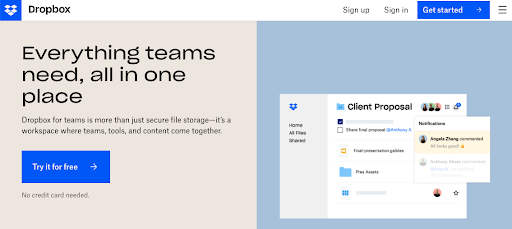 Zoom
Last but certainly not least, we have Zoom. Unbeknownst to us at the time, a global pandemic created the ideal environment for Zoom's product strategy to become a master class of the Product Led Growth model. Zoom continues to distinguish itself from its well-known competitors by putting the needs of its clients first and keeping its promise to offer a straightforward connection. By expanding on its PLG model, Zoom makes many of its essential capabilities freely accessible, putting Zoom in the hands of millions of customers who connect for work meetings, educational purposes, workout classes, and book clubs. Other premium features are further accessible through a paid subscription.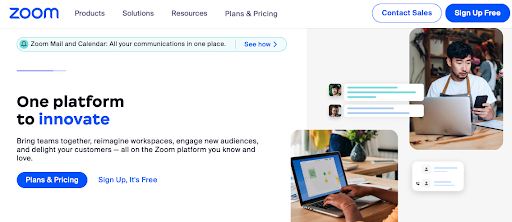 The bottom line is, Product Led Growth strategy is here to stay. It is challenging the traditional sales-driven growth model of software companies and transforming the way customers are acquired and retained.  If you are interested in learning more about how Bluetext could use marketing tactics to help reposition your brand as a PLG-focused business, contact us.