Picture this: the year is 2013, Twitter is exploding into the public conscious with more than 200 million active users, and Facebook has a vice-grip on people's free time across the globe. Social media, once considered an afterthought in any brand marketing strategy, is now on center stage. A fresh frontier to engage with current and potential customers in a way that no form of advertising has done before. Any brand worth its salt hires swathes of fresh-faced analysts to form social strategy teams and capitalize on the opportunity social media marketing presents. But, as with any emerging space, the way forward is not yet clear, and many brands are hesitant to make a bold leap into the unknown. Social media strategies are conservative and in line with traditional marketing: infographics are reposted on Instagram, product launches are promoted on Twitter, and brand Facebook pages are little more than an index of ads that have already run elsewhere. Despite social media platforms' more casual formats, brand language is still tightly controlled and diluted with formality. The marketing world might be entering a new era, but the big brands still aren't ready to give up their old tricks.
Now flash forward to 2022: the official Wendy's Twitter account is telling people to smuggle Frosty's into children's movies, Arby's Instagram is promoting a collab with famous rappers, and Slim Jim is furiously pushing a movement called #LongBoiGang. As a rational and well-adjusted person, you might be asking yourself how we got here? The answer, my dear reader, is memes.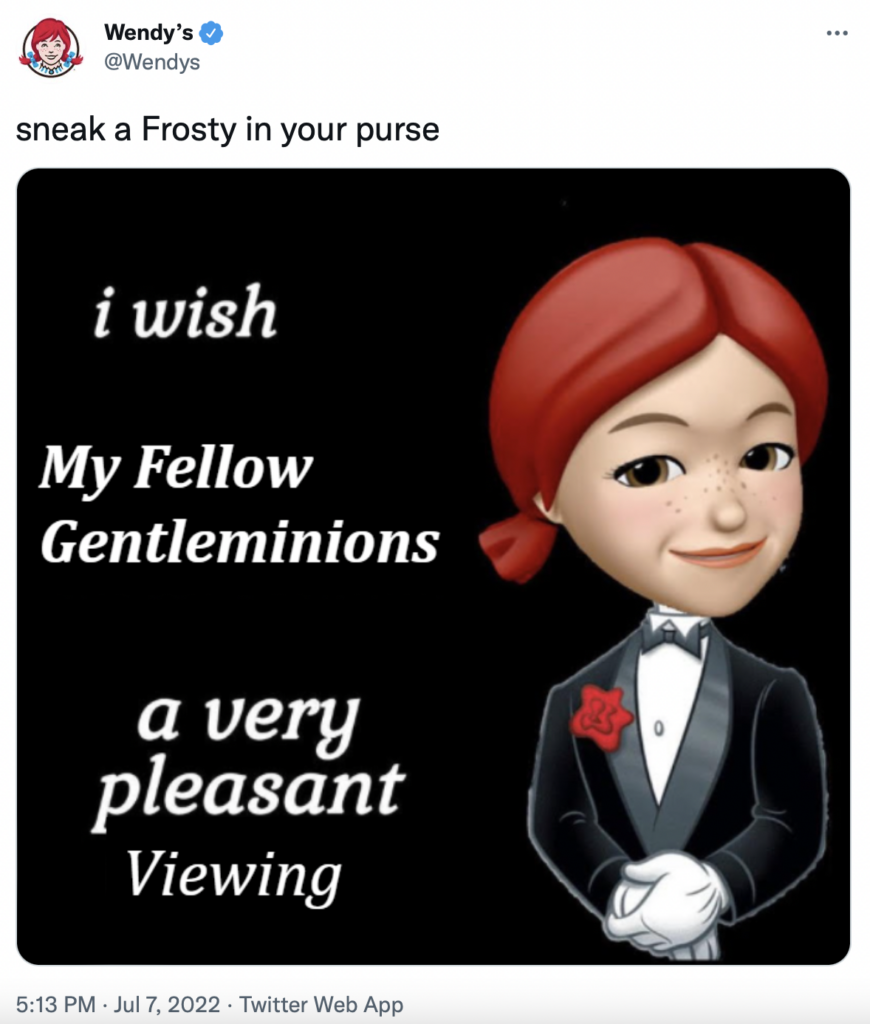 What is a Meme?
So what exactly is a meme? Richard Dawkins first coined the term "meme" in his 1976 book The Selfish Gene to refer to how ideas evolve and are shared across different cultures. Under this broad definition, everything from urban legends to famous sayings could be memes. But, as the Internet began to connect people worldwide, the free exchange of information accelerated like crazy. It opened the door for new methods of conveying ideas, specifically memes as we know them today.
Modern memes can be broadly defined as pieces of media that are copied (often with slight variations) and spread rapidly by internet users. From a conflicted superhero to a distracted boyfriend, these images are retitled and reused by Internet users to comment on everything from personal events to pop culture moments. But it's not just picture templates that can become memes: halftime shows, hashtags, and even celebrities can all be the inspiration behind Internet memes. 
How Memes Can Benefit Your Brand
But even after being caught up on the history that made memes what they are today, you might still be asking yourself, what can they do for me? Here are four benefits that meme marketing can bring your business.
Expanding your Engagement

– Internet users spend an estimated 145 minutes daily on social media. They're online to scroll through their pics, jokes, and videos while tuning out everything else around them, meaning you have the chance to capture their undivided attention. Meme marketing also opens the door to even more potential impressions through functions like shares, retweets, and comments.

Keeping Consumer Attention

– Social media users are highly resistant to traditional advertising on their favorite platforms, viewing unprompted commercials and ads as intrusions, not opportunities. But by sharing memes about your brand you can seamlessly slip into their content stream and cultivate more organic user interactions.

No Price Promotion

– The most enticing aspect of meme marketing is that it doesn't cost a thing. Although hiring social media professionals or paid influencers can do a world of good, anyone up to date on current trends can join the fun post.

Revealing your Relatability

– One of the greatest struggles many companies have with managing their brands is appearing too outwardly corporate or robotic. Memes present a perfect opportunity for brands to communicate with consumers more casually and forge more personal connections in the process.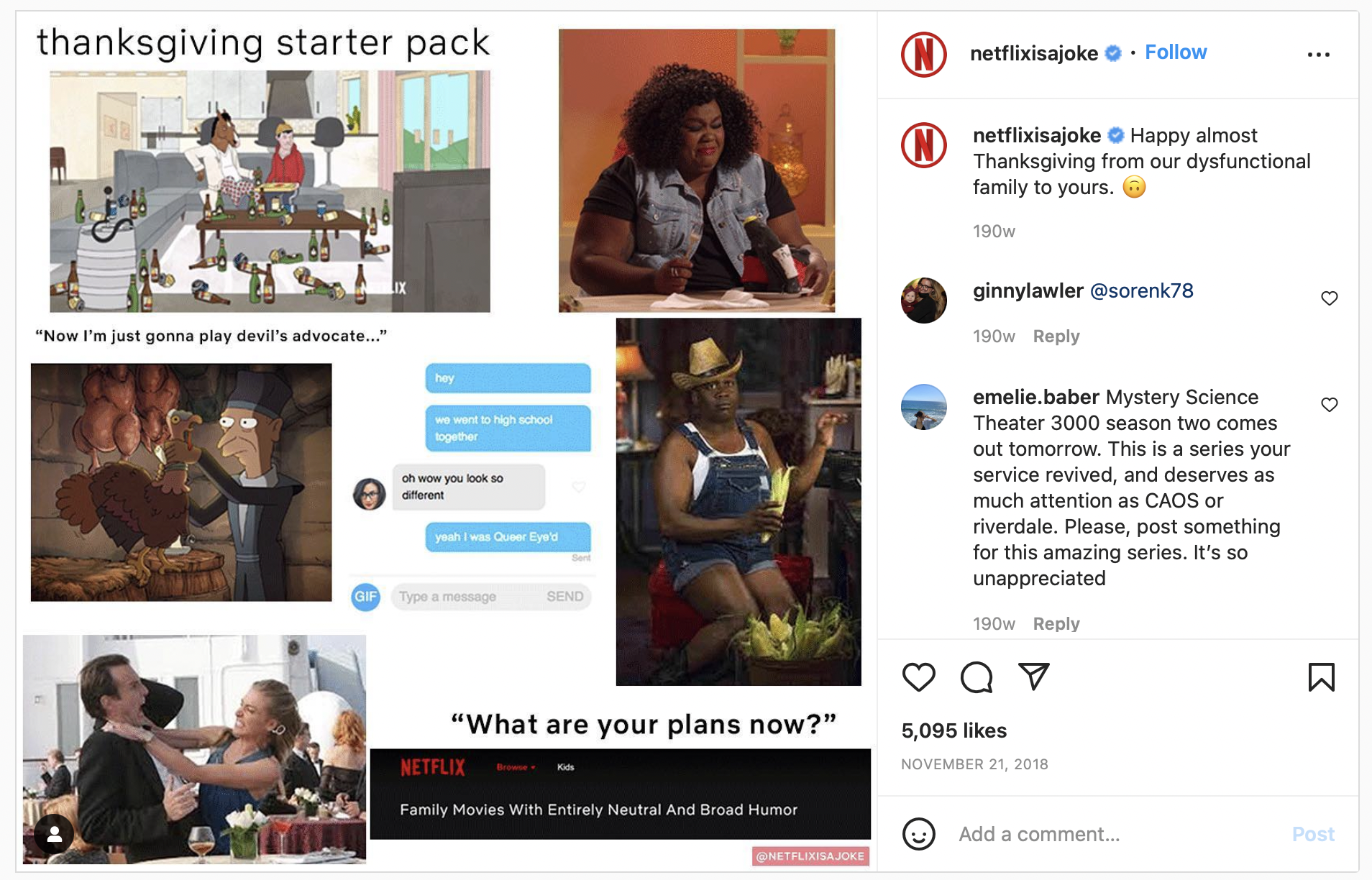 B2B Meme Marketing Inspiration
From forums like Reddit to social hubs like Twitter and Instagram, much of the content that keeps users returning to popular platforms are memes. If you want to meaningfully engage with consumers in these channels and build a social media strategy that isn't stuck in the stone age, you'll need to learn how to make memes. Here are a few examples of brands that succeeded in meme marketing to get your creative juices flowing!
HubSpot

– Fan favorite movies and TV shows present a treasure trove of possibilities for memes that social media users can recognize and connect with.

RevGenius

– Industry/category-specific memes can add a focused and personalized flair to your company's social media presence.

Adobe Marketo

– Some companies even integrate memes into their trade show/event promotion like this make-your-own meme booth that Adobe Marketo featured to pump up engagement both online and at the event.
Want to take your social media strategy to the next level? Bluetext can help optimize your social media program and ensure you get the most out of your marketing.