Launching your new or revitalized brand is the most important stage of the rebranding process. You've done all the hard work at this point, determining the right look and feel, message, and character for your brand. The crucial next step is to announce yourself to the world, both from an internal and external point of view. In today's blog post, we'll cover how to launch your new brand into the market and how to ensure your employees are ready to be your top brand ambassadors.
1. Brand Launches are Non-Linear in the Rebranding Process. Prepare Ahead of Time.
Preparation is the key to success. Without it, you run the risk of reducing the impact of your brand launch. You only get one shot at this so be sure to make the most of it. Begin ideating on how and when to launch your new brand at the start of your rebranding process. You'll want to have a clear sense of the rationale behind the rebrand and how it impacts the broader narrative you want to communicate to the market. This foundation creates meaning and purpose, giving you a chance to engage with your existing customers and create new ones.
If you wait too long to start planning your brand launch, you risk confusing the market and your employees, leading to increased turnover and a decrease in market share. Be intentional and calculated as you determine the best course of action.
2. Increase Your Market Impact By Properly Determining Your Market
A successful brand launch reaches all notable audiences including both internal and external stakeholders. You'll want to think strategically about your key audiences and prioritize your brand launch activities accordingly. For example, you may want to provide your high-value clients, key partners, and investors with a personalized introduction to your new brand. Making sure you create a positive trustworthy impression with your key audiences will increase the impact of your launch and the chance of success.
3. Communicate Efficiently, Communicate Effectively
The narrative you bring to the market for your brand launch is the most important aspect of the entire undertaking. Document your communication plan via a spreadsheet to ensure your tactics are on track from a timing and budget standpoint. Think through the most effective channels you can use to communicate the launch of your new brand to your key audiences.
Tactics can and should include: emails teasing the new brand, a pre-launch event for your most strategic audiences, and a landing page for people to visit to understand how the rebrand affects them in the short and long term. An effective communications strategy prepares your customers and investors for what's to come and creates buzz around the new brand.
Think through a phased approach to your brand launch, utilizing a variety of tactics and channels to create the biggest impression. We've said it once and we'll say it again: you only get one shot at this. Make it count.
When in partnership with Arlington Capital Partners, we launched Centauri. Our team developed and executed an integrated go-to-market strategy including PR, digital advertising, and social media. A key component of this campaign was a series of emails teasing the new logo, message, and brand into the market.

4. Saying Sayonara to Your Old Legacy Brand
While it may be hard to let go of the past and the brand assets that got you to this stage in your company's lifecycle, you made the decision to rebrand and enter a new phase of growth. Migrating your brand from the old to the new creates consistency in your overarching brand narrative.
Create a brand migration list of all of the places your old brand is visible from both an internal and external view. Your website, building signage, virtual backgrounds, mugs, business cards, ad campaigns, etc. should all be added to the list of touchpoints. Determine what it will take to update each asset and work backward from the items that will take the longest to finalize. Ensuring each of these touchpoints is taken care of prior to your brand launch means minimizing confusion for your key audiences and the market at large.
5. The Key to a Successful Rebrand is Getting Your Internal Stakeholders Onboard
In many senses, your employees are your brand's most important ambassadors. Getting them to embrace the changes and preach the narrative you've created with authenticity will ensure a smoother transition from the old to the new brand. Educate your staff on the brand's mission, vision, and core values, articulating the direction of the new brand. Provide your employees with your updated brand guidelines, outlining how your brand should look in white papers, PowerPoints, data sheets, etc. Outfit your team in branded swag to make them feel like part of the team and drum up excitement ahead of the brand launch. Your people are your greatest asset; use them to their full potential and reap the benefits.
When ARKA came to Bluetext following a merger, they needed new messaging, brand creative, website design, and a brand launch program to unite the legacy companies. As part of the brand launch, our team implemented a full brand ambassador program, email announcements, a central inventory of brand assets, and FAQs. To get employees excited and geared with new brand creative, a 'Welcome to the Brand' kit was designed and coordinated to arrive with the announcement of the new logo & brand.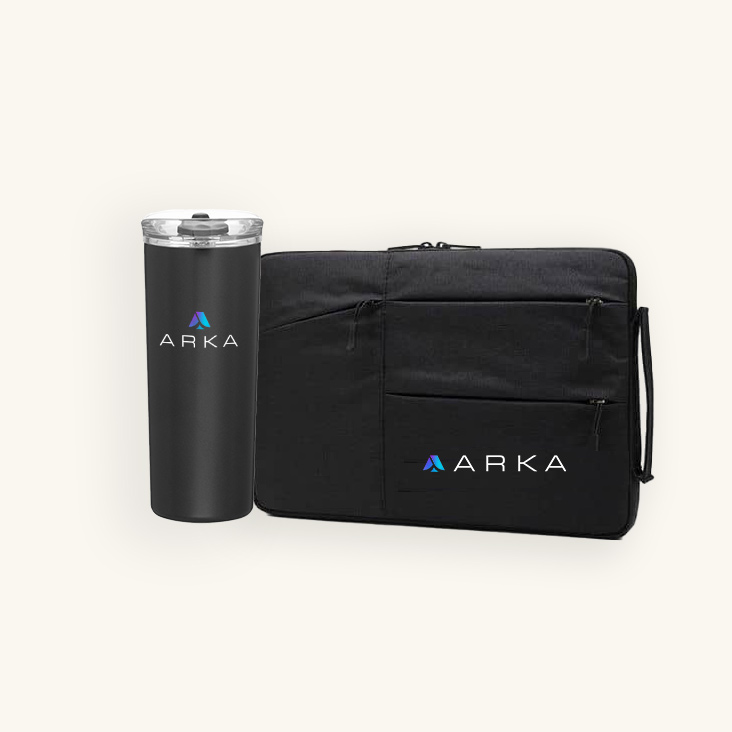 6. Launching Your Brand Externally – Patience is Key
The most important thing to remember for any external brand launch is to be patient. It's an exciting time; pressure is high and the fruits of your labor over the last few months are about to be realized. Just remember, patience is required to achieve maximum impact, and timing is everything. Coordination is an integral component of your brand launch, ensuring everything launches without a hitch, and no one accidentally jumps the gun by updating their LinkedIn header with a graphic featuring your new logo. Using your brand migration list, execute accordingly, launching your new website, updating social media assets, and distributing press releases. Many brand launches culminate in a public event, where you unveil your new logo, mission, core values, etc.
Following a series of mergers and acquisitions, BigBear.ai came to Bluetext with the goal of creating a new unified brand identity, revamped external messaging, and strategic public relations that would help them stand out in the crowded AI space. As part of the external brand launch, our team designed a jaw-dropping trade show booth experience that brought the spirit of the BigBear.ai brand to life with a 3D video wall. It had event attendees stopping in their tracks.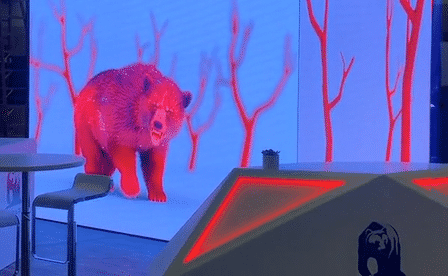 7. Your Brand Launch is Just the Beginning
You did it! Your brand is officially in the market. While you may have thought this day would never come and it feels like you just crossed the finish line, remember that launching your brand is only the start of the journey. Keep tabs on all ongoing brand development and ensure that any new materials stay within your outlined brand guidelines. Consistency is king and has the power to make or break your new brand. Remember, a brand is a living, breathing organism that requires constant upkeep and preening. Conduct regular brand audits to ensure your brand is working for you and not the other way around.
Is your brand ready for a refresh? Contact us today at Bluetext to learn more about our rebranding services. We work with premier private equity companies, launching updated brands for newly merged or acquired companies into the market and generating massive successes.
If you can't measure it, you can't manage it. Whether you are looking to drive brand awareness, drive qualified leads, or polish up your brand, there is always a goal in mind when hiring a marketing agency. At Bluetext, the goal that rises to the top is M&A. Many companies come to us because they want to go public, be acquired, or be acquisitive in the next 18-24 months.
We have a strong track record of helping clients achieve an M&A goal. Within 24 months of a Bluetext engagement, 47 of our clients have entered into a financial transaction. So what's the secret? Unfortunately, there is no one size fits all recipe for a market-ready rebrand. However, Bluetext's strategic approach to messaging, branding, campaign & website design tailored to specific client goals has had proven success in highlighting a company's unique value to investors. Let's take a look at the last 12 months of mergers and acquisitions for our clients. 
JANUARY
Kicking off the new year with exciting news, Deloitte announced the acquisition of Bluetext client, R9B, a leading provider of advanced cyber threat hunting services and solutions. Following a PR engagement with Bluetext, R9B had earned a strong industry reputation and the attention of the leading global professional services giant. With the addition of R9B's business, Deloitte's Cyber Detect and Respond offering will continue to help clients gain a leading edge in cyber defense, integrate fragmented security toolsets, achieve efficiencies in security operations programs, accelerate response time to potential threats and provide data-driven threat insights.
FEBRUARY
The Bluetext team learned that long-time client, Perspecta, had been acquired by national security contractor Peraton in a deal worth $7.1 billion. This announcement followed a multi-year engagement with Bluetext that began with a merge of Vencore, and KeyPoint. These public sector businesses merged to form Perspecta, a government services provider with 14,000 employees and pro-forma revenues of $4.2 billion. The Perspecta team turned to Bluetext to develop a vibrant new brand and website that provided the flexibility and scalability needed to enter the market. The Perspecta brand proved to be an attractive investment to industry leader, Peraton. The combined company will create a government technology provider that delivers end-to-end capabilities in IT and mission support and serves as a strategic partner across a diverse array of U.S. government customers.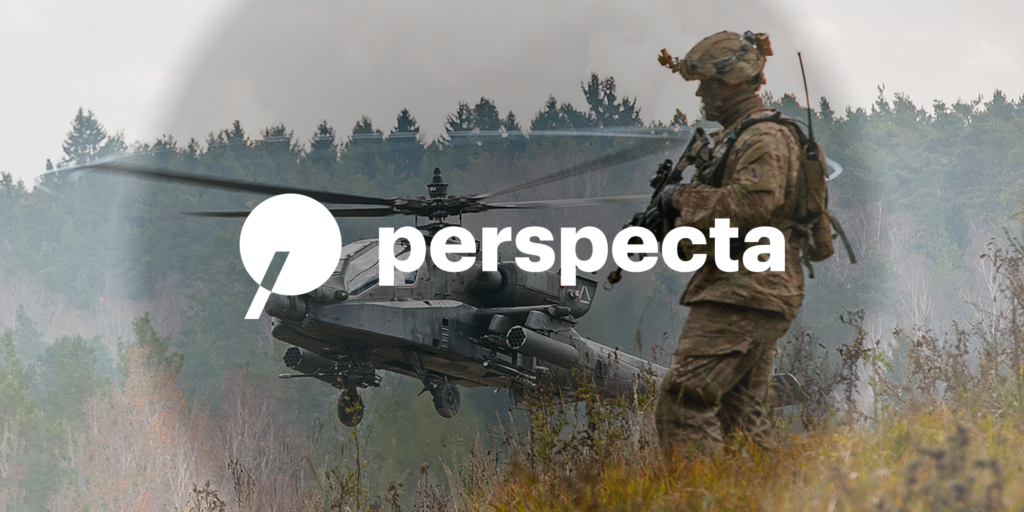 MARCH
Bluetext client Galois announced their spin-off company, MuseDev, had been acquired by supply chain management software leader Sonatype. The opportunity to pair Muse with Sonatype's Nexus platform will dramatically expand its market reach to developers and deliver huge improvements to source code quality. Like MuseDev, all of Galois' spin-outs focus on interesting and deep challenges in computer science, and Bluetext is excited to see what this company's future may hold.
APRIL
AMETEK, Inc. announced a completed acquisition of Abaco Systems, Inc., a former Bluetext client and a leading provider of mission-critical embedded computing systems. Prior to this recent acquisition, GE and Veritas Capital engaged Bluetext to develop a new name and brand. Thus, Abaco Systems was born and the Bluetext team worked around the clock to create a unique new brand in less than a month. The newly formed company and brand identity hit the ground running, and developed a reputation that caught the eye of AMETEK, Inc. David A. Zapico, AMETEK Chairman and CEO, shares "Abaco's market-leading computing and electronic solutions nicely complement our existing aerospace and defense businesses, expanding our positions across many attractive growth platforms."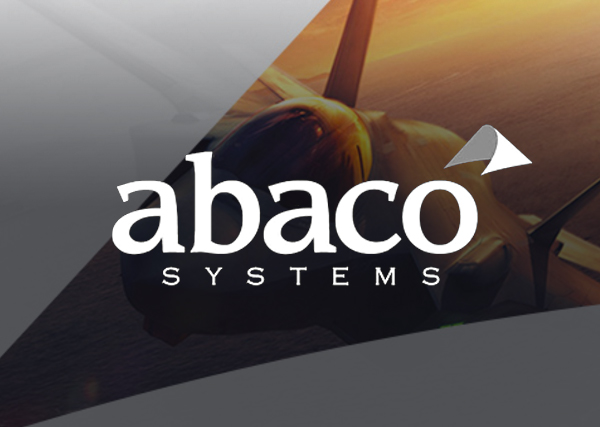 MAY 
Arlington Capital Partners announced a completed acquisition of Triumph Group, Inc.'s composites business. Arlington Capital engaged Bluetext for a new brand, messaging, and website to position the company as a leader in aerospace composites. Under the bold new name Qarbon Aerospace, or QA, stands for 'quality assured', representing the company's relentless pursuit of quality. Bluetext moved fast to create a brand that would make a lasting impression on the market. The logo showcases their commitment to quality, and nod to the industry through the shape of a plane that connects the QA within the logo. The new website included custom photography showing off Qarbon's core capabilities, as well as a virtual tour that lets users explore Qarbon's 1,650,000 ft² of state-of-the-art facilities. In a triumphant feat, the company went to market with a high caliber and professional image.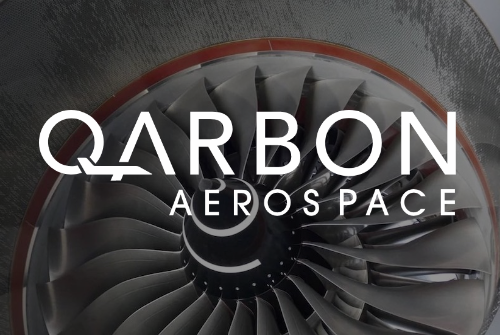 JUNE
Bluetext is pleased to announce the launch of Axient. The team at Axient came to us following a series of mergers and acquisitions for a new name, brand, and website. A rebranding announcement in June publicized the new company name, messaging and brand essence video with an interim landing page for the full website launch. A few months later, Bluetext launched the full Axient website, which united four prior companies' capabilities. Learn more about our work with Axient.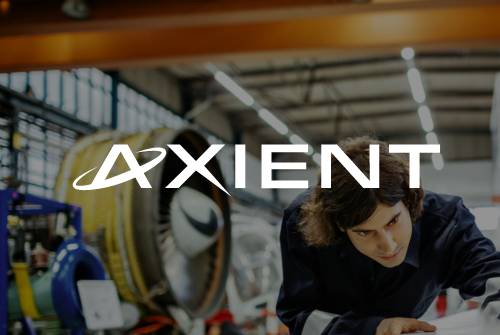 JULY
Where UX meets XM… In July, Qualtrics, the world's #1 Experience Management (XM) provider and creator of the XM category, announced the acquisition of Bluetext client, Clarabridge, the leader in omnichannel conversational analytics, in a stock transaction valued at $1.125 billion. In a previous engagement with Bluetext, Clarabridge sought out a new brand and website experience to match their sophisticated AI-powered platform. Bluetext created a digital manifestation of the Clarabridge brand to engage site users and explain the technological and analytical power behind the platform. Through sophisticated 3D animation work, the user experience came alive and communicated Clarabridge's value — to customers and investors alike!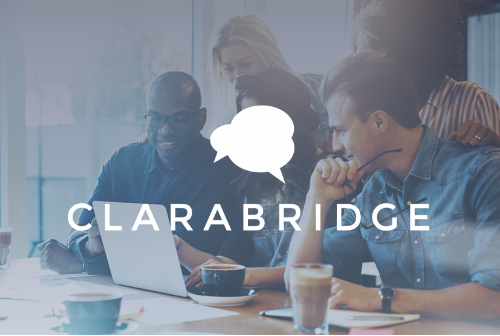 AUGUST
KBR, Inc. announced a definitive agreement with Arlington Capital Partners , a Washington, DC-based private equity firm, to acquire Centauri, LLC.  Bluetext developed and launched the Centauri brand, following Arlington Capital Partners' acquisition of three leading companies in the national security sector.  Looking to enter the market with a completely fresh start, the team turned to Bluetext to develop and launch a new unified brand from scratch. In less than 6 months, Bluetext launched the Centauri website with a cutting-edge look and feel that set them apart from the competition. The Centauri logo used a unique icon representing the stars that make up the Centauri constellation, to accentuate the new brand messaging "Brilliance when Great Minds Align". Their website incorporated all of the brand's new elements, with intentional design and user experience to prioritize recruitment and growth.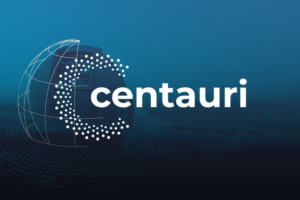 Bluetext client, SpaceIQ, announced a promising merger following strategic investments in the companies by global private equity firms Thoma Bravo and JMI Equity. SpaceIQ, a leading Integrated Workplace Management System (IWMS), space management, and employee experience provider, announced plans to combine forces with iOFFICE, an industry leader in work experience and asset management solutions. Together, the combined organization will address a rapidly growing market opportunity through the most complete offering of smart platforms for managing corporate real estate, physical assets, and workplace experience. Prior to this investment, Bluetext worked with SpaceIQ to launch a powerful new website that solidified a merger of three brands. The fully responsive and intuitive site was designed to showcase their breadth of offerings, multiple product lines and a united company mission. The new site ensured the three legacy brands' relevant products were clearly identifiable, yet balanced by cohesive branding and streamlined user journey.

SEPTEMBER 
This September, Panasonic announced the completed acquisition of Bluetext client, Blue Yonder, the leading end-to-end, digital fulfillment platform provider. This transaction, valued at $8.5 billion, intended to accelerate Panasonic's and Blue Yonder's shared vision for an Autonomous Supply Chain™. Months prior to this acquisition, Bluetext worked with BlueYonder to update their website to match the constantly evolving nature of their business. In the midst of a rebrand, Blue Yonder sought out Bluetext to help transform its brand in the digital space. In a feat of innovation and animation, the new website illustrated Blue Yonder's new brand and potential investment value to all users.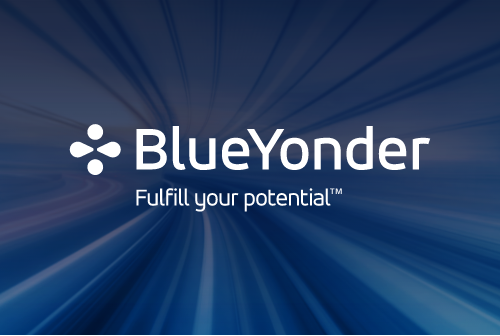 NOVEMBER
Clearlake Capital announced the purchase of Bluetext client, Quest Software, for a reported $5.4B. Prior to this acquisition, Quest came to Bluetext looking for help in repositioning them in the market with new messaging and revamped corporate visual identity. After an extensive research process, Bluetext developed Quest's new corporate positioning, and new tagline, "Where Next Meets Now" to represent how Quest can help you conquer your next challenge with confidence. New messaging complemented by a refreshed visual identity and website helped achieve a more modern, and approachable corporate visual identity. Shortly after this engagement, they were approached by Clearlake Capital with investment interest, and ultimate acquisition.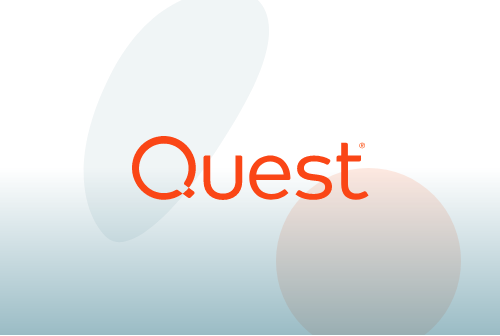 DECEMBER
Closing out the year on a high note, and celebrating 38 times now, a Bluetext client has been acquired or has announced a public offering following an engagement with us! Just days ago, Bluetext client, BigBear.ai, a leading provider of artificial intelligence ("AI"), machine learning, cloud-based big data analytics, and cyber engineering solutions, and GigCapital4, Inc, a Private-to-Public Equity (PPE)TM entity, announced the completion of their business combination. This big news coincides with BigBear.ai's debut as a publicly-traded company. Commencing trading on the NYSE on December 8, 2021, under the new ticker symbols "BBAI" and "BBAI.WS," this transaction values BigBear.ai at a $1.378 billion pro forma enterprise value. 
What a year 2021 has been for Bluetext client success! Stay tuned to see what 2022 holds. And if your company is looking for a new brand or website in the new year, contact us to learn more. As the last 12 months have shown, repositioning yourself in the market can lead to major opportunities.  
In our recent blog post, we discussed the power of strategic branding in the world of private equity. As we mentioned, the first step in developing a new brand for an M&A should be to gain understanding and consensus on how you want to be (and can/should be) positioned within the market via your company messaging and positioning. Once you have the words right, it's time to get the looks down. Your company CVI (corporate visual identity) includes the logo, the color palette, typography, graphics and iconography, unique branded elements like an image masking or pattern overlay, and so much more. As we stated before, you only get to go to market with your new brand once – make sure it counts by following our steps to a successful M&A brand launch below.
3. Define the New Company Structure
When merging multiple companies, it's important to think through the new structure, from multiple points of view – the employees' roles, the products/services/capabilities, the customers and partner channels, the company values and culture, just to name a few. Understanding and clearly communicating how everything will fit together will help employees adapt to the change and ultimately help the brand strength. Ideally, you should already be thinking about this during the messaging and positioning phase and should have an idea of what's overlapping, what're the new capabilities that need to be accounted for, and write new content for? How do they fit into the company story and how do you market them? How does this affect the website's sitemap, content, and user journey? How does this affect current and new contracts?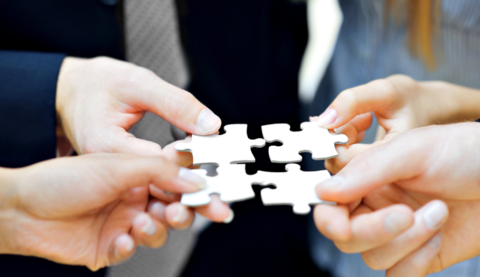 Understanding the company's new structure and thinking about new processes early on makes it easier to design around the new information architecture, flag problem areas that employees or customers might be confused about, and address them before it becomes a challenge. It's also beneficial to look ahead – many times during an M&A, companies might be in the process of acquiring another new company/companies towards the end of when they're launching the new brand. Accounting for that potential while thinking about the new company structure and information architecture encourages a scalable structure knowing that the company's solutions and capabilities will likely continue to expand throughout the process of building the new brand.
4. Plan Your Internal & External Go-To-Market Campaign
Now that you have strategic messaging and positioning, a new corporate visual identity, and a good understanding of new company architecture, it's time to start planning the launches – both internal and external go-to-market campaigns. 
Employees are brand ambassadors, so set them up for success with a smooth internal launch by setting expectations and communicating in a clear way how this change will affect their roles/responsibilities, the culture/values, etc.  Employees are looking to understand what this change means for them. How is their job changing, what's the new org chart, who do they report to, how do they refer to the brand, etc? A personal touch like a letter or video from the CEO can go a long way in delivering a level of unity and excitement about the upcoming changes. Prep them with swag bags of new branded merchandise, prepare a digital brand assets package with all new branded collateral templates like pitch decks/presentations, datasheets, white papers, business cards/stationery, email signatures, brand guidelines on how to use and apply the new branding, etc. A well synced internal launch promotes confidence about the new company and its opportunities, and the employees are an extension of the brand, so preparing them and motivating them for the changes to come are necessary for the brand to hold strong internally before launching externally. The better you communicate to and prepare employees, the stronger the brand will be represented through them. 
A compelling Go-To-Market campaign is essential for an external brand launch. This includes everything from PR and media outreach, to ensuring the website is ready to launch, to a strategic paid social campaign with PPC, hyper-targeted ads, geofencing, marketing automation with email campaigns, optimized SEO, and maybe even a brand launch or brand essence video to really stand out and help tell your story.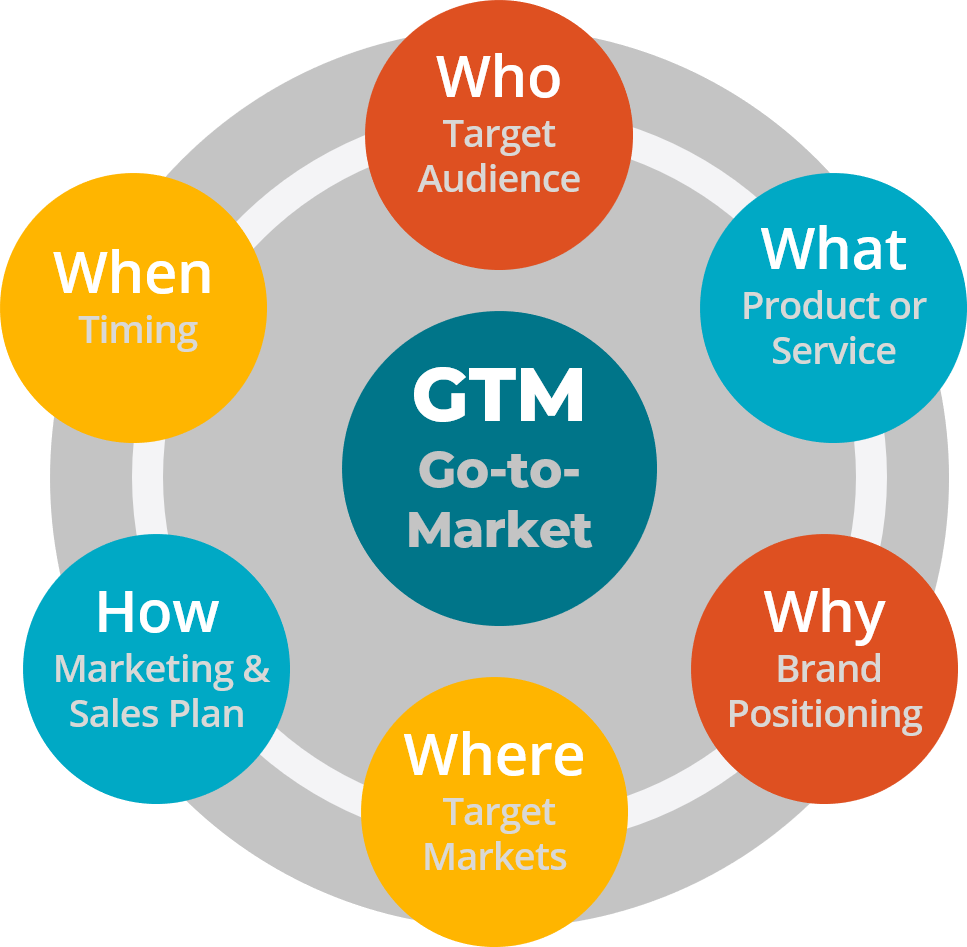 The GTM campaign is where everything comes together – the messaging and positioning weaved in the campaign theme, the compelling visuals representing the new corporate visual identity, and the excitement around the new company's capabilities and what this means for customers. Executing on a strong go-to-market campaign is not only critical in getting brand awareness, but also in driving home the value of being stronger together – both internally and externally. It's not about the change; it's about what's next, together.
Case Study: SpaceIQ
Enter three leading brands of the workplace management industry: SiQ, Archibus, and Serraview. Each with a rich product portfolio with distinct features, designed for the needs of different sized companies. United, they offer integrated workplace solutions that optimize the workspace and enhance employee experience for companies of any size. Project Union became the name of this powerful merger of three companies into SpaceIQ, a comprehensive solution on a mission to make the workplace good for business and great for people.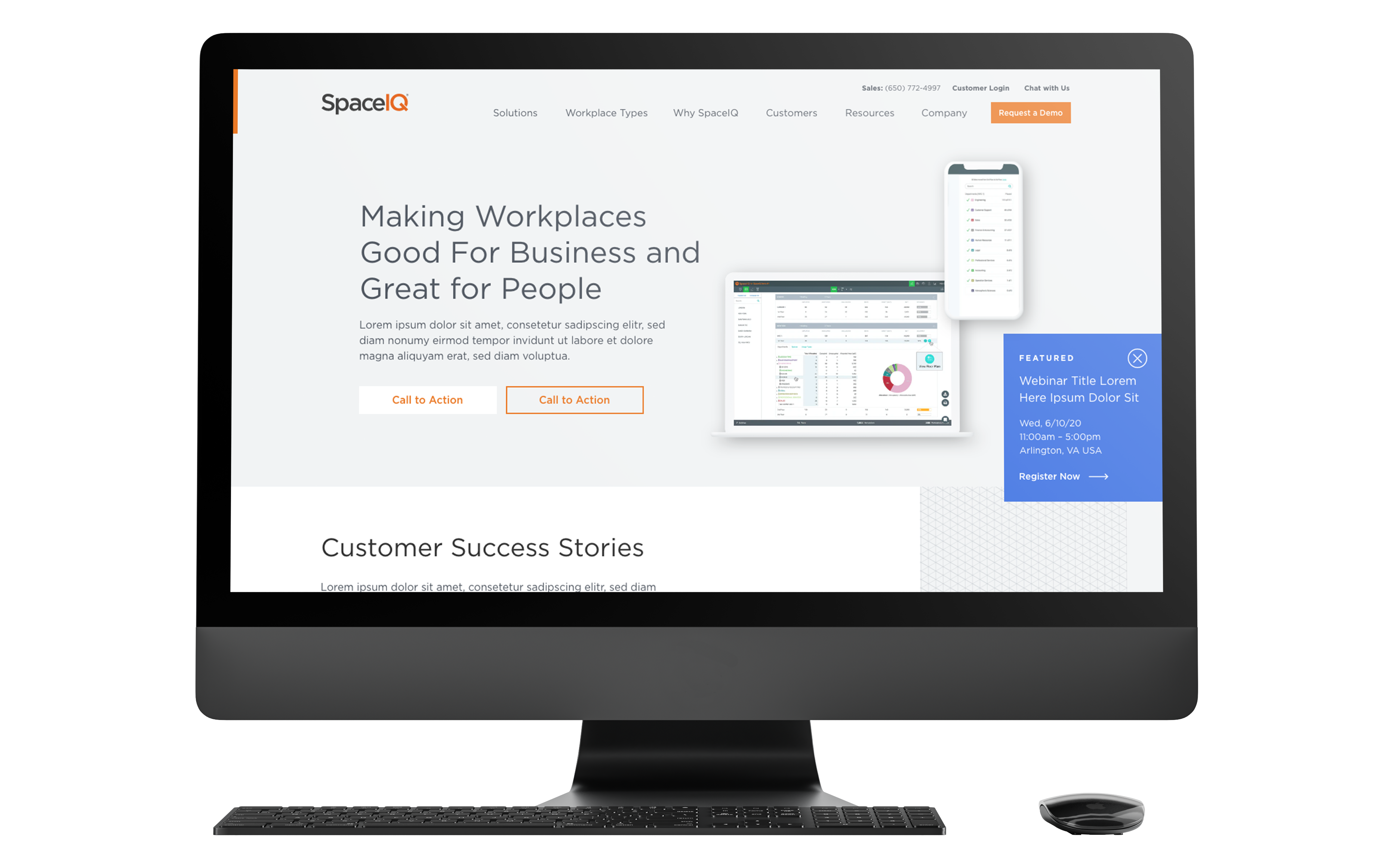 To solidify the merger, SpaceIQ needed a new website that spoke to its breadth of offerings and united company mission. The company turned to Bluetext to turn their new branding into a fully responsive and intuitive website to communicate all of their product lines. The new site was designed with the end customer needs top of mind. Using dynamic components to showcase success stories, custom glossary pages, and a robust resource center for all post types, SpaceIQ customers can easily find all the educational resources they need. The three legacy brands' relevant products are clearly identifiable through the sitemap and component features, but balanced by cohesive branding and streamlined user journey.
5. Keep It All Going
Finally, keep the momentum going, and even ramp it up! The early stages of launching a new brand from multiple companies require a lot of time, energy, and effort to maintain the excitement and continue to push brand awareness. Also from a technical perspective, there are things to consider like not immediately redirecting all legacy websites to the new site since a lot of content, like contract vehicles, for example, needs to still be accessed. However, it should still be obvious that it's now a new company – so adding homepage banners on legacy sites with the brand launch announcement, or updating logos on the legacy LinkedIn pages (but not removing them), can help make the transition easier for customers until the brand has had time to fully establish itself in the market and stand on its own. SEO is another area that requires some time and love to see improvement since it's likely a new name and some new search term combinations that google is processing. 
A company is only as strong as its talent, so maintaining and recruiting top talent should be a priority. Consider starting a series of video vignettes with current employees speaking about their time at the legacy companies and how it's been at the new company. Why do they love it, what makes this company different from competitors, how are there more opportunities now, etc. 
Along with recruiting campaigns, continuing to execute strategic brand-awareness campaigns via paid and organic social, continuous content writing for SEO and thought leadership, etc. is a long-term game that's critical in moving from brand awareness into more specialized branded experiences that will resonate even more with the market.
The stronger the M&A brand launch is, the easier it is for PE firms to sell  
The most important thing to address in an M&A brand creation is the why (aka, the value prop) behind the new brand and set clear expectations of what this means for employees and ultimately the market. What new, innovative outcomes can we enable? Prove the value proposition of being better together. If you can get the employees and your target audience on board with the new mission, it becomes less about corporate changes and transactions and more about the new opportunities that arise from being part of this new market-dominating company. And when the portfolio companies succeed, the PE firms succeed. For PE firms, having a strong brand itself, as well as a portfolio of strong brands, is crucial for deal sourcing, fundraising, and ultimately achieving higher investment returns. 
A brand is often considered a company's most valuable asset – make sure it's in the right hands.  
If you're looking for expert strategy and implementation for your next M&A brand launch, you're at the right place with Bluetext. We know a thing or two about M&As. 40 of our clients have been acquired within 24 months of an engagement with Bluetext. See some examples of our work with these M&As here, and contact us to get started. 
PE firms need portfolio companies with strong branding
Private Equity (PE) continues to be the preferred growth financing mechanism for most "for-profit" businesses.  According to McKinsey's 2019 Market Annual Review, "global private equity valuation has grown more than sevenfold since 2002" – more than twice the growth of publicly held equity valuation.  While PE fundraising declined in 2020 to the Covid Pandemic, PE markets are experiencing a strong increase in 2021.
PE firms make most of their profits by acquiring companies, helping management increase Enterprise Value through various strategies, and then selling these companies at a much higher value.  Value is quantified using metrics such as Earnings (typically EBITDA – Earnings Before Interest Taxes Debt and Amortization), Earnings Multiple (a factor applied to EBITDA to determine Enterprise Value), and valuation of Intellectual Property.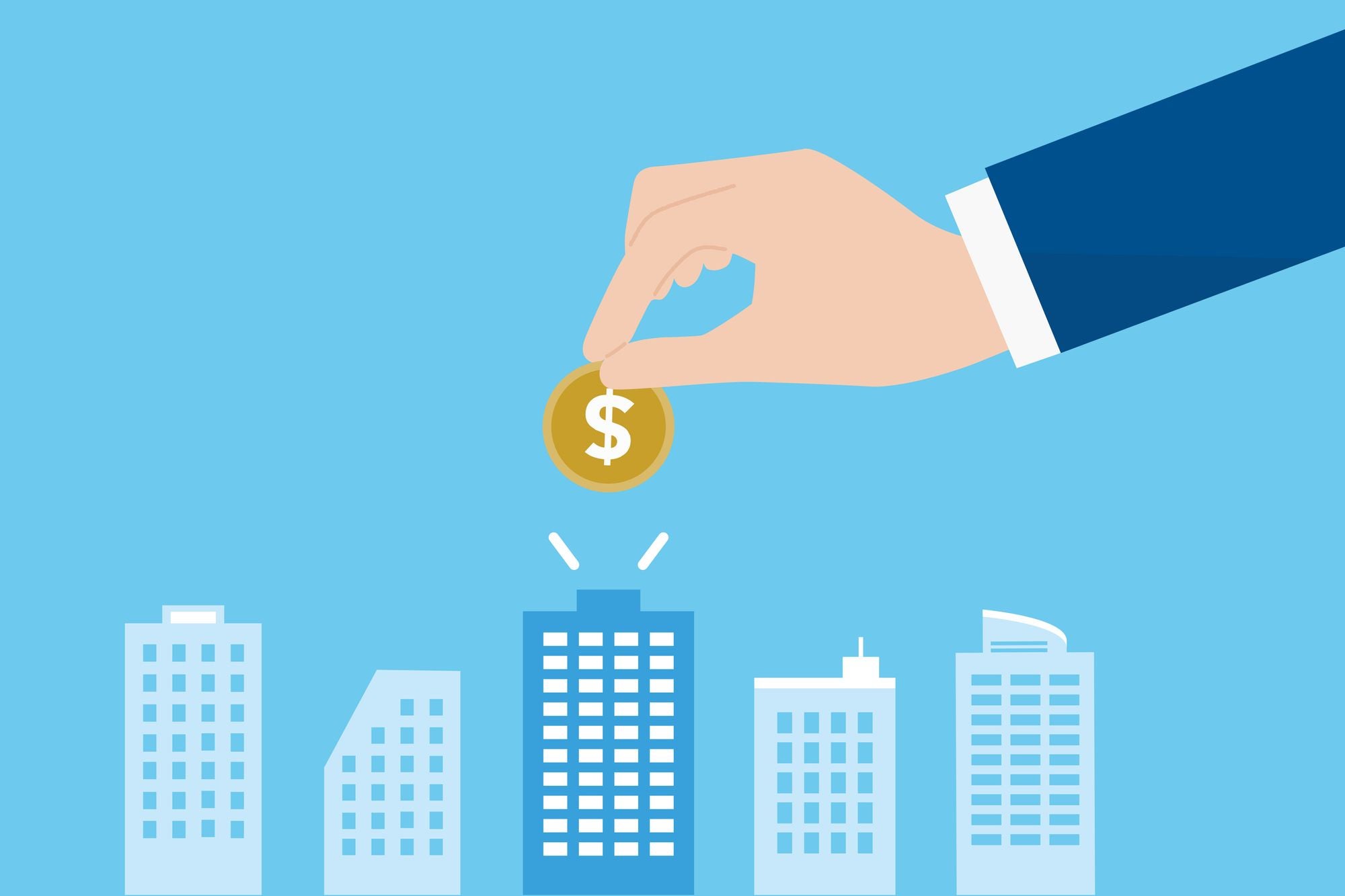 A common and highly effective growth strategy for PE portfolio companies is buying competitive or complementary companies through Mergers and Acquisitions (M&A).  The brand is almost always a key component of a) the Earnings Multiple and Intellectual Property Value metrics in the valuation process and b) a successful M&A strategy.  Here's why.
Branding is so much more than a name and a logo; it's a representation of how your company is perceived – more specifically, how your customers and the market perceive you. It's a gut reaction, a feeling. This is why it's critical prior to going through an M&A to create a strategic, memorable, and unique brand that provides a consistent experience across all channels, and makes sense to not just the market, but to all employees, as they become brand ambassadors themselves. PE firms have many tools and metrics to measure the value of a brand (brand loyalty, recognition, and impact) which drive a monetary valuation.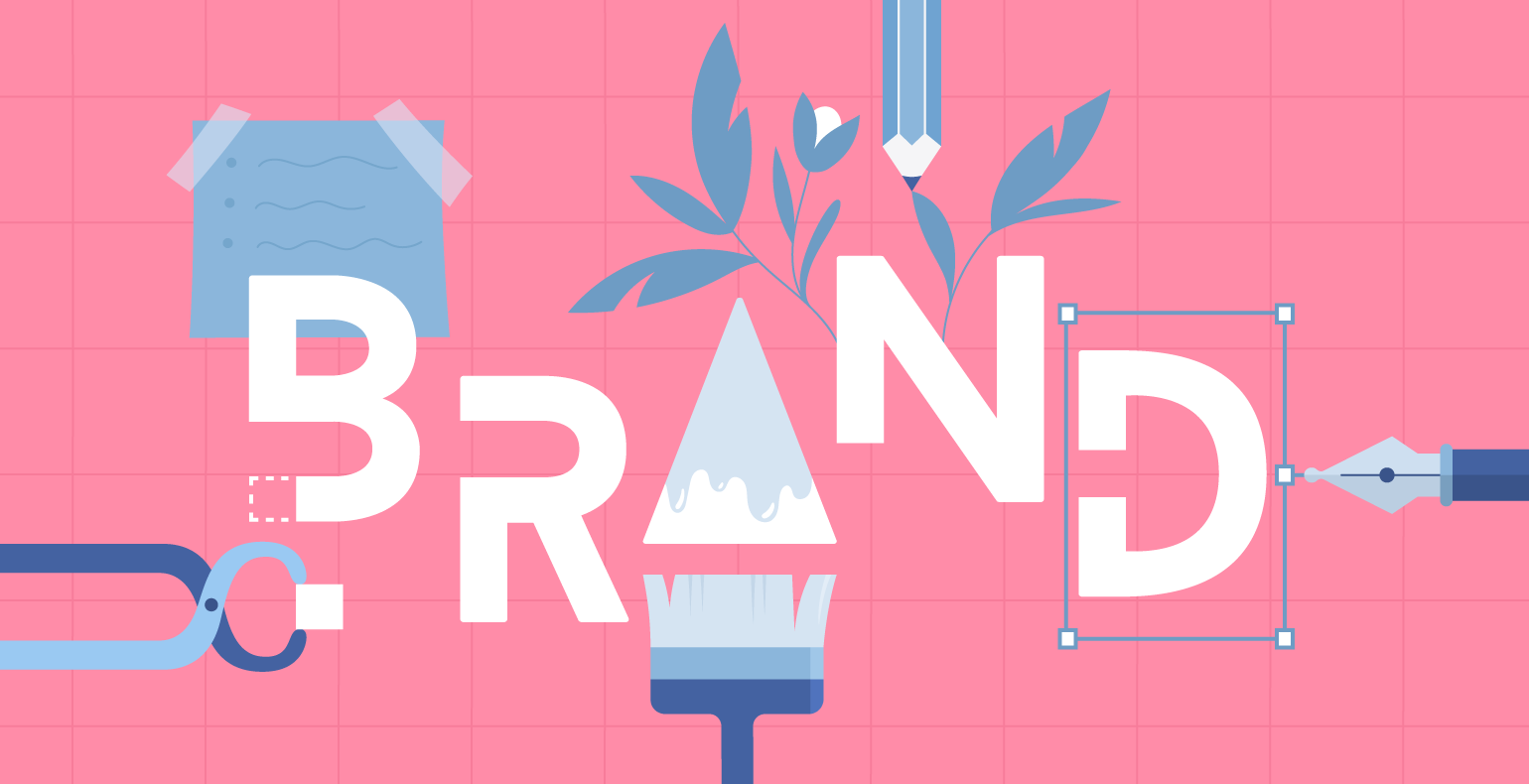 Sloppy, outdated, or inconsistent branding can make employees and the market feel uneasy and unconfident with the new company. A powerful, cohesive brand right from the gate is essential in sending the right message of being "stronger together." In addition to looking the part, strong brands are more profitable, grow faster, and sell more frequently. You only get to go-to-market with your new brand once – make sure it counts by following our steps to a successful M&A brand launch below.
Our steps to a successful M&A brand launch
1. Develop New Positioning & Messaging
A strong brand is designed to dominate the market, which is why the first step in developing a new brand for an M&A should be to gain understanding and consensus on how you want to be (and can/should be) positioned within the market. You need to understand where you could be within the market as this new company with more talent and more vast capabilities. Determine how all the current brands' are currently perceived, vs. how you want to be perceived. What are the brands' value propositions and how will they be combined? If possible, involve your target audience via surveys or workshops to understand how the companies are perceived. That knowledge is a baseline on how all the companies are perceived in the market today and what needs to change in order to be perceived differently and help set expectations.
Once those baselines are understood, you'll want to define a specific positioning strategy then base your new messaging off of that. With combined capabilities and potentially different focus areas, the positioning strategy likely will shift, so you need to identify how it should shift and define clear and compelling differentiators early on that the positioning and messaging are based on.
Market your new capabilities, but don't become a generalist. By combining two (or frequently, more) companies together, it's obvious there's more diversity and broader capabilities, but if not done the right way, growing this list can make you seem too generic or disjointed. You don't want to come across as a "jack of all trades", but rather, a "specialist of many." This is why considering not just the increased amount of advanced capabilities, but the outcomes of those capabilities and communicating that clearly and effectively in the new messaging is critical. 
2. Create New Corporate Visual Identity
This is what most people think of when they hear "brand". Corporate Visual Identity, CVI, is how a company visually portrays itself to the public. The logo, the color palette, typography, graphics and iconography, unique branded elements like an image masking or pattern overlay, etc. all work together to form the CVI. 
Merging a brand portfolio is challenging, and there are several factors to consider before creating a new CVI. If you're not going in the "house of brands" direction where the parent company is not associated with the products, then you'll want to develop a unified CVI that is unique in the competitive landscape, is compelling and memorable, and visually represents the story you want to tell from the messaging. Some questions to consider include:
How do customers/the market connect with each of the brands? 

What is the brand equity of the company or companies in consideration?

How will you decide which assets, if any, to retain from each brand impact projected revenue? 

What story are we trying to convey and how can we visually portray that? 
M&As set many new paths for success, but if the new company's Corporate Visual Identity is not unified, meaningful, and applied in a cohesive, creative, and consistent manner, it creates a weak brand without solidarity and won't have the impact it should.
Case Study: BlueHalo
When Arlington Capital Partners acquired several top-performing companies in national security, the AEgis team looked to Bluetext to help merge multiple companies together to create one superior brand, BlueHalo. Bluetext worked closely with AEgis to develop the new name, logo, messaging and positioning, corporate visual identity brand system, website re-design and development, video work, and a go-to-market strategy and launch plan, and in record-breaking time.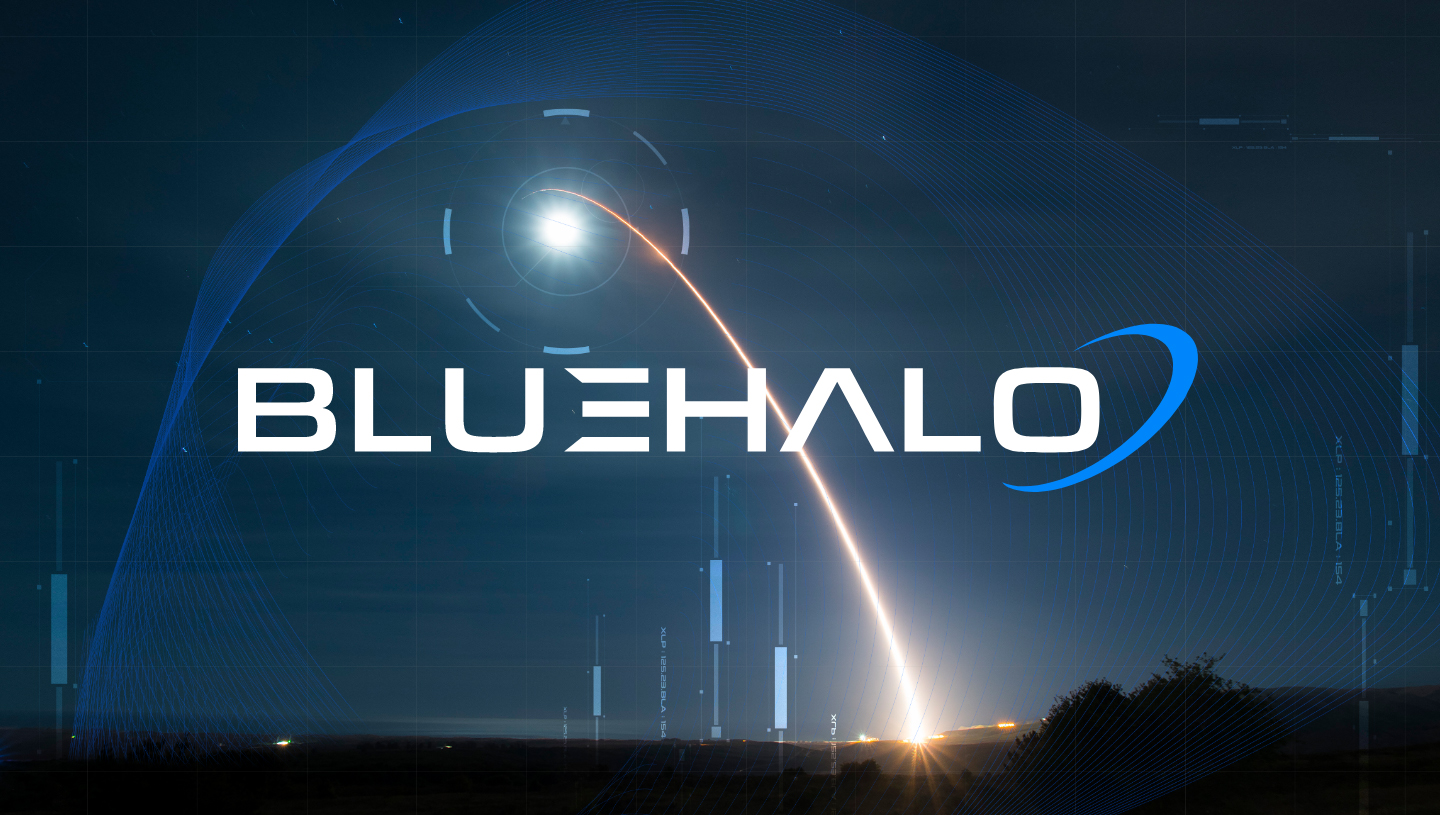 Part of what made the new BlueHalo brand so strong was the powerful corporate visual identity that Bluetext created. Bluetext moved fast to create a bold new name and brand within just weeks that would make a lasting impression on the market. The name BlueHalo represents the unbroken global line that ensures the technical advantage in the most advanced battlespace. The logo embodies the name by featuring a blue swoosh shape that depicts in a clean but strong manner, a halo of protection.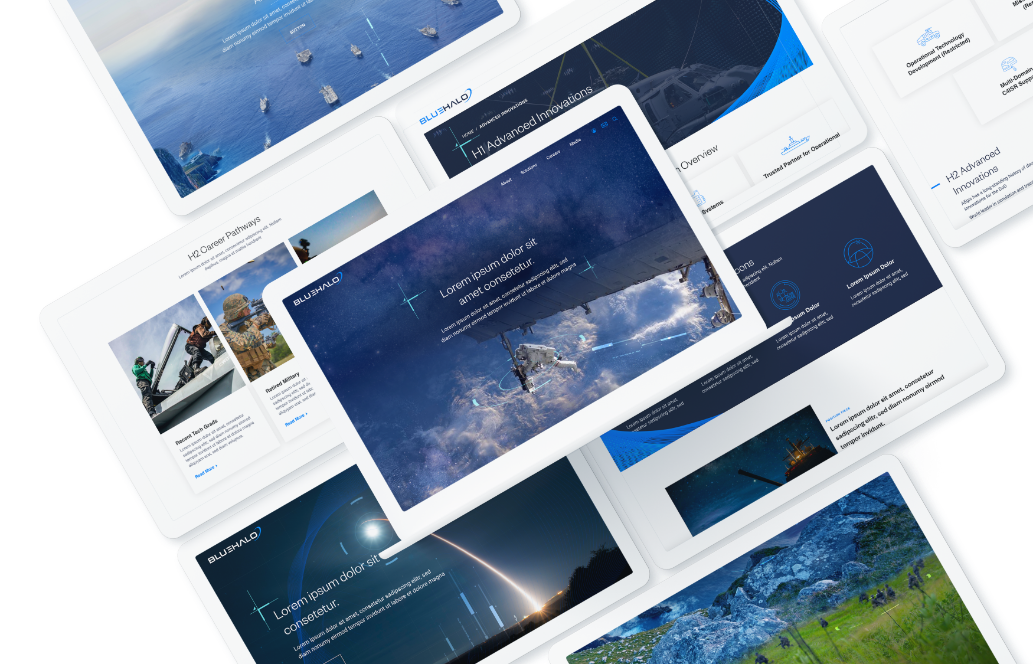 The striking blue colors to accompany the name, the branded engineering vector graphics woven in the photos to create unique, branded imagery, and the blue wires to form shapes that pull from the halo in the logo all work together to create a cohesive, meaningful, and regal brand system.
To learn more about strategic branding and how M&As can succeed with it, check out part 2 of this blog. To learn more about Bluetext and our services, contact us today.
Branding is one of the most important marketing strategies for a company. Your brand tells a story about who you are and what you do to prospects, clients, and, importantly, your internal employees. Branding typically involves a consistent and recognizable set of design elements, including colors, typography, logos, messaging, graphic elements, and more. It allows your company to make a consistent, meaningful, and lasting impression with consumers. Through your brand, you have the opportunity to stand out amongst the competition, showcase a product, but also drive new business by raising awareness for your company. But how do you keep branding consistent with various different products and/or services you want to highlight?
The Rise of Sub-Brands
Sub-branding is a lesser-known, yet equally as important, subdivision of a branding strategy. In an article from Brand Marketing Blog, "If you are a brand builder, then often there is more than one brand that you are building: the brand of your business and the brands of your products." Sub-branding is focused on creating new subsections of the parent brand to best fit the specific products and/or services you offer to your customers. This is directly tied to the solution architecture of the company – the structure of how different offerings of a company are connected.  Typically, a sub-brand strategy shares the same fundamental factors of the overarching brand's personality, tone, design, and image. This can include sharing common factors such as typography, imagery, and more. They utilize outside elements, including graphic elements, primary colors, messaging, etc., to stand out from the parent brand. What makes a sub-brand unique is its goal to appeal to a very specific, niche audience. 
Sourcefire Brands and Sub-Brands
To fully understand what a sub-brand is, let's take a look at one of the most successful sub-brands in the Cybersecurity industry: Sourcefire. When Bluetext rebranded the company, we also worked with the Sourcefire team to sub-brand each of their most popular product offerings: FirePower, FireSight, FireAmp, and FireCloud. Each product has its own logo for users to differentiate between the four. While each product has its own unique logo, they still follow the overarching Sourcefire branding within the sub-brands: matching typography, custom graphic elements, abstract textures, and bold primary colors. 
The Impact
Sub-branding is extremely important as it creates exposure for both the parent and child brands. It helps customers easily differentiate, organize, and search in a complex environment. It creates the opportunity to engage both new and existing audiences while taking advantage of the trust previously built in your specific industry. Because a sub-brand appeals to a very specific and niche customer, you have the affirmation that your marketing messaging is as targeted as possible. Your customers have the ability to have a unique, custom experience that is completely separate from the parent brand and in turn, are more likely to engage with the parent brand's other products if they connect with an individual sub-brand.
As the world has changed in the blink of an eye, so has the way we market to consumers. Now, more than ever, your website exists as BY FAR THE MOST IMPORTANT doorway to your brand and your brand experience. While stores stay shut, and face-to-face interaction is vastly limited, brands will rely on reaching their target audiences via their websites. Therefore, your website is mission-critical to your success.
Bluetext has published a 5 part blog series to help you think about and pressure test if your website is the best it can be.
Virtual Executive Briefing Centers are a valuable resource for companies wishing to show customers and prospects their full range of solutions in action, especially new solutions that the partner may not have implemented yet in its own organization. Customized presentations, live demos and in-depth discussions can be arranged. VEBCs offer a lot of great benefits for organizations including:
Present your brand in a very innovative way with the latest HTML5 and video technologies
Reach a wider audience, save money and drive efficiencies by reducing travel costs to visit a physical center
Get your thought leaders delivering their message to a wider audience than their physical weekly calendar allows
Deliver vertical specific messaging and solutions in a customized fashion
Personalize the experience based on the understanding of the audiences job title, history with the enterprise, and other components the digital environment can capture and feed into the site
Juice up your SEO with a smart build and customer journey that enhances your SEO footprint
Bluetext has had a lot of experience designing and developing Virtual Briefing Centers.  Here are just a few examples of the innovation we have helped drive for our clients:
McAfee and Intel Security's Future Agency
McAfee and Intel turned to Bluetext to design a campaign to demonstrate the advancements in cyber security that the companies are driving across the Federal Government. Named The Agency of the Future and found on the web at futureagency.com, the solution integrates an interactive, 3D experience and a series of videos with lead generation integrated throughout. The experience was enhanced with a continuous monitoring webcast that targeted federal IT security experts and drew more than 3000 leads. The campaign won major kudos at McAfee corporate.
CSC's Digital Briefing Center
CSC's Digital Briefing Center is where customers, partners and prospects from across the globe can come to learn more about the key technology conversations and market shifts CSC is driving into the market.
The center is driven with immersive 3D video technology that is completely interactive through Html 5 overlays throughout the user journey.
Following launch, Bluetext's collaborative creation with CSC's Digital Marketing team became the top performing component of the csc.com global web presence, a huge feat for a Fortune 500 corporation.
Version 2.0 features new capabilities spanning: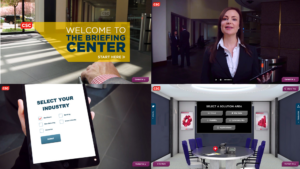 Multi-floor scalability

Triple screen experience

Dynamic social media integration

Triggered infographic visualizations synched with briefing videos

Chaptered video interactivity
The following video of CSC's head of global brand and digital marketing talks about this project:
TalkShop by Cooper Thomas
From corporate meetings to conferences and workshops, connecting with your workforce and customers is an essential element of business. Bluetext was hired by Cooper Thomas to help enhance their virtual training and meeting services and next-generation virtual platform that can help their customers get the most out of their customers' virtual events.
With their virtual event platform, you can now connect with employees, customers, and clients conveniently and cost-effectively. The unique speaker-training program guides your presenters to deliver more effective and engaging virtual presentations. The speaker coaches provide focused support to help busy subject matter experts become polished presenters. They also provide project management and program support for events ranging from single training sessions to multi-day conferences, as well as on-site support for virtual and face-to-face events.
Driving engagement and other key metrics through organic social media is often an important component of a marketing campaign that targets business executives as its target audience. It complements any paid social or media, helps build awareness, and motivates target audiences to click through to a website or other campaign assets. 
The question is, how do you determine the best timing in order to get the best results? This is especially tricky, given the short shelf-life of a Tweet, a Facebook post, or a LinkedIn feed. There are many myths regarding when to post organic social to drive the best results for a marketing campaign. Most of them are based on old, out-of-date assumptions, or gut instinct. Bluetext decided to test these to get hard data behind our campaigns.
The Old Common Wisdom on Social
There are some older pieces of conventional wisdom that have become ingrained in practitioners and that date back a dozen or so years to when social media campaigns were relatively new. Here are a couple that seem to make sense, but that we thought might be outdated given today's "always-on" business culture:
Don't post on Mondays or Fridays. On Mondays, people are busy getting ready for the week and are likely to miss the posts. On Fridays, people are leaving early or checking out for the weekend. And never expect them to engage over their busy weekends.

Avoid first thing in the morning and late in the day. It's better to try other times when your target market isn't so busy or trying to clear out of the office to get home.
Why We Wanted to Test Those Assumptions
Ultimately, we weren't convinced that the older conventional wisdom was still valid. People work more flexible hours now than previously and are on-line and multi-tasking on a regular basis. Here at Bluetext, we wanted to get real data for ourselves so we could make the best recommendations for our clients.
How We Designed the Test
Working with a large client whose target audiences include business executives in the retail space, Bluetext designed a test that would send out social posts across three platforms where the client has a significant presence and following: 
Twitter

Facebook

LinkedIn
We did this over a four-week period, sending out those posts at a different time of day each week. For Facebook and LinkedIn, we also send out posts on different days of the week to see if and how that might make a difference. We looked at re-posts, replies, likes and link clicks.
The Results
Twitter
Contrary to the conventional wisdom, the best results for the test's Tweets were for those posted at 9:00 am and pm weekdays, outperforming those sent at 8:00 am, noon, or mid-afternoon.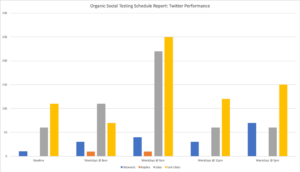 LinkedIn
The best results for LinkedIn were for those posted at noon on Tuesdays and Thursdays but other positive results for 9:00 am on Wednesdays and Saturdays.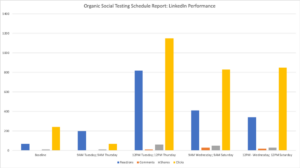 Facebook
For Facebook, the best results came at noon on Tuesdays, Wednesdays, Thursdays & Saturdays.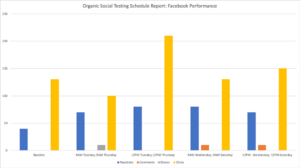 How to Leverage This New Data
Focus social posts around those best times and dates for each platform, but don't ignore the other times or days of the week. Although posting content during "off-hours" might not deliver as much engagement, they will help to build awareness.
Here at Bluetext, we've seen our share of M&A's. One of our first big assignments, when we launched the agency seven years ago, was to relaunch ITSolutions –  a roll-up of nine separate IT government contracting firms – into a new unified entity that we rebranded as Acentia. The brand strategy we developed worked well for the new company and Acentia achieved its management's goal of being acquired. We have since applied our rebrand process to a variety of new M&A-driven organizations, including the GE spinoff of its Rugged Embedded Systems into Abaco Systems.
The one thing that we have learned is that M&As are tricky waters to navigate, with a wide variety of financial and legal hoops to jump through to seal the deal, and the challenge of stitching together two separate brands into one cohesive brand story – or splitting off a new brand – is a beast of its own.  But the payoff can be enormous for our clients, ranging from accelerated growth to a rewarding financial transaction.
While a successful rebrand for an M&A is not easy, given the right approach and process, it can be a gamechanger. There are four critical elements that we've found to be critical to a successful M&A rebrand.
Case study coming soon.
Rapid response is a core component of Bluetext's public relations services. We focus on having messages and media targets teed up when there is an opportunity for our clients to contribute expertise to breaking news events, whether it is a cyber attack, tech policy development, or in this case the horrific wildfires raging across Southern California. As the leading Emergency Mass Notification Services (EMNS) provider, Bluetext positioned client OnSolve's CEO to speak about the challenge local officials face to alert citizens when wildfires, hurricanes and other natural disasters hit; ways for citizens to stay safe; and innovative new capabilities available through providers like OnSolve. Multiple interviews were arranged for OnSolve, including this live segment with The Weather Channel.
Brand Strategy
The Message and Brand Story
Rarely do you get a chance to work with a client so convinced that they can change the way cancer is diagnosed and treated that it energizes an entire agency. That was the case with Inspirata. After spending five minutes with founder Satish Sanan, it became clear that he had the resources, vision, and passion to shift an entire industry. With significant backing from major investors including the founder of NetJets, Satish came to Bluetext to launch a brand in a very short time. He wanted to focus on building and executing the business and asked us to develop a name, logo, messaging, website, brand story, process and video. The Bluetext team was up to the challenge.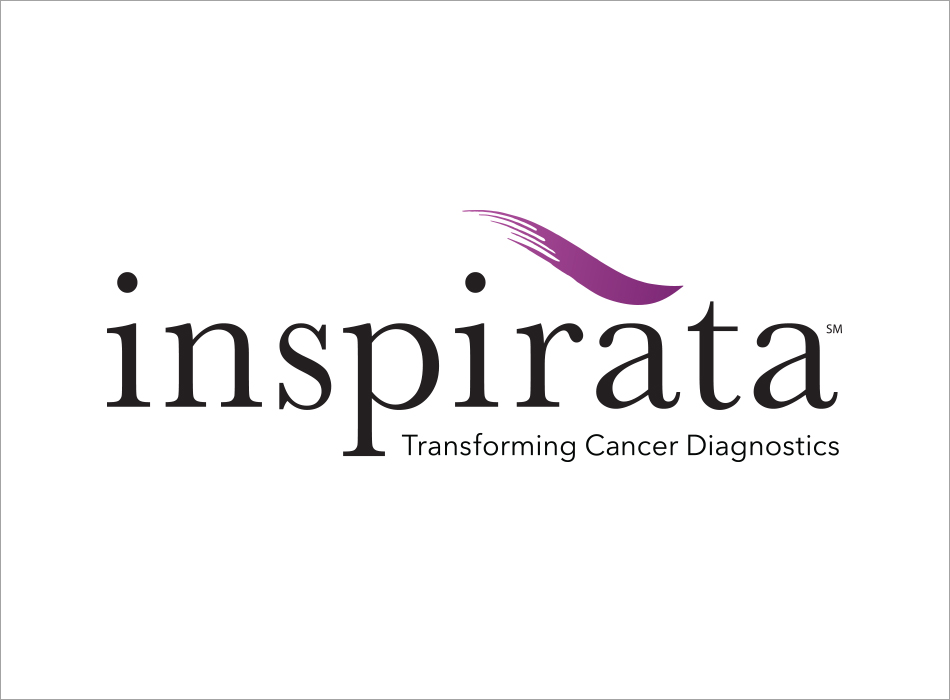 The Name
Creating a name across the medical informatics industry is a challenge as every great idea seems to be taken. But after an extensive messaging process and a team that was open to exploring many possibilities, we came up with this concept of Inspirata, meaning inspiring data. By digitizing the entire pathology workflow process, Inspirata is focused on transforming cancer diagnostics and driving better patient outcomes for people across the globe. They are focused on inspiring a market and everyone fell in love with the name Inspirata.
Brand Presentation
The Logo
Clean, elegant, professional – that is the hallmark of this brand, and the logo is designed as a simple yet elegant mark that is recognizable but not overpowering.
Corporate Visual Identity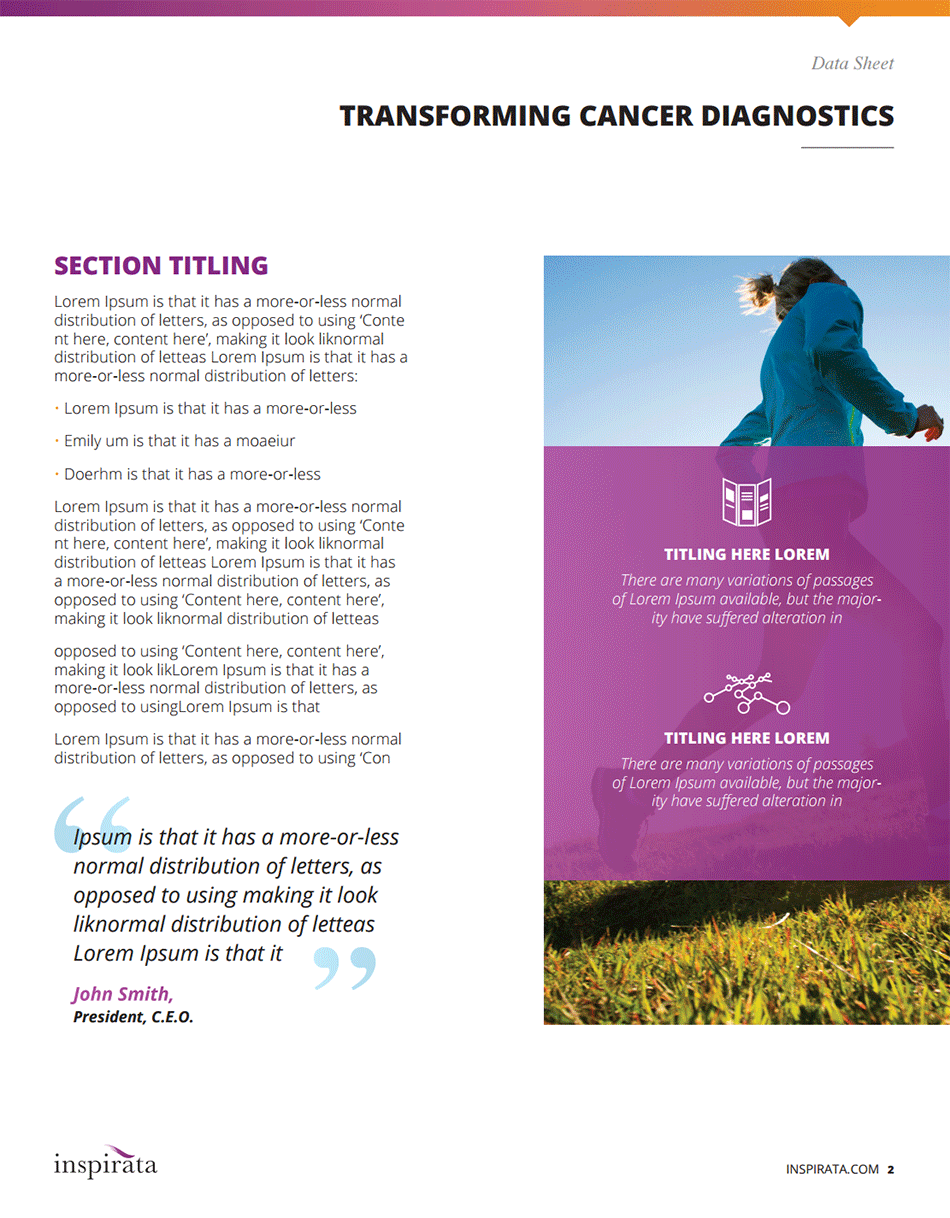 Bluetext designed a corporate visual identity system that aligns perfectly with the brand mission and story. It is simple and elegant but not overpowering.
Website
The centerpiece of the Inspirata brand is a powerful, responsive website designed to be easy to use, easy to navigate, and drive users down a path to understand the vision and mission of Satish and his entire management team. Big bold imagery, vibrant colors and lots of original content are the hallmarks of this powerful website which can be found at www.inspirata.com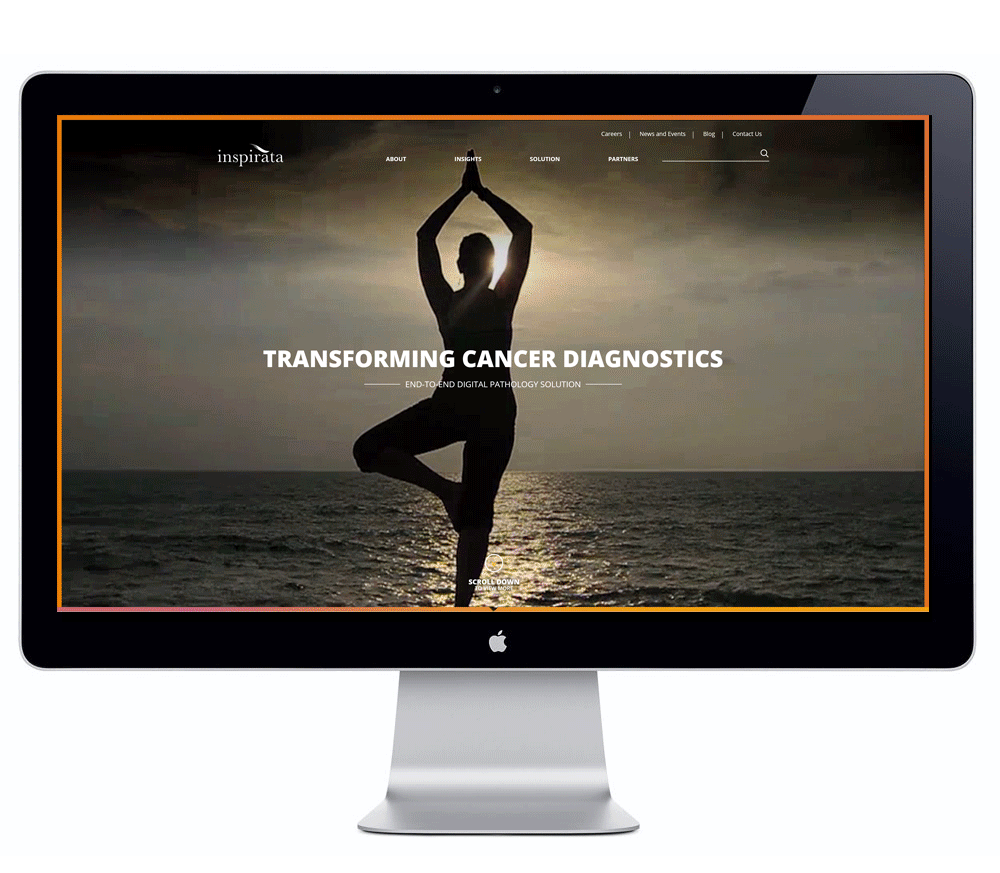 Brand Delivery
In advance of the company's launch at the USCAP 2015 Conference in Boston, Bluetext designed a powerful tradeshow booth to highlight the pathology office the future, designed an interactive infographic which demonstrates the company vision of transforming the case review of the future, and developed, in partnership with Philips, a partnership video to talk about the impact the two companies will have on the global digital pathology market.