The recent appointment of music icon Pharell Williams as Louis Vuitton's newest Creative Director certainly raised eyebrows. While this 'Happy' singer-songwriter undoubtedly has style, this was an out-of-the-box pick for one of the most iconic luxury brands. Radical changes in leadership, technology platforms, and data utilization are shaking up the creative industry. It's led many to wonder 'What exactly is the role of a Creative Director'? More importantly, what makes a modern Creative Director?
Bluetext asked our own Creative Director, Jason Siegel, how the role has evolved in recent years, especially with the introduction of next-age AI technology within creative fields. Check out his insights on the future of creative direction, the importance of vision, and leveraging the technology tomorrow.
What do you think of Pharell Williams being named Louis Vuitton's newest creative director?
I think the Louis Vuitton Creative Director assignment to Pharrell Williams is amazing. I am a massive fan of his music and anything else he's involved in. I think he is one of the most genius artists on the planet and when you're a legendary brand like Louis Vuitton, you want to have creative prowess at the top, as well as on the bottom. Pharrell will bring up a fresh perspective and style that will shake up the fashion industry and the world will enjoy it.
Why would or wouldn't you have made this decision?
I would make decisions like this because when you are known as a creative powerhouse and fashion is a creative art, medium in the end. Brands need to affiliate themselves with creative powerhouses if they want to be thought of as fashion powerhouses. Celebrities who have well-known fashion styles and unique tastes, such as Pharell have an untapped creative potential that spans far beyond music. Brands like Louis Vuitton need to affiliate themselves with those sorts of folks and try to embed them in the internal conversation of where the brand is headed as well as the externally communicate as to where the brand is going.
Who was your first creative director?
Two people were most influential in my career
1. Bill Replogle of Sparky's Garage fame taught me a lot about storytelling and the power of the word. Growing up I was always looking for better effects and more intense media delivery. And Bill taught me that just a couple of words and just the right photo could make everyone in the conference room fall off the chair in laughter. Bill also taught me that having a great attitude and opinion; knowing what is a good product and what is not is a critical skill.
2. Rand Kramer was my first real professional creative director mentor. Rand taught me the art of pixel, and that perfect is the only way to go. Rand taught me a lot about how to manage designers and different personalities. Rand taught me a lot about the importance of making sure clients feel they're heard and see the value and professionally prepared files; as well as the underrated value in a conference report after a phone call. Rand was 99% creative, but a really really amazing 1% percent business.
If you could tap a celeb creative director who would it be?
I would tap Bob Marley to be Creative Director. I find creatives work great in an environment that is collaborative and positive and has agreeable background music. Who doesn't like Bob Marley? Bob Marley is the essence of creative positivity.
The 'Modern Creative Director' must align both internal teams and external clients with the creative strategy. Which is the most challenging to bring to that strategic vision?
The more strategic, the bigger the results. When you take chances, you can create massive results and use data to build validation and confirmation, and confidence with the client that your strategic vision is going to win. But at the end of the day, there is never enough data to ever get someone 100% confident in the grand slam because there is risk in everything. There is always a challenge in convincing external clients to take risks, but we often look to the other trophies we have on the case to help persuade them.
What's been your career hallmark favorite brand or campaign of pitch?
I have been fortunate to have worked on some iconic brands. When the first iPhone was released I led two historic applications. First was the first app ever published by the Washington Post. When Steve Jobs announced the iPhone our app for the "going out guide" was featured in the backdrop as he stood on stage and amazed the world. That led to another historic app for the Obama Inauguration. For that app, I was featured on ABC News with Charles Gibson to unveil and later invited by The Washington Post to redesign key aspects of post.com
My favorite campaign ever was working with the comedian Lewis Black for a security company called Identity Guard.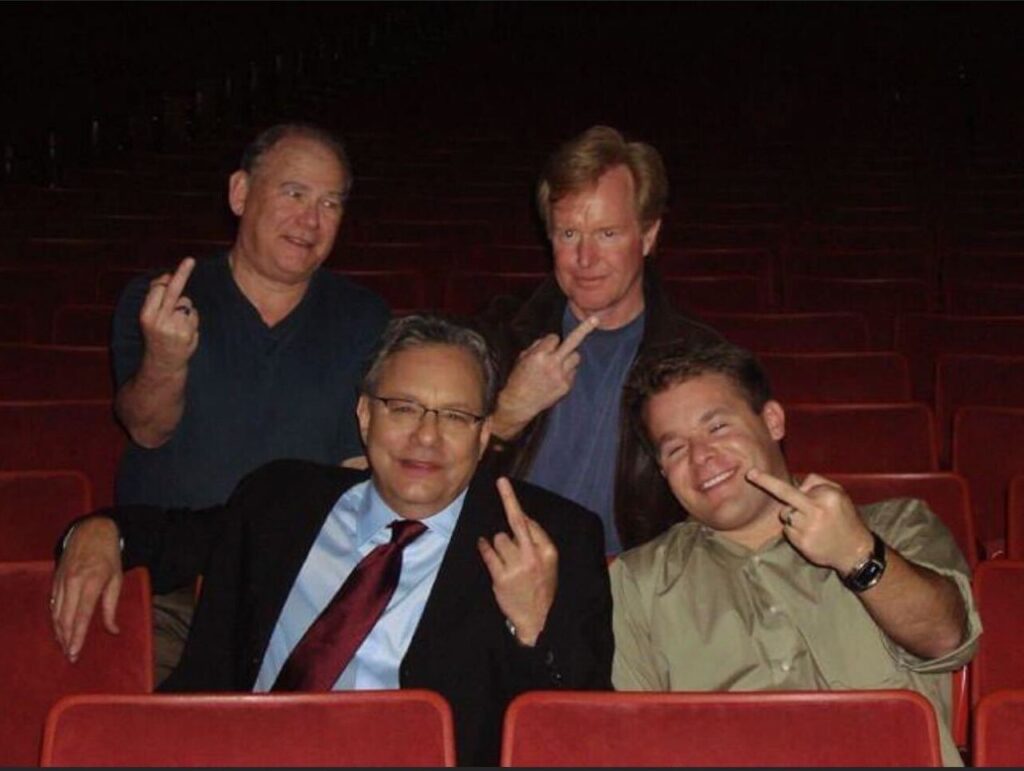 Lewis, a loudmouth cursing New Yorke, was wrapped up in police tape and had him screaming, "None of your damn business" for three days in New York City. Check out some snippets of that work and a great out-takes video.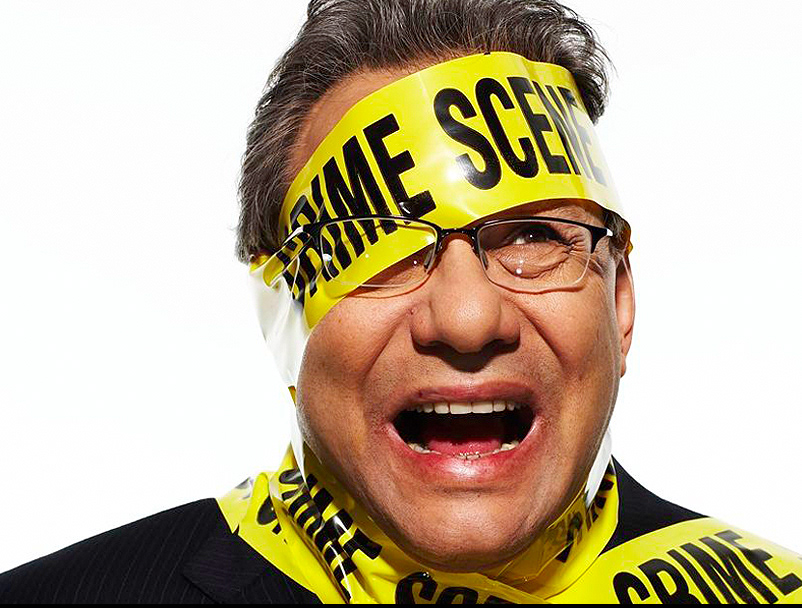 As for the pitches, well the pitch is my favorite part. When we won Stanley, Black & Decker's global site for their number one brand dewalt.com That was an amazing pitch — it included a loud intro, showing a mash-up of AC/DC back in black with a focus group of construction workers on the dewault.com drinking Bud Light. Followed by a complete spec user experience design presentation that knocked the cover off the ball. We won the account and it changed our agency forever from that day forward.
Technology & Its Role in Creative Direction
Creative Directors have historically been a balancing act of art, technology, and economics. How has this balance shifted in recent years?
The balance has swiftly changed over the last two decades. At the heart of it all, it comes down to the story you're telling. The balance of the creative director's role is to first establish a compelling story, and then be able to pressure test across an enormous amount of distribution channels to make sure that the story plays out ubiquitously. The modern-day creative director needs to be savvy enough to anticipate how a story is told through social media search engine optimization, connected TV, interactive shorts, augmented, reality, virtual reality, and going back to the old school with a 3-D male or??. Where the balance has changed most dramatically is in data analytics. Now there is a whole new player at the creative table, which is helping the creative Director pressure test and validate their ideation of the story across all these ubiquitous channels, and making sure that it's highly effective, highly measurable, and that there are communities there to leverage. It's no longer enough to have an artistic vision, creative directors have to be savvier than ever with technology, interactive mediums, as well as the traditional core skills of storytelling and oversight of high-quality art direction and production to be successful.
What's the most valuable skill to have as Creative Director?
The most valuable skill to have as a creative Director is belief. Belief that your positioning, strategist, and messaging wordsmiths can produce a position that is defendable and sets up the creative floor for a grand slam. Belief in your team to push the boundaries of what they could physically do and trust in your team to get there together. The best creative directors don't limit the thinking and belief that their team, including great 3-D artists and now great AI technology, can bring a vision into reality. Believe that your account strategy teams can manage a relationship, capture the essence of client preferences and collaborate with great creative people to bring what the client had intended for expectations to life. And overall the belief in growth, the confidence and drive to communicate the vision of growth to your employees and motivate them to grow with the agency.
How has curation become a larger part of creative direction?
Curation is equally as important as creation for a multitude of reasons. The first reason is language, the variety of talented people, both client-side and agency side, have a different language and limited language in talking about what they would hope to see creatively, and the breakdown of choice of words, or a limit of words can create a lot of waste and confusion. Using field trips, which show a curation set of visual examples makes the communication much clearer. We are constantly updating, verticalizing, and custom tailoring our field trip examples to client needs. Especially in industries challenged with bringing life to intangible concepts, field trip curation is critical. Our sources are really well-defined internally to run a smart agency and we are now super excited about artificial intelligence. AI technology is enabling us to rapidly ideate using platforms like mid-journey and dolly three so that rather than searching stock banks and design portfolios of the world we are prompting AI and seeing what they think. What they give us is often quite stunning, but often not perfect. We are looking forward to AI improving over time to be massively helpful, especially when fantastical art is a requirement and is a New Age version of Curation.
How do you foresee technology aiding creativity in the future?
Over the 20 years of doing this, I have seen some really critical breakthroughs that have allowed creatives to direct and open up channels and experiences like never before. A few of them that jump to mind include mobile technology and augmented reality, as great ways of using breakthrough technology in the creative direction of marketing efforts. What I am experiencing with platforms like chat GTP, mid-journey and Dolly 3 makes me think about what does the future look like? I'm highly convinced that this technology will doc octagon people just as Grammarly and Google have helped us speed up and advance over the last 20 years. This is another tool definitely not a replacement. But what I am most curious about is what I call ubiquitous dynamic media.
Ubiquitous dynamic media is a strategy for a brand where AI is constantly always producing in real-time, delivering branded content into the streams it will go from hosts to pulse and constantly pulsing constantly producing. The only way to do that is this video and imagery can be self-generated off of algorithms and prompts. Video that is dynamically producible, like we're seeing right now with tools like mid-journey and open AI, has. the power to change the entire creative process and timeline. Imagine just writing the words "video of a child, running down the street chasing the ball" and generating a producible video where in real time you can change details like the color of the shirt on the child. Dynamic ubiquitous real-time branded content natively produced across every channel could allow you to optimize in real-time with algorithms of data trends that are coming in live. The future of technology is a vast ocean that a Creative Director could surf.
We wanted to get some feedback from an outside perspective, so we went to our strategic human capital partner, Chrissy (Ching) Mott, of Celertek.  She had great insights on this topic.
"Data is now driving most technology hires across any industry. The ability to measure the success of what is being built or implemented is now as important as the product itself. There are very few organizations, even in the government services space that are without a data team, even if that team is relatively small. We have seen an increase in scaling data teams alongside QA, product management, and other more traditional technology areas across the last few years. The ratio of the data team to other traditional technology skill areas is only increasing year over year. What used to be a single person is now scaling at the same pace as other technology roles within a given organization."
"A modern-day creative director has to understand how to read data and how to use it to positively impact the overall business. Without the digestion of data and applying its impact to the deliverable or product, the creative director is already behind their competitor."
The last decade has made giant leaps in diversity & inclusion initiatives, especially for the LGBTQIA community. For the month of June, many companies switch from their traditional monochrome logo to a rainbow-colored design, particularly on social media platforms like Facebook or LinkedIn. While this rush of public support for LGBTQIA communities is a popular way of engaging in Pride Month celebrations, companies must consider how their actions reaffirm their pro-LGBTQIA branding. 
First, it's important to understand the purpose of the rainbow branding used throughout Pride month. By implementing a temporary rainbow branded logo change that showcases the colorful LGBTQIA Pride flag, companies can generate discussions about discrimination and visibility for members of the queer community. For a company sporting a Pride month logo, the rainbow design serves as a reminder to consumers, employees, and associates that the company values LGBTQIA inclusion and representation.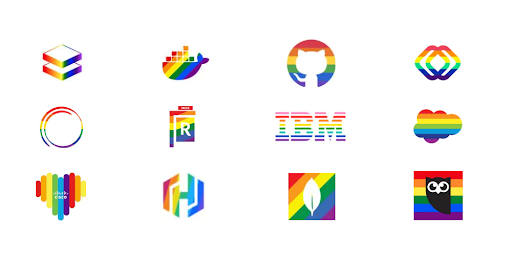 The Pride month logo design is most common among B2C companies who are trying to capture the attention of consumers. In this day and age, corporate responsibility and values are critical factors in purchasing decisions. Millennials are 32% more likely to do business with a company that openly supports the queer community. However, many large B2B companies also serve to benefit from showing support for the LGBTQIA community. The rainbow logo signals to employees and partners that the company is an ally to the community. Inclusive values attract diverse talent, improve employee welfare, and increase business across numerous demographics. About 15% of Gen-Z adults in the US identify as queer, a growing target market in corporate America.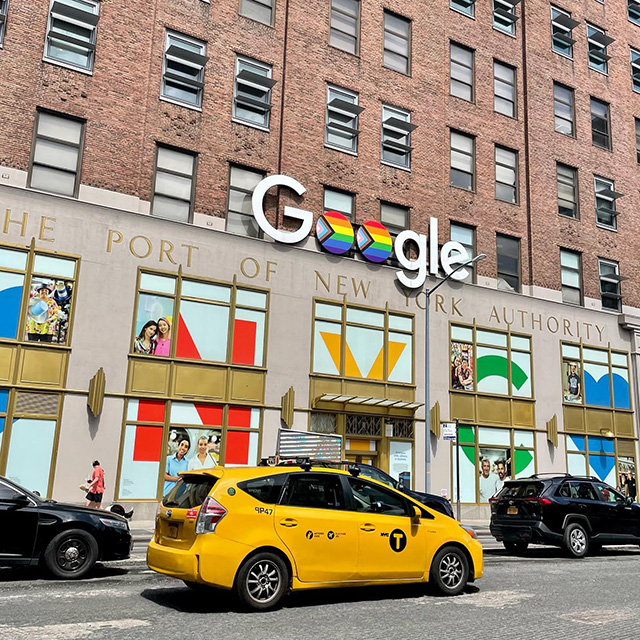 Some of the largest tech, finance, and consulting companies—like Microsoft, IBM, Bank of America, and Deloitte—have used rainbow logos throughout the month of June to show support for the LGBTQIA community. Even prominent federal contractors, like Leidos and GDIT, have joined the display of pro-LGBTQIA branding. Corporate support for the LGBTQIA+ community during Pride Month is a major step forward for the LGBTQIA community compared to past suppression and ignorance. But beneath the rose-colored glasses, the reality is a flash of rainbow branding is not the end goal of pride month.  Companies need to provide more than just temporary logos in support of the queer community.
Take Skittles as an example, an extremely colorful brand naturally in its everyday marketing decided to go in the opposite visual direction to completely greyscale packaging and marketing materials. This campaign went viral when Skittles announced they decided to give up their rainbow to 'celebrate the one that matters.' (aka the Pride rainbow symbolizing the LGBTQ+ community). Partnering with GLAAD, an American non-governmental media monitoring organization, they gave six talented artists within the LGBTQ+ community to create pack designs that represent how they see the rainbow. Special edition pride packs were sold with $1 per pack donated to GLAAD.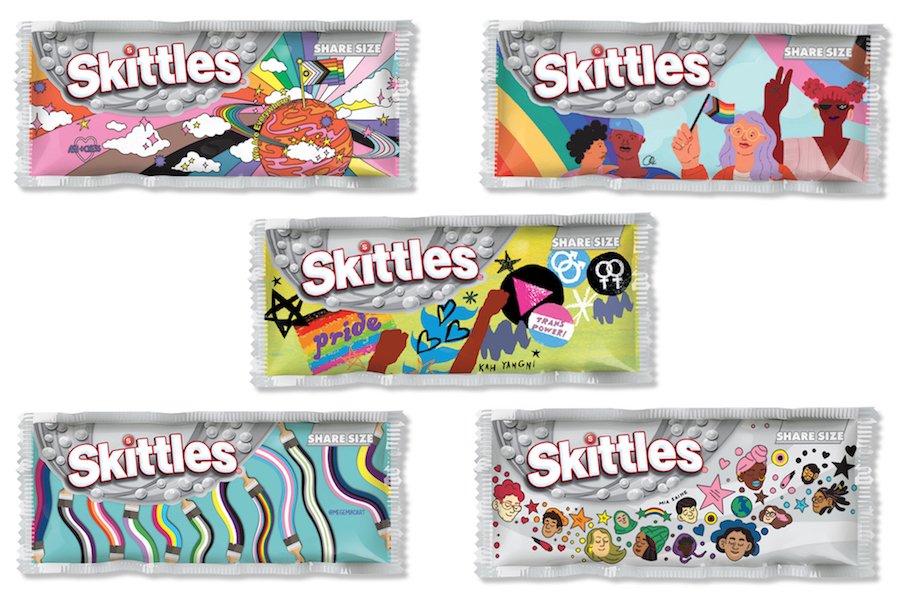 Because of the clear economic benefits of promoting Pride month, this can be perceived as an exploitation of social initiatives and conversations as a means to reach business goals. In this instance, the use of the rainbow flag in marketing materials, without the actions to support the queer community in meaningful ways, is referred to as rainbow-washing. Before a company considers implementing a new rainbow logo or a Pride month campaign, they need to reflect on what other actions the company can take to support the LGBTQIA community in meaningful ways: 
Donate a portion of business proceeds to LGBTQIA-friendly charities or in support of pro-LGBTQIA legislation. 

Show support for the queer community year-round, not just through the month of June with supportive messaging and practices.

Ensure representation of LGBTQIA persons in marketing and advertising.

Refuse business in countries or states with discriminatory laws against LGBTQIA persons.

Show representation of LGBTQIA persons in positions of leadership, like on the Board of Directors or within the C-Suite.

Provide support and protection for LGBTQIA employees and their families.

Educate yourself and those around you on the history of pride month before using the circumstance for profit.
While not every company can achieve all the points listed above, marketing and branding alone do not affirm the allyship of a company. Instead, marketing should be used as a means of promoting the other good works that a company does in the LGBTQIA community. 
If your company is a true ally to the queer community, but you're struggling to convey these values through your messaging or advertising, contact an agency like Bluetext that specializes in digital marketing. Whether looking for a refreshed pride month logo or a representative campaign for the month of June, Bluetext can help you create materials that get the right message across.
New year, same buzzwords. We're all familiar with the phrase "machine learning", but finding a practical application for it that supports your business model is another story. The key to effective digital marketing campaigns is taking full advantage of emerging technologies, and if you're looking to increase your marketing team's productivity and efficacy, look no further than machine learning. From paid media campaigns to search marketing strategies, recent machine learning enhancements have skyrocketed its digital potential. As brand marketing becomes more closely integrated with performance marketing, introducing ML to your digital marketing strategy is an effective way to assist your team on both fronts.
According to Google's Chief Search Evangelist, "The future of brand marketing is digital, and it's automated. As a brand marketer, if you can start thinking like performance marketers when it comes to KPIs, measurement, and budgets, you'll be poised to win." 
Looking for ways to get started with machine learning in your marketing processes? Here are a few ideas:
Introduce personalization at scale.
Personalized advertising is a tried-and-true success tactic, and machine learning makes personalization at scale easier than ever. Whether you're personalizing for 100 users or 100,000, AI makes the process quick and effective. Better-targeted ads, personalized messaging, and individualized user journeys are just a few ways that ML can boost your brand.

Leave the bidding to the machines.
Free up your team's time by handing off PPC management to a tool like Google Smart Bidding. With automated bidding, your team can focus more on strategic planning and goal-setting instead of cent-by-cent differences.

Implement a chatbot on your website.
Chatbots are simple integrations that can have a major impact on the conversion rate of your site. The best chatbots use AI to make the customer's journey as simple as possible, guiding them to the right information or product with minimal back-and-forth. Trusona uses a pre-populated chatbot, so users don't have to lift a finger to type a response; they can simply choose from the options presented.

Iterate, optimize, and iterate again.
Iteration is one of the greatest strengths of processes that use machine learning; rapid analysis of digital performance means that your team can respond in real-time to shifting trends and interests. Ultimately, the introduction of machine learning to your brand's marketing tactics will result in better products and better performance.
Implementation of machine learning could be the next major step in your brand's growth. To learn more and see how Bluetext can partner with you in that growth, contact us.
If you can't measure it, you can't manage it. Whether you are looking to drive brand awareness, drive qualified leads, or polish up your brand, there is always a goal in mind when hiring a marketing agency. At Bluetext, the goal that rises to the top is M&A. Many companies come to us because they want to go public, be acquired, or be acquisitive in the next 18-24 months.
We have a strong track record of helping clients achieve an M&A goal. Within 24 months of a Bluetext engagement, 47 of our clients have entered into a financial transaction. So what's the secret? Unfortunately, there is no one size fits all recipe for a market-ready rebrand. However, Bluetext's strategic approach to messaging, branding, campaign & website design tailored to specific client goals has had proven success in highlighting a company's unique value to investors. Let's take a look at the last 12 months of mergers and acquisitions for our clients. 
JANUARY
Kicking off the new year with exciting news, Deloitte announced the acquisition of Bluetext client, R9B, a leading provider of advanced cyber threat hunting services and solutions. Following a PR engagement with Bluetext, R9B had earned a strong industry reputation and the attention of the leading global professional services giant. With the addition of R9B's business, Deloitte's Cyber Detect and Respond offering will continue to help clients gain a leading edge in cyber defense, integrate fragmented security toolsets, achieve efficiencies in security operations programs, accelerate response time to potential threats and provide data-driven threat insights.
FEBRUARY
The Bluetext team learned that long-time client, Perspecta, had been acquired by national security contractor Peraton in a deal worth $7.1 billion. This announcement followed a multi-year engagement with Bluetext that began with a merge of Vencore, and KeyPoint. These public sector businesses merged to form Perspecta, a government services provider with 14,000 employees and pro-forma revenues of $4.2 billion. The Perspecta team turned to Bluetext to develop a vibrant new brand and website that provided the flexibility and scalability needed to enter the market. The Perspecta brand proved to be an attractive investment to industry leader, Peraton. The combined company will create a government technology provider that delivers end-to-end capabilities in IT and mission support and serves as a strategic partner across a diverse array of U.S. government customers.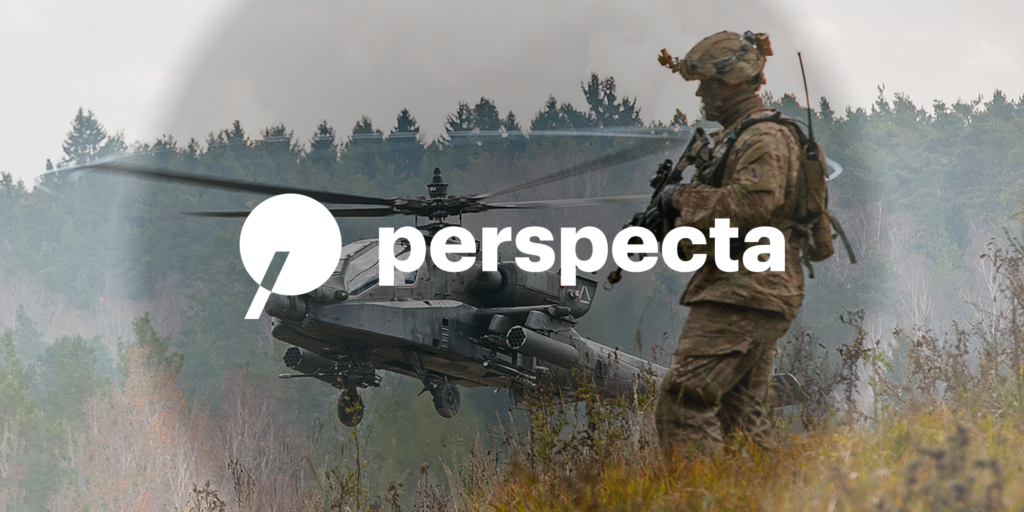 MARCH
Bluetext client Galois announced their spin-off company, MuseDev, had been acquired by supply chain management software leader Sonatype. The opportunity to pair Muse with Sonatype's Nexus platform will dramatically expand its market reach to developers and deliver huge improvements to source code quality. Like MuseDev, all of Galois' spin-outs focus on interesting and deep challenges in computer science, and Bluetext is excited to see what this company's future may hold.
APRIL
AMETEK, Inc. announced a completed acquisition of Abaco Systems, Inc., a former Bluetext client and a leading provider of mission-critical embedded computing systems. Prior to this recent acquisition, GE and Veritas Capital engaged Bluetext to develop a new name and brand. Thus, Abaco Systems was born and the Bluetext team worked around the clock to create a unique new brand in less than a month. The newly formed company and brand identity hit the ground running, and developed a reputation that caught the eye of AMETEK, Inc. David A. Zapico, AMETEK Chairman and CEO, shares "Abaco's market-leading computing and electronic solutions nicely complement our existing aerospace and defense businesses, expanding our positions across many attractive growth platforms."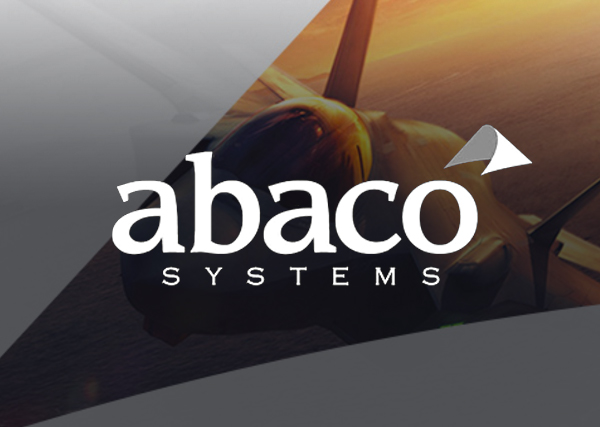 MAY 
Arlington Capital Partners announced a completed acquisition of Triumph Group, Inc.'s composites business. Arlington Capital engaged Bluetext for a new brand, messaging, and website to position the company as a leader in aerospace composites. Under the bold new name Qarbon Aerospace, or QA, stands for 'quality assured', representing the company's relentless pursuit of quality. Bluetext moved fast to create a brand that would make a lasting impression on the market. The logo showcases their commitment to quality, and nod to the industry through the shape of a plane that connects the QA within the logo. The new website included custom photography showing off Qarbon's core capabilities, as well as a virtual tour that lets users explore Qarbon's 1,650,000 ft² of state-of-the-art facilities. In a triumphant feat, the company went to market with a high caliber and professional image.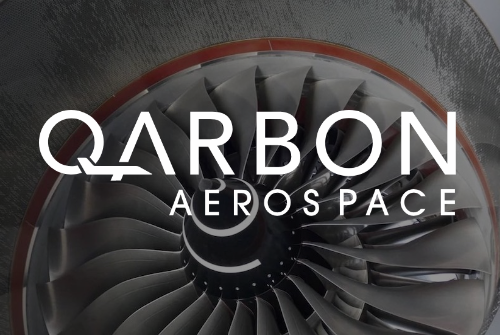 JUNE
Bluetext is pleased to announce the launch of Axient. The team at Axient came to us following a series of mergers and acquisitions for a new name, brand, and website. A rebranding announcement in June publicized the new company name, messaging and brand essence video with an interim landing page for the full website launch. A few months later, Bluetext launched the full Axient website, which united four prior companies' capabilities. Learn more about our work with Axient.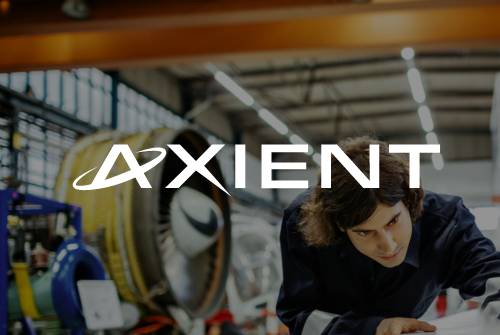 JULY
Where UX meets XM… In July, Qualtrics, the world's #1 Experience Management (XM) provider and creator of the XM category, announced the acquisition of Bluetext client, Clarabridge, the leader in omnichannel conversational analytics, in a stock transaction valued at $1.125 billion. In a previous engagement with Bluetext, Clarabridge sought out a new brand and website experience to match their sophisticated AI-powered platform. Bluetext created a digital manifestation of the Clarabridge brand to engage site users and explain the technological and analytical power behind the platform. Through sophisticated 3D animation work, the user experience came alive and communicated Clarabridge's value — to customers and investors alike!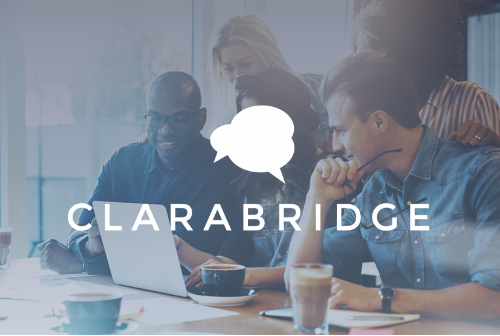 AUGUST
KBR, Inc. announced a definitive agreement with Arlington Capital Partners , a Washington, DC-based private equity firm, to acquire Centauri, LLC.  Bluetext developed and launched the Centauri brand, following Arlington Capital Partners' acquisition of three leading companies in the national security sector.  Looking to enter the market with a completely fresh start, the team turned to Bluetext to develop and launch a new unified brand from scratch. In less than 6 months, Bluetext launched the Centauri website with a cutting-edge look and feel that set them apart from the competition. The Centauri logo used a unique icon representing the stars that make up the Centauri constellation, to accentuate the new brand messaging "Brilliance when Great Minds Align". Their website incorporated all of the brand's new elements, with intentional design and user experience to prioritize recruitment and growth.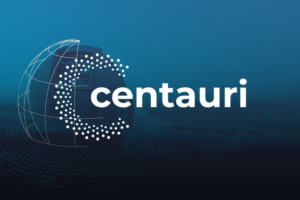 Bluetext client, SpaceIQ, announced a promising merger following strategic investments in the companies by global private equity firms Thoma Bravo and JMI Equity. SpaceIQ, a leading Integrated Workplace Management System (IWMS), space management, and employee experience provider, announced plans to combine forces with iOFFICE, an industry leader in work experience and asset management solutions. Together, the combined organization will address a rapidly growing market opportunity through the most complete offering of smart platforms for managing corporate real estate, physical assets, and workplace experience. Prior to this investment, Bluetext worked with SpaceIQ to launch a powerful new website that solidified a merger of three brands. The fully responsive and intuitive site was designed to showcase their breadth of offerings, multiple product lines and a united company mission. The new site ensured the three legacy brands' relevant products were clearly identifiable, yet balanced by cohesive branding and streamlined user journey.

SEPTEMBER 
This September, Panasonic announced the completed acquisition of Bluetext client, Blue Yonder, the leading end-to-end, digital fulfillment platform provider. This transaction, valued at $8.5 billion, intended to accelerate Panasonic's and Blue Yonder's shared vision for an Autonomous Supply Chain™. Months prior to this acquisition, Bluetext worked with BlueYonder to update their website to match the constantly evolving nature of their business. In the midst of a rebrand, Blue Yonder sought out Bluetext to help transform its brand in the digital space. In a feat of innovation and animation, the new website illustrated Blue Yonder's new brand and potential investment value to all users.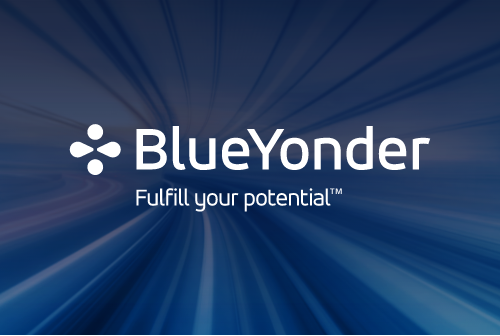 NOVEMBER
Clearlake Capital announced the purchase of Bluetext client, Quest Software, for a reported $5.4B. Prior to this acquisition, Quest came to Bluetext looking for help in repositioning them in the market with new messaging and revamped corporate visual identity. After an extensive research process, Bluetext developed Quest's new corporate positioning, and new tagline, "Where Next Meets Now" to represent how Quest can help you conquer your next challenge with confidence. New messaging complemented by a refreshed visual identity and website helped achieve a more modern, and approachable corporate visual identity. Shortly after this engagement, they were approached by Clearlake Capital with investment interest, and ultimate acquisition.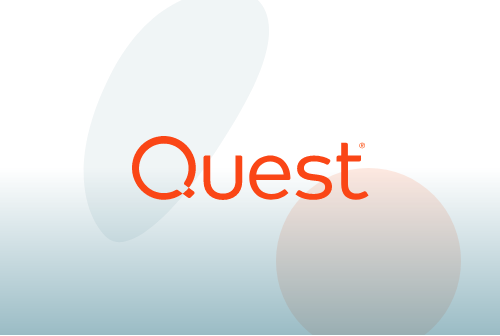 DECEMBER
Closing out the year on a high note, and celebrating 38 times now, a Bluetext client has been acquired or has announced a public offering following an engagement with us! Just days ago, Bluetext client, BigBear.ai, a leading provider of artificial intelligence ("AI"), machine learning, cloud-based big data analytics, and cyber engineering solutions, and GigCapital4, Inc, a Private-to-Public Equity (PPE)TM entity, announced the completion of their business combination. This big news coincides with BigBear.ai's debut as a publicly-traded company. Commencing trading on the NYSE on December 8, 2021, under the new ticker symbols "BBAI" and "BBAI.WS," this transaction values BigBear.ai at a $1.378 billion pro forma enterprise value. 
What a year 2021 has been for Bluetext client success! Stay tuned to see what 2022 holds. And if your company is looking for a new brand or website in the new year, contact us to learn more. As the last 12 months have shown, repositioning yourself in the market can lead to major opportunities.  
Scroll-based animation offers all the benefits of on-page animation and more. Not only do pages with scroll-based animation engage users more effectively, but they can also tell more complex stories, improve page load time, and expand the capabilities of your brand identity.
Some stories are best told visually, and scroll-based animation is an effective way to make complex stories simple and elegant. Designers can use animation to guide users as they scroll, catching their eye at exactly the right time and place. Apple incorporates subtle animations into its product pages to drive user focus toward key information they want to highlight.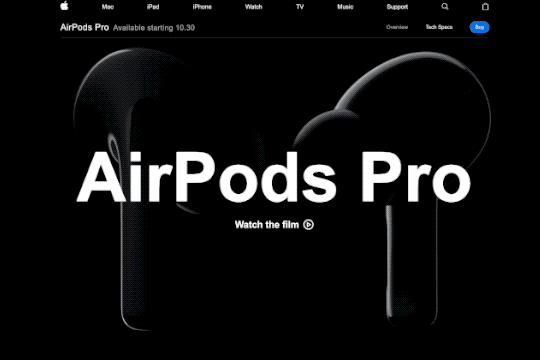 Scroll-based animation can offload elements beneath the virtual "fold" from the initial loading process, decreasing overall load time. Elements above the fold are prioritized in the initial load, saving time on down-page items that are animated to appear as the user scrolls down.
Implementing scroll-based animation provides the opportunity to add animated elements to your brand. Whether they're completely new, or existing pieces that have been updated with motion, animated elements can help bring your brand to life. Elements like a scroll-based footer or call-to-action can be used across a website to consistently call attention to key information about your brand.
Key Tips for Scroll-Based Animation
Getting started with scroll-based animation can be tricky, so here are a few pointers to keep in mind as you go. 
Timing is everything.

The flow of the animations as a user scrolls down the page is key to maintaining their interest. As a user moves down the page, elements should naturally animate or appear, so there are no gaps in the experience. A simple, well-timed scroll-based animation is always better than a complex but awkward one. 

Added effects should emphasize key information, not detract from it.

Keep in mind that the whole point of on-page animation is to make it easier for users to navigate your site and find what they're looking for. Be sure that any effects or animations make their experience easier, not more difficult.

Less is more.

When in doubt, simplify. Avoid cluttering your site by animating every element on a page or by introducing particularly drawn-out animations for no reason. As a rule of thumb, smaller elements should have shorter animation cycles, and each animation should have a purpose in guiding the user experience.
Looking for inspiration?
Clarabridge's animated homepage brings the brand to life and elevates the user experience. On-page effects guide the user through the homepage, emphasizing the strength and ease of Clarabridge's solutions. Click here to read our case study on this project.
HuffPost's interactive article, Chef Jose Andreas Embraces the Chaos, is an example of "scrollytelling," which uses scroll-based animation to enhance a written story. Hand-drawn visuals appear as the reader scrolls through the story, adding a playful, personal feeling to the page.
For Calling All Optimists, Bluetext incorporated subtle scroll-based animations throughout the site to draw attention to key information or calls-to-action. Along with the brand's playful shapes and colors, these animations reinforce the positive, dynamic qualities of the site. Click here to read our Calling All Optimists case study.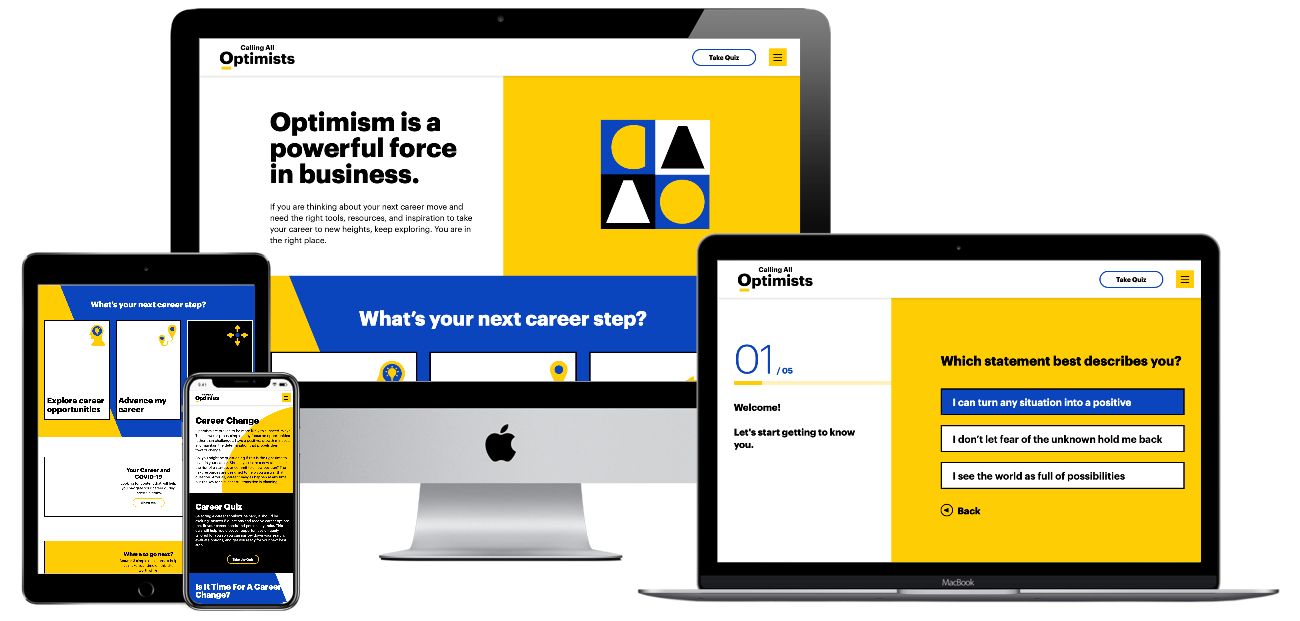 Ready to see how scroll-based animation can enhance your site? Contact Bluetext to learn about our motion design and interactive UX services.
Whether you're creating your first logo, editing an existing logo, or totally redesigning an outdated logo for your business, you've been tasked with representing your brand and everything it stands for within a small graphic icon. A logo design project requires extensive knowledge of what your business stands for, what your current competitors are doing, and how design principles can be applied to capture attention and promote memorability. To increase the likelihood of a successful logo design, many companies turn to digital agencies like Bluetext who understand the competitive landscape and get to know each business in depth before designing a logo that accurately reflects the company and helps them stand out among the competition.  The following 4 principles are integral considerations for the logo designing process at Bluetext, and they should be utilized by any company looking to create a timeless, impactful visual identity for their brand.
1. Color
More often than not, color lays the foundation of a brand. Color is the first thing that catches the eye, and in an age of diminishing attention and quick digital scans can make or break a strong brand. With the power to improve brand awareness by more than 75%, color psychology is an essential consideration. Digital marketing & branding agencies advise considering the perspectives of two important players: the end-user and the industry. Below are three critical questions to ponder before any branding objective:
How do you want to be perceived by these audiences? 

What emotions should your brand evoke from end-users? 

How do I want to compare to industry standards? 'Zig' (run with the pack) or 'zag' (go against the grain)?
Certain colors tend to dominate different industries. Ever wonder why almost all fast food brand logos use the colors red and yellow? Red elicits passion and energy, while yellow stimulates hunger, which leads to subconscious food cravings. In comparison, the government contracting industry tends to use the colors red, white, and blue to invoke a sense of patriotism. Understanding the emotional impact behind your color choices can help your brand resonate with users and prospects. However, while some colors are tried and true, you should also weigh the costs and benefits of choosing the colors commonly found within your industry. Your ultimate goal should be to stand out amongst the competition, rather than blending into it. Whether or not color palette is the avenue to differentiate is a question that an expert brand agency would be able to consult on. While it may be tempting to utilize numerous color combinations, within your brand and logo, keep in mind the second most important quality of a logo: keeping it simple.
2. Simplicity
Visuals can communicate information 60 thousand times faster than text, a simple visual can be more impactful—and memorable—than a complicated or wordy design. Especially with the rise of mobile users and smaller screens, reducibility is a critical factor. Your logo should be comprehensible across multiple sizes—from a banner ad to a website favicon. Complex, detailed logos often have legibility challenges on small devices, therefore limiting your opportunities to show off even the most stunning designs. When there are too many competing elements of a logo, a viewer's attention is divided between them, which detracts from their ability to recall the logo as a whole. It's much more effective to choose just a few key elements of your logo to highlight your brand offerings. A good logo communicates your company's strengths, whether it's a rich history, creative thinking, or literal products featured in the design. The devil is in the details, which is why leading brand agencies advise a simple, yet scenic, route to logo success. 
3. Adaptability
Another important aspect of your logo is that it must hold up to the test of time. A brand as a whole can be updated and refreshed every now and then, but replacing an outdated logo can be a large undertaking. A timeless logo is one that can be implemented across different formats, from horizontal, vertical, square, black and white, full color, etc. These format variations allow the same logo to be adapted to different contexts as the opportunity arises, whether that be print materials, branded merchandise, and new online formats. Anticipating new ways to use your logo will keep users engaged with your brand as you expand across different platforms. Your brand's style guide is an important resource for explaining how your logo and brand identity can be communicated through different channels. 
4. Relevance
The previous 3 qualities of your logo tie into one overarching factor: relevance. Before considering a  logo redesign, you should talk extensively with target consumers to better understand how they perceive your current logo and overall brand. Creating a logo that reflects your brand identity is one thing—making sure that customers actually receive and understand your message and the brand behind your logo is an entirely different challenge. A digital marketing agency can be a powerful partner to compiling market research and getting a third-party perspective on your logo's effectiveness. To learn more about how to stay in tune with your customers to make sure your branding conveys the value you actually offer, check out an interview with Bluetext's Jason Siegel and Travelocity's Terry Jones on avoiding brand regret. 
Keeping up-to-date with design trends is one way of reading the market at a broad level to see which logo design techniques are resonating with audiences. However, accurately representing your brand is more important than being trendy. In the cyber-security space, for example, the challenge of selling an abstract concept has led many companies into the trap of using stereotypical imagery or design to try to communicate that they work with computers, coding, and hackers in hoodies. However, following those trends has led many companies to fall into the clutter of the category—a space where they're practically indistinguishable from competitors. In order to avoid these common mistakes and stand out as strong competitors within your industry, consult a brand & marketing agency for your logo design. 
Contact Bluetext to take the first step in setting your brand (& logo) up for long-term success.
Why animation?
As the saying goes, static doesn't sell. According to research, animated banner ads are more than four times as effective as their static counterparts. More and more these days, users are expecting engaging, interactive content from brands at every point of contact. This goes for any platform—a website, an app, digital out-of-home, social platforms (yes, this means TikTok). Anything with a screen is an opportunity to shake up your brand with animation.
Say more with animated content
If a picture is worth a thousand words, an animation is worth a million. Animated content captures key messages in more ways than a static graphic, and injects any design with the personality of a brand. After all, motion draws out emotion. Whatever your brand wants to convey, animated content can sharpen and elevate that message. 
Is your brand a subtle responsive animation kind of brand, or a claymation one? Maybe a blueprint-style animation speaks to your brand's personality best, or perhaps a parallax effect is the best representation of your brand. However you choose to do it, you can get more out of your corporate visual identity with animation.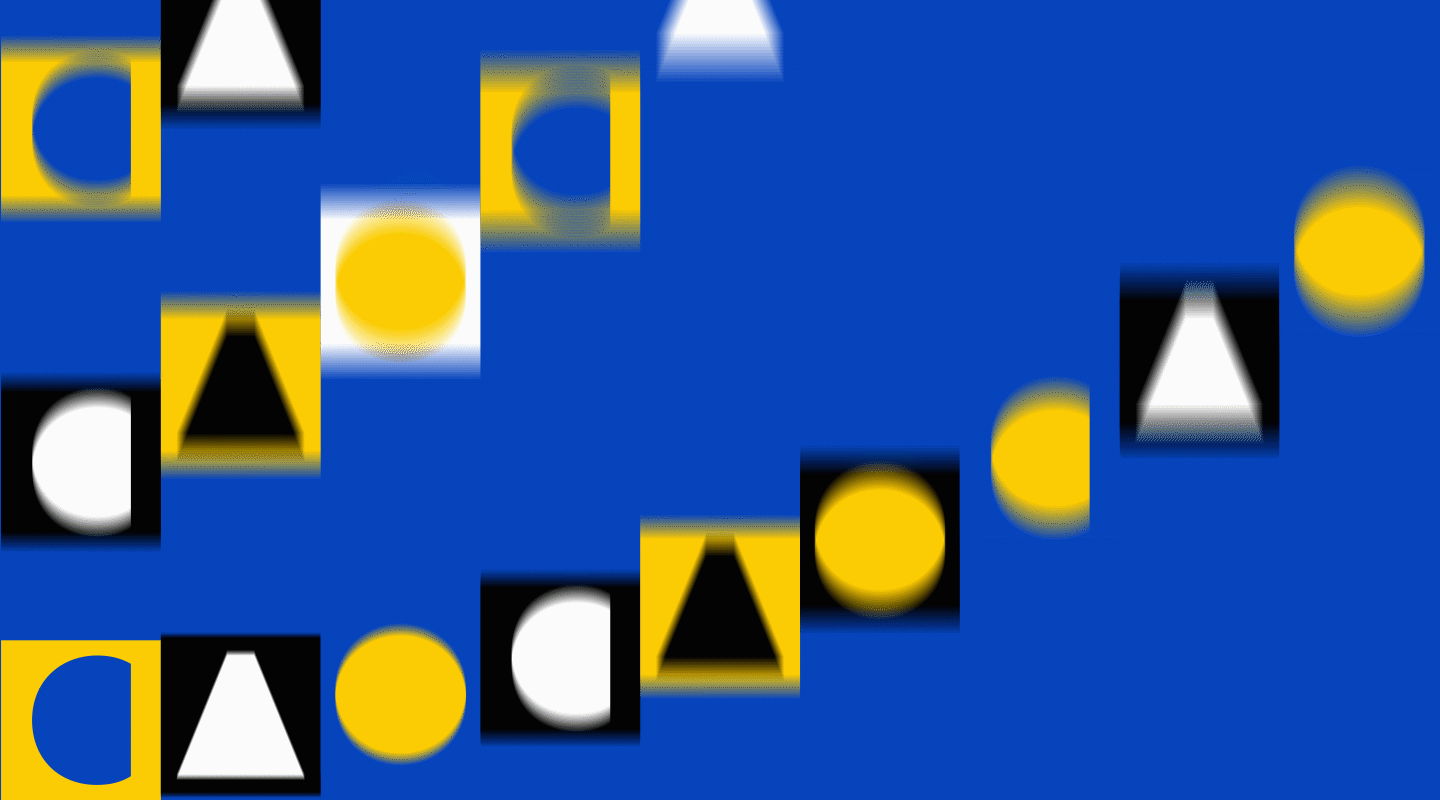 Getting started
When it comes to animation, the options are endless. Here are a few simple ways to get started, plus some examples produced by the team here at Bluetext.
1. Introduce an animated version of your logo or key brand assets.
An animated brand identity can be applied across any digital asset, as demonstrated by Octo's identity in motion. The style of movement captures the ever-changing nature of the government technology market and communicates more about Octo than a static identity could. 
2. Add subtle movement to some of the static content on your website.
This example from ScienceLogic is an elegant way to introduce movement to your website while incorporating visual elements like brand shapes and secondary colors. As the mouse hovers over images of the leadership team, the background pops with new colors and shapes to keep the viewer engaged with what they're seeing.
3. Consider a moving graphic for your next ad placement.
4. Read some more tips on motion integration from Ale Hernandez, one of Bluetext's web design and UX experts.
Easy animation with interactive AI
Animation is becoming so necessary for modern brands that designers have even begun to automate some of the process. This cutting-edge technology is making animation more cost-effective and efficient to produce, meaning that more and more brands will be able to build out animated identities. Now is the time to get an edge on your competition by debuting a signature animation style for your company's offerings.  
Want to go all-in on animation? Contact Bluetext to learn about our motion design and interactive UX services.
It's no secret that any business striving for success has to find a way to differentiate themselves from their competition. The same goes for companies operating in the government contracting arena, where players big, small, old, and new, are all looking for ways to get their messages into the market uniquely.
I know what you're thinking… so much easier said than done, right? Well, what if I told you that a solid and effective brand story is one of the most critical ingredients of a government contractor's success? And, what if I told you that as a government contracting marketing expert that specializes in brand storytelling, Bluetext can help you significantly improve your market standing and brand goals?
Now that I've got your attention, keep reading to learn more about why brand storytelling is so critical in government contracting, and just what Bluetext can do for you.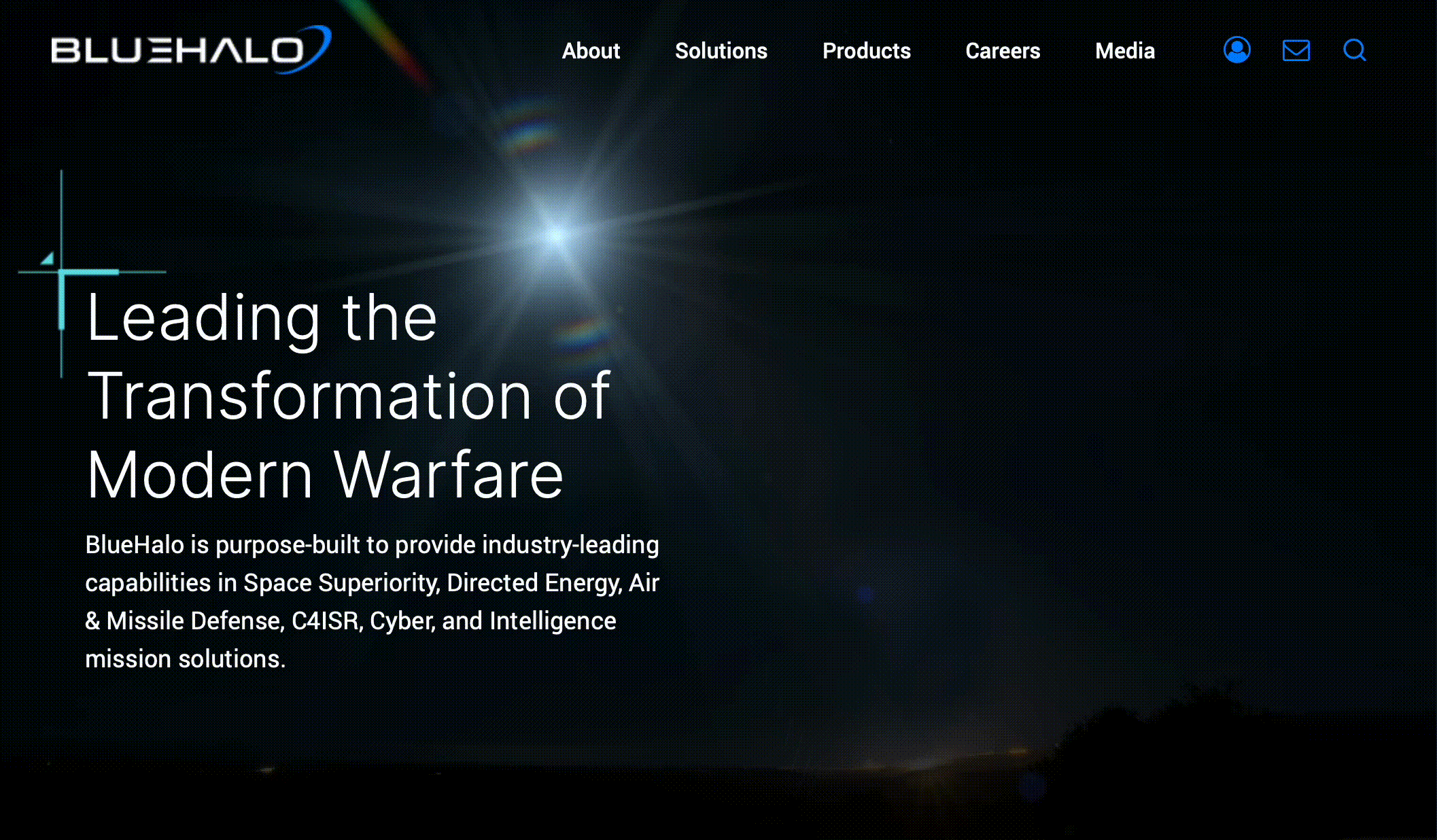 So, why exactly should I care about brand storytelling?
The reality of the situation is that without a strong brand story, many government services providers look exactly alike. Strong brand storytelling can make a government contractor stand out and come to stand for something valuable to all of the stakeholders.  In a trust-based industry like government contracting, a resonant message can both attract and motivate buyers to conduct business with your company.
In a world so focused on numbers, proposals, minimizing risk and technical requirements, it can be easy to forget that your buyers are still human! Yes, they want to understand your company, services, and products and see those fancy charts and data, but they also want to relate. Most proposals are going to have very similar data, and after so many they all seem the same. What won't be the same is the emotion tied to your company's proposal — if you tell your story right. Customers need to recognize your brand and trust that you are the right organization to fulfill their contracts in the long term.
That's where brand storytelling comes in to help.
Studies show that humans actually rely heavily on our subconscious feelings to make decisions and that we respond positively to the impact of stories. That's why storytelling is such a powerful tool to help evoke positive emotions around your brand and facilitate connections with your audience. When your audience connects with your story, they will pay attention longer, want to learn more, and be more trusting of your brand. 
Storytelling that is consistent with your brand allows your audience to see the how and why behind your products or services. It allows them to be enticed by your company without being explicitly aware that they were in a sales pitch. Across any industry, tolerance is low for gimmicky sales ploys. However, there is attention bandwidth to be gained for a corporate responsibility and clear values. Companies who get this right are companies who win government contracts.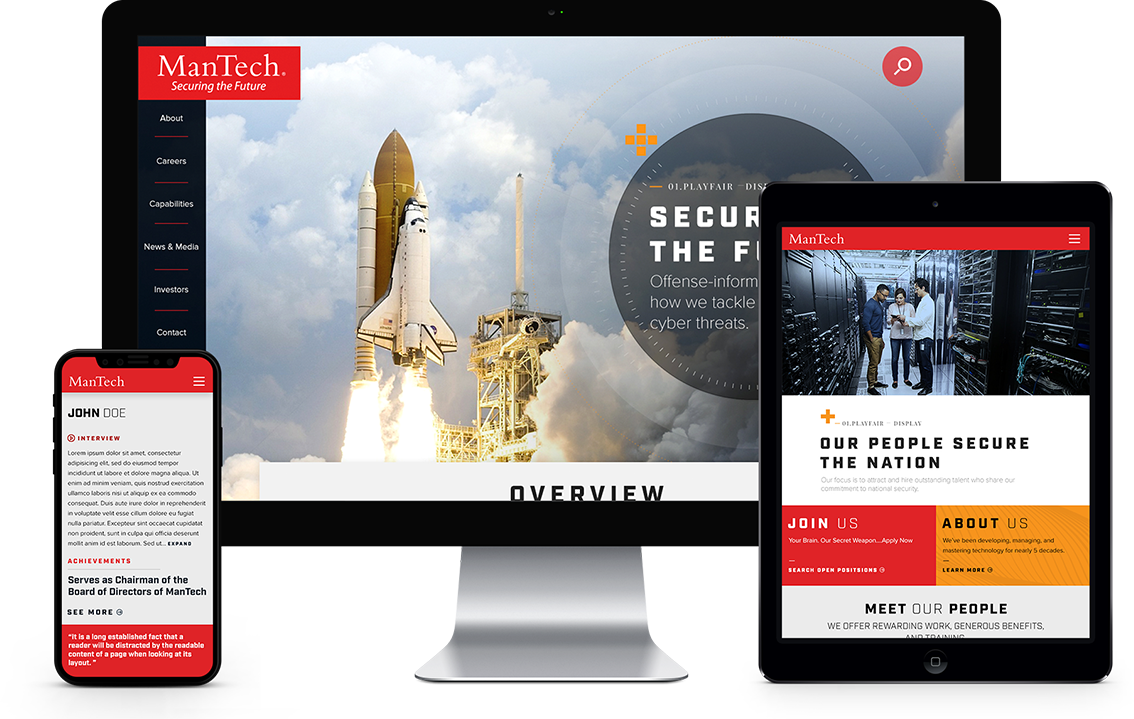 Okay, I'm in. But how do I get my brand storytelling right?
Enter: Bluetext.
As a top brand development agency, we've worked across industries to learn the most effective ways to tell unique brand stories. We have worked with countless government contracting firms to help them tell their stories in a way that captivates audiences, leads to real, tangible business results, and establishes them as a trusted partner who can solve real-world problems.
Check out a few of our favorite examples of storytelling in government contracting below: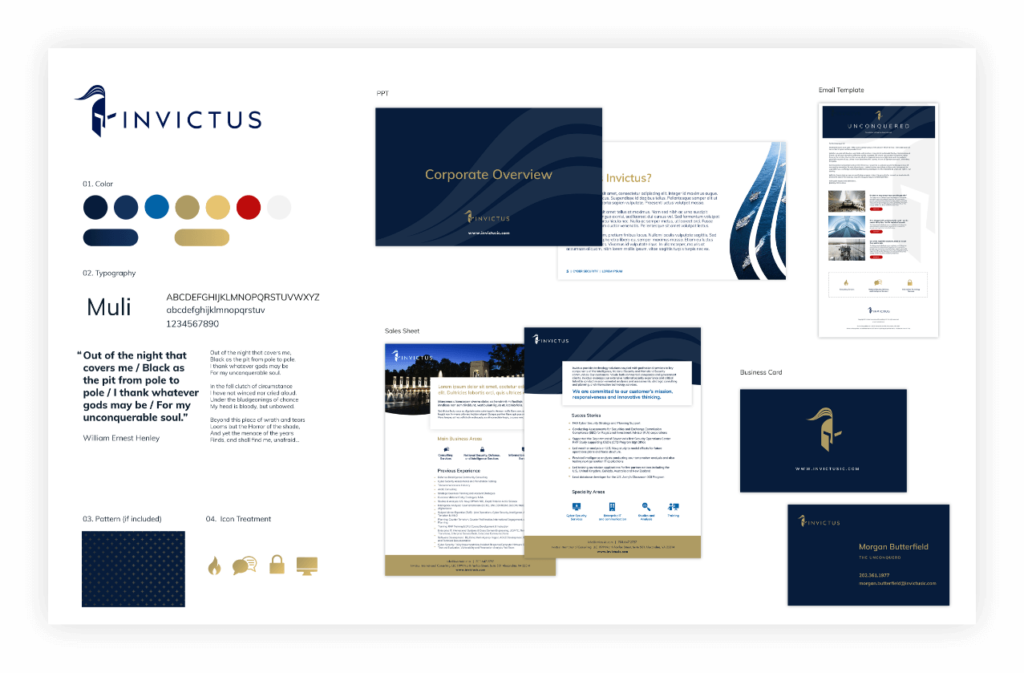 Convinced? Contact Us if you're ready to work with a government contracting marketing firm to help tell your story.
What Is Visual Identity?
A visual identity is the combination of design elements people use to recognize your company. 
In general, your visual identity is composed of the brand's overall aesthetic, use of colors, logo, brand name, typography, and smaller visual elements. These components, while minor on their own, can create a major impact on your brand identity when combined strategically. One example of a visual identity champion is McDonald's. From their iconic arches to their color palette, they are a globally recognized brand. They've created a visual identity that isn't limited by language or cultural boundaries.

Memorable, recognizable, and admirable are the three central goals of a strong brand identity. But of course, that's easier said than done. Your visual identity should always be considered in context to your competitor set. If you're a fast-food chain, McDonald's red and yellow should probably come off the table. But if you're an emerging tech company, those colors may be a great opportunity to differentiate in your industry! Consider working with a reputable branding and marketing agency, such as Bluetext, to run a full competitive analysis and to ensure you have a well-planned out brand that you can consistently maintain. 
Why Is It Important?
A well-defined visual identity allows you to ensure all your brand designs support your company and its overall business goals. In creating a visual identity, you'll want to ensure you choose a logo, color palettes, fonts, visuals, and design style that fits the way you want your company positioned in the market. Are you looking for approachability? Maybe you want to be perceived as more aggressive in price or quality. All of these brand attributes can be strengthened with visual elements. Beyond defining these individual elements, you'll want to ensure they are cohesive and can be used consistently. 
By creating a consistent and well-defined visual identity you become more memorable and recognizable for your customers.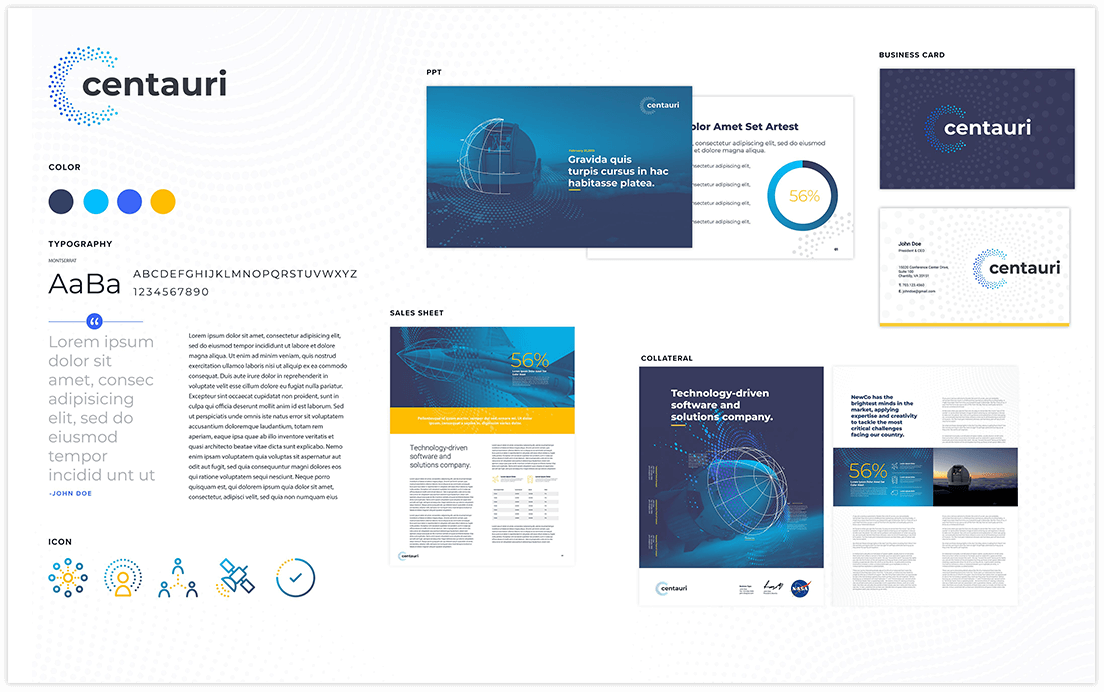 In developing your visual identity, there are countless free checklists and templates to utilize. But a word of caution, nothing can replace the creativity of a top-quality graphic designer. The good news? Bluetext has a full design team that's ready to assist you every step of the way in developing your company's visual identity. 
Do you really want your brand to stand out? Then consider a custom font. Companies such as Netflix, Google, Apple, and the BBC all utilize custom fonts to help stand out from the competition while increasing their recognizability. Just ensure your custom font meets accessibility standards. Decorative or overly stylized fonts can often be difficult to read even for users without visual impairments or reading disabilities.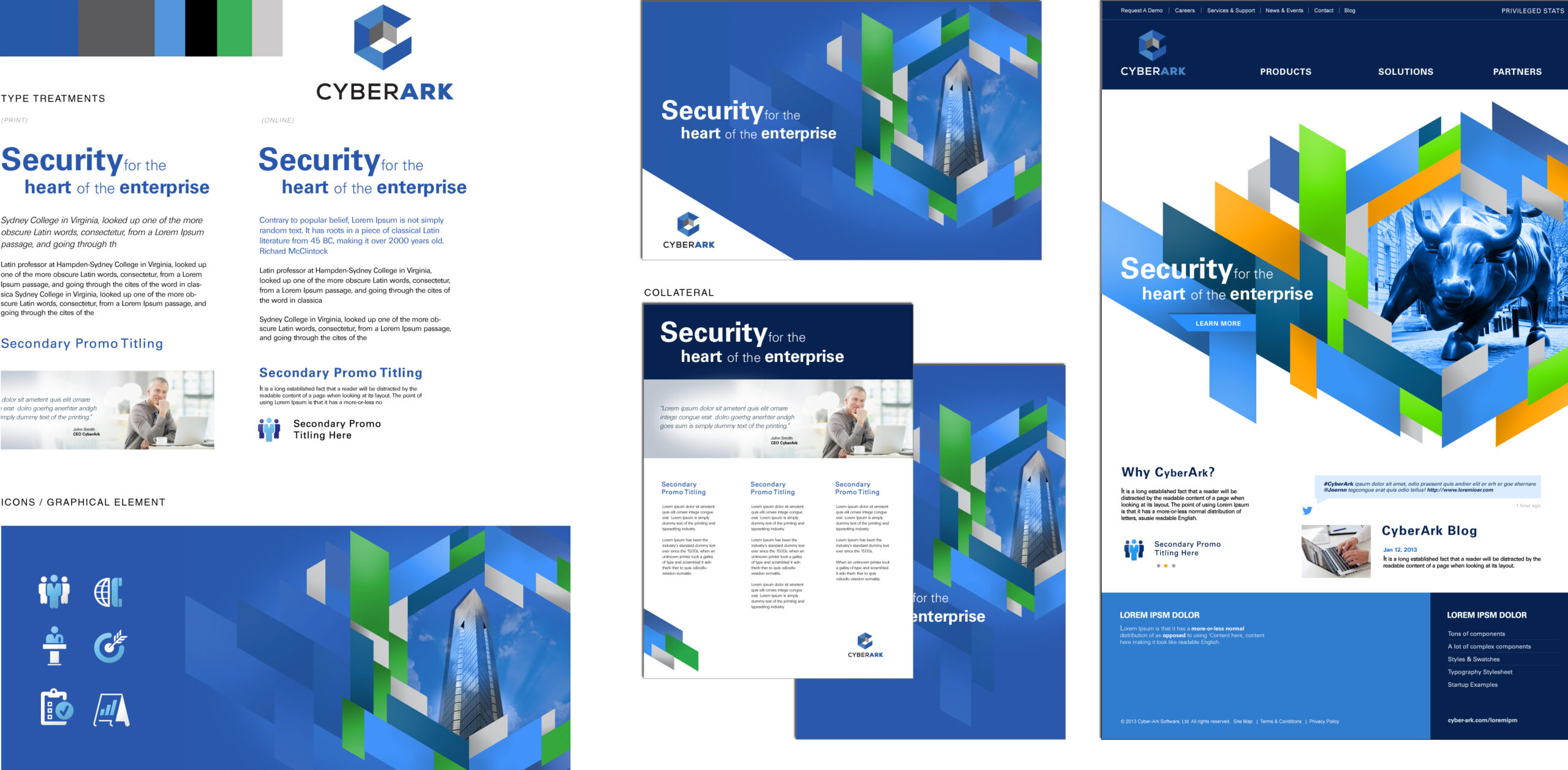 Key Elements of a Visual Identity
So where do you begin building a strong visual identity? This is far from an all-encompassing list, but here are the top elements Bluetext suggests you start with. Keep in mind, the priority elements may vary based on the platform and the brand. For example, the specific visual identity elements needed for an app for a global brand will be different from what's needed for a regional-sized company's desktop site. 
That being said, here's a concise list of elements Bluetext considers cornerstone in a brand identity:
Logo

: Essential for every business. Your logo is one of the first elements users will notice, so you need to make sure it's memorable. 

Color Palette:

Defining your band's color palette increases consistency across your brand. 

Fonts

: Again, a consistent font is essential. Whether it's a set of free fonts or custom fonts, make sure they reflect your business' goals. 

Visuals

: From iconography to images, ensuring they align with the rest of your visual identity is essential. 

Design Style

: Whether its modern, eclectic, or industrial, sticking to one design will increase coherence between all your visual identity elements.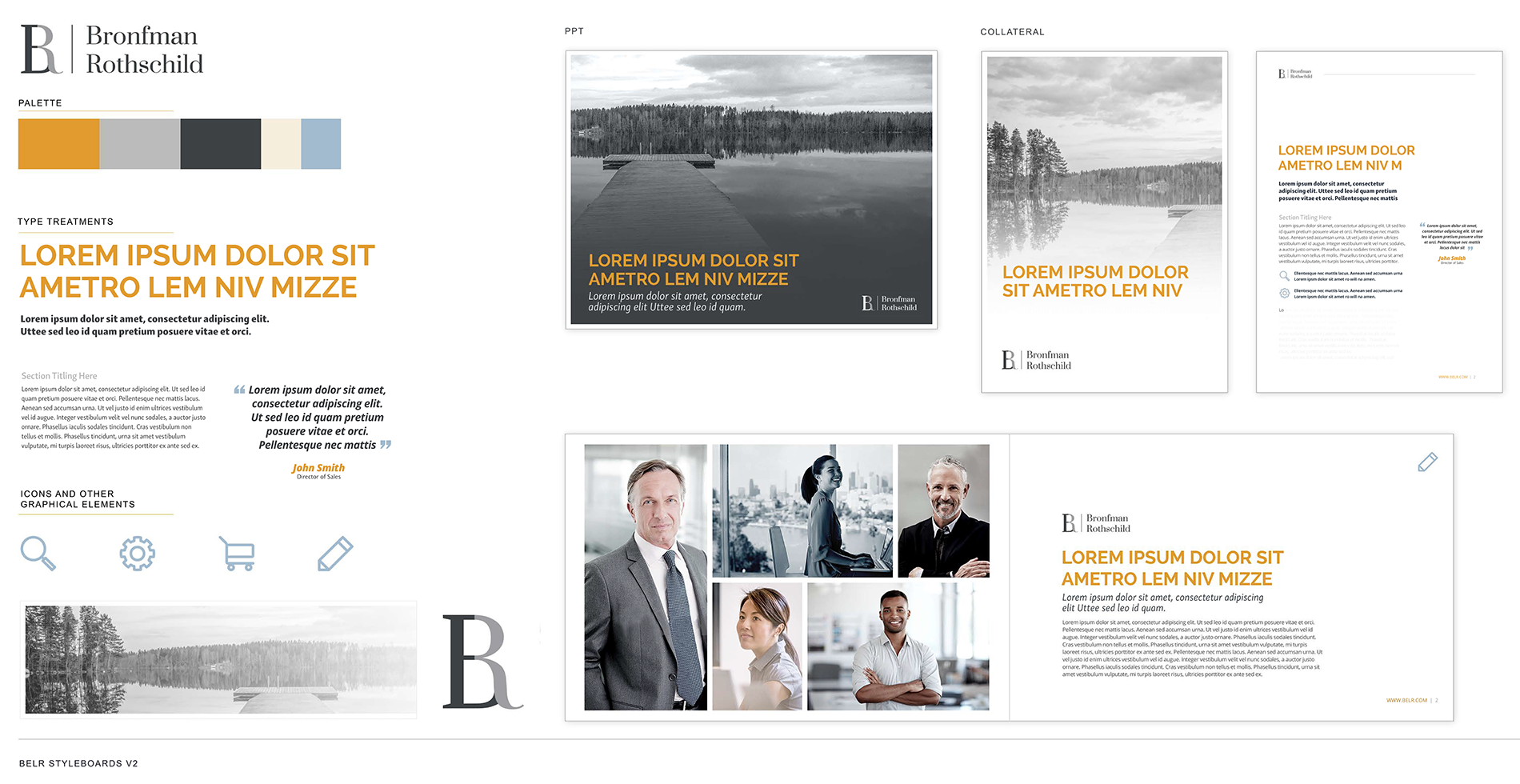 Creating Your New Visual Identity
A good place to start in any rebrand?  Consider looking at other notable companies, within and outside your own industry! There is brand inspiration all around us, so next step; ensure the success of your new brand by enlisting the help of a professional, such as Bluetext. A branding agency can take your list of brand inspirations, along with creative field trip and industry-backed insights to help guide you through every step of the way. 
One of the biggest takeaways is to ensure each element supports each other and thus the overall visual identity. The other most important takeaway is to ensure you consistently use your visual identity across all branding opportunities to set your company up for success. 
It's rare for a business to offer its services for free. The phrase "there ain't no such thing as a free lunch" reigns true in most industries and all business decisions. Originating with early-century saloon owners marketing free, salty lunches as a way to entice beer drinking, even the etymology of the #TNSTAAFL phrase foreshadows the destiny of commerce itself – it's impossible to get something for nothing.
So, what does a free ham sandwich in 1891 have to do with 2020 content marketers and gated thought leadership? Imagine your business is the bar and that hungry and thirsty passerby out front is the CMO searching for a way to convince their boss on more paid media dollars, or a CTO who needs a VPN alternative. You have something they could want – a delicious, frothy piece of premium content to quench their industry-specific questions. Post that "Free Lunch" sign, give them some snacks, and then charge them for the beer to wash it all down. You'll have a bar full of returning customers every time.
You Want to Be a Thought Leader?
Let's break it down. Businesses that are trying to establish themselves as thought leaders in their space usually have two types of content: Blogs and premium content. Typically, you want to spend your time on the premium content first and then chop it up into free digestible portions, which become your blogs. Since the blogs are free and busting at the seams with the same SEO juice that you prioritized in your premium content, both should come up as a result when someone is looking online for an industry-question you have the answer to.
Think about the last time you were researching B2B tactics. You wouldn't hand over your email address to just anyone at the beginning of your research. You browsed around to see who knows what they're talking about. Once you found a credible thought leader, then you actually started paying attention to what they were talking about.
Economy vs. Premium Content
According to content marketing agencies, balance is key. The trick is to walk the line between having free ungated blogs that are enticing and helpful to draw traffic but not too helpful and giving away a company's expertise without gaining any leads. Save the premium advice and info for the premium content. Ask yourself, "Would someone reasonably pay for this service?"
Make it exclusive, insightful, and urgent. Typically, premium content are eBooks, courses, webinars, checklists, and sometimes videos. Those resources take a lot of effort to create, so you want to put them to work for you and your marketing team. This premium content comes with a price or a gate. The key to the gate and unlocking the juicy stuff is usually as harmless as an email.
As a top content marketing agency, Bluetext breaks down some do's and don'ts behind gating the premium content.
Do Design Gated Content Conversions Using Ungated Content UX/UI
Make sure your tip top-funnel blogs feed into your top funnel gated content. A UX design company will engineer an ungated content user interface to drive invested leads to gated content. Dangle the carrot and then drive them down a rabbit hole of insights.  If your resource page template's layout has a related topic listing, you can get someone reading one blog to jump to the next, especially when you have click-worthy resource titles.
Create a clear, focused path to follow. Put an enticing CTA at every step of your ungated posts to draw them to the gated content. Theoretically, the user lands on a first blog post via Google search, they peruse 2-3 of your other blogs, and then they are a bit invested by the time they get to gated content. Long story short, using the Free Lunch scenario, clean up your bar so it looks inviting enough to have them buy a drink.
Don't Forget to Design the Landing Page UX/UI for Conversion
At least make the gated content page template easy to use and worthy of personal info. Best practices for gated content landing page design include showcasing the product, talking about the benefits and insights they can learn, highlighting a quote from the piece, and ideally some social proofing or testimonials. A website design agency will be your best bet to formatting these nuggets of information in a clean, digestible fashion. Like any other business transaction, sell it with foreshadowing what they are about to invest in.
Do Add SEO Excerpt from Gated Content on the Landing Page
The Google Algorithm crawls ungated content, but while you will be losing out on SEO potential by putting keywords behind the gate, you can still put some of those keywords directly on the landing page. Think of it like a teaser, or a sample sip of the beer you want them to buy.
Don't Miss Out on Capturing User Journey Clues Via CTA Pixel
If the user has followed the intended path laid out above, they have digested other information on the website before converting on the gated content. A digital marketing and analytics expert will implement Google Analytics or UTM parameters to track where users come from and behavioral trends. This is a critical insight that can help your sales and marketing team follow up and understand the lead without asking them. In fact, don't ask them anything else besides their email (coming up next!).
Trusting a digital marketing and analytics agency to configure the UI/UX back end of your CMS to gather clues (via UTM or Google Analytics) will ensure these tools talk to your CRM when it passes over the lead. Your CRM can then organize to segment those leads into audience pools with the user journey info and UTM parameters. Did they arrive via Facebook or LinkedIn? Did they read about technology or marketing thought leadership? Did they visit SMB or Enterprise blogs before? Depending on what you want to do with the leads gathered from the gated content, a digital marketing agency can follow up with retargeting campaigns. By taking out the guesswork, digital marketing campaigns are then geared toward the topics and categories you know a specific user is interested in.
Don't Over-Gate with Nosey Forms
Sometimes businesses want more defining characteristics of the user to help their follow up marketing to have some foundational info. Asking for an email is the easiest marketable piece of info you can gather – but should you want more, make sure the form is at least easy to use. For instance, free type is ok, but dropdown select from offers convenience. Ideally, if you need to ask for more info, triage that asks by making some questions optional so you don't scare anyone away. Remember – you want them more than they want you at this point. You might be the third tab they have open in their research, so think twice if knowing their position is worth losing them to a competitor's simpler gated content.
Do Gate Content. Don't Gate Content.
We wish it were black and white, but the answer to the infamous To Gate or Not to Gate question comes down to the following:
How exclusive is your offer?
How easy is your form to fill out?
How SEO friendly is your LP?
How actionable is your CTA?
If you have your thought leadership on fleek from a UX/UI, SEO, and CMS perspective than you're ready to start offering free lunches to any potential lead that comes into your digital business.