In late 2021, Apple released its iOS 15 update with a pretty drastic change in browser layout, creating a ripple effect in website UX design. The beloved search bar on Safari had been moved from the top of the screen to the bottom. Many users, who are less familiar with the thought process behind UX design were left with one question. Why?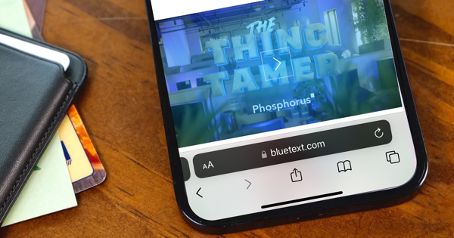 Well, according to MacRumors, the move was more functional than aesthetic. Think about how one naturally holds and operates a smartphone; usually held within the palm of the hand and touchscreen controlled by your thumbs from the bottom corners. Therefore, controls brought to the bottom of the screen are easier to reach with one hand. This feature also creates more space for users to focus on the webpage's content.
Research confirms that "75% of users touch the screen with one thumb." This has led UX designers to favor a thumb-driven design, placing the most important and frequently-used features at the bottom of the screen. This ensures easy access with one thumb.
Traditionally, many website designers place navigation in the top corners of the screen. While that works with a desktop device, due to the greater range of motion coming from the computer's mouse, it does not translate that effectively to a mobile device. With the navigation menu being placed on the top corners of the screen, the range of motion that the user's thumb has can restrict easy access to that navigation menu. Especially as technology evolves and mobile screens grow in size, users find themselves having to reposition their hands. This in turn slows down the user's ability to navigate webpages and ingest content.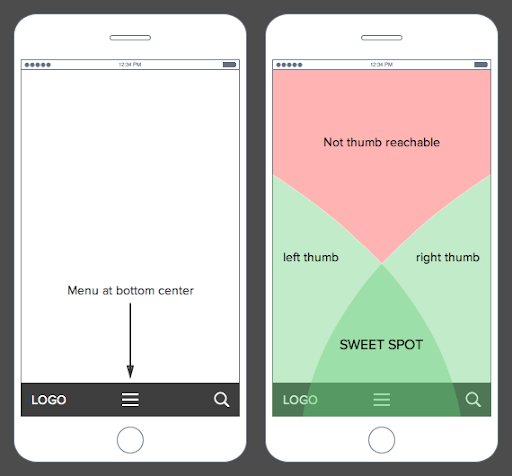 What's the big deal? I just have to move my hand a little to be able to reach the top corner of my screen. The answer is simple: efficiency. Bottom menu navigation allows the user to accomplish tasks faster and with a greater level of comfortability, which really adds up considering that the average American spends 5.4 hours on their phones.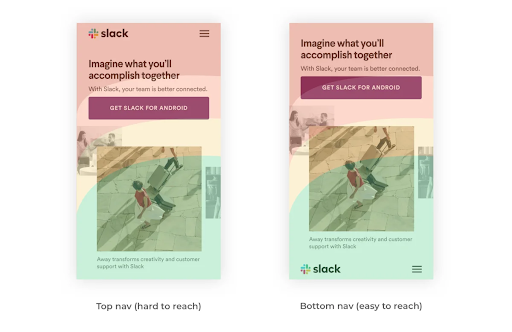 A lot goes into the design process, and it is not all about aesthetics. It's about how the product functions. In today's world, 55% of website traffic is generated using mobile devices, so functional and efficient mobile layouts for a website is imperative to the success of a brand. It is essential that UX designs make easy navigation a priority because the easier a product is to use the more often it will get used or recommended. That is why features like bottom navigation are so effective. Especially if it is designed in a streamlined way that makes content visible, clear, and simple.
As users experience the bottom menu trend, users will likely have to take some time to readjust. Looking ahead at UX design trends for 2022, there will be a continuation of the emphasis on overall usability, navigation, and aesthetics being driving forces for design. There is a desire to achieve a seamless experience, where user experience designers focus on the continuity and natural progression of connecting all the steps of finding a landing page to purchasing an item. It is imperative that functionality is favored, so it will be interesting to see more experimentation with navigation placement and overall screen flow on mobile devices in the future.   
Does your website menu need a refresh? Contact Bluetext today to learn about our web and UX design services.
A Google search of "cyber security companies" will return well over 700 million results. As a business becomes increasingly digital and transitions more operations into cloud-based tools, the data of both the business and its customers become increasingly vulnerable to cyber attacks. Cyber security companies are cropping up in response to growing demand across industries, but even the cyber security companies have to worry about protection, especially when it comes to their websites. As its digital storefront, any website is a critical place to ensure proper security measures are in place. 
Here are the top five steps that cyber security companies themselves are taking to keep their websites protected.
1. Ensure CMS Security
The most cost-efficient way to build and manage a website is to leverage a popular content management system, but on their own these systems are often prone to attacks. To mitigate vulnerability, cyber security companies install a series of security plugins or modules, such as Securi for WordPress and Security Kit or Paranoia for Drupal. 
Important Note: Simple installing the plugin or module is not sufficient. To protect your website and its data, webmasters must update and configure new releases in a timely manner. Website design and development agencies, such as Bluetext, can ensure your site security is always up to date.
When Bluetext partnered with ManTech to completely redesign their website, CMS security was a major concern. ManTech is a multi-billion-dollar public company that provides subcontracted technological services to the US Government. We outfitted their new Drupal website with the latest and greatest security plugins to ensure adequate CMS security.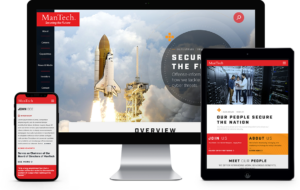 2. Leverage Two-Factor Authentication
The content management system supporting a website needs to be easy-to-use, but not easy-to-access. Top cyber security companies (and the cyber security marketing firms who design and build their sites) ensure that only entrusted individuals can manage content on their sites by implementing two-factor authentication. When a content editor attempts to login in to update a page, they must validate their identity through a secondary step, such as a text message, phone call, or email. We often recommend Duo from Cisco, which integrates easily with most content management systems.
When CyberArk, a Goldman Sachs-backed, global cybersecurity technology company turned to Bluetext to redesign its brand comprehensively, we also launched a new responsive digital platform, complete with two-factor authentication. The new website addressed the needs of CyberArk's global enterprise customer base.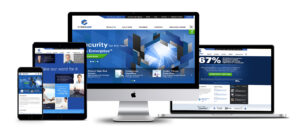 3. Setup (BIG) Form Security
Web forms are valuable tools to digital marketers — and hackers! The potential for attacks initiated via a web form is BIG, hence they need big security. Cyber security companies, like many other industries, use web forms as a key lead-generation tool, but they know these forms are not something to be taken lightly. Any element on your site that allows for (and actively seeks) user input is susceptible to SQL injections or spam bots. (The tl;dr for those links: you do not want your website to suffer either fate.) The key IT stakeholder for any website should make form security a top priority, and work with the website development agency to select and implement the right technical measures.
When Finite State, an IoT-based cybersecurity company, came to Bluetext to expand its industry presence through a full website development and rebrand, we made sure that form security was paramount to the fully customized WordPress content management system platform.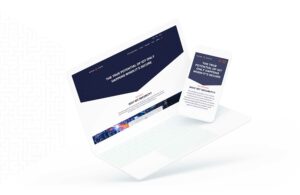 4. Don't Skimp on Hosting
While GoDaddy allows a company to save money, cyber security companies know that those savings come at an even higher cost in terms of security vulnerabilities. Though secure hosting providers come with a higher monthly bill, the long-term peace of mind in security far outweighs the short-term costs. These providers offer SSL certificates, CDNs, firewalls and more to ensure that websites can withstand malicious malware and attacks. Some of the top secure hosting providers recommended by top website development agencies include WP Engine and HostPapa. 
Hosting security was top of mind for our client, PlanetRisk. When PlanetRisk, an enterprise risk analytics company, hired Bluetext to lead a comprehensive rebrand and new digital user experience and re-platform their content management system, we made sure that their updated website was fully secure, hosting-wise.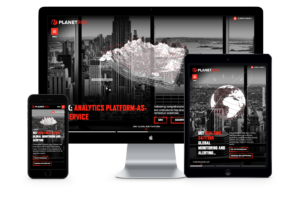 5. Take a Proactive Stance
Too often, website security measures are only implemented as a reactionary step following an attack. Cyber security companies know better. If a malicious attacker penetrates the website, they could irreversibly tarnish the brand. Cyber security companies make sure that the steps above are covered before an attack by configuring them before the website launches. Proactive protection can be a challenge if you don't know what to expect, so be sure to consult an experienced website development agency to ensure your bases are covered with the most up to date security measures. 
If you model your website security initiatives after the experts, you'll be best set up to withstand attacks. Learn from the experience of a cyber security marketing agency—don't skip these important steps!