When I think of noisemakers, those infernal childhood contraptions come to mind (pictured below). No, I did not grow up in the 1950s, but sadly the operational concept didn't evolve in subsequent decades. Grab the small handle, twirl the noisemaker around, and try to outrun your parents as they attempted to smash your migraine machine into a million pieces.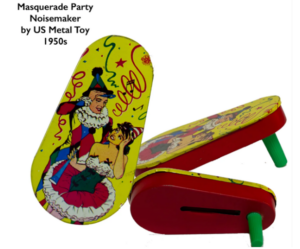 Relax, right? It's fun to make a lot of noise because people pay attention. Maybe that's true…up to a point. If you create too much noise, or the noise has no value, the end result is that the people you want to hear it the most tune you out, and some might even grab your noisemaker and smash it into a zillion pieces.
The same can be said for the company's PR efforts.
The consequences of creating noise are not exclusive to press releases and announcements. The impact of any form of content creation – blog posts, op-eds, social media posts, pitches – is dulled when quantity is prioritized over quality.
The fast-moving narrative surrounding ChatGPT illustrates how critical and challenging it will be to create news over noise. Knee-jerk early predictions that ChatGPT's ability to rapidly generate effective marketing and PR content would sufficiently address quality concerns are now tempered with the realization that the floodgates are open. The number of fake news websites identified as using AI for content generation exploded from 49 in early May to 277 less than two months later. ChatGPT doesn't need to be perfect if you are asking it to plan a weekend getaway to Charleston. The margin for error is far smaller when the goal is to influence sophisticated enterprise or government tech buyers.
This isn't to say that ChatGPT and similar variations won't improve over time. They surely will. But in the near term, ChatGPT is going to create a lot of noise. Also, remember that Generative AI systems learn from human-generated data and large language models train on public data sets. If the share of data sets tilt heavily from human to AI-generated content, it threatens the value proposition of the models.
Clients often first engage with PR agencies as noisemakers. They are churning out so much content, operating under the premise that velocity trumps all. Part of our job, at a PR agency, is to educate clients on the difference between noise and news, and what it takes to drive the latter. Because making noise isn't making news; there is a difference. Several differences actually. And becoming a newsmaker first requires understanding what it means to be a noisemaker.
5 Signs Your Brand is a Noisemaker
Your media engagement is transactional
Press releases, at their most basic, are designed to communicate something of value from the organization to relevant target audiences. In terms of broader outreach to media, value is undermined if the approach is purely transactional. If the only time you reach out to reporters and influencers is when you want something out of them (i.e. – sharing news you want them to cover), that is one-directional noise. They will tune you out and assume the only time communication is established is when you want something from them.  More productive is to evolve beyond a 'taker' relationship; media engagements aren't transactions to be executed but relationships to be developed where PR professionals look to provide meaningful information that is not always self-serving.
You value sizzle over substance
Noise is pure sizzle. News is a strategic combination of sizzle and substance. When it comes to b2b and b2g technology, products, services, and solutions, vaporware doesn't sell. There are ways to distribute news in a compelling way, and there is innovation happening that is transformational enough to make media, customers and prospects stop what they are doing and pay attention.
But we are light years past the dot com era where companies could literally push out a press release, say anything they want, and not have it be pressure tested. Your news needs substance and validators; your audiences are cynical and if you don't have the answers, they will move on.
Your news is episodic
News in a vacuum becomes noise. Your target audiences shouldn't have to figure out how each press release, blog post, case study, presentation, etc. connects to one another.
We talked about the need to tell a cohesive, forward-looking story. Don't message the news in a vacuum; establish a storyline that can link past, present, and future company news and activities. If someone were to read all of your releases, blogs, and other announcement mechanisms, would a compelling and tight narrative emerge? It should.
Your news overpromises and underdelivers
That's the epitome of noise, right? Bold promises that may sound good at first blush, and may even generate attention if spun correctly, but that do not hold up over time. Unfulfilled product and technology promises – even if they are real and not vaporware – undermine the impact of road map announcements down the line. Corporate growth stories are another common stumbling block, as CXOs often feel obligated to project best-case scenarios for hiring and client/revenue growth. If you expect to add 50 employees in the coming year, and only add 12, media and investors will remember that, and ask tough questions about why your organization fell short.
You prioritize quantity at the expense of quality
Finding the right balance of news/content quality and quantity is critical. But too many organizations swing the pendulum way too far towards volume – pummeling the market with press release after press release, blogs that do not capture leads or attention, and other forms of content that target audiences will eventually tune out. Content velocity is important, but not at the expense of quality because people need to read, view, and listen to this content, be motivated to engage with it, and then take action. At the end of the day, the push for quantity may be happening for the wrong reasons. Churning out content because investors are clamoring for news, any news, is counter-productive. Relying on faulty and biased metrics to justify content velocity also negatively impacts broader objectives.
Find out what it means to become a newsmaker able to rise above competitor noise by contacting Bluetext today.
Last week the goliath of technology conferences held in the U.S., CES, announced that its January 2022 event will require vaccination proof for in-person attendees. The motivation for the Consumer Technology Association, the show's organizer, to resume a face-to-face component is strong: exhibitors recognize that generating enthusiasm for new consumer products and technologies through virtually is not nearly as powerful as live demonstrations. 
Few in the tech marcomms space have endured a more challenging professional pivot over the past 18 months than those responsible for conference and event strategy and execution – whether it is determining what kind of investments should be made in industry events as well as how to manage their own annual user conferences and smaller events so critical to cultivating customer, prospect and partner relationships. 
Pre-pandemic, there was of course no need to make decisions on whether to hold in-person, virtual, or hybrid events — often several months in advance of the event date itself. And through the first 15 months of the pandemic, COVID-19 in effect made the decision for marcomms and event decision-makers as everything shifted to virtual. This was no easy feat but at least the decision was.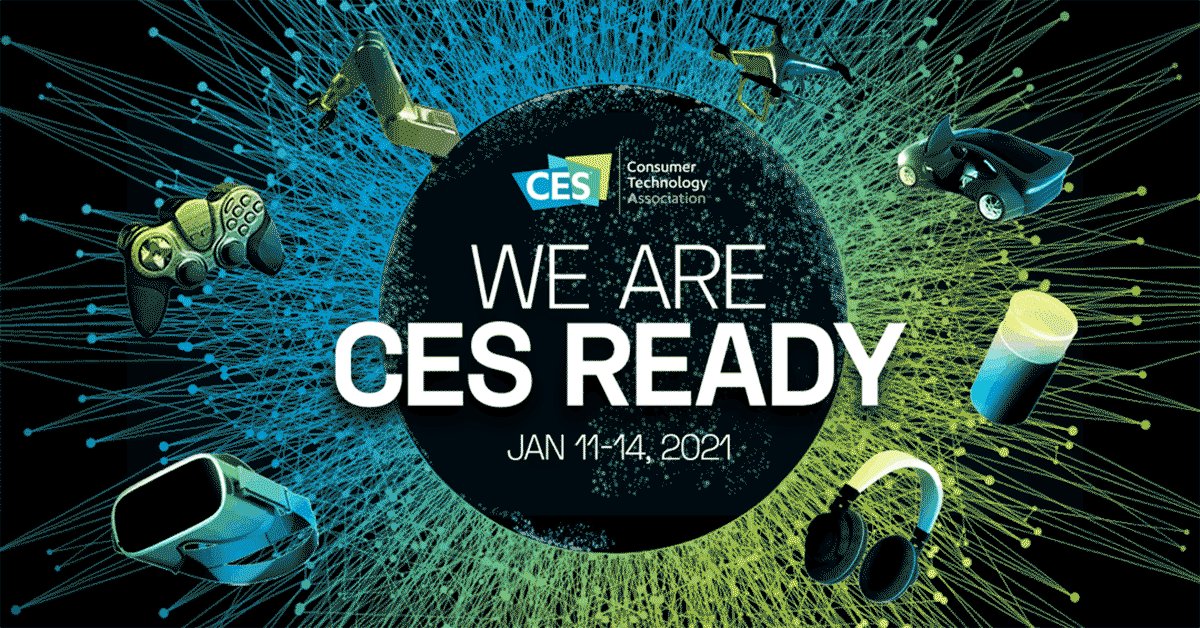 The emergence of the Delta variant, right as tech companies were resuming planning for in-person events, exponentially complicates the decision-making process for the 2021-2022 tech conference strategy. While CES is planning in-person for vaccinated attendees, plans for other events run the gamut. As this Marketwatch article notes, tech companies with large user and developer events are re-assessing given Delta. Salesforce.com's CRM Dreamforce is still planning for an "in-person experience" for the Fall event, but so many others have already reverted back to virtual or hybrid experiences with a limited in-person component. 
As you evaluate your 2021-2022 tech conference and event strategy in light of the Delta variant and other unpredictable developments we should all expect in the months ahead, keep the following strategies in mind:
Look at the event track record
Tech conference organizers that have already executed a virtual event last year during the pandemic offer a track record that can be analyzed when it comes to attendance, engagement, and results. The Marketwatch article raised the valuable point that what virtual events lack in intimacy they make up for in some cases with larger attendance, citing feedback from Juniper Networks that attendance for its virtual Global Summit held in April was more than 2x in-person attendance for recent and similar events. It is of course easier and more cost-effective to hop into a live panel discussion on your laptop at home than it is to fly halfway across the country to attend in-person. 
But for every Juniper, there is a Mobile World Congress, which forecast a significant in-person attendance drop for its hybrid 2021 Barcelona event, where the 50,000 in-person attendees expected to attend was half the number compared to its "normal" pre-pandemic numbers. 
The more information you have from organizations that have already executed events during the pandemic, the less guesstimating you have to do when it comes to the right investment level for attending, speaking, sponsoring, exhibiting, or skipping altogether. 
Track records matter because, with conference and event investments, you can't just assume that all of the money will be recouped if the in-person event is canceled. There can be a difference between an organizer canceling of its own volition, and an organizer canceling because it is subject to city or state directives that are issued prior to the event. The more confidence you can have in the event organizer, the lower the risk of a negative financial and business outcome.
Size matters
If the pandemic has communicated anything to marcomms professionals it is that bigger isn't necessarily better. Most attendees are going to baby step back to live events, so going from working from home to a crowded pavilion with 100,000 of your closest friends may be a bridge too far. 
Dialing it down from potential 'super-spreader' to 'super-intimate' events that still allow for facetime but in a more controlled environment with modest numbers of people can support corporate and sales objectives. If you are a tech company evaluating what in-person events to attend, don't discount these smaller events and if you are an event organizer, converting a large annual event into, for example, quarterly smaller regional events can pay off.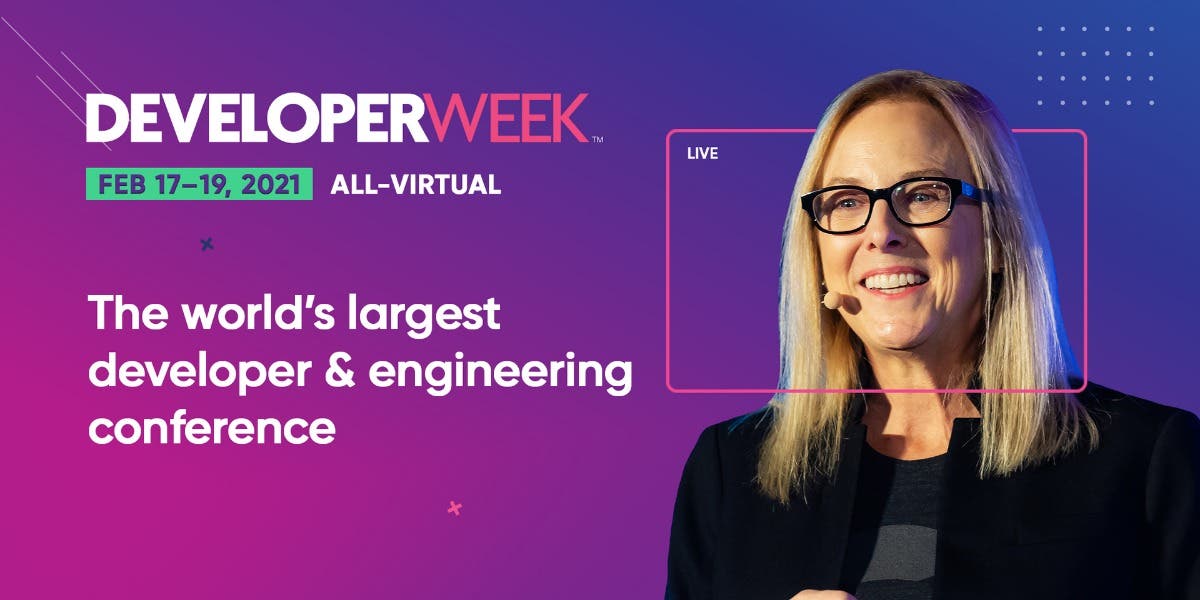 The key for user events is data. You can't just guess how attendees might act when presented with options between in-person, hybrid, or virtual, or what size of in-person event they might be comfortable with. Survey, survey, and then survey again. External third-party data has value, but you know your customers best and keeping your finger on the pulse of their event and travel preferences is critical. 
In its latest PULSE Survey, Northstar Meetings Group found that two-thirds of the 826 respondents will hold their next in-person event in Q3 or Q4 of this year – with half of them requiring attendees to wear masks indoors and 28 percent requiring proof of Covid-19 vaccination. But the survey also reinforces the need for conference organizers and meeting planners to be nimble and resilient in the face of constantly evolving federal, state, and local policies.
Re-imagine your traditional event approach
Pre-pandemic tech conferences and events were far from perfect, which helps explain why many have seen value in the shift – as temporary as it might be – to virtual and hybrid events. Marcomm and conference decision-makers should use the challenging environment as an opportunity to re-imagine traditional approaches.
Virtual and hybrid events unlock new content and access opportunities, new ways to engage with and receive feedback from attendees in real-time to drive experiences not possible with in-person events where individuals are scattered and engagement is harder to measure. While larger tech conferences made great strides in trying to make their events "smaller" when it came to networking rather than releasing thousands of people into venues to try and find each other, the results were imperfect. 
Each event model comes with its own challenge. User conference organizers know that while virtual events may be easier for customers to join, they are also easier for them to blow off because it doesn't require the same level of travel, financial, and planning commitment. Hybrid events create challenges for tech brands unsure of which path provides the better value for lead generation, networking, sponsorships, speaking, and exhibiting. And for all of these models, trying to figure out whether it still makes sense to shell out $20,000 for a sponsored virtual speaking slot in lieu of being on the big stage is no easy task. 
When it comes to working with B2B tech PR, B2C tech PR, and B2G tech PR firms, Bluetext has been helping clients navigate tech conference strategy for industry events as well as client user conferences. If you are looking for the right partner to maximize your tech conference investments in the months ahead, contact Bluetext to learn how we can help.
When it comes to reaching and selling to government agency decision-makers, a colleague of mine often smartly reminds our clients and prospects of the following: there is no "government." By that, he means there isn't this single, monolithic entity you can build B2G PR and B2G Marketing campaigns around. 
It is far more nuanced; not only between DoD, civilian, homeland security, intelligence, federal, state, and local but often down to specific agencies. Or in the case of DoD, specific Bases, Programs, and Offices you may want to reach, such as The Joint Artificial Intelligence Center (JAIC), Project Convergence 21, Army Futures Command, DHS Science and Technology Directorate (S&T), StateRAMP and so many others. 
The Account-Based Marketing (ABM) approach (which encompasses Account-Based PR as well) has been around for decades – often a core concept for B2B enterprises to leverage data on a prospect's specific needs and priorities that they can then build highly customized lead generation campaigns around. ABM and ABPR are also relevant for government contractors, Federal IT providers, and others selling to the "government", because as we noted each stakeholder target is driven by different needs and priorities.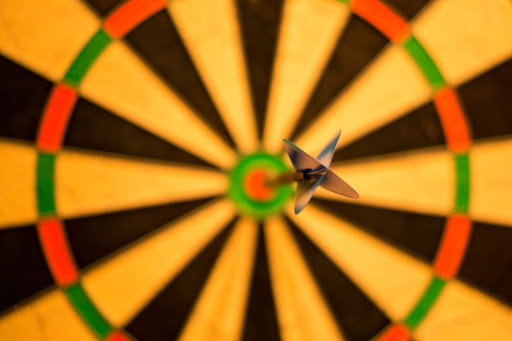 In my last blog post I looked at B2G PR and Marketing strategies for government contractors involved in M&A activity. Today's post is more broadly geared towards organizations looking to develop a highly targeted B2G Account-Based PR strategy to effectively reach, influence, and sell to specific government stakeholders.
Before embarking on this effort, consider these 6 strategies:
Tailor efforts to government acquisition cycle.
Sounds basic, but when you are working backward to build out a multi-month strategy it matters. If you build a PR campaign that starts too late (or early) you will not be hitting decision-makers at the optimal time when they are primed to be thinking about buying new products and technologies. 
You know the Federal fiscal year by heart (Oct. 1 – Sept. 30), and that State fiscal years vary slightly state-to-state but most run July 1st-June 30th). Recognizing that agency decision-makers will cycle through various stages of the buyer's journey during these months, PR programs should tailor content and PR efforts to align with that calendar. Depending on how well known your brand is to the decision-maker(s) you want to reach, winter and spring may be better suited to awareness and education campaigns. Thought leadership in the form of speaking, byline articles, ads, and sponsored content can start the process of making your brand more present to relevant audiences. As summer approaches the buyer mindset shifts more to decision mode, so pushing PR efforts further down the funnel can mean case studies, webinars, white papers, and lead gen paid social campaigns speaking to highly specific target pain points and solution benefits make more sense. PR during this time should also call out clear differentiators relative to competitors. As September approaches and agencies accelerate buying, PR can be utilized to really hone in on specific individuals to make sure they have the full brand and solution story.
Account for contract vehicle structure 
Indefinite Delivery/Indefinite Quantity (IDIQ), GSA Schedules, Governmentwide Acquisition Contracts (GWACs), BPAs, Small Business Set-Asides and, well you get the picture. There is no shortage of contract vehicles that a B2G organization is pursuing at any given time. Each vehicle has its own requirements, which means that decision-makers may be looking for different messages. For a single-award IDIQ, you may need to center PR activity around your own capabilities and ability to deliver as a single vendor. For other vehicles, PR needs to account for the strengths of multiple vendors. Each account or agency-based PR campaign should account for contract vehicles if your efforts are specific to one vehicle. 
Approach B2G PR as you would advertising
PR and advertising are not the same. But they share commonalities when it comes to effective campaigns. For one, you can't just hit agency decision-makers once or twice and expect those efforts to be sufficient to make an impact that lasts weeks or months through the buyer's journey.
Like advertising, repetition matters. Unless it is the Super Bowl, brands don't just buy a single ad and then return to regularly scheduled programming. For B2G, you have to not only hit prospects over time but do it through multiple channels. If you are targeting a specific Army base, a PR campaign can develop messaging and content around specific programs at that location. These efforts can be buffeted by paid media campaigns that are geo-targeted around the base locations. 
Finally, despite COVID-19 and expanded remote work, your buyer is likely to still be commuting to and from government offices, bases, or facilities at least part of the time. Beyond reaching decision-makers through earned and paid media, consider Out-of-Home (OOH) advertising on billboards, transportation, and public transportation in the early brand awareness phases of your ABPR campaigns. The diversity of channels you can push messages across – in addition to the frequency – is a powerful combination if correctly targeted.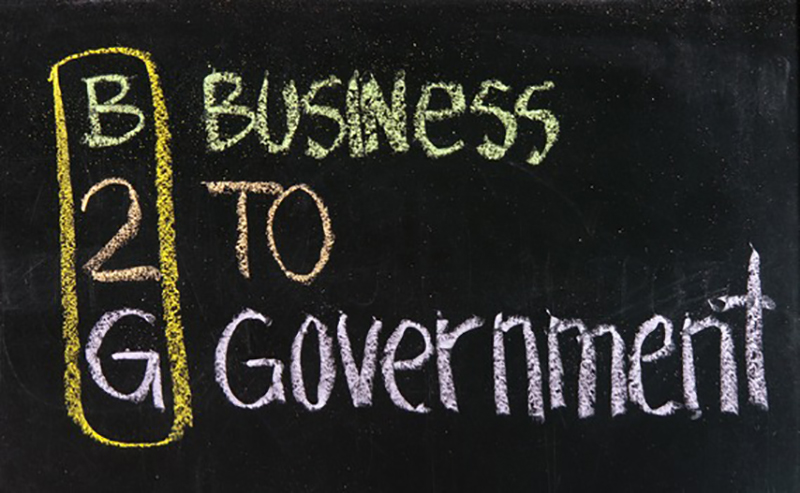 Participate, differentiate, dominate
If you are a well-known commodity within the public sector great, PR to support contract pursuits won't require a lot of focus on establishing brand credibility. But there are thousands of firms selling to the government, and even if one agency or DoD unit knows you, others may not. Or they may know you for some products and services but not others. 
The point is, securing inclusion in articles in government publications about trends and challenges of interest to agency decision-makers can be critical. So if you are a lesser-known brand, step one is to participate: start participating in conversations even if it is alongside competitors. "No one gets fired for buying Microsoft" is an enduring adage, but if your brand is listed alongside larger competitors and multi-billion dollar government contractors, it can raise brand credibility. Then, once you start participating in media articles, there is an opportunity to differentiate your technology from competitors. What makes you different? How are you better positioned to enable mission success? Finally, you can start dominating conversations, driving the conversation as a market thought leader and innovator. 
Tailor PR content for top-down and bottom-up approaches
The straightest line to securing government contracts often leads to the senior-level leadership involved in direct buy-in for vendor products and services. But depending on what you are selling, bottoms-up PR and content development can have value. Think about the ultimate users for services like DevOps, technical audiences that can get exposed to your brand and capabilities. If a team of developers or developer managers pushes senior leadership to evaluate your solution that will carry significant weight.
As you develop a PR and content strategy, consider the level of content to reach varying audience levels. Technical content that resonates with product/technology users won't have the same impact with senior leaders more focused on mission success and doing more with less. 
Get creative
Account-based PR for B2G has been upended by COVID-19. In-person conferences, events, and demo days that offered an opportunity to reach agency decision-makers directly pre-COVID are gone and will be slow to return in full force. At the same time, large chunks of the sales process have shifted from physical to digital. 
B2G firms that have succeeded over the past year stayed nimble and creative in reaching these audiences. Some are evaluating and deploying Digital Briefing Centers as a way to surround prospects with thought leadership, rich content, and interactive UX and recreate the in-person premium briefing experience lost during the pandemic. Elevating your brand and solutions above the crowd is always a challenge, even more so in a digital world where the barriers to entry drop dramatically.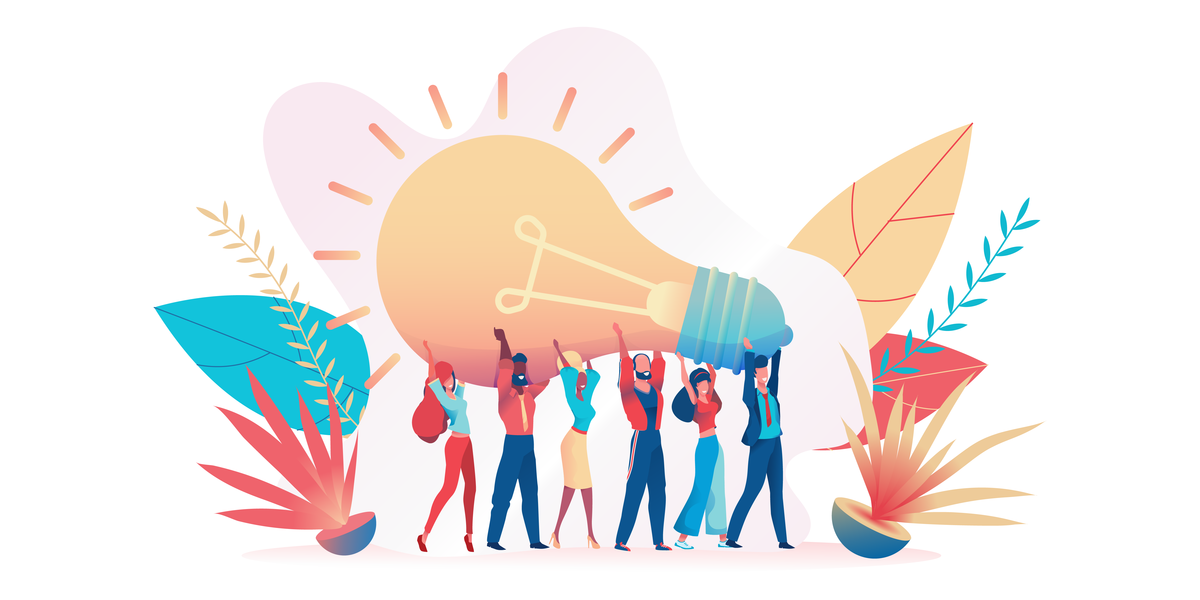 If you are a B2G brand interested in exploring integrated PR and marketing campaigns that target specific government agencies, programs, or decision-makers, give Bluetext a holler as we'd love to chat.
Amidst all of the business uncertainty in 2020 due to COVID-19, one area that remained relatively stable was a healthy volume of M&A activity for government contractors and government IT service providers.
You would be hard-pressed to find a tech PR and marketing agency that has helped to support the number of successful M&A events in the public sector space as Bluetext. It's a big reason government contractors and Federal IT providers – along with private equity firms – turn to us to develop B2G PR campaigns that are designed for this very purpose. Thirty-four times in fact, Bluetext clients have been acquired within 24 months of an engagement with our agency.
I recently put together an op-ed for Washington Technology with 5 key PR strategies for B2G firms to consider before, during, and after an M&A transaction event. You can find the article here.
To learn more about our work with B2G clients in the M&A arena and how we may be able to help you achieve your own M&A goals, contact us today.
PR and marketing have changed overnight. There is still a need to reach customers and prospects, but it goes without saying that priorities have shifted in the "new normal" brought on by COVID-19.
It is a challenging tightrope to walk; the news cycle is rightly dominated by the coronavirus pandemic, which means many narratives that resonated pre-coronavirus will struggle to reach your target audiences. For our technology clients selling to government and enterprise decision makers – as well as consumers – we've preached several key PR and marketing tenets.
Chief among them is "do no harm." If we have a client that can offer valuable expertise and insights to advance the conversation and help individuals and organizations navigate the current climate while protecting consumers and businesses, we support those efforts. But you can't force connections that aren't there and detract from those better positioned to make a positive impact. In other words, don't be an opportunist. Don't be an ambulance chaser. Those efforts will backfire and damage your brand.
Bluetext Digital Briefing Centers
Second, clients and their PR/marketing agencies need to be measured, but also creative and nimble. A government contractor or enterprise software company that relied on physical conferences and in-person sales meetings to engage with customers and prospects must now turn more attention to digital strategies.
Check out how Bluetext has developed Digital Briefing Centers (DBCs) for clients needing a dynamic way to digitally showcase to customers and prospects their full range of solutions in action. Customized presentations, live demos and in-depth discussions can be arranged while offering a proven short-term alternative and long-term complement to physical, face-to-face environments.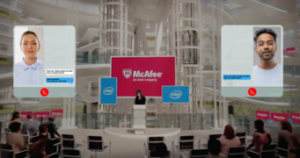 PR In the Age of Telework

Businesses can't just throw up their hands and wait it out; there is still a need for smart PR and marketing to grow or at least sustain sales for the near-term. Digital Briefing Centers address the fact that your website and digital presence is by far now the most important doorway to your brand and brand experience while traditional, physical doors remain closed.
On the PR side, the best way to illustrate how Bluetext thinks when it comes to remaining proactive and creative with clients is through a real-life case study. Transaction Network Services (TNS) is a leading global data services provider with a telecom unit that provides robocall detection technology to U.S. telecom providers. Recognizing that scammers seize on the fear, chaos and confusion caused by health crises, we knew this was an opportunity for TNS to share its important data to help protect consumers from risks to their savings and personal information. Coronavirus scams cost people $7 million in the first 9 days of April alone — so the stakes are high.
Bluetext worked with TNS to rapidly build a strategy to communicate the financial risk to citizens and analyzing data to determine which robocall scams were most prevalent in which parts of the country. Some of the media coverage generated in a two-week period is included below.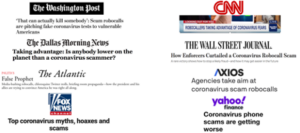 In addition to developing a rapid response strategy, we started to think longer-term about robocall risks in the coming weeks and months. First, we worked with the client to gather data on political robocallers who were capitalizing on confusion regarding postponed Democratic Primary dates in a way that could influence election outcomes – and ensuring the data could be easily visualized.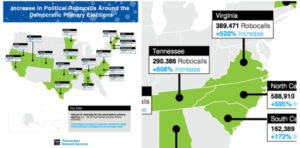 The bottom line is this: we are in an uncharted phase as a society, and it is a phase that may last for months and even years. The organizations able to adapt to the "new normal" will be those best positioned to support their customers, partners and employees.
The year was 2014. The new Apple Watch was all the rage; selfies weren't annoying the bloody hell out of everyone yet; and The Ice Bucket Challenge had everyone soaking themselves for a good cause. It was also the year I examined some of the most innovative B2G marketing and PR strategies that were helping government contractors and IT providers stand out from the crowd and grow their public sector revenues.
This past February, I put together a brief update on B2G digital marketing ideas for 2017, looking at the emergence of B2G virtual reality initiatives, innovative go-to-market campaigns, as well as 3-D interactive experiences for lead generation. But as we approach 2018, the time is right for anyone selling technology products and services to the government to think about what will move the needle in sales, branding and market leadership next year. Yes, white papers, webinars, as well as traditional public relations and advertising all play a valuable role if executed properly, but it requires more to become top-of-mind with government decision makers – and to stay there.
Here are 5 innovative B2G marketing strategies to consider for 2018:
Geo-Fencing
Geo-fencing is location-based digital technology that allows you to select a geographic point using latitude and longitude and then to create a virtual "fence" around that point of a given radius in which your ads can be served up.
For contractors and Federal IT providers, there are multiple ways that geo-fencing can be utilized to reach government decision makers. If you are seeking to do business with a specific agency, you could pinpoint a single DC Metro station in proximity to the agency office, then  deliver a targeted ad to anyone who comes within a 1-block radius of that location. Ads delivered through geo-fencing typically yield higher conversions and better ROI for marketers since they're highly contextual.
Geo-fencing can also make an impact reaching prospective buyers at key industry and government conferences. Geo-fencing at conferences:
Uses GPS or Wi-Fi information
Create a barrier around a location and target everyone within that location
Usually a tight radius (around an event or storefront)
Deliver display, audio, video ads or mobile app notifications
Bluetext recently completed a project for client ARQ at the International Association of Chiefs of Police (IACP) Conference. The police body cam and digital evidence market is crowded with products that frustrate their users. So when a new player with a better, complete approach wanted to enter the market with a solution far ahead of the competition, it turned to Bluetext for a name, brand, corporate identity and website that would get attention and convey its value to law enforcement agencies. For the official launch, Bluetext executed a sophisticated outreach campaign including mobile geo-fencing to drive attendance to ARQ's booth at IACP that included interactive product demo's, and a comprehensive retargeting campaign pre and post show.
Mobile Retargeting
The government decision makers you need to reach – as well as government workforces if you are employing bottom-up marketing initiatives – are on mobile devices…a lot. Frost & Sullivan found that almost three-fourths of government organizations issue smartphones to at least some employees and more than half deploy tablets. Consumers overall spend 5 hours per day on mobile devices, so the bottom line is that if you want to reach government decision makers, mobile has to be a big part of the equation.
Mobile retargeting is now a key element in most any successful government-focused campaign seeking to increase reach and engagement far beyond other channels. There are six key strategies to get started with mobile retargeting:
Unsure on how to reach target audiences on their mobile devices? Think social media platforms. Today's target audiences are more likely to browse their social media apps on their mobile than search websites. Take advantage of the tools that Facebook, LinkedIn and Twitter offer for their ad campaigns.
Want to increase mobile traffic to your site? Optimize your website for mobile to fully take advantage of this platform. That means a design that is responsive for all devices, and features simple and concise headlines, titles and other text. More importantly, make sure that images are sufficiently compressed, reduce the number of redirects (nobody wants to wait for a new screen to load), and minimize code to maintain a high-performing experience.
Not sure how to design for mobile? Think like a government decision maker visiting your website via a mobile device. That means simplified designs and copy, but also calls-to-action that are clear about where the visitor will land if they click on that button. Viewers don't want to leave the screen they are on unless they know there they are going.
Need to improve your reach on mobile? Safari is the leading browser for mobile devices, but leveraging Apple's tool is not so easy. One simple trick: Make sure you are enabling Safari, which typically blocks third-party cookies in its default setting. Find a provider that is skilled at accessing Safari's massive number of users.
Still not seeing the conversions you expect? It could be your landing page. Try to simplify the actions on the landing page to make sure there is no confusion or abandonment from that conversion point.
Want to get hyper-specific with your targeting? Try geo-fencing for conferences, events, shows and other gatherings of target audiences. Sophisticated new geo-locating tools allow geo-fencing to specific blocks around convention centers, hotels and other venues. Serving ads at the right time and place can pay big rewards.
Bluetext does mobile retargeting for many of its engagements, including:
For a leading satellite networking services provider, Bluetext surrounded the perimeter of a major trade show to drive traffic to its booth
For a leading cybersecurity company, Bluetext surrounded the perimeter of the RSA conference to drive traffic traffic to their booth featuring a cool virtual reality experience
For a leading healthcare company, Bluetext coordinated with their sales team and surrounded medical centers where their prospects work to drive brand visibility when they walked into work everyday on their personal cell phones.
Account Based Marketing (ABM)
If you are an old-timer like myself who still buys clothes at actual physical stores, you know that the sales racks are filled right now with unsold summer inventory, probably the same summer clothes you paid double for just a few months ago. But no matter how enticing the sale, we often bypass the out-of-season sale items in favor of what we will wear in the here and now.
This comes to mind as I started thinking about how businesses market their products and services to the public sector. You not only have to hit prospective new customers you want to convert and existing customers you want to upsell with the right message, but it has to be the right message at the right time. The right time, as is the case with summer clothes on sale as the weather turns colder, often comes down to when prospects and customers are in the frame of mind to be thinking about your product or service. Catch them too early and they will get distracted and move on; catch them too late and, well, that's self-explanatory I suppose.
This challenge becomes more difficult for marketers trying to blanket a large number of customers and prospects. The ability to personalize the message and the timing is why more marketers are increasingly intrigued by Account-based marketing (ABM). With ABM you concentrate efforts on a very defined set of target accounts – a single Agency or even units within an Agency – and then utilize campaigns personalized down to the single account level.
Marketing automation leaders are also looking at ABM to round out their services portfolio. Recently inbound marketing and sales leader HubSpot invested in ABM startup Terminus as part of a $10.3 million Series B round. In its blog explaining motivation for the investment, HubSpot talks about the fact that while inbound marketing is valuable for targeting an individual throughout the purchase process and beyond, ABM is useful when there is a need to build a relationship with multiple stakeholders at once. When done right HubSpot notes, ABM is about "precision and personalization not brute force."
Embrace the Inhumanity of Content Marketing
For government marketers, it can be incredibly frustrating to create a compelling white paper or develop a webinar you know will be of value to agencies, but see that content sit untapped or underappreciated. The fact is that prospective customers may want your white paper or webinar but…they may not know they want it. You might have to sweeten the pot.
Cards against humanity, the self-described, "party game for horrible people," has gone from kickstarter campaign to global phenomenon. It is also an example of how you can utilize the concept of game cards to incentivize key prospects to download and access marketing content – ideally using a more sanitized version of the game.
Think about your buyer persona. What is their typical age range, gender, title, geographic location, etc.? This can inform a creative content marketing campaign in terms of theme (Game of Thrones, professional sports trading card sets, or a variation of Cards Against Humanity like 'Cards Against IT Complexity' that could feature various challenges that Agencies face with their IT systems and available only to prospects who download an ebook or whitepaper, or participate in a webinar.
Virtual Reality and 3-D Interactive Design
Virtual reality can lead to real government contracts. For all of the noise surrounding virtual reality in the consumer market, it has emerged as an effective platform for storytelling with technology companies targeting decision makers in the government and enterprise markets. For a Bluetext virtual reality project with client Varonis, we enabled their marketing team to navigate a complex customer landscape and to share the Varonis story and product to a wider audience using innovative technology. The Varonis Digital Briefing Center launched at a major conference that many of their existing and prospective customers attended, and enabled Varonis to scale their demos concurrently by 6x, differentiate in a global trade show, and drive traffic to their booth.
To drive user engagement and leads, forward-thinking B2G companies are looking beyond white papers and webinars and towards immersive user experiences. Bluetext client NJVC was looking for a powerful new message as well as an immersive experience to engage and inform its global audience. Bluetext delivered a cutting-edge user experience that merged 3-D interactive design with thought leadership content marketing.
With 1,300 IT professionals deployed globally supporting 200+ sites on six continents, NJVC is the partner of choice for federal agencies, commercial clients and large and small businesses. The NJVC experience is integrated into a responsive Mission CrITical campaign microsite designed to enable users to easily access the content that best aligns with their needs. Bluetext also recently collaborated with XO Communications to develop a 3D "Etherverse" experience placed prominently in the site to drive user engagement and leads.
Are you interested in taking your marketing strategy to the next level. Contact us
Last week Bluetext served as a sponsor for the 2017 GAIN government marketing conference, and it was great to connect with and hear from some of the DC region's leading government marketers – including some of our own clients.
As part of her presentation on effective thought leadership, Rita Walston, immixGroup Senior Director, Marketing Programs, quoted a government Chief Technology Officer as saying the following: "If you wait until you're in front of me to tell me how your company can help me, you're way too late. I've already made up your mind."
Thought leadership is a core piece of the b2g, b2b and b2c public relations and content marketing programs we develop and executive for clients. But often we are asked by clients to about the value of thought leadership (byline articles, blog posts, conference panels) relative to more traditional media coverage around customer deployments, product launches, and trend stories. This is due to the fact that with byline articles, the content cannot be self promotional.  
But the government agency CTO comment underscores why thought leadership is a critical top-of-funnel piece to the buyer's journey. Government decision makers ingest information from several sources prior to any sales meeting. Without exposure to your brand, an understanding of your expertise and clarity on your capabilities, the opportunity might be lost before your sales team even walks in the meeting.
Thought leadership can support your B2G sales efforts in several ways:
Communicate your core competencies
If your government sales team walks into a meeting and the decision maker doesn't already: 1) believe you understand their pain points; 2) understand how your solutions can address these pain points; and 3) have a sense of why your company is uniquely qualified to solve their pain points, chances of winning the business go down considerably.
Thought leadership in the form of byline articles and blog posts present an opportunity to lay the foundation for this part of the buyer's journey by demonstrating your expertise across core competencies, whether it's cloud computing, mobility, cybersecurity, data analytics, or some combination of the above. While this content doesn't directly address how your products and solutions deliver capabilities in these areas, it communicates you are players in the space.
Establish brand awareness
If you are a large or established vendor in the government market, brand awareness may not be a problem. But perhaps you have brand penetration with certain agencies and not others, or a recent acquisition has added capabilities that agencies are not yet aware of. Advertising can accomplish this, but it can be expensive and must be sustained over an extended period of time.
Byline articles position your brand with government decision makers hungry for content that offers actionable intelligence on how to address pain points they face every day. Vendors and contractors can associate their brand with current and emerging trends, while reaching decision makers in a targeted fashion, whether it's civilian, DoD, or specific branches of the military.
Fill momentum gaps
Marketing to government agencies requires a steady drumbeat of activity. Not every vendor has the budget for a sustained advertising campaign, and there won't necessarily be announcements and opportunities for media coverage on a weekly or even monthly basis. Thought leadership can fill these gaps to ensure brand momentum throughout the year.
Lets your sellers 'sell'
Circling back to the agency CTO comment referenced earlier in the article, the ability for your b2g sales team to enter a meeting able to focus squarely on closing the sale is vital. If the agency decision maker enters the meeting with limited awareness of your brand or competencies, his/her buyer's journey may be too far along to make an impact.
Assumptions can be a dangerous thing. Often, sales, marketing and PR teams make assumptions that not only undermine integrated marketing efforts, but the viability of the business itself.
Marketing Team Assumptions About Sales
A marketing team might assume that content it is creating for sales teams proves invaluable to generating leads or closing sales. The fact is, however, a 2015 survey by Highspot indicates that 65 percent of that content is never actually used by the sales teams. That same survey indicates less than 10% of the marketing budget goes to efforts that produce sales results.
An effective integrated marketing effort requires a two-way conversation between marketing and sales, and these conversations must happen frequently and with multiple members of the team. Sales executives can provide marketing leaders with a holistic view of market trends, sales team paint points, and competitive challenges, but on-the-ground sales troops are the ones who interact with existing and prospective customers every day. They understand nuances between different market verticals (i.e. – government buyer v enterprise buyer v non profit buyer), and what content is proving most valuable in meetings. Integrating that sales team feedback must happen before – not after – marketing content strategies are developed.
PR Team Assumptions About Sales
PR teams might assume that media coverage is creating "air cover" for sales teams to go in and close sales. But often this is not the case. First, PR and marketing teams may not understand the buyer "trigger point." Too often, integrated marketing efforts attempt to solve a sales problem that doesn't exist – or doesn't exist yet. For example, a marketing team might assume that the primary paint point for sales is that competitor technology product offerings are positioned more strongly in the market, thus requiring content to demonstrate your product is superior based on price, performance, efficiency, etc.
This may be valuable; however, it is possible the more immediate sales team obstacle is that the buyer is stuck earlier in his/her decision journey. They may require content that educates buyers on why an underlying technology is more secure and superior to what is currently being used. There may be a lack of understanding on the company's suite of offerings, or even credibility issues with the brand itself. Only through in-depth and frequent conversations with sales teams can you be sure that the content being created is optimized to the buyer trigger point, and timed correctly on the buyer journey.
Another false assumption often made by PR teams is that there is a process in place to ensure any media coverage generated or thought leadership content produced is funneled in real time to sales. The Highspot survey indicates otherwise, finding that 28% of content is never even found by sales, and that sales teams spend nearly one-third (31%) of their time searching for it. Highspot also found that 24% of companies have formalized marketing to sales handoffs, which helps explain why PR and integrated marketing content often never quite makes it to the individuals who can do the most with it.
Everyone company's definition of "integrated" is different, but for organizations to truly benefit from valuable marketing content and efforts, it is critical to ensure sales teams are not on the outside looking in.
Government contractors and technology vendors selling to government agencies are still trying to size up the policies of the new Trump White House and what they will mean for the products and services they sell to government. But the change in Administration does not change the fact that reaching government decision makers requires more creative marketing campaigns than ever before.
Your B2G competitors are not confining themselves to traditional marketing tactics such as press releases, white papers and trade show booths. Here are 4 campaigns they are executing that is delivering a leg up on the competition.
Innovative go-to-market campaigns. What questions are your target decision makers trying to answer when they search for technology solutions, whether it's for cyber, data analytics, cloud or mobile? Bluetext recently developed and delivered a comprehensive branding and go-to-market campaign for a cyber security leader focused around the concept of their hunting solution. The campaign included images of cyber practitioners and executives asking a series of critical questions indicating a need for the client's proactive approach to cybersecurity hunting – with the objective of locking in on customer pain points through the questions they might ask when searching for solutions.
Virtual reality can lead to real government contracts. For all of the noise surrounding virtual reality in the consumer market, it has emerged as an effective platform for storytelling with technology companies targeting decision makers in the government and enterprise markets. Bluetext's founders have been pioneers in emerging technology and user experience for nearly 20 years, crafting stories and experiences that resonate with the conceptual target and solve real business challenges. With client Varonis, virtual reality enabled their marketing team to navigate a complex customer landscape and to share the Varonis story and product to a wider audience using innovative technology. The Varonis Digital Briefing Center launched at a big conference many of their existing and prospective customers attended, and enabled Varonis to scale their demos concurrently by 6x, differentiate in a global trade show, and drive traffic to their booth.
Digital briefing centers continue to mature. Budgets remain a challenge for the public sector, which impacts the ability of government contractors and technology vendors to get their products and services in front of decision makers. Digital briefing centers ensure prospective customers have access to a similar experience as they would if they were interacting with the vendor in-person at the corporate offices or potentially a conference/trade show environment. For client CSC, Bluetext built a Digital Briefing Center virtual experience where clients and CSC's entire ecosystem could come to learn about CSC's key technology conversations across its target verticals.
Bluetext designed a virtual office building where each floor represents a specific vertical industry, and visitors learned about CSC's key solutions and experience across cloud computing, big data, applications, cyber security, and mobility. While not specific to the government market, it is indicative of how "stickier" digital experiences are reshaping how existing and prospective customers interact with content.
3D and interactive experiences for leaders. To drive user engagement and leads, forward-thinking B2G companies are looking beyond white papers and webinars and towards immersive user experiences. Bluetext client NJVC was looking for a powerful new message as well as an immersive experience to engage and inform its global audience. Bluetext delivered a cutting-edge user experience that merged 3-D interactive design with thought leadership content marketing.
With 1,300 IT professionals deployed globally supporting 200+ sites on six continents, NJVC is the partner of choice for federal agencies, commercial clients and large and small businesses. The NJVC experience is integrated into a responsive Mission CrITical campaign microsite designed to enable users to easily access the content that best aligns with their needs. Bluetext also recently collaborated with XO Communications to develop a 3D "Etherverse" experience placed prominently in the site to drive user engagement and leads.
When it comes to marketing and communications, government contractors and public sector IT providers face a set of unique challenges. For one, the customer base of Federal, state and local decision makers responsible for purchasing technology products and services – ranging from CIOs and CTOs to program managers, IT managers and procurement officers –represents a finite group that can be difficult to reach.
Compounding this predicament is the fact that government contractors must not only market their brand, product and services to these decision makers, but also time these marketing efforts strategically. This means building awareness far enough in advance of a contract award, and then sustaining marketing and PR efforts throughout what can be a multi-year process from pre-RFP to the contract award – and even beyond due to potential contract protests, delays and budgetary obstacles.
Marketing to agency decision makers is just one piece of the puzzle. For small to mid-sized contractors, marketing and public relations efforts must often extend to larger prime contractors in order to ensure these lesser-known firms are on the radar when Primes are assembling teams to pursue contracts. Large contractors, for their part, must also market needs and capabilities to smaller partners that might hold an elusive product/service, market expertise, status or agency relationship.
We have assembled 6 ways that forward-thinking contractors and IT providers can grow their business and contract opportunities by looking beyond traditional marketing, advertising and public relations tactics.
Leverage B2G responsive landing pages
Responsive design is a critical website approach for providing customers with a seamless experience across all device sizes. With a responsive website, government contractors and IT providers can be in front of buyers at every step of their online journey. A user viewing a website on the go via a mobile device can have the same powerful experience as when sitting in their office.
Responsive websites provide continuity between different viewing contexts, remaining completely agnostic to the type of device used and the size of the screen the user has. Responsive websites also rank higher in search engines' rankings, as Google recommends responsive web design because having a single URL for desktop and mobile sites makes it easier for Google to discover content and for Google's algorithms – which are constantly changing – to assign indexing properties to content.
It was the need for a responsive website that brought GovDelivery, which enables public sector organizations to connect with more people and to get those people to act, to Bluetext.
As the number one referrer of traffic to hundreds of government websites, including IRS.gov, SBA.gov, FEMA.gov, IN.gov, and BART.gov, the GovDelivery Communications Cloud is an enterprise-class, cloud-based platform that allows government organizations to create and send billions of messages to more than 60 million people around the world. Bluetext was hired by GovDelivery to help them reach public sector organizations that can benefit with tremendous cost savings while reaching more people, automating complex communications and driving mission value through deeper engagement with the public.
For this responsive design project, Bluetext conceived and designed a responsive landing page with an infographic demonstrating the benefits of using GovDelivery for government agencies as the centerpiece of the campaign. We also developed a responsive email template and infographic poster to be used across many marketing channels.
Extend reach and share budget with B2G partner campaigns
While going it alone from a marketing and public relations perspective provides a company with more control over a campaign, it also can be costly and restrict the reach and impact that could otherwise be achieved by aligning in an innovative way with industry partners.
Bluetext has worked on numerous occasions with industry partners that align around a specific campaign targeting government decision makers. Govplace, a leading enterprise IT solutions provider exclusively to the public sector, turned to Bluetext to develop FedInnovation, a destination designed to help government agency executives get the latest information on current technology challenges and solutions for big data, cloud, security, mobility and storage. Developed in conjunction with leading technology providers including Dell, Intel Security and VMWare, it includes exclusive content, videos, blogs, and real-time social feeds.
FedInnovation combines relevant, fresh content, complementary offers, and financial resources to deliver an educational platform to drive awareness and leads for Govplace across its target market. The development of platforms is a continued focus for Bluetext as we look to conceptualize, design and develop creative solutions that deliver measurable business impact for our clients. It is increasingly clear that customers of our clients demand unique experiences with premium content delivered in an easy to consume manner.
Another partner campaign targeting U.S. public sector executed by Bluetext was FutureAgency.com, a digital content experience effort on behalf of McAfee and Intel that depicted virtually a "future government agency." For this project, Bluetext created a virtual experience around client subject matter experts in an effort to present content for government decision makers in a more engaging fashion. Rather than static white papers and marketing slicks that often go unread or unfinished, Bluetext created an experience whereby avatars of actual company thought leaders were created, and they delivered presentations on topics in a virtual conference environment. The clients found length and quality of site visitor engagement superior to that of traditional white papers and similar content.
Create compelling B2G digital experiences to reach decision makers
The web has become a go-to resource for decision makers to research products and services prior to purchase. Product sheets, white papers and other pieces of online collateral can be useful supporting resources for government decision makers, but will hardly help contractors stand out in a crowded marketplace.
Recognizing this, government contractors and IT providers are creating more dynamic, immersive digital experiences that can more effectively engage target constituencies and impact the decision making process. Additionally, these experiences are molded to be as valuable as any in-person interaction site visitors would have with products and services.
A recent Bluetext project showcases a forward-thinking technology provider, CSC, which was seeking to ensure prospective customers could have a similar experience as they would if they were physically at CSC's corporate headquarters.
Bluetext designed and built CSC's Digital Briefing Center, a virtual experience where clients and CSC's entire ecosystem can come to learn about CSC's key technology conversations across its target verticals.
Bluetext designed a virtual office building where each floor represents a specific vertical industry, and visitors can learn about CSC's key solutions and experience across cloud computing, big data, applications, cyber security, and mobility. While not specific to the government market, it is indicative of how "stickier" digital experiences are reshaping how existing and prospective customers interact with content.
Highlight customer innovation
No matter how large or well-known a government contractor/Federal IT provider is, gaining approval from an agency to speak publicly about a technology project is often mission impossible. Agencies must be careful not to appear to endorse a specific vendor in public comments or a press release quote, and even when project leaders are amenable, the process often grinds to a halt with the more conservative public affairs officers.
As such, vendors often have their hands tied on how to showcase a successful project so that other agencies – or even other decision makers within the same agency – will take notice. An approach that can bear more fruit involves shining the spotlight on an agency leader or the agency itself through awards and speaking opportunities.
Multiple editorial publications and associations hold annual award programs that showcase outstanding IT projects and agency leaders at the federal, state and local government level. Agencies tend to be more open to sharing an IT story through an award because it demonstrates innovation and can assist with employee morale and retention.
Beyond award programs, there is also significant benefit in generating media coverage and awareness of state & local customer projects. These agency customers tend to be more amenable to participating in public relations campaigns, and the drawing attention to these projects can demonstrate capabilities to prospective Federal customers as well.
Develop targeted B2G campaign to pursue a specific contract
As contractors and IT providers know all too well, winning an agency contract requires a very different sales cycle than a small business user signing up online for Dropbox or a similar "as-a-Service" software offering.
At some level, there will always be marketing activities designed to reach decision-makers across multiple civilian or military agencies – and in some cases both segments. These external efforts may involve communicating product capabilities, service chops, or the expertise of the contractor's team. But in today's hyper-competitive market for agency contracts, developing innovative, targeted campaigns in pursuit of a specific contract or that are designed to reach decision makers at a particular agency, can make the difference between a game-changing contract win and a devastating loss.
Bluetext is increasingly tasked to partner with contractors in developing innovative branding and outreach campaigns around a specific contract pursuit. In early 2014, L-3 Communications, in partnership with Harris Corporation, hired Bluetext to help them pursue the Air Force's $1B Satellite Control Network (AFSCN) Modifications, Maintenance & Operations (CAMMO) Contract.
Bluetext worked with the L-3/Harris Capture teams to develop a campaign strategy that would position them as a Prime by highlighting the many advantages they bring to the table. The overarching campaign theme Bluetext developed is:
"The Power of Partnership, From Vision to Reality"
The creative strategy of this project began with the core concept of the ad, "from vision to reality." The left side of the ad is a wireframe representing the vision with the right side representing its reality. After the wireframe of the satellite was created, it was overlaid on top of the red diagonal to create a striking visual element to draw attention to the campaign. The first series of ads were placed in high visibility areas inside of Colorado Springs Airport, a key travel hub for Air Force brass. The media plan for the campaign also includes online, print and OOH media placed strategically to maximize reach and frequency throughout the entire contract RFP and award lifecycle.
Focus on agency challenge, not yourself
Dramatic changes in staffing and mission of government IT media outlets means that the days of getting a product reviewed or corporate profile written are for the most part a thing of the past. As such, contracts and IT providers must get far more creative when it comes to communicating capabilities.
Government IT press don't want to hear about products. They want to hear about trends and challenges sweeping through agencies, and how contractors and IT providers are developing solutions to solve those challenges.
This was the backdrop for a media strategy Bluetext architected for Adobe Government. Over the past few years, government-wide budget cuts have been swift and relatively unsparing in their impact on agency in-person conferences and training events. This presented a significant challenge for agencies seeking to maintain the collaboration and education benefits these events delivered.
The challenge dovetailed with Adobe's web conferencing solution Adobe Connect, which was seeing a rise in demand in the public sector due to pullbacks in physical, in-person conferences. Bluetext built a PR campaign around this angle that included a pair of thought leadership articles (one targeting the broad federal IT community and one targeting military decision makers), generating multiple articles around this topic in key federal, state and local media outlets, including:
Federal Computer Week – Budget cuts push conferences online
Washington Technology – Budget cuts, scandal fuel videoconferencing boom
Federal Computer Week – Could virtual meetings replace conferences in sequestration age?
Defense News – Communicating in an era of canceled conferences
Federal Computer Week – Defense Connect Online hits milestone
State Tech – Mobile Video Conferencing Powers Collaboration on the Go
Federal Computer Week – DOD connects online to cut travel
Government Executive/NextGov – Agencies are saving millions with virtual events
Federal Computer Week – Cutting costs with virtual conferencing
Reaching and impacting government decision makers requires government contractors and IT providers to push beyond the status quo and engage with partners able to help develop and deliver innovative campaigns to grow their business and increase contract opportunities.