The Latest in LinkedIn
LinkedIn is taking users' ability to "connect" to the next level.  This week LinkedIn is rolling out new profile features that will empower a whole new segment of users with the opportunity to become content creators and professional influencers. The professional networking platform announced the unveiling of a new "Creator Mode" to build their voice and audiences.
Social Platforms Taking a Cue from One Another 
These new features are the latest of many social media shifts, as we notice a trend of social platforms taking cues from one another. Especially following almost a year of exclusively virtual networking, the media landscape is rapidly expanding to include a number of opportunities for professional and personal success. The rise of micro-influencers on Instagram, TikTok, Twitter, Clubhouse, etc. has earned the trust and loyal following of their audience members for a particular subject. There is no shortage of creative innovation on these platforms, with professionals having to develop unexpected use cases. For example, did you know personal finance TikTik was a thing? Yes, there is a growing community of young professionals offering personal finance and investment advice to followers of #FinTok or #StockTok. This just serves to show that social media platforms have much deeper opportunities for content creators than showing off their latest recipes and dance moves. With rising competition from emerging platforms, such as the audio-only app Clubhouse, or viral sensation Tik Tok connecting niche interest communities, LinkedIn is debuting similar features to remain the mainstay for professional networks. Users can now create stories (taking cues from Facebook, Instagram, and Snapchat), weigh in on trending topic hashtags (#thankyou Twitter), and now become content curators with "Creator Mode". 
Creator Mode & Influencer Opportunities
The new "Creator Mode" for LinkedIn allows users to pin specific hashtags to the top of their profile to signify the themes they frequently post about. With creator mode enabled, the presentation of profiles is altered to emphasize the hashtags directly under job titles. This moves up the "Activity and Featured" sections to highlight posts and links that a user shares before the "About" bio boxes. This shifts the content hierarchy from a self-written bio, to a curated collection of user-generated content. This allows users to focus their profiles on niche genres and topic areas to own a small space as thought leadership. In a nutshell, "Creator Mode" offers users an opportunity to connect on a more meaningful level to targeted audiences, therefore promoting themselves to influencers amongst their community. 
Additionally, users can "Follow" these influencers rather than adding them to their personal networks. Now instead of feeling uneasy sending network invitations to a complete stranger, users can follow their favorite thought leaders just as easily as on other social networks.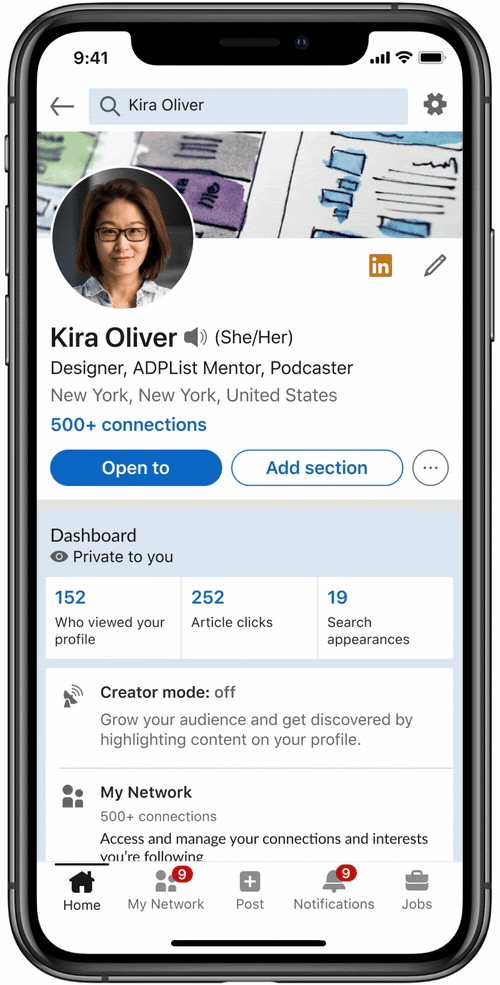 What else is included in this update? LinkedIn users can upload video cover stories, creating an interactive introduction to their profile. Much like a Facebook or Instagram story, the cover story can be initiated to play on the click of a profile photo with an orange ring. The uniquely new aspect of these cover stories is what is known as the "Harry Potter effect", where the video will autoplay silently in the profile photo frame to signify available video content. These new features will help propel the already growing importance of video-based content on social platforms. Many users see this new video feature as an opportunity to promote themselves with a personalized pitch of their skill sets. Almost like a precursor to a job interview, it grants users the opportunity to conduct a virtual elevator pitch with all of the personality and zest of in person. 
What Creator Mode Can Do For Companies
These new updates will be big for companies of almost any industry, but especially in B2B technology, cyber or complex services. Many of whom have been prioritizing thought leadership of leadership and SMEs through whitepapers, research, and media opportunities as means of generating industry attention to their brand.  "As our ecosystem has been growing, and as we're seeing the world of work changing, we're seeing that content is now a core part of how professionals interact with not only their own jobs but their industries, their peers, and their communities," Keren Baruch, group product manager for creator strategy at LinkedIn. 
Last year 62.1 million LinkedIn users reported logging in at least once a month. This statistic is expected by researchers to jump to 64.7 million in 2021 and reach 70.9 million by 2024. The popularity of LinkedIn is expected to grow significantly, especially as users realize the unique opportunity to take control of their professional success and promote their achievements like never before. The barriers of entry for powerful brands and thought leaders have been lowered, which levels the playing field for companies of any size to become influential industry leaders. 
Are you the next micro-influencer of your professional space? With the support of social media and PR agency, Bluetext, you could be! Contact us to learn more about our digital marketing and PR services.