You've crafted your brand message, settled on a new visual strategy, or launched your new product. So what's next? You probably have the urge to shout your new message from the rooftops. But in 2021, you may need a more modern digital media strategy. Paid media is essential to put that message in front of your target audience. While earned media (i.e. public relations, email, organic search, organic social) is also an important part of GTM, paid media can both expand your brand's current reach and reel in interested parties, and convert them into customers.
A Full-Funnel Approach Drives both Awareness and Acquisition
As a top digital marketing & design agency, we know that the funnel is everything when talking about paid media. Online user behavior is very rarely linear or systematic. Consider how you browse the web. Do you click on the first link you see and immediately start a purchase online? If you're like most people, you click around, do an informed search, and learn more before making a purchasing decision.
Awareness Builds the Top of the Funnel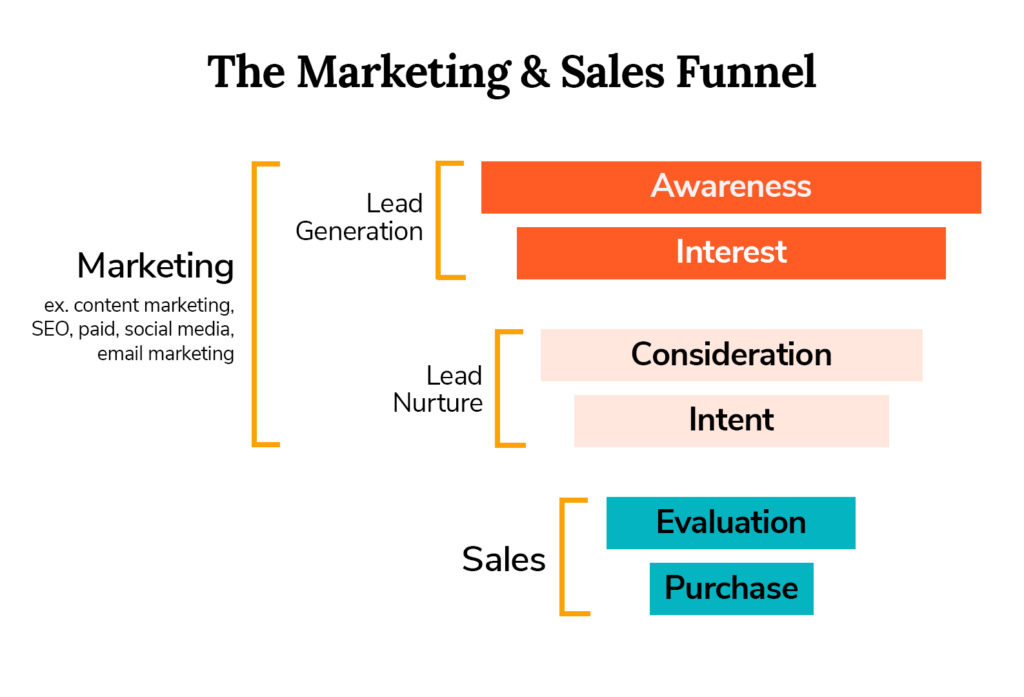 When crafting a digital media strategy, we account for user behavior by focusing on the overall user journey. That journey can be broken up into two main parts: awareness and acquisition. Each category has an ideal mix of channels and tactics that accomplish specific key performance indicators (KPIs). At the top of the funnel is awareness: a user's understanding of your business or specific product. The KPIs for awareness are typically impressions or site visits – really just eyeballs on ads and on your site content.
Channels that we typically include in awareness campaigns include programmatic media (which includes display, native and video ads), paid social, and other advertising (billboards, podcasts, etc.). These ads are meant to capture a broad audience and expand the awareness of the business to new – and potentially lucrative- audiences. Within these channels, we also use tactics that will increase impressions and site visits. Third-party targeting (showing kitchen tool ads to someone marked as interested in cooking) is particularly helpful, as is contextual targeting (showing kitchen tool ads to someone browsing a recipe site).
As a top digital marketing & design agency, we craft awareness ads that grab user attention and build an informed target audience. Our client, Appgate, urgently needed to drive brand awareness traffic to the website, recently redesigned by Bluetext. To do so, our brand creative captured user attention with eye-catching motion and sustained interest with useful and digestible information. It is key your ads give just enough information to be helpful, but also entice someone to click the ad and learn more. Within one month, Appgate's campaign had increased sessions to the landing page by 17% and drove a 25% increase in site engagement.
Acquisition Tactics Convert Qualified Audiences
While all businesses need to start with an awareness campaign, some also want to focus on the acquisition with lower-funnel tactics and conversion-focused KPIs. KPIs for this part of the campaign include engagements on the site (form fills, content downloads, subscriptions, etc.), conversion rate, and cost per acquisition (CPA).
There are many channels that can be used for acquisition campaigns, but one of the most common is paid search. Others include programmatic channels (display, native, video) and paid social. Account-based marketing – which targets specific businesses – is also more of an acquisition-focused tactic. Within these channels, the tactics that optimize toward acquisition are different. Retargeting (showing specialized ads to users that have visited or engaged with your site) is a commonly used acquisition tactic. All tactics and channels in an acquisition campaign rely on strong brand awareness. Paid search success, for example, regularly relies on traffic searching for a certain business or brand name. In addition, retargeting doesn't build a new audience – it just converts the audience that has already interacted with your site.
Creative for acquisition campaigns are typically more urgent and action-based. Instead of "Learn More", CTAs focus on specific actions (downloading a demo, registering for a webinar, etc.). Consider, for example, EXL. For this acquisition campaign, Bluetext focused on highlighting certain webinars and speakers, resulting in a 5% increase in ad click-through rate on programmatic display and a 185% increase on paid LinkedIn. 

Upcoming Trends in Paid Media for GTM
All top paid media & content marketing agencies to know what's ahead for GTM tactics and strategies. One major change on the horizon for paid media is the trend away from cookies and pixels. Though many companies have done internal media campaigns based on retargeting and third party targeting they've collected in the past, those tactics will become obsolete by the end of the year.
Privacy laws are becoming more prevalent and Internet browsers are moving away from collecting cookies – retargeting is becoming a thing of the past. In its place are solutions such as Google's Federated Learning of Cohorts (FLoC), among others. Need help navigating the new media landscape? Contact the experts at Bluetext for all of your awareness and acquisition needs.