When it comes to digital marketing analytics and tracking, there's a clear winner of the worldwide popularity contest. With use on over 50 million sites, Google Analytics is the most popular tracking and analytics platform available –and for good reason. With detailed insights and reports, Google Analytics gives marketers a comprehensive look at how effective their website and/or application is as a marketing tool. As a DC marketing analytics company, Bluetext has worked with countless brands to set up their Google Analytics and make use of its insights. Along the way, we've learned many lessons from best practices to little-known tips and tricks. In the setup process, a key step is properly defining and deploying goals in your Google Analytics instance to better report on conversion actions. As a dc marketing analytics company, we know that defining these goals is a foundational aspect of any analytics and attribution plan, so we've outlined the fundamentals of Google Analytics goals below.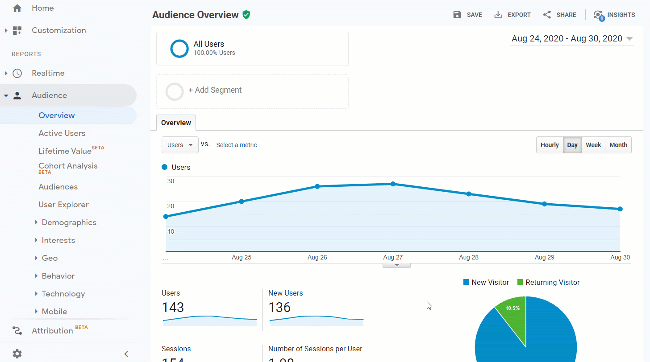 How Do Google Analytics Goals Work?
The beauty of Google Analytics is that it's never a one-trick pony, or built for a specific type of business. The analytics platform is highly adaptable to any company's business goals and creates custom dashboards to visualize your specific objectives. Google Analytics goals are uniquely customizable and can track many different actions, from specific page views, how long users stay on your site or application, form submissions, and more. Goals, additionally, can have a monetary value assigned to them, which allows you to track general ROI, ROAS, and countless other marketing metrics. The goal and conversion data computed by Google Analytics also allows you to define a series of reports to dive deeper into your website and paid marketing metrics. The chart below helps further define the four-goal types in Google Analytics: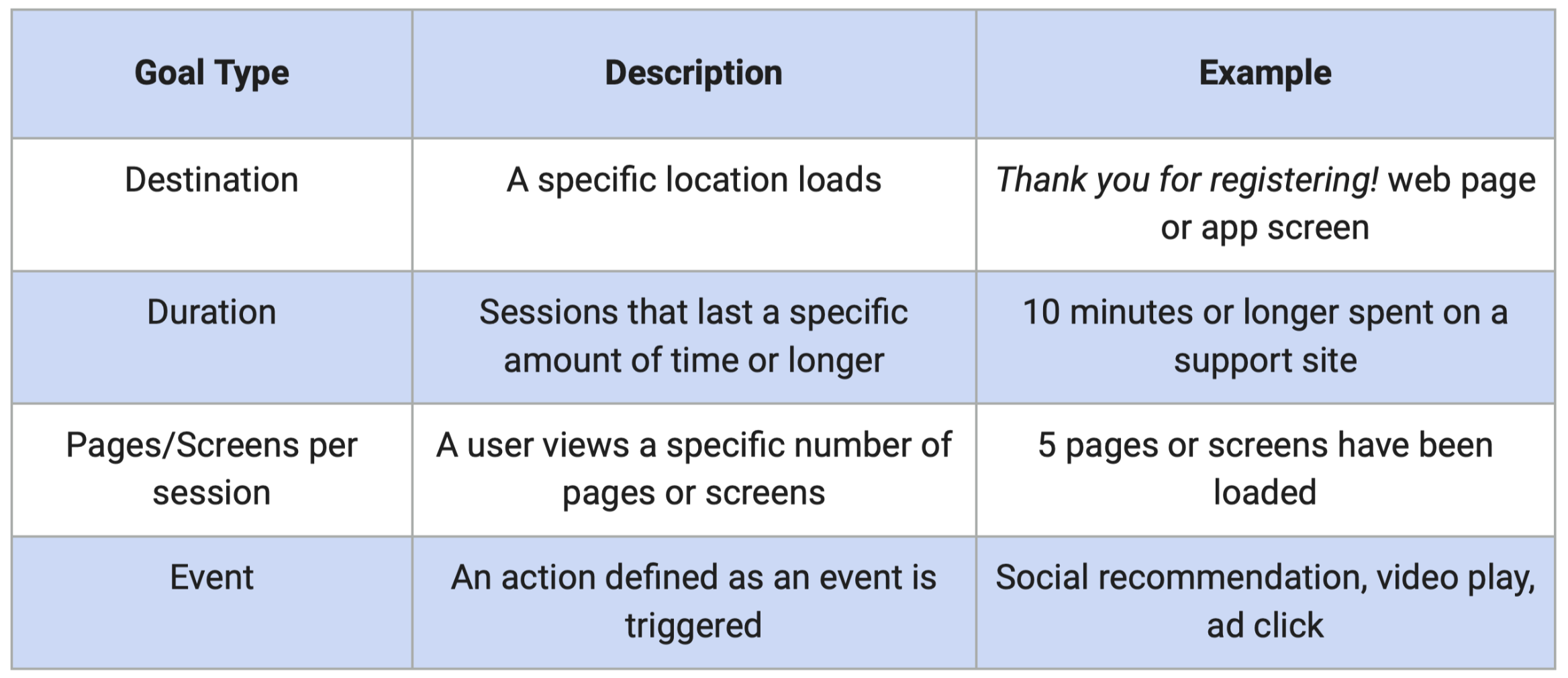 How Can I Start And Be Smart About Their Goals? 
If you aren't tracking explicit conversions yet, Google's "Smart Goals" are a simple way to help optimize your performance. Smart goals were developed by Google as a way for marketers to track the most engaged sessions on their website. With smart bidding, Google uses machine learning to identify and examine dozens of intent signals about your website sessions, assign each session a score, and determine the sessions that would be most likely to convert. While smart goals can be great for many reasons, there are limitations. For example, smart goals are not customizable, they are currently only available for websites (not applications), and they are not available for websites that receive more than 1 million hits per day. It's like turning on autopilot for your tracking, great for a period of time to be a little more hands-off and let algorithms do the work, but eventually, you will want to drill down and focus on converting potential prospects. With these limitations in mind, we recommend working with a marketing analytics company, like Bluetext, to ensure you are able to track explicit conversions, making your data more valuable and accurate.
What Are Best Practices For Setting Up Goals?
When setting up your goals, consider these best practices:
Give each goal a unique and descriptive name. Especially when your marketing analytics becomes more robust over time it pays off to be organized from the start. 

When possible, assign a goal value to help monetize and evaluate your conversions. You can also use a number scale to assign importance to your goals (low-value = 1 and high value = 10) if you are unable to assign a monetary value.

If you ever need to change goals, keep track of when and what you did. Goals are not applied to historical data, so changing one will change conversion data from the point of the change.

Before pushing your goals to the live environment, ensure you use Google Analytics' "Verify this Goal" feature to see how the goal would have converted over the last seven days.

Setting up goals in google analytics can be frustrating and time-consuming. The work it takes to set up google analytics goals, however, is worth the time investment. Working with a marketing analytics company can be a great way to effectively implement goals and reduce the amount of time needed to do so.
Interested in working with a marketing analytics company to ensure your Google Analytics goals are effective and properly set up? Contact us here!