So far in this series, we have examined PLG as a concept, how it can be cross functionally implemented and why – when done right – it can be the right go-to-market strategy for your business. However, without a way to measure the success of your product led growth strategy, there is little to be learned and applied to your strategy moving forward. This is why establishing key short term and long term metrics and achievable KPIs is a crucial step in your PLG strategy. You are likely already tracking at least a handful of following key metrics, however establishing standard goals and benchmarks for your team to strive for when wading into the waters of PLG will provide valuable insights and allow you to make adjustments down the line to enhance your go-to-market strategy. 
David McClure outlines the key metrics in his model known as AARRR or the term he coined, Pirate Metrics. This simple model evaluates each step in the user journey to identify any opportunities in the user lifecycle and finely hone in on where improvements need to be made. 
Acquisition:

First thing's first – you have to drive users to the product. Whether it's an app or a website, developing a strategy to get users in front of your product through tailored channels is the first step to reaching revenue. Typically the channel strategy at this awareness stage varies by audience. For example, while it may be best to focus on social or SEO optimization for B2C audiences, B2B audiences may expect and prefer to see content marketing – also with a focus on SEO – or Event marketing at specific conferences or trade shows where they can be introduced to your brand and your product. 

Activation:

Once you drive traffic to your product, the next challenge becomes making the conversion. This is where content and UX come together to drive users to take action. There are endless possibilities for how you can target even the most niche audiences – this is why collecting data through A/B testing of specific copy, design or landing pages can aid in the pursuit of a higher conversion rate. 

Revenue:

there are various ways to track revenue, like average contract value (ACV), monthly recurring revenue (MRR), average revenue per user (ARPU). The revenue phase of the Pirate Model can also include upsell strategies for premium product features or add ons. 

Retention:

User conversion is immediately followed by the retention phase – you want the user to continue to come back to use your product and take additional actions. Staying in touch with your users through various CRM channels and retargeting strategies can keep users engaged in the product and remind them to continue that relationship with your product. At the end of the day, in a PLG strategy, the product itself should drive retention by delivering an excellent user experience. 

Referral:

Your current users can be your greatest asset in the pursuit of new users. Not only can they tell you what you need to know in terms of their behavior and interactions with the product in the user lifecycle, but they can also be a bridge to other users similar to them. Referrals from existing users can be a powerful tool particularly when there are incentives to bolster referrals.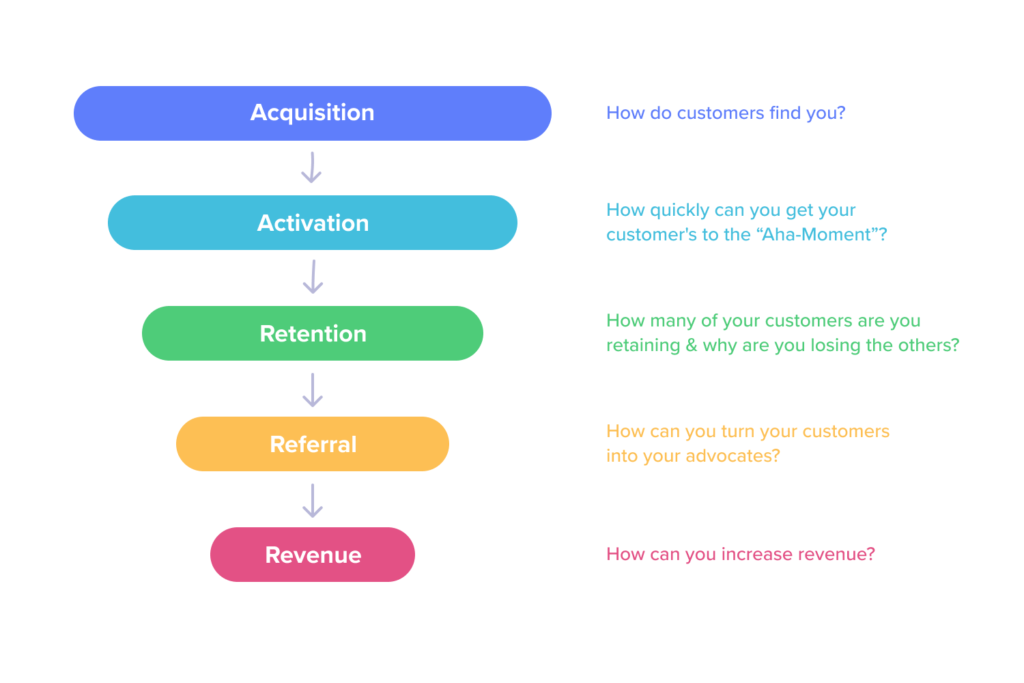 In addition to the phases in the AARRR model, there are many other metrics that can be leveraged to evaluate your product and the user journey. 
Stickiness:

The rate at which users return to the product. This helps to examine the value you are delivering by looking at how often users come back. 

Product Adoption Rate:

This measures the rate at which users transition from new to recurring users. A high product adoption rate is encouraging, as it confirms that users are not only trying the product, but continuing to use it. 

Churn Rate:

This is one the most important metrics to take note of when it comes to PLG – it evaluates the number of users that essentially quit your product. Keeping the churn rate as low as possible should be the utmost priority of a product led company. 

Product Qualified Leads (PQLs):

A PQL is a user who has interacted with your product and taken an action indicating they will return to the product again and will continue to be a likely customer in the future. Becoming a PQL requires an action/conversion point and A/B testing can be a valuable tool in establishing the most effective strategy for those desired actions.  

Customer Lifetime Value (CLV):

this refers to the expected revenue to be made on a customer and their lifetime interaction with your product

Time to Value (TTV):

The TTV is the amount of time it takes from the first interaction with your product to the moment the user is able to understand and reap the benefits of the value your product delivers. A higher TTV can result in a higher churn rate as users want to quickly get to the benefit of what you are offering. 

Expansion Revenue:

Any of the revenue made from a user beyond their first purchase can be considered expansion revenue. Upselling your users on additional premium features is a way to grow your expansion revenue. While growing your user base is crucial, your existing customers are a massive opportunity when it comes to cross selling and upselling products.
Product led growth relies on the intrinsic value that your product delivers to its users and an effective GTM plan to make sure it is put in front of the right audiences. Even the best products require some strategic thinking when it comes to driving users down the funnel to take action at that conversion point. Having the ability to evaluate and track users in their interaction and lifecycle with your product is essential for a successful launch and a successful future. Being armed with insights through these powerful metrics will help to fine tune the user experience and enhance revenue generation down the line. Learn more about how Bluetext can support and track your PLG strategy.
Product-led growth (PLG) strategy is at the forefront of a massive shift in the software purchasing process. Read our most recent blog in this series, PLG Series: Product User POV, to determine if your company is ready to put end users in the driver's seat. For companies looking to make this shift, consider the steps it will take to get there, which will require two major stages of transformation: the evolution of the product, and the evolution of the organization. 
Steps to Becoming a PLG Company
Evolution of the Product
PLG strategy hinges on end users being thrilled by the product the company offers. How can organizations create a thrilling software experience? While it may seem like an oxymoron, thrilling software is possible. It starts with prioritization of design, empathy, and frictionless touchpoints with a combination of user journey mapping, user testing, and intelligent data implementation. The end-user experience is what sets a working product and a great product apart. The product needs to serve as a solution to the user's troubles, not just a jumble of benefits and features. The user journey is top of mind for pioneering PLG-focused companies, rather than the specs and selling points of the product itself. 
A good example of this is the onboarding process for new users. In demonstrating software products, the demo should be focused on helping the user achieve their goals, not showing off features of the software it's trying to sell. Product-led growth really means user-led: anticipating their needs, reducing their friction, and providing ongoing support to create a joyful, exciting user experience with the product. In the PLG model, product enjoyment leads to subscription sales, additional referrals, and customer retention. When shifting to a product-led growth strategy, companies must create sticky products, which capture user interest by delivering consistent value and compel users to use them more regularly. 
Evolution of the Organization
To become a PLG company, the organization must first be willing to turn away from sales-led and marketing-led growth strategies. Instead, the business structure has to support the ability to move faster, more collaboratively, and with more complex dynamics. Collaboration and inclusivity are more than industry buzzwords; they actually can make or break internal strategies. To pull off the rate of product improvement necessary to keep pace with competitors, a PLG-focused company has to run as a democracy, taking input from a diverse group of stakeholders from a variety of different teams. Marketing, sales, CS, design, and engineering teams, for example, will all need to weigh in to make decisions that result in the best product and end-user experience. 
The resulting company structure is often at first more difficult and complex than legacy structures, but it has proven the best way to organize a company that prioritizes the quality of the product for the consumer experience. When scaling, the first thought may be to attempt to grow teams through hiring to accommodate for better, quicker, product improvements. That process tends to be time-consuming, costly, and inevitably leads companies to fall behind their faster, leaner competitors who are prioritizing employee growth, flexibility, and collaboration. As a step toward this organizational transformation, it's important to break down silos to stay communicative, informed, and aligned across teams.
After going through the transitional phases outlined above, the real work of a product-led growth company begins in harnessing value from the Freemium to Premium chain. 
Capitalizing on the Freemium to Premium Chain
For a PLG-focused enterprise, after creating the best possible product and putting the organizational systems in place to support the development of increasingly spectacular products, the value in the product-led growth model comes from encouraging the following: Product adoption, Customer Loyalty, and Advocacy. This growth can be reaped from the Freemium to Premium chain, composed of three stages: 
A frictionless entry point for users, leading to customer acquisition. 
The user's first interaction with the product should be personalized, delightful, and convincing. A free trial or demo experience allows users to self-educate about the benefits of the product and its ability to solve their needs, rather than having to deal with a salesperson or middleman to handle the transaction. This freemium experience can come in a couple of different forms: a reduced features version, a reduced capacity or usage version, or a reduced support version. 
There are a few reasons as to why the free trial method is the best entry experience for customers seeking software solutions. First, the software is an intangible object and can be difficult to adequately describe with marketing lingo; it's better to give users a hands-on experience that shows (rather than tells) the product's benefits. Second, free trials reduce the fear of committing to a purchase, so users can explore the software offerings without concerns about getting locked into a subscription. Lastly, observing or collecting data during a demo experience allows you to gain valuable feedback on the product at hand. By seeing how end users experience the product designed for them, you can get a realistic sense of their positive reactions and friction points in order to continue improving the product offering. 
Features located behind a paywall, leading to expansion. 
The free trial leads the process by introducing the user to a must-have technology (where they're reaping actual value), and the paywall follows by scaling up the pricing for the software as usage or benefits increase. After an opt-in free trial, a good conversion rate should be around 25%, and that rate jumps to 60% for opt-out free trials.
The product-led growth strategy for conversion is simple: freemium users are enticed to subscribe to premium accounts when they enjoy the product. To encourage subscriptions, it's important to remind users of the benefits and product features. In addition, putting a clear time limit on the length of the trial creates a sense of urgency for freemium users to switch to premium subscriptions. Trial period expirations can help push users to take action, for fear of losing out on the benefits that they've come to appreciate while utilizing your software throughout the demo period.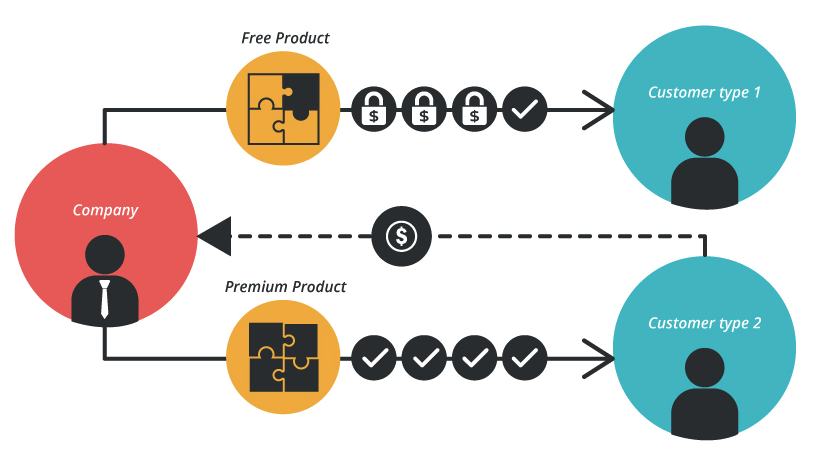 Valuable integrations, leading to retention.
While gaining initial subscriptions is important, PLG strategy necessitates that these users continue coming back to the product. Ideally, each time the user utilizes the product, they should have a better and better experience. The PLG model will not work successfully if the company's product becomes outdated or uncompetitive. Users must not only fall in love with the product but stay enamored. This can be done by continually improving the existing user experience, or by building out additional features and benefits to the product. However, if exploring the latter, keep the user journey segmented so that different audiences are still able to find the most relevant solutions quickly. As the product grows to encompass more features, the UX designers should ensure that the additional capabilities don't cloud the interface to make it confusing or overwhelming. 
For companies in the software technology space, shifting to a product-led growth strategy could lead to a better experience for customers and keep the enterprise at the front of the competitive edge. If you are interested in learning more about how Bluetext could use marketing tactics to help reposition your brand as a PLG-focused business, contact us.
Companies are able to expand with efficiency using the product-led growth (PLG) strategy. In a PLG model, the product is the main vehicle for acquiring, retaining, and expanding customers, and these end-users are now in the driver's seat. This means the road to success is paved by the experience your product provides. 
The PLG strategy sets new standards and expectations for companies based on customers' wants and needs. Consider a PLG model for your company as you strive to meet the following characteristics: 
Your product offers a fast, unique, and effective solution.
It is crucial to think about how your product can not only become a leader in conversations but also garner positive experiences for your customers. The focus should be on real people, with real problems so you can promote active solutions that help customers achieve daily tasks. In today's world, there is no shortage of companies creating products. That means there is a lot of competition out there, and customers have no problem ditching your product if they can get a faster, more efficient solution to their problem somewhere else.
The user quickly realizes the benefit of the product.
People want immediate gratification and will give up quickly if a product is more work than help. So, meet users where they work. A customer should be able to understand and integrate your product into an existing workflow without any major hurdles. Your product should deliver real value that has strong viral potential, and continue to bring value to its users.
Your product is flexible and customizable.
Your product needs to provide metrics that allow you to adapt to user behavior to provide continuous added value. Customers want their lives to be as easy as possible, so it is important to continue innovating and adapting. Enabling users to get creative and adjust the product to benefit how they work, will prompt continued internal optimization of your product and provide limitless growth opportunities.
Develop a strong user community.
Connect with your users, but also provide an environment and positive experience that will prompt users to build their own communities within their workforce through self-serving promotion. This free promotion of your product is a highly effective way of getting additional users to adopt your product. They have a foundation of trust with their peers and fellow co-workers that translates to the product and fosters long-term, loyal relationships. As more and more people test out and use your product, it becomes essential to run those users' businesses.
Monetize after you deliver value.
Be strategic with your pricing and how you present high-value features. Users need to trust that it will benefit them and improve their workflow before they pay. Being flexible with pricing and basing it on usage will also make it easier to scale.
PLG creates happier, more satisfied customers, who in turn become promoters for your product. This cycle both benefits your business and the customers as it pushes constant innovation and optimization for your product. 
If you're looking to take your business performance to the next level, contact Bluetext.
The way that users engage with technology has dramatically changed in the last decade. As SaaS companies are stepping up their game to meet these demands, users are met with an abundance of software available at their fingertips to fulfill their every need. Tech-savvy people are seeking software that is more beautiful, more powerful, and more affordable than ever before. The patience for dealing with clunky designs or a challenging user experience has completely dissolved. Now more than ever, businesses are recognizing the value of leading with a great product and user experience in order to generate growth. Enter Product Led Growth.
Product Led Growth
Product Led Growth is a business strategy for companies to use their product as the primary driver for customer acquisition, retention, and expansion. Imagine a pancake house that is famous for its pancakes. You hear about the pancakes, try them, love them, and tell all of your friends to try them as well; thus, the cycle repeats itself. The restaurant's main goal is to create an unforgettable pancake that keeps customers coming back; they don't have to prove or tell anyone that they have amazing pancakes because the product speaks for itself. Businesses that have adapted Product Led Growth strategies are thinking about how they can put their product at the forefront of every step of the customer journey–the foundation is having an amazing product with exceptional focus on the user. People hear about it, they test it out, they start using it, and all of a sudden it becomes a necessity to run their business. This type of strategy fosters company-wide alignment across teams around the product as the single most important source of long-term, scalable business success.
Product Led Growth allows for a significantly lower cost to acquire customers because existing users are promoting and selling the product simply by enjoying using it. Unlike sales-led businesses, which aim to get a customer from point A to point B in a sales cycle, product-led businesses turn the typical sales paradigm on its head by allowing customers to try their product for free, through a freemium or free trial that eventually becomes a subscription or an add-on purchase. Some of the most successful companies implementing the Product Led Growth approach are Slack, Dropbox, and Zoom, just to name a few.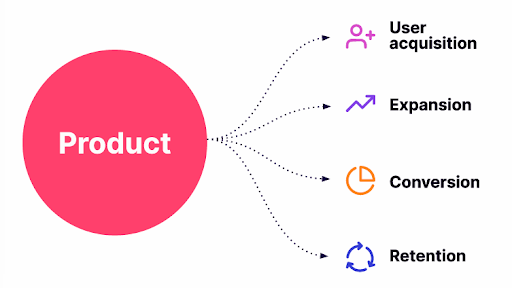 Slack
Perhaps one of the greatest examples of a company that has mastered the PLG strategy is Slack. By creating a completely new way for teams to communicate with each other, Slack leads with a product that is widely beneficial to almost any business, unique in its offerings, and initially free. Customers start with a free sign-up process with frictionless onboarding and are met with a superior customer experience throughout usage. Slack swiftly slides in premium plans for users to expand the scope of the platform after they've already started using it.
The company boasts over 12 million active daily users, with 156,000 businesses subscribing to the app and a profit of $292 million in 2021. They've also uniquely branded themselves with quirky and fun features that cannot be found on traditional messaging or communication platforms. By bridging the favored aspects of modern communications, like the iPhone emoji, the swift speed of the classic IM, and even conferencing abilities of Zoom, they've made a one-of-a-kind product that adopters find irreplaceable. It's the kind of app that sells itself; you hear about it, you try it, and soon enough you're using it every day. Slack is an excellent example of a company that leverages product features and usages as its main driver for acquisition and retention.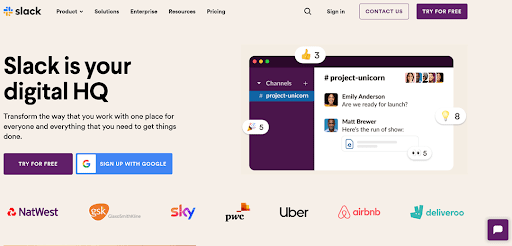 Dropbox
Next up, we have Dropbox. With sales that have surpassed $1 billion in less than ten years, Dropbox has a clear and undeniably successful product-led growth strategy. Dropbox's product-led strategy succeeds in two crucial areas. First, Dropbox has developed a user-friendly product that satisfies market demands by making file sharing simple and convenient for end users. For users, the platform is intuitive and easy to set up, and accessible for recipients regardless of subscription status. Second, the platform encourages users to convert non-users by passing along a referral link that subsequently increases their storage credit. This recommendation strategy has allowed Dropbox to gain new clients while improving the satisfaction of current ones.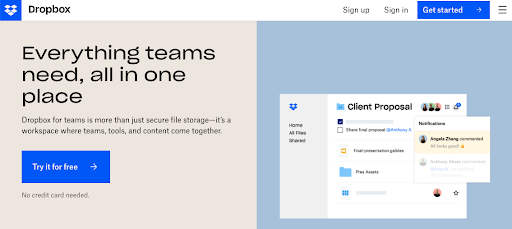 Zoom
Last but certainly not least, we have Zoom. Unbeknownst to us at the time, a global pandemic created the ideal environment for Zoom's product strategy to become a master class of the Product Led Growth model. Zoom continues to distinguish itself from its well-known competitors by putting the needs of its clients first and keeping its promise to offer a straightforward connection. By expanding on its PLG model, Zoom makes many of its essential capabilities freely accessible, putting Zoom in the hands of millions of customers who connect for work meetings, educational purposes, workout classes, and book clubs. Other premium features are further accessible through a paid subscription.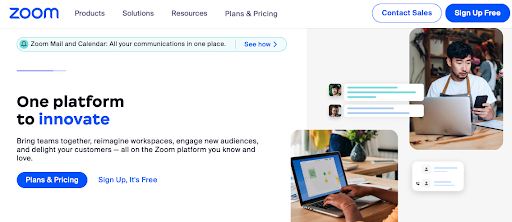 The bottom line is, Product Led Growth strategy is here to stay. It is challenging the traditional sales-driven growth model of software companies and transforming the way customers are acquired and retained.  If you are interested in learning more about how Bluetext could use marketing tactics to help reposition your brand as a PLG-focused business, contact us.
The hamburger, what's not to love? No, not the American classic, but the navigation menu design. You know, the one with those three straight lines found in the top right corner of your screen. It's an icon that hides a collapsible menu of possible link destinations, normally appearing on mobile designs. The hamburger menu is actually quite controversial in the UX design community. As such, Bluetext decided to break it down to deconstruct the user experience pros and cons of the hamburger menu. 
Where does this funky food inspired design come from? The icon is actually a remnant of the 1980s, making it the perfect choice for retro embracing brands. The hamburger menu first debuted on Xerox copy machines, which had limited space and were therefore designed to be as simple as possible. The icon itself looked a lot like the menu that appeared when you clicked on it. 
The design fell off designers' radars for a few decades until a sudden resurgence in the mid-2000s. Why so? The emergence of mobile browsing had UX design teams more challenged to fit information on screens smaller than ever before. Facebook was one of the early adopters of the retro style and the design trend quickly caught on with many other websites and applications.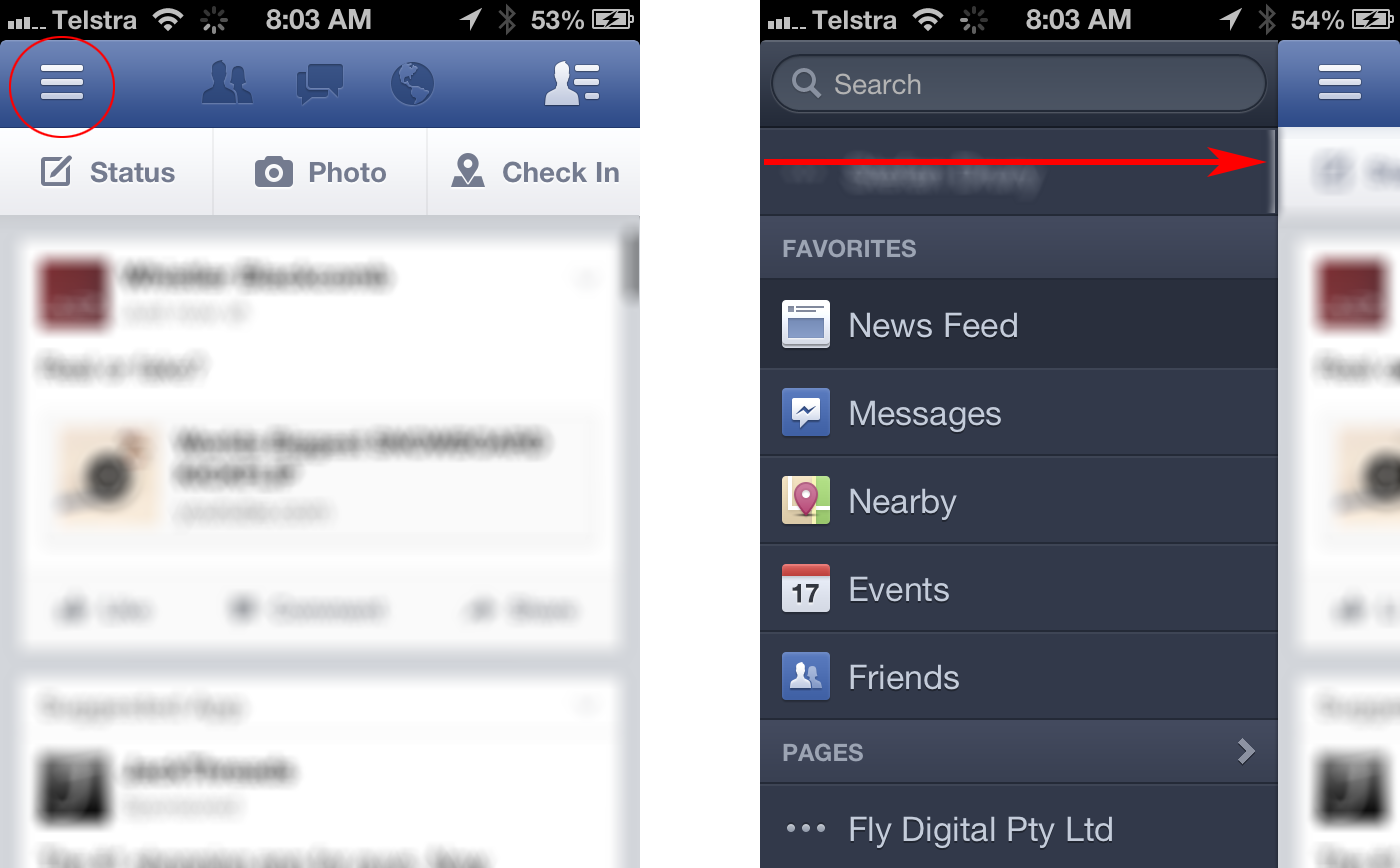 Larger websites have even adopted a hybrid approach, which uses both traditional top navigation and the hamburger even on desktops. Take the Bluetext client, SonicWall, for example. With a large number of products, solutions, and support resources to showcase, they needed a mega menu to encompass all links in an organized and interesting fashion. The top menu drops down to display page titles, short descriptions and even iconography for the high traffic areas of the website. To avoid overcrowding, other sections of the website are moved to a hamburger side menu for a cleaner user experience.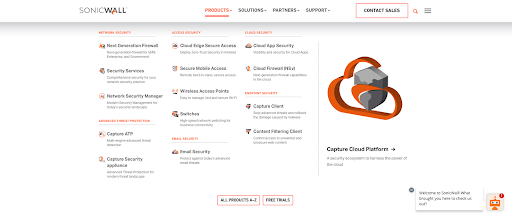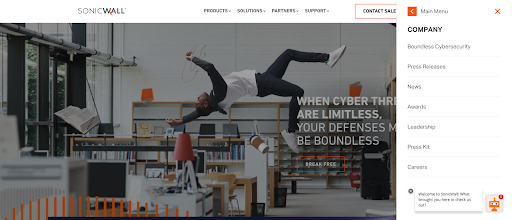 Some UX designers (vegans if you will) hate the hamburger menu. The main complaint with the design is that users can't go anywhere or see anything without clicking the menu open. Many users expect immediate and obvious information, as seen in traditional top navigation designs. Many UX designers believe an intuitive navigation should obviously show two things: where a user currently is, and where they can go.  
The hamburger menu has been the UX design go-to for years, but many companies are starting to debut some new menu items. For example the three dot approach often dubbed "the kebab".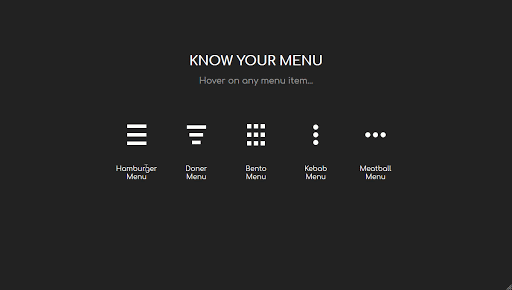 With mobile and tablet devices growing in popularity, there's no doubt menu designs will continue to evolve in the future.  
Does your website menu need a refresh? Contact Bluetext today to learn about our web and UX design services.
It's no secret that a first-class mobile app experience is essential for any brand seeking to build customer loyalty and engagement. The mobile app user experience needs to recognize not only the way audiences ingest information as they consider their options, but also how they interact with the app itself. In a previous post we offered a number of top tips for delivering the best mobile app experience. In this post we offer additional top tips to keep your customers engaged on their mobile devices.
Keep the Design Simple. A customer's attention span is a precious resource that is often in short supply. A cluttered user-interface that gives numerous options for information or services may check all the boxes for the brand, but it runs the risk of overloading the user with too much information. Every added button, text, image or call-to-action complicates the screen and challenges the focus they need on the essential content you want them to see.
Design with the Platform in Mind. Trying to shoe-horn in features and elements from all of the various operating systems in order to mimic all of their specific behaviors brings us back to clutter. Stick to features native to the platform you are building in so that users know how to navigate and use the native components they are already familiar with.
Design for Channel-Switching. Most users don't complete an engagement in a single session, so design for the entire process, not just a single setting. That means a seamless experience across devices that allows users to switch channels as needed to meet the way they interact with the app. A useful cross-device experience will enable customers to engage at their own pace.
Animation is Good, as Long as it is subtle. It's the little things on the screen that give a warm feeling about your brand, so feel free to leverage that emotional connection. Small details such as animated feedback, in-app sounds, and even animated micro-interactions imbed a personality to your app, and go a long way towards building loyalty. Just keep it subtle.
Respect the Small Screen. Trying to fit a lot of information into a mobile user-interface is challenging at best. Don't make the mistake of trying to cram too much content into the screen. It has to be readable. At least 11-point font is highly recommended. Increase the line height or spacing if that helps to get the content presented most effectively. A heaping portion of white space makes the screen inviting and uncluttered.
Testing is Your Friend. Most designers have large monitors on which they design. But something designed on a big screen may not work as well when shrunk down to a mobile app. Engage real users for their feedback, and make sure you have a cross-selection on a variety of mobile devices. Every design is bound to have an unseen flaw until it's in the user's hands.
Need help designing a mobile app with a great user experience? Bluetext can help.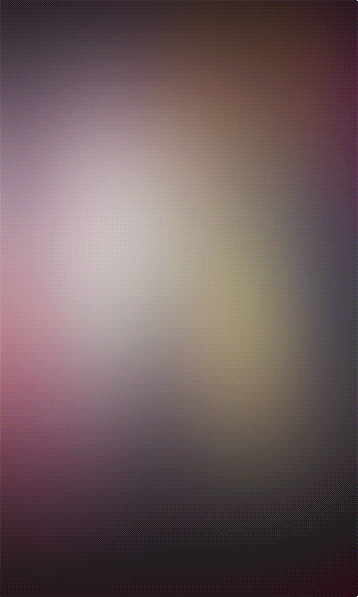 Successful brands have learned that if you want to engage with your customers and earn their loyalty, you need to provide a solid mobile app user experience on their handheld devices as much as on their larger screens. While many organizations understand that they need to design for mobile, they often ignore some of the most important elements in delivering the type of experience that meets their customer's user needs in their apps. Mobile apps must be both useful and intuitive. No one wants to take the time to navigate a confusing set of commands, or invest the time and effort to learn them if it's not simple.
With that in mind, here are our top tips for designing a mobile app experience that will keep your customers engaged:
First impressions are everything. Just like in real life, what a customer sees first can often color the entire experience. Getting that first interaction to be smooth and easy is key. Keep on-boarding for the mobile app light and simple, giving users just what they need to get started without loading them down until they get comfortable with the app.
Interruption is a fact of life. Given all of the digital and real distractions we constantly face, it is unrealistic to think that every app experience will be in a single session. More likely, users will be shifting from social media to payments to a variety of other applications while using yours. We recommend breaking up larger tasks into a series of smaller ones so the user isn't overloaded. Try to keep it to one primary action per screen, and design for interruption so that a user can easily save and return later.
Keep the navigation intuitive. Try to use functions that are similar to other apps and therefore familiar to users. Make the flow feel natural, as if there were a guide helping the user to explore different options. It's tempting to add all sorts of features and buttons, but if no one can find it, it's not particularly helpful.
Keep it fat-finger friendly. When designing for mobile, size matters. Smaller touch target are difficult to hit cleanly, and often hard to see for anyone with eyesight issues. The minimum size should be 7 to 10 mm so they can readily be activated by fingers of all sizes. This allows fingers to fit inside the target, and keeps the edges in view when tapping.
Design needs to go hand-in-hand. Remember that users often access their device with a single hand, and operate with the fingers wrapped around the device. Let hand and finger placement drive the placement of controls. Avoid making any touch too much of a reach, especially for those with smaller hands.
My colleagues and I at Bluetext have spent a fair amount of time developing brand and positioning strategies for dozens of new, disruptive and innovative brands…and more often than not are tasked with creating a new name for the company, the products or services they deliver, or both.
With 99.9 percent of the commonly-used words in the dictionary already taken among the close to 300 million registered domains from more than 125 million companies worldwide, how many great names could possibly be left?
We are currently in the process of branding and naming a highly disruptive technology product that is almost certain to quickly become one of the most visible B2B product brands in the US. We thought this might be a good time to define the five critical tenets of coming up with a great new name:
1. The most important aspect of a brand or product's name is a crystallized vision statement and its supporting proof points. The name should deliver against your core objective for the business and central vision for the brand. Perhaps the most important question you need to answer is whether the brand should be company-focused or product-centric. In most cases it's the former – but many well-known brands – like RIM's Blackberry – have successfully incorporated a strategy that leads with the latter.
2. Before you begin the name-storming process, agree on what you want the attitude or voice of the brand to be – what emotion, feeling or idea do you want it to evoke when you see and hear it? Starbucks Chairman and CEO Howard Schultz summed it up best by saying, "A great brand raises the bar – it adds a greater sense of purpose to the experience, whether it's the challenge to do your best in sports and fitness, or the affirmation that the cup of coffee you're drinking really matters."
3. Once you establish your vision, there is a set of ten key initial criteria that any name being considered must meet:
Is it easy to remember?
Is it easy to understand?
Is it easy to pronounce?
Is it easy to spell?
Does it sound good when spoken?
Does it look good when written?
Is it unique?
Is it trademarked?
Is the domain name available?
Are there any negative connotations with it?
4. Consider the five primary approaches to naming to determine which may best represent your central vision for the brand in a distinct and powerful way:
Functional or Descriptive (Facebook, Instagram, UnderArmor )
Derived from Color, Number, Shape or Word Root (Accenture, RedBull, Starbucks)
Experiential based on Human Processes (Discover, United, Visa)
Abstract or Evocative (Apple, Uber, Virgin)
Invented (Google, Skype, Xfinity)
5. Quantity and Diversity Equals Quality – Naming is a matter of satisfying many competing criteria – and while we have seen cases where the first name our team comes up with ends up being the final one chosen – the chances of having a name just pop into your head that meets all of them is practically impossible. The most effective way to come up with a name is to think of lots of different ideas, carefully screen and choose, and repeat. One method that's proven effective is having all names under consideration sorted into an A and B list and reconciling it every time a new one is introduced. It is interesting to see names held initially in high favor lose a little bit of their luster with each review, while others move up the ladder.
Once a name is chosen – it will be forever attached to the brand or product it is developed for – so continuous review is critical to ensure it will stand the test of time.
Need help with a branding or marketing challenge?  Lets talk!
Gamescape, the brainchild of two die-hard fantasy sports enthusiasts and marketing entrepreneurs, came to Bluetext with a clear mission: create a gamification experience leveraging daily fantasy sports that drives customer loyalty as a brandable solution for bars, restaurants and other venues nationwide.
Bluetext took this concept and, with the Gamescape team, and did every aspect of their branding, marketing, and platform design and development.
The first step was to develop a killer brand for Gamescape . Inspired by the gold coin patrons earn when making the correct fantasy sports selection while enjoying themselves at the venue.  Here is a preview of our internal logo progression.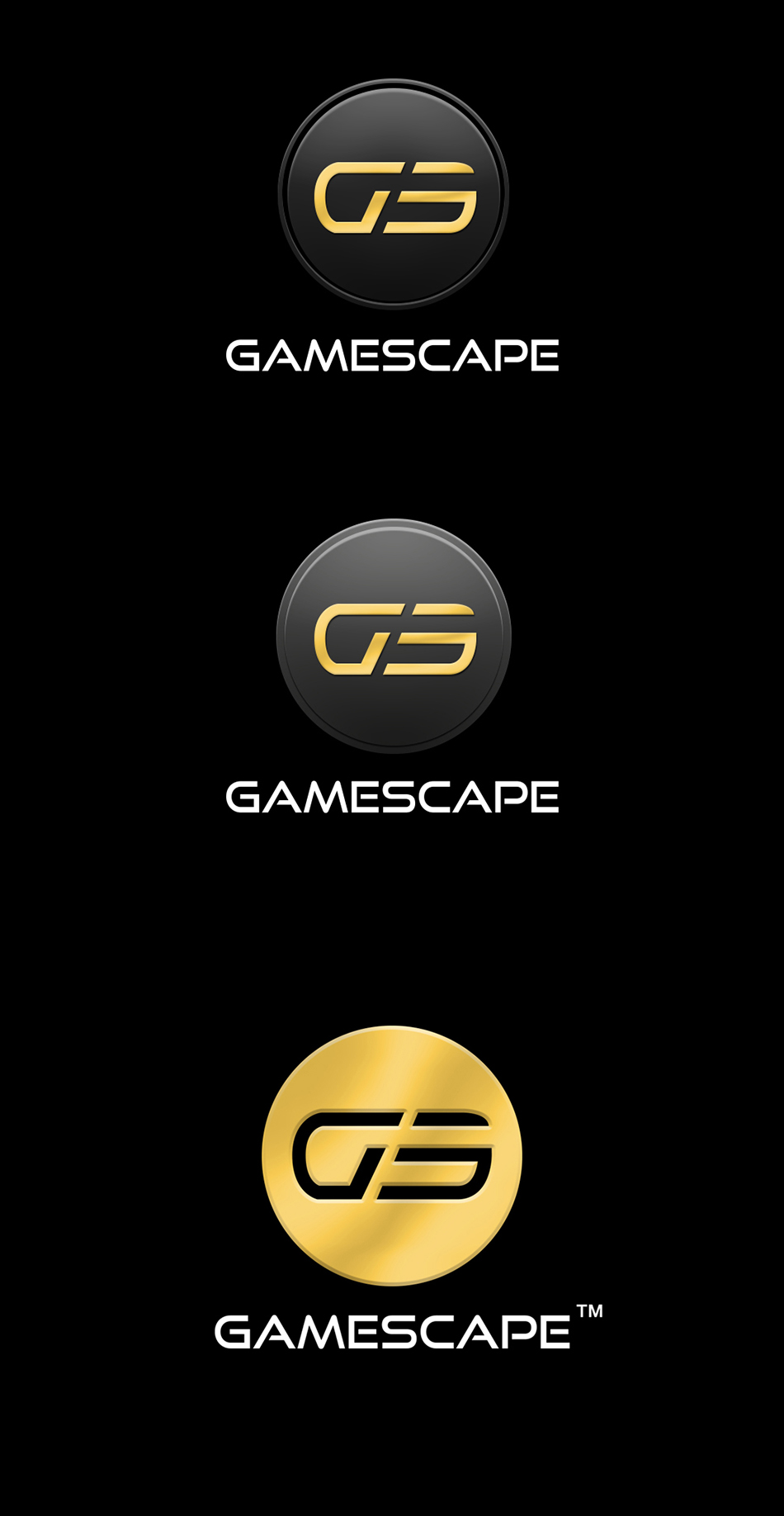 Bluetext started the interaction design process by performing a technical assessment of requirements gathering. We needed to create a sophisticated application that included a robust sports fantasy system , a messaging system for patrons to interact together, and profile creation with location-based geo-fencing. On top of all of that the new platform had to be visually striking, extremely intuitive and easy-to-use.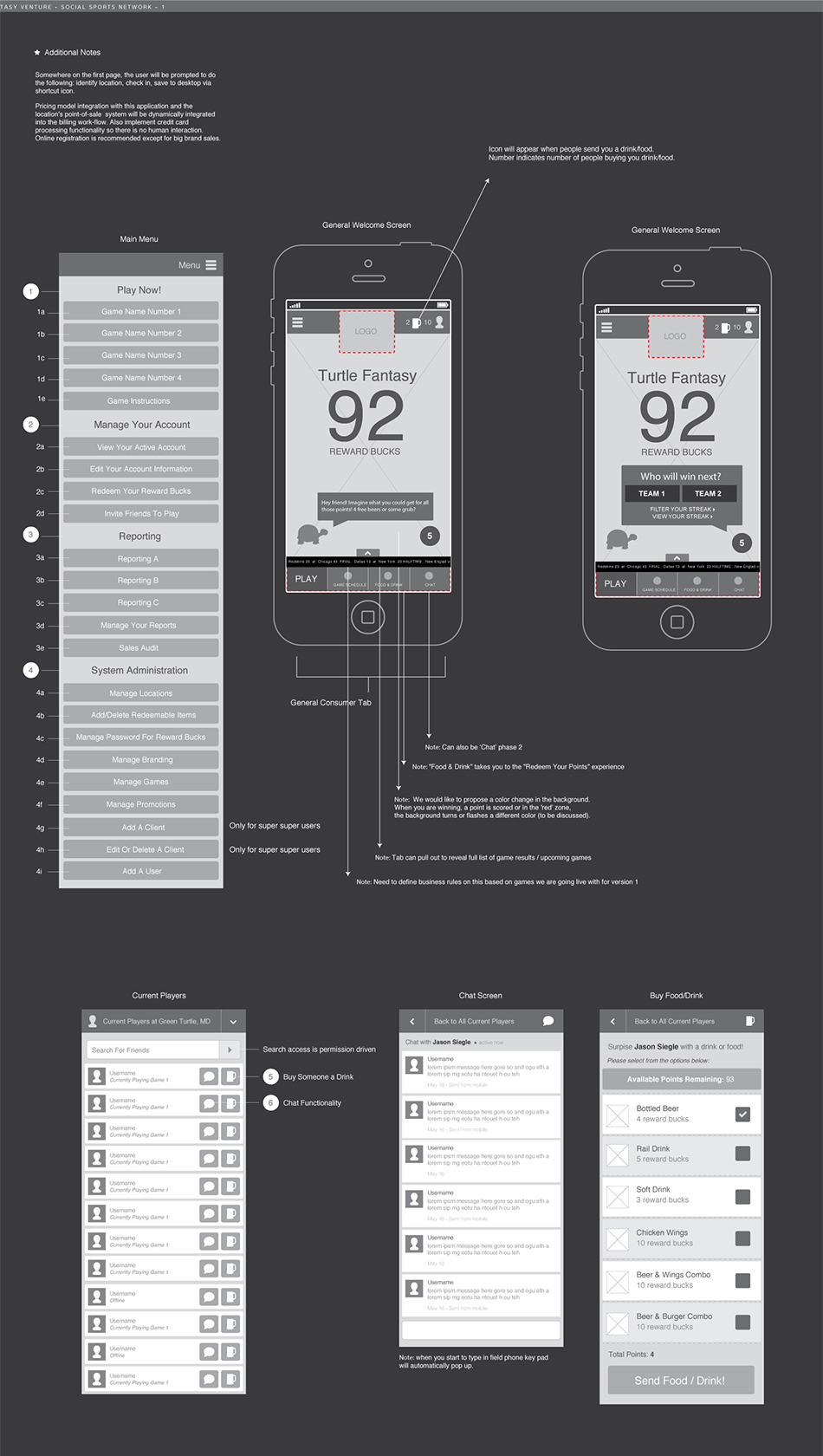 From loyalty-building rewards points to new ways to communicate with your customers, GAMESCAPE offers an impressive suite of features focused on increasing the opportunities to interact and connect with your guests while offering them new entertainment options. GAMESCAPE's geofencing technology requires players to be in your establishment in order to join a game.