Ah, Super Bowl Sunday. One of the most highly anticipated events of the year celebrated for being a uniquely American tradition drawing together viewers of all demographics from across the country. An impressive 113 million viewers, in fact, the third largest television program and highest digital viewership (7 million, talk about super-sized streaming) in history. For sports enthusiasts, it was a day to watch the Chiefs and Eagles play their hearts out for the Lombardi trophy. For Rihanna fans, it was an opportunity to enjoy a long-awaited concert from the couch. For marketing geeks, it was the night we got to see just what advertisers had paid the big bucks for — and this year, we mean big.
No matter the reason for tuning in on Sunday, the days that follow the Super Bowl are always full of discussion. Now, we're not here to debate that holding call or relive that big half-time performance announcement. Instead, we're taking a look at some of the main themes and most memorable moments of the Super Bowl 2023 commercials.
Lighthearted Tones & Humor
In contrast to previous years, a fun and amusing tone seemed to be the overwhelmingly popular choice for the commercials of Super Bowl 2023. This isn't entirely surprising, given some of the current challenges facing the country and the heavy news cycle society has been stuck in lately. It seems that advertisers this year wanted to give people an escape, aiming to keep things light and get viewers laughing. As with any year, some spots tried- but failed- to nail the bit while others were clear, feel-good standouts. Our favorites? Miles Teller in Bud Light's 'Hold' commercial, Ben Affleck working the Dunkin' Drive Thru, NFL's Run With It, and Bradley Cooper and his mom trying to make a T-Mobile commercial.
Nostalgia
Nostalgia has been a popular marketing tactic in recent years and if Super Bowl 2023's ads are any indication, that doesn't show signs of stopping. Several brands were willing to bet millions that nostalgia would continue to land with consumers, as tributes to classic movies, iconic TV shows, and music legends from throughout the decades made their way onto our TV screens. Alicia Silverstone returned to her role as Cher Horowitz from the movie 'Clueless' for a Rakuten cashback promo, Serena Williams and Brian Cox starred in a 'Caddyshack' spoof for Michelob Ultra, and John Travolta sang a rendition of "Summer Nights" for T-Mobile's 5G Internet service over 40 years after 'Grease' first hit theaters. A Workday commercial featured rockstars like Ozzy Osbourne, Gary Clark Jr., Joan Jett, Billy Idol, and Paul Stanley, an Uber commercial with P. Diddy took us down one-hit-wonder memory lane, and a throwback to more recent history, PopCorners put out a spot incorporating the cult classic show 'Breaking Bad'. 
Brand Partnerships
One of the more unexpected moves we saw on Super Bowl Sunday was big-name brands teaming up for joint commercials. Will Ferrell walked through (literally) several of Netflix's most popular original movies and shows in a commercial promoting both the entertainment giant and GM's EVs. Beer brands also got in on the mix, with Bud Light doing a crossover with HBO's 'Game of Thrones' and Molson Coors promoting not one, not two, but three of their beers all in one entertaining spot that kept viewers on their toes.
Puppies > Celebs
We'd be remiss not to include this one. Much like many years passed, a large majority of Super Bowl commercials this year were jam-packed with celebrities, with advertisers like DraftKings and the others already listed above opting for a star-studded approach. However, not even female rap legend Missy Elliot or Gen Z heartthrob Jack Harlow could capture America's attention quite like dogs could. According to the Wall Street Journal, two of the clear fan-favorite ads of the night were Amazon's funny and all too relatable story about a family dog adjusting to post-pandemic life, and The Farmer's Dog commercial that had pet lovers across America melting (if not crying). The lesson here? A cute dog will trump celebrities every time. 

While we can't promise to steal the hearts of potential customers with an adorable puppy, Bluetext is no stranger to incorporating animals into brand activations that make people stop in their tracks (see our BigBear.ai work here), creating bold campaigns that grab the attention of consumers (see our Varonis work here), or producing playful ads that strike a chord with your target audience (see our Thing Tamer work here). 
As a full-service digital marketing agency based in Washington, D.C., and specializing in everything from video creative direction and production to paid media planning and go-to-market campaigns, Bluetext is here for your every advertising need. Added bonus: there's no $7 million price tag attached.
Kingston Technology is the leading global manufacturer of memory and storage solutions, but their IronKey hardware-encrypted portable data storage products were not as well known. Bluetext was specifically contracted to create a campaign that could educate the industry about the benefits of hardware encryption compared to software-encrypted, unencrypted, and cloud-based solutions. Centered around the specific hardware-based encryption, our campaign asks the rhetorical question of does anyone want their security to be 'soft'?
The obvious answer being no, Bluetext focused the campaign concept around "Hard vs. Soft" things. Bluetext was challenged to figure out how to bring "soft" to life via 3D design. But how to memorably visualize this metaphor? A deep brainstorm by the Bluetext surfaced a quirky and nostalgic example almost anyone could relate to: Jello.
Behind the Scenes: Jiggly 3D Animation
Communicating the look and feel of Jello with its jiggly physical properties was a real technical challenge. Using Cinema 4D's built-in Jiggle Deformer and Fracturing Objects, adding a little bit of smoothing and rendering with the built-in RedShift render engine in Cinema4D, we were able to get the look we were going for.
Jiggle Bells, Jiggle Bells
Does jiggling jello even make a noise?! We asked ourself this very question every day. We even made some jello (lime of course) and tested it out just to be sure. The answer is – not really. But that's beside the point.
Sound design was a pivotal component of our concept. Essentially, didn't want it to seem like the hard drive was exposing or stealing sensitive information. Also, with the international scale of this campaign (7 languages!), we couldn't use a voiceover.
It was up to our sound designer to clarify the story of "jello safe, bad. IronKey, good." Using a mix of digital, mechanical, tactile, and dystopian sound effects, our audio narrative both negatively reinforces software encryption and then victoriously reinforces how hardware encryption can save the day.
Designing the jello splatter portion? Let's just say we spent some time in the "Gore" section of our sound library. I think our designer is still having some PTSD, but the end result goes hard, that's for sure.
With 3D animation to support Kingston's IronKey product, the campaign set out to break the mold of traditional cybersecurity campaigns. If you're looking for some creative ways to shake up your campaign advertising strategy, contact Bluetext to learn about our video and creative services.
It's 2022, and the term "gamer" no longer refers to teenagers playing video games in their parent's basements. Gamers are all around us, thanks to the explosion of game formats, genres, and platforms. Roughly 40% of the world's population admits to playing some kind of video game. The typical stereotypes of people who partake in this hobby are far from reality; 70% of gamers are over the age of 18, 46% of gamers are female, and only 2% play out of their parent's basements (actually, we made that last stat up). Especially after the pandemic, the gaming industry has boomed and it is expected to keep booming. As online games continue to rise in popularity, marketers are recognizing the potential of advertising within gaming platforms, otherwise known as in-game advertising.
While players may have a knee-jerk reaction when they hear the term "in-game advertising," the practice has proven extremely successful for brands. For example in 2009, Microsoft promoted Bing in a series of games, including NBA 2K10 and DJ Hero. After their first exposure to the ads, the percentage of gamers visiting and searching Bing increased by 108% according to Microsoft. Surprisingly, two-thirds of the gamers who visited Bing after seeing the ad were visiting for the first time. According to a recent study conducted by Vantage Market Research, the global in-game advertising market size is forecasted to reach USD 12.35 Billion by the year 2028. While in-game advertising (IGA) can include banners, video ads, audio ads, or mini-games, the most popular types of IGA are static ads, dynamic ads, and gamevertising. When it comes to reaching your target audience with in-game ads, the most important factors are picking the right format and gaming service to deploy ads on. Let's quickly deep-dive into some of the options, and take a look at some of the games that reach wide demographics. 
Video In-Game Advertising
It's no surprise that video is a key format for digital advertising; dynamic, engaging content fits perfectly with what users now want to experience. When it comes to using video in games, there are multiple different ways to present short, impactful content. There are pre-roll videos, which pop up a few seconds before the gaming experience starts, and there are also rewarded videos that will give the player a reward for sticking around to watch until the end.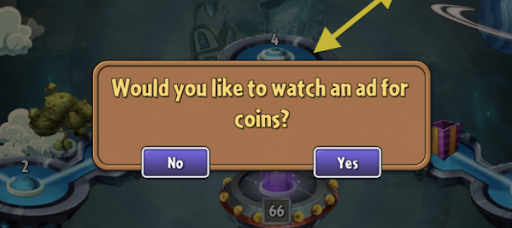 Native In-Game Advertising
Native in-game ads are arguably the most innovative in-game advertising formats of all. A brand's key message can be directly integrated into the video game itself, creating a non-intrusive advertising experience for the user. For example, there could be an advertising banner in a sports game applied along the playing field, mimicking how the ad would appear in real life. This way, the user is exposed to advertisements in a way that does not pause or delay their playing experience whatsoever.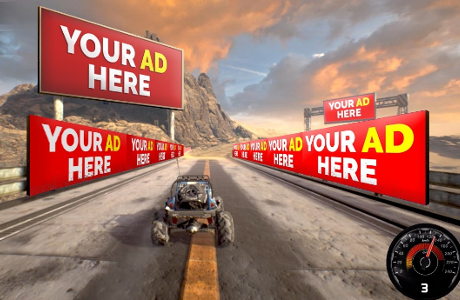 Audio In-Game Advertising
Audio is another form of advertising that has risen in popularity over the past few years. The music streaming platform Spotify recently released a study that showed that streaming from gaming consoles went up 61% in 2021, compared to the year before. High-tech gaming consoles such as Playstation and Xbox now include a dedicated music app, which is where in-game ads can be utilized. This format is another non-intrusive strategy that does not inhibit the game.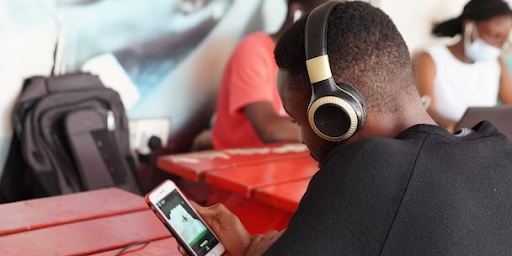 Picking the Right Game
From esports gamers to social gamers and casual gamers, the gaming target audience is highly diverse and offers great market potential to companies. The decision on whether to include ads is ultimately up to the game developer, so you're less likely to see a promotion for Mountain Dew or Takis in big titles like Call of Duty or God of War. But smaller, independent games—especially those that utilize the free-to-play model—are likely to embrace in-game advertising. Here are a few options of popular video games that reach a wide demographic that could be a fit for your next in-game ad. 
Candy Crush Saga

This popular mobile game has over 250 million users to date, with the average age range of players falling between 25 to 45 years old. The gender split is pretty even, with 46% of players being male and 54% being female. The most popular type of advertising within Candy Crush is a video and/or rewarded ads. 

FarmVille 3

Another mobile game that originated through Facebook, FarmVille 3 is one of the top-grossing games amongst middle-aged adults, particularly females. In 2022, the third rendition of FarmVille reported over 200,000 downloads. 

Words With Friends 

A mobile game that has maintained popularity amongst older generations since 2009, Words With Friends has at least 170 million registered users. 
If you're looking to bring your digital marketing and advertising strategy to the next level, contact Bluetext. With award-winning creative services, video and digital capabilities the possibilities are endless. 
Every brand is a story, and marketing is your one chance to tell it. Storytelling has always been a successful way to connect brands with their audience because it creates an experience that people want to buy into. But the unfortunate truth is most adults don't have much availability or attention for storytime like we once did as children. Competition for consumer attention has grown with the seemingly endless information and content that bombards us daily. The solution? Cut to the chase, SparkNotes it if you will. It is most effective to be concise, and engaging, and build a feeling that a consumer can buy into through micro-storytelling.
Micro-storytelling highlights what is truly important and showcases the small ideas that make a brand unique in under 30 seconds. Create a voice for your brand. In a sea of stories, you want to stand out. Catch people's attention with vibrant colors, and an intriguing tagline, or start your video with a hook that will engage your audience. Make them pause their scrolling and soak in your information. Connect with them so they want to buy into your brand.
With micro-storytelling, the goal is not to fit everything into one video or post but to promote many smaller pieces of content that can easily be consumed at various touch points to tell potential customers what your brand stands for. Audiences want to get through information quickly, especially if they are new customers who are not yet invested in learning more about your brand. Micro-storytelling introduces people to your brand and sparks that initial interest. It's the perfect teaser to either engage with your brand or share your information with others. It also gives new customers a way to quickly learn more about you, by encouraging them to visit your website or follow your social media accounts.
Four Fundamentals to Help You Create Micro-Stories for Your Brand
Know Your Audience
With micro-storytelling being so concise it is important to convey a tone and message that resonates with your target audience. It is essential for brands to target specific audiences and their specific needs, with a specific message. To create a successful micro-story you must research and gather information to better understand your audience and how you can authentically connect with them. Creating a trusted bond with your customers extends beyond a simple transaction, it works to build a community.
Tap into Visuals
While text helps to tell your story, visuals are a powerful way to communicate quickly with your audience. They must be eye-catching and aesthetic, and showcase your brand or products in a way that supports your brand's story and values.
Cut the Fluff
Think of how the information you are presenting will be received by people quickly scrolling. Keep it simple. Avoid meaningless details that distract from the overall message. Use short and simple words.
Leave Them on a Cliffhanger
Try not to be definitive with your narrative's ending. For example, when you go to post about an upcoming event or product launch, announce it in a way that teases what is coming soon. Not only does this save space and time, but it leaves your story open for interpretation and gives customers a chance to think about your brand or come back later to find out more.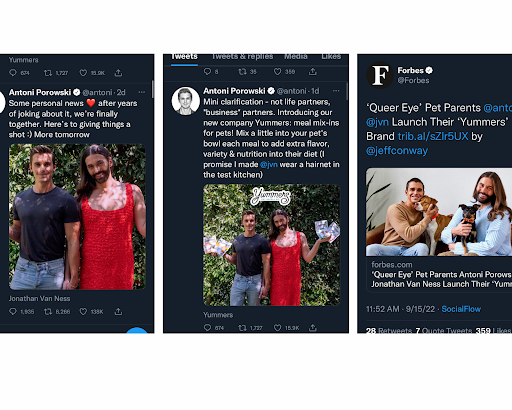 Three Effective Ways for Your Brand to Promote Micro-Storytelling
One of the most powerful ways to convey your message in an engaging way is through video. Instagram stories, Tik Toks, or other short-form videos provide an opportunity to convey your story in a short time and continue telling it over time. It also gives you an opportunity to tell your story through unspoken visuals. Think of who is representing your brand. What story is being told by their appearance, tone, and body language? Even what they wear can convey something about your brand story.
Social Media Updates
Another compelling way to promote your message is through social media updates. Twitter is a really valuable tool to enforce condensed character counts, which limits brands messaging into more digestible sections. This platform is also adept at piecing content into multiple updates which can be displayed throughout your timeline. This gives users a train of thought to follow the subconscious urge to continue to scroll down and piece together multiple micro-stories.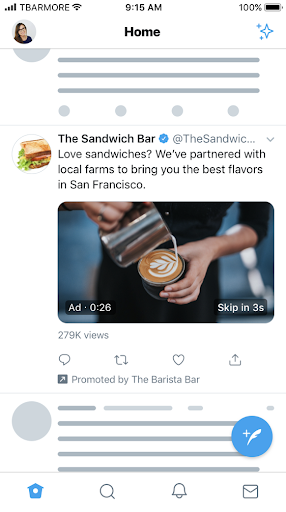 Infographics
Using infographics to tell your brand's story creates an effective and digestible way for your consumers to get a lot of information at once. Infographics quickly highlight key takeaways using images and charts. Visuals accompanying text promote higher engagement. With important information involving statistics and facts, infographics help users absorb information with ease.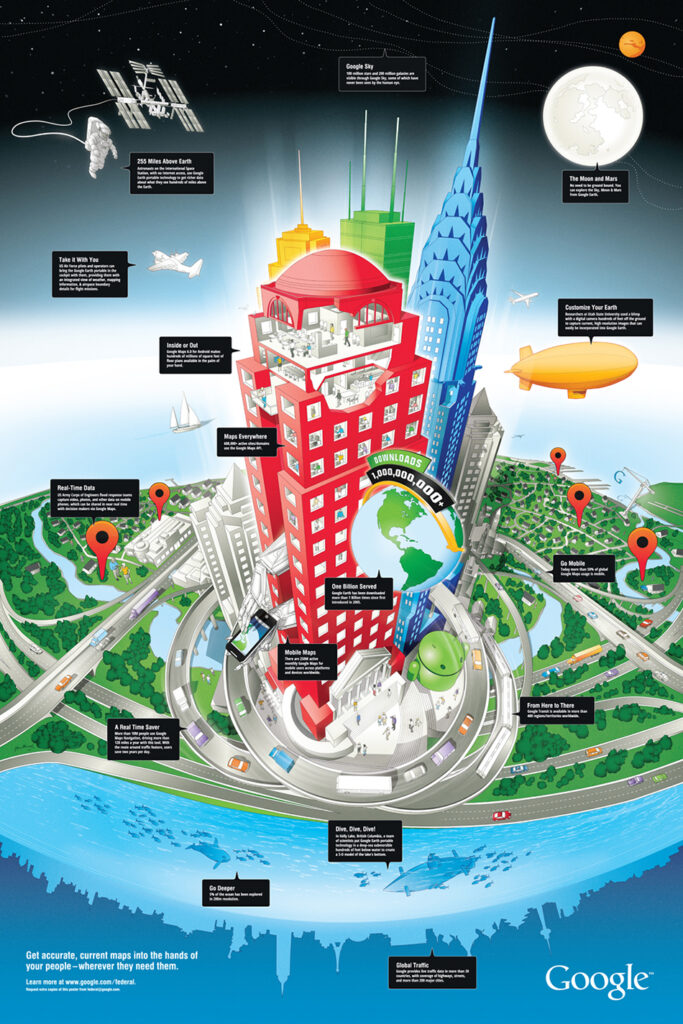 Micro-stories are just one block of the overarching brand story and when executed correctly, these micro-stories create a powerful message that resonates with consumers.
As a full-service digital marketing agency, Bluetext offers multiple services that can help your brand tailor content to meet customers' expectations. Connect your stories to your customers. Contact us today to learn more about our messaging and content marketing services.
Picture this: the year is 2013, Twitter is exploding into the public conscious with more than 200 million active users, and Facebook has a vice-grip on people's free time across the globe. Social media, once considered an afterthought in any brand marketing strategy, is now on center stage. A fresh frontier to engage with current and potential customers in a way that no form of advertising has done before. Any brand worth its salt hires swathes of fresh-faced analysts to form social strategy teams and capitalize on the opportunity social media marketing presents. But, as with any emerging space, the way forward is not yet clear, and many brands are hesitant to make a bold leap into the unknown. Social media strategies are conservative and in line with traditional marketing: infographics are reposted on Instagram, product launches are promoted on Twitter, and brand Facebook pages are little more than an index of ads that have already run elsewhere. Despite social media platforms' more casual formats, brand language is still tightly controlled and diluted with formality. The marketing world might be entering a new era, but the big brands still aren't ready to give up their old tricks.
Now flash forward to 2022: the official Wendy's Twitter account is telling people to smuggle Frosty's into children's movies, Arby's Instagram is promoting a collab with famous rappers, and Slim Jim is furiously pushing a movement called #LongBoiGang. As a rational and well-adjusted person, you might be asking yourself how we got here? The answer, my dear reader, is memes.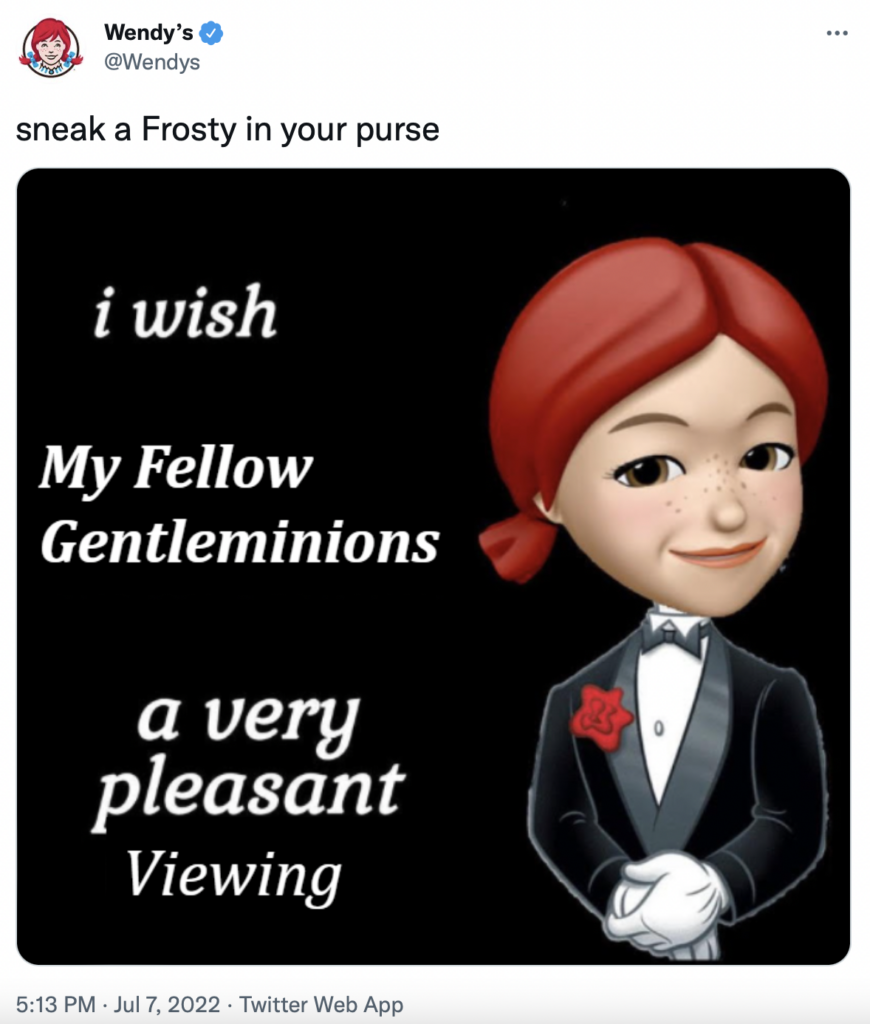 What is a Meme?
So what exactly is a meme? Richard Dawkins first coined the term "meme" in his 1976 book The Selfish Gene to refer to how ideas evolve and are shared across different cultures. Under this broad definition, everything from urban legends to famous sayings could be memes. But, as the Internet began to connect people worldwide, the free exchange of information accelerated like crazy. It opened the door for new methods of conveying ideas, specifically memes as we know them today.
Modern memes can be broadly defined as pieces of media that are copied (often with slight variations) and spread rapidly by internet users. From a conflicted superhero to a distracted boyfriend, these images are retitled and reused by Internet users to comment on everything from personal events to pop culture moments. But it's not just picture templates that can become memes: halftime shows, hashtags, and even celebrities can all be the inspiration behind Internet memes. 
How Memes Can Benefit Your Brand
But even after being caught up on the history that made memes what they are today, you might still be asking yourself, what can they do for me? Here are four benefits that meme marketing can bring your business.
Expanding your Engagement

– Internet users spend an estimated 145 minutes daily on social media. They're online to scroll through their pics, jokes, and videos while tuning out everything else around them, meaning you have the chance to capture their undivided attention. Meme marketing also opens the door to even more potential impressions through functions like shares, retweets, and comments.

Keeping Consumer Attention

– Social media users are highly resistant to traditional advertising on their favorite platforms, viewing unprompted commercials and ads as intrusions, not opportunities. But by sharing memes about your brand you can seamlessly slip into their content stream and cultivate more organic user interactions.

No Price Promotion

– The most enticing aspect of meme marketing is that it doesn't cost a thing. Although hiring social media professionals or paid influencers can do a world of good, anyone up to date on current trends can join the fun post.

Revealing your Relatability

– One of the greatest struggles many companies have with managing their brands is appearing too outwardly corporate or robotic. Memes present a perfect opportunity for brands to communicate with consumers more casually and forge more personal connections in the process.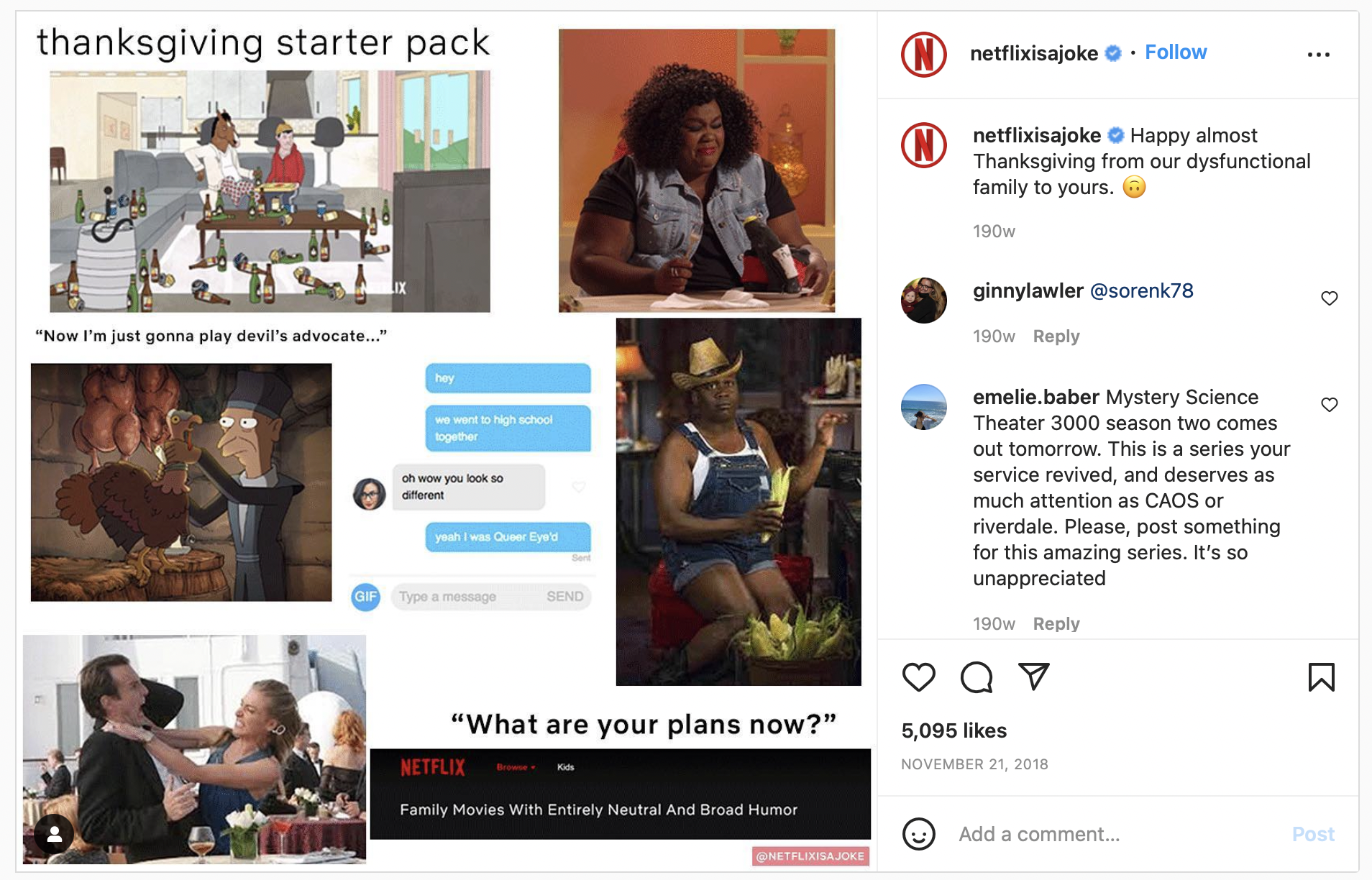 B2B Meme Marketing Inspiration
From forums like Reddit to social hubs like Twitter and Instagram, much of the content that keeps users returning to popular platforms are memes. If you want to meaningfully engage with consumers in these channels and build a social media strategy that isn't stuck in the stone age, you'll need to learn how to make memes. Here are a few examples of brands that succeeded in meme marketing to get your creative juices flowing!
HubSpot

– Fan favorite movies and TV shows present a treasure trove of possibilities for memes that social media users can recognize and connect with.

RevGenius

– Industry/category-specific memes can add a focused and personalized flair to your company's social media presence.

Adobe Marketo

– Some companies even integrate memes into their trade show/event promotion like this make-your-own meme booth that Adobe Marketo featured to pump up engagement both online and at the event.
Want to take your social media strategy to the next level? Bluetext can help optimize your social media program and ensure you get the most out of your marketing.
We jumped at the idea when Phosphorus approached us here at Bluetext about creating a new campaign. After extensive brainstorming the team agreed that a video integrating animated 3D objects into real-life footage would be the best way to tell the story of the Thing Tamer. It's a trend that's been going on for decades, from previously cheesy CGI such as The Scorpion King (2002) to more stunning recent examples like Disney's live-action version of The Lion King (2019). The advancements in integrating 3D animated objects into real life have come a long way! Let's dive into some of the techniques used.
The Thing Tamer video we created consisted of animated 3D IoT office devices presented as wild creatures creeping through an office. To accomplish this, we had to carefully plan out our shoot during the scripting and storyboarding phase with the expectations of adding 3D animated creatures created in post-production. This entailed detailed storyboarding ahead of filming, then taking 360-degree spherical images of the intended 3D objects' locations using a DSLR before creating the HDRI maps in Adobe Photoshop. While capturing 360-degree panoramic images isn't essential, it can significantly increase the photo-realistic illumination and reflections of 3D-generated objects. HDRIs help in matching the color and lighting from the set or location to the inserted animated footage. This along with color correcting the footage to match the colors of the HDRI ensure any lighting and reflections are as realistic as possible.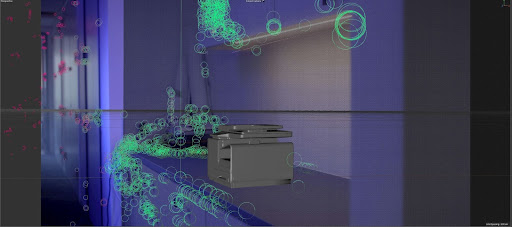 Once we got our raw footage it was time to get started in Cinema 4D. After motion tracking the footage, which creates points in 3D space to use for the animated objects we placed the 3D IoT creatures in their planned locations, aligned with their relevant tracking points. From there, we modeled the movements of the creatures using their real-life counterparts as inspiration. This is where things got interesting as we had to account for the various joints of each creature. For example, we ended up using the general motion of the first black widow spider's leg as a baseline for the other legs, then accounted for individual differences between the legs and height of the printer torso. Small details like this help sell the illusion, keeping viewers believing the object is truly part of the scene.

Once we finished adding all the objects, animation, lighting, and reflections to Cinema 4D, we were ready to render the various sequences. While there are a number of GPU-based rendering engines on the market, we use Redshift because it's built to work seamlessly with Cinema 4D. While we also like Redshift for being fast, keep in mind that each rendered frame can take 3-5 minutes to render in high quality. So the actual render time can vary depending on the length and complexity of the shot. Thankfully, if a project has a tight timeline, you can either add additional GPUs to your rig or employ the aid of a render farm. At the end of the day, if the goal is to be as photo-realistic as possible, the project will likely lean towards the longer side.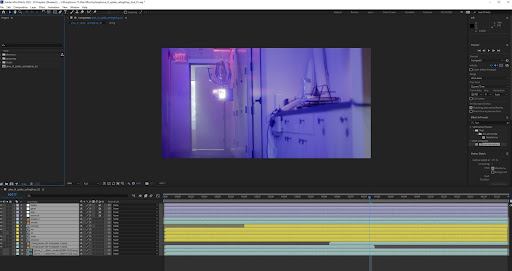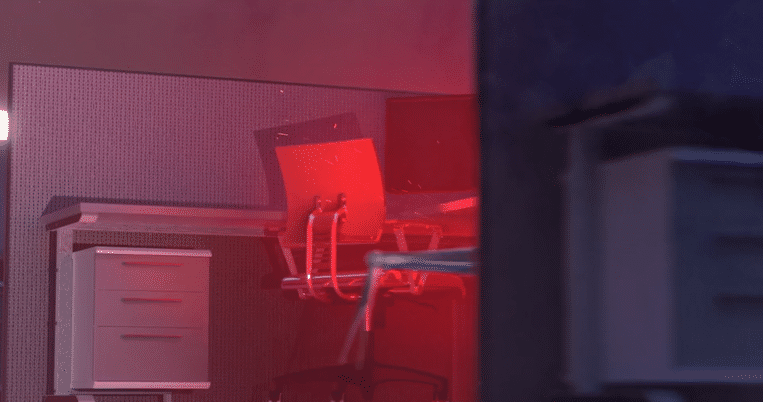 Once we finished exporting all our renders from Cinema 4D, it was time to start loading the sequences into After Effects. Once imported, we dove into layering the various sequences. Once again, this is a stage where it was vital for us to take our time to ensure the best quality. At this stage, as you work with the sequences, you may notice some issues such as particular lighting not working well with some 3D objects. So take the time to adjust the color to match the lighting of the footage. Always remember, the goal is to create a life-like 3D render that nearly or fully fools the user into believing it's real. Any adjustments to the passes should increase the believability that the 3D objects are native to the footage. Once we were satisfied with the lighting, shadows, and reflections applied to the 3D objects, all that was left was to export the finished product. And that's how we successfully created a film that blends live-action with 3D digital assets!
Whether you're trying to create the next big 3D-blended campaign ad or a short teaser video, the experts at Bluetext can help. Our professional videography team is eager to identify intriguing stories to tell and how best to capture them. Want to learn more about how Bluetext can help your video needs? Get in touch with us here. To learn more about our Thing Tamer campaign, check out the full breadth of our work here.
So you want to build hype for your campaign? Our campaign strategists at Bluetext have some tips for you. Assuming you've already started building out your campaign, you should have an idea of what your goals are. A common goal is to build awareness and excitement. When building excitement ahead of your launch, you want to bring an air of mystery. Balance announcing details of your campaign while leaving enough to the viewers' imagination. Some effective teaser mediums include social media snackables, physical swag, email campaigns, or teaser trailers. 
When Bluetext recently launched Phosphorus' Thing Tamer, we decided to keep things mysterious. So, we began with the organic promotion of teaser videos to curate a collection of content for the dramatic launch of a full campaign without sacrificing ad spend. Once our audience's interest was piqued by compelling graphics and intriguing headlines, we directed their attention to the campaign landing page. This landing page hinted at all things to come and encouraged users to sign up for exclusive notification of the launch. The landing page was designed to be as engaging as possible, with promotional movie posters, two different trailers of the Thing Tamer series, and on-scroll animation to introduce the personified things and interactive carousels to reveal campaign messaging and key stats.   signed up for the email list, they received a thank you email that further teases at the Things to come.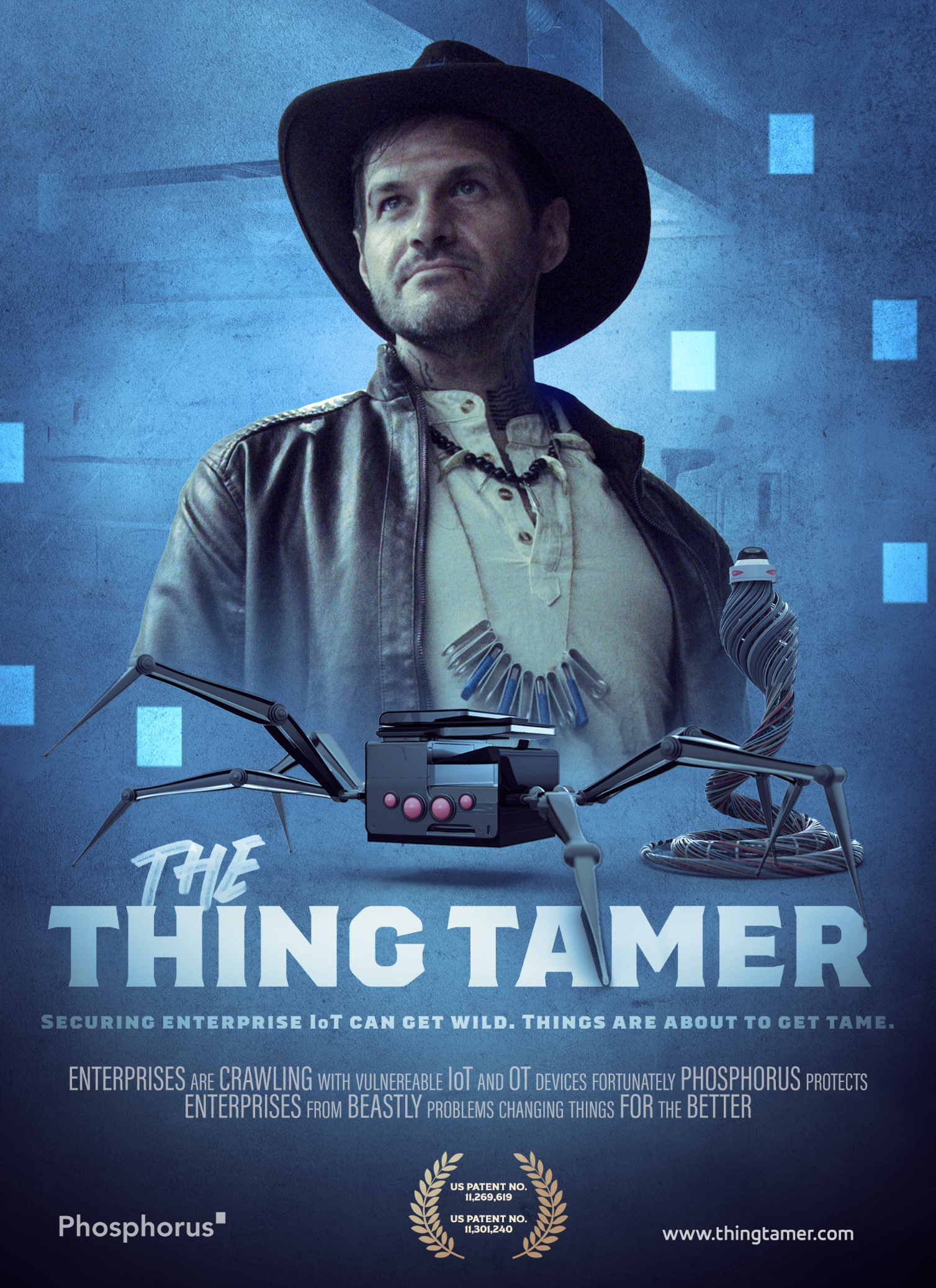 The first trailer named the Beast Trailer worked to establish the problems Thing Tamer solves. Offices with countless enterprise IoT devices are at high risk of being exploited by unsuspecting sources. Each device has its own firmware and unique language making managing all of them a complicated process. Without giving too many details away, we put a spotlight on common problems enterprises face. This was followed up with the second trailer, which starts off by slowly revealing our hero, the Tamer, an IT version of Indiana Jones meets Crocodile Dundee. By shifting focus to our IT guy wearing the Tamer's hat, users are able to envision themselves as the ones resolving their IoT devices' vulnerabilities. The teaser strategy allowed for the campaign to slowly introduce the problem with an air of mystery, leaving them craving more for the full campaign to unveil the solution. Separating the story into digestible trailer videos keeps the target audience engaged for an extended period of time, building upon their interest and education with every touchpoint. Not only does it allow for multiple follow-ups and a nurture strategy, but the shortened length of each video also ensures that viewer attention does wane while watching a long-form video. Hitting the viewer with messages one at a time increases the likelihood of memory retention and builds upon Phosphorus' brand association.  At the end of the day, a successful message is one that users can connect with, and that's just what we did.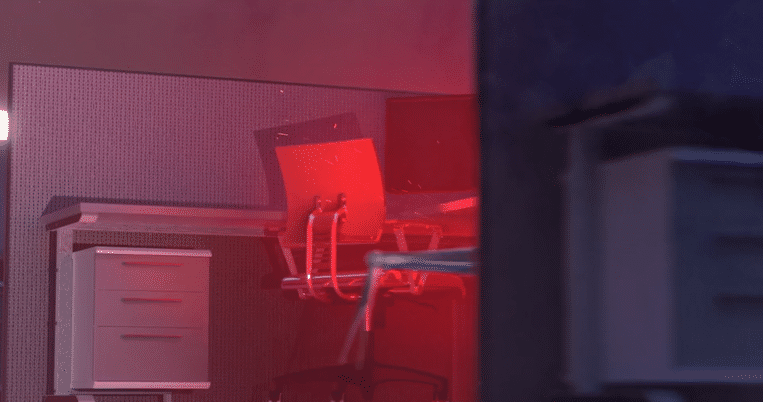 Similar to Thing Tamer's landing page where visitors could engage with different elements to learn more, the recent The Batman movie had a fun way of building hype ahead of the movie's premiere. Visitors who found the secret website through a hidden message on the official movie poster were able to talk with the Riddler and solve additional puzzles. Those who solved the puzzles were rewarded with exclusive clips and pictures from the yet-released movie. Once the movie was released, Warner Brothers went a step further and updated the page to reflect the domain being seized by the fictitious Gotham police department. Warner Brothers managed to engage with their target audience over the course of weeks, thanks to a clever Easter Egg hidden in their posters. Being given the opportunity to dive into the Gotham universe in this unique way allowed the audience to connect with the film and get hyped for the official movie release.
Phosphorus also engaged in a few organic social media promotional posts to promote its campaign launch. Social media serves as a great opportunity when trying to build awareness. That being said, Phosphorus didn't want to spoil too much, so we kept the captions short and used the two trailers and social snackables for the LinkedIn promotions. Utilizing cross-channel promotions and various forms of media increases the likelihood of your users finding your content and engaging with it. Again, at the end of the day, how can you build excitement if your campaign isn't known? Agencies like us here at Bluetext have the expertise to guide you through the optimal campaign launch.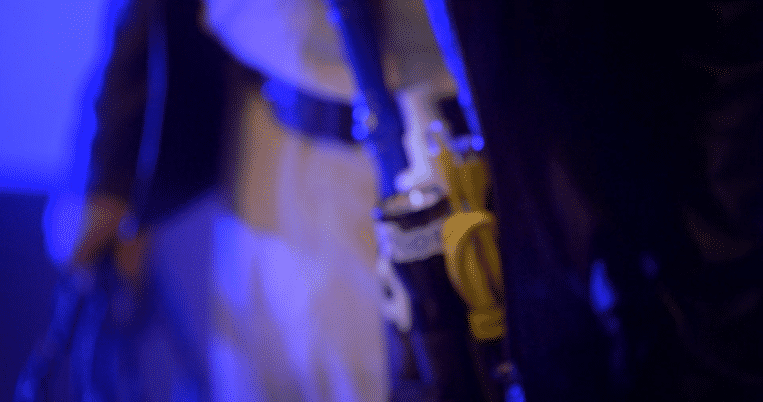 No two campaigns will be the same, and while the Phosphorus campaign succeeded based on its goals, your success isn't a guarantee. At the end of the day, your best bet is to engage with a trusted campaign-focused agency to build hype for your campaign launch. Once you've launched, we work with you to drive paid marketing and PR efforts, ultimately driving users to engage with your business. Want to learn more about how Bluetext can help your campaign? Get in touch with us here. To learn more about our Thing Tamer campaign, check out the full breadth of our work here.
What's the last campaign headline you remember? Odds are you probably saw the ad within the last couple of hours, but still couldn't recall. People don't remember bland corporate messaging, they remember bold and creative ideas. The physical and digital world is swarming with overused taglines and empty brand promises, steepening the uphill battle to stand out. Enter personification, a guiding hand in the effort to connect with target audiences. For years, corporations have been using people and creatures to personify the very real, but often intangible, challenges and solutions consumers face. From older instances such as Mr. Coffee Nerves to newer versions like Allstate's Mayhem Man, these brand personifications help consumers connect on a more memorable, substantial level.
Think about it this way, are you more likely to remember a long list of features or a wild personality? Odds are, unless you're a computer or robot, you'll remember the personality much better. Why? Because you're human which is exactly why personification tactics are so successful. Brands like Allstate have famously created characters around common but maybe overlooked problems to draw attention to how insurance can solve those problems. Putting a customer's challenges in a palatable form makes it easier for them to face the problem and consider your brand as the best solution. That's exactly what the Bluetext campaign and 3D motion graphics team did with Phosphorus' Thing Tamer. Phosphorus is an enterprise IoT remediation solution with enriched data and visibility to defend every connected device, which in the Internet of Things revolution is far more than the average person expects. In our first trailer for the campaign, we establish the scale of various IoT devices around the office to put into perspective how vulnerable enterprises truly are. That printer in the corner? Fully hackable and could be a potential entry point for malicious actors. I bet you didn't expect that threat lurking in the background. In the second trailer, we frame the problem as to how to protect the wide range of enterprise IoT devices we depend on daily and how with Phosphorus, a cybersecurity platform personified as an Indiana Jones-esque hero out to save the day. By assigning tangible symbols and actions to the problem and a face to the company Phosphorus enforces its capabilities and in an exaggerated but memorable storytelling way, can step in to save the day.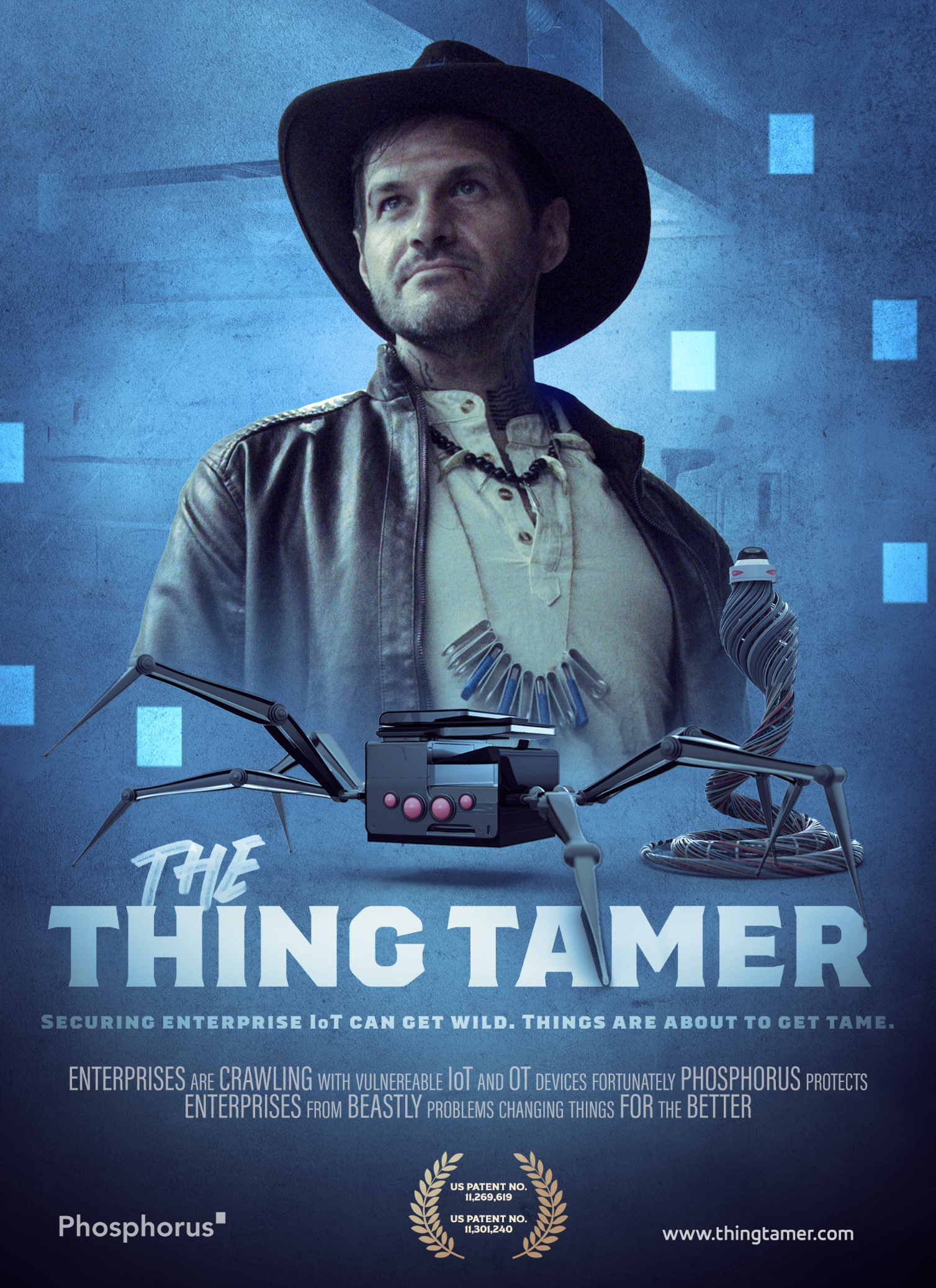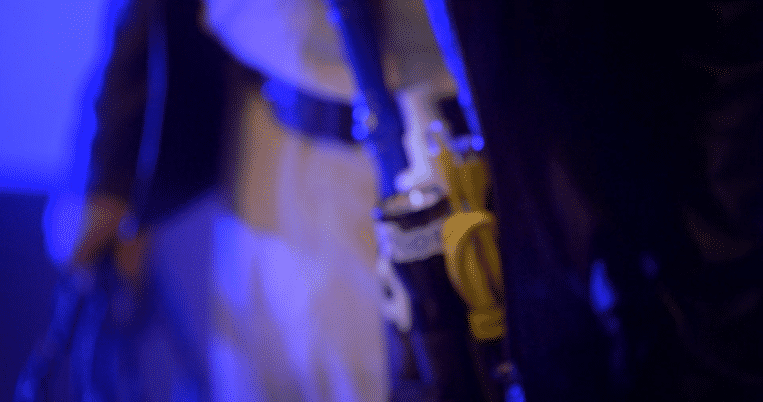 This strategy can work across many industries with the right approach. Varonis approached Bluetext to create a campaign around the idea of "avoiding unnecessary exposure." Our campaign strategists ultimately chose the personification of cyber hacks and exposure as its shocking but memorable approach. Varonis works to secure unstructured data, so Bluetext's campaign entailed a CEO walking around seemingly naked to convey the risky vulnerability of not securing company data. The campaign was a huge success at quickly catching customers' attention, helping identify a potential problem they weren't aware of, and providing them with the solution of working with Varonis.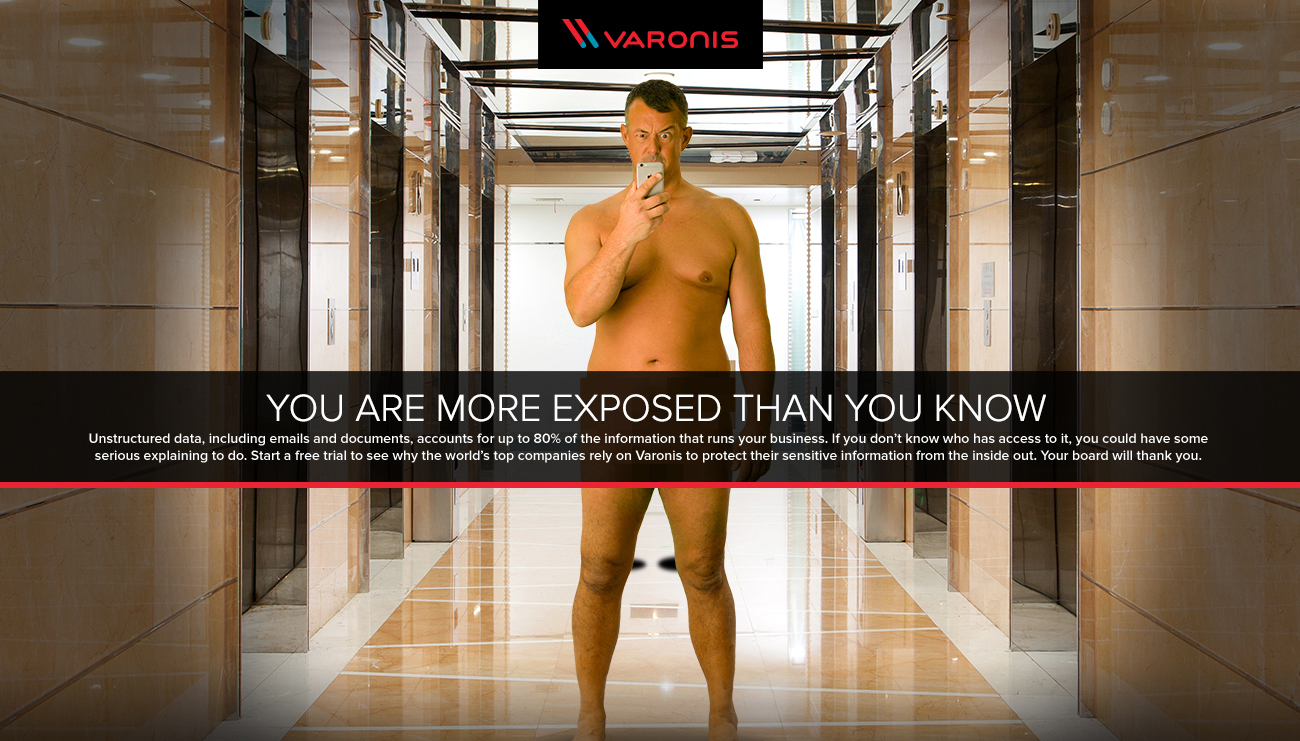 Similar to Varonis, in Phosphorus' first trailer we used a haunting Black-Ink Widow IoT device to portray a dangerous but unsuspecting vulnerability lurking around the office. Paired with intense jungle drum music, the scene evokes an apprehensive sense of being under constant threat. In the second trailer, Bluetext introduces the hero, Thing Tamer, surrounded by blue light and IT gear ready to hunt and defend against dangerous vulnerabilities. Paired with visuals of nefarious emoticon faces on IoT devices accompanied by red lights, we established a good versus evil theme that only Phosphorus' Thing Tamer can tackle. The dramatic themes and high-impact visuals of the trailers are meant to provide audience interest and enforce the reality of IoT device vulnerabilities they may not notice lurking about at night. It sets the stage for a memorable, engaging story of how a security platform can quite literally step in as "Thing Tamer" to corral these unruly and beastly "Things".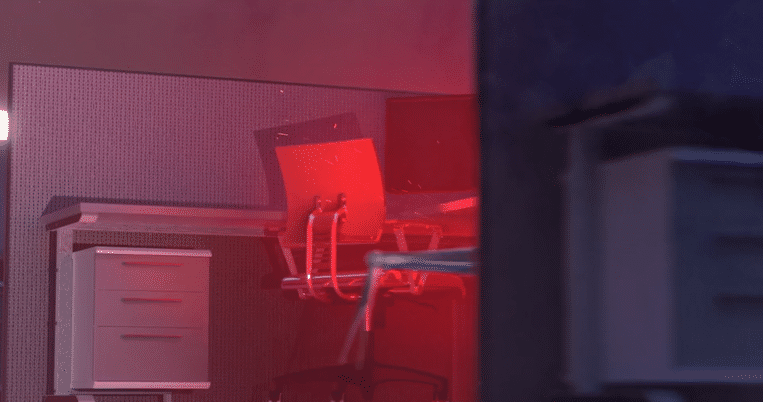 Another example successful brand personification campaign is the Maytag Man, a character that has been around for decades. Historically the Maytag Man was portrayed as lonely and bored because Maytag's machines were so reliable that no one needed a repair man. However, a recent revamp personifies the machines as a strong, attractive, and 'tough as steel' Maytag Man throughout people's homes. Similarly, when Bluetext ideated on potential names for Phosphorus' campaign, we opted for simple alliteration pulled from the Internet of Things (IoT). Thus, the "Thing Tamer" was born. An easy to say, easy-to-remember name that ties back to what Phosphorus does and the ambitiously pioneering ethos. This charismatic adventurous hero increases the chances of customers remembering Phosphorus first when searching for IoT protection. 
Whether you're trying to be the next Mayhem Man or just have some fun with your personified brand, the experts at Bluetext can help. Our professional writing, creative, and video teams are eager to get your brand's campaigns to the next level. Want to learn more about how Bluetext can help your campaign? Get in touch with us here. To learn more about our Thing Tamer campaign, check out the full breadth of our work here.
When it comes to digital marketing analytics and tracking, there's a clear winner of the worldwide popularity contest. With use on over 50 million sites, Google Analytics is the most popular tracking and analytics platform available –and for good reason. With detailed insights and reports, Google Analytics gives marketers a comprehensive look at how effective their website and/or application is as a marketing tool. As a DC marketing analytics company, Bluetext has worked with countless brands to set up their Google Analytics and make use of its insights. Along the way, we've learned many lessons from best practices to little-known tips and tricks. In the setup process, a key step is properly defining and deploying goals in your Google Analytics instance to better report on conversion actions. As a dc marketing analytics company, we know that defining these goals is a foundational aspect of any analytics and attribution plan, so we've outlined the fundamentals of Google Analytics goals below.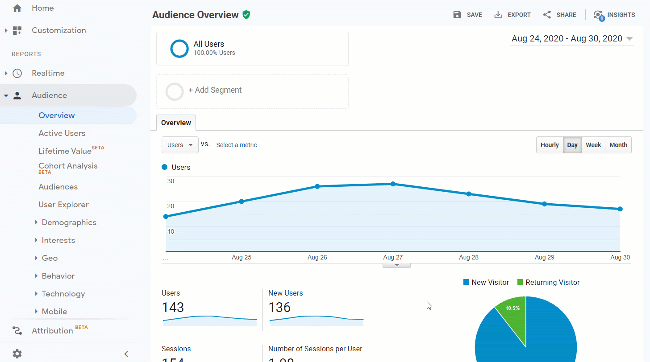 How Do Google Analytics Goals Work?
The beauty of Google Analytics is that it's never a one-trick pony, or built for a specific type of business. The analytics platform is highly adaptable to any company's business goals and creates custom dashboards to visualize your specific objectives. Google Analytics goals are uniquely customizable and can track many different actions, from specific page views, how long users stay on your site or application, form submissions, and more. Goals, additionally, can have a monetary value assigned to them, which allows you to track general ROI, ROAS, and countless other marketing metrics. The goal and conversion data computed by Google Analytics also allows you to define a series of reports to dive deeper into your website and paid marketing metrics. The chart below helps further define the four-goal types in Google Analytics: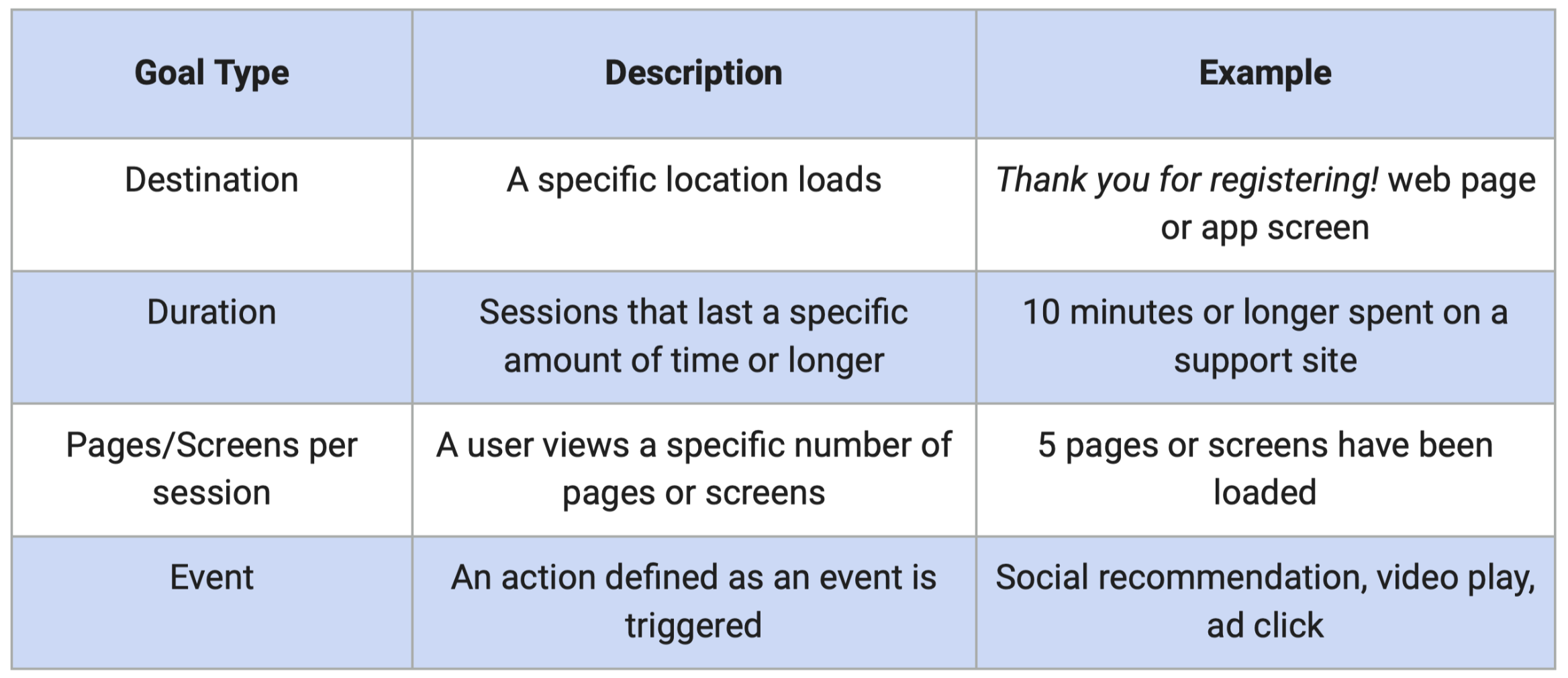 How Can I Start And Be Smart About Their Goals? 
If you aren't tracking explicit conversions yet, Google's "Smart Goals" are a simple way to help optimize your performance. Smart goals were developed by Google as a way for marketers to track the most engaged sessions on their website. With smart bidding, Google uses machine learning to identify and examine dozens of intent signals about your website sessions, assign each session a score, and determine the sessions that would be most likely to convert. While smart goals can be great for many reasons, there are limitations. For example, smart goals are not customizable, they are currently only available for websites (not applications), and they are not available for websites that receive more than 1 million hits per day. It's like turning on autopilot for your tracking, great for a period of time to be a little more hands-off and let algorithms do the work, but eventually, you will want to drill down and focus on converting potential prospects. With these limitations in mind, we recommend working with a marketing analytics company, like Bluetext, to ensure you are able to track explicit conversions, making your data more valuable and accurate.
What Are Best Practices For Setting Up Goals?
When setting up your goals, consider these best practices:
Give each goal a unique and descriptive name. Especially when your marketing analytics becomes more robust over time it pays off to be organized from the start. 

When possible, assign a goal value to help monetize and evaluate your conversions. You can also use a number scale to assign importance to your goals (low-value = 1 and high value = 10) if you are unable to assign a monetary value.

If you ever need to change goals, keep track of when and what you did. Goals are not applied to historical data, so changing one will change conversion data from the point of the change.

Before pushing your goals to the live environment, ensure you use Google Analytics' "Verify this Goal" feature to see how the goal would have converted over the last seven days.

Setting up goals in google analytics can be frustrating and time-consuming. The work it takes to set up google analytics goals, however, is worth the time investment. Working with a marketing analytics company can be a great way to effectively implement goals and reduce the amount of time needed to do so.
Interested in working with a marketing analytics company to ensure your Google Analytics goals are effective and properly set up? Contact us here!
Picture this. It's a Friday night, and you're deciding where you want to eat dinner. As you walk down the street, you're overwhelmed by an abundance of options. Storefront posters shout weekly specials, stapled flyers advertise happy hours, promoters beckon passersby into newly opened spots, all merging into a blur of sensations.
But then, you hear it, your favorite song playing amidst the thrum of the busy street. You follow the sound to a restaurant you hadn't noticed on the first pass, where the music continues to bump along on outdoor speakers. From the patio, you catch the smell of fresh food leaving the kitchen, getting your stomach growling and enticing you further. Stepping inside, a waiter passes by, carrying your favorite dish to a nearby table. Taking in the room's ambiance, you turn to your friends and proclaim you've found tonight's spot.
Now you're probably wondering why I've had you go through this foodie fantasy with me. Part of it might be that I'm writing this blog around lunchtime and can't help but steal glances out the window at our neighborhood sushi spot while I type. But more importantly, it serves as a perfect analogy to illustrate the value of inbound marketing and what it can do to improve lead generation for your business. 
So What IS Inbound Marketing?
Inbound marketing is a methodology centered on drawing potential customers to your brand instead of trying to push your brand out in the market. Rather than utilizing external marketing tactics like TV ads, billboards, and flyers, an inbound marketing strategy seeks to attract customers by creating valuable content and experiences catered to them. Put broadly, outbound marketing brings your offering to your prospects, while inbound marketing brings your prospects to you. In doing so, you guide potential customers to your website with a pre-established positive impression—making it more likely that they'll go with your product or service when they're ready to buy.
Inbound marketing is content-led and hinges on providing potential customers with content that is genuinely meaningful to them. Because of its content-led nature, inbound marketing boosts SEO and organic traffic acquisition and builds trust and credibility in your brand by positioning your company as a thought leader in the market. Throughout the customer journey, the goal of inbound marketing is to add value. To be successful, you must attract users to your website with relevant and high-quality content, engaging with them and clarifying your value proposition. You must also delight users by acting as a reliable partner with a vested interest in their long-term success. 
Building Your Inbound Marketing Strategy
Proper planning and optimization will be critical to the success of your inbound marketing program. Creating compelling content is about strategic planning and commitment rather than budget. You can't just throw money at content creation and expect to come away with something compelling, you have to put your head and heart into the work. With that in mind, here are some thought-starters to create and maintain your inbound marketing strategy.
Know Your Audience and Space
Defining your business goals and buyer personas should be the genesis of any inbound marketing effort. You can't write content to inform your customers until you've identified your target audience and learned all you can about them. 
In the same vein, choosing the right platforms to distribute your marketing materials on will be critical in ensuring your content reaches the right prospects. Determine the best way to reach your target audience, whether through Twitter, Pinterest, Facebook, your blog, or elsewhere, to ensure your content gets to the right prospects.
Create a Journey Worth Taking
With effective inbound marketing, there should never be a dull moment in the customer journey, from impression to engagement. Aim to provide content across the customer experience. Preemptively answer the questions prospective customers will likely have at each stage of their buying journey. What makes you unique? Why should they listen to what you have to say? Successful inbound marketing tells prospective customers a unique and compelling story about your brand from first sight to final sale.
Consistency is Key 
Inbound marketing is a game of consistency. Maintaining a constant stream of content tailored to your market's current pain points and questions supports you in staying relevant and building your brand's perception as a trusted thought leader. To effectively support your inbound marketing strategy, prioritize creating and executing on a content calendar without fail. A set schedule ensures relevant content will consistently engage your audience and keep your brand fresh in consumers' minds. And in case you need more convincing, a 2021 Hubspot study found that brands who publish blog content at least 16 times a month generate 3.5x more website traffic and 4.5x more leads than companies that only update their blogs a few times a month.
Measure the Metrics that Matter
There's a plethora of metrics to choose from when measuring the success of your inbound marketing strategy. From analyzing SEO rankings to measuring inbound links, these resources give valuable insight into how your campaigns perform. Prioritize regular auditing and analysis of these metrics while managing your inbound marketing to understand how effective your efforts have been and see how they can improve. If particular topics are gaining the most traction with viewers, concentrate on these areas and find unique ways to expand upon. If certain content is not generating or retaining enough attention, there is your sign to pivot. 
Inbound Inspiration
Now that you've got your strategy set and these best practices behind you, here are some examples of engaging online content to fuel your inbound marketing efforts.
Blog 
A mainstay of content creation, blogs are the perfect way to answer your prospects' pressing questions or pique their interest with accessible long-form content. According to HubSpot, marketers who prioritize blogging are 13x more likely to get a positive ROI than those who don't.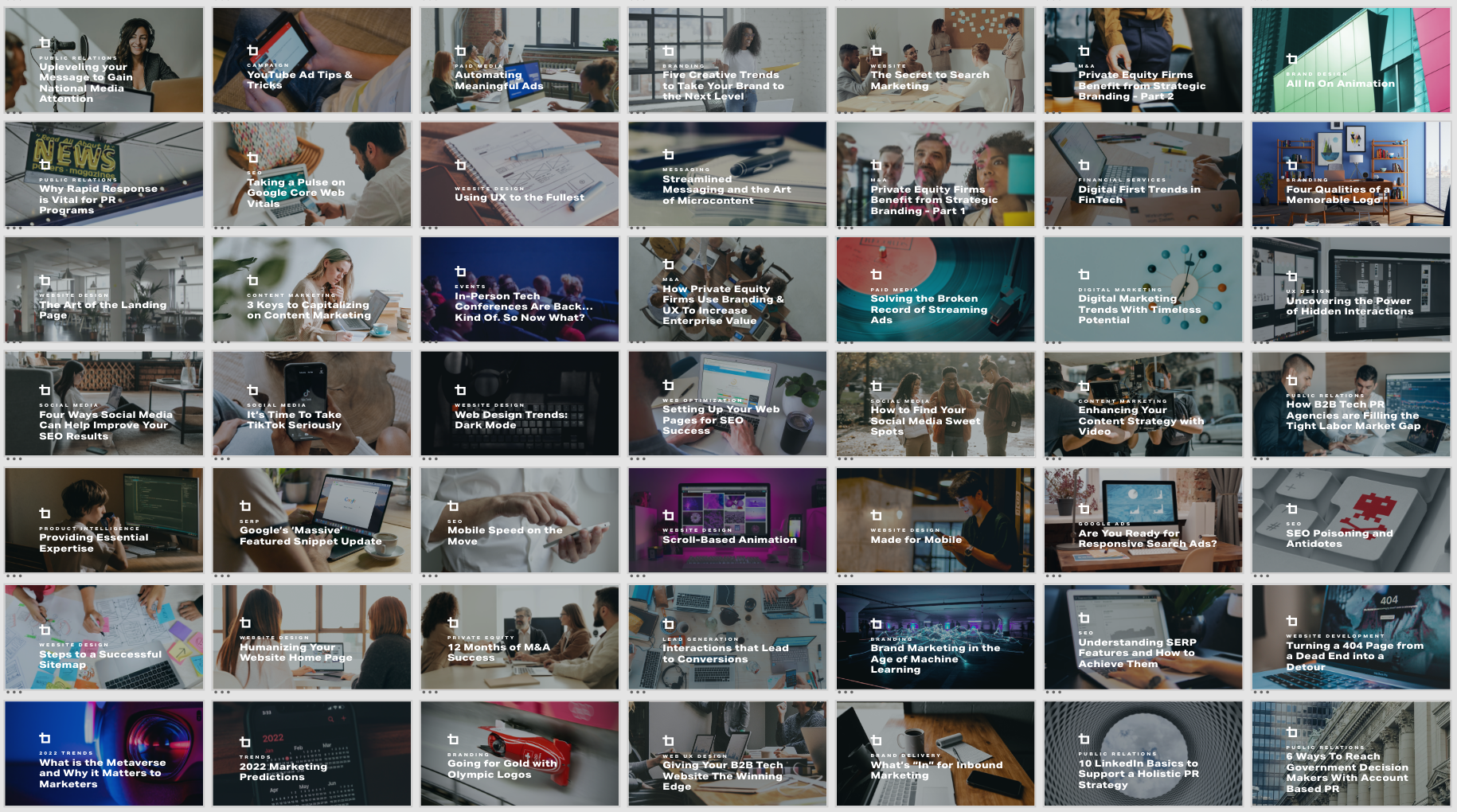 Case Studies
Imagine that you're the owner of a growing business in the market for a piece of cybersecurity software that you're unfamiliar with. You sort through an endless stream of ads and webinars talking about concepts and capabilities that all fly over your head, leaving you utterly lost. But while browsing through one company's website, you come across a case study telling the story of a company eerily similar to yours. Reading their testimonial and hearing how transformational the software has been for them, you can't help but think that it could do the same for your business. Emboldened by the relatable success story, you confidently choose to purchase the cybersecurity software.
That's the power of a case study. Allowing you to focus on different customer personas in your market, case studies sway fence-sitting customers with highly-tailored promises of success.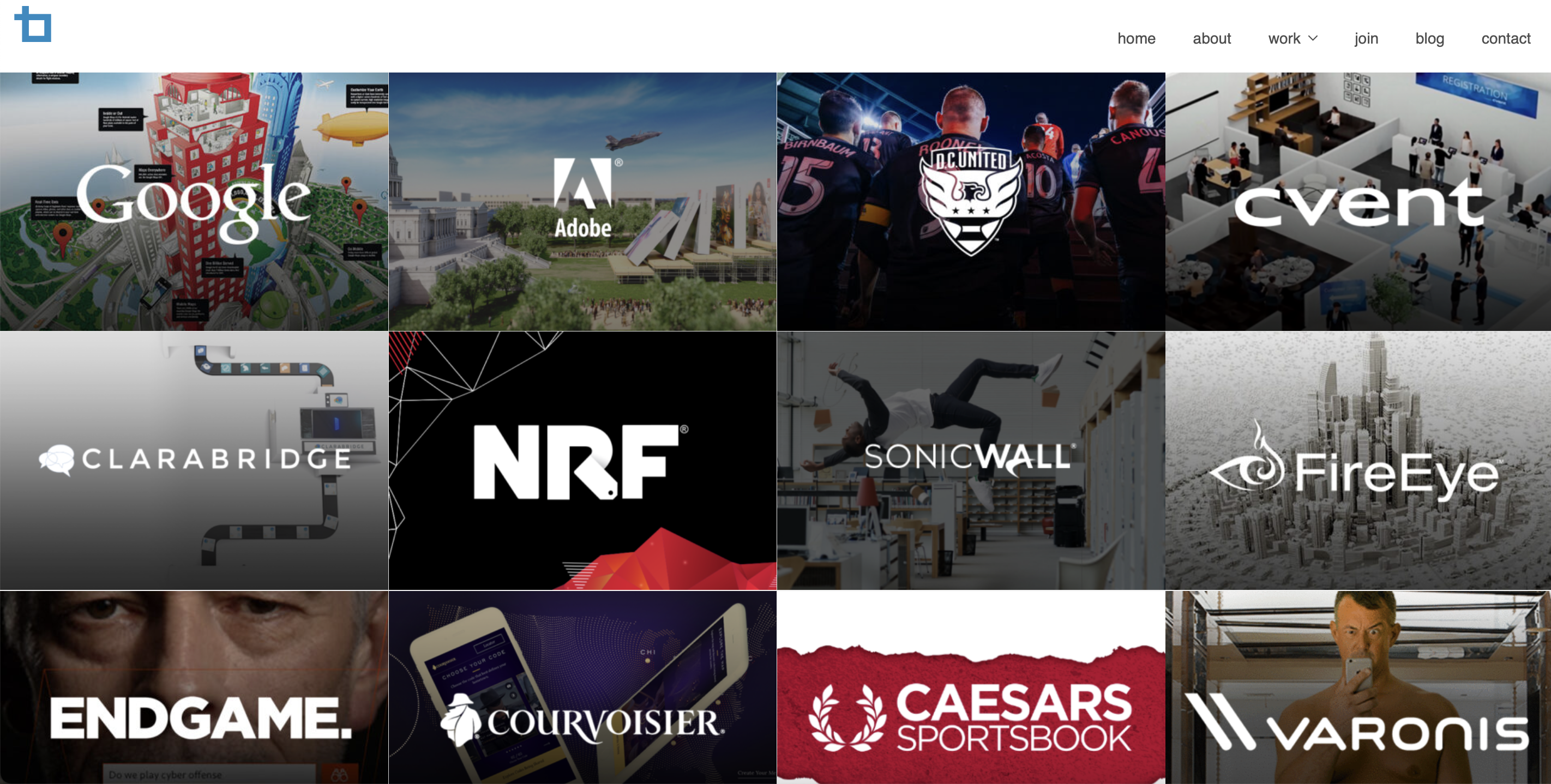 Infographics
As helpful and engaging as written content can be, people don't always have the patience to sit down with 1000 words about humanized homepages. Often, prospective customers just want a quick snapshot of insightful data packaged in an easily digestible and aesthetically pleasing format.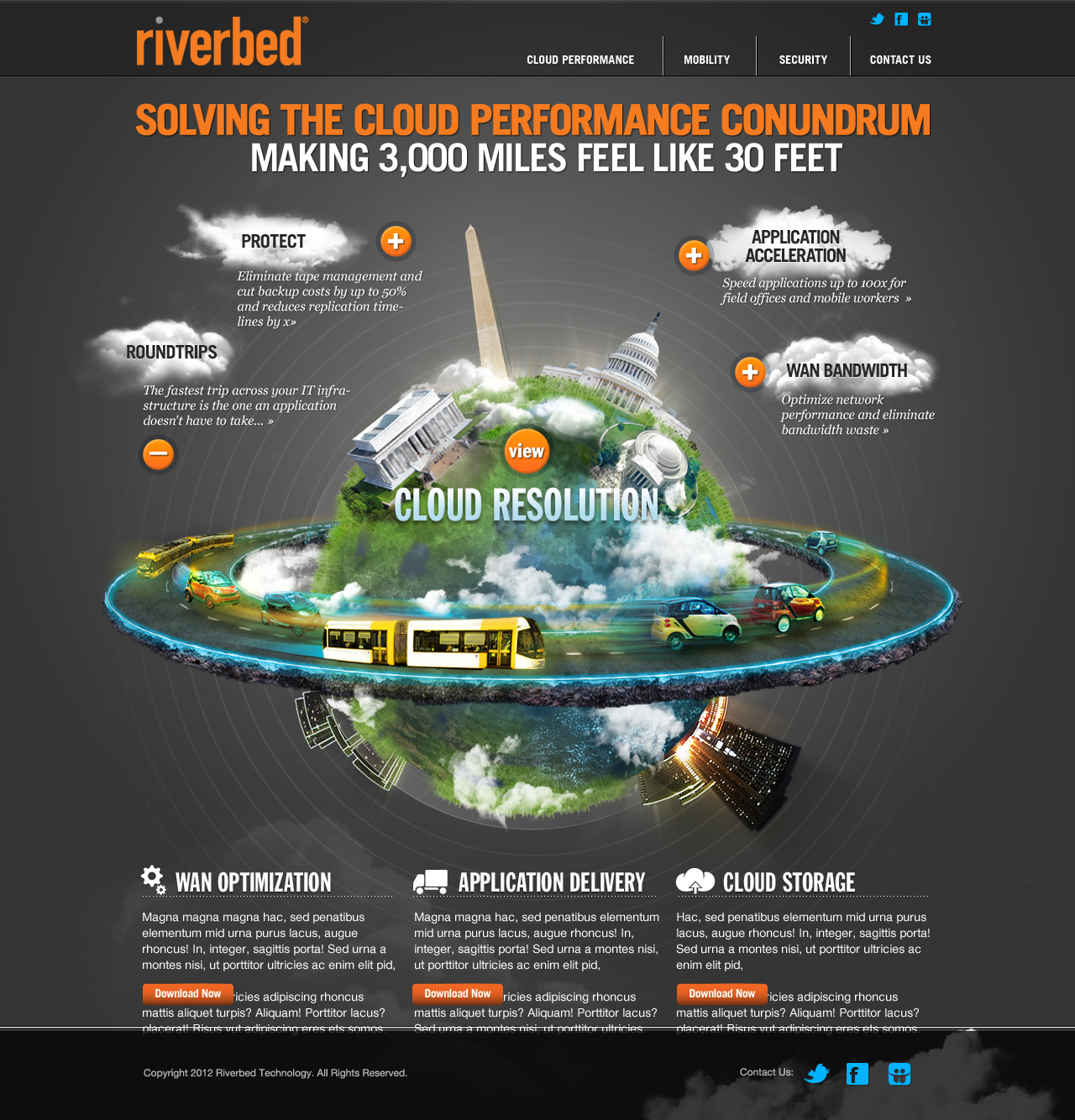 Webinar
It isn't always easy to inject your brand's personality into written content. While more informal content like blog posts have some wiggle-room, highly polished pieces like whitepapers and case studies often lose the human voice behind your brand.
That's where webinars come in. Webinars-an internet seminar presenting lecture-style content to an exclusive audience-create the feeling that your brand is in direct conversation with prospective customers. They let consumers connect with the people powering your company rather than interfacing with an impersonal business entity. Additionally, the ability to request information from prospective customers for entrance to the webinar serves as a phenomenal lead generation tactic.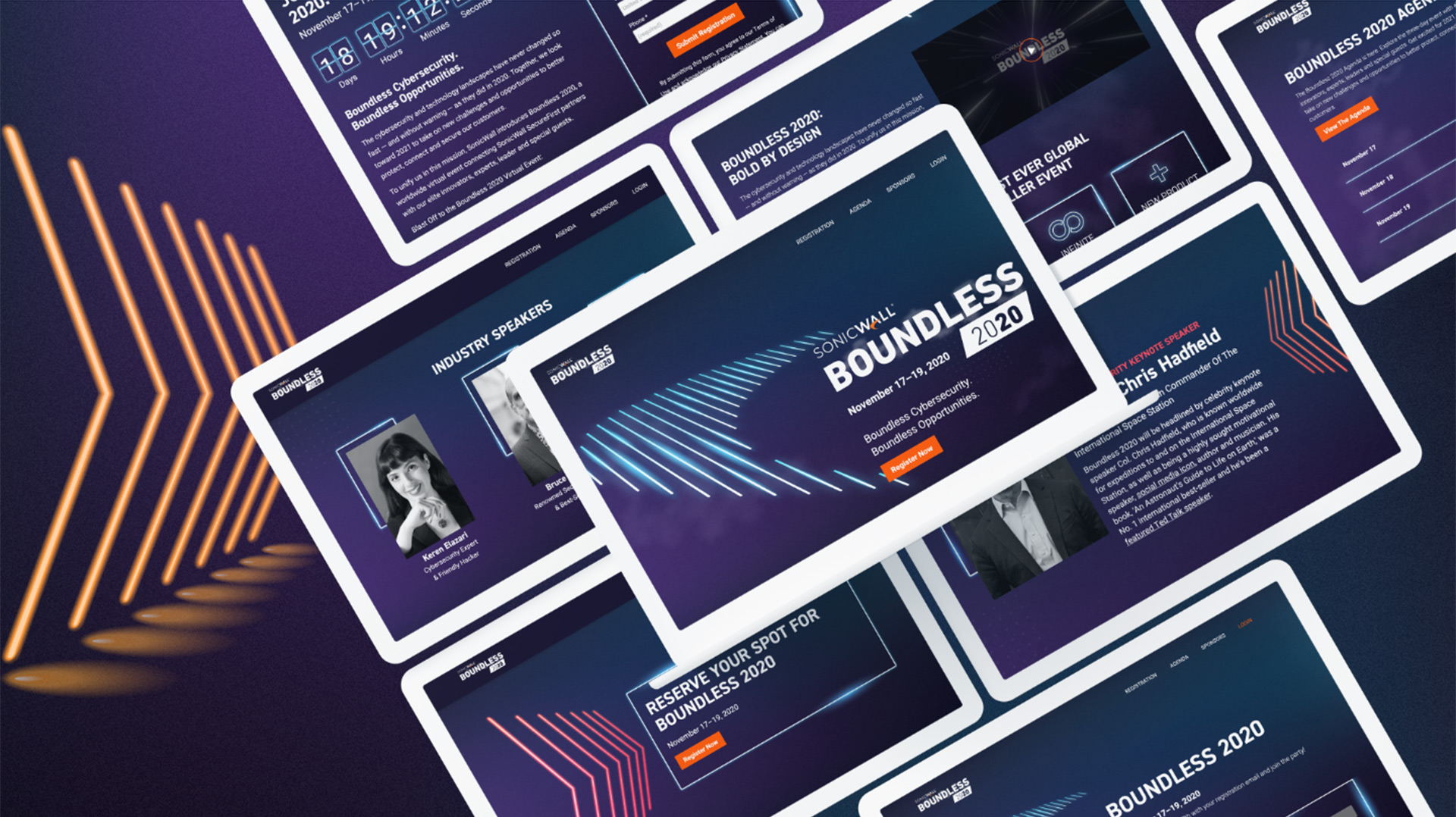 Video Series
It's no secret that video content is an enormous part of marketing. It's engaging, constantly growing, and makes up the majority of content audiences across industries are digesting on platforms like TikTok, Facebook, Instagram, and Youtube. But a key trend to capitalize on with your video content lies in its size.
While written content benefits from long-form structure, video content functions best when bite-sized. While things can vary based on platform or user persona, a general rule is that social media users will lose interest in videos longer than a minute or two.
No matter what path you decide to take your inbound marketing strategy down, Bluetext offers expert advising and cutting-edge capabilities to ensure you'll have everything you need to succeed. Contact us to learn how inbound marketing can grow your business.