The average American is exposed to around 4,000-10,000 ads every day. We have adapted by scrolling past the 'noise' that is of no personal interest to us. Modern brands feel the repercussions of the oversaturated market, finding it hard to stand out and capture viewers' attention. They are faced with questions like how do we appeal to individual users? How do we connect with our audience? For a time, linear videos that had a clear beginning, middle, and end were effective ways to learn more about a brand and its values. However, many of these brands are faced with the reality that the linear videos once produced, simply aren't having the same impact they once did.
Enter: Interactive videos. Interactive videos allow the viewer to interact with content that lives within the video itself. Think quizzes, clickable buttons, polls, and even games that prompt the user to interact with the ad. An Interactive video is non-linear, often referred to as a branching video or a "choose your own adventure" video. The viewer is able to determine the direction of the video's narrative based on their personal interests. 
The magic behind interactive videos is how the story is told. It is dynamic and flexible, but still simple and communicates a clear message. This makes it user-friendly and impactful. It also drives high engagement and high retention rates because the user is able to get the information they need in a story they are invested in. Viewers are no longer passive observers but rather active participants, who in turn have a better chance of remembering and connecting with the message.
Think about the popular Black Mirror episode Bandersnatch, as the viewer is taken through the film they are faced with a series of choices at key moments in the film that change the course of the film based on what they are interested in seeing.
This interactive film allowed the viewer to create a highly personalized and engaging experience for themselves, and in turn, they felt more invested in the outcome of the storyline. Now imagine taking these same properties to evolve your brand and generate higher engagement and increased loyalty toward your brand.
Interactive videos can be a highly effective tool for increasing brand awareness. By allowing viewers to make choices within the video, companies can create a more personalized experience for potential customers, with the ability to create multiple narrative paths within a single video. This can lead to increased engagement and conversion rates, as viewers are more likely to watch the video multiple times and for longer periods of time in order to explore all of the possible outcomes.
Interactive videos can be used to enhance product demos, training, educational content, and internal communication. With the right strategy and resource investment, interactive videos can be a powerful tool for businesses of all sizes and industries. It keeps employees engaged and further aids in building a strong brand foundation that gets both employees and customers excited to be involved.
By giving viewers the power to choose their own adventure, interactive videos have the potential to revolutionize the way we consume and interact with video content. If you are interested in learning more about how Bluetext's video production services can help you create an unforgettable video ad, contact us.
The competitive landscape for capturing visitor attention through digital experiences is crowded and overwhelming to say the least. Not only do you need to grab visitors' attention, but also present thoughtful UX design that guides them to a desired action and outcome. So how do you accomplish this when it seems like everyone else wants the same thing? 
Creative differentiation is a key first step in grabbing the attention of your audience and unique interactivity throughout the user journey can be the extra step that keeps visitors present and engaged in your site content. At the end of the day, a website is a tool for presenting information – so why not do it in the most unique and engaging way that you can? This is where 3D interactive design comes in. With the limitless content possibilities available to us all, thoughtful and creative 3D design with helpful elements of interactivity can elevate your website's content and UX to a memorable and effective experience resulting in conversions and lead generation. 
Check out Bluetext's work for Aeyon's go-to-market campaign leveraging custom 3d animation throughout the page scroll experience!
Immersive design is a balance – it should have the coveted wow factor but also should achieve practical benchmarks like accessibility, effective communication of information, and an intuitive user journey. The implementation of 3D interactive design should follow best practices to ensure that site visitors are delighted and not overwhelmed by the UX – more is not always more. For example, the use of complex 3D layering and visual effects on every component of your homepage would create a visual overkill and also harm the practicality of the page when it comes to loading times, page speed, and site performance metrics. On the other hand, having an eye-catching 3D hero with engaging hover states is enough to entice the visitor to continue on the site where they can find other elegant 3D applications of the visual brand. 
There is a multitude of 3D design styles that can be applied to a brand through web design, each with its own capacity to tell the brand story. Layering and masking can create depth in design while allowing the intermixing of imagery and brand shapes.
The use of illustration can also be used in 3D design to emphasize the real objects seen in brand imagery, it can also be used in a brand that wants to convey simplicity while avoiding the use of generic stock images. 
Typography can even be brought to life with 3D shadowing and interactive states!
In addition to the possibilities for 3D design elements, there is endless opportunity to create unique interactivity within those elements. Things like hover states, scroll transitions, the reveal of content on hover, interactive graphics and more can elevate an already elegant 3D design application. It is crucial to remember, though, that each of these elements should be chosen carefully to reflect the ultimate goal of the page whether that is a form completion, subscription sign-up, resource download, or simply continued site engagement.  
Want to learn more about how 3D interactive design can elevate your brand? Contact Bluetext to learn about our 3D design services!
The recent appointment of music icon Pharell Williams as Louis Vuitton's newest Creative Director certainly rose eyebrows. While this 'Happy' singer-songwriter undoubtedly has style, this was an out-of-the-box pick for one of the most iconic luxury brands. Radical changes in leadership, technology platforms, and data utilization are shaking up the creative industry. It's led many to wonder 'What exactly is the role of a Creative Director'? More importantly, what makes a modern Creative Director?
Bluetext asked our own Creative Director, Jason Siegel, how the role has evolved in recent years, especially with the introduction of next-age AI technology within creative fields. Check out his insights on the future of creative direction, the importance of vision, and leveraging the technology tomorrow.
What do you think of Pharell Williams being named Louis Vuitton's newest creative director?
I think the Louis Vuitton creative Director assignment to Pharrell Williams is amazing. I am a massive fan of his music and anything else he's involved in. I think he is one of the most genius artists on the planet and when you're a legendary brand like Louis Vuitton, you want to have creative prowess at the top, as well as on the bottom. Pharrell will bring up a fresh perspective and style that will shake up the fashion industry and the world will enjoy.
Why would or wouldn't you have made this decision?
I would make decisions like this because when you are known as a creative powerhouse and fashion is a creative art, medium in the end. Brands need to affiliate themselves with creative powerhouses if they want to be thought of as fashion powerhouses. Celebrities who have well-known fashion styles and unique taste, such as Pharell have an untapped creative potential that spans far beyond music. Brands like Louis Vuitton need to affiliate themselves with those sorts of folks and try to embed them in the internal conversation of where the brand is headed as well as the externally communicate as to where the brand is going.
Who was your first creative director?
Two people were most influential in my career
1. Bill Replogle of Sparkys garage fame taught me a lot about storytelling and the power of the word. Growing up I was always looking for better effects and more intense media delivery. And Bill taught me that just a couple of words and just the right photo could make everyone in the conference room fall off the chair in laughter. Bill also taught me that having a great attitude and opinion; knowing what is a good product and what is not is a critical skill.
2. Rand Kramer was my first real professional creative director mentor. Ran taught me the art of pixel, and that perfect is the only way to go. Rand taught me a lot about how to manage designers and different personalities. Rand taught me a lot about the importance of making sure clients feel they're heard and see the value and professionally prepared files; as well as the underrated value in a conference record after a phone call. Rand was 99% creative, but a really really amazing 1% percent business.
If you could tap a celeb creative director who would it be?
I would tap Bob Marley to be Creative Director. I find creatives work great in an environment that is collaborative and positive and has agreeable background music. Who doesn't like Bob Marley? Bob Marley is the essence of creative positivity.
The 'Modern Creative Director' must align both internal teams and external clients with the creative strategy. Which is the most challenging to bring to that strategic vision?
The more strategic, the bigger the results. When you take chances, you can create massive results and use data to build validation and confirmation, and confidence with the client that your strategic vision is going to win. But at the end of the day, there is never enough data to ever get someone 100% confident in the grand slam because there is risk in everything. There is always a challenge in convincing external clients to take risks, but we often look to the other trophies we have on the case to help persuade them.
What's been your career hallmark favorite brand or campaign of pitch?
I have been fortunate to have worked on some iconic brands. When the first iPhone was released I led two historic applications. First was the first app ever published by the Washington Post. When Steve Jobs announced the iPhone our app for the "going out guide" was featured in the backdrop as he stood on stage and amazed the world. That led to another historic app for the Obama Inauguration. For that app, I was featured on ABC news with Charles Gibson to unveil and later invited by WashingtonPost to redesign key aspects of post.com
My favorite campaign ever was working with the comedian Louis Black for a security company called Identity Guard.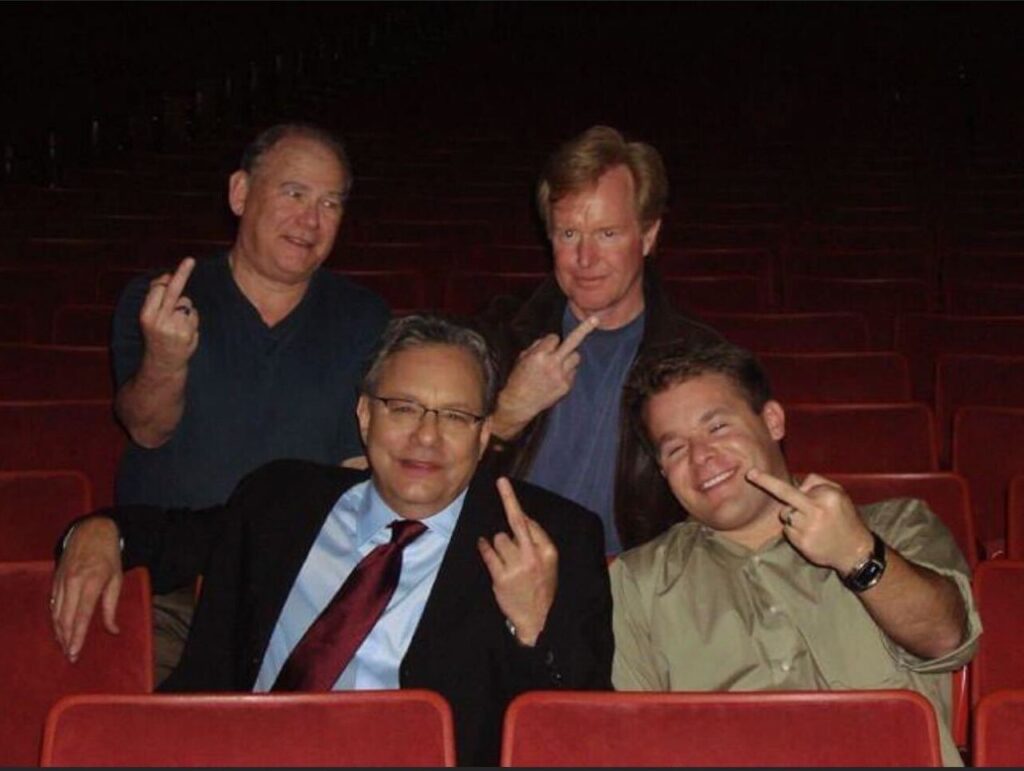 Louis, a loudmouth cursing New Yorke, was wrapped up in police tape and had him screaming, "None of your damn business" for three days in New York City. Check out some snippets of that work and a great out-takes video.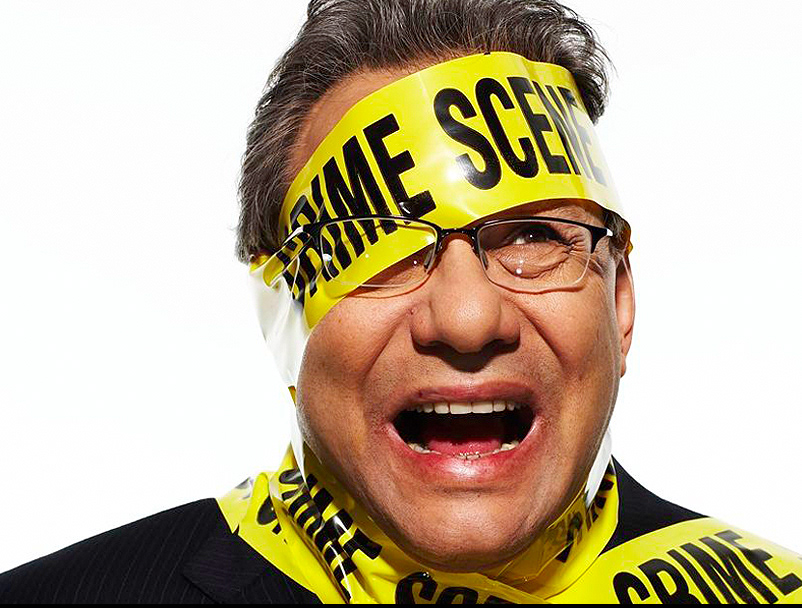 As for the pitches, well the pitch is my favorite part. When we won Stanley, Black & Decker's global site for their number one brand dewalt.com That was an amazing pitch — it included a loud intro, showing a mash-up of AC/DC back in black with a focus group of construction workers on the dewault.com drinking Bud Light. Followed by a complete spec user experience design presentation that knocked the cover off the ball. We won the account and it changed our agency forever from that day forward.
Technology & Its Role in Creative Direction
Creative Directors have historically been a balancing act of art, technology, and economics. How has this balance shifted in recent years?
The balance has swiftly changed over the last two decades. At the heart of it all, it comes down to the story you're telling. The balance of the creative director's role is to first establish a compelling story, and then be able to pressure test across an enormous amount of distribution channels to make sure that the story plays out ubiquitously. The modern-day creative director needs to be savvy enough to anticipate how a story is told through social media search engine optimization, connected TV, interactive shorts, augmented, reality, virtual reality, and going back to the old school with a 3-D male or??. Where the balance has changed most dramatically is in data analytics. Now there is a whole new player at the creative table, which is helping the creative Director pressure test and validate their ideation of the story across all these ubiquitous channels, and making sure that it's highly effective, highly measurable, and that there are communities there to leverage. It's no longer enough to have an artistic vision, creative directors have to be savvier than ever with technology, interactive mediums, as well as the traditional core skills of storytelling and oversight of high-quality art direction and production to be successful.
What's the most valuable skill to have as Creative Director?
The most valuable skill to have as a creative Director is belief. Belief that your positioning, strategist, and messaging wordsmiths can produce a position that is defendable and sets up the creative floor for a grand slam. Belief in your team to push the boundaries of what they could physically do and trust in your team to get there together. The best creative directors don't limit the thinking and belief that their team, including great 3-D artists and now great AI technology, can bring a vision into reality. Believe that your account strategy teams can manage a relationship, capture the essence of client preferences and collaborate with great creative people to bring what the client had intended for expectations to life. And overall the belief in growth, the confidence and drive to communicate the vision of growth to your employees and motivate them to grow with the agency.
How has curation become a larger part of creative direction?
Curation is equally as important as creation for a multitude of reasons. The first reason is language, the variety of talented people, both client-side and agency side, have a different language and limited language in talking about what they would hope to see creatively, and the breakdown of choice of words, or a limit of words can create a lot of waste and confusion. Using field trips, which show a curation set of visual examples makes the communication much clearer. We are constantly updating, verticalizing, and custom tailoring our field trip examples to client needs. Especially in industries challenged with bringing life to intangible concepts, field trip curation is critical. Our sources are really well-defined internally to run a smart agency and we are now super excited about artificial intelligence. AI technology is enabling us to rapidly ideate using platforms like mid-journey and dolly three so that rather than searching stock banks and design portfolios of the world we are prompting AI and seeing what they think. What they give us is often quite stunning, but often not perfect. We are looking forward to AI improving over time to be massively helpful, especially when fantastical art is a requirement and is a New Age version of Curation.
How do you foresee technology aiding creativity in the future?
Over the 20 years of doing this, I have seen some really critical breakthroughs that have allowed creatives to direct and open up channels and experiences like never before. A few of them that jump to mind include mobile technology and augmented reality, as great ways of using breakthrough technology in the creative direction of marketing efforts. What I am experiencing with platforms like chat GTP, mid-journey and Dolly 3 makes me think about what does the future look like? I'm highly convinced that this technology will doc octagon people just as Grammarly and Google have helped us speed up and advance over the last 20 years. This is another tool definitely not a replacement. But what I am most curious about is what I call ubiquitous dynamic media.
Ubiquitous dynamic media is a strategy for a brand where AI is constantly always producing in real-time, delivering branded content into the streams it will go from hosts to pulse and constantly pulsing constantly producing. The only way to do that is this video and imagery can be self-generated off of algorithms and prompts. Video that is dynamically producible, like we're seeing right now with tools like mid-journey and open AI, has. the power to change the entire creative process and timeline. Imagine just writing the words "video of a child, running down the street chasing the ball" and generating a producible video where in real time you can change details like the color of the shirt on the child. Dynamic ubiquitous real-time branded content natively produced across every channel could allow you to real-time optimize with algorithms of data trends that are coming in live. The future of technology is a vast ocean that a Creative Director could surf.
We've all experienced the infamous 'Blaring Ad' before. It strikes at the most inconvenient of times—one second you're peacefully (and silently) scrolling through your phone, only to be interrupted by the ear-splitting sound of a video advertisement playing at full volume. What is it for? What do they have to say? It doesn't matter. None of these questions so much as cross your mind before you shut it off (angrily) in one quick click. You don't even take the time to consider the marketer's message, as you're either jarred by the sound or embarrassed to be the source of a sudden outburst in public. 
The rise of silent video and closed captioning is occurring rapidly; we are seeing more and more videos that not only utilize subtitles but also do not require any audio to fully understand the premise and/or story of the ad. Data from Facebook demonstrates exactly why you might want to tone it down on the audio in your ads—approximately 80% of people will react negatively to a mobile ad that plays out loud as they're scrolling. Rather than spending money on an ad that users will quickly click out of, you could be creating a compelling ad that can be watched in (peaceful) silence. 
It's time to say goodbye to the Blaring Ad, and hello to a silent video. 
Three Tips on How to Create a Compelling Silent Video 
1. Nail the First Three Seconds 
Research has shown that when someone comes across a video, whether they are going to stick around and watch it or not is typically decided within the first three seconds. After that, they're either in or they're out. This means that the first three seconds of your video needs to have an interesting hook to keep your audience interested. There should be a great visual that draws people in without necessarily needing them to hear anything. The bottom line is that we as humans remember pictures better than words, and that's a fact. 
2. Utilize Closed Captioning 
Captioning your videos is a no-brainer—it will increase viewer engagement, improve SEO, and most importantly, it will make your video more accessible. Video captioning ensures that viewers can comprehend any auditory cues and dialogue in your video, making it accessible for persons who are deaf, hard of hearing, or non-English speakers. Closed captioning can also boost brand memorability and awareness. According to research conducted by eMarkterer, subtitles increased average video viewing by 40%. Videos with subtitles led to a 91% completion rate compared to 66% when viewed without subtitles. 
Closed captioning is also a great move when it comes to Search Engine Optimization. Your SEO efforts will benefit from captioned videos because it will be easier for viewers to find the content online. Videos, unlike articles and other text-based content, can easily get lost in the complex algorithms of search engines, unless they contain searchable captions that push the video to the top of a Google search. 
3. Pick the Right Platform 
When it comes to picking where your silent video will be advertised, social media is going to be your best friend. YouTube, Snapchat, and many other social network sites are moving gradually to a captioning system. Videos with captions are frequently associated with accessibility in the social media sphere since the majority of these websites will automatically mute their videos. In a study, Facebook reported that users will watch videos without sound in almost 85% of all cases. Because of this, it is even more crucial for content producers to think about using video captions or subtitles to keep and attract viewers.
In short, Overall viewing will rise as a result of using closed captions in video marketing, and the advertised brand or product may even become more popular. Don't pass up the chance to add words to your ads and instantly make them readable to everybody for a fraction of the price of the video itself. If you are interested in learning more about how Bluetext's video production services can help you create an unforgettable silent ad, contact us. 
The technology industry, especially B2B, is high-paced, extremely complex, and simply put overly saturated. From start-ups to the legacy giants, the constant evolution of cybersecurity, managed IT, SaaS, AI, and not to mention the emergence of FinTech, HealthTech, and EdTech has widened the competition pool. Beyond a sea of overly hashtagged buzzwords, there are millions of companies trying to make or sustain a name for themselves. This makes marketing more critical than ever. 
Marketing technologies start with building brand awareness but involves consistently showcasing proof of concept, case studies, and current customer experiences with the ultimate goal of driving lead generation. As technology companies grow, those that leverage marketing strategies in partnership with engineering, product development, and sales will become market leaders.
Taking a technology start-up to an enterprise, accelerating company growth, and disrupting the status quo require a powerful marketing strategy that solidifies and shares core messaging, generates attention, and creates demand. But no marketing strategy exists without challenges. Here are the top challenges Bluetext sees across marketing in the technology industry:
1. Messaging to Experts, Not Decision-makers
Let us state the obvious: technology is built by smart people. Highly educated, highly technical and well versed in a technology tongue the average person doesn't use day to day. But when companies attempt to explain their product or service to primary audiences (usually the person with the purchasing power) as if they were an insider with perfect knowledge, they don't support the customer decision process. Successful marketing strategies acknowledge and accommodate a natural learning curve to deliver digestible information. No matter how impressive the technology product or service, it still must serve a business benefit.
Marketing teams should strive must meet the audience halfway, understand where they are in the decision-making process and deliver ongoing, accessible, and understandable value.
2. Riddling With Industry Jargon
When you have mere seconds to capture prospects' attention on a website, it's critical to make the product relevant, instill its value, and motivate the prospect to learn more. Getting deep in the weeds with specs and jargon-filled content wastes everyone's time because it often has no meaning to the prospect, and simply wastes time as for a user to scan, find no interest, and give up. A common mistake in attempts to establish expertise; is alienating the user.
Instead, marketers must speak in the prospects' language, not their own. Messaging should convey everything a customer needs to know and lead with high-level business value.
3. Overlooking the Journey
Marketing is a journey, often not a straightforward linear point solution. When done successfully, it guides prospects and customers through the twists and turns of purchase decisions. Technology marketers should work backward from the business value of their products. No matter how flashy, impressive, or advanced the technology your prospect is tasked with solving a business challenge. To prove you can offer a business benefit, break down the steps your prospect must take to find a solution, evaluate the effectiveness or get the ultimate purchasing decision.
Rather than focusing on immediately driving revenue, technology companies must understand their target audience and the overall journey so that marketing efforts can weave in the right information at the right times.
4. Fine Line of Pushing vs Telling
Marketing and sales teams in any industry have a bad rap for coming on too strong, too soon. Cold calls, aggressive or unsolicited emails, and unqualified leads rarely result in success, because they don't account for their audience's stage of the decision cycle. Your sales and marketing team can shout impressive stats and flashy specs all day, but unless you convey a relevant and necessary value, you may as well be on mute. Consider how can you establish credibility by illustrating, not telling, and specific ways your technology impacts their business.
Technology marketers should strive to anticipate what information prospects need to learn in advance of purchasing — and create compelling, helpful content that will answer their questions before even asked. While we know marketers can't be mind readers, but you can leverage historic customer profiles and past learnings to cater your content. 
So How Can You Be Sure Your Strategy is Effective?
Data, data, data. The amount of data available from a tech product creates unique opportunities for marketers to make decisions quickly, optimize products, develop campaigns, and reach customers where they are. The effectiveness of your technology marketing efforts depends on your organization's unique goals. Whether that be selling more products, raising awareness in a new audience, or solidifying a reputation to an existing customer base, make sure your marketing campaigns are adaptive and always optimizing. 
Regardless of industry, marketing is getting the right information in front of the right people. Successful technology marketing comes with its fair share of nuances, especially in identifying the right target audiences and ensuring your message resonates to enhance the customer experience. Partnering with an expert with the right skills and experience in the technology industry landscape, such as a technology marketing agency like Bluetext, can help your organization overcome these challenges and reach your goals.
With all the buzz on AI-generated copy and design tools, we're all wondering the same unspoken question: Can Google detect AI tools? Is this…allowed? Or looked down upon? With more and more companies beginning to leverage AI-powered tools for their marketing needs we are all wondering whether speed and efficiency may come at the cost of SERP rankings. 
The answers to these questions are muddled, but here's what we do know: Google itself relies on advanced algorithms and machine learning to detect and evaluate the quality of website content. The entire purpose of search engines is to provide users with the most relevant and useful content possible, hence our society has become so search engine dependent on everything from research to daily needs. Google algorithms are designed to identify and flag low-quality or spammy content.
Google's spam policy stance defines "Spammy automatically generated (or "auto-generated") content as content that's been generated programmatically without producing anything original or adding sufficient value; instead, it's been generated for the primary purpose of manipulating search rankings and not helping users."
Historically, auto-generated content generated by machine learning scrips has had a reputation of being lower quality and overstuffed with keywords aimed at manipulating Google's search results. This has led Google initiatives to detect this type of content and remove it from the SERPs in an attempt to preserve the integrity of its search results for the end user. 
Google Search Central has stated that "scraping content, even with some modification, is against our spam policy." As well as confirming that Google has put implemented, "…many algorithms to go after such behaviors and demote site scraping content from other sites."
Prioritizing high-quality, human-generated content on Google results provides a better search experience for users and maintains their credibility. But with the rise of the new AI tools that promise more natural and higher quality outputs, marketers and writers have the opportunity to utilize these tools to generate higher quality, more helpful content for the users rather than an endless amount of spam content. Quality over quantity has become the universal goal for AI generators and users. 
Therefore, the content generated by GPT-3 and other AI language models like ChatGPT, is at risk of being detected as machine-generated and flagged by Google's algorithms. Like recognizes like, so there's a good chance that machine learning algorithms will recognize similar machine learning. As far as technology has come, it will never be a complete substitute for human intellect. The writing style, grammar, and sentence structure of AI-generated content are often not as natural or accurate as human-generated content.
Editing has become the name of the AI game. It's important to make sure that any content generated by AI models like ChatGPT is carefully reviewed and edited by a real person before being published on your website. This helps ensure that it meets Google's quality standards and policies, and accurately reflects the subject. If you are choosing to leverage AI tools on your website it's important to make sure that your website is balanced with plenty of original and unique content, so that it complies with Google's policies in terms of user experience, design, and navigability.
Whether or not search engine consequences currently exist for websites leveraging AI-generated content has not been confirmed, nor denied by Google. For any company seeking to rank high in search engine results, it's better to be safe than sorry and maintain a close human eye on your SEO strategy, from content to keyword selection. Contact Bluetext for more information on our expert search engine optimization services. 
3 Ways to Optimize Your Website for Voice Search
We've seen how much voice as a channel is growing and how beneficial voice marketing can be for consumers and marketers, but if your company isn't in a position to invest in voice marketing tools quite yet, there are still plenty of ways to keep up and optimize your website for Voice SEO. 
What exactly is Voice SEO? It's the optimization of keywords and keyword phrases for searches using voice assistants. According to research by Semrush, on average voice assistants can answer 93.7% of all search queries. And based on research from PWC, 90% of people think voice search is easier than searching online, and 89% think it's more convenient. From the same study, 71% of people would rather use voice search than physically type a search query. With a voice as a search channel continuing to expand, your website needs to account for this new channel of search, too. So what're the best ways to optimize your website for voice SEO? Let's dive in. 
1.  Featured Snippet Optimization
Featured snippets are the selected search results that appear on the top of the search result page as the best answer to a query. Because of its location, a featured snippet is also often called position zero, since it's above the first result. That sounds like the ideal position, right? Well, you can't buy your way in if that's what you're thinking. Google generates featured snippets organically by checking the relevancy of the information pulled from web pages in Google's index. Common formats of Featured Snippets include descriptions/definitions, steps/lists, and tables. Featured snippets are especially crucial in voice search since the voice assistant will reply to the answer to a user's question with the position zero content. 
According to SEMrush, "70% of voice search answers come from SERP features", Featured Snippets being the most important. And a lot of this process can be AI-driven. Check out our tips on how AI could be an aid to SEO. Another Featured Snippet tip – don't use your brand name in the featured snippet text. Replacing the brand name with general language will give the content a higher chance of receiving a featured snippet since adding a brand name could make the response too specific for the listener. 
2. Structured Markup
Structured markups (added to the HTML) help Google and other search engines better understand and process your content and help optimize your search results.  You can use schema.org structured annotations to allow Google to reliably retrieve up-to-date information directly from your website. A common and effective schema is FAQ. Adding FAQ schema to your FAQ page can expand your Google result with the most frequently asked questions. And the schema can be added to any place on your site that has FAQs, so to better optimize for voice search, add quick answers to the top of highly trafficked pages and top blog pages.  
The more search engines better understand your content, the better. In fact, there's even a specific voice-search markup by Google called Speakable that's currently in beta that marketers should definitely keep an eye on. 
3. Conversation-Based Navigation
Voice search equalizes access to information through conversation. Users can ask for what they want, in their own voice/language/literacy level, etc. But they're asking, and most websites aren't written or structured for questions or conversation-based navigation. Voice search is direct; people aren't looking to explore a ton of search results. They're looking for a reliable, comprehensive answer that doesn't require further searching. So re-write your headlines as questions, not statements, for a more conversational format. An easy way to do this is by adding "What is" to the heading. Be sure to summarize the answer directly below the header so it's easy for a voice assistant to read aloud.
Other basic SEO factors like page speed, good domain ratings, having quality long-form content, and being HTTPS secured, all also play a role in optimizing your website for voice search. Follow these tips to help optimize your website for the rapidly-growing voice search, or contact Bluetext today to learn more about our search engine optimization and content marketing services.
Sound as a Brand, Voice as a Channel
We know sound plays a pivotal role in brand marketing. Sound helps your brand tell a story and feel like something real and memorable.  But the power of Sound exceeds bolstering brand identity; it also introduces a world of more inclusive opportunities and easier ways for users to communicate, search, consume, and transact via Voice as a channel. 
Voice marketing has been booming the past couple of years and for good reason. What exactly is voice marketing? It's a channel of marketing that utilizes voice technology to reach customers. Think the Alexas, Siris, and Google Assistant's of the world that seem to have taken over our homes, cars, office settings, and more. 
Voice enables increased information accessibility, and effective task automation, and populates quick results in a hands-free, interactive way. Voice is intuitive, fast, more efficient, and easier for our brains to process compared to reading/typing text. NPR and Edison Research state 57% of "voice command users used voice commands daily in 2022." From Siri to Google Assistant, to Alexa – AI (Artificial Intelligence) and voice search has been infiltrating our lives, and there's no sign of it slowing. It's expected that by 2024, voice marketing will reach 8.4 billion people. With this explosion of voice as a channel, let's take a minute to voice our thoughts on the benefits of this rapidly growing channel. 
Why might Voice trump Keyboard?  
Nearly everyone in the modern world has a voice assistant in their hand or pocket, and likely a smart speaker not too far away. But aside from easy access, voice as a channel helps more people with disabilities (both physical and language based) to use technology. For example, dictation software enables people without vision or the function of their hands to operate a computer by using their voice. (Of course, voice marketing can create challenges for people who are hard of hearing or Deaf. Provide a transcript with your audio content to be more inclusive). All markers should aim to be as accessible as possible, and Voice can be a huge aid in the quest for accessibility. 
Improved CX  = Increased Engagement
With text-to-speech and AI tools, the process of content creation becomes more manageable and allows companies to reach consumers in a new, engaging way. Voice marketing content captivates, converts, and retains customers, especially customers that don't like to consume long-form written content. It's not just more engagement in personal audio books or articles, consumers are using voice as a means of education and communication for business-related research and transactions. It allows users to multitask; it's efficient and more productive for the user, and more manageable for the content creator, making for a digital marketing strategy that is results-driven and prioritizes the customer.
Voice can be used to ask prospective customers questions like "what's your name and email" and then populate the responses on the form. It can also help answer customers' questions. Customers now don't have to sift through lengthy FAQs and knowledge bases to get the exact information they're looking for quickly – they can connect with a voice assistant to get their questions answered. This approach of course can't answer every question, but it is a great starting point to help guide users to the content they're looking for quickly and easily. 

Sounds great right? Voice as a channel is still constantly evolving and as we've seen has huge benefits for both companies and consumers, but we know our old friend Mr. Keyboard isn't going anywhere any time soon, either. So how can marketers optimize their more traditional marketing strategies to better accommodate voice as a channel? Contact Bluetext today for help on improving your digital marketing strategies, and check out our tips for optimizing a website for voice. 
The marketing world is a moving one. But while brand identities are born in the safe, static space of a style board, they must survive in a high-stakes environment of attention. They need to keep up, they need to animate. We experience brands as an interactive app, a 6-second bumper video, a tradeshow booth, virtual reality, a hover state button, or even the way a webpage loads. Often without even realizing it, however, the biggest impression brands make on us is in the way they sound. 
Yes, you heard that correctly – we're asking what your brand sounds like. 
Enter sonic branding, the acoustic brand identity that is subliminally making a massive impact in today's cluttered ad landscape. In particular, the audio logo, a brief melody or branded sound design that often plays at the beginning or end of a video or audio spot. For audio-only mediums, like radio or podcasts, sonic branding is especially crucial for awareness in the absence of any visuals. 
Even as you read them here, the melodies of sonic branding champions like Aflac, Duracell, This is Sportcenter, Tacobell, Old Spice, Intel, Playstation, or T-Mobile are echoing in your head. 
Every Friday night, the hallways of apartment buildings around the world turn into a cacophony of audio logos, as streaming apps like Netflix, HBO, Prime, and Hulu boot up for a night in. 
In one of the most competitive marketing arenas, insurance brands battle through sound. Can you picture the visual logo of Nationwide, State Farm, Farmers, or Liberty Mutual right now? Probably not. But can you sing each of their brand tunes? Most definitely. 
These audio brand dynasties are evidence of audio's effectiveness within the brand zeitgeist. There are even brands that have infiltrated your attention in subliminal ways without you even seeing their logo. Take for example the boot-up of a Macbook, the thump of a Volkswagon door closing, the scritch-scratch of a Sharpie moving on paper, the pop of a Snapple lid, an idle Harley Davidson, or even the lack of sound when spraying a Method household cleaner. This is all very intentional (and industrially expensive) sonic branding. 
As digital habits evolve, we can't rely on eyeballs on screens in order to communicate our message. For a brand to be remembered, it can't just be seen, it must be heard. It must be felt. 
Harvard Business Review's What Does Your Brand Sound Like? states "With our increasingly audio-enabled media environment, the strategic use of sound can play an important role in positively differentiating a product or service, enhancing recall, creating preference, building trust, and even increasing sales. Cognitive studies show that relevant sounds and musical cues can truly influence people in ways marketers want." 
Now, you may have some jingles coming to mind as well. Examples like Mcdonalds' "I'm Lovin' It", Kit Kat's "Give Me a Break!", Folgers Coffee, Chili's, Kay Jewelers, or Lucky Charms. People can recall the Meow Mix brand whether or not they have a cat. Even Jim Gaffigan pokes fun at the Hot Pocket marketing team when he jokes "I do love that jingle. Do you think they worked hard on that song?". 
Brand jingles are the epitome of sonic branding. Some of those brand earworms we just mentioned are decades old but still stuck in your head right this very instant. Yet these are all established brands, with existing brand awareness, and deep pockets to design (Mcdonald's had over 3,700 final mixes of "I'm Lovin' It"), test, and translate their jingle before pushing it out to market with a massive media spend. For brands that are just trying to gain momentum organically or with short-form video, a sonic logo can still do wonders. 
The reason is that hearing is innate. We internalize sound quickly. An audio logo stays with you after you experience it. You may not be able to remember what a logo looks like, but you'll remember what it sounds like and the longevity of the recall is powerful. 
Further, sonic branding adds another level of brand storytelling into the mix, connecting with the viewer audibly and visually. In the case of an audio logo, this emotional connection happens in a few short seconds. The audience doesn't have to follow a story or listen to an explanation – they just absorb the brand. Since this subliminal brand narrative is experienced with two senses simultaneously, the brain stores that experience twice as much as it would if it was only seen. 
One of the most cunning tactics is incorporating an iconic sound into the audio logo that isn't even unique to that business. Take Southwest Airlines' "You Are Now Free to Move About the Country" example, with a seatbelt fastening click and overhead ping used in every airline are now tied directly to a specific brand. People who recall the Southwest brand would do so even when using Southwest's competitor airlines. What about Verizon's "Can You Hear Me Now?" that makes you think of them when you have a bad signal, and therefore remind you to switch to their service for a more reliable connection? Sneaky, sneaky. If you can capture the distinct sound of your industry and distill it into a mnemonic within your sonic branding strategy, not only will you be memorable – you'll be unforgettable.    
Whether B2C, B2B, or B2G it's all about attracting and connecting with your audience through as many senses as possible. Maybe that's through a blockbuster TV ad, a podcast, the tangible sound of your product in use, or even a quick, organic social snackable. There are countless ways to embed sonic branding across your landscape, so listen up! It's time to make sure your brand feels like something. Let our animators, audio designers, and creative minds help you tell your sonic brand story in a way that is rewarding for your business in years to come.  Get in touch with Bluetext, and give our soundtrack of super sonic brands a listen!
Ah, Super Bowl Sunday. One of the most highly anticipated events of the year celebrated for being a uniquely American tradition drawing together viewers of all demographics from across the country. An impressive 113 million viewers, in fact, the third largest television program and highest digital viewership (7 million, talk about super-sized streaming) in history. For sports enthusiasts, it was a day to watch the Chiefs and Eagles play their hearts out for the Lombardi trophy. For Rihanna fans, it was an opportunity to enjoy a long-awaited concert from the couch. For marketing geeks, it was the night we got to see just what advertisers had paid the big bucks for — and this year, we mean big.
No matter the reason for tuning in on Sunday, the days that follow the Super Bowl are always full of discussion. Now, we're not here to debate that holding call or relive that big half-time performance announcement. Instead, we're taking a look at some of the main themes and most memorable moments of the Super Bowl 2023 commercials.
Lighthearted Tones & Humor
In contrast to previous years, a fun and amusing tone seemed to be the overwhelmingly popular choice for the commercials of Super Bowl 2023. This isn't entirely surprising, given some of the current challenges facing the country and the heavy news cycle society has been stuck in lately. It seems that advertisers this year wanted to give people an escape, aiming to keep things light and get viewers laughing. As with any year, some spots tried- but failed- to nail the bit while others were clear, feel-good standouts. Our favorites? Miles Teller in Bud Light's 'Hold' commercial, Ben Affleck working the Dunkin' Drive Thru, NFL's Run With It, and Bradley Cooper and his mom trying to make a T-Mobile commercial.
Nostalgia
Nostalgia has been a popular marketing tactic in recent years and if Super Bowl 2023's ads are any indication, that doesn't show signs of stopping. Several brands were willing to bet millions that nostalgia would continue to land with consumers, as tributes to classic movies, iconic TV shows, and music legends from throughout the decades made their way onto our TV screens. Alicia Silverstone returned to her role as Cher Horowitz from the movie 'Clueless' for a Rakuten cashback promo, Serena Williams and Brian Cox starred in a 'Caddyshack' spoof for Michelob Ultra, and John Travolta sang a rendition of "Summer Nights" for T-Mobile's 5G Internet service over 40 years after 'Grease' first hit theaters. A Workday commercial featured rockstars like Ozzy Osbourne, Gary Clark Jr., Joan Jett, Billy Idol, and Paul Stanley, an Uber commercial with P. Diddy took us down one-hit-wonder memory lane, and a throwback to more recent history, PopCorners put out a spot incorporating the cult classic show 'Breaking Bad'. 
Brand Partnerships
One of the more unexpected moves we saw on Super Bowl Sunday was big-name brands teaming up for joint commercials. Will Ferrell walked through (literally) several of Netflix's most popular original movies and shows in a commercial promoting both the entertainment giant and GM's EVs. Beer brands also got in on the mix, with Bud Light doing a crossover with HBO's 'Game of Thrones' and Molson Coors promoting not one, not two, but three of their beers all in one entertaining spot that kept viewers on their toes.
Puppies > Celebs
We'd be remiss not to include this one. Much like many years passed, a large majority of Super Bowl commercials this year were jam-packed with celebrities, with advertisers like DraftKings and the others already listed above opting for a star-studded approach. However, not even female rap legend Missy Elliot or Gen Z heartthrob Jack Harlow could capture America's attention quite like dogs could. According to the Wall Street Journal, two of the clear fan-favorite ads of the night were Amazon's funny and all too relatable story about a family dog adjusting to post-pandemic life, and The Farmer's Dog commercial that had pet lovers across America melting (if not crying). The lesson here? A cute dog will trump celebrities every time. 

While we can't promise to steal the hearts of potential customers with an adorable puppy, Bluetext is no stranger to incorporating animals into brand activations that make people stop in their tracks (see our BigBear.ai work here), creating bold campaigns that grab the attention of consumers (see our Varonis work here), or producing playful ads that strike a chord with your target audience (see our Thing Tamer work here). 
As a full-service digital marketing agency based in Washington, D.C., and specializing in everything from video creative direction and production to paid media planning and go-to-market campaigns, Bluetext is here for your every advertising need. Added bonus: there's no $7 million price tag attached.