Video marketing can be a vital tool when it comes to leveling up your marketing program. Video, as a medium, is an exceptional opportunity to tell your brand's story and mission using dramatic visuals, voiceover, and music. Video allows you to inject emotion and feeling into your content, something that written mediums like blog posts and product pages just can't compete with. As some may say, the medium is the message. To humanize your brand and create a memorable connection, audiovisual content can build that bridge. Additionally, the ease with which you can upload your video content to a variety of social media platforms allows you to share your story with as many potential customers and reach as wide an audience as possible. 
Below, we dive deep into the five reasons you need to use video in your marketing strategy and why partnering with a video design and production firm like Bluetext is the right choice for you. 
1. Authentic Video Builds Trust
Perhaps most importantly, video content helps build trust between you and the prospective buyer. Trust is the foundation that drives conversions and overall sales. 57% of consumers say that videos give them more confidence to purchase online. With a great voiceover and a moving music track, videos can provoke a very emotive, and therefore, human response, more impactful than any generic landing page. Having your team on camera explaining your product or service is also a great way to provide prospective customers with a sense of your company culture and why they should work with you. Additionally, video content filmed and edited the right way evokes authenticity and transparency, both key points when aiming to build trust. 
Through our work with Invictus, we produced a video around the story of their unique, military family-oriented mission that resonated with their prospective customers.
2. Explain Difficult Concepts With Ease
We live in a fast-paced visual-based world, where users are less likely to read through a product description and more likely to prefer an infographic or video that explains the solution succinctly. Technology has made us all accustomed to immediate satisfaction in finding the answers we seek. And if users don't find the information they're looking for, they lose interest or look elsewhere. Video content reduces the overall effort it takes to learn something new, especially when it may be a difficult concept to understand. If you're launching a new product or service, explaining its features and advantages will be easier through video than a product landing page. The way the human brain processes information varies by individual, some are more visual learners, some auditory, and even some kinetic. If you don't have the words to explain your product, the use of animation can help bring any concept to life. An audiovisual medium allows you to effectively reach a wider audience. The quicker someone can understand your product, the quicker the conversion from prospect to a customer will be. 
Through our work with IoT cybersecurity company, Phosphorus, we told the story of their mission and the power of their groundbreaking platform.
3. Google Loves Video Content
There are a variety of reasons Google loves video. Perhaps most importantly, Google places great value in the length of time a user spends on your webpage. If your video content is enticing enough for the user to watch it all the way through, they're more likely to spend more time watching a video on your site than reading through a lengthy landing page. Additionally, as we know, including keywords in your written content is important in any SEO strategy and helps improve your search rankings. Using the latest Video Intelligence API, Google can catalog the relevant keywords in your videos and increase your ranking in search engine results. Relevant keywords in your video and written content packs the maximum SEO punch into your webpage. Another great reason video content is a great SEO value is as video content can be adjusted to multiple screen sizes, Google ranks this content very high in search results.
4. Mobile Users Benefit
In the world we live in, everyone is glued to their smartphones throughout the day, watching, liking, and sharing content. According to a recent study, 90% of users actually watch videos on their smartphones rather than on computers or televisions. The ready availability of so much video content on smartphones is driving this statistic and will only grow as more and more content is produced. So what does this mean for you? Increasing the amount of video you put into the market will only increase the engagement with your content from prospective customers. Well-produced, informative content will be more likely shared and will lead to increased sales.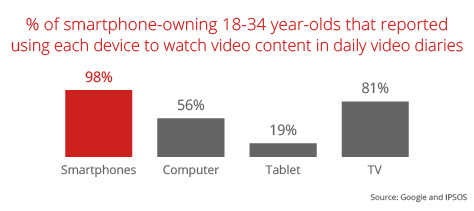 5. The Competitive Advantage
Stay one step ahead of the competition by producing video content. A lot of companies are still of the mindset that video content is way too expensive; and sure, some very well-produced content can get expensive when you're factoring in custom shoots, actors, and multiple 8K cameras. That being said, video content doesn't have to be expensive. With the right story and a camera as readily available as the one on your smartphone, you can create perfect video content that will resonate with your target audience and lead to many conversions. Being smart with your resources (financial & human) can result in an impressive video that no one would know was built on a budget.
Videos can play a massive role at every stage of the marketing funnel. That being said, creating high-performing video content takes time and effort. Ensure you have the right video content strategy from the get-go and that you maximize authenticity, creativity, and uniqueness. Need support putting together your video content strategy? Contact Bluetext today.