In our modern world, nearly all marketing campaigns integrate some level of digital communication to broaden their reach across their target market. But technology is changing so fast that it can be difficult to keep up with the latest and greatest. And let's face it, trends have an expiration date. So how do marketers know what digital assets will be the most effective for their campaigns and how do they know what will stand the test of time? Let's take a look at some digital marketing trends with timeless potential:
1. Quality UX
With more and more digital users every year, it is more important now than ever to make your presence known in the digital sphere. Though, checking off the box for "having a website" doesn't mean that you can sit on it and let it be. It is important to ensure that your website continuously provides a quality user experience for your end-users to keep them coming back and that it appears modern and relevant to new users. 
Whether you are looking to update the look and feel of your website every two or three years, or keep your content strategy up-to-date every few months, it is important to connect with a digital marketing agency, like Bluetext, who can work with you to create a well-informed and exciting new website plan. Digital marketers can work with you to keep your thought leadership up to date, create a new digital brand presence, and develop a smart, sustainable navigation strategy to ensure that your users are able to find what they are looking for on your website. User experience is a broad discipline, with many proven principles that should lay the foundation of every unique design. Quality, well-informed UX will help drive leads, make conversions, and ultimately boost revenue for your business.
2. Virtual Events
We know that the coronavirus pandemic led to a hunkered-down workforce, many working from the confines of their makeshift home offices and connecting with coworkers and clients virtually. Large-scale events were unimaginable and virtual events quickly took their place.
Virtual events are exactly what they sound like ― virtual. This means that attendees don't need to travel to attend a virtual event as they can enjoy them from the comfort of their own homes. No venue means no geographical constraints and the elimination of travel expenses. Attendees can join from all across the country, and all around the globe without costing their companies a dime.
Virtual events also allow companies to shift their budget away from venue fees and reallocate it toward production costs for their event. High-quality production captures and sustains attendee attention. If your event is lacking in production value, your attendees will be more inclined to spend time on their email instead of participating and actively listening to your hosts and guests.
See how SonicWall successfully garnered a 135% increase in attendance over their previous high-mark partner event. The high-quality production of pre-recorded videos, a custom website with a quasi-live experience, and motion graphics all worked together to untie attendees in a shared interest no matter their physical location. 
3. Augmented Reality
For a few years now, brands have been experimenting with augmented reality to help place their products directly in front of their potential customers. For example, Wayfair and other furniture companies have an augmented reality feature that places a new piece of furniture directly in your space, allowing you to see how it would fit before making the purchase. Warby Parker leverages augmented reality to show consumers how a new pair of glasses may look without going into the store to try them on or waiting for their at-home try-on box to arrive.
Augmented reality truly allows brands to revolutionize the way consumers interact with their brands, and ultimately their products. And if you're thinking, 'that's neat, but only for flashy consumer brands' you might want to think again. B2B companies are adopting and innovating on the trend to make this technology applicable to their offerings. Because, why let consumer brands have all the fun?  
Bluetext worked with AppGate to provide an immersive augmented reality experience at RSA® Conference 2020, the world's leading information security conference in San Francisco. Bluetext conceptualized, designed, developed, advertised, and coordinated the ground-breaking Kill Your VPN campaign and augmented reality booth experience to help AppGate stand apart from the 658 other exhibitors in 2020.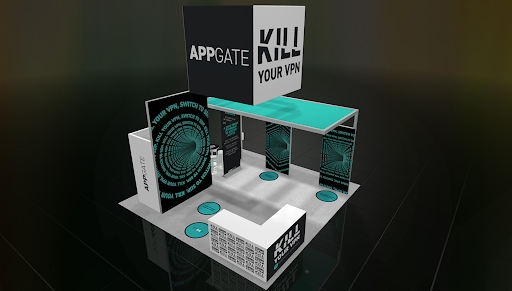 4. Content from Micro-influencers
The influencer marketing industry was worth $8 billion in 2019, and it is estimated to grow to $15 billion over the next two years. But according to Kali Ridley, a marketer on Google's Brand Studio team, the future lies not with megastars and their millions of followers; it's with micro-influencers.
Micro-influencers are those with smaller followings, somewhere between 1,000 and 10,000 followers, who are able to form a community within their reach and share messages that will resonate with their fans. More and more, marketers are discovering relatability outshines star power. Relatability feeds directly into trust, therefore, creating a much stronger argument for your product or service. 
LinkedIn has undoubtedly made changes to its platforms that enable these micro-influencers to make a further impact. The new "Creator Mode" for LinkedIn allows users to pin specific hashtags to the top of their profile to signify the themes they frequently post about. With creator mode enabled, the presentation of profiles is altered to emphasize the hashtags directly under job titles. Additionally, users can "Follow" these influencers rather than adding them to their personal networks. Now instead of feeling uneasy sending network invitations to a complete stranger, users can follow their favorite thought leaders just as easily as on other social networks.
These small changes in the social media platforms signal that micro-influencer marketing strategies are worth the investment and aren't going anywhere anytime soon.
If you want your brand to stand out and succeed today, and tomorrow, consider getting in on any of these trends. Each of the four above have a promising future of long-term success. As a digital marketing agency, Bluetext expects these trends to be adopted by many companies over the coming years, and only improve with iterations on previous success. Contact Bluetext today if you're interested in a future-focused marketing strategy.