An emerging trend across business-to-business marketing is its "consumerization." As customer expectations shift and their buying habits change, businesses that sell and market to other businesses are stealing tactics from "businesses to consumer" marketers.
Tried and true b2c marketing strategies such as user engagement, personalized content, rich media, gamification and alignment with offline events are increasingly nudging their way into b2b digital campaigns. This shift is not lost on businesses, advocacy groups and trade associations, which are all leading the charge in adapting consumerized marketing tactics to a business customer audience. They are creating digital communities to effectively tell their story, sell their products, and gain traction for their issues. These communities are designed to make complex messages more consumable, mobilize user or advocacy groups, and provide users the opportunity to join or "own" the conversation.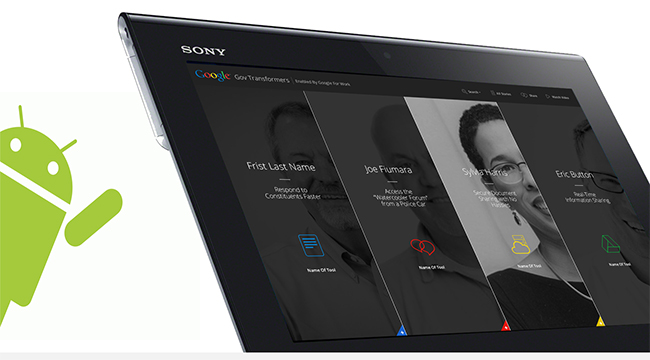 At Bluetext, our approach to developing and executing digital marketing campaigns for clients is to not be bound by conventional battle lines of business, consumer and government. Each market is surely unique, but by remaining open to innovative tactics and strategies we are consistently able to help clients' marketing efforts stand out from the pack. Based on recent projects, we have assembled a set of core recommendations for any business or organization seeking to leverage the consumerization of b2b and advocacy marketing to impact customer buying decisions and brand awareness.
Drive Personalized Content and Experiences
By stepping back and letting your best customers and members take the lead in telling your story, the content becomes more real and personalized. One example is a campaign Bluetext developed for Google called GovTransformers that showcases a wide variety of public servants and how they are using Google's enterprise applications. The campaign shines a spotlight on dozens of government workers all across the United States – from law enforcement to CIOs – with video profiles, photographs and written descriptions. By making customers the heroes, other customers are encouraged to share their stories.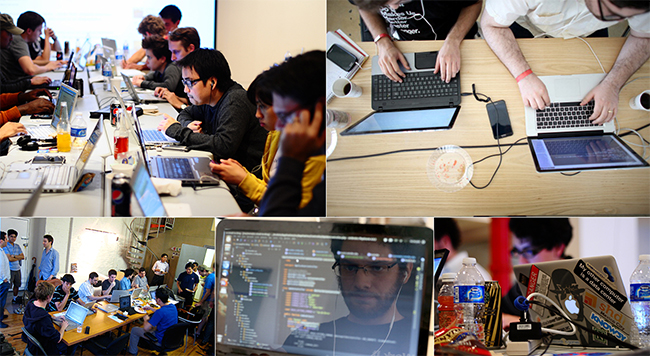 We leveraged offline events to grow the community with a series of Hackathons in key cities around the country. Each Hackathon brings together programmers and developers over a weekend to help solve digital challenges using any developer tools they want, as long as one of Google's enterprise apps is also part of the solution. For example, at the Denver Hackathon, one of the challenges involved automating the Colorado Disaster Assistance Center. Another challenge included designing a transparent budget data system for the state of Wyoming.
Enable Users to Join the Conversation

Giving stakeholders an easy way to join the conversation keeps them engaged and an active part of the community. We have built polling ecosystems for several clients that can span a portfolio of brand sites to access their opinions across a number of relevant issues, while giving them a platform to collect and contextualize the trends of the community through data visualizations.
For Intermedia Outdoors Network, a leading publisher of magazines for hunters, fisherman and outdoor enthusiasts, we created SportsmenVote with a Pinterest-type of format offering various issues in the form of questions that have "yes" or "no" or multiple choice answers. The results can be displayed in real-time, and a comment section is built in for those who want to expound more on the topic. The results provide an ongoing reason for the community to return to the site and engage in the dialogue, with content ready to be shared in a social "snackable" format.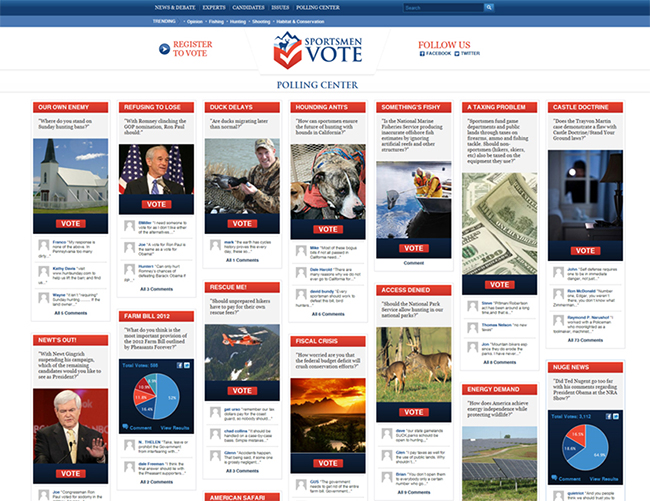 Showcase Your Most Important Assets –Users
Showcasing stakeholders in their own element can be a powerful way of growing a community. The Forest Landowners Association represents families who harvest wood products from privately-owned forests that they manage. Sustainability is a key component of their effort to preserve these private forests. To help build a community of like-minded landowners with a common interest in these issues, we built a platform called Forest America. It serves as a news repository and a recruitment tool for advocacy purposes, complete with impactful videos and a simple way for families to submit their profiles.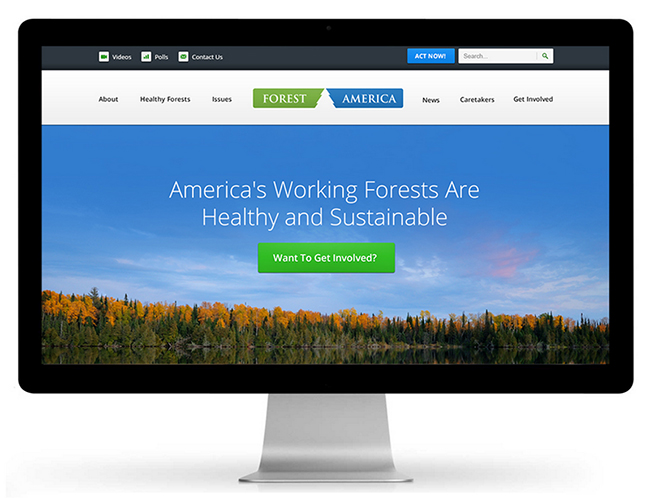 Don't Be Boring. Engaging Concepts & Content to Educate the Market
Govplace turned to Bluetext to develop FedInnovation, a destination designed to help government agency executives get the latest information on current technology challenges and solutions for big data, cloud, security, mobility and storage. Developed in conjunction with leading technology providers including Dell, Intel Security and VMWare, it includes exclusive content, videos, blogs, and real-time social feeds. From this platform, Govplace will drive blog posts, webinars, and other marketing programs to ensure its target audience understands the value that it, working with the leading IT providers to the Federal Government, can deliver.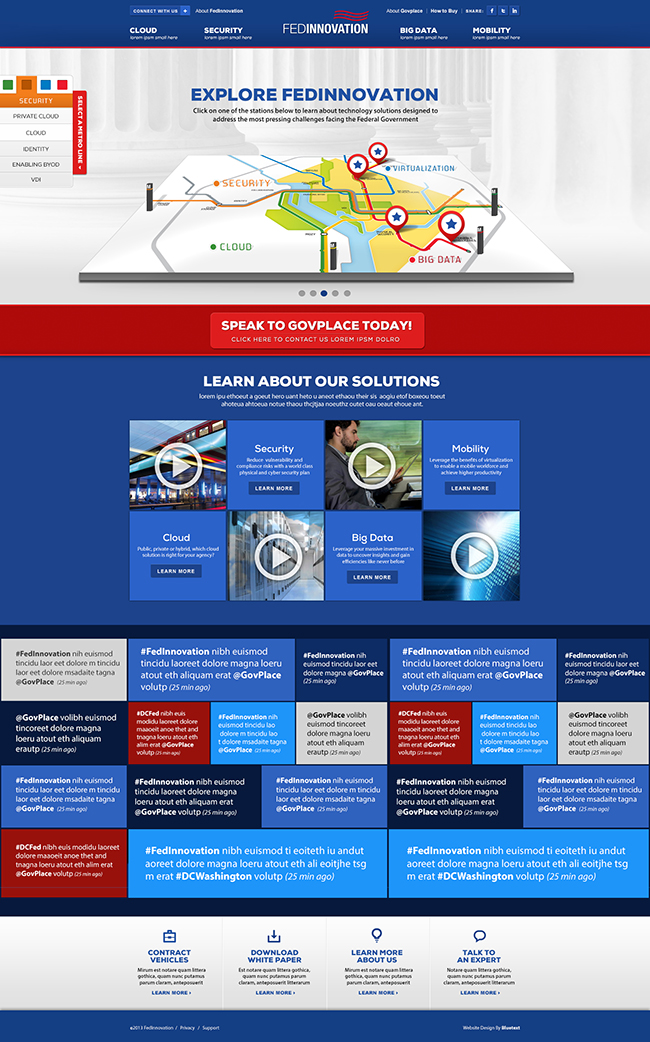 Get Game
We are not talking about the next Grand Theft Auto or Call of Duty. But think about your audience and determine whether a game would engage them. Games can also throw off a lot of "social shrapnel" to drive content and interest. For Lucent Government Solutions (LGS) we designed a "Words with Friends" meets Scrabble experience to help recruit new engineers and drive awareness for the solutions they are delivering into the market.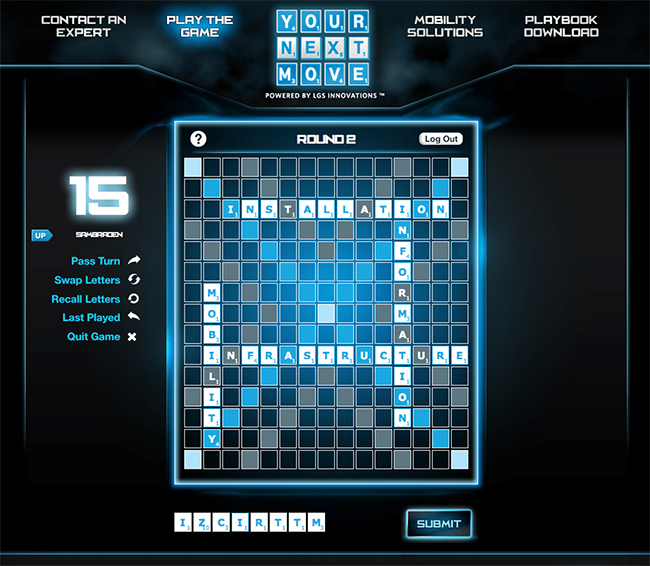 Join the Cause – Everyone Wants to Take Action
Building a digital platform to showcase a community won't be of much help if it's not easy for new members to participate. We recommend offering opportunities to participate directly on the site, either through submitting your own story, taking a poll, seeking information and insight from other members of the community, or using an advocacy tool to weigh in with policy makers. What is essential is having well placed calls-to-action throughout the site so that visitors do not have to search for ways to participate. New Twitter tools like Tweet Builder increase a brand's reach to its social properties by connecting with influencers whose posts then tie back into the digital platform. This social engagement extends the brand far beyond a single website to a wide variety of social sites.
The consumerization of b2b marketing is not about trying to fit a square peg in a round hole; instead, it represents the fact that forward-thinking businesses and organizations across every market recognize a fundamental shift in how business customers are accessing content and information, and what types of marketing initiatives will impact their buying decisions.