The average American is exposed to around 4,000-10,000 ads every day. We have adapted by scrolling past the 'noise' that is of no personal interest to us. Modern brands feel the repercussions of the oversaturated market, finding it hard to stand out and capture viewers' attention. They are faced with questions like how do we appeal to individual users? How do we connect with our audience? For a time, linear videos that had a clear beginning, middle, and end were effective ways to learn more about a brand and its values. However, many of these brands are faced with the reality that the linear videos once produced, simply aren't having the same impact they once did.
Enter: Interactive videos. Interactive videos allow the viewer to interact with content that lives within the video itself. Think quizzes, clickable buttons, polls, and even games that prompt the user to interact with the ad. An Interactive video is non-linear, often referred to as a branching video or a "choose your own adventure" video. The viewer is able to determine the direction of the video's narrative based on their personal interests. 
The magic behind interactive videos is how the story is told. It is dynamic and flexible, but still simple and communicates a clear message. This makes it user-friendly and impactful. It also drives high engagement and high retention rates because the user is able to get the information they need in a story they are invested in. Viewers are no longer passive observers but rather active participants, who in turn have a better chance of remembering and connecting with the message.
Think about the popular Black Mirror episode Bandersnatch, as the viewer is taken through the film they are faced with a series of choices at key moments in the film that change the course of the film based on what they are interested in seeing.
This interactive film allowed the viewer to create a highly personalized and engaging experience for themselves, and in turn, they felt more invested in the outcome of the storyline. Now imagine taking these same properties to evolve your brand and generate higher engagement and increased loyalty toward your brand.
Interactive videos can be a highly effective tool for increasing brand awareness. By allowing viewers to make choices within the video, companies can create a more personalized experience for potential customers, with the ability to create multiple narrative paths within a single video. This can lead to increased engagement and conversion rates, as viewers are more likely to watch the video multiple times and for longer periods of time in order to explore all of the possible outcomes.
Interactive videos can be used to enhance product demos, training, educational content, and internal communication. With the right strategy and resource investment, interactive videos can be a powerful tool for businesses of all sizes and industries. It keeps employees engaged and further aids in building a strong brand foundation that gets both employees and customers excited to be involved.
By giving viewers the power to choose their own adventure, interactive videos have the potential to revolutionize the way we consume and interact with video content. If you are interested in learning more about how Bluetext's video production services can help you create an unforgettable video ad, contact us.
The competitive landscape for capturing visitor attention through digital experiences is crowded and overwhelming to say the least. Not only do you need to grab visitors' attention, but also present thoughtful UX design that guides them to a desired action and outcome. So how do you accomplish this when it seems like everyone else wants the same thing? 
Creative differentiation is a key first step in grabbing the attention of your audience and unique interactivity throughout the user journey can be the extra step that keeps visitors present and engaged in your site content. At the end of the day, a website is a tool for presenting information – so why not do it in the most unique and engaging way that you can? This is where 3D interactive design comes in. With the limitless content possibilities available to us all, thoughtful and creative 3D design with helpful elements of interactivity can elevate your website's content and UX to a memorable and effective experience resulting in conversions and lead generation. 
Check out Bluetext's work for Aeyon's go-to-market campaign leveraging custom 3d animation throughout the page scroll experience!
Immersive design is a balance – it should have the coveted wow factor but also should achieve practical benchmarks like accessibility, effective communication of information, and an intuitive user journey. The implementation of 3D interactive design should follow best practices to ensure that site visitors are delighted and not overwhelmed by the UX – more is not always more. For example, the use of complex 3D layering and visual effects on every component of your homepage would create a visual overkill and also harm the practicality of the page when it comes to loading times, page speed, and site performance metrics. On the other hand, having an eye-catching 3D hero with engaging hover states is enough to entice the visitor to continue on the site where they can find other elegant 3D applications of the visual brand. 
There is a multitude of 3D design styles that can be applied to a brand through web design, each with its own capacity to tell the brand story. Layering and masking can create depth in design while allowing the intermixing of imagery and brand shapes.
The use of illustration can also be used in 3D design to emphasize the real objects seen in brand imagery, it can also be used in a brand that wants to convey simplicity while avoiding the use of generic stock images. 
Typography can even be brought to life with 3D shadowing and interactive states!
In addition to the possibilities for 3D design elements, there is endless opportunity to create unique interactivity within those elements. Things like hover states, scroll transitions, the reveal of content on hover, interactive graphics and more can elevate an already elegant 3D design application. It is crucial to remember, though, that each of these elements should be chosen carefully to reflect the ultimate goal of the page whether that is a form completion, subscription sign-up, resource download, or simply continued site engagement.  
Want to learn more about how 3D interactive design can elevate your brand? Contact Bluetext to learn about our 3D design services!
We've all experienced the infamous 'Blaring Ad' before. It strikes at the most inconvenient of times—one second you're peacefully (and silently) scrolling through your phone, only to be interrupted by the ear-splitting sound of a video advertisement playing at full volume. What is it for? What do they have to say? It doesn't matter. None of these questions so much as cross your mind before you shut it off (angrily) in one quick click. You don't even take the time to consider the marketer's message, as you're either jarred by the sound or embarrassed to be the source of a sudden outburst in public. 
The rise of silent video and closed captioning is occurring rapidly; we are seeing more and more videos that not only utilize subtitles but also do not require any audio to fully understand the premise and/or story of the ad. Data from Facebook demonstrates exactly why you might want to tone it down on the audio in your ads—approximately 80% of people will react negatively to a mobile ad that plays out loud as they're scrolling. Rather than spending money on an ad that users will quickly click out of, you could be creating a compelling ad that can be watched in (peaceful) silence. 
It's time to say goodbye to the Blaring Ad, and hello to a silent video. 
Three Tips on How to Create a Compelling Silent Video 
1. Nail the First Three Seconds 
Research has shown that when someone comes across a video, whether they are going to stick around and watch it or not is typically decided within the first three seconds. After that, they're either in or they're out. This means that the first three seconds of your video needs to have an interesting hook to keep your audience interested. There should be a great visual that draws people in without necessarily needing them to hear anything. The bottom line is that we as humans remember pictures better than words, and that's a fact. 
2. Utilize Closed Captioning 
Captioning your videos is a no-brainer—it will increase viewer engagement, improve SEO, and most importantly, it will make your video more accessible. Video captioning ensures that viewers can comprehend any auditory cues and dialogue in your video, making it accessible for persons who are deaf, hard of hearing, or non-English speakers. Closed captioning can also boost brand memorability and awareness. According to research conducted by eMarkterer, subtitles increased average video viewing by 40%. Videos with subtitles led to a 91% completion rate compared to 66% when viewed without subtitles. 
Closed captioning is also a great move when it comes to Search Engine Optimization. Your SEO efforts will benefit from captioned videos because it will be easier for viewers to find the content online. Videos, unlike articles and other text-based content, can easily get lost in the complex algorithms of search engines, unless they contain searchable captions that push the video to the top of a Google search. 
3. Pick the Right Platform 
When it comes to picking where your silent video will be advertised, social media is going to be your best friend. YouTube, Snapchat, and many other social network sites are moving gradually to a captioning system. Videos with captions are frequently associated with accessibility in the social media sphere since the majority of these websites will automatically mute their videos. In a study, Facebook reported that users will watch videos without sound in almost 85% of all cases. Because of this, it is even more crucial for content producers to think about using video captions or subtitles to keep and attract viewers.
In short, Overall viewing will rise as a result of using closed captions in video marketing, and the advertised brand or product may even become more popular. Don't pass up the chance to add words to your ads and instantly make them readable to everybody for a fraction of the price of the video itself. If you are interested in learning more about how Bluetext's video production services can help you create an unforgettable silent ad, contact us. 
Kingston Technology is the leading global manufacturer of memory and storage solutions, but their IronKey hardware-encrypted portable data storage products were not as well known. Bluetext was specifically contracted to create a campaign that could educate the industry about the benefits of hardware encryption compared to software-encrypted, unencrypted, and cloud-based solutions. Centered around the specific hardware-based encryption, our campaign asks the rhetorical question of does anyone want their security to be 'soft'?
The obvious answer being no, Bluetext focused the campaign concept around "Hard vs. Soft" things. Bluetext was challenged to figure out how to bring "soft" to life via 3D design. But how to memorably visualize this metaphor? A deep brainstorm by the Bluetext surfaced a quirky and nostalgic example almost anyone could relate to: Jello.
Behind the Scenes: Jiggly 3D Animation
Communicating the look and feel of Jello with its jiggly physical properties was a real technical challenge. Using Cinema 4D's built-in Jiggle Deformer and Fracturing Objects, adding a little bit of smoothing and rendering with the built-in RedShift render engine in Cinema4D, we were able to get the look we were going for.
Jiggle Bells, Jiggle Bells
Does jiggling jello even make a noise?! We asked ourself this very question every day. We even made some jello (lime of course) and tested it out just to be sure. The answer is – not really. But that's beside the point.
Sound design was a pivotal component of our concept. Essentially, didn't want it to seem like the hard drive was exposing or stealing sensitive information. Also, with the international scale of this campaign (7 languages!), we couldn't use a voiceover.
It was up to our sound designer to clarify the story of "jello safe, bad. IronKey, good." Using a mix of digital, mechanical, tactile, and dystopian sound effects, our audio narrative both negatively reinforces software encryption and then victoriously reinforces how hardware encryption can save the day.
Designing the jello splatter portion? Let's just say we spent some time in the "Gore" section of our sound library. I think our designer is still having some PTSD, but the end result goes hard, that's for sure.
With 3D animation to support Kingston's IronKey product, the campaign set out to break the mold of traditional cybersecurity campaigns. If you're looking for some creative ways to shake up your campaign advertising strategy, contact Bluetext to learn about our video and creative services.
There's a reason why TikTok is the fastest growing app in America, and it's not because of the lip-syncing teens or the viral dance moves. Users are drawn to TikTok for one primary reason: they love video. So much so that brands and companies recognize the power of audiovisual advertising opportunities and pump out more video content than ever before. But looking just beyond social media trends, video marketing remains highly effective across all platforms. In 2021, a study by Lemonlight found that 98% of marketers agreed that video would play an essential role in the upcoming years. In a media environment where consumers are constantly being bombarded by new information, it is absolutely vital that companies garner attention and engagement. One of the most effective means of capturing attention is through video marketing. Not only has video been shown to drive more engagement than any other type of marketing, but it can also be a powerful way to humanize your brand. Using eye-catching visuals, voiceovers, and music can translate your brand's story and mission in a concise and memorable way. Producing video content may seem daunting, so here are a few key pointers to help break it down.
Different Types of Video Marketing
Commercials
The most common kind of video you can produce is oftentimes referred to as a "spot", and it entails any kind of advertisement that airs at a specific time. Businesses choose where and when they want their advertisement to appear, and the content can vary depending on the brand or product being marketed. Since spots are typically less than a minute long, brevity is the name of the game. The key here is to immediately engage your audience and get to the meat of your message within the first couple of seconds.
Social Media
Videos for social media include anything that would be made and posted on a company's organic social media account, or promoted through paid media placement. For organic social profiles, video content is often leveraged through temporary or traditional posts, while paid media promotion can target social media users with inline video ads based on profile data or website cookies. The content can vary, but the main focus for organic placement is to increase brand awareness and grow a social following. Putting some ad spend behind your video content offers more precise audience targeting, and offers opportunities for direct calls to action such as "Learn More" or "Sign Up". Nevertheless, organic and paid social videos are typically short, with the exception of content for YouTube or Facebook, which is better suited for longer content.
Company Culture
The primary goal of this type of video is to help show off your company's personality. These videos are an effective means to build trust between the company and its target audience, whether that be potential customers or prospective employees, by emphasizing core values and missions. These can include interviews with team members, clips of the office or events, or anything at all that shows what makes working at your company unique.
Product Demonstration
With a demo video, you have the opportunity to show off your brand and your products while teaching people how to use them. These are usually a bit longer and more detailed than the other video types mentioned, however, they should still grab the viewers' attention. Product demonstration videos typically feature a charismatic host that speaks passionately about the product, but animated videos are effective as well.
Getting Started with Making Video Content
Okay, so now you know a few different types of video marketing, but where do you start? Although there are plenty of online sources for learning how to create amazing content on your own, it can be helpful to invest in a video marketing agency. This powerful method of marketing is not going anywhere anytime soon, so if you are interested in increasing user engagement, brand awareness, and conversions contact Bluetext about our video production services.
When we talk about motion in branding, we're talking about a wide variety of creative approaches. From subtle homepage loading flourishes to complex, eye-catching 3D advertisements, animation can breathe new life into your brand. Today Bluetext will explore why motion design for logos is on the rise, when it's best applied, and some of our favorite examples.
The digital landscape is crowded, to say the least. The average American spends a little over seven hours a day on the internet, and much of that time is spent surrounded by thousands of brands and advertisements. A well-done animation can help your brand stand out from the crowd and add essential layers of personality to your marketing collateral.
Whether your brand is neat and polished or playful and young, animation can reinforce those core characteristics without a single word. Picture the old Nickelodeon "splat" logo, for example. In 2009, a handful of disparate channels (TeenNick, Nick at Nite, etc.) were rolled into the Nickelodeon brand, and a new logo was unveiled to go along with the consolidation. The older logo's animation had a younger, scrappier feel, while the current logo is much more refined, and gets at the large-scale, premium approach of Nickelodeon's parent company, Paramount. These approaches are vastly different from one another, but there's not one "right" answer when it comes to logo motion. Both animation styles are integral parts of the brand's history and tell the story of a brand's evolution. I've said it before and I'll say it again: If a picture is worth a thousand words, an animation is worth a million.

Virtually any digital platform is an option when it comes to displaying an animated logo, but as they say, moderation is key. Instead of applying motion "just because," it's important to have intention behind the choice to display a static or animated logo. Here are a few of our favorite intentional applications of motion design in logos.
Use an animated logo when your space and time are limited
In cases where viewers may only see one or two components of an ad (scrolling quickly through a social feed, for example), you can convey more with an animated logo than you can with a static one. The key in these instances is to take up about the same amount of space and time as a static logo. This means your animation should be quick and to the point, like the example below from Nike. An added feature of Nike's animation style is that they apply a different animation style depending on the audience and product, so each motion graphic feels uniquely suited to its context.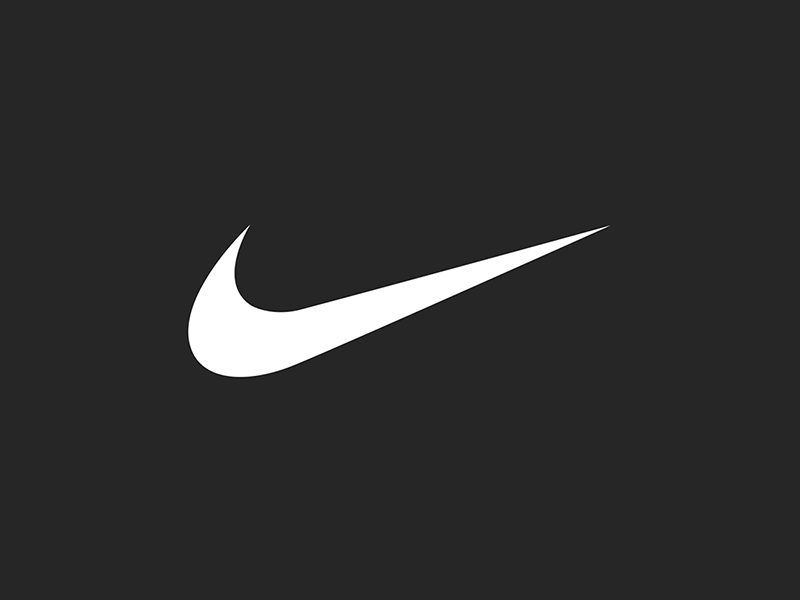 Amp up your site's intro screen with logo motion
Along with the now-iconic "ta-dum" sound, Netflix's loading visual is well-known and well-loved. Because the animation doubles as a loading screen, it doesn't feel intrusive or overdone. It's reminiscent of classic film grain, and it ensures that the Netflix visual identity is central to the viewer experience, regardless of whether the program is a Netflix original or not.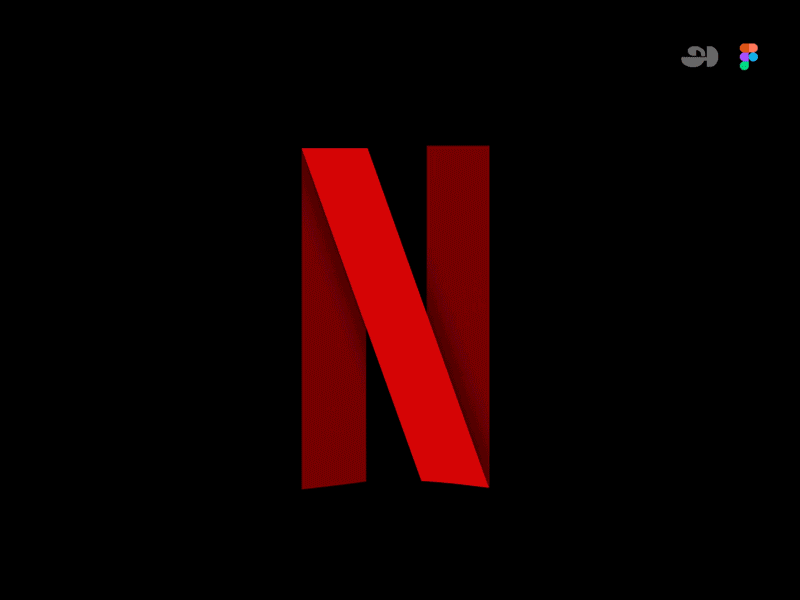 Animate your logo as part of a brand pattern
For Calling All Optimists, a GMAC brand, we developed an animated brand pattern using elements pulled directly from the brand's logo. This is a handy asset in any brand's toolbox, because it's a custom element that can be used in place of stock imagery or generic graphics, and it can be front-and-center or fade into the background. You can explore our case study for Calling All Optimists here.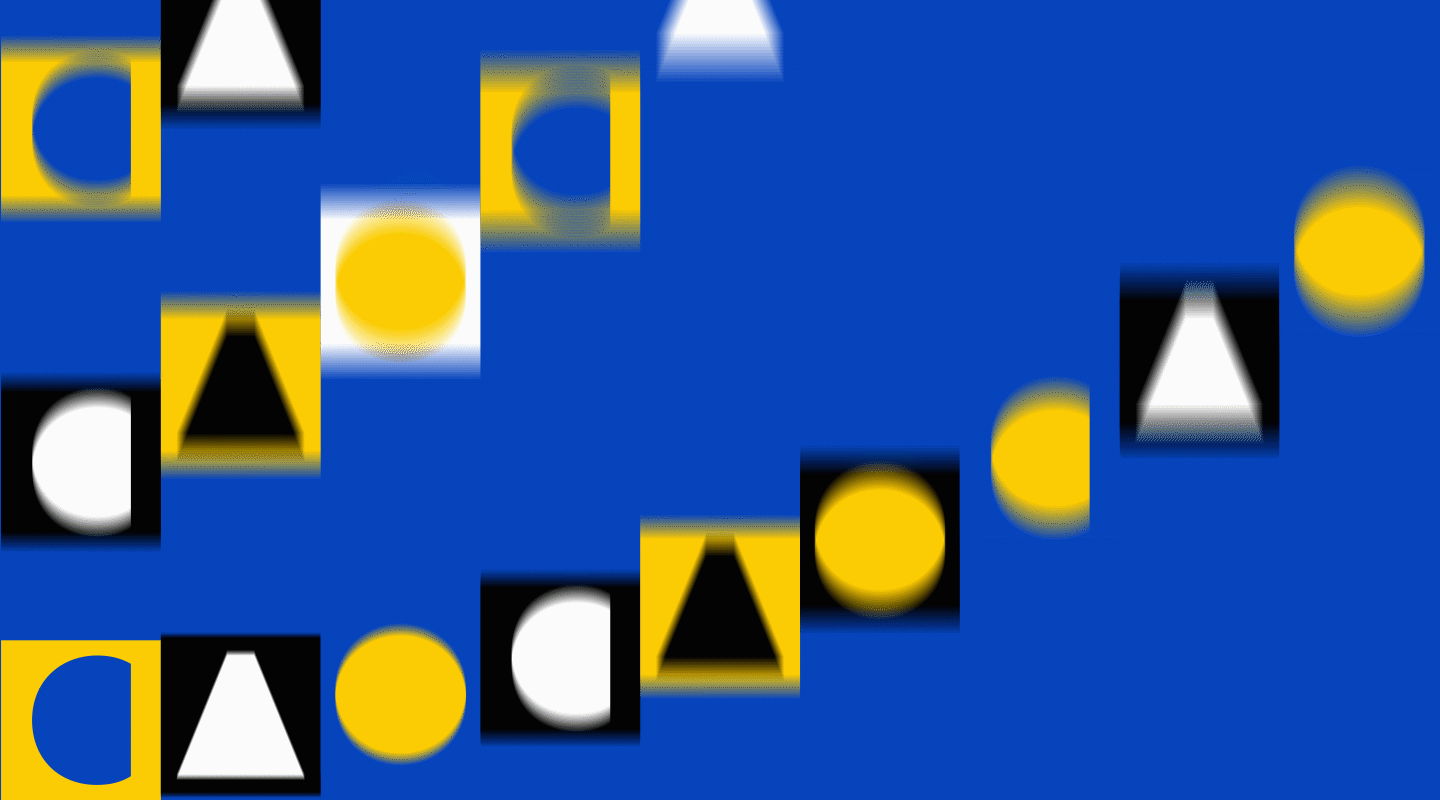 Tell a story about your brand using animation
Designtorget is a Swedish design house that sells all kinds of homewares, and their logo animation helps convey their line of business to unfamiliar customers. Using the "D" and "T" figures from their logo, shifting them around with other simple lines to portray things like a table and chairs and an abstract smiling person. This animation demonstrates the brand's actual offerings while also presenting a playful, modern brand identity.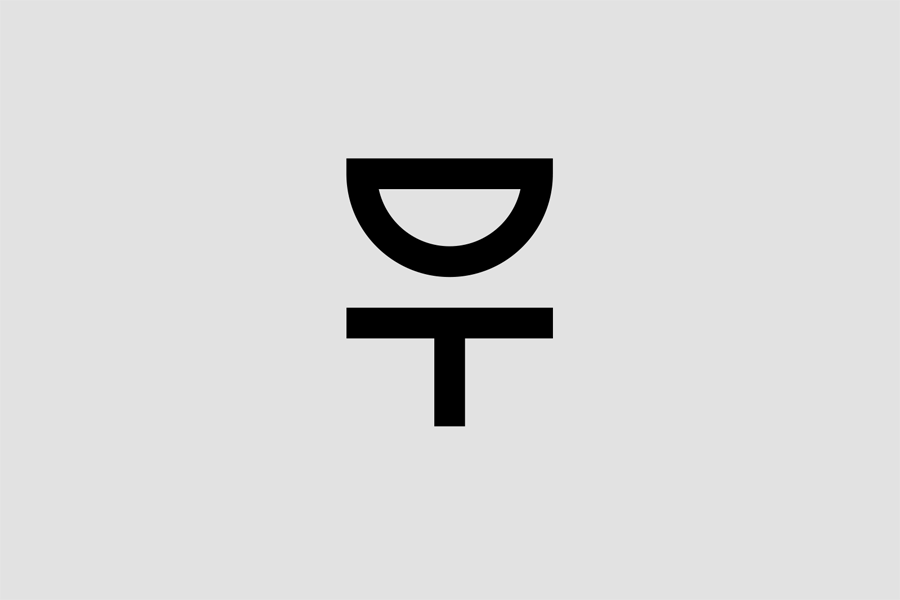 Ready to explore how logo motion can boost your brand? Contact Bluetext to learn about our dynamic branding and motion design services.
We jumped at the idea when Phosphorus approached us here at Bluetext about creating a new campaign. After extensive brainstorming the team agreed that a video integrating animated 3D objects into real-life footage would be the best way to tell the story of the Thing Tamer. It's a trend that's been going on for decades, from previously cheesy CGI such as The Scorpion King (2002) to more stunning recent examples like Disney's live-action version of The Lion King (2019). The advancements in integrating 3D animated objects into real life have come a long way! Let's dive into some of the techniques used.
The Thing Tamer video we created consisted of animated 3D IoT office devices presented as wild creatures creeping through an office. To accomplish this, we had to carefully plan out our shoot during the scripting and storyboarding phase with the expectations of adding 3D animated creatures created in post-production. This entailed detailed storyboarding ahead of filming, then taking 360-degree spherical images of the intended 3D objects' locations using a DSLR before creating the HDRI maps in Adobe Photoshop. While capturing 360-degree panoramic images isn't essential, it can significantly increase the photo-realistic illumination and reflections of 3D-generated objects. HDRIs help in matching the color and lighting from the set or location to the inserted animated footage. This along with color correcting the footage to match the colors of the HDRI ensure any lighting and reflections are as realistic as possible.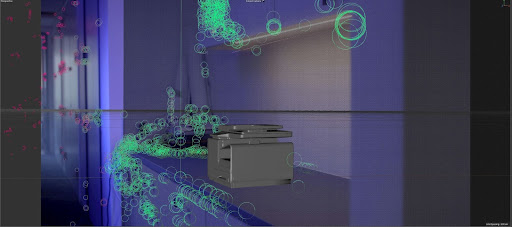 Once we got our raw footage it was time to get started in Cinema 4D. After motion tracking the footage, which creates points in 3D space to use for the animated objects we placed the 3D IoT creatures in their planned locations, aligned with their relevant tracking points. From there, we modeled the movements of the creatures using their real-life counterparts as inspiration. This is where things got interesting as we had to account for the various joints of each creature. For example, we ended up using the general motion of the first black widow spider's leg as a baseline for the other legs, then accounted for individual differences between the legs and height of the printer torso. Small details like this help sell the illusion, keeping viewers believing the object is truly part of the scene.

Once we finished adding all the objects, animation, lighting, and reflections to Cinema 4D, we were ready to render the various sequences. While there are a number of GPU-based rendering engines on the market, we use Redshift because it's built to work seamlessly with Cinema 4D. While we also like Redshift for being fast, keep in mind that each rendered frame can take 3-5 minutes to render in high quality. So the actual render time can vary depending on the length and complexity of the shot. Thankfully, if a project has a tight timeline, you can either add additional GPUs to your rig or employ the aid of a render farm. At the end of the day, if the goal is to be as photo-realistic as possible, the project will likely lean towards the longer side.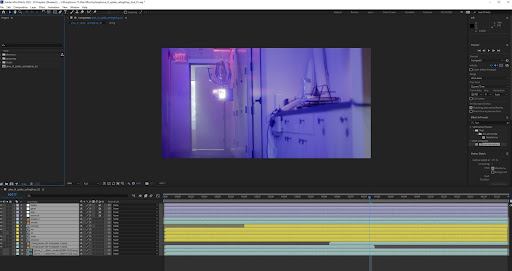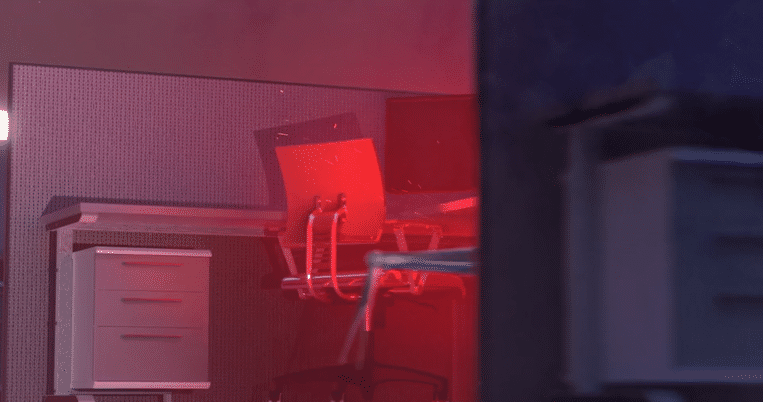 Once we finished exporting all our renders from Cinema 4D, it was time to start loading the sequences into After Effects. Once imported, we dove into layering the various sequences. Once again, this is a stage where it was vital for us to take our time to ensure the best quality. At this stage, as you work with the sequences, you may notice some issues such as particular lighting not working well with some 3D objects. So take the time to adjust the color to match the lighting of the footage. Always remember, the goal is to create a life-like 3D render that nearly or fully fools the user into believing it's real. Any adjustments to the passes should increase the believability that the 3D objects are native to the footage. Once we were satisfied with the lighting, shadows, and reflections applied to the 3D objects, all that was left was to export the finished product. And that's how we successfully created a film that blends live-action with 3D digital assets!
Whether you're trying to create the next big 3D-blended campaign ad or a short teaser video, the experts at Bluetext can help. Our professional videography team is eager to identify intriguing stories to tell and how best to capture them. Want to learn more about how Bluetext can help your video needs? Get in touch with us here. To learn more about our Thing Tamer campaign, check out the full breadth of our work here.
So you want to build hype for your campaign? Our campaign strategists at Bluetext have some tips for you. Assuming you've already started building out your campaign, you should have an idea of what your goals are. A common goal is to build awareness and excitement. When building excitement ahead of your launch, you want to bring an air of mystery. Balance announcing details of your campaign while leaving enough to the viewers' imagination. Some effective teaser mediums include social media snackables, physical swag, email campaigns, or teaser trailers. 
When Bluetext recently launched Phosphorus' Thing Tamer, we decided to keep things mysterious. So, we began with the organic promotion of teaser videos to curate a collection of content for the dramatic launch of a full campaign without sacrificing ad spend. Once our audience's interest was piqued by compelling graphics and intriguing headlines, we directed their attention to the campaign landing page. This landing page hinted at all things to come and encouraged users to sign up for exclusive notification of the launch. The landing page was designed to be as engaging as possible, with promotional movie posters, two different trailers of the Thing Tamer series, and on-scroll animation to introduce the personified things and interactive carousels to reveal campaign messaging and key stats.   signed up for the email list, they received a thank you email that further teases at the Things to come.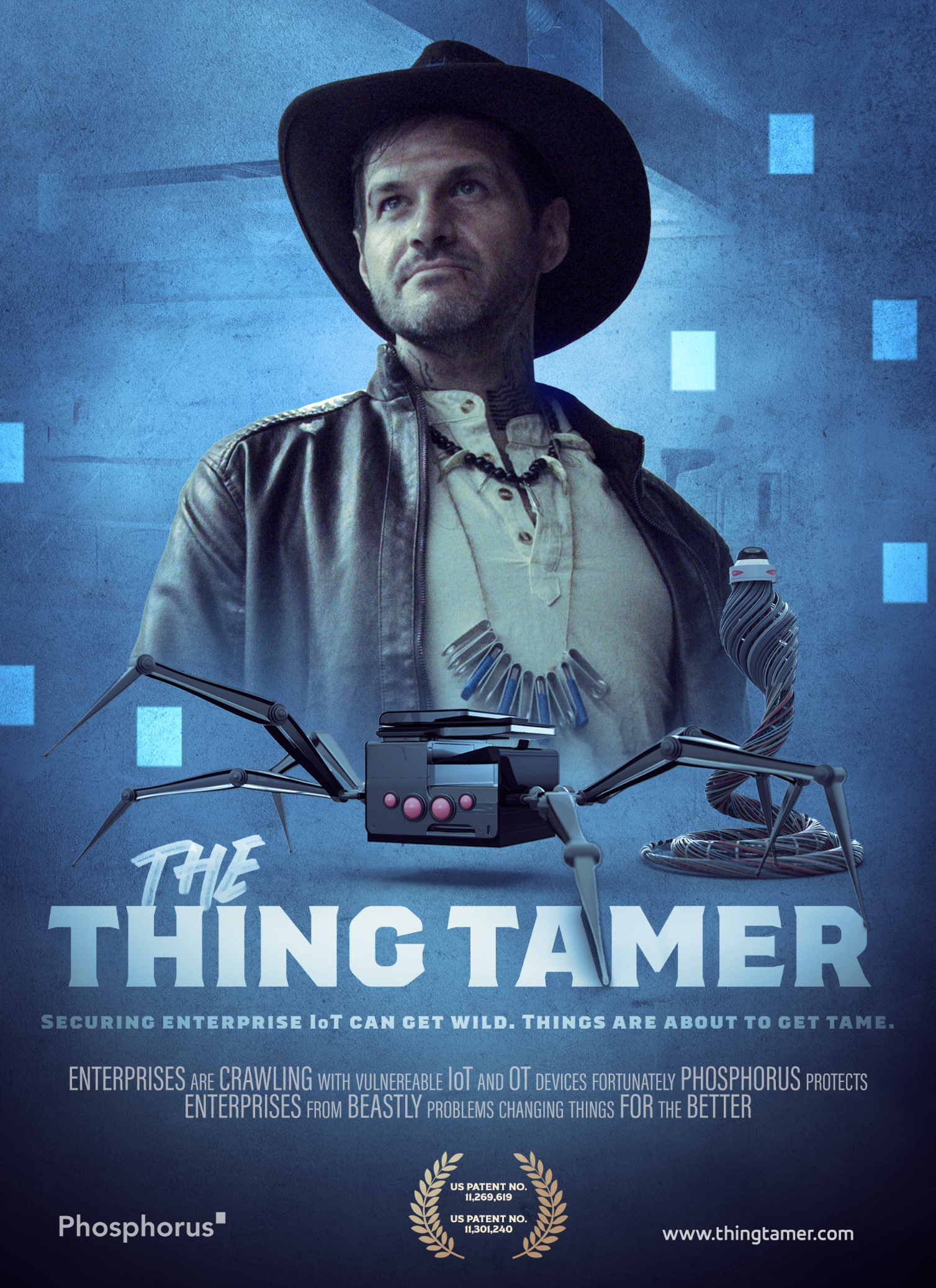 The first trailer named the Beast Trailer worked to establish the problems Thing Tamer solves. Offices with countless enterprise IoT devices are at high risk of being exploited by unsuspecting sources. Each device has its own firmware and unique language making managing all of them a complicated process. Without giving too many details away, we put a spotlight on common problems enterprises face. This was followed up with the second trailer, which starts off by slowly revealing our hero, the Tamer, an IT version of Indiana Jones meets Crocodile Dundee. By shifting focus to our IT guy wearing the Tamer's hat, users are able to envision themselves as the ones resolving their IoT devices' vulnerabilities. The teaser strategy allowed for the campaign to slowly introduce the problem with an air of mystery, leaving them craving more for the full campaign to unveil the solution. Separating the story into digestible trailer videos keeps the target audience engaged for an extended period of time, building upon their interest and education with every touchpoint. Not only does it allow for multiple follow-ups and a nurture strategy, but the shortened length of each video also ensures that viewer attention does wane while watching a long-form video. Hitting the viewer with messages one at a time increases the likelihood of memory retention and builds upon Phosphorus' brand association.  At the end of the day, a successful message is one that users can connect with, and that's just what we did.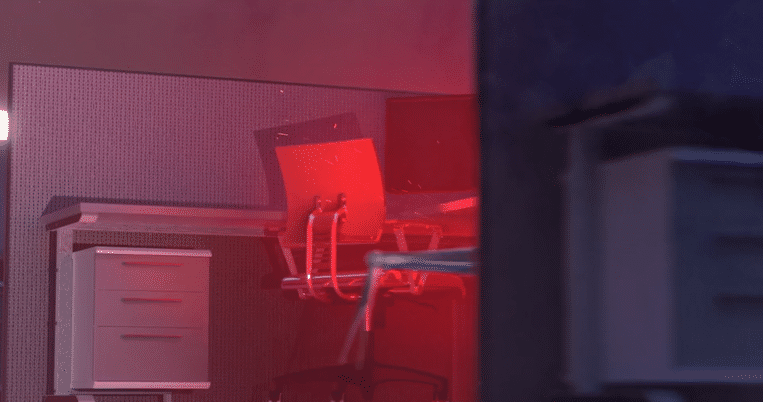 Similar to Thing Tamer's landing page where visitors could engage with different elements to learn more, the recent The Batman movie had a fun way of building hype ahead of the movie's premiere. Visitors who found the secret website through a hidden message on the official movie poster were able to talk with the Riddler and solve additional puzzles. Those who solved the puzzles were rewarded with exclusive clips and pictures from the yet-released movie. Once the movie was released, Warner Brothers went a step further and updated the page to reflect the domain being seized by the fictitious Gotham police department. Warner Brothers managed to engage with their target audience over the course of weeks, thanks to a clever Easter Egg hidden in their posters. Being given the opportunity to dive into the Gotham universe in this unique way allowed the audience to connect with the film and get hyped for the official movie release.
Phosphorus also engaged in a few organic social media promotional posts to promote its campaign launch. Social media serves as a great opportunity when trying to build awareness. That being said, Phosphorus didn't want to spoil too much, so we kept the captions short and used the two trailers and social snackables for the LinkedIn promotions. Utilizing cross-channel promotions and various forms of media increases the likelihood of your users finding your content and engaging with it. Again, at the end of the day, how can you build excitement if your campaign isn't known? Agencies like us here at Bluetext have the expertise to guide you through the optimal campaign launch.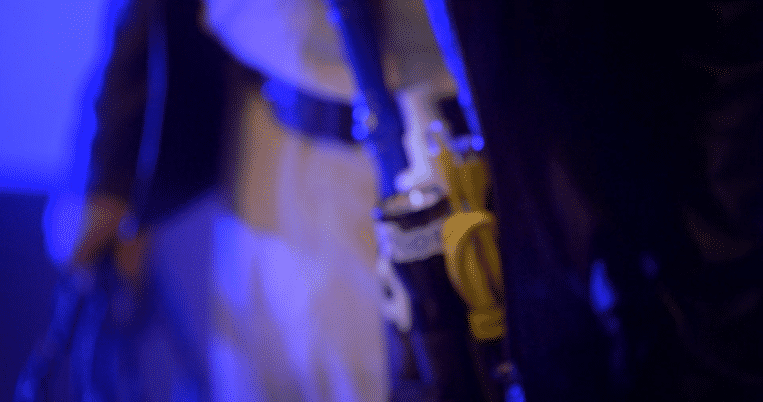 No two campaigns will be the same, and while the Phosphorus campaign succeeded based on its goals, your success isn't a guarantee. At the end of the day, your best bet is to engage with a trusted campaign-focused agency to build hype for your campaign launch. Once you've launched, we work with you to drive paid marketing and PR efforts, ultimately driving users to engage with your business. Want to learn more about how Bluetext can help your campaign? Get in touch with us here. To learn more about our Thing Tamer campaign, check out the full breadth of our work here.
What's the last campaign headline you remember? Odds are you probably saw the ad within the last couple of hours, but still couldn't recall. People don't remember bland corporate messaging, they remember bold and creative ideas. The physical and digital world is swarming with overused taglines and empty brand promises, steepening the uphill battle to stand out. Enter personification, a guiding hand in the effort to connect with target audiences. For years, corporations have been using people and creatures to personify the very real, but often intangible, challenges and solutions consumers face. From older instances such as Mr. Coffee Nerves to newer versions like Allstate's Mayhem Man, these brand personifications help consumers connect on a more memorable, substantial level.
Think about it this way, are you more likely to remember a long list of features or a wild personality? Odds are, unless you're a computer or robot, you'll remember the personality much better. Why? Because you're human which is exactly why personification tactics are so successful. Brands like Allstate have famously created characters around common but maybe overlooked problems to draw attention to how insurance can solve those problems. Putting a customer's challenges in a palatable form makes it easier for them to face the problem and consider your brand as the best solution. That's exactly what the Bluetext campaign and 3D motion graphics team did with Phosphorus' Thing Tamer. Phosphorus is an enterprise IoT remediation solution with enriched data and visibility to defend every connected device, which in the Internet of Things revolution is far more than the average person expects. In our first trailer for the campaign, we establish the scale of various IoT devices around the office to put into perspective how vulnerable enterprises truly are. That printer in the corner? Fully hackable and could be a potential entry point for malicious actors. I bet you didn't expect that threat lurking in the background. In the second trailer, we frame the problem as to how to protect the wide range of enterprise IoT devices we depend on daily and how with Phosphorus, a cybersecurity platform personified as an Indiana Jones-esque hero out to save the day. By assigning tangible symbols and actions to the problem and a face to the company Phosphorus enforces its capabilities and in an exaggerated but memorable storytelling way, can step in to save the day.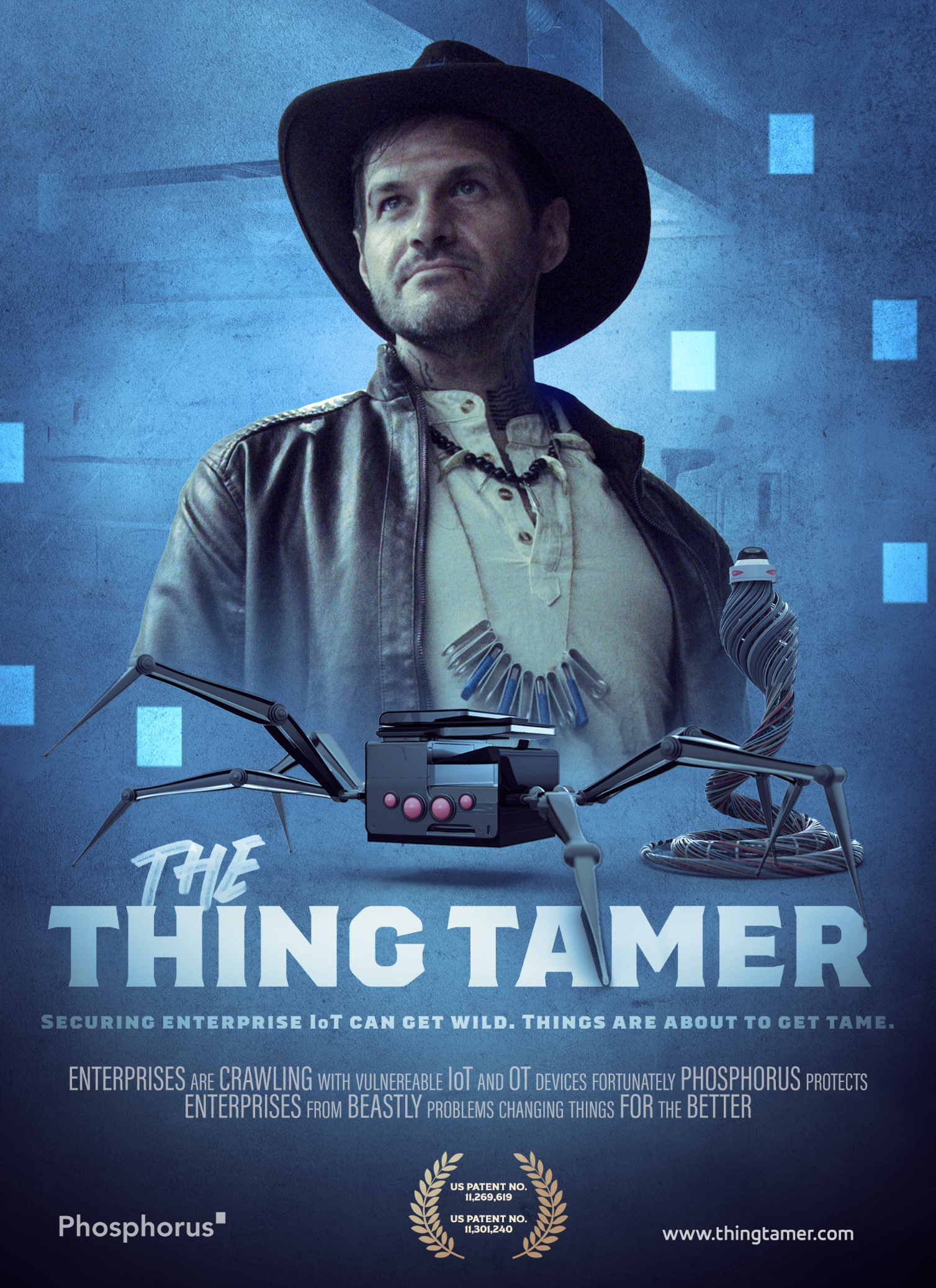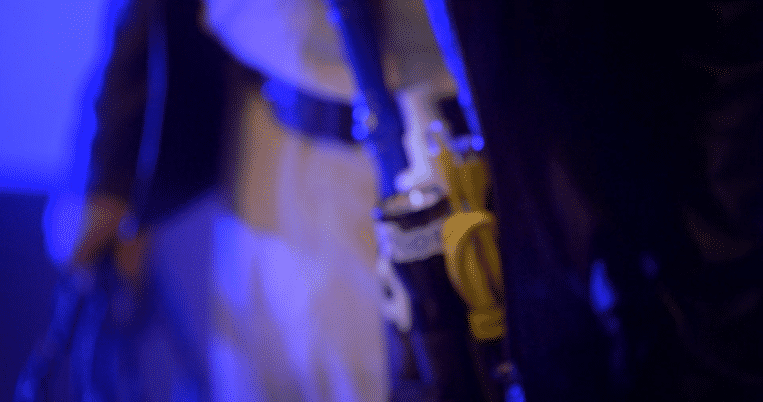 This strategy can work across many industries with the right approach. Varonis approached Bluetext to create a campaign around the idea of "avoiding unnecessary exposure." Our campaign strategists ultimately chose the personification of cyber hacks and exposure as its shocking but memorable approach. Varonis works to secure unstructured data, so Bluetext's campaign entailed a CEO walking around seemingly naked to convey the risky vulnerability of not securing company data. The campaign was a huge success at quickly catching customers' attention, helping identify a potential problem they weren't aware of, and providing them with the solution of working with Varonis.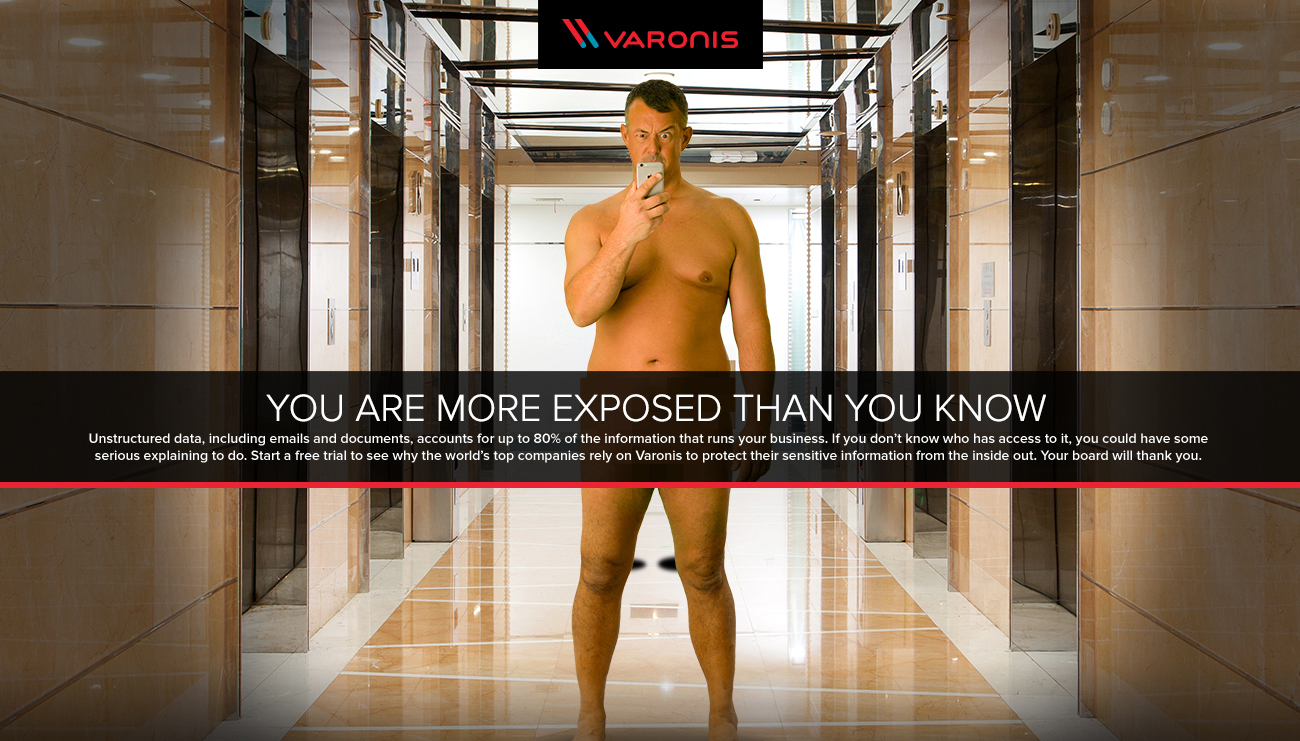 Similar to Varonis, in Phosphorus' first trailer we used a haunting Black-Ink Widow IoT device to portray a dangerous but unsuspecting vulnerability lurking around the office. Paired with intense jungle drum music, the scene evokes an apprehensive sense of being under constant threat. In the second trailer, Bluetext introduces the hero, Thing Tamer, surrounded by blue light and IT gear ready to hunt and defend against dangerous vulnerabilities. Paired with visuals of nefarious emoticon faces on IoT devices accompanied by red lights, we established a good versus evil theme that only Phosphorus' Thing Tamer can tackle. The dramatic themes and high-impact visuals of the trailers are meant to provide audience interest and enforce the reality of IoT device vulnerabilities they may not notice lurking about at night. It sets the stage for a memorable, engaging story of how a security platform can quite literally step in as "Thing Tamer" to corral these unruly and beastly "Things".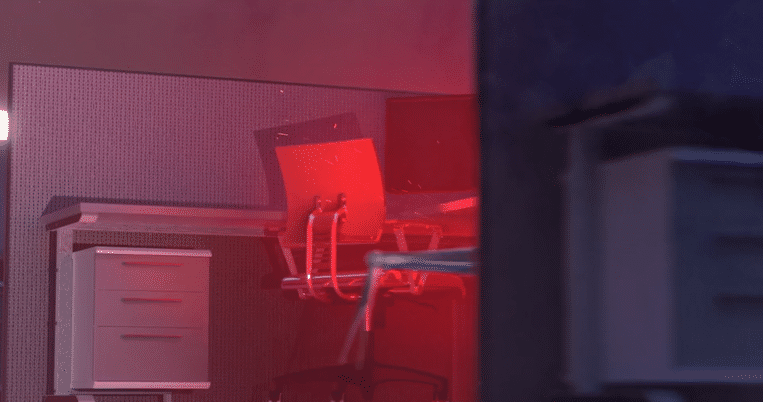 Another example successful brand personification campaign is the Maytag Man, a character that has been around for decades. Historically the Maytag Man was portrayed as lonely and bored because Maytag's machines were so reliable that no one needed a repair man. However, a recent revamp personifies the machines as a strong, attractive, and 'tough as steel' Maytag Man throughout people's homes. Similarly, when Bluetext ideated on potential names for Phosphorus' campaign, we opted for simple alliteration pulled from the Internet of Things (IoT). Thus, the "Thing Tamer" was born. An easy to say, easy-to-remember name that ties back to what Phosphorus does and the ambitiously pioneering ethos. This charismatic adventurous hero increases the chances of customers remembering Phosphorus first when searching for IoT protection. 
Whether you're trying to be the next Mayhem Man or just have some fun with your personified brand, the experts at Bluetext can help. Our professional writing, creative, and video teams are eager to get your brand's campaigns to the next level. Want to learn more about how Bluetext can help your campaign? Get in touch with us here. To learn more about our Thing Tamer campaign, check out the full breadth of our work here.
2 years ago SonicWall approached Bluetext with a campaign challenge: "Help us infuse originality within an over-saturated cybersecurity market. Portray Boundless Cybersecurity ability to break free of cyber threats." 
Bluetext's response? Hours upon hours huddled over brainstorming sessions until the winning idea came to light. Portraying the end-users in a surrealist, anti-gravity state in which they quite literally "break free" from the constraints and anxieties of impending threats. But how could this be done? With a troupe of ballet dancers, a giant trampoline, and an imaginative team of creative & strategic minds the first Boundless photoshoot was made possible.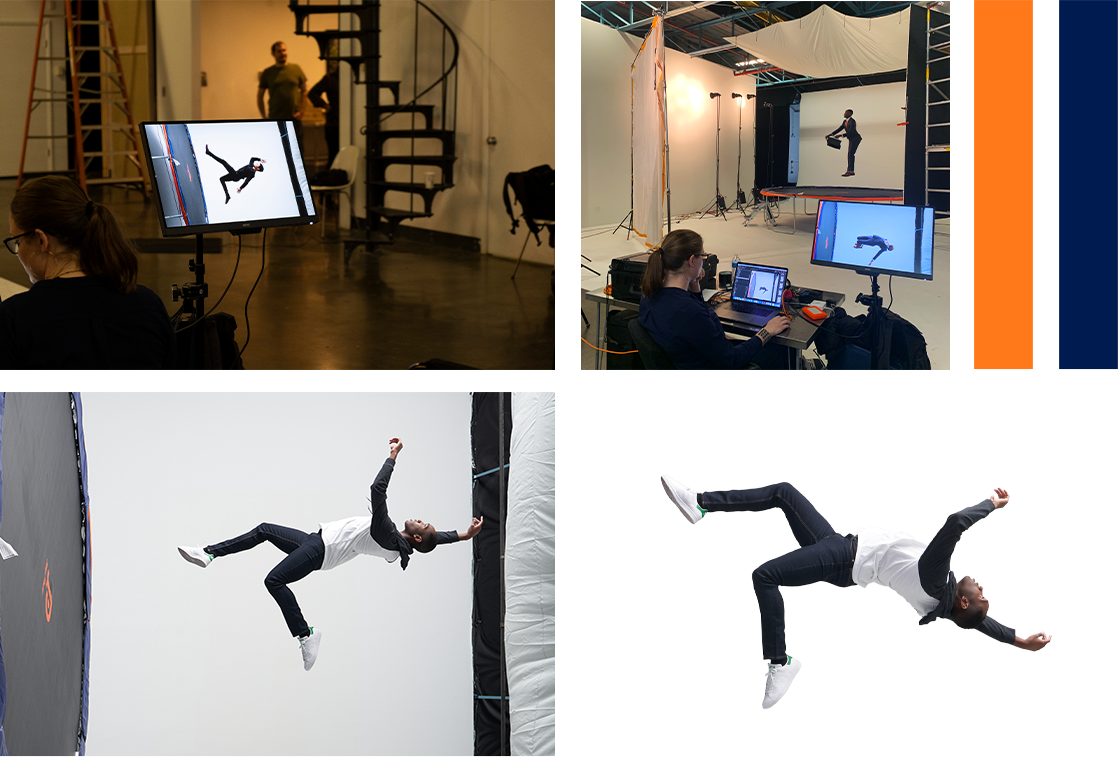 By knowing the unknown, providing real-time visibility, and enabling breakthrough economics, SonicWall protects against boundless exposure points for increasingly remote, mobile, and cloud-enabled workforces. In order to communicate SonicWall's business values across a variety of businesses, Bluetext prescribed a verticalized approach to target the unique needs of each industry. Every detail, from costume to backdrop, was personalized to resonate with distinct audience personas.  To truly stand out and earn attention in a crowded cybersecurity arena, the campaign centered on fantastical floating imagery, which served to visualize an anti-gravity feeling of breaking free of cyber threats. To achieve this vision, action photography of models jumping and free-falling atop a giant trampoline was captured. With custom photoshoots, expert post-production editing, and head-turning taglines Bluetext truly elevated the campaign to new heights. As a collection, the campaign imagery showcased SonicWall's wide range of customer success, and as individual targeted campaign assets, the images emphasized SonicWall's application to industry-specific use cases. New website pages, banner ads, and social graphics were developed to reinforce  "When Cyber Threats Are Limitless, Your Defenses Must Be Boundless."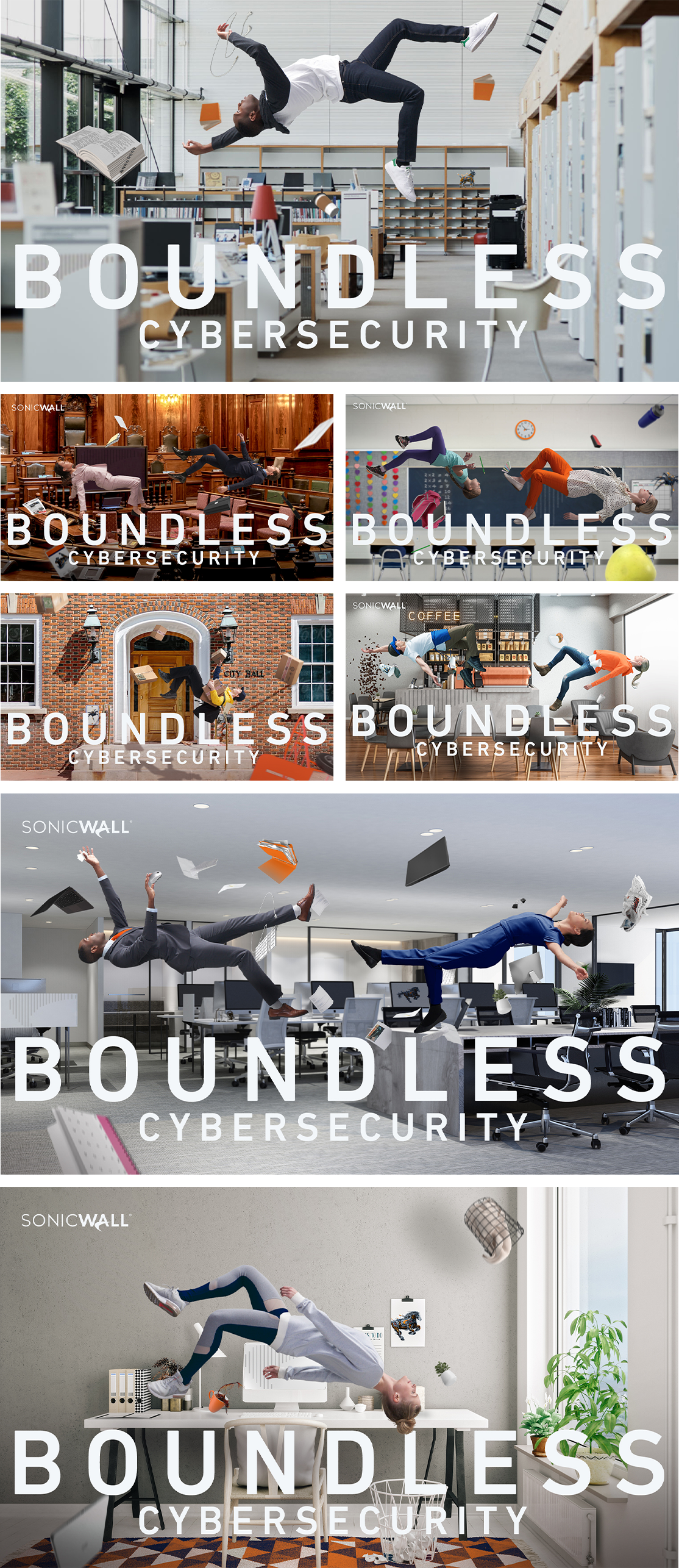 The campaign was a roaring success. So much so that it inspired a Boundless 2.0 campaign that elevated key art imagery to 3D video production to tell the evolving Boundless story. This time, the campaign focused on the end user's journey into a surrealist, anti-gravity state of mind. The campaign video spans a variety of industry applications, from higher education libraries to retail shops, but focuses on the perspectives of an SMB and remote employee. The narrative describes the current state of cybersecurity, being a sense of closed-off isolation to avoid the fear of cyber threats, but begs the question of 'what if?' The main characters are shown proceeding through their daily responsibilities (whether that be commuting into the office, or multi-tasking child care responsibilities at home) until interacting with SonicWall products on their given devices. As these users connect to SonicWall they experience the unconventional possibilities of cybersecurity; 'What if cybersecurity felt…free?' The characters are transitioned to a surrealist Boundless world, in which 3D video effects bring a state of gravity-free liberation from constraints of the past. The characters "break free" to realize a more secure, yet freer, future with SonicWall. 
To further compliment the Boundless 2.0 campaign video, Bluetext brought the story to life on the SonicWall website homepage and campaign landing page. Both of which feature 3D video in the hero zone to showcase Boundless Cybersecurity for both the remote and in-office workforce. Bluetext animators built a custom 3D environment for each character, which is showcased through 360 pan-around camera effects. Attention to detail was everything, from the outfits worn by the character to the interior decor with hints of the SonicWall brand elements. The characters themselves even parallax for hyper-realistic body motion. The rest of the pages were designed by the Bluetext website & UX designers to highlight the campaign's core messaging, featuring new products and industry-related use cases.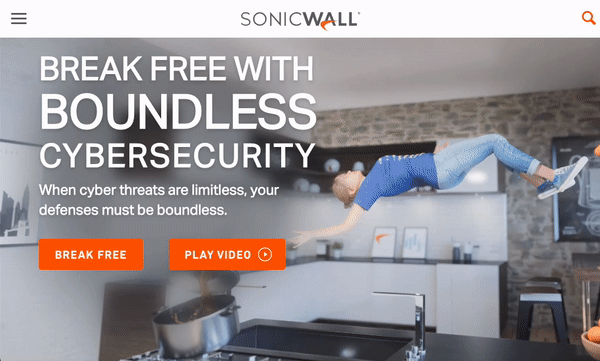 In an impressive feat of animation, website design, videography, and most of all creative brainpower, Bluetext accomplished its challenge. The Bluetext and SonicWall team combined forces to bring new energy and direction to the SonicWall Boundless Cybersecurity campaign. In two years the campaign has evolved to new heights, but just like SonicWall security, the potential is boundless. Stay tuned to see how the campaign further evolves in 2022, and contact us to see how we can develop a state-of-the-art campaign for you.