Now that the election is over (kind of), it is time to return to the real burning question on the minds of b2c, b2b and b2g brands: what in the Sam Hill is going on over at The Bird App?
Are they really handing out blue check marks like Halloween candy to anyone willing to fork over $8 a month for Twitter Blue? With Elon Musk at the helm, today's reality may be old news by tomorrow, but marketers cannot ignore a swirl of new challenges for executives/leaders as well as their overall brand presence on Twitter.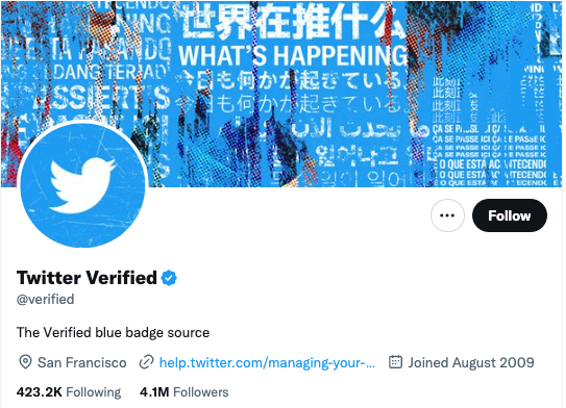 First, with the cache of verification diluted, should it impact your time and financial investment with Twitter? Second, brand protection has become a serious issue – for now – as Twitter is playing catchup in cutting off accounts that are impersonating verified users. Finally, the unpredictable nature of the person running Twitter may lead to tweets, decisions and statements that create conflicts with values established by your brand, customers and organizational leaders. Out-of-sync values make for tough decisions for site advertisers.
Bottom line: at the end of the day for most eligible brands and individuals, it isn't about the $96 a year for Twitter verification. It's about how to handle all of these other emerging factors, and marketers should have a seat at the table in guiding these important decisions.
For now, marketers and decisions should consider the following:
Stay Attuned to Evolving Twitter Content Moderation Policies
Politics has seeped into every corner of social media strategy and execution. Almost immediately after Elon Musk assumed control of Twitter, content permissions changed dramatically in a way that not all brands will be comfortable with.
Ad giant IPG is recommending to clients to make the move of pausing Twitter advertising spending temporarily, and several brands have done just that. Conversations will be had on whether to extend brand action from halting ad spend to pausing account activity altogether. Brand marketers have little choice but to stay attuned to how Twitter content policies evolve to determine conflict with your own brand values. Some may also feel compelled make a public statement to customers and the public if developments on Twitter warrant. Lastly, any action taken must be viewed holistically to ensure consistency across other social networks when controversies arise.
Evaluate the Value of Verification
Twitter Blue Verification rollout is off to a rough start. Individuals are impersonating accounts and fooling people with tweets that appear to come from professional sports stars, celebrities, political leaders, global brands and everyone in between. In the Matrix-inspired words of Keanu Reeves, who tweeted on the ramifications of rampant impersonation, "whoa."
This is clearly not sustainable; the burden falls to the Twitter content moderation team to play catchup. In the meantime, brand marketers and really anyone with verified accounts under the prior, stricter rules, will have to pay close attention as brand reputation on Twitter is at risk.
As American Express once coined, "membership has its privileges." To date, Twitter verification has boosted tweet amplification and aided brand building – which is good – but less quantifiable is whether it actually helps to grow followers or ultimately, boost a bottom line. Now factor in all of these other potential negatives and the value proposition becomes murkier. With Twitter Blue changes, addition benefits floated by Musk include:
Priority in replies, mentions and search
The ability to post long video and audio
Reduced ad exposure compared to unverified users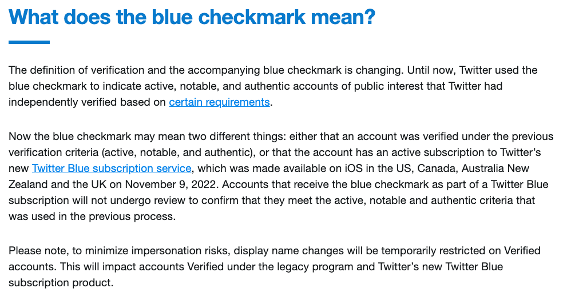 For now at least, Blue checkmark verification is going to be available to almost anyone willing to pay the monthly fee. Though users can see who pays for verification and who doesn't. Prioritizing revenue generation, on its surface, dilutes the value of the blue checkmark.
Be Prepared to Act Quickly and Decisively
Twitter isn't the first company with an unpredictable and unconventional leader at the helm. Even within the social media category, polarizing founders and leaders are not hard to find. Anyone claiming to know what move Musk will make next or what his next tweet will contain, is full of it. Your line in the sand on what constitutes "too far" will be different than others, but when that line is crossed, brand decisions must be decisive. Whether the move is to end advertising, pause account activity or affirm your commitment to the site, customers and consumers want brand consistency. No waffling or bouncing back and forth without clearly established guardrails on, for example, what action would need to be taken to resume advertising or account activity.
 Verified account impersonation is running rampant today, but glass half-full observers will point out that over time, Musk will get his bearings and address loopholes exposed during this transition period. Already Twitter Blue has been updated so that only users with an account created prior to November 9th could access the feature. This should tamp down on some of the newly created impersonator accounts wreaking havoc on paid verification.
Twitter policies remain in flux, and are likely to change multiple times based on user feedback, concerns and other important factors like what Musk had for breakfast that morning. How long that takes, and how patient brands and brand leaders choose to be, is the question.

If you are interested in learning more about Bluetext social media strategy and execution capabilities, as well as our public relations and branding work visit click here.
LinkedIn is the social platform we all associate with business, and for a good reason, it was designed for professional networking. Whether it's your personal career or your organization's growth, LinkedIn is made to promote success. With more than 30 million companies on the platform, LinkedIn generates more leads for B2B companies than Facebook or Twitter. With 675 million users worldwide and 303 million monthly active users, it is also a great tool to enhance your company's brand awareness.
Before embarking on your brand awareness journey it's essential to know your audience, and particularly what kind of content may interest them. The largest percentage of LinkedIn users are 33- to 55-year-olds, demonstrating how those who dominate the social platform are more serious career-oriented adults rather than young adults/teenagers. Likewise, LinkedIn is the number one platform for CEOs, with 94% having a social media presence on the site. It is crucial that your business maximize its presence on the platform to take advantage of its many business opportunities.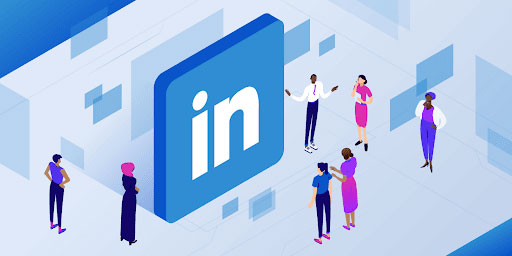 3 Tips to Increase Brand Awareness and Engagement on LinkedIn
1) Build Out Your Company Page
Next to your company website, your company's LinkedIn page is the most important digital representation of your business. This is your chance to showcase your business in a professional online setting. One of the most common mistakes businesses make on LinkedIn is treating it like a one-and-done task. After establishing your company page, make sure to frequently update your profile to reflect the most recent and relevant attributes of your business. From location to company bios and team members keeping the profile up to date gives prospective partners, customers, and even employees the most accurate snapshot of your business to date. You may want to consider investing in LinkedIn Premium, which allows you to open your network and grow your business even further. With this feature you can see who views your profile, giving insight into who is interested in your page. From here, it is recommended that you connect with viewers to allow for further interaction.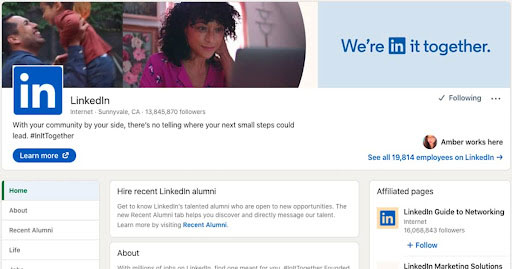 2) Get Active
LinkedIn rewards active profiles by making them appear higher in searches. What do we mean by active? This is any sort of platform engagement, not just publishing! Therefore, your organization's account should be adding reactions to posts, such as likes and comments. When commenting you should be thoughtful and provide responses of substance that encourage further conversation. While you should establish your own organic content schedule & strategy, not all the responsibility falls on you to properly build out a company page. You can participate in relevant conversations but re-sharing other organizations' content, such as blogs, relevant articles, and other thought leadership pieces. Next, you should follow other companies, especially those in your industry who could potentially become partners. Overall, it is beneficial to be active on the platform and engage with other pages to stimulate the same kind of interactive environment on your own business page.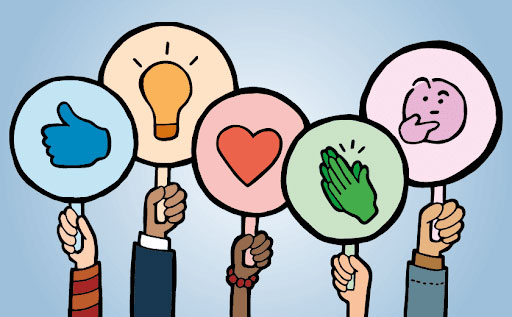 3) Join Groups
There are over 1 million groups on LinkedIn, which are always open to new members. Join groups that are relevant to your business and industry to discover relevant and related content, but also increase the chances of your content being discovered by others. Doing so filters down your audience from millions of varying interests to a more targeted niche audience. Groups connect you with people that you have something in common with. Here you can promote your content, by sharing blog posts, giving you more of an opportunity to brand yourself as an industry and topical expert.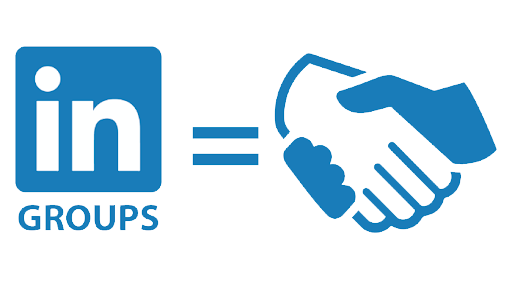 Interested in up-leveling your brand's LinkedIn presence? Contact us to stay ahead of your competition and learn some additional tricks of the trade.
Happy 'Get to Know Your Customers' Day! If there's anything social media marketers love, it's creating "national holidays" around unique subjects (hope you have big plans for the upcoming National Hot Dog Day). But July 21st has been deemed one of the quarterly National Get to Know Your Customers Day, and Bluetext is here to help you make today and every day centered around customer engagement. 
The "Get to Know Your Customers Day" is observed quarterly, on the third Thursday of January, April, July, and October. Why? Because every business should be continuously learning about their customer base to improve products and offerings around their evolving needs. While this holiday does sound silly, it s a gentle nudge to reach out to your customer base and get to know them better. It serves as a reminder to take advantage of every opportunity to learn more about current customers, strengthening your connection with them to maximize customer loyalty and grow your customer base.
There are a wide variety of ways to collect customer feedback and track preferences, especially with modern digital attribution tools. 
Email Marketing
It's no secret that getting subscribers' attention is tough. Everybody's inbox is flooded, we're all multi-tasking and the distractions can feel limitless while reading emails. Therefore inviting subscribers to take an official survey can seem like an imposition and often be ignored. However, an in-line survey that keeps to following best practices can be more achievable and still generate informative results: 
Keep it short: Create a clear distinction between "must-know" and "nice to know" questions. Simplicity and brevity is the recipe for customer engagement and responsiveness.

Be actionable: Don't collect data unless you have a clear plan of how to use it.

Personalize and trigger customers' emotions: Use the information you already know about your customers, such as their first name, to show investment and get to know them better. 

Offer an incentive: Even the opportunity to receive a $10 Starbucks gift card for filling out a survey can be just the push a customer needs to take action and increase your form-fill rate.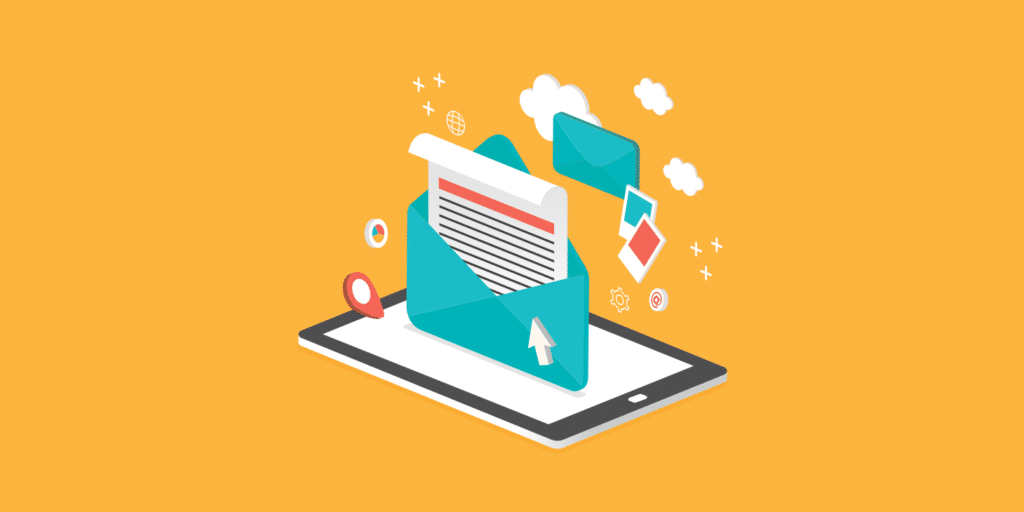 Social Media Engagement
Be active on the social media platforms of best fit (each business is unique) and has the largest user base. Regular posts and invitations to engage, such as comments, polls, quizzes, votes, and direct messages are great ways to increase interaction with your customer base. The more you can engage with customers on a personal level, the better. Customers really do appreciate prompt and personal responses or shoutouts on social media platforms or through email. Of course, if the issue is about a specific product or a customer service issue, following up one-on-one is probably better. But when you respond personally, customers and prospects see that you care enough to take the time to engage with them. In a world where personal touch and emotions are growing more and more important in personal and business purchasing decisions, staying on top of your social game is key.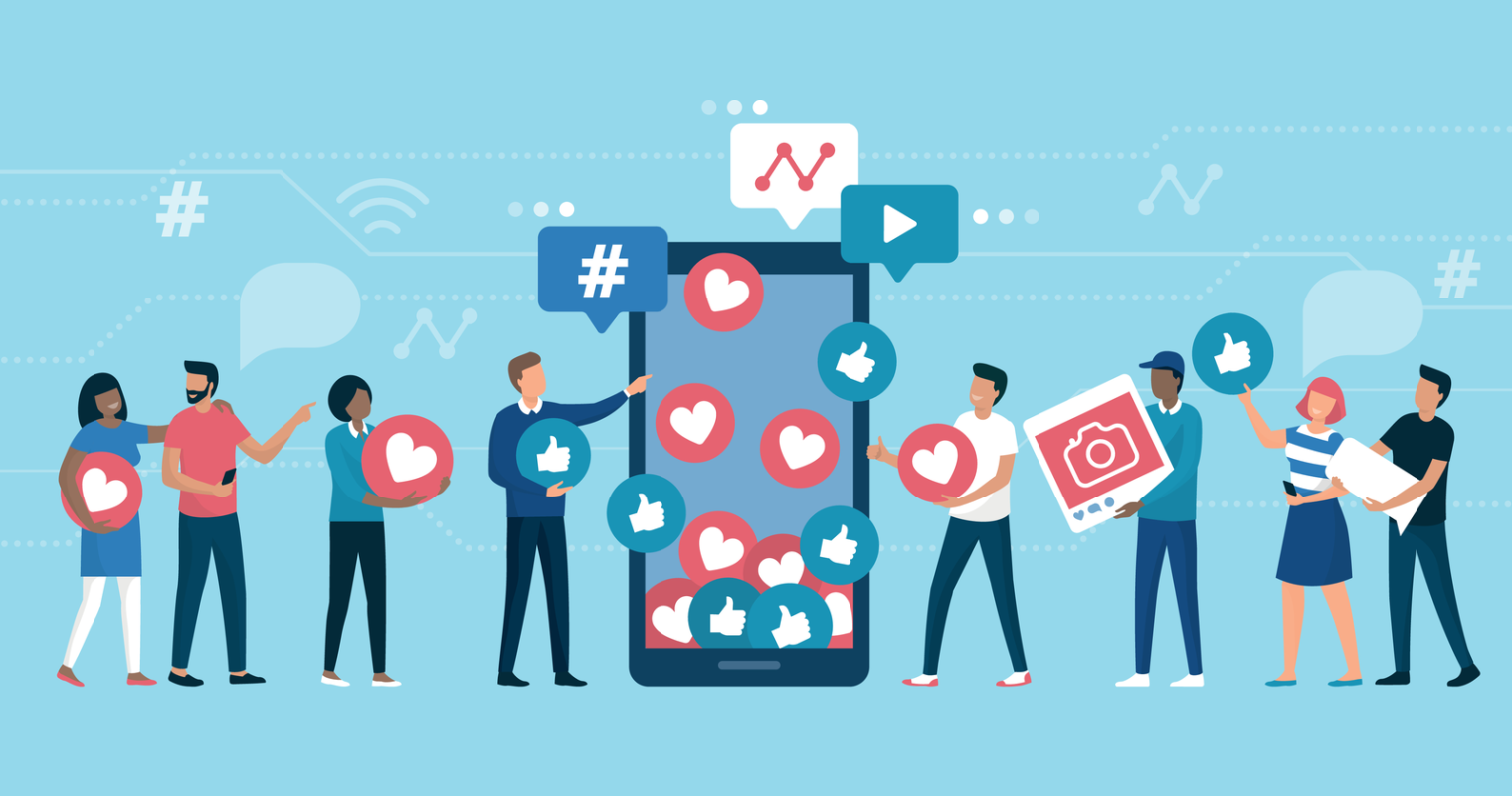 Create Customer Profiles with a CRM
Customer relationship management (CRM) software platforms, such as SalesForce or HubSpot are great tools to help you learn more about your customers. There are many different CRM platforms, such as SalesForce, Marketo, and HubSpot, with a range of functions, from sales enablement or marketing.
At its most basic, a CRM helps you keep track of all your customer data, from names and contact information to sales history, communications, interactions, lead scoring, and so on. A CRM allows digital marketers to visualize the complete customer lifecycle at a glance. Setting up website tracking and multiple digital touchpoints can allow a marketer to lead score, or assign different values to unique digital interactions such as a resource download, form submission, page view, etc. This creates visibility into the customer's behaviors and an indication of their wants and needs. From these lead scores, you can send the appropriate marketing materials or target with specific ads that speak to their preferences or phase in the decision-making process.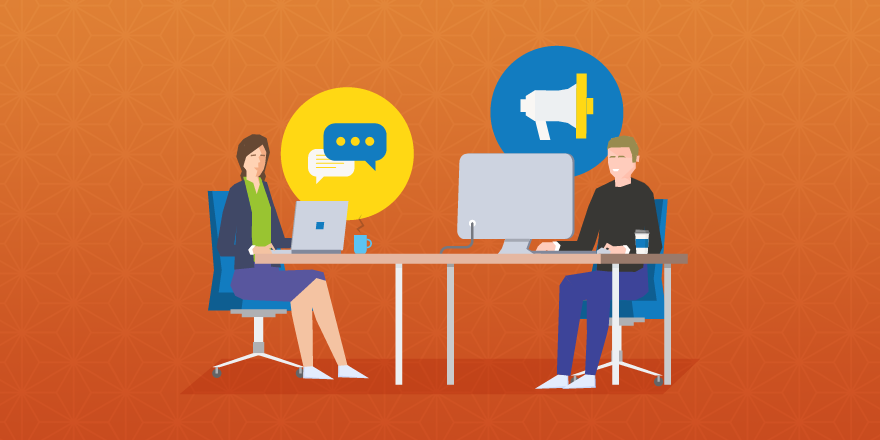 Implement a Chatbot 
It may seem counterintuitive to implement AI in an attempt to get personal. But, did you know a MobileMarketer survey found that millennials prefer speaking with a chatbot rather than with a human employee when they are searching for information about a product? This is largely attributed to the desire for fast and precise answers. Additionally, many feel more comfortable asking questions to a chatbot as they have the certainty of not being judged when they believe their question might be slightly naive. Thus, implementing a chatbot into your website can generate more conversations with customers and be a powerful learning tool for your organization on their common pain points and queries.
Not only does it encourage customer interaction, but it also makes users feel heard and attended to on your website. A chat allows them quick access to information, which shows respect for their time, and allows 24/7 access to online support. Not all companies have the luxury of a full support portal and personnel, so especially for those who don't, a chatbot closes that gap to ensure customers still feel supported. 
Chatbots have dual benefits in improving lead generation, qualification, and nurturing. Chatbots can ask questions throughout the buyer's journey and provide information that may persuade the user and create a lead. Chatbots can then provide potential and current customer information to the sales team, who can engage with the leads based on their interests or questions.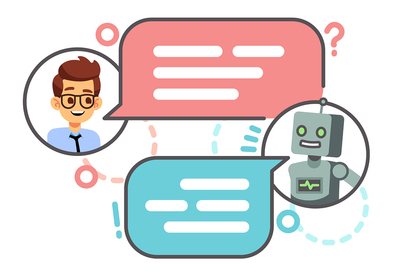 At the end of the day, getting to know your customers should be a priority every day, not just once a quarter. There are endless possibilities and strategies to do so, but all lead to more accurate and actionable customer information which can be turned into actional improvements. Customers will inevitably leave companies that don't evolve with their changing business environments, so staying engaged and attentive to their questions and needs is critical. 
If you're motivated to step up your customer knowledge and improve your engagement tactics, Bluetext can help. Our variety of services ranging from email marketing to marketing analytics can help fulfill the questions YOU may have about your customer base.
Picture this: the year is 2013, Twitter is exploding into the public conscious with more than 200 million active users, and Facebook has a vice-grip on people's free time across the globe. Social media, once considered an afterthought in any brand marketing strategy, is now on center stage. A fresh frontier to engage with current and potential customers in a way that no form of advertising has done before. Any brand worth its salt hires swathes of fresh-faced analysts to form social strategy teams and capitalize on the opportunity social media marketing presents. But, as with any emerging space, the way forward is not yet clear, and many brands are hesitant to make a bold leap into the unknown. Social media strategies are conservative and in line with traditional marketing: infographics are reposted on Instagram, product launches are promoted on Twitter, and brand Facebook pages are little more than an index of ads that have already run elsewhere. Despite social media platforms' more casual formats, brand language is still tightly controlled and diluted with formality. The marketing world might be entering a new era, but the big brands still aren't ready to give up their old tricks.
Now flash forward to 2022: the official Wendy's Twitter account is telling people to smuggle Frosty's into children's movies, Arby's Instagram is promoting a collab with famous rappers, and Slim Jim is furiously pushing a movement called #LongBoiGang. As a rational and well-adjusted person, you might be asking yourself how we got here? The answer, my dear reader, is memes.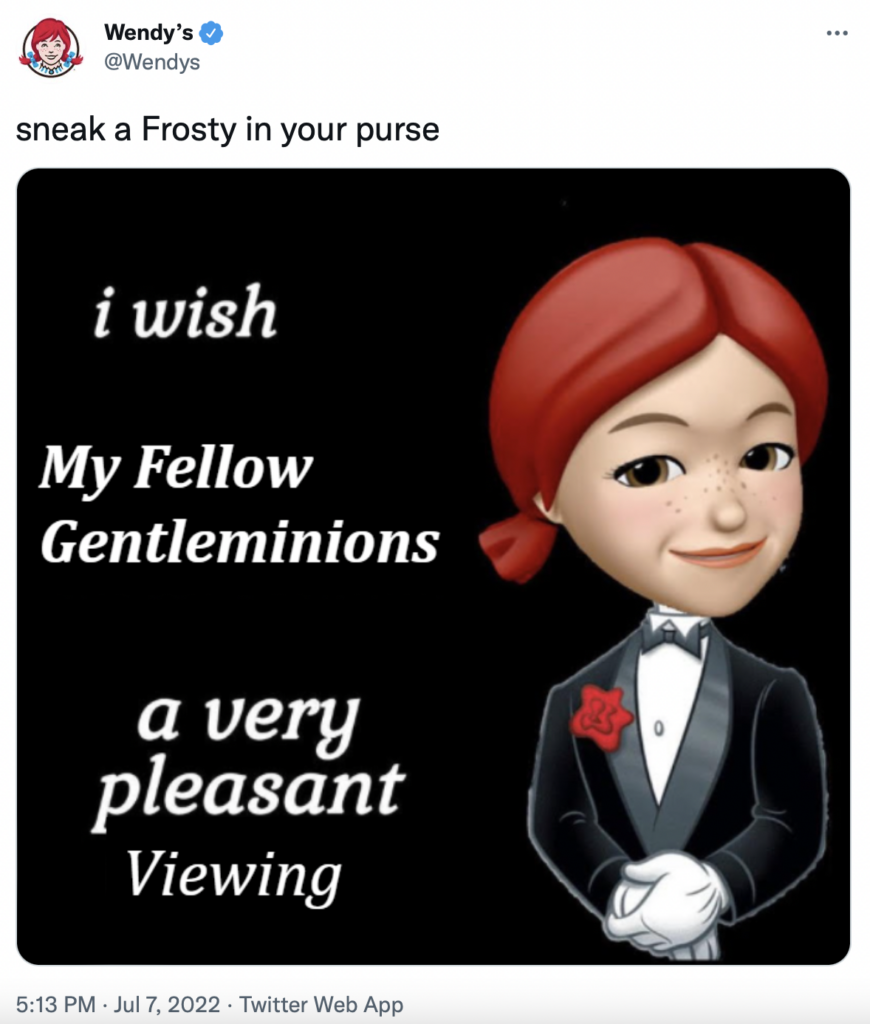 What is a Meme?
So what exactly is a meme? Richard Dawkins first coined the term "meme" in his 1976 book The Selfish Gene to refer to how ideas evolve and are shared across different cultures. Under this broad definition, everything from urban legends to famous sayings could be memes. But, as the Internet began to connect people worldwide, the free exchange of information accelerated like crazy. It opened the door for new methods of conveying ideas, specifically memes as we know them today.
Modern memes can be broadly defined as pieces of media that are copied (often with slight variations) and spread rapidly by internet users. From a conflicted superhero to a distracted boyfriend, these images are retitled and reused by Internet users to comment on everything from personal events to pop culture moments. But it's not just picture templates that can become memes: halftime shows, hashtags, and even celebrities can all be the inspiration behind Internet memes. 
How Memes Can Benefit Your Brand
But even after being caught up on the history that made memes what they are today, you might still be asking yourself, what can they do for me? Here are four benefits that meme marketing can bring your business.
Expanding your Engagement

– Internet users spend an estimated 145 minutes daily on social media. They're online to scroll through their pics, jokes, and videos while tuning out everything else around them, meaning you have the chance to capture their undivided attention. Meme marketing also opens the door to even more potential impressions through functions like shares, retweets, and comments.

Keeping Consumer Attention

– Social media users are highly resistant to traditional advertising on their favorite platforms, viewing unprompted commercials and ads as intrusions, not opportunities. But by sharing memes about your brand you can seamlessly slip into their content stream and cultivate more organic user interactions.

No Price Promotion

– The most enticing aspect of meme marketing is that it doesn't cost a thing. Although hiring social media professionals or paid influencers can do a world of good, anyone up to date on current trends can join the fun post.

Revealing your Relatability

– One of the greatest struggles many companies have with managing their brands is appearing too outwardly corporate or robotic. Memes present a perfect opportunity for brands to communicate with consumers more casually and forge more personal connections in the process.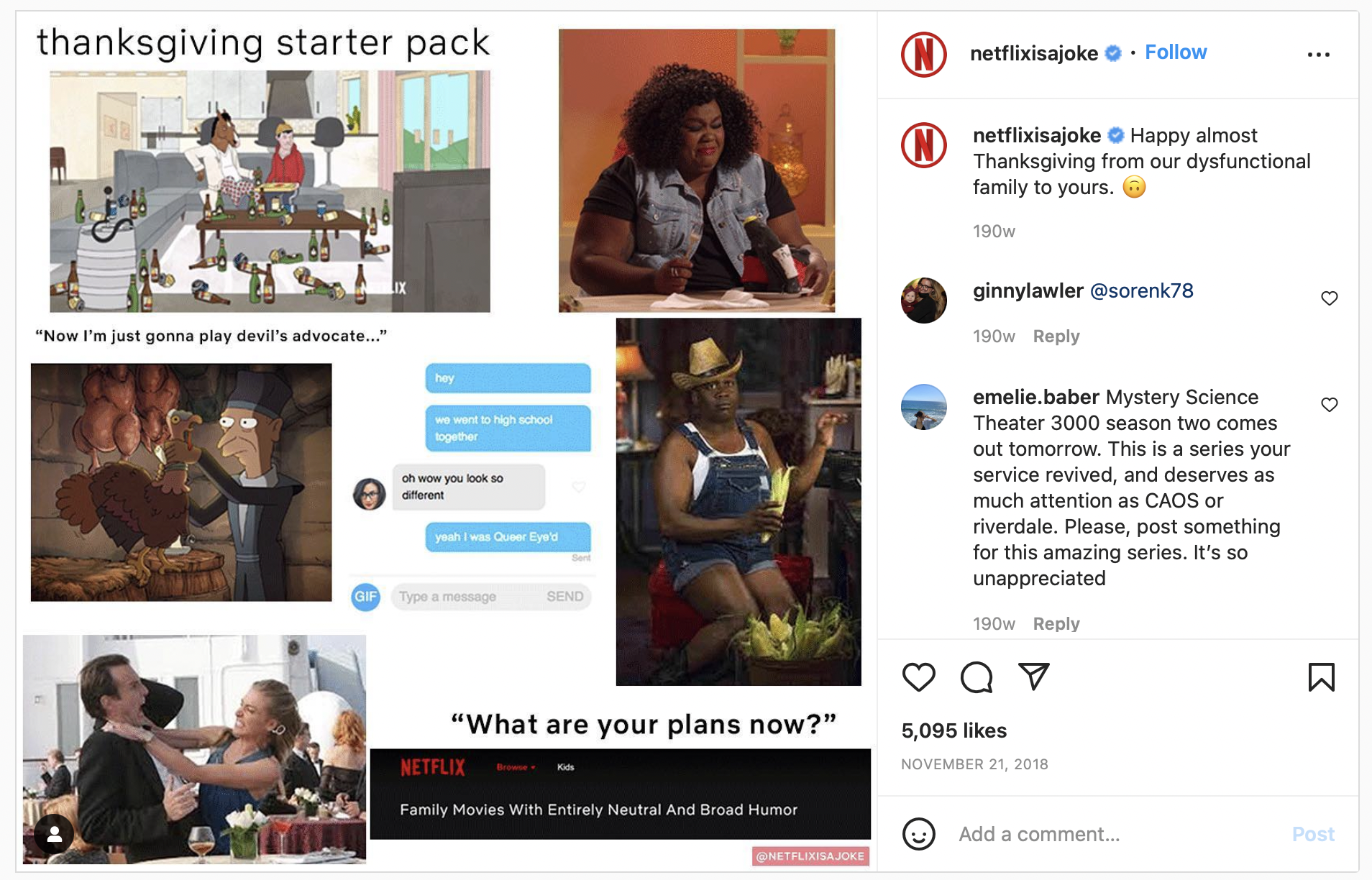 B2B Meme Marketing Inspiration
From forums like Reddit to social hubs like Twitter and Instagram, much of the content that keeps users returning to popular platforms are memes. If you want to meaningfully engage with consumers in these channels and build a social media strategy that isn't stuck in the stone age, you'll need to learn how to make memes. Here are a few examples of brands that succeeded in meme marketing to get your creative juices flowing!
HubSpot

– Fan favorite movies and TV shows present a treasure trove of possibilities for memes that social media users can recognize and connect with.

RevGenius

– Industry/category-specific memes can add a focused and personalized flair to your company's social media presence.

Adobe Marketo

– Some companies even integrate memes into their trade show/event promotion like this make-your-own meme booth that Adobe Marketo featured to pump up engagement both online and at the event.
Want to take your social media strategy to the next level? Bluetext can help optimize your social media program and ensure you get the most out of your marketing.
So you want to build hype for your campaign? Our campaign strategists at Bluetext have some tips for you. Assuming you've already started building out your campaign, you should have an idea of what your goals are. A common goal is to build awareness and excitement. When building excitement ahead of your launch, you want to bring an air of mystery. Balance announcing details of your campaign while leaving enough to the viewers' imagination. Some effective teaser mediums include social media snackables, physical swag, email campaigns, or teaser trailers. 
When Bluetext recently launched Phosphorus' Thing Tamer, we decided to keep things mysterious. So, we began with the organic promotion of teaser videos to curate a collection of content for the dramatic launch of a full campaign without sacrificing ad spend. Once our audience's interest was piqued by compelling graphics and intriguing headlines, we directed their attention to the campaign landing page. This landing page hinted at all things to come and encouraged users to sign up for exclusive notification of the launch. The landing page was designed to be as engaging as possible, with promotional movie posters, two different trailers of the Thing Tamer series, and on-scroll animation to introduce the personified things and interactive carousels to reveal campaign messaging and key stats.   signed up for the email list, they received a thank you email that further teases at the Things to come.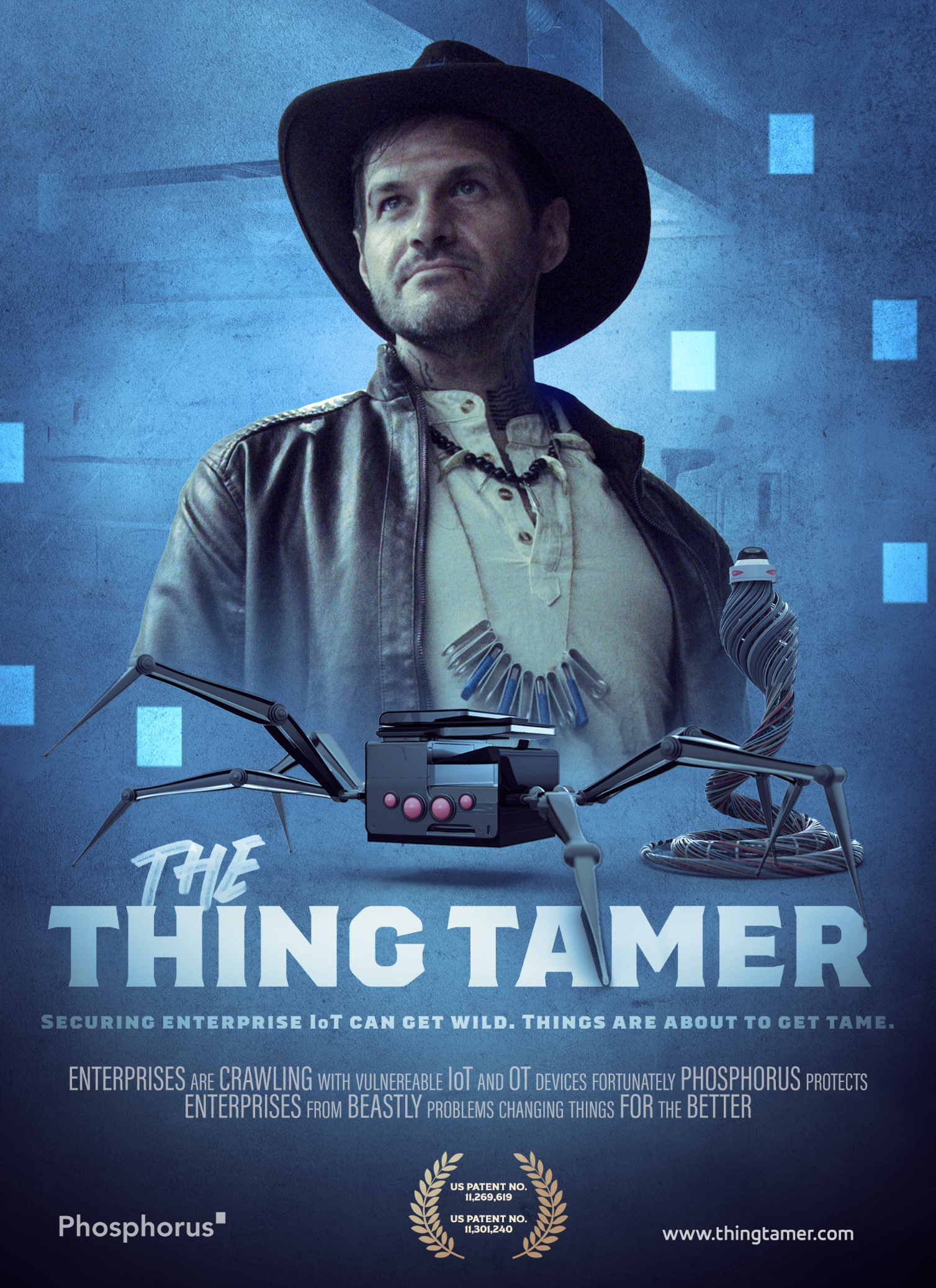 The first trailer named the Beast Trailer worked to establish the problems Thing Tamer solves. Offices with countless enterprise IoT devices are at high risk of being exploited by unsuspecting sources. Each device has its own firmware and unique language making managing all of them a complicated process. Without giving too many details away, we put a spotlight on common problems enterprises face. This was followed up with the second trailer, which starts off by slowly revealing our hero, the Tamer, an IT version of Indiana Jones meets Crocodile Dundee. By shifting focus to our IT guy wearing the Tamer's hat, users are able to envision themselves as the ones resolving their IoT devices' vulnerabilities. The teaser strategy allowed for the campaign to slowly introduce the problem with an air of mystery, leaving them craving more for the full campaign to unveil the solution. Separating the story into digestible trailer videos keeps the target audience engaged for an extended period of time, building upon their interest and education with every touchpoint. Not only does it allow for multiple follow-ups and a nurture strategy, but the shortened length of each video also ensures that viewer attention does wane while watching a long-form video. Hitting the viewer with messages one at a time increases the likelihood of memory retention and builds upon Phosphorus' brand association.  At the end of the day, a successful message is one that users can connect with, and that's just what we did.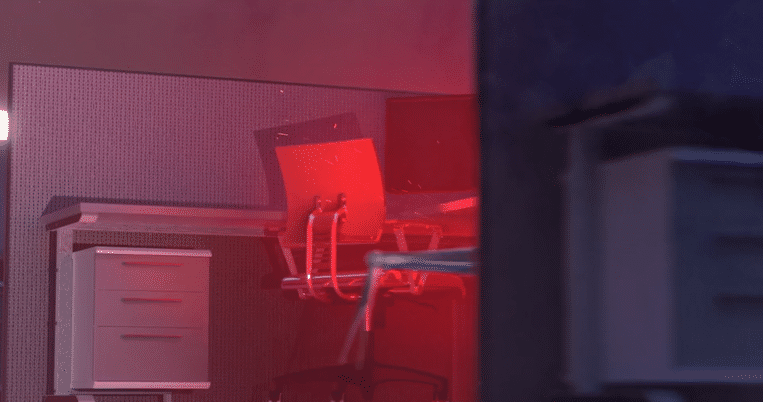 Similar to Thing Tamer's landing page where visitors could engage with different elements to learn more, the recent The Batman movie had a fun way of building hype ahead of the movie's premiere. Visitors who found the secret website through a hidden message on the official movie poster were able to talk with the Riddler and solve additional puzzles. Those who solved the puzzles were rewarded with exclusive clips and pictures from the yet-released movie. Once the movie was released, Warner Brothers went a step further and updated the page to reflect the domain being seized by the fictitious Gotham police department. Warner Brothers managed to engage with their target audience over the course of weeks, thanks to a clever Easter Egg hidden in their posters. Being given the opportunity to dive into the Gotham universe in this unique way allowed the audience to connect with the film and get hyped for the official movie release.
Phosphorus also engaged in a few organic social media promotional posts to promote its campaign launch. Social media serves as a great opportunity when trying to build awareness. That being said, Phosphorus didn't want to spoil too much, so we kept the captions short and used the two trailers and social snackables for the LinkedIn promotions. Utilizing cross-channel promotions and various forms of media increases the likelihood of your users finding your content and engaging with it. Again, at the end of the day, how can you build excitement if your campaign isn't known? Agencies like us here at Bluetext have the expertise to guide you through the optimal campaign launch.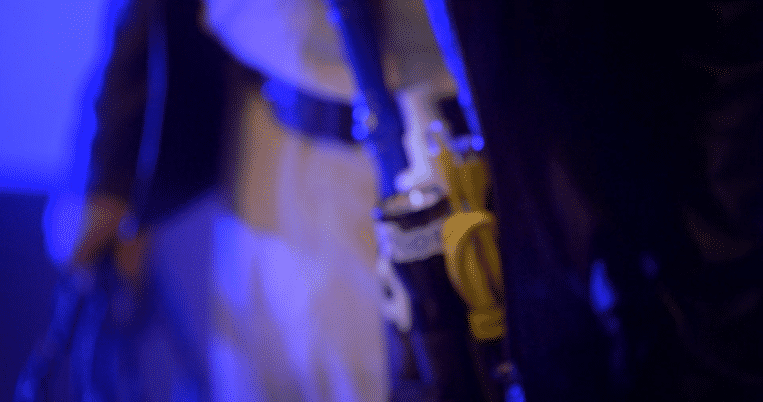 No two campaigns will be the same, and while the Phosphorus campaign succeeded based on its goals, your success isn't a guarantee. At the end of the day, your best bet is to engage with a trusted campaign-focused agency to build hype for your campaign launch. Once you've launched, we work with you to drive paid marketing and PR efforts, ultimately driving users to engage with your business. Want to learn more about how Bluetext can help your campaign? Get in touch with us here. To learn more about our Thing Tamer campaign, check out the full breadth of our work here.
How can you bring in lucrative contracts for your business? B2B social media marketing can be an underutilized, yet incredibly useful channel, given that 62% of CEOs are present on at least one social platform. B2B social media marketing is the use of social channels to market products and services to business clients. All social channels can be used for B2B marketing, but the strategy for each will differ. It's essential to know the strengths and demographics of various social platforms to effectively reach the targeted decision-makers. Let's look at some of the top social media channels used for B2B marketing.
3 Social Media Channels Great for B2B Marketing

LinkedIn 

LinkedIn is far more than a recruitment platform; it is a great tool to attract talent, but also can go to great lengths to promote your business. More than 30 million companies use LinkedIn, with the most common age group on the site being middle-aged working professionals (36- to 55-year-olds). Serving as the most popular platform for corporate CEOs, LinkedIn can get your business in front of CXOs and other decision-makers to initiate those B2-B relationships. LinkedIn organic and paid media options are viable opportunities positively showcase your company's achievements and drive traffic to your website. Your organization can demonstrate thought leadership as an industry leader through blog and news posts on trending topics. Not only can you update followers on company progress, but you can also present the employees who make up your organization when there is strategic value in doing so. This conveys company culture, which is a great indication of whether you might be the right potential business partner. LinkedIn also provides plenty of data to better optimize your social campaign and ensure you're reaching the right decision-makers.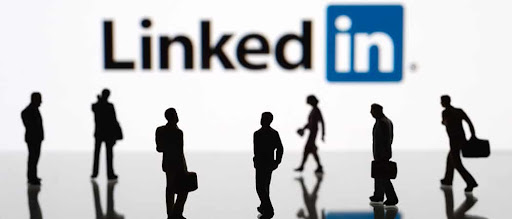 Twitter
Twitter also can be an effective platform for connecting with customers and developing influence. Through short messages, Twitter can be used to portray your brand's voice. With Twitter, your business can quickly get out a message to an audience and engage with users in real-time. Twitter has 166 million monetizable daily active users, which are logged accounts that are able to show ads. Unlike LinkedIn, Twitter is predominantly used by millennials, meaning it is great for targeting entrepreneurs and younger professionals who are involved in start-ups.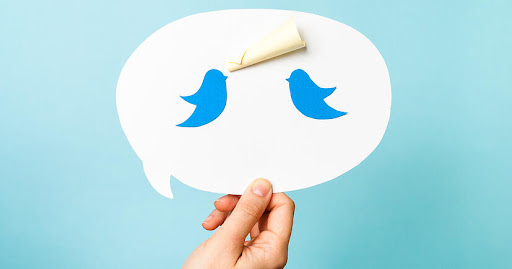 YouTube 
With 1.7 billion unique monthly visitors, YouTube is one of the best social media platforms for driving traffic back to your company's website. Video, as a medium, is a great way to tell your brand's story and mission. With YouTube, your business can create educational content to display your business's unique value proposition. People searching for advice and how-to-videos will land on your page, increasing brand awareness and subject matter expertise. Ensure your video is optimized for google search results by placing relevant keywords in the title.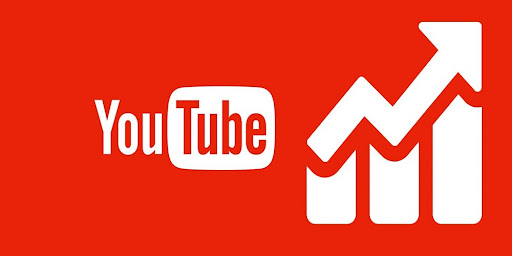 Even for organizations intimately familiar with social channels, there is a science to building B2B social media marketing programs with the optimal mix of channels, content, and timing. Contact Bluetext to help your organization drive B2B marketing results on LinkedIn, Twitter, YouTube, and other social media channels.
Video marketing can be a vital tool when it comes to leveling up your marketing program. Video, as a medium, is an exceptional opportunity to tell your brand's story and mission using dramatic visuals, voiceover, and music. Video allows you to inject emotion and feeling into your content, something that written mediums like blog posts and product pages just can't compete with. As some may say, the medium is the message. To humanize your brand and create a memorable connection, audiovisual content can build that bridge. Additionally, the ease with which you can upload your video content to a variety of social media platforms allows you to share your story with as many potential customers and reach as wide an audience as possible. 
Below, we dive deep into the five reasons you need to use video in your marketing strategy and why partnering with a video design and production firm like Bluetext is the right choice for you. 
1. Authentic Video Builds Trust
Perhaps most importantly, video content helps build trust between you and the prospective buyer. Trust is the foundation that drives conversions and overall sales. 57% of consumers say that videos give them more confidence to purchase online. With a great voiceover and a moving music track, videos can provoke a very emotive, and therefore, human response, more impactful than any generic landing page. Having your team on camera explaining your product or service is also a great way to provide prospective customers with a sense of your company culture and why they should work with you. Additionally, video content filmed and edited the right way evokes authenticity and transparency, both key points when aiming to build trust. 
Through our work with Invictus, we produced a video around the story of their unique, military family-oriented mission that resonated with their prospective customers.
2. Explain Difficult Concepts With Ease
We live in a fast-paced visual-based world, where users are less likely to read through a product description and more likely to prefer an infographic or video that explains the solution succinctly. Technology has made us all accustomed to immediate satisfaction in finding the answers we seek. And if users don't find the information they're looking for, they lose interest or look elsewhere. Video content reduces the overall effort it takes to learn something new, especially when it may be a difficult concept to understand. If you're launching a new product or service, explaining its features and advantages will be easier through video than a product landing page. The way the human brain processes information varies by individual, some are more visual learners, some auditory, and even some kinetic. If you don't have the words to explain your product, the use of animation can help bring any concept to life. An audiovisual medium allows you to effectively reach a wider audience. The quicker someone can understand your product, the quicker the conversion from prospect to a customer will be. 
Through our work with IoT cybersecurity company, Phosphorus, we told the story of their mission and the power of their groundbreaking platform.
3. Google Loves Video Content
There are a variety of reasons Google loves video. Perhaps most importantly, Google places great value in the length of time a user spends on your webpage. If your video content is enticing enough for the user to watch it all the way through, they're more likely to spend more time watching a video on your site than reading through a lengthy landing page. Additionally, as we know, including keywords in your written content is important in any SEO strategy and helps improve your search rankings. Using the latest Video Intelligence API, Google can catalog the relevant keywords in your videos and increase your ranking in search engine results. Relevant keywords in your video and written content packs the maximum SEO punch into your webpage. Another great reason video content is a great SEO value is as video content can be adjusted to multiple screen sizes, Google ranks this content very high in search results.
4. Mobile Users Benefit
In the world we live in, everyone is glued to their smartphones throughout the day, watching, liking, and sharing content. According to a recent study, 90% of users actually watch videos on their smartphones rather than on computers or televisions. The ready availability of so much video content on smartphones is driving this statistic and will only grow as more and more content is produced. So what does this mean for you? Increasing the amount of video you put into the market will only increase the engagement with your content from prospective customers. Well-produced, informative content will be more likely shared and will lead to increased sales.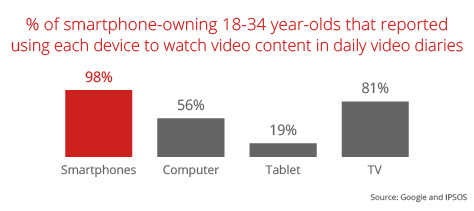 5. The Competitive Advantage
Stay one step ahead of the competition by producing video content. A lot of companies are still of the mindset that video content is way too expensive; and sure, some very well-produced content can get expensive when you're factoring in custom shoots, actors, and multiple 8K cameras. That being said, video content doesn't have to be expensive. With the right story and a camera as readily available as the one on your smartphone, you can create perfect video content that will resonate with your target audience and lead to many conversions. Being smart with your resources (financial & human) can result in an impressive video that no one would know was built on a budget.
Videos can play a massive role at every stage of the marketing funnel. That being said, creating high-performing video content takes time and effort. Ensure you have the right video content strategy from the get-go and that you maximize authenticity, creativity, and uniqueness. Need support putting together your video content strategy? Contact Bluetext today.
1,300 hours – that's how long the average American spent on social media in the past year. People are on social media all day every day, with an average daily usage of about 145 minutes. Therefore, it is no surprise that social media has a large influence on us and the decisions we make in both our personal and professional lives. Today, social media is so prevalent that from a business standpoint, it would be a mistake to not take advantage of the medium. 
Social media is a highly cost-effective way to market your brand and yield direct benefits. Social media is great for engaging with customers, keeping tabs on competitors, and developing a strong brand presence. Through social channels, you can heighten your brand's awareness by cultivating a brand personality and quickly reaching not only existing customers but also prospective customers. Additionally, social media analytics, such as click-through rates, are able to give you timely feedback on what strategies work best to satisfy your intended audience. While it is important for your business to have a strong social media presence, you must also be careful to not overextend your social media program. Some businesses make the mistake of trying to maintain a presence on too many social media networks. Instead, it is best to focus on the few networks that will benefit your business the most.
3 Tips for Determining Which Social Media Networks are Worthwhile
1. Know Your Audience
It is crucial to know who your target market is and what social platforms they prefer. Ask yourself – what demographic is my target audience? Different social media channels appeal to different age groups, therefore it is important to identify what age group your target market falls under. For instance, TikTok has a younger audience with 60% of users being under 25 years old; whereas Facebook draws in a more mature audience, with most of its users being between 25 and 44 years of age. Therefore, if you are specifically targeting Generation Z, Facebook may not be the best route to take. Instead, your efforts should be on networks that draw in more youngsters, such as Snapchat or TikTok. 
On another note, Facebook offers the largest audience with 2.7 billion active monthly users. The app has great features that allow you to customize your social media marketing and better optimize your corporate social presence. You can even go as far as creating a business account, making use of advertising tools and analytics offered. However, depending on the niche audiences you may be trying to reach, it is important to understand the pros and cons of Facebook relative to, say Instagram, where visuals are a key focus and artistic niches are known to excel.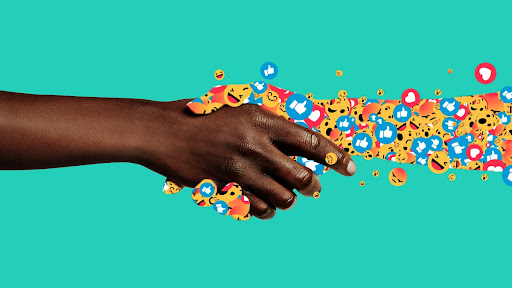 2. Think About Engagement
How do you want to engage with your audience? Each social media network offers different mechanisms to interact with users. Twitter is the best for directly engaging with customers. With Twitter, you can provide short updates about your business and interact directly through hashtags, mentioning users, liking posts, retweeting, etc. The fast-food chain, Wendy's, for example, has had success using Twitter to create a unique brand voice through their witty interactions with customers. In contrast, YouTube is a strong option for driving traffic onto other web pages. Through analytics, YouTube has proved to increase website traffic, in which users will view an ad/video on YouTube and then proceed to click on the link to your website homepage. 
It is also important to consider how your customers interact with technology. Are they heavy smartphone users? If so, Instagram might be the best application, given that it is pretty much a solely mobile app with 1 billion active users. Channels like LinkedIn are optimal for those whose customers are heavy desktop users. 
Next, it is important to find the right amount of engagement with your customers. You do not want to be too active that you are annoying users, but then also not active enough that you don't stay relevant. To combat this problem, it is best to have a posting schedule to maintain the right balance. The goal is to stay relevant in the minds of your customers, without irritating them to the point of losing followers. Also, engagement isn't built on one-way communications; you must offer users an opportunity to participate in the conversation via thought-provoking questions or even surveys.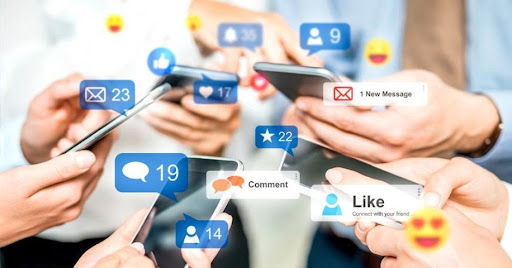 3. Consider What You Are Selling 
Of course, your social media strategy factors in what you are selling and who you are selling to. If you are selling a product, then Instagram might be a better choice given its heavy emphasis on visuals. However, if you are selling a service then Twitter might be the better application to use, where the reliance is on words rather than pictures. On the other hand, Pinterest is great for small and niche businesses where you can market directly on the site. LinkedIn is great for B2B firms that are trying to reach business decision-makers who may not be as active or reachable on more consumer-focused social platforms. With LinkedIn, you can promote your business all while positioning yourself as an industry leader and recruiting top talent. Even more so, you can stand out from competitors through thought leadership pieces published on LinkedIn. Blog posts covering how your products/services related to issues pertinent in the world can put your business at the forefront.
In each avenue, social media provides an opportunity for businesses to control the narrative. You are able to pick out what content you want to display and dictate the kind of engagements you have with customers. It is great for reputation management, raising brand awareness, and establishing yourself as an industry leader. Using social media in the right way has the power to transform your business, making your marketing efforts worthwhile. Without a solid social media presence, your business and brand may be absent from key stages of the buyer's journey or simply missing opportunities to extend overall brand awareness. 
Choosing the right social media network to promote your business is crucial for success. Contact Bluetext if you are interested in perfecting your social media presence. 
TikTok — the clock is ticking on traditional advertising strategies. As conventional methods wane, a new star player, TikTok, is making waves. At inception, TikTok gained a sticking association with Gen Z via dance videos & lip-syncing parodies. It's true, TikTok is a popular platform for many teens or young adults to create and send entertaining video content. However, this platform is not just a fleeting fad, but very much here to stay and continue to evolve. 
Like any trend, TikTok's high number of young users caught the attention of older demographics. All wanting to know "what the cool kids are doing", TikTok's user base matured. As of March 2021, research found that teenagers are only 25% of the TikTok audience. Who are the rest? Well, it's a pretty even split of users in their 20s, 30s, and 40s, with even a significant slice of people 50 years and older!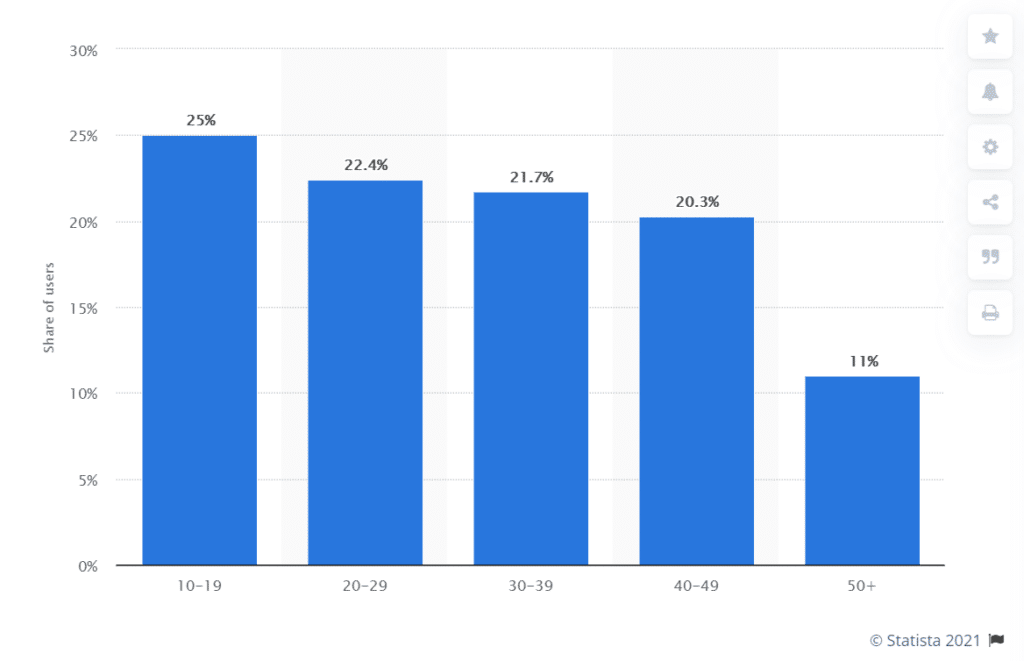 A more diverse user base brought new opportunities, as marketers observed new niche categories rise in popularity. For example, trending hashtags such as #financetok or #taxadvice providing financial advice to users during tax season. Just one of the many unique use cases of the social media platform, as everything from investing to cleaning hacks, has been reenergized by the fun, engaging nature of video clips. 
So what does this mean? Well, it's time that digital marketers begin to take TikTok seriously. Here's why:
1.Video Content is on the Rise
Video content is on the rise — and won't pause anytime soon. That's why popular video publishing platforms, TikTok and Vimeo, have joined forces to become an advertising powerhouse. Recent updates have integrated Vimeo creation tools with TikTok AdManager. This enables businesses of any size to create and publish ads directly to TikTok Ads Manager. Effectively breaking down prior production banners, smaller and medium-sized businesses can easily create and distribute engaging video ads at low cost. Going a step beyond, Vimeo offers ad templates specifically optimized for the TikTok platform. Known as Spark Ads, this format allows businesses to take organic content and quite literally re-energize ads on a new short and snippy platform.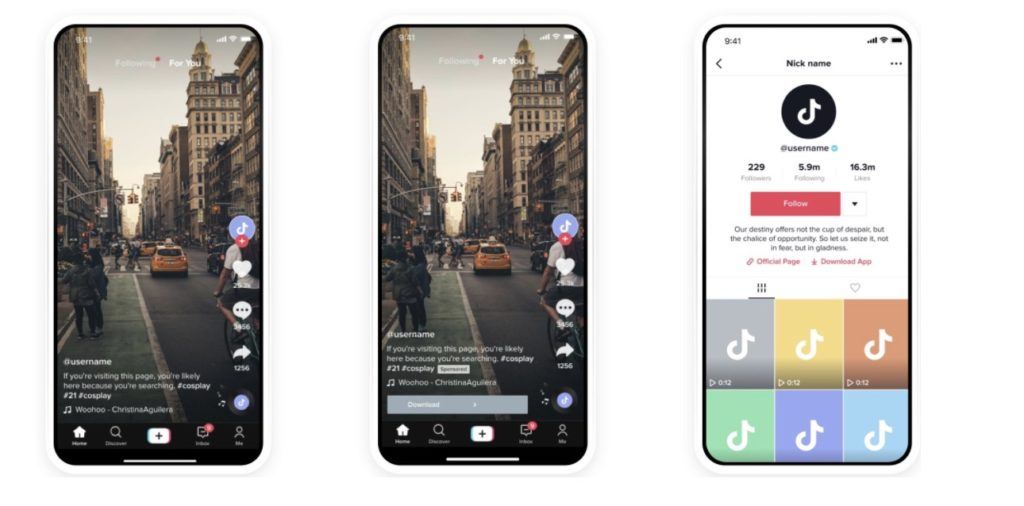 2. Self-Served Success
Speaking of the TikTok AdManger, a few of the hallmarks of this platform are the self-service ad publishing, creator marketplace, and other features that empower content creation. With an easy-to-use publishing experience, it allows for more experimentation and freedom with campaign concepts, creative or targeting. The format pushes brands to make their advertisements everything they should be: short, succinct, and engaging. Time limitations force marketers to cut the extraneous details that users wouldn't retain anyways and hone in on a single direct message. It's like the bootcamp marketers didn't know that they needed.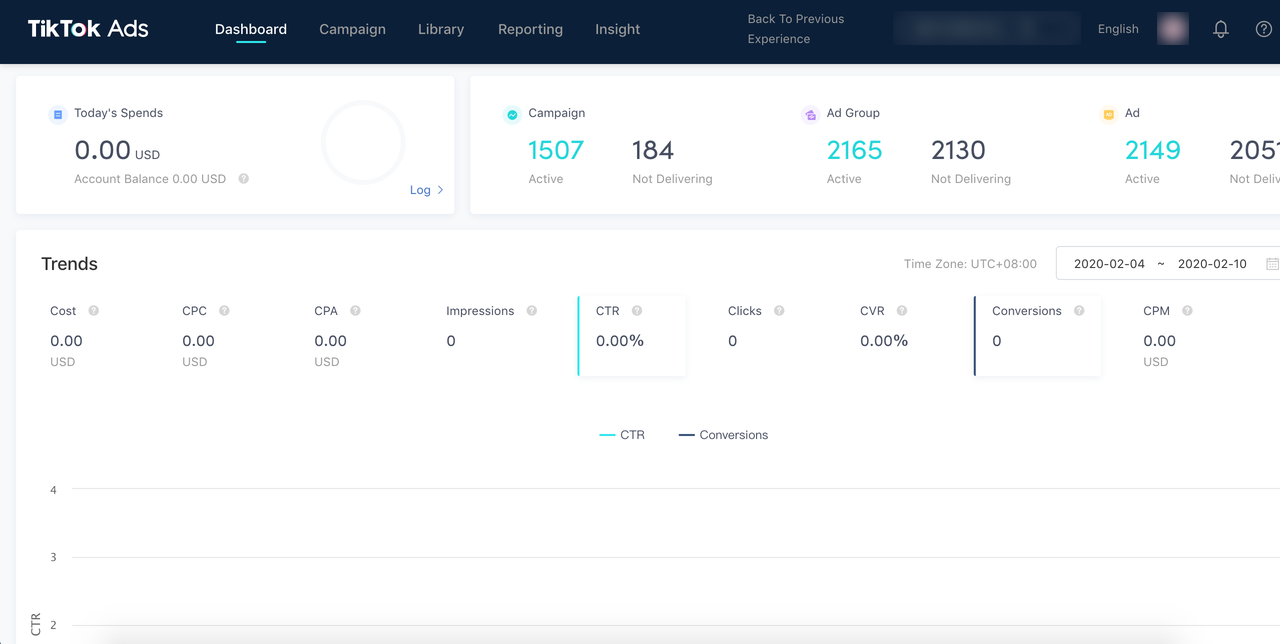 3. Live it Up
That's right, TikTok has jumped on the trend of live streaming video content (thank you Instagram & Facebook). While this has playful applications, it's also a prime opportunity for commentary from thought leaders and brand ambassadors on new product launches, industry events, or current trends. Live stream content has been popularized on alternative platforms (looking at you, Facebook & Instagram) for hosting Q&As and panel discussions. New TikTok features allow both the scheduling & promotion of a live-streamed event but also co-hosting to allow for multiple speakers. This creates a split-screen view and allows hosts to interact one-on-one with another, and with live audience comments.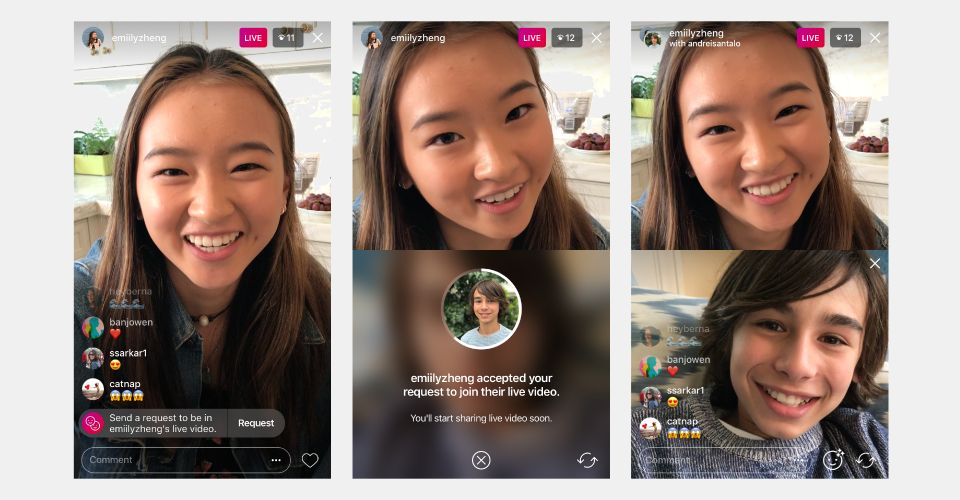 While the first wave of use cases for these features may be tied to e-commerce and pop culture, it will be the next wave of marketing pioneers who bring a more practical flavor to the platform. Facebook and Twitter started out as purely 'social' social media platforms, but look what business opportunities have arisen from there. TikTok will be no different, and the businesses that invest now in their video content creation and production skills will have the upper hand.
Need to amp up your video & social media marketing? Contact Bluetext to learn more about our creative & digital marketing services.
You've spent months working with a video design & production company to write the perfect script, find the right voice-over actor, polish your storyboard, and so much more. Now, you have a video that captures your brand essence and you want users to see it. So what's the best way to get impressions on your video? As a premier video design & production company, we know there are countless options for getting your video in front of users. 
With over 2 billion users and more than a billion hours of videos watched daily, YouTube is one of the best ways to ensure your target audience finds the video content you've produced. To truly understand just how powerful YouTube can be as a platform, it's important to understand the basics. Keep reading to learn more about YouTube advertising and it's different kinds of ad formats.
What Type of YouTube Ads are There?
YouTube Ads are controlled through the Google Ads platform, allowing advertisers to maximize their reach. Through YouTube Ads, you can decide whether you want your video to appear before, during, or after the video a user is watching. The six primary ways you can advertise through YouTube are:
Skippable in-stream ads

Non-skippable in-stream ads

Video discovery ads

Bumper ads

Masthead ads

Outstream Ads
Let's take a look at each one.
Skippable In-Stream Ads
If your goal is to drive website traffic and/or conversions, this is a great option for you.
Skippable video ads play before, during, or after a video and users have the option to skip the ad after five seconds. As such, advertisers are only charged when a viewer watches 30 seconds of the video (or the full duration of the video if it's shorter than 30 seconds) or interacts with the video. With this in mind, it's important to keep your ad short, sweet and to the point. Don't bury your main points 25 seconds in the video, but rather front load with interesting content that hooks a user and encourages that conversion action. Alongside skippable video ads, advertisers have the option to display a companion banner in the top right and a video overlay CTA button in the left. Needless to say, skippable video ads can be great for a lot of reasons.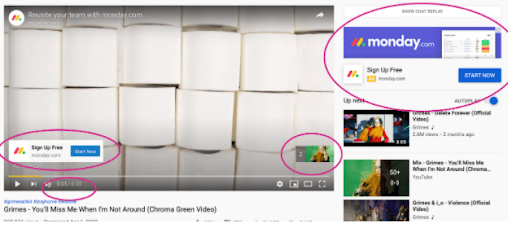 Non-Skippable In-Stream Ads
Given the nature of non-skippable in-stream ads, this is a great format if you're aiming for a lift in brand awareness. With 76% of users skipping ads out of habit, it can be worthwhile to run ads that don't have an option to be skipped. However, with non-skippable ads, you need to be confident that your video is strong enough to hold your audience's attention for the full 15 seconds. Given that viewers have to watch the full video, these ads typically have higher CPMs than other formats on YouTube.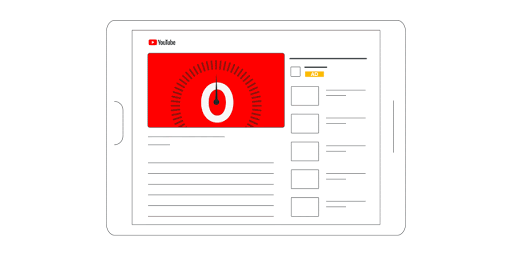 Video Discovery Ads
Video Discovery ads are best for product and brand consideration. Just like Google paid search ads, YouTube Discovery Ads display alongside organic YouTube search results. As a more native approach, if your video appears relevant to users, people are more likely to watch it. Alongside a thumbnail of the video, these ads allow for three lines of text to help provide users with more context and information. The text opportunity is great, because it ensures that a user consumes some brand messaging even if the video isn't played. Furthermore, in the best case scenario, the description text further encourages the video play action, and eventually results in a lead or conversion.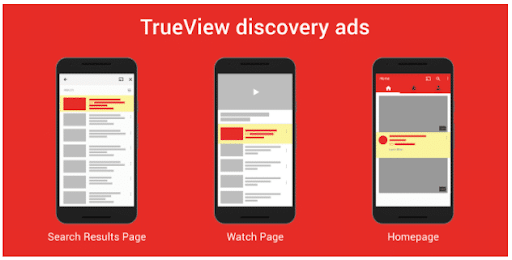 Bumper Video Ads
Are you looking to capture viewers with a short, memorable message? Then bumper ads are for you! At only 6 seconds, bumper ads are a quick, snappy way to leave viewers wanting more. Billed on a CPM basis, these ads are best for building brand awareness, given that they are also non-skippable.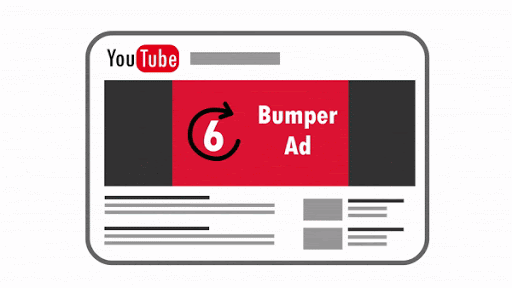 Masthead Ads
Masthead ads are a fantastic way to drive awareness for a new product, service, or event for a short period of time (i.e. a trade show). While most YouTube ads are purchased through the Google Ads auction, masthead ads are bought on a reservation basis. By buying on a reservation basis, masthead ads give you more control over your budget (buy impressions at a fixed rate), greater visibility (guarantee the placement of your ad), and better brand awareness (reach a wide audience).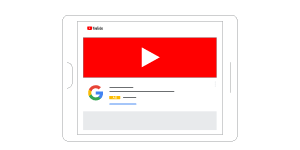 Outstream Ads
Outstream ads are another great tactic for boosting brand awareness and bringing users to your site. With over 40% of YouTube viewers watching content on their mobile devices, a mobile-first ad campaign is a smart approach. Outstream ads, for example, are mobile-only and play on partner sites and apps outside of YouTube. While this might seem counterintuitive at first, this actually allows advertisers to expand their reach to publishers such as CNN and Forbes. In addition, users are more likely to view outstream video ads by over 25% when compared to instream ads.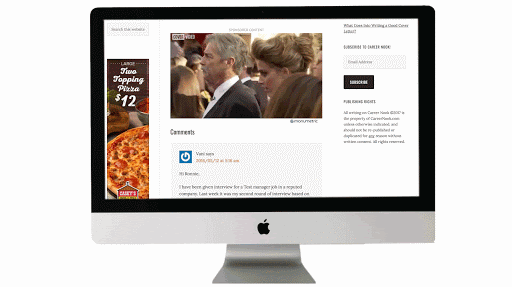 Knowing that there are so many options for YouTube ads, it can sometimes be overwhelming to know what format to select. It's important to start with your goal, and work backward from there. Better yet, consult a digital marketing agency for advice on the best ad format and strategy for your business. If you're interested in working with a video design & production company to create your next video or need help figuring out how to promote your videos, contact us here!