If you think back far enough, you remember the days when Instagram was a casual photo diary. People would flood their profiles with multiple posts a day, users' feeds would be filled with heavily filtered duck face selfies, their OOTD (outfit of the day), the perfect slice of avocado toast, and artsy outdoor flicks. Shocking right? In 2023 such a practice would be deemed taboo unless you're a mega influencer of course. Somewhere along the way Instagram became carefully curated for people to build a meticulous visual identity. Photos are planned, posed, and edited to perfection. While Instagram was a driver in creating influencers and promoting their picture-perfect feed, users turned to other platforms, like Snapchat, for a more casual "behind the scenes" view of their friends' lives.
But imitation is the greatest form of flattery, right? In 2016 Instagram attempted to regain the interest of Snapchat users with the bold decision to add Instagram Stories to their platform. Boom, death to the post. Well, not exactly, but this new feature altered the way users interacted with Instagram. Instagram Stories drove significant shifts in user behavior. From how influencers and businesses present themselves on the app, to how other social media platforms began to support the demand of short-form, casual content.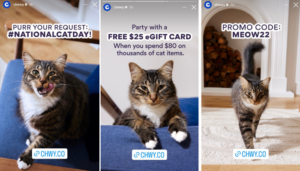 How are stories different and more effective than posts?
Posts serve as a backbone to your Instagram profile, being permanent curated capsules of how you are perceived by anyone who stumbles on to your content, including non-followers. Whereas, stories serve as short-formcontent that breaks the 4th wall, so to speak. They feel raw and impromptu as people speak straight to their followers. Stories also do a great job at creating a sense of urgency, users feel the need to check in throughout the day so they don't miss out on any content before it disappears.
How do stories garner strong engagement?
Instagram Stories attract more than 400 million daily users, transforming the way people share and consume social media. Instagram Stories became a more casual and authentic way of sharing content with followers. Stories are temporary and disappear after 24 hours. The fleeting nature of stories makes the content feel more spontaneous and realistic. Stories are far less edited and often quickly filmed on the fly, feeling much more like an off-the-cuff one-to-one message than an artfully curated photoshoot result meant for the masses. Users can engage in stories in a multitude of ways, through face filters, polls, links/CTA buttons, replies, and likes. This enables stories to garner greater engagement, especially when trying to connect with new followers.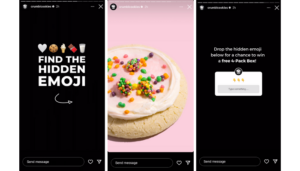 The story model produced great success, surpassing the views regular feed posts receive. Instagram stories build loyalty and a stronger connection with followers, enabling a platform to address them directly and provide an inside scoop on your life or your business. Stories are consistently watched to completion demonstrating just how powerful of a tool they are for capturing users' attention.
What does this mean for my business?

62% of Instagram users say they have become more interested in a brand or product after seeing it in Stories. Instagram Stories can be a powerful tool for businesses to gain visibility and engagement with potential customers. Not to mention, stories can be a cost-effective way to keep up content velocity without significant effort in editing and post-production. The ability to layer text, GIFs, emojis, color filters, and much more is all built into the app interface enabling anyone to create polished professional-looking messages. Other platforms have also realized this creating things like Twitter Moments and YouTube Shorts, so story content is only going to continue to grow. If your business is looking to keep up with the best brand strategy firms, you need to tap into the power of stories and focus on curating short-form content that authentically connects with your followers.
If you are interested in learning more about how Bluetext's marketing services can help you create quality content, contact us. As a DC-based digital design agency, we know how to make content that counts.
For many businesses, it can be difficult to directly track how social media impacts company revenue. As such, when evaluating return on investment (ROI) for social media, it's important to look at it from a broader context that measures the more intangible aspects, such as improved customer service, positive change in brand perception, effective crisis communication, enhanced brand recognition, and sales conversions. Brand campaigns, for example, are able to increase brand awareness, engage with your mission, and impact brand sentiment, but it can be hard to connect top-of-funnel campaigns to financial results. In this blog post, we've laid out the steps you can take to prove the ROI of any social media investment.

1. Calculate your business' true investment in social media. 

First, determine the combined cost of the tools and platforms used for social. Next, consider the budget allocated to social ad spend. Then, determine the amount of time employees dedicate to managing social efforts for your business. Looking at those three costs holistically enables businesses to have a better sense of whether the investment justifies the value delivered.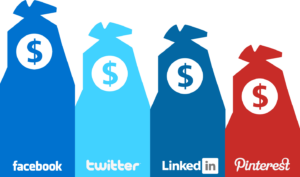 2. Set S.M.A.R.T. goals that connect to your business objectives.
Set specific goals that clearly label exactly what you want to achieve with social media. Be sure that your goals are measurable so you will know when you have achieved your goal. Next, be realistic and confirm that your goal is actually attainable. Then, ensure your goal is relevant to the bigger picture and overall business strategy. Lastly, set a timeline for yourself on when you would like to see results. A proposed deadline will keep you on track and accountable.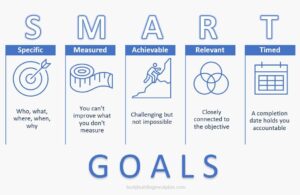 3. Establish a measurement framework that fits your unique organization. 
Use social media analytics reporting and track key metric results on a monthly or quarterly basis. Key metrics include impressions, clicks, click-through rate (CTR), reactions, and engagement rate. Over time, you can average out the results to determine your benchmark, which will be used to compare month-to-month results. Keep in mind, it is not a bad thing if you perform below your benchmark as long as you can explain why.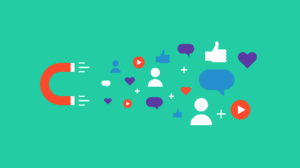 4. Calculate the impact of your social strategy on revenue and business goals.
Determine the social media content impact: content volume, top content, and engagement. Next, calculate the marketing and sales impact: page views, page reach, lead generation, and website conversions. Finally, consider the business impact: brand health (sentiment towards the business), revenue tied to social efforts, and crisis management. All of this together should give you a fuller picture of your business's social media performance and whether it's worth the investment.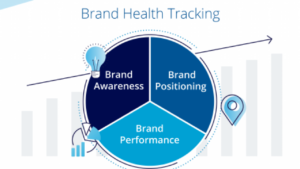 Feel confident about your return on investment and contact Bluetext if you are ready to have a social media strategy that produces results. 
In today's highly digital world, it's no secret that each and every one of us is faced with an overload of content and information every day — but when it comes to marketing, does quantity really outweigh quality? The short answer is no. It can be easy to get caught up in the race to generate more: more content, more leads, more interactions. However, amidst this frenzy, a timeless principle continues to hold true — the undeniable value of quality over quantity. Shifting your focus towards producing quality content can lead to far more meaningful results. Not only will it drive engagement, but it will propel your brand towards sustained success.
Engagement that Resonates
With the integration of AI tools into marketing workflows, it is now easier than ever to roll out content at an accelerated rate. Companies are able to streamline the process of content creation and publish autonomously, but is the content that they're creating truly resonating with audiences? Consistently producing content for content's sake will not leave a lasting impression on an audience. Imagine sifting through a barrage of generic content that offers little more than a fleeting glance. Now contrast that with stumbling upon a meticulously crafted piece that speaks directly to your needs and interests — the latter, undoubtedly, captures viewers' attentions and engages them on a deeper level. Quality content has the power to resonate with target audiences, evoking emotions, sparking conversations, and leaving lasting impressions. Forming genuine connections with your audience requires understanding their needs, engaging in meaningful conversations, and addressing their pain points — all of which needs to be done in a thoughtfully planned manner. By investing time in personalized interactions and addressing individual concerns, companies can foster a loyal community that actively supports and advocates for their brand.
Conversion that Counts
While a high quantity of leads might seem enticing, it's the quality of those leads that matters. High-quality content has been found to generate 9.5 times more leads than low-quality content, and while having a steady presence on socials is important, it's ultimately the number of conversions that result from your social presence that matters. Quality leads are more likely to become satisfied customers who stick around for the long haul; high-value content doesn't just spark genuine and authentic interest amongst targeted audiences, but it can also establish lasting brand trust and loyalty. Long-term customers will inevitably drive consistent revenue and refer others to fall in line.
Brand Perception that Prevails
Your brand's image is not just built by how frequently you appear, but by the impression you leave. A few high-quality interactions can create a stronger brand perception than a multitude of disengaged views. Consistently delivering value through quality content and interactions paints your brand in a positive light and encourages positive word-of-mouth referrals.
In the noisy landscape of modern marketing, the allure of quantity can be overwhelming, especially when AI tools can expedite content production and posting. However, by shifting your focus to quality, you're not just participating in the marketing game — you're setting yourself apart as a valuable player. Every piece of content, every interaction, and every engagement becomes a chance to make a meaningful impact. You are investing in the foundation of enduring success, building relationships that last and fostering a brand that stands the test of time.
If you are interested in learning more about how Bluetext's marketing services can help you create quality content, contact us. As a dc-based digital design agency, we know how to make content that counts.
In a surprising and bold move, one of the social media giants, Twitter, has undergone a complete rebranding, emerging as "X." This announcement has sent shockwaves through the digital marketing landscape, leaving professionals and businesses alike eager to understand the implications of this change. In this blog post, we will delve into the rebranding of Twitter to X and explore what it means for marketers.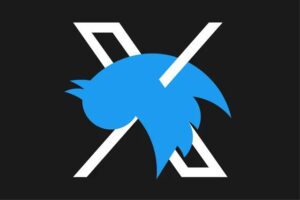 The Birth of X: A Glimpse into the Rebranding
Twitter's transformation into X marks a significant evolution for the platform. The name change reflects the company's desire to expand beyond its traditional microblogging roots and embrace a broader scope of offerings. The decision to rebrand was driven by a desire to reflect the platform's new mission and vision, as well as to reposition itself in an ever-evolving digital landscape.
1. A Shift in Purpose: Beyond Microblogging
While Twitter was initially synonymous with microblogging, X's rebranding signifies a shift toward a more diverse range of content formats. With an increased focus on multimedia content such as videos, images, and interactive elements, marketers will find themselves with an expanded toolkit to engage with their target audiences. This opens up exciting opportunities for creating more immersive and engaging marketing campaigns.
2. Enhanced Advertising Opportunities
With the rebranding to X, marketers can expect a revamped advertising ecosystem. X's broader scope allows for a more refined and targeted approach to advertising, giving marketers the chance to connect with users based on their interests, behaviors, and engagement patterns. The platform's enhanced analytics and data-driven insights will empower marketers to make informed decisions and optimize their campaigns more effectively.
3. Embracing Influencer Marketing
In the age of X, influencer marketing is set to take on a new dimension. The platform's pivot towards multimedia content encourages the rise of influencer collaborations that go beyond 280-character endorsements. Marketers can leverage influencers to create compelling visual and interactive content that resonates with their audiences, resulting in more authentic and impactful brand partnerships.
4. Community Engagement and Feedback
X's rebranding is accompanied by a renewed commitment to fostering communities and promoting user interactions. For marketers, this translates to a golden opportunity to engage directly with their audience, gather valuable feedback, and build stronger relationships. Brands that actively participate in meaningful conversations on the platform will stand to gain loyal followers and increased brand advocacy.
5. Adaptation to Changing Trends
X's transformation serves as a reminder that the digital landscape is fluid and subject to constant change. Marketers must embrace agility and flexibility to keep up with evolving trends and technologies. By staying attuned to X's evolving features and functionalities, marketers can position themselves as early adopters and gain a competitive edge.
The rebranding of Twitter to X signifies a new era for marketers, characterized by expanded content formats, enhanced advertising opportunities, and a renewed focus on community engagement. This rebranding isn't just a name change; it's a strategic move that aligns with the shifting demands of the digital age. Marketers who embrace X's new identity and adapt their strategies accordingly will be well-equipped to navigate the ever-changing landscape of digital marketing and harness its full potential. Are you looking to understand how to best utilize X and its offerings? Contact us today.
As of July 2023, we're all Barbie girls living in a Barbie world. Or at least that's how the recent social media and pop culture landscape has seemed. The release of Warner Brothers 'Barbie' movie has rocked box office sales and the marketing landscape. It brought back a sense of nostalgic childhood joy and sparked conversations nationwide around women's empowerment and what it truly means to 'be a Barbie girl'. And while the bubble-gum pink fantasy world may seem far removed from the traditional B2B marketing landscape, its promotional strategy and a wave of cross-branding opportunities is a noteworthy case study for any industry. And as digital marketing strategists, we must acknowledge some key takeaways that can be used to bring any campaign to life. Let's break down the impressive marketing campaign that brought "Barbie-core" to larger-than-life proportions. 
To promote "Barbie," which stars Margot Robbie and Ryan Gosling as life-size versions of the iconic childhood dolls, Warner Brothers deployed a multi-touch campaign costing an estimated $150 million. As expensive as that may seem, it contributed to box office sales of $165 million in North America alone, and a stunning $337 million globally. More impressively, it led to an undeniable media phenomenon that captured the attention of multiple generations all over the world. Bringing in external brand partnerships and a number of key influencer engagements, the strategy has already been called the marketing campaign of the year. Starting back in 2022, a promotional teaser image sparked conversation and anticipation of the movie even before production began. Leveraging a breadcrumb strategy, the campaign released incremental elements of the movie intended to spark curiosity and conversation. Blending paid media, like trailer placements, and earned media, such as social media buzz and user-generated content, the campaign took on a life of its own. Once the interest was piqued, the co-branding opportunities skyrocketed. From Barbie Dreamhouse-themed AirBnB rentals to partnerships with big brands like Progressive and Nissan everyone wanted to hop on the Barbie bandwagon. Here are some of the ways this campaign found success, and can be used as any go-to-market strategy.
Refined Messaging:
The Barbie brand has historically faced controversy around unrealistic beauty standards and women's stereotypes. To reset how the world considers the iconic brand, Warner Brothers and Mattel needed to shift market perception to a more positive light. To appeal to mass audiences Barbie had to evolve into a more inclusive product that represented viewers of any age or demographic.  The story of Barbie had to be retold into one that promoted independence and various career trajectories Barbie was known for. The brand sentiment pivoted to a more positive light, showing Barbie as more than a stay-at-home Dreamhouse fantasy. One of the most famous taglines of the film, "If you love Barbie, if you hate Barbie, this movie is for you" addressed the past perceptions straight on. It openly recognized the history of Barbie and the fact that everyone has a unique and different relationship with Barbie. The tagline both tapped into and defied nostalgia, the marketing team's willingness to use hate showed their willingness to break the rules. This further promoted the message that this is not the Barbie you think it is and inspire people to embrace the movie with an open mind that Barbie had evolved.
Breadcrumb Strategy:
Preparation for this campaign came long before the cameras started rolling to give small sneak peeks at the production that resulted in cumulative interest. Promotional teaser videos and social media images gave viewers insight into the film and the opportunity to join in on the conversation. People speculate over what the plot would center around, what the set design would look like, and how their childhood fantasies would be brought to life.
Teaser campaigns are an optimal strategy, especially for lead-generation-focused campaigns. Take Bluetext's work with the Thing Tamer campaign, a shortened promotional video was released in two parts to capture interest and drive people to landing pages to sign up for more updates. Ultimately users that signed up were notified when full videos were released, and when and where the event booth could be experienced. 
Leveraging AI:
Curiosity was a powerful tool for this campaign prompting the audience's own engagement with the brand and movie. To create social media hype, the Barbie team employed AI tools to create promotional images that viewers could upload their own photos to create their own movie posters. This took off like wildfire across social media and various meme accounts, because it opened doors to letting anyone imagine themselves in their own personalized Barbie world. Customizable templates went viral, allowing users to show off their own creativity and version of "This Barbie does _____". From famous celebrities to everyday people, the tool has been used over 13 million times since its release.
Nostalgia: 
It's no secret the power of nostalgia has taken over recent marketing trends, as it incorporated relatable elements that bring people back to happy memories of their past. Barbie embraced and defied nostalgia, preparing audiences for the unexpected nature of the movie. Tapping into a 60+ year legacy, the Barbie movie targeted older generations with memories of their favorite childhood toy while staying relevant to young girls buying and playing with the dolls today. The content marketing leg of this campaign was designed to unearth long-lost memories of playing with the dolls and excitement around the various versions while serving as an ode to how much Mattel has matured Barbie as a brand over the years. 
Co-Branded Collaborations:
Barbie tapped into the target markets of popular brands across multiple industries through the power of collaboration. From the obvious fashion and travel industry to more unexpected partnerships with home insurance and the automobile industry, the co-branded opportunities were endless. The unexpected partnerships were key for the Barbie marketing team because they allowed them to make a statement and defy expectations. This generated awareness of the movie amongst untapped audiences and created lucrative symbiotic relationships. From Microsoft creating a pink Barbie-edition Xbox to star-studded Chevy commercial ads, it became almost impossible to not notice the movie's release. People in the market for travel luggage, or even home insurance, were roped into the phenomenon with limited edition deals and product releases.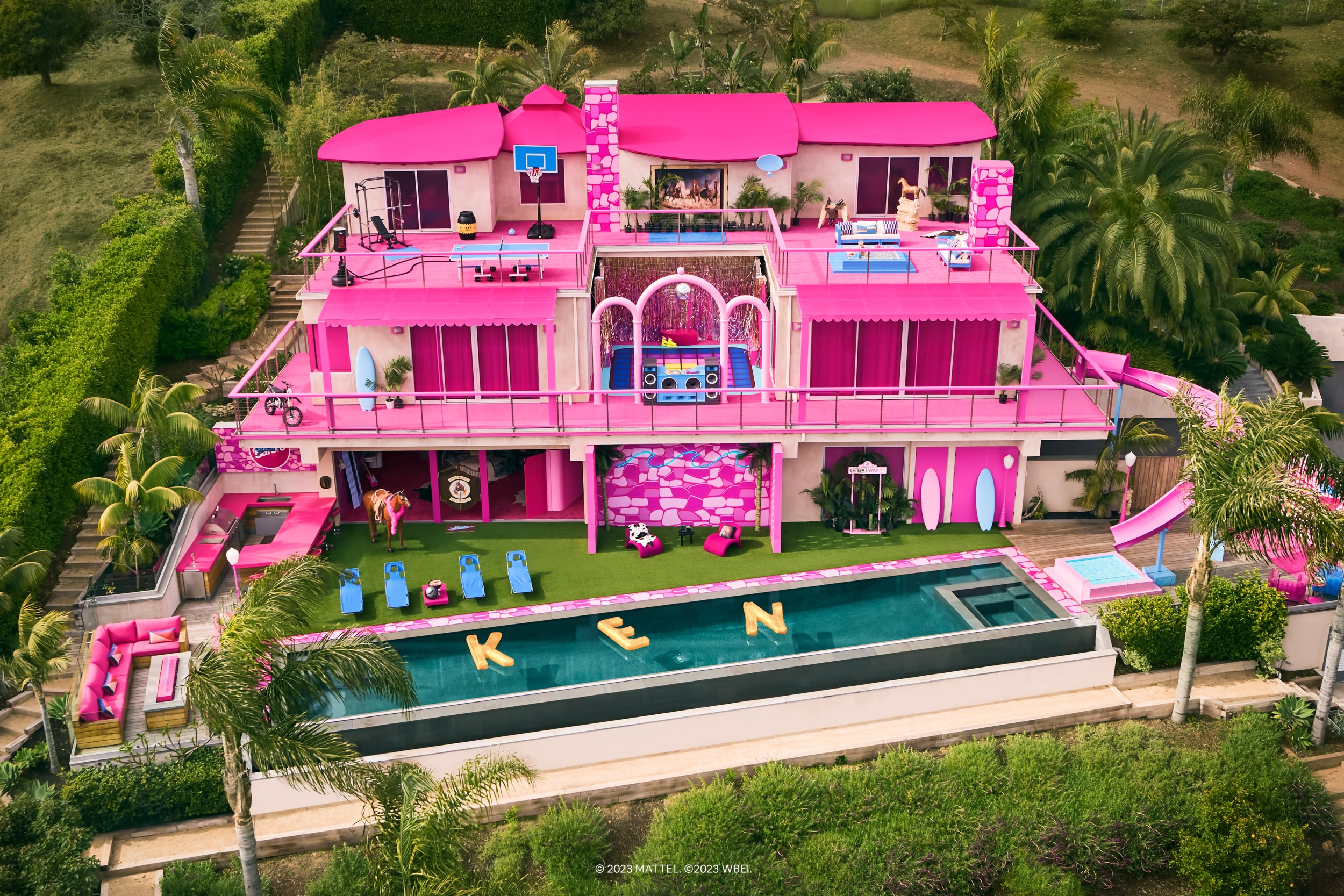 So while this campaign may seem consumer-centric and out of touch for B2B brands, it serves as a valuable case study for any brand awareness campaign. Artfully blending new-age AI tools with deep-rooted nostalgia, and paid media with earned social media hype, the campaign succeeded in winning the heart of Barbie fans and converting previous skeptics into a new perception. Regardless of age, gender, or any demographic the campaign reminded us that with a little imagination and a pop of pink anyone can be a Barbie girl in their own definition of a Barbie world.
Ready to scale your own larger-than-life brand awareness campaign? Get in touch with the Bluetext team to learn more about various go-to-market tactics that can help your B2B brand take off.
Does The Ultimate Prodigy exist within your organization? Take this insightful quiz to uncover the digital orchestration conductor personas at your company. This quiz delves into the world of digital campaign strategies and uncovers your team's strengths, whether they excel in data-driven research, social media engagement, content creation, automation mastery, experiential design, or if you employ an adaptable and versatile master in all aspects of digital marketing.
Looking to discover the different types of digital orchestration conductors? Check out our recent blog post detailing their traits and how they can best contribute to your organization to make the most impact.
In the fast-paced world of modern marketing, orchestrating digital campaigns requires a diverse set of skills and expertise. Just like a symphony conductor brings together different musicians to create a harmonious masterpiece, digital marketing conductors play a pivotal role in coordinating various channels, strategies, and technologies to achieve marketing success. This blog post aims to shed light on the different types of conductors you might encounter in today's marketing enterprises, each with its unique strengths and approaches to digital orchestration.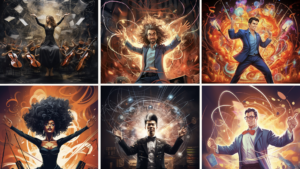 From the search maestro who commands the realm of pay-per-click advertising and search engine optimization to the social serenade conductor who creates captivating brand symphonies on social media platforms, there are specialized conductors for every aspect of digital marketing. The content virtuoso excels in crafting compelling and valuable content, while the automation maestra leverages technology to streamline processes and enhance efficiency. The experiential composer, on the other hand, creates immersive brand experiences that leave a lasting impact on the audience.
However, the ultimate conductor possesses a rare combination of superpowers from each specialized conductor. They possess the media mix prowess to seamlessly blend diverse marketing channels, the ability to rebalance resources and optimize campaigns across channels, and the holistic view to orchestrate synchronized touchpoints and deliver consistent messaging. This ideal conductor combines the best practices and strategies from each type, creating a marketing symphony that resonates with the audience, drives results, and takes your brand to new heights. Join us in exploring the world of digital marketing conductors and uncover the key qualities that make the ultimate conductor a force to be reckoned with.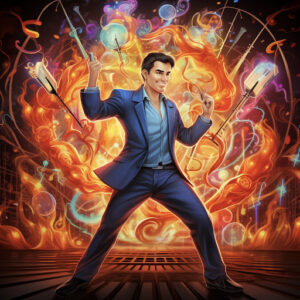 Search Maestro
The Search Maestro is a digital marketing conductor who conducts symphonies of success using the search landscape. With brands like Google and Bing in their repertoire, they skillfully navigate the realm of pay-per-click advertising and search engine optimization (SEO). They meticulously research keywords, optimize landing pages, and fine-tune ad campaigns to ensure their audience finds them effortlessly. Utilizing analytics, they track search performance, measure conversions, and continuously refine their strategies for maximum impact.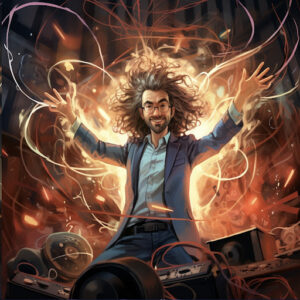 Social Serenade
The Social Serenade conductor is a masterful orchestrator of social media platforms, enchanting audiences with brands like Facebook, Instagram, Twitter, Meta, TikTok, and Pinterest. They harmonize engaging content, captivating visuals, and strategic ad campaigns to create a captivating brand symphony across various social channels. Leveraging analytics, they gain insights into audience behavior, preferences, and trends, enabling them to refine their approach and create personalized experiences. Additionally, they embrace the power of micro-influencers to amplify brand messages and foster authentic connections with their target audience.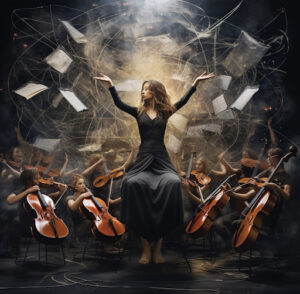 Content Virtuoso
The Content Virtuoso conductor is a maestro of compelling and valuable content. They compose blog posts, videos, infographics, and more, interweaving brands like Google and Bing to create a harmonious blend of information and creativity. By utilizing analytics tools, they track content performance, measure engagement, and gather valuable insights about their audience's preferences. Leveraging personalization techniques, they deliver tailored content experiences that resonate deeply with their audience. Furthermore, they understand the power of short-form and 15×9 video strategies to captivate attention in a fast-paced digital landscape.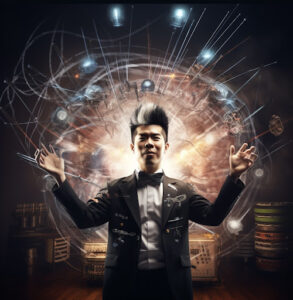 Automation Maestro
The Automation Maestro conductor is a wizard in orchestrating efficient marketing workflows. They seamlessly integrate automation tools and platforms like HubSpot and Marketo to orchestrate personalized, timely interactions with their audience. By utilizing analytics, they gain deep insights into customer behavior, allowing them to automate lead nurturing, email marketing, and personalized campaigns. They leverage account-based marketing strategies to target high-value accounts and enhance customer experiences throughout their journey. Their expertise lies in utilizing data-driven insights to optimize their automation processes continually.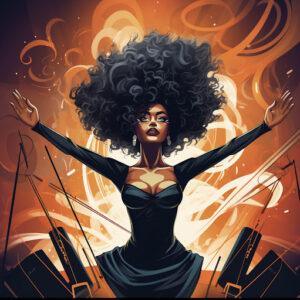 Experiential Composer
The Experiential Composer conductor is a visionary in creating immersive brand experiences. They compose multisensory journeys that incorporate digital touchpoints with offline interactions, utilizing platforms like Google, Bing, Facebook, Instagram, and Pinterest. They understand the power of personalization and leverage analytics to craft tailored experiences that resonate deeply with their audience. By harnessing the influence of micro-influencers, they amplify their brand's reach and foster authentic connections. Their strategy includes capturing attention through short-form content, utilizing platforms like YouTube Shorts, and leveraging the emotional impact of 15×9 videos.
Throughout all these personas, analytics plays a crucial role. By utilizing analytics tools and platforms, they gain valuable insights into campaign performance, audience behavior, and content effectiveness. These insights inform their decision-making process, allowing them to optimize their strategies, refine targeting, and enhance overall marketing orchestration.
The digital marketing conductors described above each excel in their respective domains, showcasing their expertise in search, social media, content, automation, and experiential marketing. However, the ultimate conductor surpasses them all by demonstrating mastery in the media mix, rebalancing, cross-channel optimization, and a holistic approach to orchestration.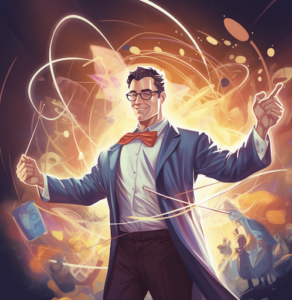 The Ultimate Prodigy
The ultimate prodigy conductor is a virtuoso in the media mix, seamlessly blending different marketing channels and mediums to create a harmonious symphony of marketing efforts. They understand that no single channel can achieve optimal results on its own, and thus they skillfully combine the power of search, social media, content, automation, and experiential marketing to create a cohesive and impactful strategy.
Moreover, this conductor possesses a keen sense of rebalancing, continuously monitoring and adjusting the allocation of resources across various channels based on performance and changing market dynamics. They have a deep understanding of the importance of staying agile and adaptable, redistributing budgets, and optimizing efforts to maximize ROI and overall marketing effectiveness.
Cross-channel optimization is at the core of the ultimate conductor's approach. They understand that each channel has its unique strengths, audience preferences, and engagement patterns. By utilizing analytics and data-driven insights, they orchestrate campaigns that deliver consistent messaging, seamless customer experiences, and synchronized touchpoints across channels. This conductor ensures that each channel complements and reinforces the others, resulting in a cohesive brand presence and enhanced customer journey.
Lastly, this conductor possesses a comprehensive view of the marketing landscape and actively seeks out innovative and emerging channels and strategies. They stay updated on industry trends, technological advancements, and consumer behavior shifts. By being forward-thinking and open to experimentation, they embrace new opportunities to connect with their audience and adapt their orchestration approach accordingly.
In summary, while the individual conductors excel in their specialized domains, the ultimate conductor goes beyond by excelling in the media mix, rebalancing, cross-channel optimization, and maintaining a comprehensive perspective of the entire marketing ecosystem. Their ability to synchronize and harmonize diverse marketing channels enables them to create an impactful and cohesive brand presence, deliver personalized experiences, and achieve exceptional results.
Want to learn more about the conductors operating in your enterprise? Contact us today.
Go-to-market campaigns are incredibly beneficial to reaching your marketing goals — whether that's generating mass brand awareness, driving new traffic to your site, or producing quality conversions. No matter what your campaign goal is, one thing will always be true: tracking is a must. 
Campaigns are only beneficial when you can understand and measure the data. How are users engaging with your ads? What is their user journey like when they reach your site? Where and why are they bouncing off the site? These questions – and dozens more – will help you make informed, data-driven decisions to fine-tune your campaign's performance. 
Successfully setting up UTM (Urchin Tracking Module) parameters will allow you to easily track and measure your campaigns, and will help you draw conclusions as to what's working and what needs improvement.
What are UTM parameters and why are they important? 
UTM, or Urchin Tracking Module, codes are small snippets of text that are added to the end of URLs so that you can easily track your marketing campaigns. While UTMs are most commonly used for paid media ads, you can leverage UTMs to successfully track organic social posts, earned media article placements, and more. If users can click on a URL that drives to your site, you should always try to add UTM codes to that URL.
There are five (5) total UTM parameters that you can add to your URLs:
utm_source

: Identify the advertiser, site, publication, etc. that is sending traffic to your property, for example: google, newsletter4, billboard.

utm_medium:

The advertising or marketing medium, for example: cpc, banner, email newsletter.

utm_campaign

: The individual campaign name, slogan, promo code, etc. for a product.

utm_term

: Identity paid search keywords. If you're manually tagging paid keyword campaigns, you should also use utm_term to specify the keyword.

utm_content

: Used to differentiate similar content, or links within the same ad. For example, if you have two call-to-action links within the same email message, you can use utm_content and set different values for each so you can tell which version is more effective.
At a minimum, we recommend adding the source and medium parameters; however, the more parameters you add, the more granular the tracking becomes and the more detailed your data/reporting will be. All of this information will seamlessly integrate into your GA4 dashboard. UTM parameters are also picked up through other software platforms, such as HubSpot, Salesforce, Marketo, and more. 
Why UTMs are important
As noted, campaigns can only be beneficial if you are able to gain insights from the data you collect. While ad platforms can provide KPIs such as clicks, impressions, CTRs, and conversions, the most important data related to your campaigns will come through once a user visits your site. 
UTM parameters allow you to analyze users' website experience at a campaign, term, or even content level. This level of granularity will allow you to easily A/B test against different ad copy, call to action, ad imagery, landing page hero zones, form types, and more. Measure the success of these tests by reviewing engagement metrics (avg. time on site, engagement rates, pages/session, form submissions).  
UTM parameters can also be tied to CRM (customer relationship management) platforms, which we strongly recommend if applicable.  In addition to understanding the number of conversions that are tied to each of your unique parameters, you can also start to measure the quality of conversions. 
Let's say you have two unique utm_term parameters – Blue and Red. In GA4, we can see that Blue has driven 100 conversions while Red has only driven 50 conversions. If we were to stop measuring there, we would assume Blue is the clear winner. However, when reviewing these UTM terms in Salesforce, we see that Blue has only produced 3 qualified sales conversions, while Red has driven 10 qualified conversions. This information tells an entirely different story; while Red has driven fewer overall conversions, the qualified conversion rate is 560% higher than Blue. 
Bottom line: the more granular you can get with tracking – with UTM parameters, and with syncing UTM parameters to all marketing platforms – the more successful your campaigns will be.
UTM Templates
If you are new to implementing UTM parameters, it can feel like a daunting process. Luckily, there are free tools online that allow you to easily build out custom URLs. 
UTM builder is a great, free, tool that you can use to generate UTM codes. This is a great place to start to gain familiarity with the UTM process. 
However, as noted, the more granular you can get with UTM parameters, the better. The UTM builder site is great for generating a handful of custom URLs, but that manual process will eat up a lot of your time – and we marketers don't have time to waste! For a more automated process, we would recommend creating a custom UTM spreadsheet – see examples here. With these spreadsheets, you can automate your URL-building process, producing 100s of custom URLs in minutes. 
NOTE: Before generating any URLs with UTM parameters, be sure to connect with your web development team to establish any UTM rules. For example, some platforms only allow lowercase UTM parameters to be passed through. Make sure to connect with the appropriate contacts on your team to ensure all UTMs will be successfully mapped to the marketing platform(s) you plan to use.
If you're planning to run a marketing campaign in the near or distant future, be sure to establish UTM parameters! 
Successfully track, measure, and update your campaigns based on the data you're able to analyze through your UTM parameters. Start making informed, data-driven decisions based on these unique insights. Create a custom UTM parameter template so that you can streamline and automate the custom URL process.
Whether you're new to the paid media scene, or a seasoned veteran ready to optimize campaign performance, Bluetext has the experience and expertise to support your business from start to finish. Contact us to learn more about our campaign creation & management services.
In a world filled with endless scrolling and viral dances, TikTok has emerged as a powerful platform for brands to showcase their creativity, engage with their target audience, and leave a lasting impact. Whether you're a seasoned marketer or just dipping your toes into the vast ocean of social media, this blog is your guide to harnessing the potential of TikTok as a brand.
Creating a sustainable, long-term growth strategy for TikTok requires careful planning and execution. Here are 8 key steps for brands to get started and establish a successful presence on TikTok:
Define Your Goals: Start by clearly defining your marketing objectives on TikTok. Determine whether you want to increase brand awareness, drive traffic to your website, generate leads, or boost sales. Having well-defined goals will guide your strategy and help you measure success along the way.
Understand Your Audience: Take the time to understand your target audience on TikTok. What are their interests, preferences, and behaviors? Conduct thorough research to gain insights into the content they engage with, the hashtags they follow, and the trends they embrace. This knowledge will help you tailor your content and connect with your audience more effectively.
Create Compelling Content: TikTok is all about captivating and entertaining content. Develop a content strategy that aligns with your brand identity while embracing the platform's unique style. Experiment with a mix of video formats, including tutorials, behind-the-scenes glimpses, user-generated content, and challenges. Remember to infuse your content with authenticity, creativity, and a touch of humor to resonate with TikTok users.
Engage with the Community: TikTok thrives on community engagement. Actively participate in the TikTok ecosystem by engaging with users, responding to comments, and collaborating with influencers and other creators. By building relationships and fostering a sense of community, you can establish a loyal following and increase your brand's visibility.
Leverage TikTok Features: Stay updated with TikTok's latest features and trends to make the most of the platform. From TikTok Ads and branded effects to utilizing popular challenges and hashtags, explore opportunities to enhance your content and reach a wider audience. Experiment with different features and analyze their impact on your brand's performance to optimize your strategy.
Analyze and Optimize: Regularly analyze your TikTok performance metrics using the platform's built-in analytics or third-party tools. Monitor metrics like views, engagement, follower growth, and conversions to evaluate the effectiveness of your strategy. Use these insights to refine your content, experiment with new approaches, and optimize your TikTok marketing efforts over time.
Collaborate with Influencers: Consider collaborating with TikTok influencers who align with your brand and target audience. Influencer partnerships can amplify your reach, enhance credibility, and generate user-generated content. Identify influencers who have a genuine connection with their followers and explore ways to collaborate on sponsored content or challenges that promote your brand organically.
Stay Agile and Adapt: TikTok is a dynamic platform with rapidly evolving trends and user behaviors. Stay agile and adaptable in your approach. Continuously monitor TikTok trends, engage with your audience, and adjust your strategy to stay relevant. Embrace experimentation and be open to trying new ideas to keep your TikTok presence fresh and engaging.
By following these steps, your brand can establish a strong foundation on TikTok and create a sustainable, long-term growth strategy. Remember, consistency, creativity, and genuine engagement are key to making a lasting impact on TikTok's vibrant community.
To purchase or not to purchase? That is the question. An image of a sleek matte finished water bottle stares back at you from your online shopping cart. It promises to be better than the seven other water bottles you have crammed into your kitchen cabinets. It's just arrived back in stock after going viral all over social media. Must be something to it…to purchase…or not to purchase…
In today's world, social media has become one of the most powerful tools for businesses to promote their products and services. Influencer marketing has become a popular strategy for companies to reach a wider audience and encourage extended follower bases to buy their latest products. The influencing strategy relies on users' trust in these aspirational individuals, often based on shared niche interests or opinions.  However, there is a new trend emerging in the marketing world known as "deinfluencing".  As a response to the overconsumption propagated by influencers, deinfluencing emphasizes the growing cynicism towards sponsored content across social media. These content creators have paved the way for a new and effective marketing strategy that rebuilds trust and combats false advertising.  
Deinfluencing started with content creators talking about the issues with the current influencer market promoting overconsumption. It soon evolved into other creators telling their followers what products they should and shouldn't buy. This trend took off on TikTok, now with over 450 million views, as creators in the beauty and lifestyle niche started exposing products that are overhyped, and began providing better quality, often less expensive product options. Now, this trend has moved into more niches, anything from gaming to wedding planning, as consumers and creators start to reflect on how quick people are to purchase products based on fleeting trends.
While it may sound like deinfluencing is the rejection of influencers and the influencer market, that is not the case. Deinfluencing is about asking content creators, brands, and consumers to rethink how they utilize the power of influence. Consumers have rightfully begun to question the authenticity of some influencers and their partnerships with brands. Does this product really work? Has this trusted individual even tried the product? Or is this influencer just being paid for a positive review? By attempting to build trust with consumers, "deinfluencers" are rebranding what it means to be an influencer by offering authentic reviews on products. Their candor helps consumers realize what they actually need and aims to reduce overconsumption based on microtrends. 
This TikTok by user @impactforgood_ explains her take on deinfluencing. She explains how thrilled she is that the collective is realizing "overconsumption is getting out of control." She moves on to say that she uses minimal products, just what is truly needed to take care of your skin for example. She has no problem showing off products she genuinely uses and doesn't mind if people are influenced to buy them. What she doesn't support is people buying the latest, trendiest product before they finish the similar product they currently own. Deinfluencing not only helps slow overconsumption but also stops people from overspending their hard-earned money. "The rule that saved me money is that I cannot buy new products unless I have used up all the rest." 
Deinfluencing not only encourages other influencers to rethink the products they are promoting, but it is also encouraging brands to be more transparent in their marketing efforts. Many brands are now faced with the risk of sending a content creator their product and them giving it an unfavorable review. However, on the flip side, if a trusted influencer gives their products a raving review, their followers will be more likely to purchase that product and also leave good reviews. This also holds brands more accountable to create quality products that will last. Because at the end of the day, any content creator has the ability to post a video about any product and give their opinion. If they already have a following that trusts them, they have influenced those consumers without the brand even being involved in the creator's using their product. 
In this TikTok, user @emtapiaaa, a Sephora employee, reveals the truth about popular items at Sephora. She also agrees with someone in the comments that different products work for different people. This shows that deinfluencing isn't meant to stop people from buying products they love, but rather from overbuying products they don't need.
This trend of deinfluencing has the potential to affect the way the marketing world functions. Over the years it has been about the latest trends, how fast and how cheap we can get products. Now there is a desire to focus on quality over quantity, with a promising shift in consumer behavior toward more ethical and sustainable consumption. Consumers are realizing they aren't getting the biggest bang for their buck when they are purchasing dozens of cheap products that they end up only using a few times. 
The deinfluencing trend has proven that consumers are ready to see a change in how influencers and brands are marketing products. In a saturated market where products have never been more easily accessible in such vast quantities, consumers are simply looking for products that work the best in their market. 
Relevant marketing is crucial for your business' success. Contact Bluetext if you are ready to enhance your go-to-market technique.