Picture this. It's a Friday night, and you're deciding where you want to eat dinner. As you walk down the street, you're overwhelmed by an abundance of options. Storefront posters shout weekly specials, stapled flyers advertise happy hours, promoters beckon passersby into newly opened spots, all merging into a blur of sensations.
But then, you hear it, your favorite song playing amidst the thrum of the busy street. You follow the sound to a restaurant you hadn't noticed on the first pass, where the music continues to bump along on outdoor speakers. From the patio, you catch the smell of fresh food leaving the kitchen, getting your stomach growling and enticing you further. Stepping inside, a waiter passes by, carrying your favorite dish to a nearby table. Taking in the room's ambiance, you turn to your friends and proclaim you've found tonight's spot.
Now you're probably wondering why I've had you go through this foodie fantasy with me. Part of it might be that I'm writing this blog around lunchtime and can't help but steal glances out the window at our neighborhood sushi spot while I type. But more importantly, it serves as a perfect analogy to illustrate the value of inbound marketing and what it can do to improve lead generation for your business. 
So What IS Inbound Marketing?
Inbound marketing is a methodology centered on drawing potential customers to your brand instead of trying to push your brand out in the market. Rather than utilizing external marketing tactics like TV ads, billboards, and flyers, an inbound marketing strategy seeks to attract customers by creating valuable content and experiences catered to them. Put broadly, outbound marketing brings your offering to your prospects, while inbound marketing brings your prospects to you. In doing so, you guide potential customers to your website with a pre-established positive impression—making it more likely that they'll go with your product or service when they're ready to buy.
Inbound marketing is content-led and hinges on providing potential customers with content that is genuinely meaningful to them. Because of its content-led nature, inbound marketing boosts SEO and organic traffic acquisition and builds trust and credibility in your brand by positioning your company as a thought leader in the market. Throughout the customer journey, the goal of inbound marketing is to add value. To be successful, you must attract users to your website with relevant and high-quality content, engaging with them and clarifying your value proposition. You must also delight users by acting as a reliable partner with a vested interest in their long-term success. 
Building Your Inbound Marketing Strategy
Proper planning and optimization will be critical to the success of your inbound marketing program. Creating compelling content is about strategic planning and commitment rather than budget. You can't just throw money at content creation and expect to come away with something compelling, you have to put your head and heart into the work. With that in mind, here are some thought-starters to create and maintain your inbound marketing strategy.
Know Your Audience and Space
Defining your business goals and buyer personas should be the genesis of any inbound marketing effort. You can't write content to inform your customers until you've identified your target audience and learned all you can about them. 
In the same vein, choosing the right platforms to distribute your marketing materials on will be critical in ensuring your content reaches the right prospects. Determine the best way to reach your target audience, whether through Twitter, Pinterest, Facebook, your blog, or elsewhere, to ensure your content gets to the right prospects.
Create a Journey Worth Taking
With effective inbound marketing, there should never be a dull moment in the customer journey, from impression to engagement. Aim to provide content across the customer experience. Preemptively answer the questions prospective customers will likely have at each stage of their buying journey. What makes you unique? Why should they listen to what you have to say? Successful inbound marketing tells prospective customers a unique and compelling story about your brand from first sight to final sale.
Consistency is Key 
Inbound marketing is a game of consistency. Maintaining a constant stream of content tailored to your market's current pain points and questions supports you in staying relevant and building your brand's perception as a trusted thought leader. To effectively support your inbound marketing strategy, prioritize creating and executing on a content calendar without fail. A set schedule ensures relevant content will consistently engage your audience and keep your brand fresh in consumers' minds. And in case you need more convincing, a 2021 Hubspot study found that brands who publish blog content at least 16 times a month generate 3.5x more website traffic and 4.5x more leads than companies that only update their blogs a few times a month.
Measure the Metrics that Matter
There's a plethora of metrics to choose from when measuring the success of your inbound marketing strategy. From analyzing SEO rankings to measuring inbound links, these resources give valuable insight into how your campaigns perform. Prioritize regular auditing and analysis of these metrics while managing your inbound marketing to understand how effective your efforts have been and see how they can improve. If particular topics are gaining the most traction with viewers, concentrate on these areas and find unique ways to expand upon. If certain content is not generating or retaining enough attention, there is your sign to pivot. 
Inbound Inspiration
Now that you've got your strategy set and these best practices behind you, here are some examples of engaging online content to fuel your inbound marketing efforts.
Blog 
A mainstay of content creation, blogs are the perfect way to answer your prospects' pressing questions or pique their interest with accessible long-form content. According to HubSpot, marketers who prioritize blogging are 13x more likely to get a positive ROI than those who don't.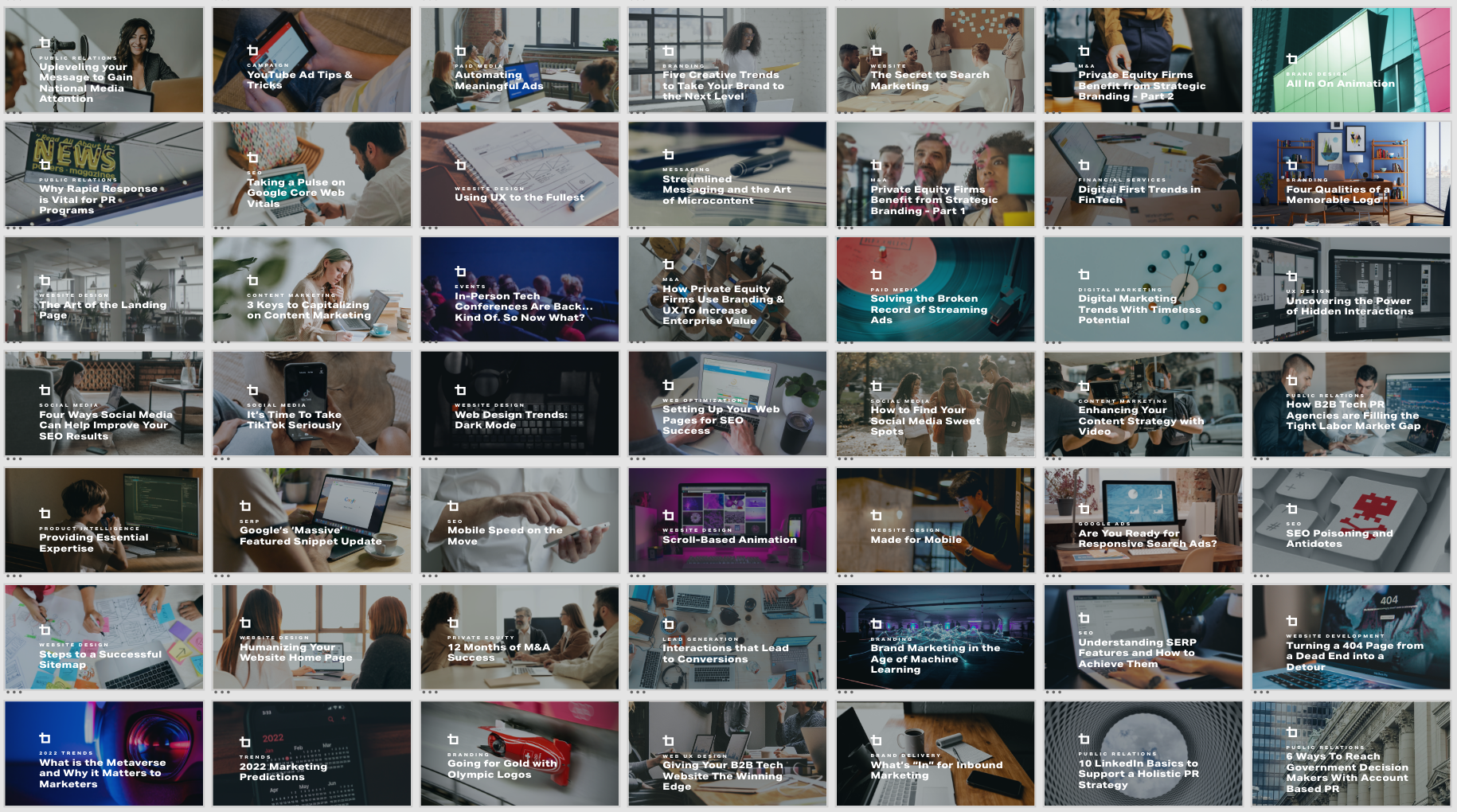 Case Studies
Imagine that you're the owner of a growing business in the market for a piece of cybersecurity software that you're unfamiliar with. You sort through an endless stream of ads and webinars talking about concepts and capabilities that all fly over your head, leaving you utterly lost. But while browsing through one company's website, you come across a case study telling the story of a company eerily similar to yours. Reading their testimonial and hearing how transformational the software has been for them, you can't help but think that it could do the same for your business. Emboldened by the relatable success story, you confidently choose to purchase the cybersecurity software.
That's the power of a case study. Allowing you to focus on different customer personas in your market, case studies sway fence-sitting customers with highly-tailored promises of success.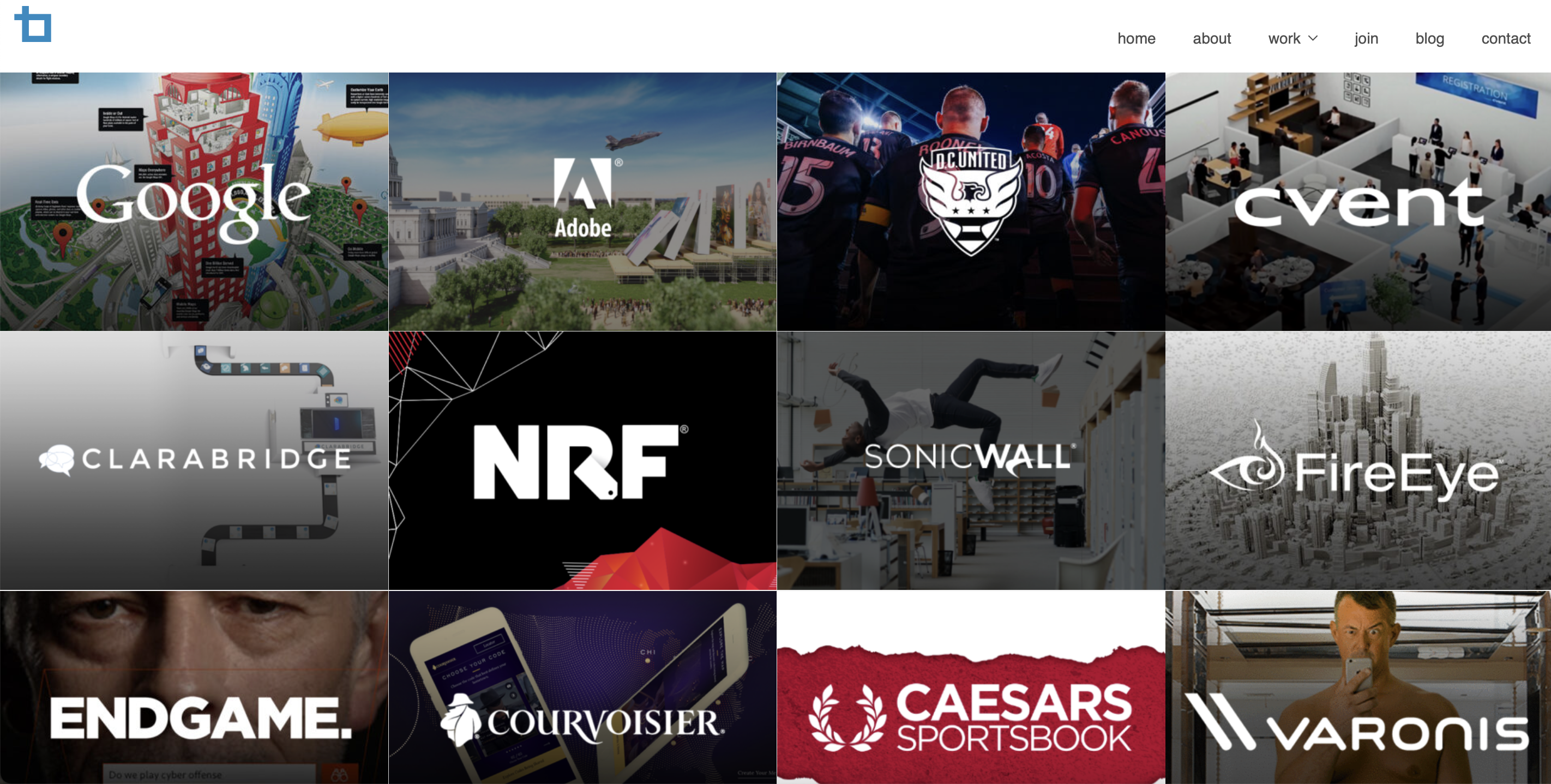 Infographics
As helpful and engaging as written content can be, people don't always have the patience to sit down with 1000 words about humanized homepages. Often, prospective customers just want a quick snapshot of insightful data packaged in an easily digestible and aesthetically pleasing format.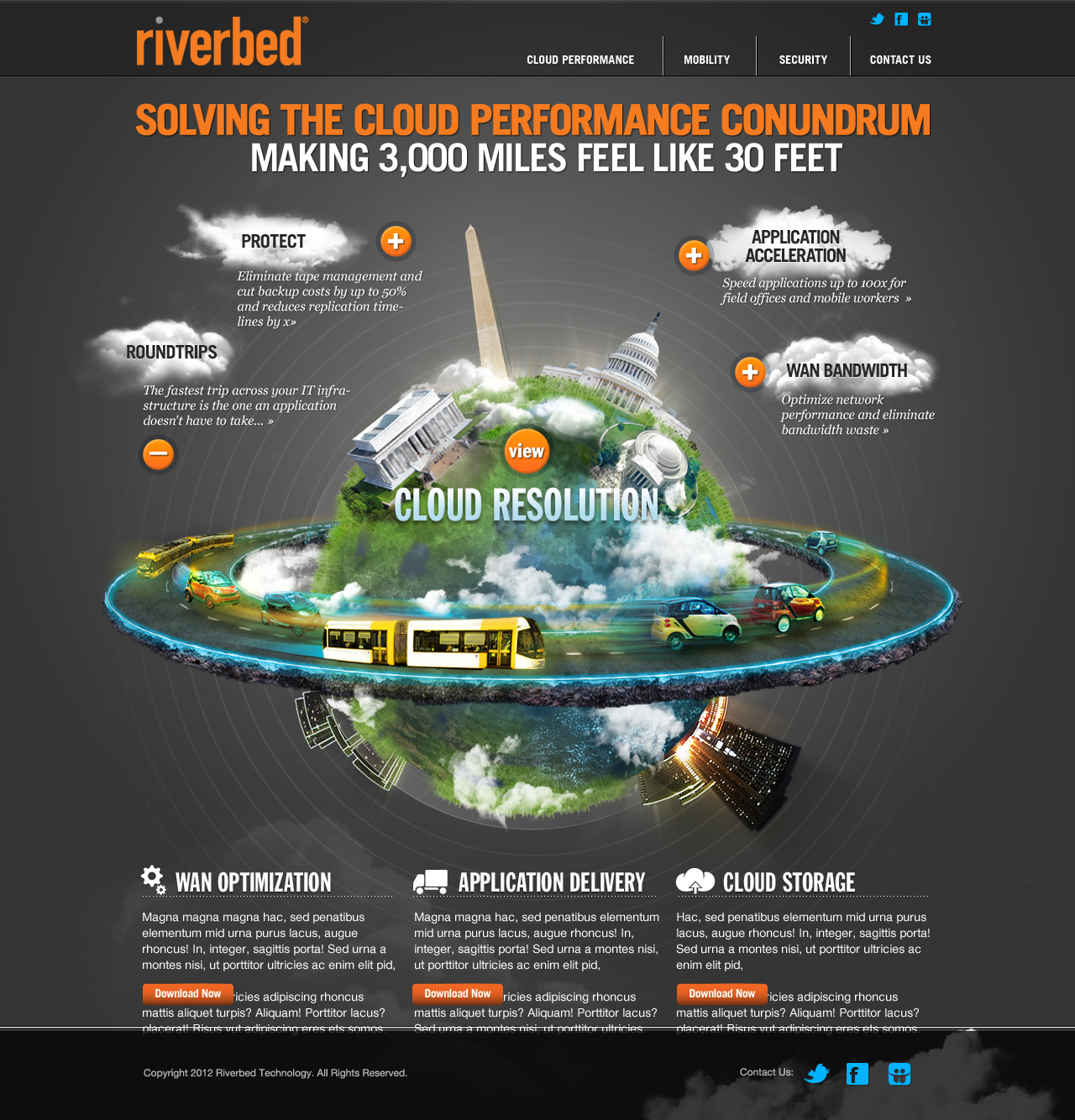 Webinar
It isn't always easy to inject your brand's personality into written content. While more informal content like blog posts have some wiggle-room, highly polished pieces like whitepapers and case studies often lose the human voice behind your brand.
That's where webinars come in. Webinars-an internet seminar presenting lecture-style content to an exclusive audience-create the feeling that your brand is in direct conversation with prospective customers. They let consumers connect with the people powering your company rather than interfacing with an impersonal business entity. Additionally, the ability to request information from prospective customers for entrance to the webinar serves as a phenomenal lead generation tactic.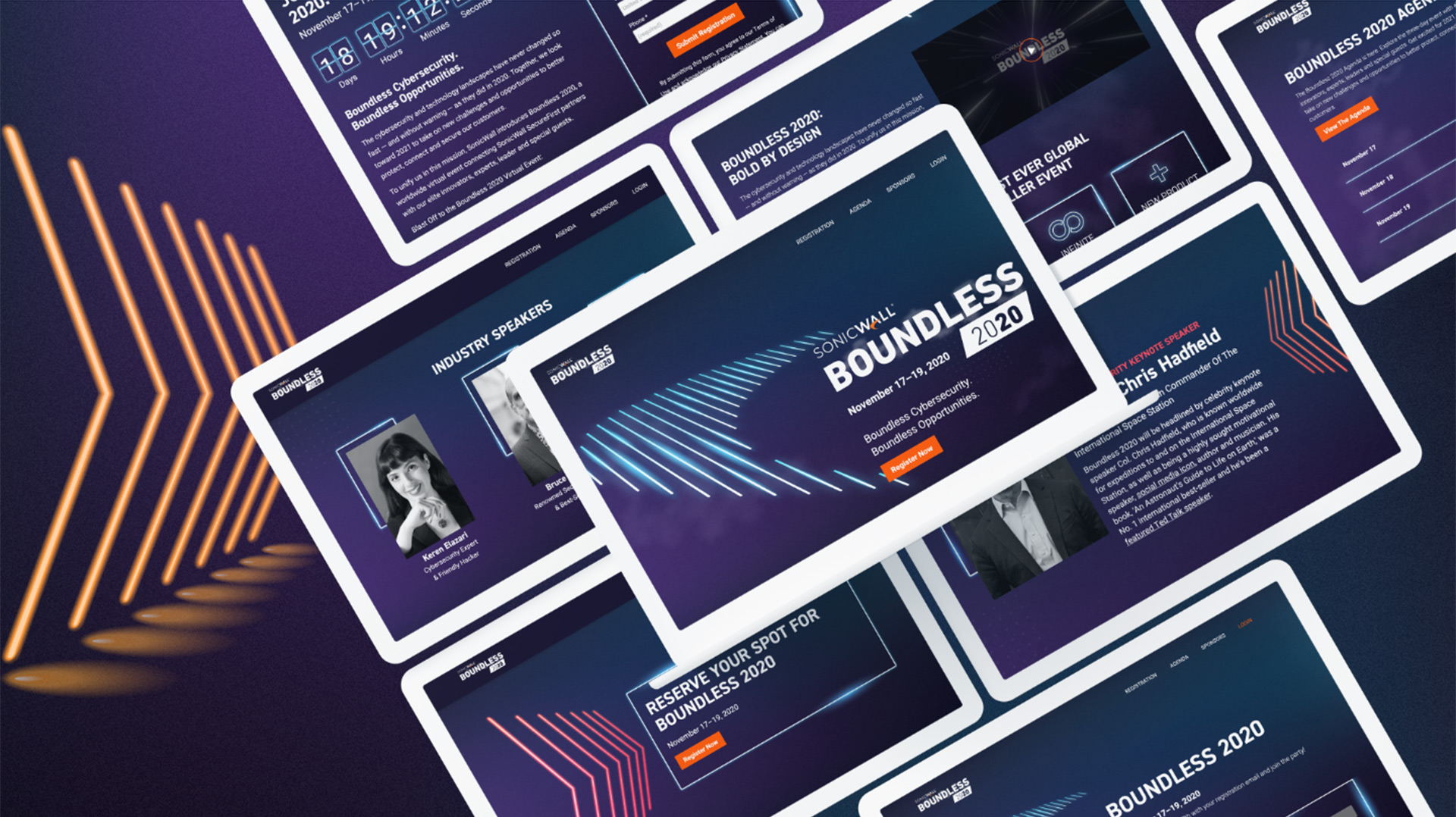 Video Series
It's no secret that video content is an enormous part of marketing. It's engaging, constantly growing, and makes up the majority of content audiences across industries are digesting on platforms like TikTok, Facebook, Instagram, and Youtube. But a key trend to capitalize on with your video content lies in its size.
While written content benefits from long-form structure, video content functions best when bite-sized. While things can vary based on platform or user persona, a general rule is that social media users will lose interest in videos longer than a minute or two.
No matter what path you decide to take your inbound marketing strategy down, Bluetext offers expert advising and cutting-edge capabilities to ensure you'll have everything you need to succeed. Contact us to learn how inbound marketing can grow your business. 
Marketers often approach their content strategy with the simple goal of conveying a message to their target audience. But nowadays, that's not enough for maintaining an effective content strategy. Before a user ends up on your site, they typically search for information through one or more Google searches. These Search Engine Result Pages (SERPs) are where users find results that the search engines deem to be the most relevant to the query. Depending on the relevance of the site content, users may also see a SERP Feature (a well-packaged snippet of information from the relevant search result's page). This gives users a quick view of the information they are looking for while saving them time from digging through multiple pages. As a digital marketer, your content strategy should aim to meet the purposes of these possible SERP Features to increase your chances of being featured on SERPs and ultimately get a user to visit your site.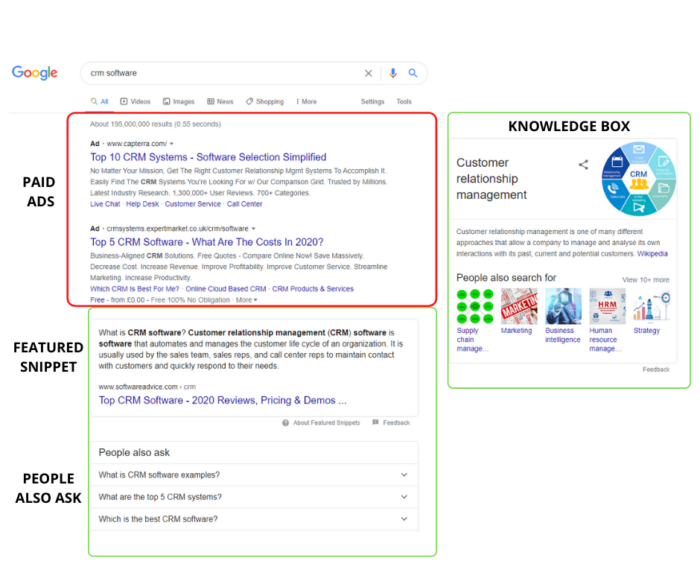 Nowadays, search engines have evolved to the point where they can determine the intent behind users' searches to provide the most relevant results. As such, you need to be more deliberate in crafting your content to ensure it's meeting your audience's needs at their stage of the buyer's journey. Ideally, you should have content that can accommodate all three phases, Awareness Stage, Consideration Stage, and the Decision Stage. But this isn't always the case depending on your particular audience.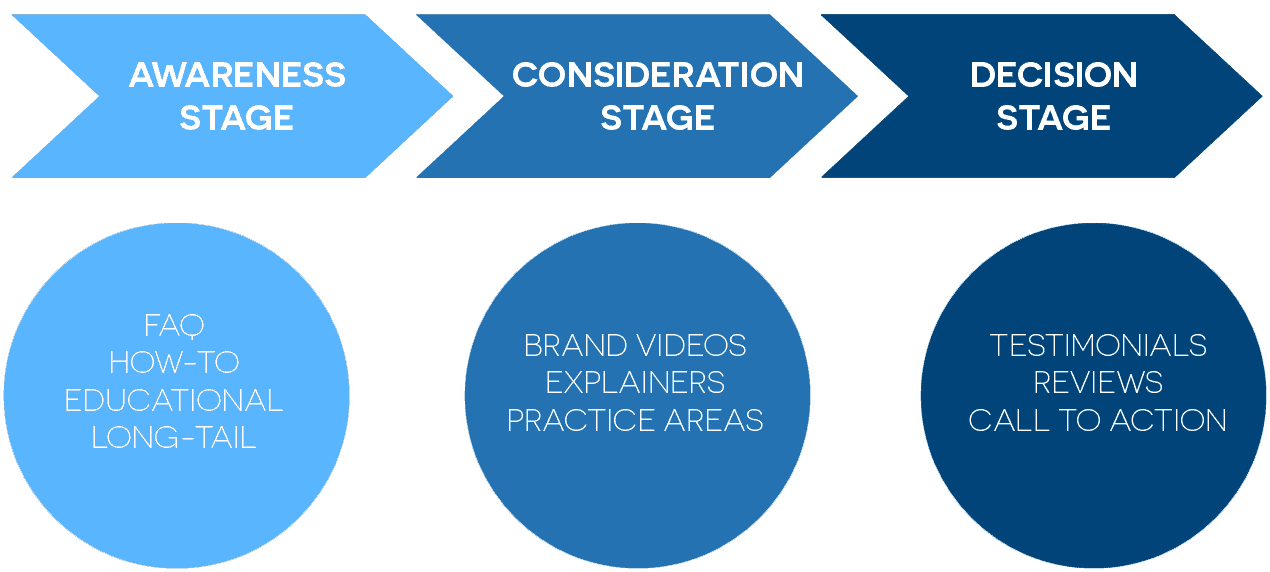 Raising Awareness for Your Audience
In the Awareness Stage, users know they have a problem and are actively searching for explanations of their problem. They aren't quite ready to pick a solution, so any tools to quickly gather high-level information are beneficial here. This is where SERP Features come in handy. With a little planning, you can optimize your content's likelihood to be featured in certain SERP Features such as Knowledge Graphs, Featured Snippets, Related Questions, Videos, or Images. All of these features will pull relevant content from your site so long as the search engine determines your content to meet certain criteria. In this stage, you want to make sure your content is very clear in explaining who you are, what services or products you offer, and the why/how of what you do. Oftentimes, including lists or FAQ-styled content is beneficial to search engine crawlers and webpage users!  
Considering How to Connect With Your Audience
So now your audience has entered the Consideration Stage, they are looking for solutions and more specifically, how your solution can remedy their issue. Now your content should be more thorough and technical than in the Awareness Stage. Provide concrete examples of how your products or services can solve the user's problem. Four useful features for this stage are Featured Snippets, Related Questions, Reviews, and Videos. The Featured Snippet works best when you answer the user's query in very specific ways, whereas Related Questions works best for explaining the "why" behind a user's query. Featuring product/service reviews on your site also allows you to show up for the Reviews feature which enables the user to better compare solutions and build trust. Lastly, the Videos feature provides a great opportunity to dive deeper into why your solution works for the user.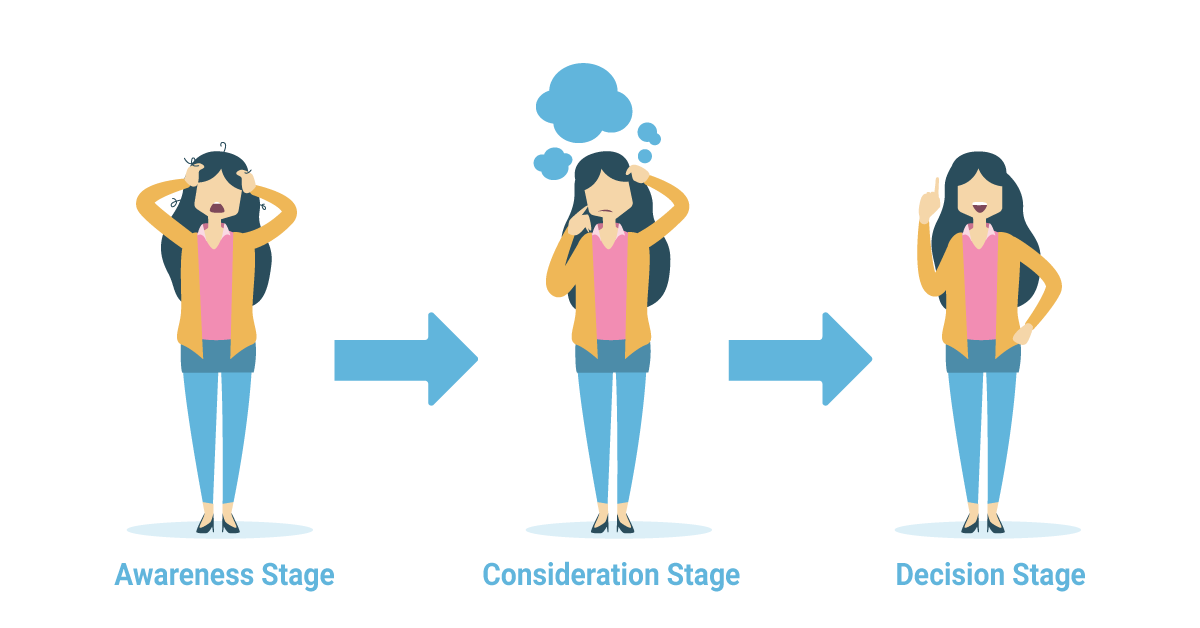 Convincing Your Audience to Make a Decision
By this point, your audience is at the end of the buyer's journey and just about ready to decide which solution meets their needs. As part of the last steps, users now want to confirm which solution amongst the ones found in the Consideration Stage is best for them. At this stage, all of your content should be as thorough as possible to ensure you've answered any potential lingering questions your audience may have. Three Features that excel at accomplishing that are the People Also Ask, Videos, and Long-Form Content features. Tailoring your content to include technical details and statistics as well as client testimonials reassures the user that they've picked the right solution. 
Overall, when creating a content strategy, no two sites will be the same. Each content strategy should be tailored to your audience and their stage of the buyer's journey. From there, you can leverage content that is more likely to be shown in the SERP Features mentioned above. As a full-service digital marketing agency, our expert content writing and SEO teams at Bluetext can help determine who your audience is, what stage they're in, and how best to tailor your content to be displayed in SERP Features. Want to learn more about how Bluetext can help your ad campaigns thrive? Get in touch with us here.
Just like you can't judge a book by its cover, you can't trust a search by your top results. But how is that so? It contradicts all we believe to know about search engines, and cracks the inherent trust users put into "Googling it." The truth is, even the most tech-savvy digital marketers don't know the exact rhyme and reason behind Google's search algorithms. So, what do search engine marketers know? It is widely known and confirmed that keywords and a handful of other core factors are being prioritized by crawlers in organic search rankings. We know the golden rule is relevancy, and various content and technical signals determine a relevant match to a user's keyword search and top-rated results. But recent news has revealed you can't take everything for face value, as even the tech giant itself is susceptible to hacking campaigns. 
The latest trend in malware has been termed SEO poisoning, or "search poisoning". This attack method relies on optimizing websites using 'black hat' SEO techniques to rank higher in Google search results. These 'black hat' optimized websites are in fact malicious, but due to a high SERP ranking deceive victims into believing these sites are legitimate and clicked by visitors looking for specific keywords.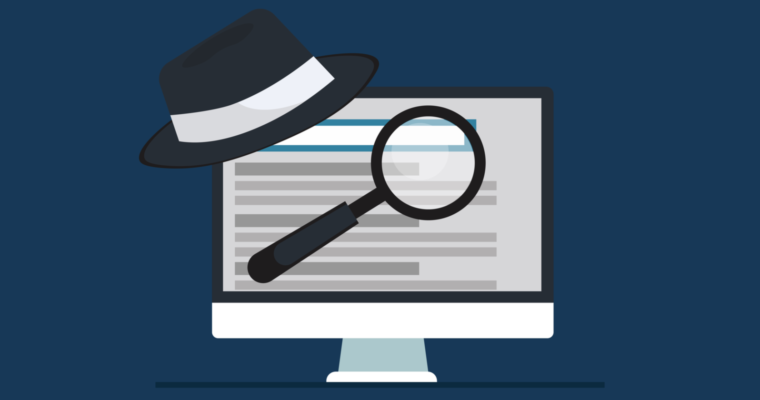 SEO for Ransomware 
According to the findings of the Menlo Security team, SEO poisoning cases are on the rise. Notorious ransomware groups, SolarMakers and REVil, are thought to be attributed to some recent attacks. Their campaigns used SEO poisoning to serve malicious payloads to their keyword-seeking targets. After optimizing sites with keywords that cover over 2,000 unique search terms, the sites appear top in a user's search results page (SERP). These sites appear in search results as PDFs, and when visited, prompt a user to download the document.
When a user clicks the download button, they are redirected through a series of websites that ultimately drop a malicious payload. The threat actors use these redirects to prevent their sites from being detected and removed from Google search results for malicious content.
In the two most notable campaigns, Gootloader and SolarMarket, the actors didn't create their own sites but instead hacked legitimate WordPress sites with strong Google search rankings. How? By abusing an undisclosed flaw in the 'Formidable Forms' WordPress plugin, which the hackers used to upload malicious PDFs. B2B websites were the most heavily targeted, as they are known to naturally host a large library of downloadable PDF resources.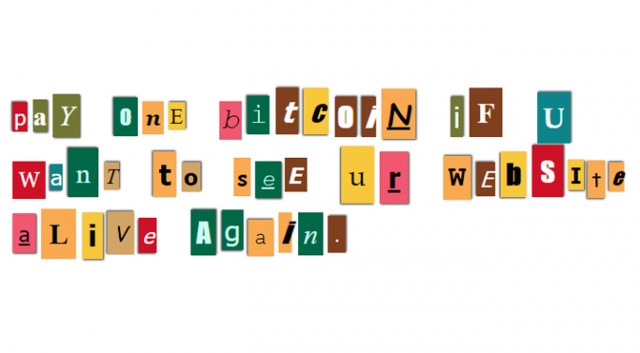 So What Does This Mean? 
For users, do your due diligence. Not all is as it appears online, even on trusted sites like Google. Exercise caution, keep up with your antivirus programs and monitor for suspicious links or potential phishing scams. A cybersecurity hack could result in breached sensitive data or require a ransomware payout.
For businesses, beware. Hackers have learned targeting high-value companies can yield much higher payouts (millions compared to the measly hundreds in consumer ransoms), especially if there is a high likelihood their attack will affect many users. Maintaining a healthy website entails regularly updating plug-ins, installing preventative security measures, and conducting frequent tests.
Does your website need a check-up? Or perhaps a new fitness regime to keep website health goals on track? Contact Bluetext to learn how our website development, optimization, and maintenance services could cure your security concerns.
The next time you're in a public setting, look up, and chances are you'll notice almost everyone around you has their eyes glued to a mobile device in hand. Modern-day mobile devices are essentially mini computers, enabling on-the-go browsing, communication, and connection at unprecedented ease. Society has become accustomed to instantaneous connection, but not all websites are up to par with user expectations. While desktop sites were once the focus, a disappointing mobile performance of websites is holding many companies back from their full online potential to garner customers. Aside from a frustrating user experience, poor mobile performance can hurt a website from a technical SEO perspective. This is why many companies are turning to digital agencies like Bluetext to revamp or create entirely new, responsive web designs & optimized performance to stand out among their competitors. 
On average, mobile devices account for more website user traffic than desktops. However, despite the high traffic volume, conversion rates on mobile environments are significantly lower. So what's turning our mobile users away? Adrienne Clem, Director of Search Ads Growth and Optimization at Google, describes that it could be an issue with any one of the following pillars of mobile website design:
Speed
Page Speed is a key indicator of website quality, as it is a critical first impression of your website. The longer a user must wait for your website content to load, the higher the risk of the user leaving the page and increasing the bounce rate. Bounce rate, performance, and speed metrics all play a critical role in Google search crawlers' evaluation of a website.  (such as, In addition to limiting bounce rates, reducing your Time to First Byte can also increase your site's SEO ranking. You can keep tabs on your site's speed performance using tools like Google, PageSpeed Insights, or GTMetrix.com, but consulting a website development agency can offer further insight into actionable steps to improve your site's performance.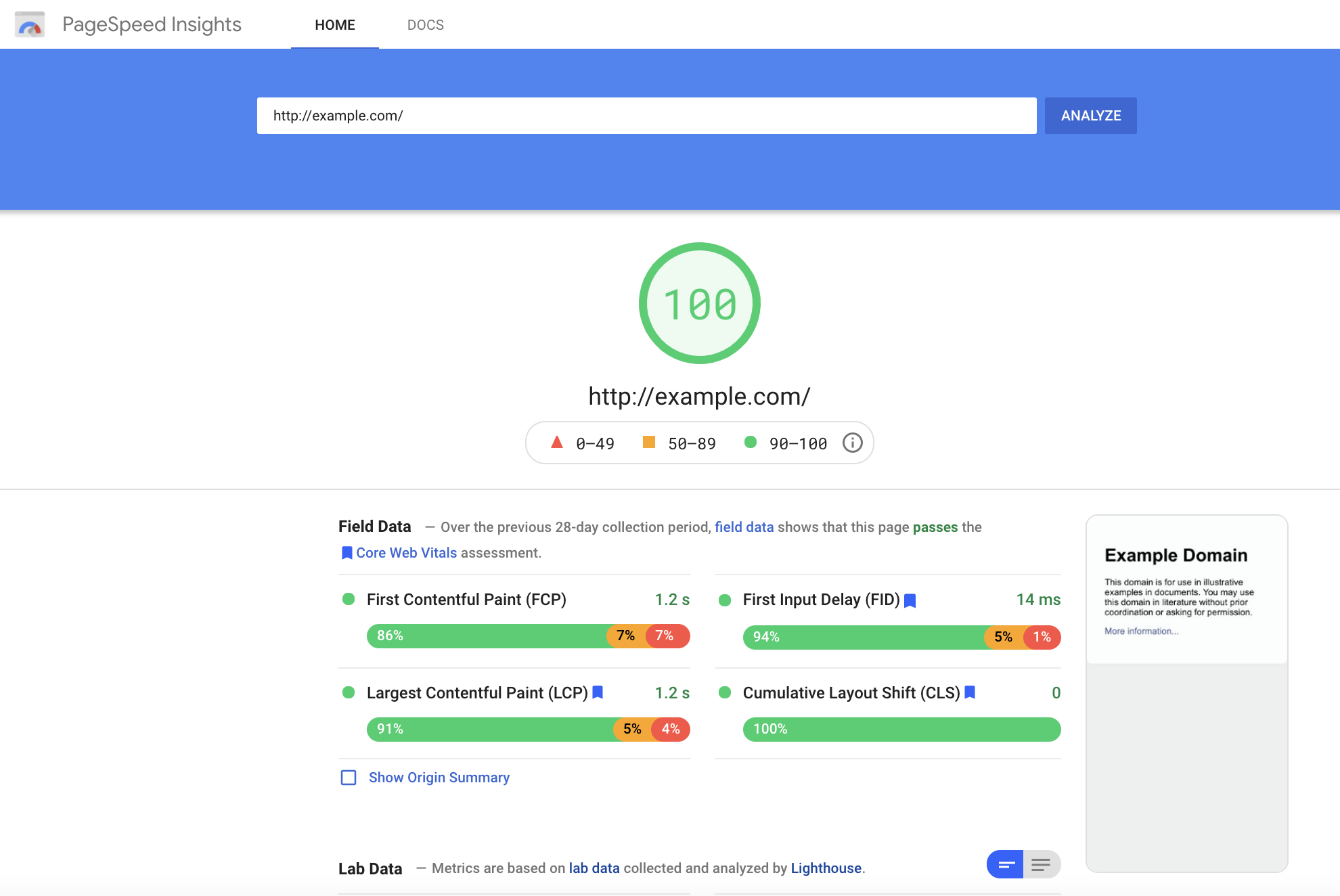 User Experience
All websites should be designed to be as simple as possible for users to navigate. However, this isn't as easy as it sounds. Content hierarchy, navigation, and calls to action are all critical components that need to be equally accessible and intuitive across desktop & mobile formats. Responsive layouts are essential in a mobile-optimized design, but more important is the speed at which content loads for a user. Mobile site speed tends to lag behind its desktop counterpart, but a poor mobile performance can significantly ding your site's SERP ranking and create a poor user experience. Even the most creative & persuasive landing pages are wasted if features take too long to load on the screen. Pages that utilize AMP (Accelerated Mobile Performance) technology both rate higher on Google search rankings and increase chances of conversion for paid media promotions. AMP HTML is an open framework based on existing web technologies, that allows for more lightweight and speedier mobile web pages. In an initiative to enhance the shift to mobile browsing, AMP-powered webpages load instantaneously, even when they contain rich media like video, animations, or graphics, including things like Twitter and YouTube embeds.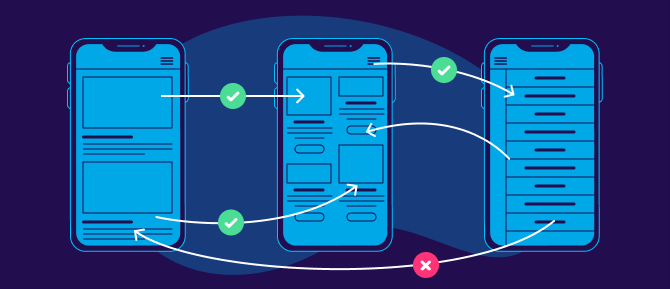 Iterative Design
Website design is an iterative and ongoing process. Platforms & technology are constantly evolving to include new features, remedy existing pain points and approach the ever-moving target that is positive user experience. Companies should approach this process in the interest of continued learning and constant improvement. Collecting feedback should be built into the plan for any mobile site development, as the site's performance should be re-evaluated at least every 3-6 months. Keeping track of your site's vitals is an important step for ensuring that your site stays relevant and isn't losing out on potential conversions.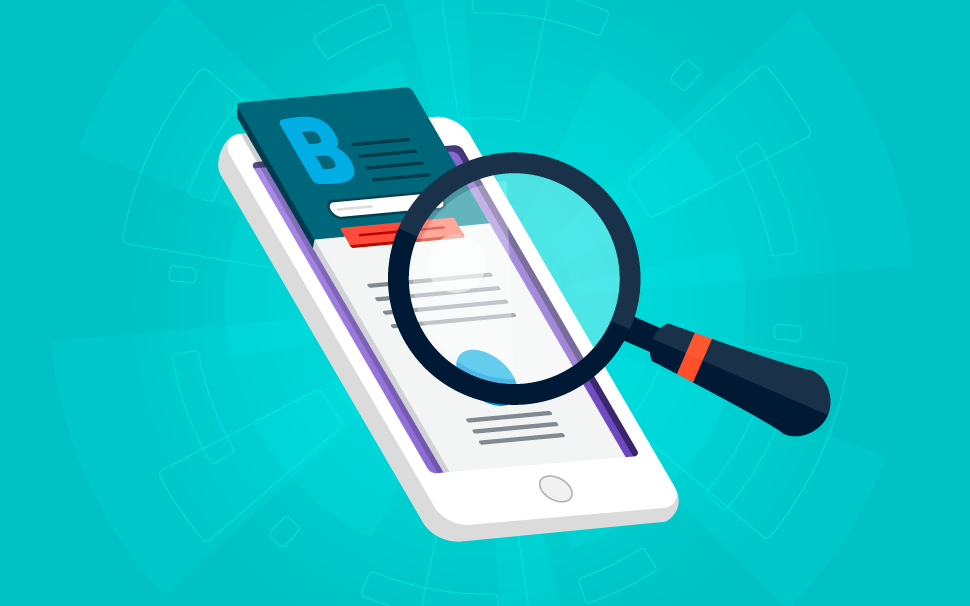 In an increasingly mobile-first world, emphasizing the performance of sites on mobile devices can increase customer loyalty and satisfaction. Whether a prospective customer's impression of your campaign landing page or an existing customer's experience browsing your full website, speed is the name of the game. Keeping up-to-date with best practices in website development and enlisting the help of seasoned designers and UX specialists can transform users from mindless mobile scrolling to enthusiastic interactions on your site. 
If you're ready to start designing your site with a mobile audience in mind, Contact Bluetext for guidance and expertise.
Google Search is known for consistent updates and feature releases but is often done in a beta-testing form. What does this mean exactly? Essentially, these new features will undergo A/B testing where only a small subset of users will experience this feature, while the majority of the user base will notice no change to the user experience.  
Google's newest feature to be unleashed for user evaluation is featured snippets. This updated design interface will display across the full width of a user's viewport. While traditionally search results span across only two-thirds of the screen, cutting off at the end of the Search bar, this format frees right screen real estate for Google business, location results, and advertisements.
How Do I Get A Featured Snippet? 
Unfortunately, featured snippets can't be acquired by any amount of search engine marketing budget. Featured snippets are based on Google search results or SERP. Google's automated systems determine whether a page would make a good featured snippet to highlight for a specific search request. A featured snippet will display the result description above the webpage link, rather than below like all other results. Google crawlers will implement this display format if they believe the page will help users easily discover what they're seeking, either from the description about the page or by full webpage content when they click on the link. These features are especially prominent on mobile or voice searches, both methods rapidly growing in popularity. 
So, What's the Verdict? 
The reviews are mixed on these new full-width features. Below, Bluetext has explored the pros and cons users have pointed out. 
Cons:
Some users were off-put by the 'massive' span of text, feeling that this layout overtakes the screen and seems off balance with all other content aligned to crop at the search bar. Naturally, any change in the layout we have all grown accustomed to will seem awkward at first. However, the wider format is encroaching on the right panel where the Google My Business and local listing results typically display. This could consequently push key information (Google images, address, hours, reviews, contact links, and more) that users expect and inevitably demand when conducting a search.  
Pros: 
As digital marketers, Bluetext pointed out some advantages of the 'massive' display. First, the featured object is much more prominent and attention-grabbing. By definition, featured snippets take a differentiated view (description displaying above link rather than below), making it a high achievement for organic search. The wider, full-screen takeover intensifies the distinction from other websites and increases the likelihood of a user clicking on a page.  
It's unknown if and when these featured snippet updates will be unveiled to the Google user base as a whole, but take notice next time you conduct a search to see if you see a change. 
If you're ready to ramp up your organic search strategy in hopes of becoming a featured snippet, contact Bluetext to see how we may be able to uplevel your strategy. 
What's your first instinct when you have a question? For most, it's to Google it. Whether or not it's looking up a restaurant or finding a solution to a business challenge, Google is the go-to. So the question is, how do you make sure that your company is at the top of its Google results?
This is the central question of SEO, or search engine optimization. SEO refers to any practices that improve your placement in search engine results. Bluetext does great work helping our clients find SEO success. Below, you'll find our top four tips for improving your website's search engine performance!
Enrich On-page Content with Keywords
Keywords are one of the first concepts to evaluate when you start improving your SEO. Customers will search Google using keywords, such as "best cell phone provider" or "easiest website making tool," and you want to make sure your pages show up in the first page of relevant results. Once you understand what your customers are searching for and identify the keywords for your business and industry, you can interweave those keywords throughout the content on your site to advance your placement in search results pages. But beware, Google crawlers are smarter than you'd think. Be sure not to unnaturally force the keywords into your content or unnecessarily duplicate your content, both of which can negatively impact your SEO.
Add Meta Descriptions
Meta descriptions are the small blurbs of text that appear under a link in a search result. Though small in size, they make a huge difference in your click-through rate. Customers are far more likely to click a link in a search engine when they can see a small promo description of the type of information that link will provide. It's important to have accurate meta descriptions for your different pages, so do not repeat the same meta description on each page. The meta description should are the perfect opportunity to embed relevant keywords, and should tie back to the prominent H2 and H3 section headings on your page.  Think of meta descriptions as invitations to users to click through to your site via powerful calls-to-action. Additionally, avoid using too many words in your meta descriptions, as Google will auto-truncate them and cut you off mid-sentence.
Be Careful with PDFs
PDFs may be an easy way to upload content to your website, but they are not very helpful from an SEO perspective. Search engines crawl web pages, but have a hard time reading the text on PDFs. Therefore, none of that content in the PDF is being used by search engines. With all the time and effort you put into creating the PDFs, it's a lost opportunity to not reap that SEO benefit.  By transferring some (or all) of your PDFs to on-page content, you can greatly increase the amount of content that Google takes into account when determining how high to place your content in the search engine results.
Prioritize your Pagespeed
Google does not just look at content and keywords to determine the placement of your website in search results. Google page speed is another piece of the SEO puzzle. Google ultimately wants to make their searchers happy, so they want to provide fast-loading pages, on both mobile and desktop devices. Therefore, having a good Google page speed will make it more likely that Google places your web pages higher in its results lists.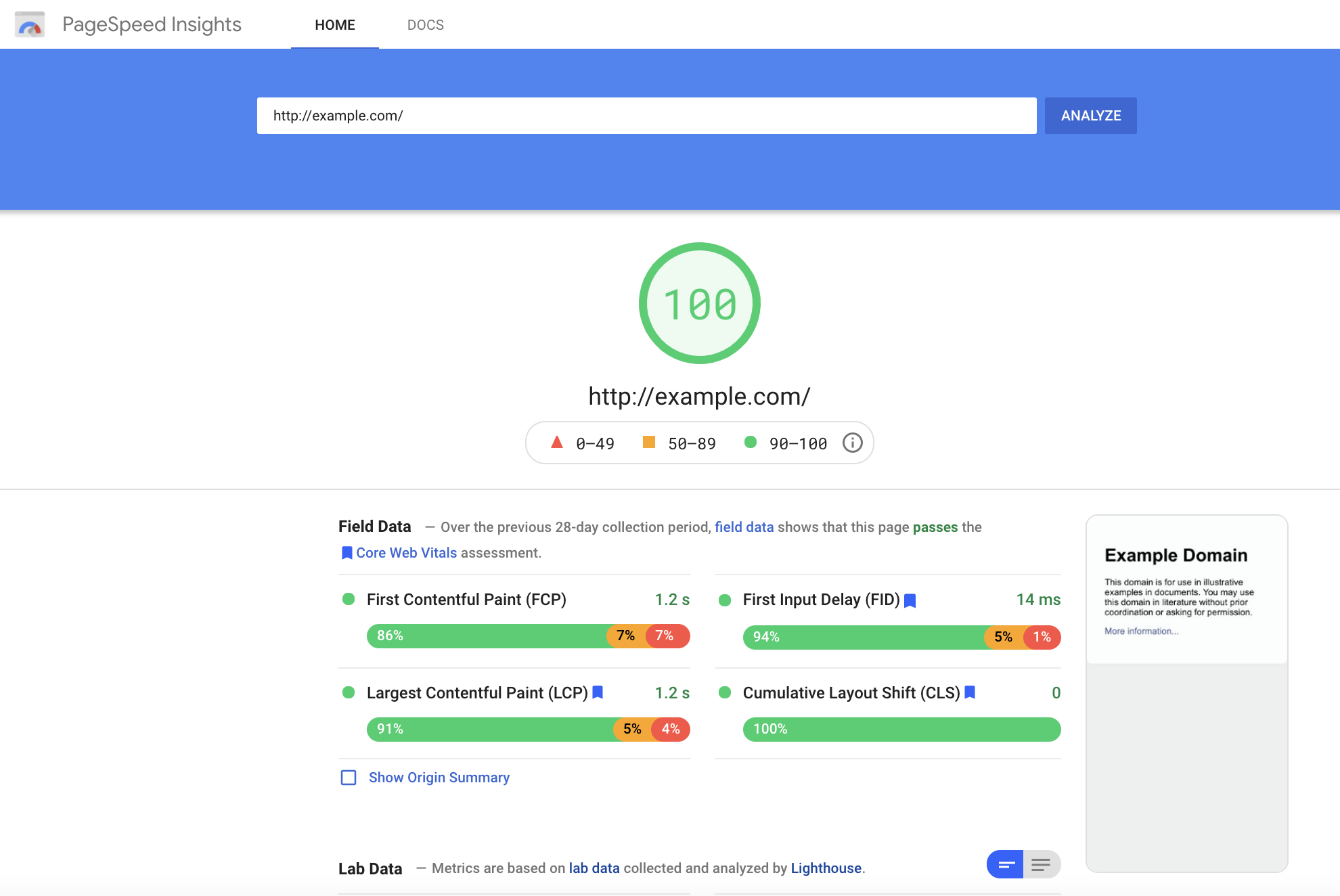 While SEO is always evolving with changes in search engine policies and algorithms, these are four great tips to help you get started on your way to SEO success.
If you are looking for an agency to put together and execute a customized SEO playbook for your company, contact Bluetext today to learn more about our SEO offerings.
17 hours—that's how long the average person spends looking at a screen each day. With remote learning and work-from-home, screens take up our attention and are expected to remain an integral part of society long past the pandemic. That's why getting a jump-start on digital curated content marketing is more important than ever. What is content marketing? In simplest terms, it is consciously selecting valuable content to be shared with your targeted audience. In order for content marketing to be successful, it must be relevant and up to date. It takes time and effort to keep up with changing trends within the marketing mix, which is why Bluetext has provided 3 ways to make the most of your content marketing efforts below. Quality content marketing can keep your business ahead of the competition, at a lower cost compared to other marketing strategies. 
3 Must-Have Strategies to Capitalize on Your Content Marketing:
1. Virtual Engagement
As the pandemic shifted business online, working Americans realized they could have just as productive a meeting from their homes as in the office. It proved that even if that meeting could not have "just been an email", it could be virtual. Turns out, there's really no need for employees to sit in hours or traffic or fly across the country in order to get things done. Social norms pivoted quickly, as it became standard practice for not only meetings to be conducted virtually, but also events. Webinars, Zoom happy hours, and virtual conferences became the norm as companies shifted operations to accommodate a virtual world. While there are some pros to an online environment, there are also undeniable cons. We stare at screens for hours on end, making it difficult to stay focused and engaged. By the fourth zoom login of the day, we get bored and lose interest. In order to improve the digital experience, businesses should be conscious of content quality and delivery methods. Due to the pandemic and the shift to virtual, the bar for content marketing has been raised. Every piece of content marketing should be curated to not only promote your brand but also spark engagement. Breakout sessions, polls, live-chat, animations, and other interactive elements are great ways to maintain engagement with your participants.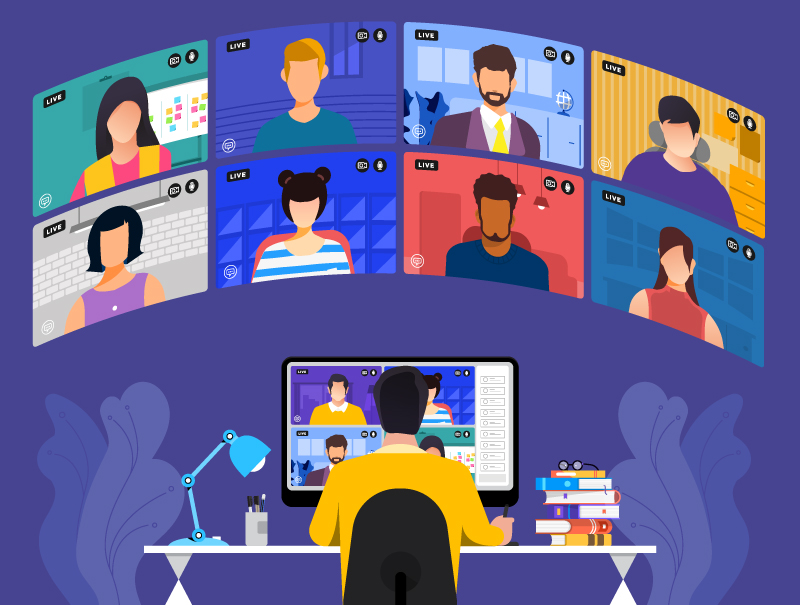 2. Influencers/Brand Ambassadors
While people were isolated in their homes, they used Social Media to stay connected during the pandemic. Platforms like Tik-Tok, YouTube, and Instagram experienced an increase in usage, creating the perfect avenue for digital marketers. Social Media Influencer marketing increased worldwide, as consumers related more to their favorite blogger on their personalized Instagram feed rather than the A-list celebrity featured on TV. Content produced by influencers helps to fill in the gaps of content coverage by creatively reaching the target audience in a more natural way. This trend extends far beyond the promotion of consumer products, as B2B industries have recognized the power of influencer marketing across a number of social platforms. Within the B2B marketing landscape, employees can serve as influencers or "ambassadors" for your business's brand. Your employees are typically connected to more people on social media than your brand. While taking advantage of strong ties, employees are able to communicate messages to a target segment with strong content marketing.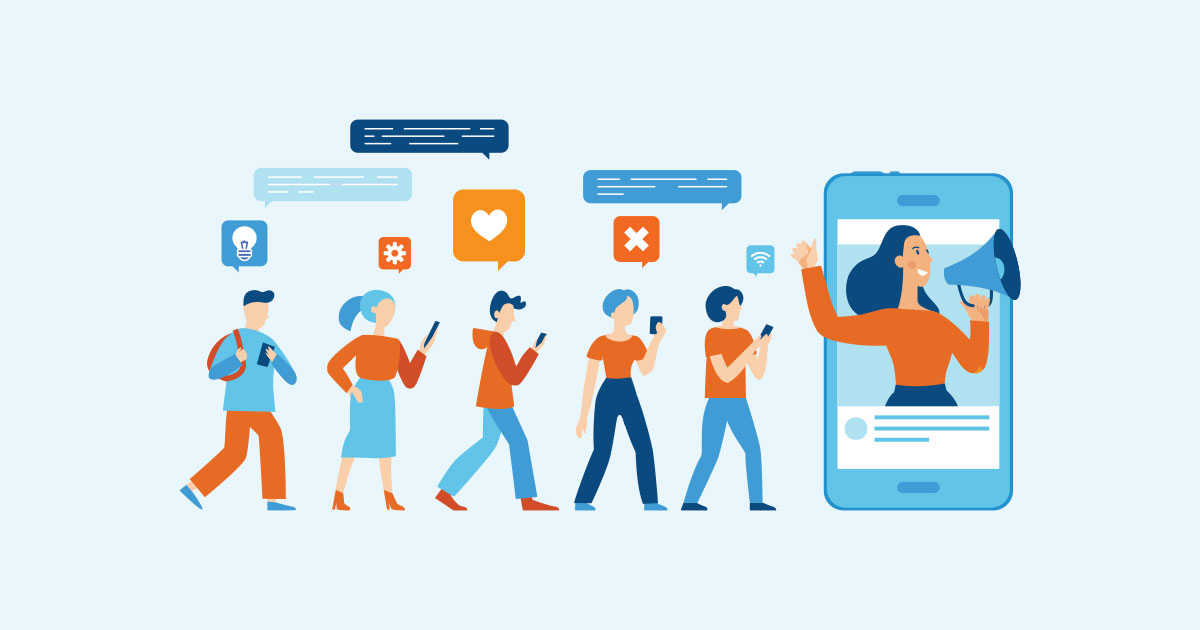 3. Search Engine Optimization
When you view Google search results, how far do you scroll down the page? Not very far. Users typically do not make it past the first few search results, which is why it is critical for your business to dominate SERPs (Search Engine Result Pages). Businesses need to invest in SEO if they want to optimize their revenue goals. SEO is an ever-moving target, as digital marketers must leverage analytics, employ automation, and keep up with Google's latest algorithm updates. Frequent publication of content marketing rich with keywords is one of the top recommended strategies to stay on top of SERP results. Not only is the optimization of your keyword strategy important, but also the digital web experience attached to your site. Given that users' attention spans are short, your business' website must be engaging and easily navigable. Since we are always on the go, marketers should also capitalize on mobile SEO abilities. On average, people are on their phones for at least 6 hours each day, therefore an easy-to-use mobile platform is crucial to reach audiences. Plus, enhanced mobile speed & experience is new criteria strongly weighted by Google Web Vitals. Overall, prioritizing the user's website and search experience will yield better results.
As you have learned, curated content marketing is critical to take your business to the next level. Contact Bluetext if you're interested in revamping your B2B content marketing strategy.
With a constantly increasing amount of online content being published each day, it is important to stand out in the search engines results. Social media does not directly contribute to your SEO ranking, however, it does have the potential to drive quality web traffic to your site. When links to blog posts, videos, podcasts, and more are shared, Google and other search engines use it to rank your website. The right strategy will allow you to increase overall brand awareness, improve traffic, amplify your audience, and overall benefit your SEO. Want to know how? Read further to learn more about four practical social media tips that will explain how these marketing channels will help you improve your site's ranking.
1. Generate New Ideas
Whether it is for blog posts or Instagram captions, social media can help you generate new ideas. One way a social media post can generate content ideas is through user feedback. Oftentimes, followers post questions or topics they would like to hear more about in the comments section. Questions within your comment section can also provide great feedback regarding your content that may not be readily available on your social page or website. Using this process, you can use feedback from your followers to generate a list of ideas that will boost your site traffic.

2. Post Content Frequently
Search engines want to know if your company's website is relevant for its users. Therefore, it is important to regularly post SEO-saturated content to ensure your business looks helpful to users and trustworthy. The more content you post on your website, the more social posts you can create to promote and boost that content. You can accomplish this by creating a social media schedule for each month to monitor the frequency of your posts as well as important analytics like traffic, engagement, etc.
3. Know Your Audience
One of the many benefits of social media is getting to know your audience segments. Social media insights and tools like Google Analytics can tell you where your audience interacts with your content most. This is helpful for improving your SEO ranking because it makes finding the right keywords to use throughout your website a much easier process, boosting your company brand recognition and improving your search engine optimization and page rank.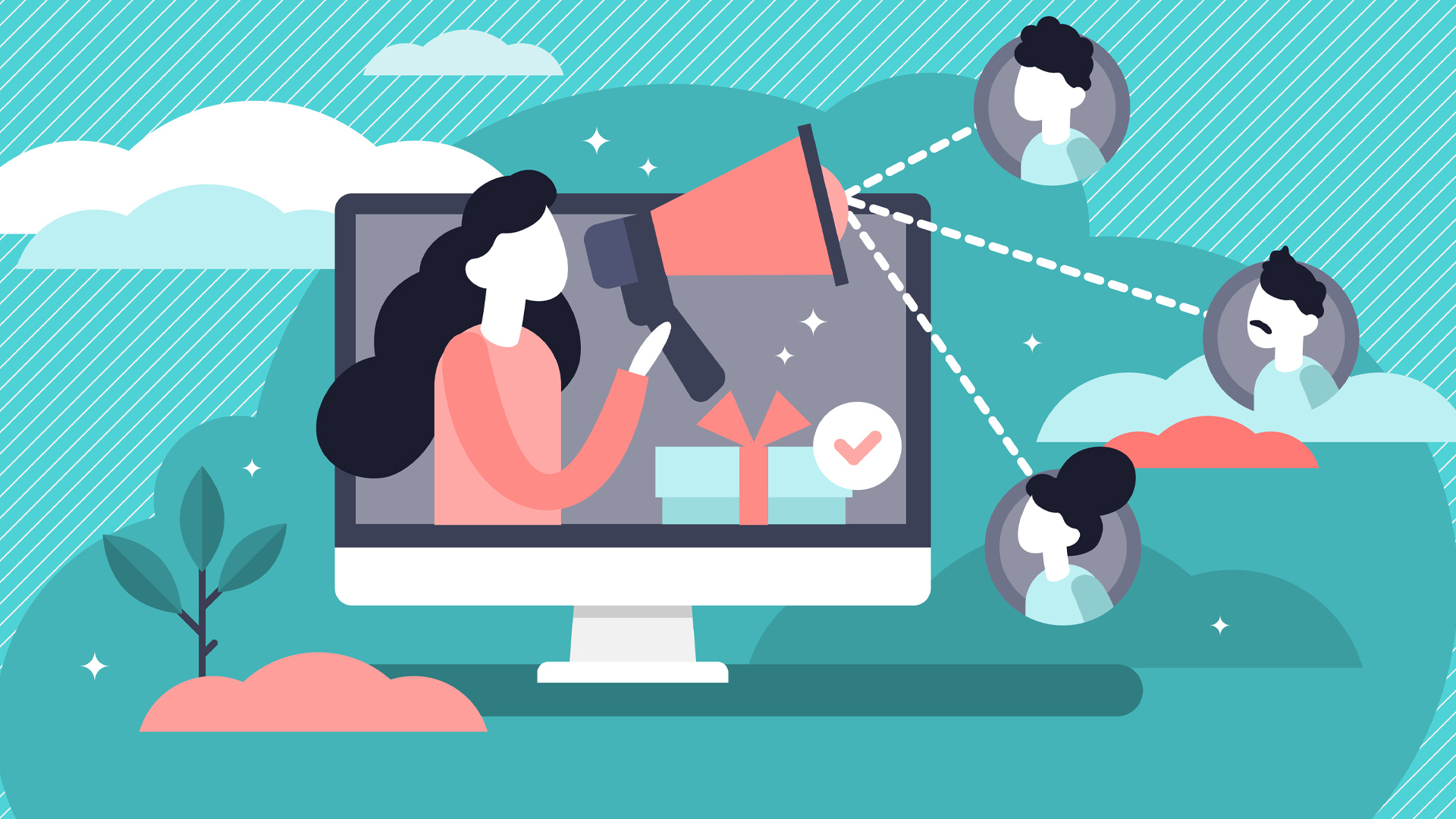 4. Use Keywords
It can't be stated enough: using the right keywords is crucial. Start by making a list of crucial keywords for each page on your website and commit to using those keywords throughout the copy of those pages. It is important to keep in mind what your audience might be searching for to arrive at this post. Tools such as Semrush Keyword Research and Similar Web can be helpful resources for picking the right keywords.
The benefits of improving your SEO results are you can increase brand exposure, improve traffic, and amplify your audience. Therefore, it is an important part of your social media strategy. Contact Bluetext to learn more and about how we can boost your SEO results.
After crafting the perfect campaign, ad creative, and hook-worthy copy, there is nothing more frustrating than a user coming to your website only to leave after a few seconds.
In order to prevent those high bounce rates and low clickthrough rates, you need to set up engaging and informative landing pages that lead visitors to the actions you want them to take on your website. It's not an easy task, but thankfully digital marketing agencies, such as Bluetext, have experience and tips to share. Let's look at five ways you can master the art of the landing page.
1. Emphasize Calls to Action
As this Elementor article states, "Unlike most webpages, landing pages often actively discourage exploration in an attempt to push visitors toward the CTA." The whole goal of your landing page will be to push your users to a certain action or link, so make sure you place CTAs throughout your landing page to encourage clicks as the user scrolls. Also, be certain the CTAs are the most prominent component of your landing page, by color, placement, or other characteristics, they need to stick out to grab visitors' attention and entice click-throughs. Also consider adding sticky CTA menus that follow the user down the page, enticing them to click-through at any time during their experience with your site. Some top placements of sticky CTAs lock onto the right-hand side or directly under the main menu navigation.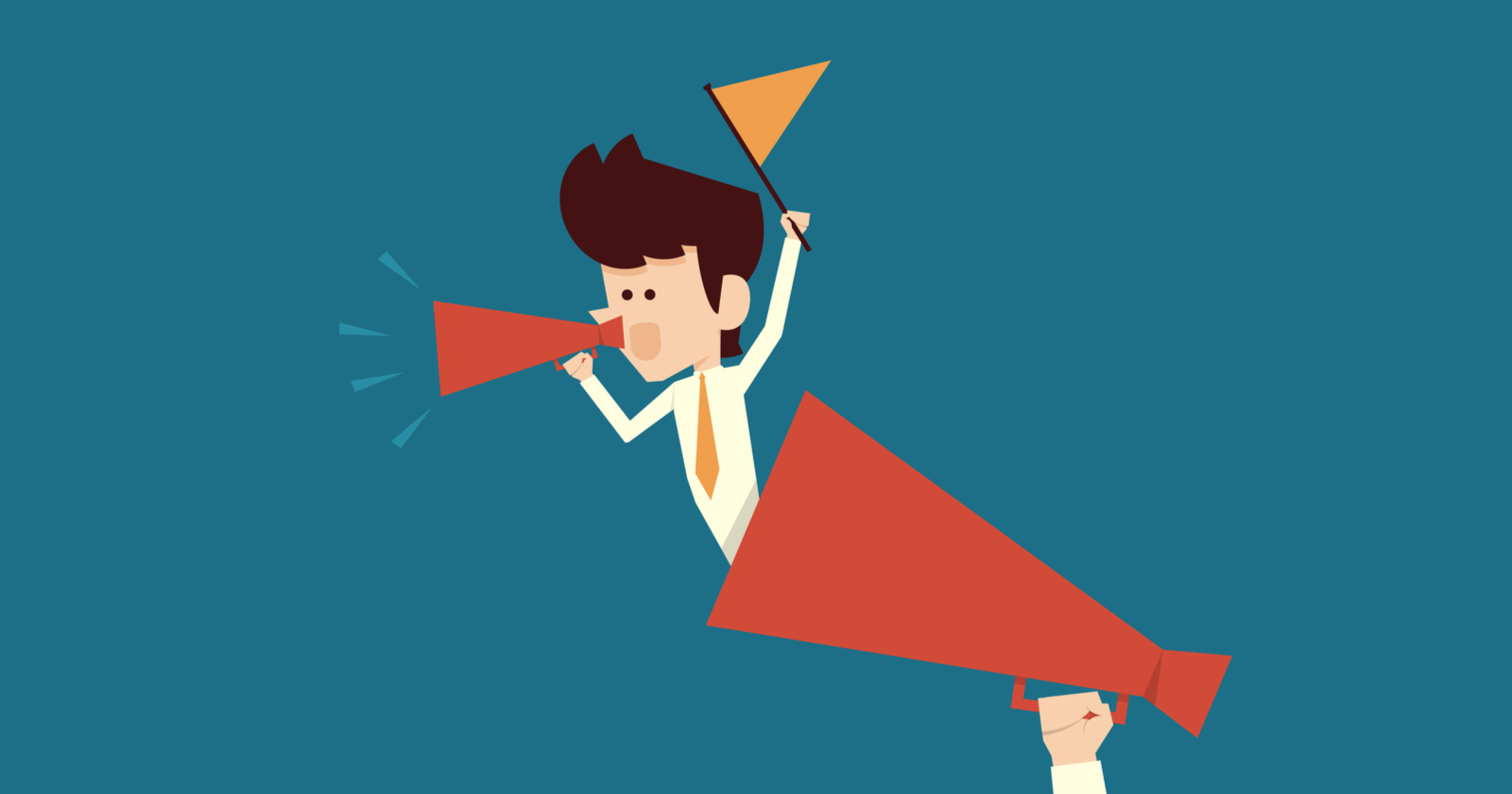 2. Think Through Your First Viewport
When a user first appears on your landing page, they are looking for an immediate answer to their question. Every one of us has looked at a website for all of one second before exiting because we could not immediately find the information we wanted or perhaps there was too much text to read through.
Make sure that you use that first viewport wisely to start appealing to user needs. Have informative, relevant headlines, eye-catching images or video, and helpful secondary text. All of these pieces will go a long way in convincing your users to continue to scroll, and eventually click that CTA button.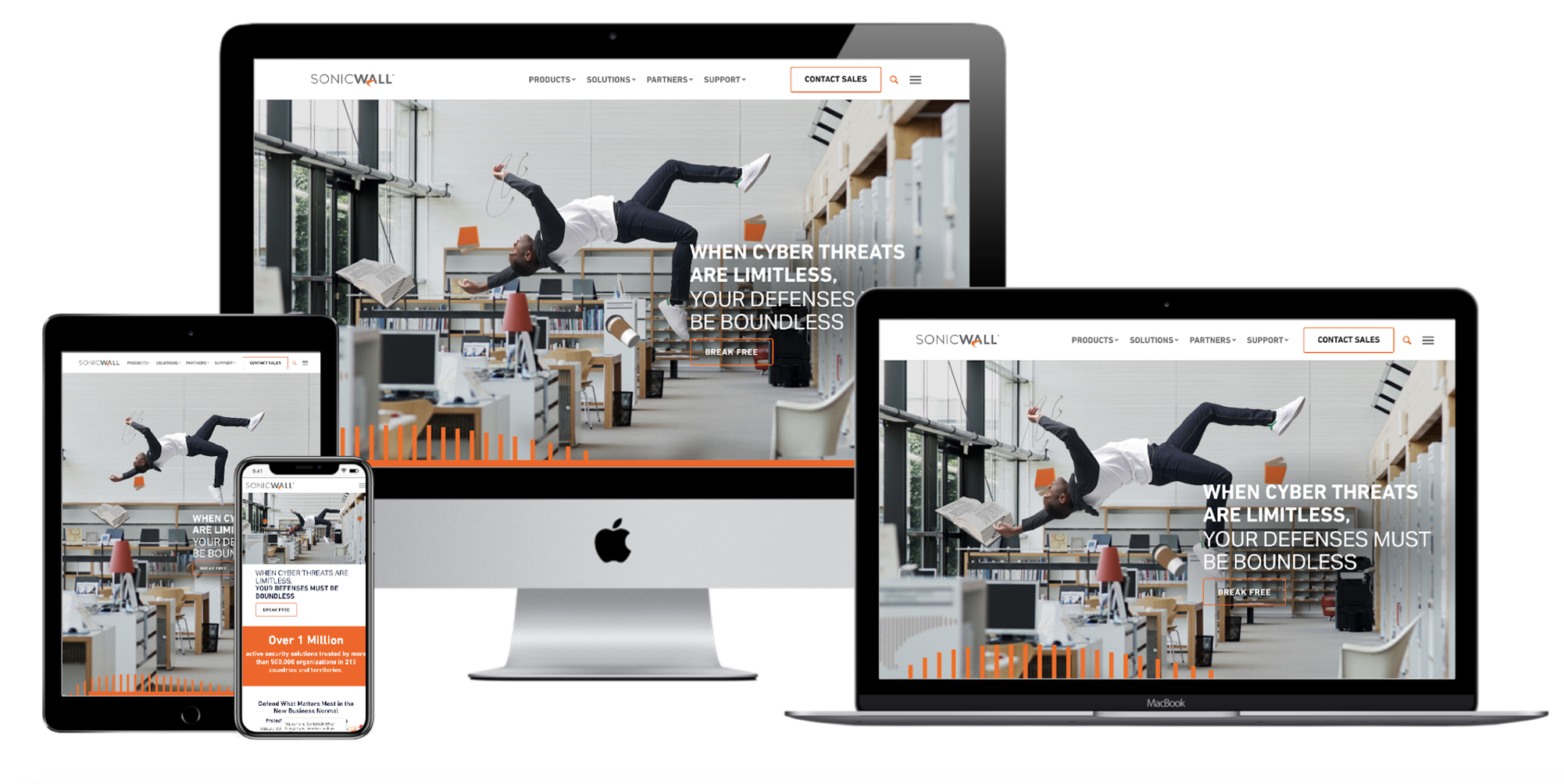 3. Write Intriguing Copy
If you can grab your visitor with their first look at your landing page, you've already overcome a significant challenge of landing pages. However, now you need to sustain that attention. It's a tricky maneuver, balancing providing immediate information while also ensuring they absorb additional details. Give everything away at once and the user never interacts further with your website, but tease it out too long and you risk users bouncing off the page. Digital marketers recommend to not overwhelm the user with small, dense text but instead offer answers to their questions. Additionally, psychological elements can be used to reach your visitors and convince them to use your CTAs. By the time someone finishes reading your landing page, they should have a clear idea of why your product or service will give them the best solution to their problem.
4. Optimize for Search Engines
You may have the most magnificent landing page in the world, but that does nothing if people can't find it. Using keyword phrases and writing rich meta descriptions is an important part of SEO for a successful landing page. By getting to the top 20 results of Google (or in the first two pages of results), the chances of someone actually seeing and clicking on your landing page rise substantially.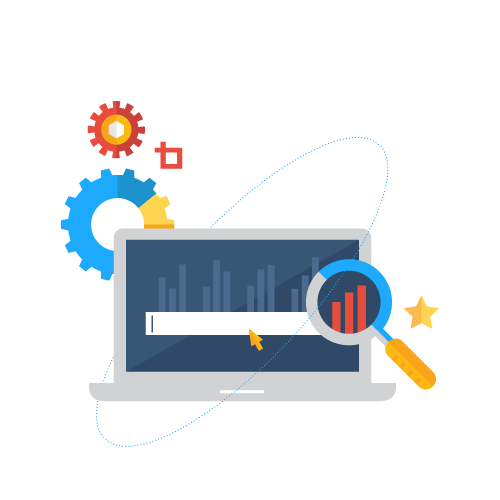 5. Design with Your Users in Mind
As with any page, design can make or break your user experience. As you write copy, consider what information is most important to the user and needs to be emphasized in valuable H1's and H2's, think about which details could be shown in more interactive formats, and choose media that adds to instead of distracts from your main purpose. You also need to ensure that your landing pages are fully accessible for all your potential users.
A great example of a compelling, successful landing page comes from our campaign with Varonis. Bluetext worked with Varonis to create ads that drove viewers to landing pages and CTAs. By targeting the right audiences and leveraging intriguing copy, Bluetext helped Varonis grow its click-through rates above the industry benchmarks.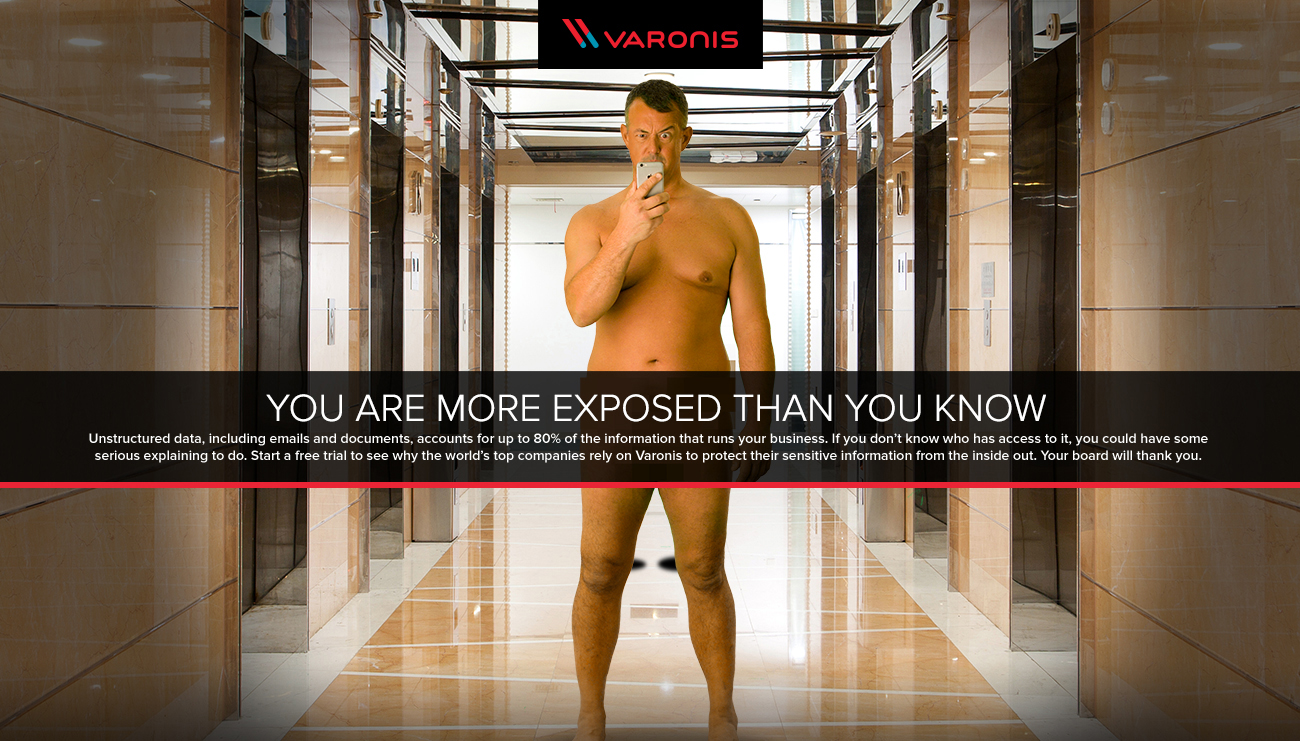 Want to learn more about creating successful landing pages or are interested in working with Bluetext to create a successful, data-driven landing page strategy? Contact us today.
Search marketing has powerful potential with infinite nuances. This digital marketing medium has an unmatched ability to reach mass users at a macro level on the basis of targeted browsing & interest. Search marketing is a demand-driven opportunity to engage in individual conversations at a mass scale. Just like the phrase implies, the 'world wide web' is an incredibly complex and interconnected ecosystem of users, websites, search queries, and advertising. So how and where should you start to navigate the infinite avenues of search marketing? First, consult a digital marketing agency, especially one which specializes in marketing analytics & paid media strategy like Bluetext. 
A digital marketing agency can offer search marketing services that you help identify: your website user personas, what organic keywords are bringing traffic to your site, what keywords & phrases have the optimal cost-per-click (CPC), and competitive density for paid search efforts.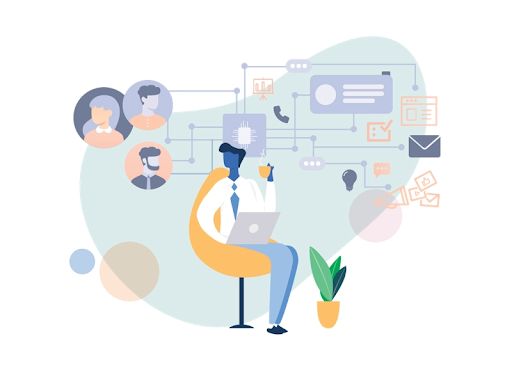 Automation: the Answer to Search Marketing
Basic search marketing strategy connects a user's intent to an ideal and relevant response. Automated search marketing strategy uses automation to constantly improve and become more efficient and effective over time. A basic search strategy can be simple to set up and understand, but results may flatline without consistent nurturing. Automated search marketing can be complex and intimidating, but when set up correctly, can yield impressive and compounding results. 
Some search marketers have been hesitant to embrace automation and trust algorithms and data processing power. However, avoiding the advancement of automation only hurts your strategy and puts you at a competitive disadvantage in comparison to more future-focused competitors.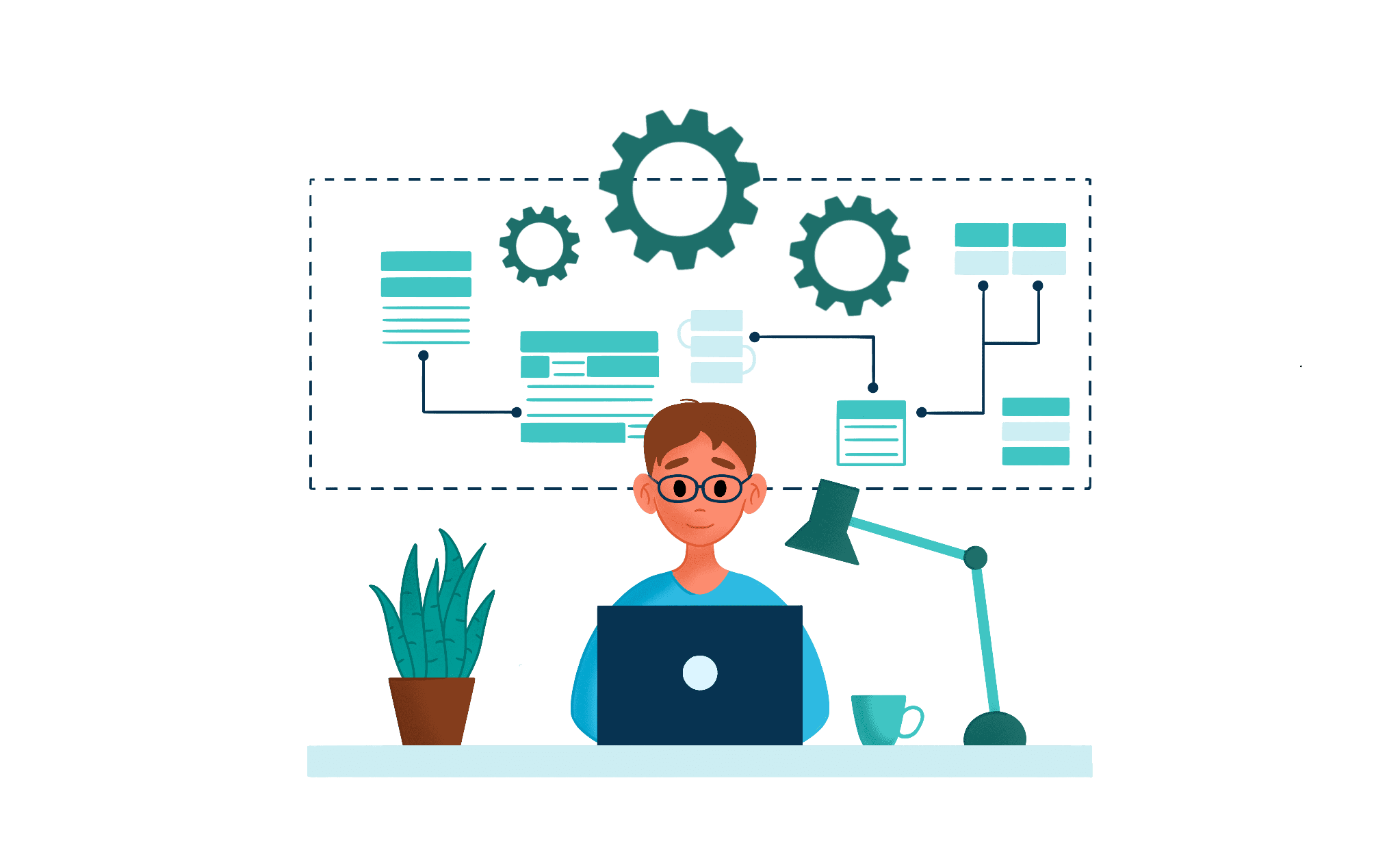 Search engine tools have matured over time to provide increased control, transparency, and tangible results than ever before. Real-time automation has evolved to be the foundation of the search engine ecosystem. What was once an analog concept (imagine a physical directory) has been transformed into a dynamic digital medium. The modern search marketing experience is an always-on, cross-device experience capable of delivering almost any type of content a user is looking for.
The key aspect to keep in mind with search marketing is its dynamic nature. New features and improvements are constantly being implemented, with new queries and signals added every second. Hundreds of data points are aggregated for every interaction. The term "big data" is an understatement to summarize the sheer volume of data that can be collected and harnessed to provide the most personalized experience to users possible.   
Finding the Right Search Strategy
Search marketing is not a one size fits all solution. The optimal strategy should be assessed by individual companies and use cases. To inform your strategy, it is key to fully understand how your paid or organic search terms have performed in the past. Past bidding and budget history can provide not only a baseline for improvements but insight into your audience and receptiveness to paid search advertising. If you're not already doing so, separate campaigns out by specific audiences. This allows you to track isolated segments of customers or prospects and compare performance. 
The beauty of search marketing automation is the paradox of scale and specificity. It allows companies to scale their messages and strategies to a massive audience, while simultaneously making users feel heard with personalized results.
If you're ready to optimize your search marketing strategy and take your campaigns to the next level, contact Bluetext.