According to Mordor Intelligence, The mergers and acquisitions (M&A) in aerospace and defense market size is estimated at USD 175.36 Billion in 2023 and is expected to reach USD 311.40 Billion by 2028. This remains one of the largest capital-intensive sectors as a result of the meticulous R&D needed to expand, enhance, and integrate product portfolios and stand out in the competitive landscape. 
The aerospace and defense (A&D) sector is continuing to consolidate the supplier base to remove unnecessary costs and prolong its place in the market. One of the best examples of this is the 2019 United Technologies Corporation (UTC) and Raytheon Company (Raytheon) all-stock merger to consolidate their spot in the A&D sector. The successful merger achieved improved economies of scale, strengthened R&D, and provided a more diverse portfolio of products. 
The Raytheon / UTC merger and its recent rebrand is a prime example of the importance of modernizing a company's brand and digital identity. Since its founding in 1922, Raytheon has bared its name for over a century. With time, experience, and proven results comes recognition, so the switch to a new name may seem risky. But in order to stay competitive, be inclusive of broader capability sets, and look well-equipped to take on new modern challenges, the switch to the new name, RTX, was extremely intentional. 
"RTX is a nod to the past and a nod to the future" – RTX's CEO Greg Hayes. 
Not only is the new three-letter name (and .com domain) simple, unique, and easy to remember, but it also is the same three letters as its stock ticker symbol, which is a combination of United Technologies previous symbol (UTX) and Raytheon's (RTN), further exemplifying the union of the two companies and brand consistency across all channels. Another recent merger sporting the simplified 3-letter name and domain is the $2.1B combination of Vectrus and Vertex, now V2X. 
A brand name change is a powerful move for a company, and there are several factors to consider when undergoing this transformation. Luckily the experts at Bluetext, one of the best DC brand strategy and government PR firms, can help. For more on naming, check our latest insights. 
Private Equity has become a major spearhead in the A&D market and now accounts for 47% of transactions and 41% of deal value. Some major A&D mergers that went through recent successful rebrands propelled by PE firms include:
Centauri (now KBR)
When Arlington Capital Partners acquired three leading companies in the national security sector—Integrity Applications Incorporated, Xebec Global, and Dependable Global Solutions—the IAI team turned to Bluetext to develop and launch a new unified brand from scratch. In less than 6 months, the teams worked together to launch Centauri. 
The name was inspired by the Centauri star system made up of some of the brightest stars in the sky. The logo represents the company; a group of brilliant minds composing a star system, brought together by the gravity of the mission to form this C shape as seen in the logo: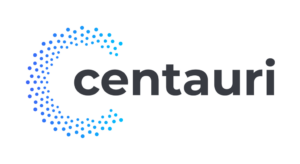 The new name and brand were crucial to showcasing the "stronger together" mentality of merging big players in the A&D sector. The rebrand was so effective that within just a year, KBR acquired Centauri, significantly expanding its military space, defense modernization, and cyber solutions portfolio. For more on this successful rebrand, check out Bluetext's Hall of Fame featuring Centauri. 
BlueHalo
Another Arlington Capital Partner acquisition consisting of AEgis Technologies, Applied Technology Associates, and Brilligent Solutions, looked to Bluetext to merge these powerhouse national-security teams together into one superior brand, BlueHalo. 
The name BlueHalo represents the unbroken global line that ensures the technical advantage in the most advanced battlespace. The logo embodies the name by featuring a blue swoosh shape that depicts in a clean but strong manner, a halo of protection. It also supports the company's brand line, "Leading the Transformation of Modern Warfare"

Since the 2020 rebrand, BlueHalo has rapidly strengthened its leadership positions in Space, Cyber, AI/ML, Counter-UAS (c-Unmanned Aerial Systems), and Autonomous Systems, with multiple acquisitions in record time. For more, read about Bluetext and BlueHalo's partnership or watch the powerful brand essence video that Bluetext created.
Tria
When another private equity firm, Sagewind Capital, acquired Federal Advisory
Partners, Universal Consulting Services, and FavorTech Consulting, Bluetext helped merge these top-performing companies into one stronger, unified brand – Tria Federal. 
The simple, punchy, and welcoming name, Tria, is the Greek word for three, representing the company's commitment to 3 pillars of service:
Service to Clients

Service to Colleagues

Service to Communities
The logo embodies these 3 pillars through approachable and patriotic brand application as a nod to its federal government audience as being the partner of choice in the path to possible. See more about Bluetext and Tria's work together here.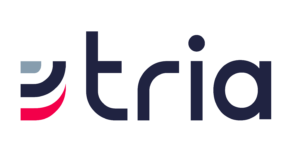 Axient
Following a series of promising mergers and acquisitions from Private Equity firm Sagewind Capital, QuantiTech came to Bluetext for expertise and strategy to consolidate legacy companies into a new brand name and identity. Axient became the new corporate name to unite offerings & employees under one mission-driven, innovative narrative. 
With a new name and logo design, the Axient brand identity was developed to visually encompass the value of the newly merged company. Sharp angles were intended to symbolize Axient's cutting-edge expertise while the orbital curves showcase the full-spectrum lifecycle support offered to customers to "accelerate possible". Watch the visual identity and mission come to life through the brand essence video and learn more about the work Bluetext and Axient completed together. 

If you're looking to revamp your company's name and/or corporate image, connect with Bluetext, the top DC government contracting and aerospace marketing firm, to ensure you get the most out of your marketing efforts.
It's May and you know what that means, graduation season is upon us. Amongst the throws of graduation caps and kick-off to summer celebrations, higher education gets more attention than ever. And while prestige and name value still play a significant role, numerous other factors have recently come into play for prospective students. Between funding, affordability, student mental health, and diversity initiatives schools are taking drastic steps to stand out and modernize. From the degrees offered and course formats, to who they recruit and more importantly how they recruit. One tactic many higher education institutions have latched onto is branding, especially to portray a bolder more forward-looking image to prospective students, professors, and donors. 
In this post, we'll break down the recent trend toward bolder branding within higher education, an industry that had traditionally foregone flashy aesthetics and in-your-face campaigns. In such a serious industry with a heavy emphasis on facts and figures, many institutions hesitate to emphasize the human element of education. However, to make a memorable impact during the admissions process, many schools are taking courageous steps to graduate toward bold branding. 
The University of Virginia Darden School of Business's "Put Your Why To Work" campaign is one noteworthy example timed with the opening of their Rosslyn outpost. To grab the attention of prospective MBA students Darden chose a people-first perspective that highlighted the 'why' before the 'how'. Connecting the passion and purpose behind the degrees gave the audience a chance to relate and be inspired for the next steps toward their own career. Between clever taglines and artistic photo treatments, real student stories and motivations behind their MBA drove this campaign. The orange duotone treatment of Grounds and student portraits stood out from competitors and instilled the iconic UVA branding with a more grown-up twist.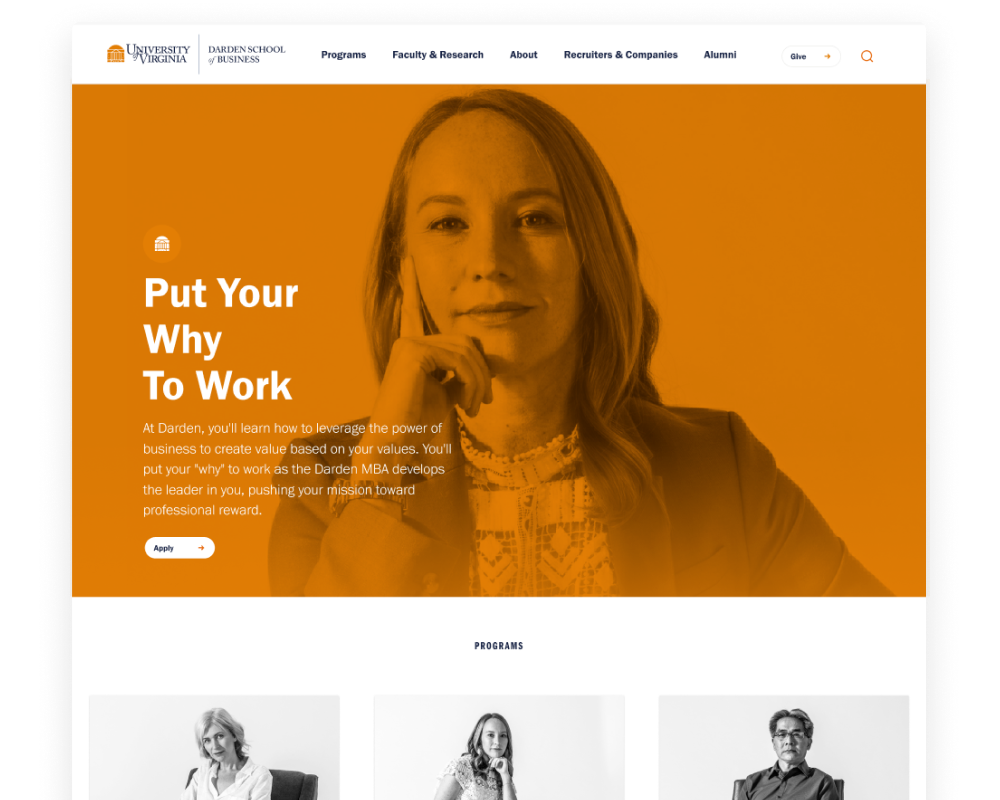 Purdue University recently unveiled a brand evolution with its "The Next Giant Leap" campaign. Intended to harmonize the school's athletic identity with innovative programs into a "One Purdue" shared ethos. Emphasizing the importance of both giant leaps and small steps forward, the campaign and new brand story aim to harmonize the collective efforts of each individual student towards a shared vision. Refining their color palette, logo, and brand materials, Purdue put an emphasis on consistency and unity in their new brand identity.
Watch the brand story: https://youtu.be/uHm63Gpxf_A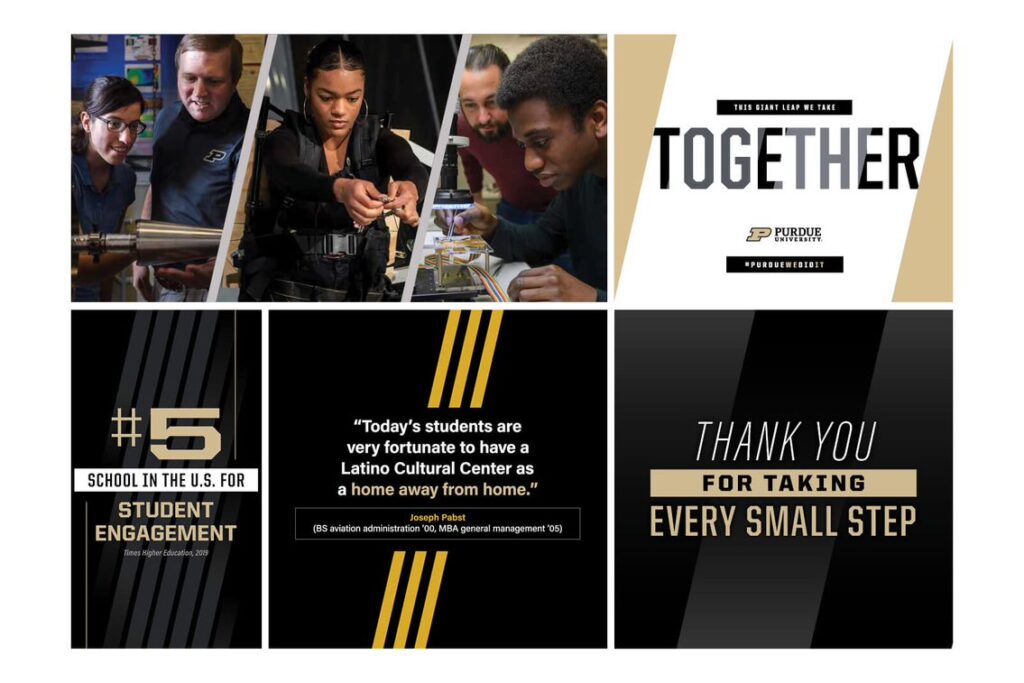 Another example, Bluetext client GMAC, took on bold updates to improve the usability and engagement of their MBA microsite CallingAllOptimists.com. After taking on a bold new brand identity full of vibrant colors and eye-catching animations, they needed modern functionality to match the aesthetic. Bluetext took on the challenge to design and develop a personalized quiz that seamlessly guided the user to customized messaging and content based on their answers, while simultaneously gathering actionable user insights. With over 400K site visitors and 50K+ interactions, the pool of audience data was vastly increased.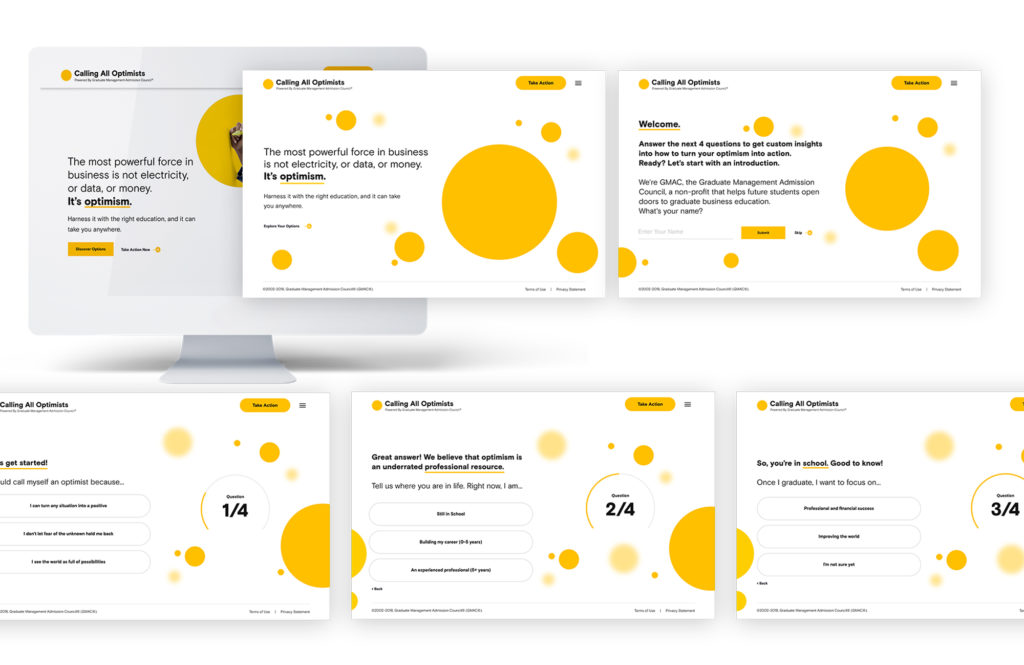 The Bluetext team designed a media campaign to deliver personalized and culturally-agnostic content through paid social and programmatic media, new video assets, and radio advertising. Sensational visuals, engaging messaging, and efficient audience segmentation – delivered the right inspiration to the right person at the right time. Not only did this redesign improve the campaign's functionality and awareness – it created a holistic, and optimistic, brand ecosystem.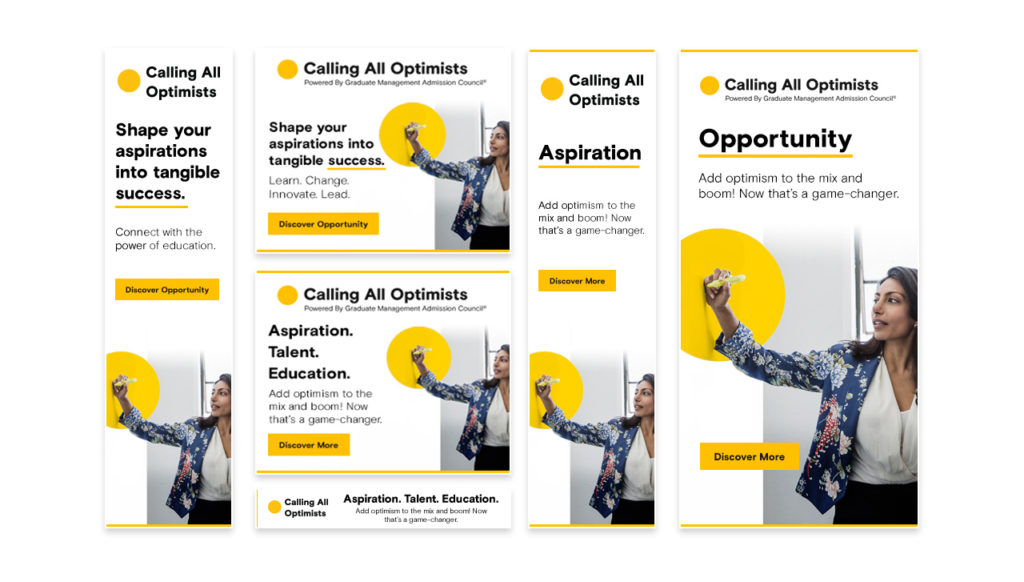 So what have we learned from these examples? Don't worry this is not the final branding exam, but these examples are A+ examples of how traditionally serious institutions can take a more creative approach to their marketing efforts to stand out from the sea of schools vying for students' attention. Incorporating modern UX functionality, human perspectives, and bold visuals can elevate a company of any industry from one of many to a top-of-mind brand name. Interested in taking your brand to the next level? Contact Bluetext to learn about our services and proven approach to success. 
It's common knowledge you don't market to fit in, but rather to stand out. This used to mean simply a compelling headline, an eye-catching graphic, or a clever jingle no one can get out of their head. But as marketing mediums, standards, and placements have grown, so have the competitive stakes. While many marketers have shifted their mindsets from traditional placements (think signage, television commercials, newspaper ads) to more digitally destined formats, there is still significant value to what is known as "out-of-home" advertising, especially when all of your competitors are placing their bets on the search and social ads. 
What do we mean by "out-of-home"? Well quite simply, it's any advertising that can be seen outside of a viewer's home. It's one of those terms that is best described as what it's not, aka a television or streaming ad, any digital display ad (which yes, can be viewed outside of a home setting, but besides the point). Traditionally this included billboards, buses, posters, transportation station signage, street furniture, etc. But as we mentioned, competition is fierce, and unlike the digital ecosystem physical space is limited, therefore, driving price and competition. Hence, we've seen a trend in companies turning to more "out-of-the-box" placements to stand out. In this post, we'll evaluate some of the unique out-of-home finds intended to stand out and make a memorable impression on viewers. 
Before we fully dive in, we must disclose that we are not advocating for the effectiveness of these ads. But rather an appreciation for the unconventionality of these strategies. In theory, advertising should hit viewers at a point of memorable positive experiences, which therefore will get associated with your brand. No wonder baseball park signage and billboards in proximity to popular vacation destinations are so popular. The viewer will remember your ad in conjunction with that great memory of a win against a rival or anticipation for a long-awaited vacation. So whether these out-of-the-box ads are associated with positive experiences is well, debatable. 
Fortune Cookies: 
Now here's a neat one. Imagine you're at your favorite Chinese restaurant and the check comes. Whether you're superstitious or a little stitious, you must complete the standard ritual of cracking open your fortune cookie to see what awaits.
And what do you know? A little ad falls out. Now when the promotion makes sense, this actually can be quite effective. Look at Zelle for example, placing ads that specifically reference splitting a restaurant check at the exact time one may be dividing up the check amongst friends. Pretty clever call to action at a strategic time, but just make sure your audience isn't getting jipped of the fortune they know and love.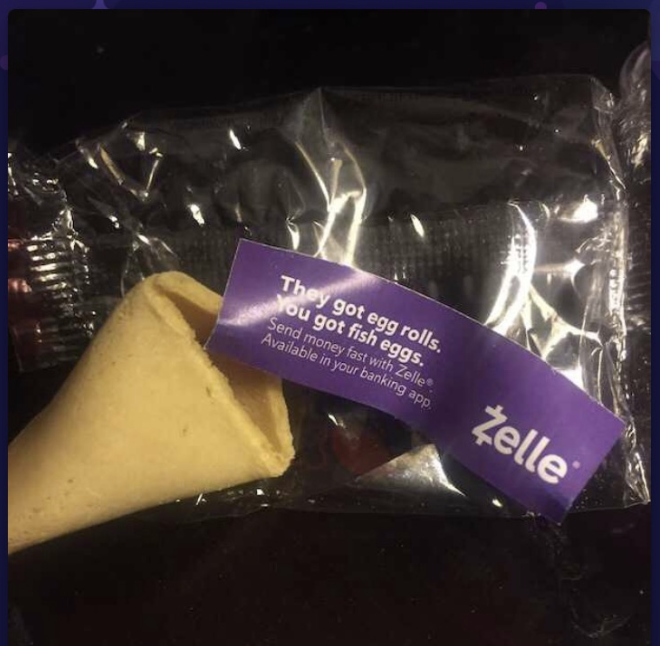 Bathroom Stalls 
We must say, if there's one place to capture a viewer's singular eyeline and undivided attention, it's in a public bathroom stall. What's more in your face than a huge poster staring back at you in a public restroom? Or to really make a splash, take a cue from I Love You, Man's urinal cake idea:
Forms Captcha:
The reCaptcha forms completion. We all love to hate it. But some brands, particularly consumer brands, have turned the obligatory submission request into a fun reinforcement of their brand messaging. Coca-Cola's unique spin prompts a user to select an "delicious refreshing beverage" aka one of their products from the tile of images rather than unappealing taxi cars.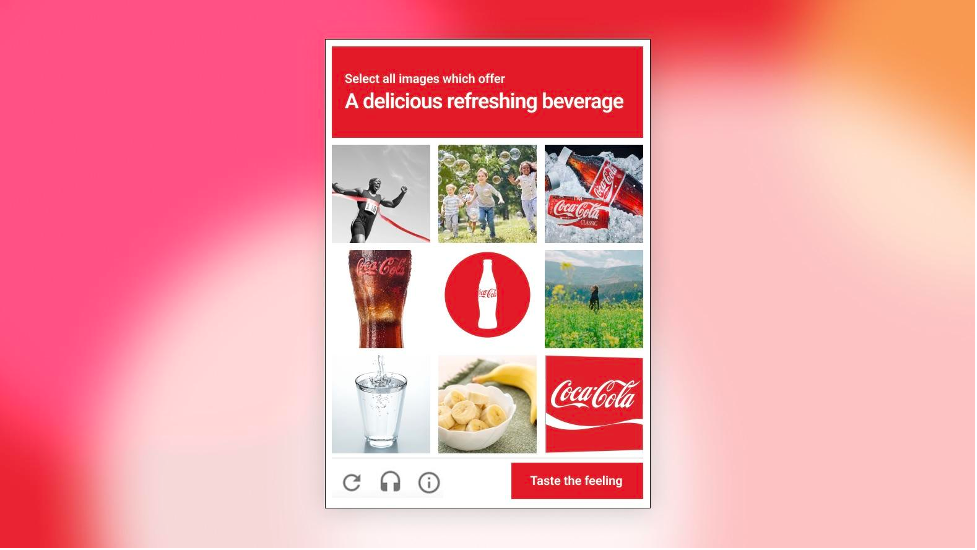 Kit-Kat goes a step further with an interactive element that asks users to drag a finger across their candy to "Have a break".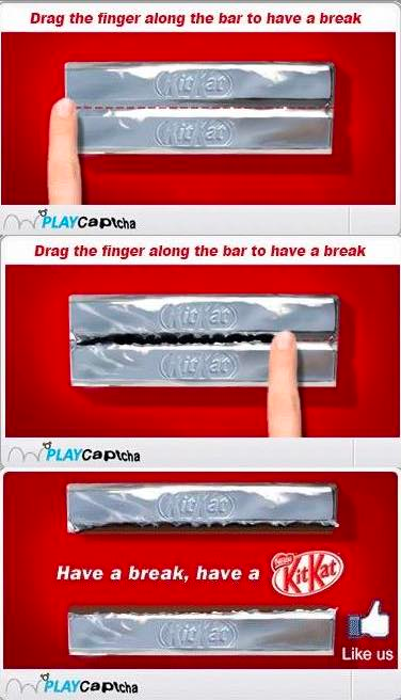 Each of these examples serves to reinforce brand taglines and catch users off-guard with appetizing reminders of their product.
Airport Security Bins: 
Again, the premise of scrambling with your shoes and unpacking belongings in a crowded airport security line isn't everyone's favorite memory of the vacation. However, branded security bins when they make sense can be a clever way to catch a viewer's attention and make them smile. Zappos for example takes a comedic spin on the frazzled shoe removal process with a reminder that while tying up your laces may not happen in a flash, their shipping speeds will.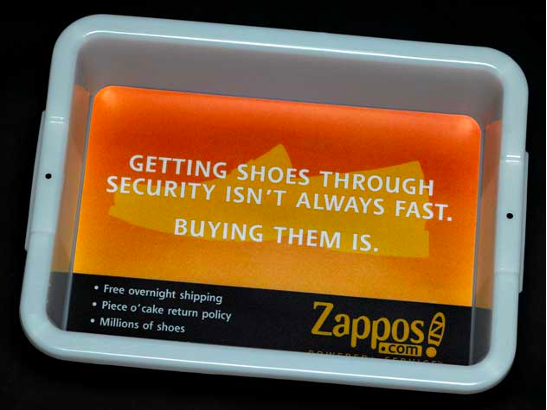 Gas Station Pumps: 
Ever been slightly startled by a spontaneous jingle playing at the gas station pump? Yeah, us too. We must admit the logic is there. The viewer is standing face to face with the pump, undoubtedly bored and waiting for their tank to be filled. But alas, their attention is grabbed by a video ad for some product or service they weren't previously thinking of. It could be powerful, but it could also be perceived as annoying or in these times associated with upward tick of their escalating gas price.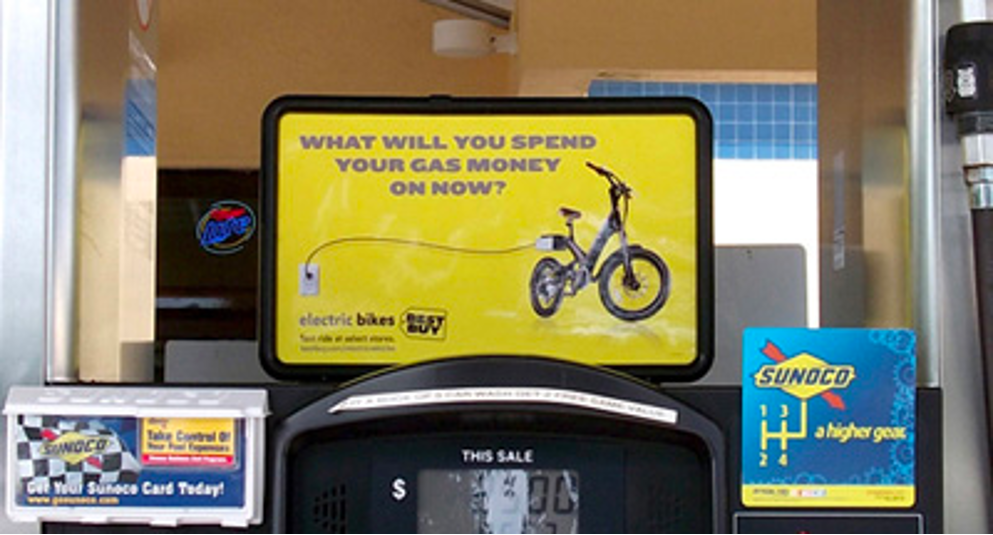 This electric bike example cleverly acknowledges the dread of rising gas prices by promoting a more environmentally friendly option. 
Looking to stand out in your marketing activation efforts? Whether that be through out-of-home advertising or digital media avenues, get in touch with Bluetext today to determine the correct media mix given your business goals and budget.
Launching your new or revitalized brand is the most important stage of the rebranding process. You've done all the hard work at this point, determining the right look and feel, message, and character for your brand. The crucial next step is to announce yourself to the world, both from an internal and external point of view. In today's blog post, we'll cover how to launch your new brand into the market and how to ensure your employees are ready to be your top brand ambassadors.
1. Brand Launches are Non-Linear in the Rebranding Process. Prepare Ahead of Time.
Preparation is the key to success. Without it, you run the risk of reducing the impact of your brand launch. You only get one shot at this so be sure to make the most of it. Begin ideating on how and when to launch your new brand at the start of your rebranding process. You'll want to have a clear sense of the rationale behind the rebrand and how it impacts the broader narrative you want to communicate to the market. This foundation creates meaning and purpose, giving you a chance to engage with your existing customers and create new ones.
If you wait too long to start planning your brand launch, you risk confusing the market and your employees, leading to increased turnover and a decrease in market share. Be intentional and calculated as you determine the best course of action.
2. Increase Your Market Impact By Properly Determining Your Market
A successful brand launch reaches all notable audiences including both internal and external stakeholders. You'll want to think strategically about your key audiences and prioritize your brand launch activities accordingly. For example, you may want to provide your high-value clients, key partners, and investors with a personalized introduction to your new brand. Making sure you create a positive trustworthy impression with your key audiences will increase the impact of your launch and the chance of success.
3. Communicate Efficiently, Communicate Effectively
The narrative you bring to the market for your brand launch is the most important aspect of the entire undertaking. Document your communication plan via a spreadsheet to ensure your tactics are on track from a timing and budget standpoint. Think through the most effective channels you can use to communicate the launch of your new brand to your key audiences.
Tactics can and should include: emails teasing the new brand, a pre-launch event for your most strategic audiences, and a landing page for people to visit to understand how the rebrand affects them in the short and long term. An effective communications strategy prepares your customers and investors for what's to come and creates buzz around the new brand.
Think through a phased approach to your brand launch, utilizing a variety of tactics and channels to create the biggest impression. We've said it once and we'll say it again: you only get one shot at this. Make it count.
When in partnership with Arlington Capital Partners, we launched Centauri. Our team developed and executed an integrated go-to-market strategy including PR, digital advertising, and social media. A key component of this campaign was a series of emails teasing the new logo, message, and brand into the market.

4. Saying Sayonara to Your Old Legacy Brand
While it may be hard to let go of the past and the brand assets that got you to this stage in your company's lifecycle, you made the decision to rebrand and enter a new phase of growth. Migrating your brand from the old to the new creates consistency in your overarching brand narrative.
Create a brand migration list of all of the places your old brand is visible from both an internal and external view. Your website, building signage, virtual backgrounds, mugs, business cards, ad campaigns, etc. should all be added to the list of touchpoints. Determine what it will take to update each asset and work backward from the items that will take the longest to finalize. Ensuring each of these touchpoints is taken care of prior to your brand launch means minimizing confusion for your key audiences and the market at large.
5. The Key to a Successful Rebrand is Getting Your Internal Stakeholders Onboard
In many senses, your employees are your brand's most important ambassadors. Getting them to embrace the changes and preach the narrative you've created with authenticity will ensure a smoother transition from the old to the new brand. Educate your staff on the brand's mission, vision, and core values, articulating the direction of the new brand. Provide your employees with your updated brand guidelines, outlining how your brand should look in white papers, PowerPoints, data sheets, etc. Outfit your team in branded swag to make them feel like part of the team and drum up excitement ahead of the brand launch. Your people are your greatest asset; use them to their full potential and reap the benefits.
When ARKA came to Bluetext following a merger, they needed new messaging, brand creative, website design, and a brand launch program to unite the legacy companies. As part of the brand launch, our team implemented a full brand ambassador program, email announcements, a central inventory of brand assets, and FAQs. To get employees excited and geared with new brand creative, a 'Welcome to the Brand' kit was designed and coordinated to arrive with the announcement of the new logo & brand.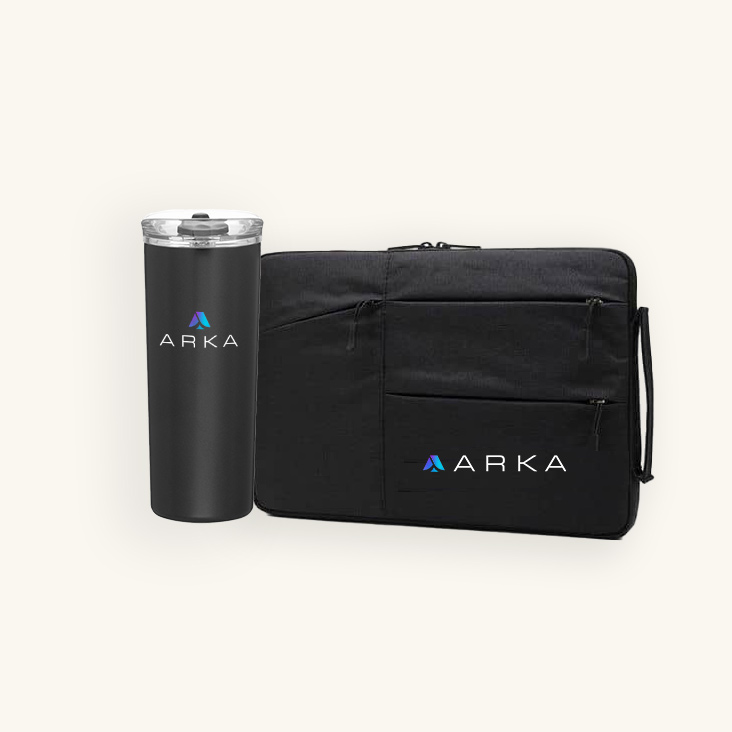 6. Launching Your Brand Externally – Patience is Key
The most important thing to remember for any external brand launch is to be patient. It's an exciting time; pressure is high and the fruits of your labor over the last few months are about to be realized. Just remember, patience is required to achieve maximum impact, and timing is everything. Coordination is an integral component of your brand launch, ensuring everything launches without a hitch, and no one accidentally jumps the gun by updating their LinkedIn header with a graphic featuring your new logo. Using your brand migration list, execute accordingly, launching your new website, updating social media assets, and distributing press releases. Many brand launches culminate in a public event, where you unveil your new logo, mission, core values, etc.
Following a series of mergers and acquisitions, BigBear.ai came to Bluetext with the goal of creating a new unified brand identity, revamped external messaging, and strategic public relations that would help them stand out in the crowded AI space. As part of the external brand launch, our team designed a jaw-dropping trade show booth experience that brought the spirit of the BigBear.ai brand to life with a 3D video wall. It had event attendees stopping in their tracks.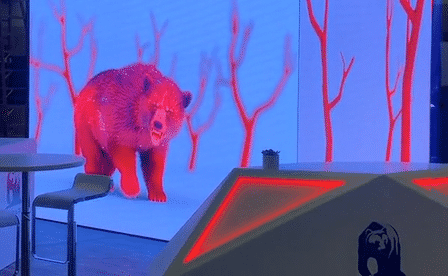 7. Your Brand Launch is Just the Beginning
You did it! Your brand is officially in the market. While you may have thought this day would never come and it feels like you just crossed the finish line, remember that launching your brand is only the start of the journey. Keep tabs on all ongoing brand development and ensure that any new materials stay within your outlined brand guidelines. Consistency is king and has the power to make or break your new brand. Remember, a brand is a living, breathing organism that requires constant upkeep and preening. Conduct regular brand audits to ensure your brand is working for you and not the other way around.
Is your brand ready for a refresh? Contact us today at Bluetext to learn more about our rebranding services. We work with premier private equity companies, launching updated brands for newly merged or acquired companies into the market and generating massive successes.
Marketing moves fast. And while brand identities are created in the safe, static space of a style board, they must survive in a high-stakes environment of attention. They need to keep up. They need to animate. We experience brands across so many channels – as an interactive app, a 6-second bumper video, a tradeshow booth, a virtual reality space, a hover state button, or even the way a webpage loads. Without even realizing it, however, the biggest impression brands make on us is often in the way they sound.
Yes, you heard that correctly – we're asking what your brand sounds like. 
Enter sonic branding, the acoustic brand identity that is subliminally making a massive impact in today's cluttered ad landscape. In particular, the audio logo, a brief melody or branded sound design that often plays at the beginning or end of a video or audio spot. For audio-only mediums, like radio or podcasts, sonic branding is especially crucial for awareness in the absence of any visuals. 
Even as you read them here, the melodies of sonic branding champions like Aflac, Duracell, This is Sportcenter, Tacobell, Old Spice, Intel, Playstation, or T-Mobile are echoing in your head. 
Every Friday night, the hallways of apartment buildings around the world turn into a cacophony of audio logos, as streaming apps like Netflix, HBO, Prime, and Hulu boot up for a night in. 
In one of the most competitive marketing arenas, insurance brands battle through sound. Can you picture the visual logo of Nationwide, State Farm, Farmers, or Liberty Mutual right now? Probably not. But can you sing each of their brand tunes? Most definitely. 
These audio brand dynasties are evidence of audio's effectiveness within the brand zeitgeist. There are even brands that have infiltrated your attention in subliminal ways without you even seeing their logo. Take for example the boot-up of a Macbook, the thump of a Volkswagon door closing, the scritch-scratch of a Sharpie moving on paper, the pop of a Snapple lid, an idle Harley Davidson, or even the lack of sound when spraying a Method household cleaner. This is all very intentional (and industrially expensive) sonic branding. 
As digital habits evolve, we can't rely on eyeballs on screens in order to communicate our message. For a brand to be remembered, it can't just be seen, it must be heard. It must be felt. 
Harvard Business Review's What Does Your Brand Sound Like? states "With our increasingly audio-enabled media environment, the strategic use of sound can play an important role in positively differentiating a product or service, enhancing recall, creating preference, building trust, and even increasing sales. Cognitive studies show that relevant sounds and musical cues can truly influence people in ways marketers want." 
Now, you may have some jingles coming to mind as well. Examples like Mcdonalds' "I'm Lovin' It", Kit Kat's "Give Me a Break!", Folgers Coffee, Chili's, Kay Jewelers, or Lucky Charms. People can recall the Meow Mix brand whether or not they have a cat. Even Jim Gaffigan pokes fun at the Hot Pocket marketing team when he jokes "I do love that jingle. Do you think they worked hard on that song?". 
Brand jingles are the epitome of sonic branding. Some of those brand earworms we just mentioned are decades old but still stuck in your head right this very instant. Yet these are all established brands, with existing brand awareness, and deep pockets to design (Mcdonald's had over 3,700 final mixes of "I'm Lovin' It"), test, and translate their jingle before pushing it out to market with a massive media spend. For brands that are just trying to gain momentum organically or with short-form video, a sonic logo can still do wonders. 
The reason is that hearing is innate. We internalize sound quickly. An audio logo stays with you after you experience it. You may not be able to remember what a logo looks like, but you'll remember what it sounds like and the longevity of the recall is powerful. 
Further, sonic branding adds another level of brand storytelling into the mix, connecting with the viewer audibly and visually. In the case of an audio logo, this emotional connection happens in a few short seconds. The audience doesn't have to follow a story or listen to an explanation – they just absorb the brand. Since this subliminal brand narrative is experienced with two senses simultaneously, the brain stores that experience twice as much as it would if it was only seen. 
One of the most cunning tactics is incorporating an iconic sound into the audio logo that isn't even unique to that business. Take Southwest Airlines' "You Are Now Free to Move About the Country" example, with a seatbelt fastening click and overhead ping used in every airline are now tied directly to a specific brand. People who recall the Southwest brand would do so even when using Southwest's competitor airlines. What about Verizon's "Can You Hear Me Now?" that makes you think of them when you have a bad signal, and therefore remind you to switch to their service for a more reliable connection? Sneaky, sneaky. If you can capture the distinct sound of your industry and distill it into a mnemonic within your sonic branding strategy, not only will you be memorable – you'll be unforgettable.    
Whether B2C, B2B, or B2G it's all about attracting and connecting with your audience through as many senses as possible. Maybe that's through a blockbuster TV ad, a podcast, the tangible sound of your product in use, or even a quick, organic social snackable. There are countless ways to embed sonic branding across your landscape, so listen up! It's time to make sure your brand feels like something. Let our animators, audio designers, and creative minds help you tell your sonic brand story in a way that is rewarding for your business in years to come.  Get in touch with Bluetext, and give our soundtrack of super sonic brands a listen!
Ah, Super Bowl Sunday. One of the most highly anticipated events of the year celebrated for being a uniquely American tradition drawing together viewers of all demographics from across the country. An impressive 113 million viewers, in fact, the third largest television program and highest digital viewership (7 million, talk about super-sized streaming) in history. For sports enthusiasts, it was a day to watch the Chiefs and Eagles play their hearts out for the Lombardi trophy. For Rihanna fans, it was an opportunity to enjoy a long-awaited concert from the couch. For marketing geeks, it was the night we got to see just what advertisers had paid the big bucks for — and this year, we mean big.
No matter the reason for tuning in on Sunday, the days that follow the Super Bowl are always full of discussion. Now, we're not here to debate that holding call or relive that big half-time performance announcement. Instead, we're taking a look at some of the main themes and most memorable moments of the Super Bowl 2023 commercials.
Lighthearted Tones & Humor
In contrast to previous years, a fun and amusing tone seemed to be the overwhelmingly popular choice for the commercials of Super Bowl 2023. This isn't entirely surprising, given some of the current challenges facing the country and the heavy news cycle society has been stuck in lately. It seems that advertisers this year wanted to give people an escape, aiming to keep things light and get viewers laughing. As with any year, some spots tried- but failed- to nail the bit while others were clear, feel-good standouts. Our favorites? Miles Teller in Bud Light's 'Hold' commercial, Ben Affleck working the Dunkin' Drive Thru, NFL's Run With It, and Bradley Cooper and his mom trying to make a T-Mobile commercial.
Nostalgia
Nostalgia has been a popular marketing tactic in recent years and if Super Bowl 2023's ads are any indication, that doesn't show signs of stopping. Several brands were willing to bet millions that nostalgia would continue to land with consumers, as tributes to classic movies, iconic TV shows, and music legends from throughout the decades made their way onto our TV screens. Alicia Silverstone returned to her role as Cher Horowitz from the movie 'Clueless' for a Rakuten cashback promo, Serena Williams and Brian Cox starred in a 'Caddyshack' spoof for Michelob Ultra, and John Travolta sang a rendition of "Summer Nights" for T-Mobile's 5G Internet service over 40 years after 'Grease' first hit theaters. A Workday commercial featured rockstars like Ozzy Osbourne, Gary Clark Jr., Joan Jett, Billy Idol, and Paul Stanley, an Uber commercial with P. Diddy took us down one-hit-wonder memory lane, and a throwback to more recent history, PopCorners put out a spot incorporating the cult classic show 'Breaking Bad'. 
Brand Partnerships
One of the more unexpected moves we saw on Super Bowl Sunday was big-name brands teaming up for joint commercials. Will Ferrell walked through (literally) several of Netflix's most popular original movies and shows in a commercial promoting both the entertainment giant and GM's EVs. Beer brands also got in on the mix, with Bud Light doing a crossover with HBO's 'Game of Thrones' and Molson Coors promoting not one, not two, but three of their beers all in one entertaining spot that kept viewers on their toes.
Puppies > Celebs
We'd be remiss not to include this one. Much like many years passed, a large majority of Super Bowl commercials this year were jam-packed with celebrities, with advertisers like DraftKings and the others already listed above opting for a star-studded approach. However, not even female rap legend Missy Elliot or Gen Z heartthrob Jack Harlow could capture America's attention quite like dogs could. According to the Wall Street Journal, two of the clear fan-favorite ads of the night were Amazon's funny and all too relatable story about a family dog adjusting to post-pandemic life, and The Farmer's Dog commercial that had pet lovers across America melting (if not crying). The lesson here? A cute dog will trump celebrities every time. 

While we can't promise to steal the hearts of potential customers with an adorable puppy, Bluetext is no stranger to incorporating animals into brand activations that make people stop in their tracks (see our BigBear.ai work here), creating bold campaigns that grab the attention of consumers (see our Varonis work here), or producing playful ads that strike a chord with your target audience (see our Thing Tamer work here). 
As a full-service digital marketing agency based in Washington, D.C., and specializing in everything from video creative direction and production to paid media planning and go-to-market campaigns, Bluetext is here for your every advertising need. Added bonus: there's no $7 million price tag attached.
For the majority of December 2022 and into January 2023, the world has been captivated by the recently uncovered conspiracy of the nepotism baby, or nepo baby for short. In a nutshell, nepo babies are children of Hollywood industry insiders who likely benefitted from their family connections in the launching of their own careers. For example, "Emily in Paris" star Lily Collins, is the daughter of musician Phil Collins. Or "Stranger Things" star, Maya Hawke, who is the daughter of Ethan Hawke and Uma Thurman.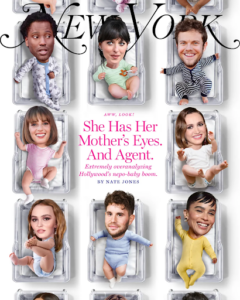 In today's Bluetext blog, we'll uncover the role nepotism plays in the world of sub-brands and product suites. We'll discuss when it may be right to reference a parent brand and act as a branded house, and when it makes sense to market your solutions separately under distinct brands and operate as a house of brands.
The Case for the Branded House
The most common form of brand architecture for brands big and small, a branded house operates as a set of sub-brands housed underneath a core, parent brand. A house of sub-brands benefits companies that offer multiple services or products, especially when a parent brand provides solid brand recognition and visibility. To the consumer, it is very clear that these offerings all come from the same parent company.
From a marketing perspective, a branded house operates under one marketing strategy and avoids confusion in the marketplace regarding who owns the sub-brand. This strategy typically works best when each sub-brands target audience share commonalities. A similar industry or job function, or perhaps the sub-brands are compliments with bundling potential. A branded house is recommended if the parent brand has an established positive reputation with consumers.
Google Workspace
The Google Workspace is perhaps the world's most famous branded house today. The goliath product suite houses Gmail, Sheets, Docs, Calendar, Meet, Drive, and so much more. As soon as you see the simplistic style and elementary school scheme of one of these sub-brand logos, you know it's Google baby. With a staggering 3 billion users worldwide, Google takes up a vast majority of the work app ecosystem and certainly benefits from architecting its business as a branded house. Their brand recognition is strong and Workspace apps are seamlessly integrated, allowing customers direct ease of use.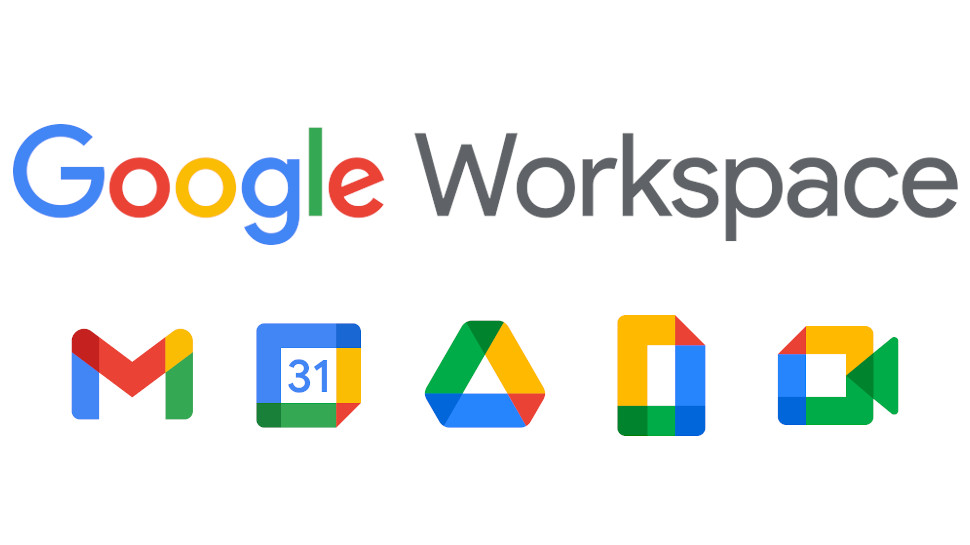 Adobe Creative Cloud
Another of today's tech giants, Adobe, launched Creative Cloud in 2011 featuring known and loved standalone applications such as Photoshop, Lightroom, Acrobat, After Effects, XD, and Illustrator in one package. The logos for each app offer a periodic table-inspired collective look and feel that tells the user it is an Adobe product and part of a branded house. These products are designed to serve separate functions but complement and strengthen each other. Therefore making the case to bundle or purchase the entire 'Cloud'…because if you're going to rent most rooms you might as well buy the house right?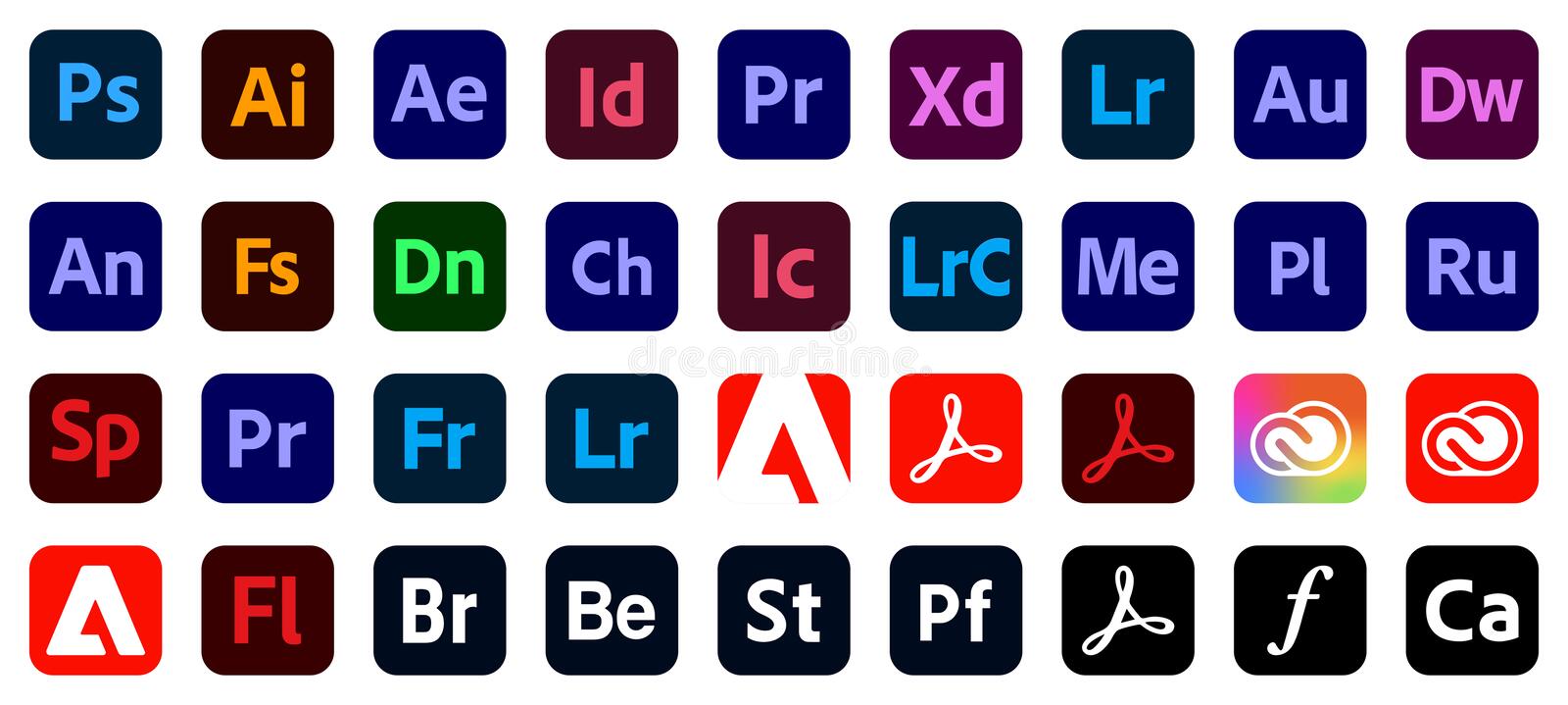 Sourcefire
Sourcefire hired Bluetext to reimagine its product architecture and create a branded house that would sit underneath the main SourceFire brand. Their suite of products, Snort, AMP, Immunet, and Firepower were great standalone applications but lacked a cohesive story that would tie them to Sourcefire. Bluetext renamed the products FirePower, FireSight, FireAMP, and FireCloud, taking inspiration from the Sourcefire name and perceived recognition in the market. Bluetext was also able to sunset Sourcefire's famed, "Snorty the Pig" gracefully as part of the rebrand, shifting the brand perception from startup to global leader. For Sourcefire, having a branded house of products aligned its marketing strategy and increased its overall brand perception. Following, the successful rebrand, the company was acquired by Cisco for $2.7 billion.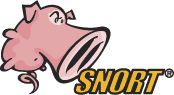 The Case for the House of Brands
A house of brands is remarkably different from a branded house, where each brand has its own unique brand identity and marketing strategy usually dictated by the target demographic. The major benefit to operating as a house of brands is the ability to service a diverse set of target markets and create economies of scale for the parent brand. On the other hand, a house of brands can be a complex system to run, and maintaining each brand's success may be almost impossible. 
Procter and Gamble
For over 180 years, Procter and Gamble has specialized in a variety of products across a wide range of target markets. Chances are, you've used a P&G product without even knowing it. Have you brushed your teeth with Crest toothpaste? Washed your hair with Head & Shoulders shampoo? Cleaned your clothes using a Tide POD? P&G probably wasn't the first association you made with this experience. All of these brands and so many more are the product of a successful house of brands.
That being said, the company has gone through a reshuffle in recent years. As of 2014, Procter and Gamble decided to retire or sell close to 100 of their existing brands, leaving just 80 brands that made up 95% of their profits. This is a classic example of a house of brands getting too big (and too expensive) to manage and needing to cut costs. Nonetheless, this is a great move by P&G, allowing the company to adapt and support their profit-making brands, and reallocate spend to develop new, innovative products that will pay dividends in the future.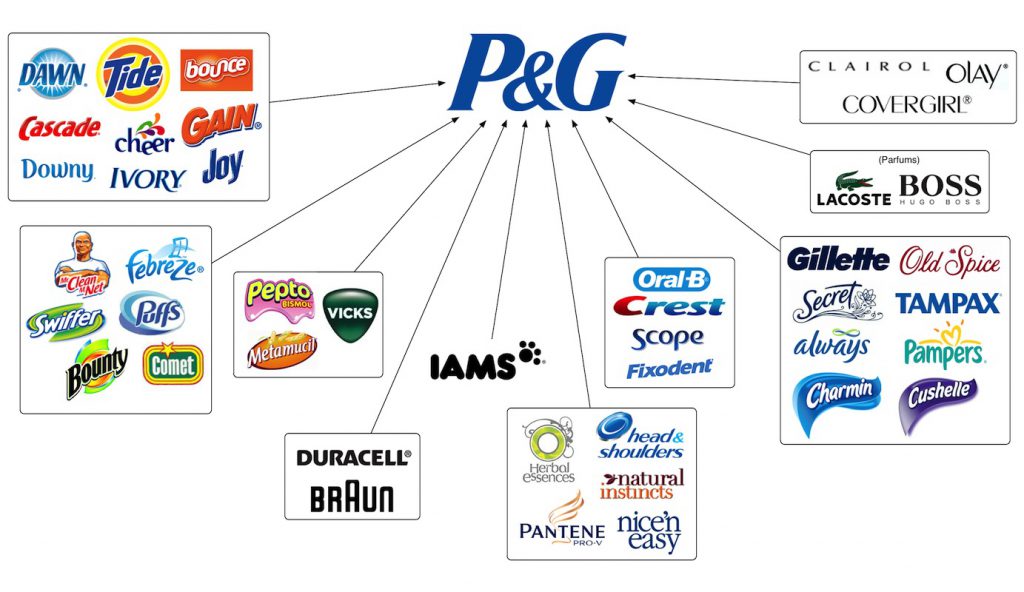 Unilever
British consumer goods company, Unilever, has been in business for just under 100 years and has grown to operate in over 190 countries around the world. Unilever specializes in products related to food, cleaning products, toothpaste, and beauty products, and they are the largest producer of soap in the world. Did you use Dove soap this morning? Spread some Hellman's mayonnaise on your sandwich at lunch? Snack on a pint of Ben & Jerry's ice cream last night? All of these brands operate under the Unilever house of brands. Unilever's success derives from operating multiple brands in the same category targeted at unique demographics. The same consumer doesn't buy both Dove and Suave soap, but both are owned by Unilever. This allows the company to target as much of the market as possible, all through the power of branding.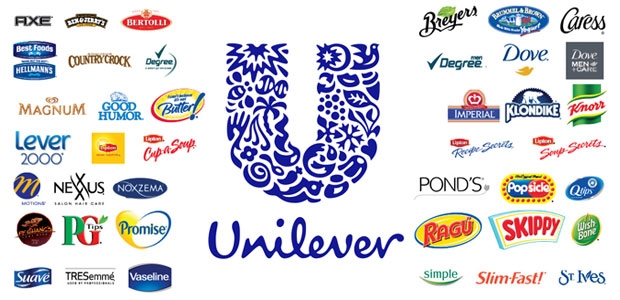 General Motors
GM is the largest automaker in the United States, operating brands including Chevrolet, Buick, GMC, and Cadillac. General Motors is possibly the perfect example of a house of brands that operates at all levels of the market to reach as many consumers as possible. A prospective car buyer is not in the market for either a Chevrolet or a Cadillac. Each brand represents a segment of the market and positions itself accordingly from a price, performance, and look and feel perspective. GM has positioned itself as a brand with potential to truly appeals to everyone by offering distinct models to just about every price range, catering to wide range specific preferences.
GM has also expanded outside of the US market, competing in Europe with its brands Opel and Vauxhall, and in China with its brands Baojun and Wuling. General Motors has also been very successful in its brand consolidation efforts. For example, the company bought Hummer in 1998 and discontinued the brand in 2010. A Hummer EV pickup truck and an SUV are now in the works and will be marketed under the GMC brand. Another example of brand consolidation under GM was the acquisition of the Yellow Cab Manufacturing Company, which produced cars for the Yellow Cab company in New York City. General Motors acquired a controlling stake in the company in 1925 and bought the business entirely in 1943. Following the complete acquisition, the company was absorbed into its brand, GMC.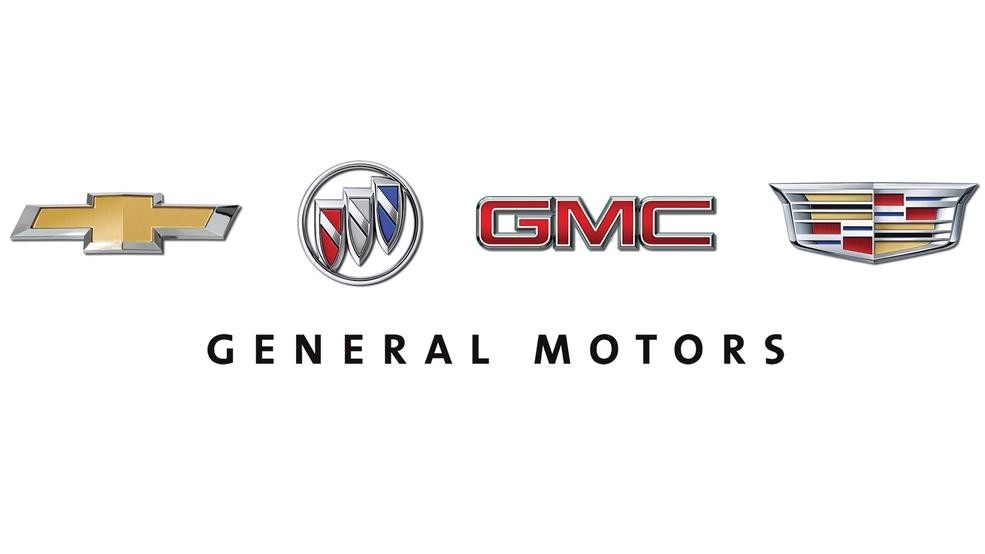 With brand perception under constant scrutiny, brand architecture is an important consideration in today's marketing world. For many companies, a branded house is the best structure as it allows them to operate under a core, leading brand and logo, focusing on one market strategy. For others who are targeting multiple market segments in the same category, a house of brands is the correct choice as it allows them to compete at as many levels of the market as possible. Not sure which strategy is the right one for your company? Speak with the experts at Bluetext today.
Since Bluetext's founding in 2011, the agency has experienced stellar growth in size, expertise, and creativity. So much so that our brand and logo were beginning to feel tight and outgrown. Some healthy self-reflection left us realizing an evolution was necessary. 
Watch our brand evolution
With our clients, we often consult on the pros and cons of a brand evolution vs. revolution. For Bluetext an evolution meant keeping the core aspects that defined our brand, like the name, logo symbolism, and obvious color choice. Anything other would run the risk of appearing like an IHOB-level stunt. We love the name and meaning behind Bluetext. Just as when you apply a link to text the color changes to blue, applying Bluetext to your brand becomes the digital doorway to your brand. It highlights our digital focus and positions the agency as ambiguous to the multitude of services and specialties we offer. Aside from that, the name "Bluetext" is internally joked to be rooted in our project managers' love and developed muscle for hyperlinking, which we cannot confirm nor deny. 
Even with the core ingredients solidified, so many elements were up in the air for modernization. Bluetext's creative director, Kevin Galligan, led the charge with a redesigned logo to inspire the complete CVI & eventual website design.
Some key principles to remember during any sort of brand development are: 
Be associated with something 

Protect your identity 

Consistency is key 

Never say no to evolving 
For Bluetext, our brand identity centered around our logo icon, which previously formed the lowercase 'b' and 't' of the wordmark. We had become associated with this symbol, often adopting a shorthand abbreviation of BT, diving into the straightforward angles as a reminder of our values. But as the agency has grown, we felt it only fair the logo should grow up too. In this evolution, we were careful to guard our brand's identity and legacy, but apply stylistic tweaks to elevate the core designs. The lowercase style was replaced with a sentence case and a new font. The logo icon was upgraded to symmetrical angles that matched the new custom lettering, but still preserved origins within the 'B' and 't' angles.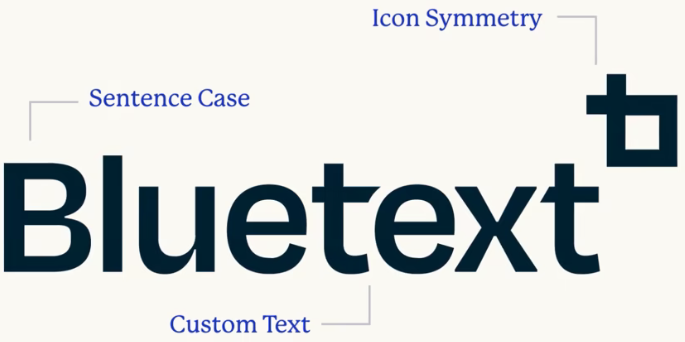 Minimal doesn't mean simple. The evolved logo is intentional down to every angle, which becomes leveraged throughout the pattern systems of the CVI. Leaning into our core logo symbol, the outlined shape became a pattern system repeated across our website & collateral.  The most noticeable change to the brand was the color shift from a light blue to a rich cobalt blue. In the spirit of consistency and honoring the name 'Bluetext', a blue-based palette was adopted. But monochromatic does not mean monotone. Our creative team took this rebrand as an opportunity to surge new energy into the secondary color palette choosing energetic aquas and navy tones, complemented by cream, white or black.
As a brand development agency, our evolved brand identity has made us all the more energized for the coming new year, and inspired to do the same for our clients. Could your company's brand use a little glow up too? Whether you're ready for an evolution or full revolution, check out what Bluetext can do for you.
There are no written rules when it comes to determining how to efficiently increase your company's enterprise value. Unfortunately, there is no one-size fits all formula for enterprise success. Simply put, the strategy will vastly differ for every industry, sector, and individual company. That being said, marketing has been proven as a cornerstone of any effective business strategy and critical in raising enterprise value.
Your marketing strategy dictates the overall market's understanding of what your business brings to the table, how you differ from your competition in the eyes of customers and investors, and perhaps most importantly, what the future holds for your business and how you intend to evolve as both the market and overall economy change. Whether your ultimate goal is to take your company public or take on capital investment in the near future, marketing will play a significant part in how you succeed. In this blog post, we'll discuss tips on putting together a sound marketing strategy and how this can lead to an increase in enterprise value. 
Understanding the Current Market and Its Needs
As you know, the competitive landscape is constantly shifting, and any dramatic change in the competition calls for change in your strategy. The first step to putting together an effective marketing strategy is to understand your company in its position within the current market. Customer tastes and expectations are constantly evolving, so being able to adapt to current market conditions is critical in today's economy. It's important to ask yourself: What is your value proposition against your competitors? Are you where you need to be to maximize value? Can customers quickly get the information they need and are questions and service issues resolved promptly? Ensuring you're meeting your customer's needs will set you up for long-term success and increase your value as not only a supplier but also in the eyes of any potential investors. 
When Government technology giants Octo and Sevatec decided to merge, they tapped Bluetext to guide them through a brand evolution, aligning both company brand identities into a new cohesive corporate visual identity. We worked hard to understand both companies' positions in the market and design a message and visual identity that aligned Octo and Sevatec's legacies under one united mission from both an internal and external perspective, increasing the combined entity's enterprise value.
Future-Proofing Your Marketing Strategy
While it's important to understand the current needs of your customers, it's equally important to take a look in the mirror and focus your marketing strategy on your company's future goals, both in the short- and long-term. What are your business goals and objectives? Do you anticipate a significant capital investment raise in the next 2 years? Or 5 years? It's imperative to make conscious, strategic decisions by beginning with the end in mind instead of simply letting tactics evolve.
When Arlington Capital Partners acquired three leading companies in the national security sector, they turned to Bluetext to develop and launch a new unified brand from scratch. In less than six months, Centauri was born. Following the launch of the brand and a successful integrated go-to-market strategy that included PR, digital advertising, and social media, the firm went on a contract-winning spree and in less than two years, was acquired by industrial engineering juggernaut, KBR, for $800m. With an understanding of Arlington Capital's goals from the outset, focused on raising the enterprise value of a combined entity, Bluetext was able to build a comprehensive marketing strategy that achieved the PE firm's wildest dreams.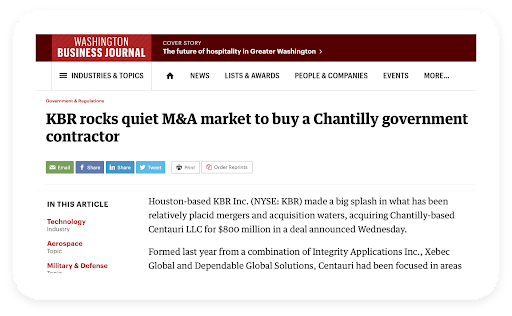 In Marketing, ROI is Everything
Let's be clear, marketing can be an expensive undertaking. When you think about the various marketing tactics you can choose to include in your marketing strategy, consider every channel including but not limited to: direct marketing, public relations, digital marketing, advertising and promotion, and trade shows. While it would be great to put a significant budget toward each of these channels, that just isn't feasible for the majority of companies out there. Just like you would diversify your stock portfolio, you should also diversify your marketing efforts, especially when starting out. Be smart about where you decide to invest your marketing dollars but don't be afraid to commit to a research-driven marketing strategy.
Discuss internally the pros and cons of each channel, especially in the context of your competitors, industry, and customers, both existing and future. Additionally, determine if you can handle the execution of these marketing channels in-house, or if it may make sense to hire a marketing agency like Bluetext to take some of the load off of your internal team. Most importantly, however, is to establish clear metrics designed to capture ROI for each channel you decide to invest in and keep your internal and external teams accountable to them. Diversifying your marketing mix is the best way to ensure you're increasing your brand awareness across a variety of customer-facing touchpoints, which will lead to an effective increase in perceived enterprise value from an investor perspective.
In Conclusion
There is no one-size-fits-all approach to marketing. That being said, having a strong understanding of your market, customer base, and short- and long-term business goals will strongly inform your marketing strategy and put you in the best position to succeed in increasing brand awareness, customer acquisition, and overall enterprise value. If you're in need of support in putting together a comprehensive marketing strategy or a marketing partner to execute an already determined strategy, consider contacting Bluetext. For more than a decade, Bluetext has helped companies and private equity firms raise enterprise value. We specialize in planning, developing, and executing effective brand transformations to exceed business goals, with our clients benefitting from our deep creative expertise, seamless strategy, and innovative way of problem-solving. 
Every brand is a story, and marketing is your one chance to tell it. Storytelling has always been a successful way to connect brands with their audience because it creates an experience that people want to buy into. But the unfortunate truth is most adults don't have much availability or attention for storytime like we once did as children. Competition for consumer attention has grown with the seemingly endless information and content that bombards us daily. The solution? Cut to the chase, SparkNotes it if you will. It is most effective to be concise, and engaging, and build a feeling that a consumer can buy into through micro-storytelling.
Micro-storytelling highlights what is truly important and showcases the small ideas that make a brand unique in under 30 seconds. Create a voice for your brand. In a sea of stories, you want to stand out. Catch people's attention with vibrant colors, and an intriguing tagline, or start your video with a hook that will engage your audience. Make them pause their scrolling and soak in your information. Connect with them so they want to buy into your brand.
With micro-storytelling, the goal is not to fit everything into one video or post but to promote many smaller pieces of content that can easily be consumed at various touch points to tell potential customers what your brand stands for. Audiences want to get through information quickly, especially if they are new customers who are not yet invested in learning more about your brand. Micro-storytelling introduces people to your brand and sparks that initial interest. It's the perfect teaser to either engage with your brand or share your information with others. It also gives new customers a way to quickly learn more about you, by encouraging them to visit your website or follow your social media accounts.
Four Fundamentals to Help You Create Micro-Stories for Your Brand
Know Your Audience
With micro-storytelling being so concise it is important to convey a tone and message that resonates with your target audience. It is essential for brands to target specific audiences and their specific needs, with a specific message. To create a successful micro-story you must research and gather information to better understand your audience and how you can authentically connect with them. Creating a trusted bond with your customers extends beyond a simple transaction, it works to build a community.
Tap into Visuals
While text helps to tell your story, visuals are a powerful way to communicate quickly with your audience. They must be eye-catching and aesthetic, and showcase your brand or products in a way that supports your brand's story and values.
Cut the Fluff
Think of how the information you are presenting will be received by people quickly scrolling. Keep it simple. Avoid meaningless details that distract from the overall message. Use short and simple words.
Leave Them on a Cliffhanger
Try not to be definitive with your narrative's ending. For example, when you go to post about an upcoming event or product launch, announce it in a way that teases what is coming soon. Not only does this save space and time, but it leaves your story open for interpretation and gives customers a chance to think about your brand or come back later to find out more.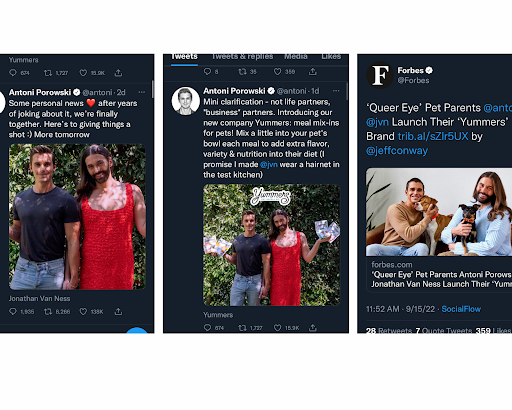 Three Effective Ways for Your Brand to Promote Micro-Storytelling
One of the most powerful ways to convey your message in an engaging way is through video. Instagram stories, Tik Toks, or other short-form videos provide an opportunity to convey your story in a short time and continue telling it over time. It also gives you an opportunity to tell your story through unspoken visuals. Think of who is representing your brand. What story is being told by their appearance, tone, and body language? Even what they wear can convey something about your brand story.
Social Media Updates
Another compelling way to promote your message is through social media updates. Twitter is a really valuable tool to enforce condensed character counts, which limits brands messaging into more digestible sections. This platform is also adept at piecing content into multiple updates which can be displayed throughout your timeline. This gives users a train of thought to follow the subconscious urge to continue to scroll down and piece together multiple micro-stories.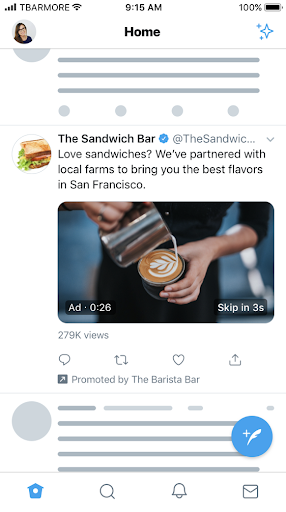 Infographics
Using infographics to tell your brand's story creates an effective and digestible way for your consumers to get a lot of information at once. Infographics quickly highlight key takeaways using images and charts. Visuals accompanying text promote higher engagement. With important information involving statistics and facts, infographics help users absorb information with ease.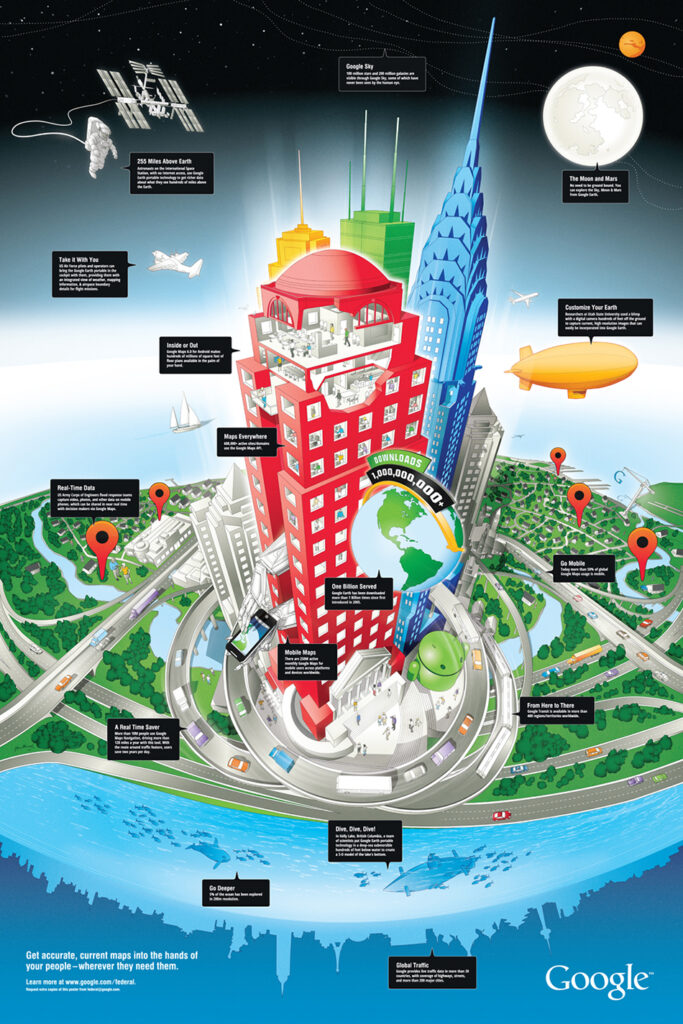 Micro-stories are just one block of the overarching brand story and when executed correctly, these micro-stories create a powerful message that resonates with consumers.
As a full-service digital marketing agency, Bluetext offers multiple services that can help your brand tailor content to meet customers' expectations. Connect your stories to your customers. Contact us today to learn more about our messaging and content marketing services.