Annual trade shows are often the biggest events of the year for brands hoping to make connections, network with players across their industry, identify new solutions for their business, and generate solid sales leads. The Bluetext team has vast experience with association conferences and trade shows, generating attention for our clients, arranging media interviews and coverage, crafting the creative approach for their floor space, and publicizing their successes.
For our trade association clients, we work with them to help market their shows, growing their attendance and revenues through sophisticated, multi-platform outreach campaigns. One of our premier clients, the National Retail Federal (known as NRF), has been holding The Big Show for more than a century. We have worked with NRF for several years, starting with its Big Show for 2017 and this week attended NRF 2018 in New York City to see how it came off.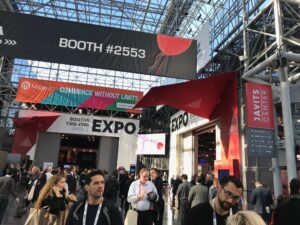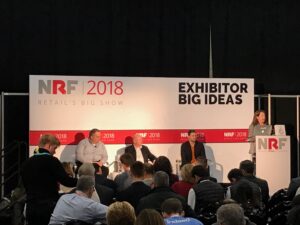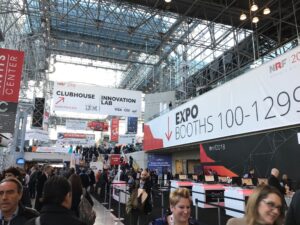 The theme this year is "Transformation," and speaker topics centered around the retail industry's need to transform itself in the wake of the digital revolution in retail sales. We developed the creative approach for the show and the marketing activities generating attendance. It is the retail industry's largest annual gathering, and as the agency partner responsible for generating registrations and revenue, we are proud to say that this year, the show attendance was bigger than ever – and exceeded NRF's registration and attendance goals.
As part of the creative approach to this year's event, Bluetext created a "Transformation Ribbon" of deep red that can fold and unfold with digital GIF video that works across the show website, and through static images on emails and signs. For The Big Show itself, we designed a three-dimensional version that would pop among the attendees at the Jacob Javitz Center in New York City.
On the other side of the continent, Las Vegas played host to the annual Consumer Electronics Show, which is a massive gathering of the industry to show off the latest electronic devices, ranging from big screen TVs to driverless cars to commercial and hobby drone to everything in-between. The Bluetext team was there to help several of our clients reach new audiences and get attention for their products and solutions. The one thing to say about CES is that it's cool, and that was most evident in the variety of new consumer electronics that was on display.