B2G public relations is a difficult challenge under the best of circumstances. Both technology companies for which the government is an important vertical and those that are solely focused on government agencies struggle to find customers who are willing or able to participate in media outreach on behalf of their vendor. In many cases, the programs themselves may be confidential or classified, while in other situations, program officials are reluctant to be seen as endorsing a specific contractor.
At Bluetext, we've found B2G public relations workarounds for our clients who sell to agencies at the Federal, state, and local level: Talk about the government customer as a hero and innovator rather than pitching a story about the contractor's solution. While agencies might not want to talk publicly about a contractor's software or cybersecurity platform, they are much more willing to talk about how their own team members have found innovative ways to solve agency problems.
This was exactly the challenge – and solution – Google's public sector team was facing when it wanted to broaden its base of federal, state, and local business. Bluetext created a comprehensive "Gov Transformers" program that identified program managers at all levels across the United States who were solving technology and program problems with state-of-the-art technologies, "transforming" the way their agencies were doing business.
Our first step was to design a series of promotional "cards" that could be both physical for trade shows and digital for online marketing campaigns. Each card displayed a provocative statement on the front and included a stylized image of the individual on the back together with a description of the challenge and solution.  The stylized image was a visual treatment that rendered photographs into a similar type to attract attention and – more importantly – to "standardize" the images in order to compensate for different cameras and quality of each image.


The next step in our approach was to create a microsite repository of customer "hero" stories in the form of a lead-generating campaign with several interactive features. Each case study was tagged by type of solution and location so that searching was easy and intuitive. We sent our professional photographers to capture each individual with a more formal approach and made those images the homepage of the website: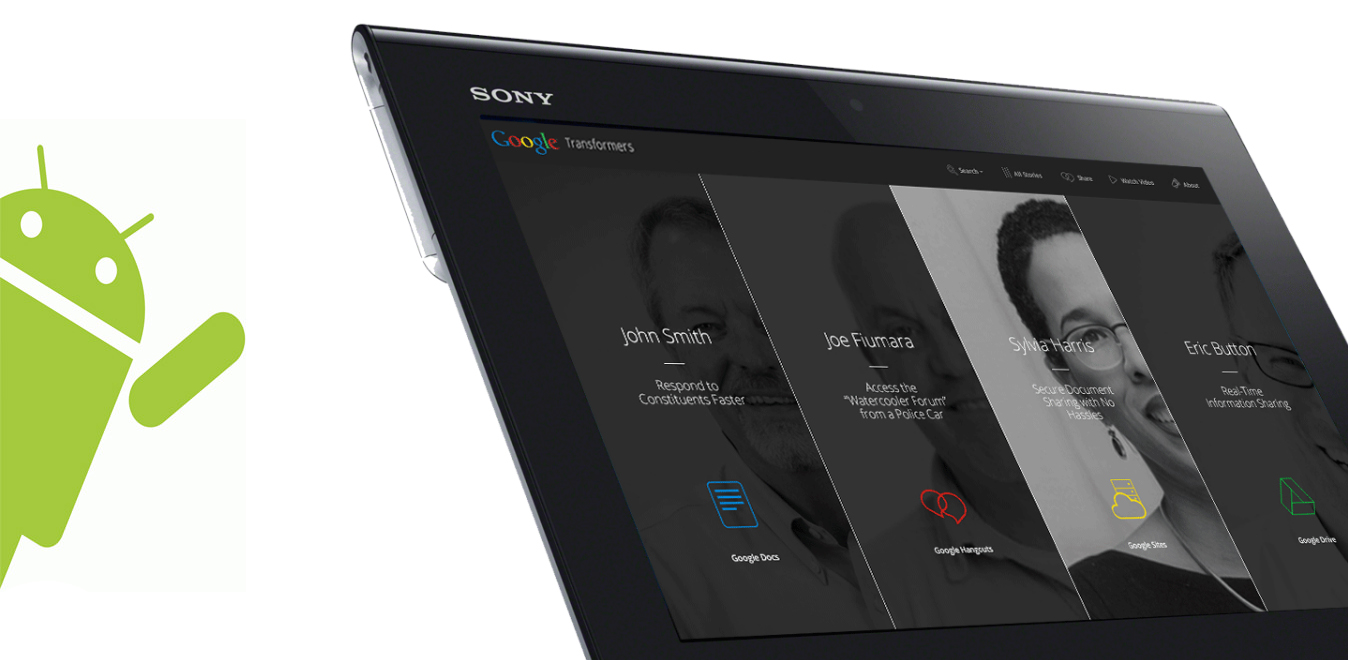 The website was not only used for driving leads among government customers, but it was also pushed out to media as a bank of customer case studies that were packaged together and ready to go. The Gov Transformers campaign achieved several important goals. First, it presented a way to get the Google technology story out without violating any restrictions. Second, it made the government customers feel proud about they had achieved, and gave them the recognition they most often never get. And third, it built up a bank of media-ready customer case studies to power B2G public relations activities.