In recent years, leading branding firms and marketers have used brand storytelling to create interactive and empathetic experiences for users throughout their purchase journey. By creating a relatable experience, users see brands and companies as groups of real people working to solve real issues rather than faceless entities. Although popular with many B2C companies, brand storytelling in the B2B world is not only possible but encouraged! In fact, 50% of B2B buyers are more likely to buy if they can connect emotionally with the brand they're buying from. 
As a leading branding firm, we've worked with countless companies to use brand storytelling as a way to humanize and socialize their messaging. Keep reading to learn more about how B2B companies have used storytelling to humanize their messages and how a leading branding firm, like Bluetext, can help you craft yours.  
Hewlett Packard
Many B2B companies run into the same issue when crafting their brand's story: density. For many enterprises, educating users on their products and services can seem daunting – but it doesn't have to be. In their "The Wolf" video, HP addresses a topic that, to many, is seemingly dry and unexciting. With thoughtful execution, however, HP was able to create an attention-grabbing and informative video with Hollywood's favorite good vs. evil plotline. By creating this short film, HP was able to engage with their audience and create a malicious character that represents the issues companies without printer security face.
With a leading branding firm, companies can work to not only get their brand's story and message in front of the right people at the right time, but they can do it in a way that grabs the prospect's attention.
Paya
When Paya – a revolutionary payment solution software company –  needed a leading branding firm to help refresh their visual strategy, brand ecosystem, and CVI, they turned to Bluetext. As a part of this brand evolution, Bluetext and Paya worked together to highlight Paya's mission and goals, through the eyes of their star team. 
By introducing their various offices, employees, and everything in between, this story gives users a look past Paya as a corporation and demonstrates the motivated and gifted individuals working together to solve various customer problems. By exemplifying their strong corporate culture, businesses further found Paya as a reliable and trusted partner.
Varonis
Varonis turned to Bluetext to help position the company with C-level executives who are unaware of their enterprise risk by not leveraging solutions to understand who has access to the data their enterprise relies on. Together, Bluetext and Varonis created a two-part campaign to highlight enterprise exposure of sensitive information and to educate executives on insider threats.
By infusing these campaigns with humor, our teams were able to elicit a positive response from viewers, while staying true to the principles of Varonis' overarching message.
Zendesk
For new brands especially, finding the right story to tell can be very difficult. B2B storytelling doesn't always need to be real. Zendesk, for example, created a fake, semi-grungy band named "Zendesk Alternative" and even created a website for the band. By using this direction, Zendesk was able to bring more users to their website and further educate them on the problems Zendesk is solving. This approach, although certainly nontraditional, was widely appreciated by users for being so out of the box and unexpected.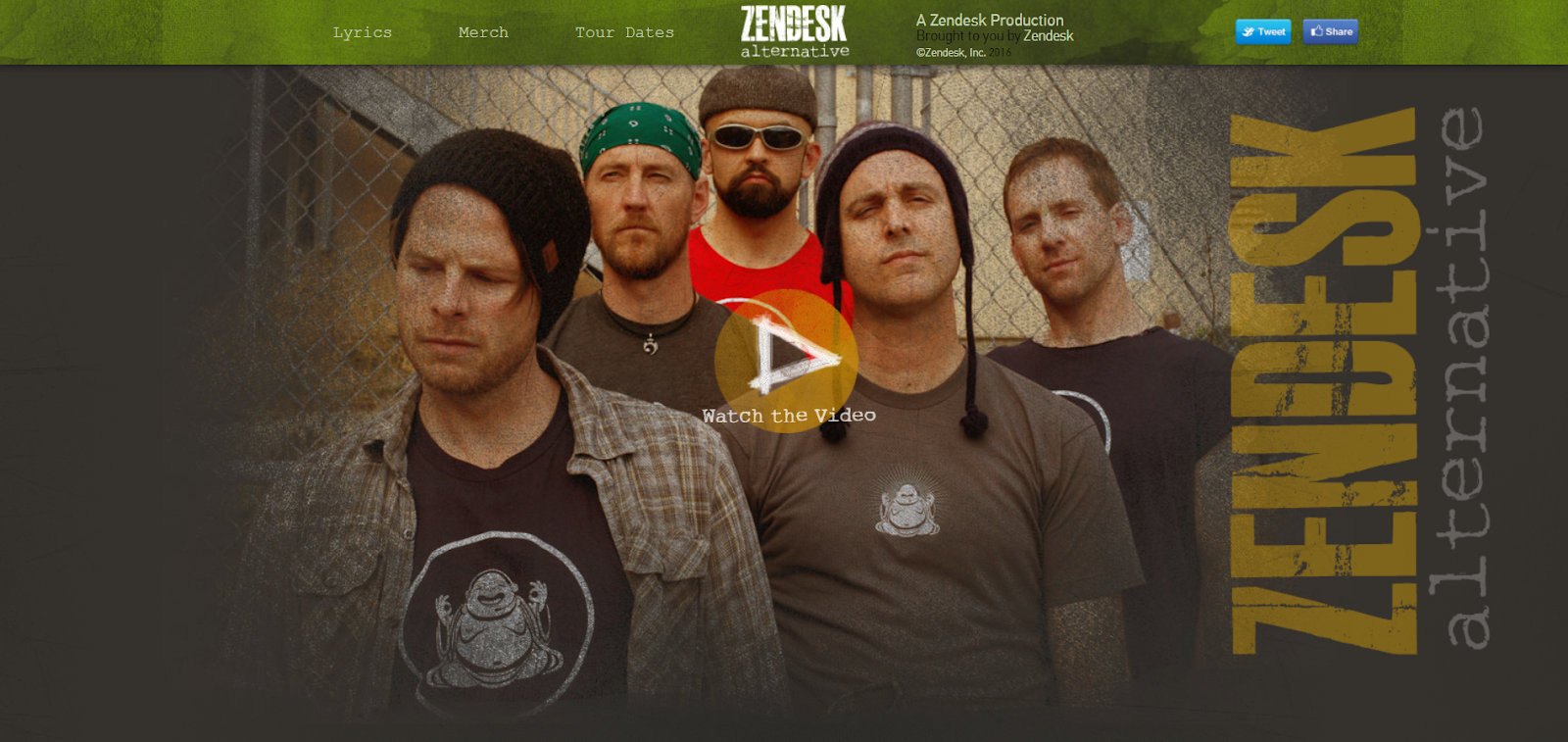 With thoughtfully planned out and carefully executed campaigns, we've been a part of some of the biggest successes in brand storytelling. A good story is multi-layered and lets your audience know more about your brand and what it stands for. By sharing your brand's story, you let your current and future customers see your company as a group of hard-working, motivated people who are committed to solving inefficiencies and business problems. 
Interested in working with a leading branding agency to help tell your story? Contact Us!