In our modern world, nearly all marketing campaigns integrate some level of digital communication to broaden their reach across their target market. But technology is changing so fast that it can be difficult to keep up with the latest and greatest. And let's face it, trends have an expiration date. So how do marketers know what digital assets will be the most effective for their campaigns and how do they know what will stand the test of time? Let's take a look at some digital marketing trends with timeless potential:
1. Quality UX
With more and more digital users every year, it is more important now than ever to make your presence known in the digital sphere. Though, checking off the box for "having a website" doesn't mean that you can sit on it and let it be. It is important to ensure that your website continuously provides a quality user experience for your end-users to keep them coming back and that it appears modern and relevant to new users. 
Whether you are looking to update the look and feel of your website every two or three years, or keep your content strategy up-to-date every few months, it is important to connect with a digital marketing agency, like Bluetext, who can work with you to create a well-informed and exciting new website plan. Digital marketers can work with you to keep your thought leadership up to date, create a new digital brand presence, and develop a smart, sustainable navigation strategy to ensure that your users are able to find what they are looking for on your website. User experience is a broad discipline, with many proven principles that should lay the foundation of every unique design. Quality, well-informed UX will help drive leads, make conversions, and ultimately boost revenue for your business.
2. Virtual Events
We know that the coronavirus pandemic led to a hunkered-down workforce, many working from the confines of their makeshift home offices and connecting with coworkers and clients virtually. Large-scale events were unimaginable and virtual events quickly took their place.
Virtual events are exactly what they sound like ― virtual. This means that attendees don't need to travel to attend a virtual event as they can enjoy them from the comfort of their own homes. No venue means no geographical constraints and the elimination of travel expenses. Attendees can join from all across the country, and all around the globe without costing their companies a dime.
Virtual events also allow companies to shift their budget away from venue fees and reallocate it toward production costs for their event. High-quality production captures and sustains attendee attention. If your event is lacking in production value, your attendees will be more inclined to spend time on their email instead of participating and actively listening to your hosts and guests.
See how SonicWall successfully garnered a 135% increase in attendance over their previous high-mark partner event. The high-quality production of pre-recorded videos, a custom website with a quasi-live experience, and motion graphics all worked together to untie attendees in a shared interest no matter their physical location. 
3. Augmented Reality
For a few years now, brands have been experimenting with augmented reality to help place their products directly in front of their potential customers. For example, Wayfair and other furniture companies have an augmented reality feature that places a new piece of furniture directly in your space, allowing you to see how it would fit before making the purchase. Warby Parker leverages augmented reality to show consumers how a new pair of glasses may look without going into the store to try them on or waiting for their at-home try-on box to arrive.
Augmented reality truly allows brands to revolutionize the way consumers interact with their brands, and ultimately their products. And if you're thinking, 'that's neat, but only for flashy consumer brands' you might want to think again. B2B companies are adopting and innovating on the trend to make this technology applicable to their offerings. Because, why let consumer brands have all the fun?  
Bluetext worked with AppGate to provide an immersive augmented reality experience at RSA® Conference 2020, the world's leading information security conference in San Francisco. Bluetext conceptualized, designed, developed, advertised, and coordinated the ground-breaking Kill Your VPN campaign and augmented reality booth experience to help AppGate stand apart from the 658 other exhibitors in 2020.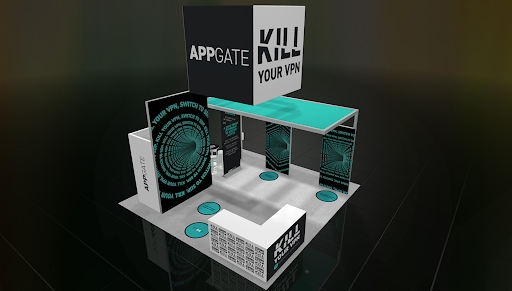 4. Content from Micro-influencers
The influencer marketing industry was worth $8 billion in 2019, and it is estimated to grow to $15 billion over the next two years. But according to Kali Ridley, a marketer on Google's Brand Studio team, the future lies not with megastars and their millions of followers; it's with micro-influencers.
Micro-influencers are those with smaller followings, somewhere between 1,000 and 10,000 followers, who are able to form a community within their reach and share messages that will resonate with their fans. More and more, marketers are discovering relatability outshines star power. Relatability feeds directly into trust, therefore, creating a much stronger argument for your product or service. 
LinkedIn has undoubtedly made changes to its platforms that enable these micro-influencers to make a further impact. The new "Creator Mode" for LinkedIn allows users to pin specific hashtags to the top of their profile to signify the themes they frequently post about. With creator mode enabled, the presentation of profiles is altered to emphasize the hashtags directly under job titles. Additionally, users can "Follow" these influencers rather than adding them to their personal networks. Now instead of feeling uneasy sending network invitations to a complete stranger, users can follow their favorite thought leaders just as easily as on other social networks.
These small changes in the social media platforms signal that micro-influencer marketing strategies are worth the investment and aren't going anywhere anytime soon.
If you want your brand to stand out and succeed today, and tomorrow, consider getting in on any of these trends. Each of the four above have a promising future of long-term success. As a digital marketing agency, Bluetext expects these trends to be adopted by many companies over the coming years, and only improve with iterations on previous success. Contact Bluetext today if you're interested in a future-focused marketing strategy.
Have you been searching for the best way to compete in the new frontier of web design? Do you need to stand apart from your competitors in a big and bold way? Well, here's your answer: motion design.
Motion design refers to anything from an animated logo to subtle motion on a website. But why is it worth investing in? Let's take a look at how custom animation can yield much stronger ROI than static graphic design or leveraging stock animations.
Motion is Memorable
People are more likely to remember something that moves. People spend 2.6 times longer on webpages that have videos than ones that don't. Motion design is ideal for marketing because it's design + messaging + memorable movement, all in one piece of content. It's a golden trifecta for a brand's first impression. Think kinetic typography in hero zones, micro-interactions in UI and CTA buttons, explaining your tagline through an animated logo, or even a full segmented-explainer-video-landing-page experience. These motion integrations will not only catch a user's eye, but sustain their attention on page long enough to peak interest.
The PLASTICS Industry Association turned to Bluetext to develop a full new brand system for their triennial trade show, NPE®. Within the new CVI, Bluetext developed a logo animation that could be incorporated into the new video assets and onto the new website. The logo, which leverages a globe design, animates each individual element of the globe to form into one, highlighting how NPE brings together plastic industry professionals from around the globe.
Motion Helps Tell Your Brand Story
While, yes, motion design gets (and keeps) attention, it also tells a story. If a user is watching and absorbing, they are tangibly engaging in your message. A static design doesn't allow you to express your brand to its fullest potential.
For SonicWall, Bluetext incorporated a parallax effect that follows the user's cursor as they move it across the page. This subtle movement brings the visuals to life, making the focal point really feel like it's floating, or in the case of SonicWall, boundless. SonicWall used this effect to bring their metaphor of Boundless Cybersecurity to life and fully engage users in a big way.
Motion Brings Your Brand to a New Level
Motion design brings your brand to life in ways you could never imagine. Take static brand elements and transform them into tools for storytelling. When Appgate turned to Bluetext to establish a new brand and help bring the company to market, we took their new brand and created a 30-second product video marked exclusively with animated brand elements. It was memorable, clean, and told the story of who Appgate is and where they are heading. Appgate truly got the most out of motion design by also integrating subtle animation into their website. Pairing a memorable and exciting video with recognizable animated elements on the website truly reinforces the branding and creates a memorable experience for the user.
Interested in getting the most out of motion? Contact Bluetext to learn more about our video and animation services.
There's a reason why it's called social media. People are connecting digitally, so naturally, there will be some level of engagement incorporated into social media platforms. Without engaging activities such as liking, commenting, or sharing, posts are simply just media, which from a digital marketing perspective, doesn't hold much value for improving brand awareness and engagement.
So why is social media engagement important and how do you set your brand up for success in the social media sphere? Well, we first need to understand what engagement is.
What is social media engagement?
Social media engagement is a measure of how people are interacting with your social media accounts and content. Say you post a piece of thought leadership on your company's LinkedIn account. That's great, but once you hit "Post" that content is sent out into the social media ether and onto your follower's device screens without much visibility into their reactions. This is where engagement becomes crucial; it provides valuable insights. The term can cover a broad range of actions across any social platform on a piece of content. For example, engagement might include:
Likes and Favorites

Comments, DMs, Replies

Shares and Retweets

Saves

Clicks

Mentions
These metrics give you insight on which posts are resonating most with your audience. Though, engagement is also crucial for how your overall brand is perceived by social platforms themselves.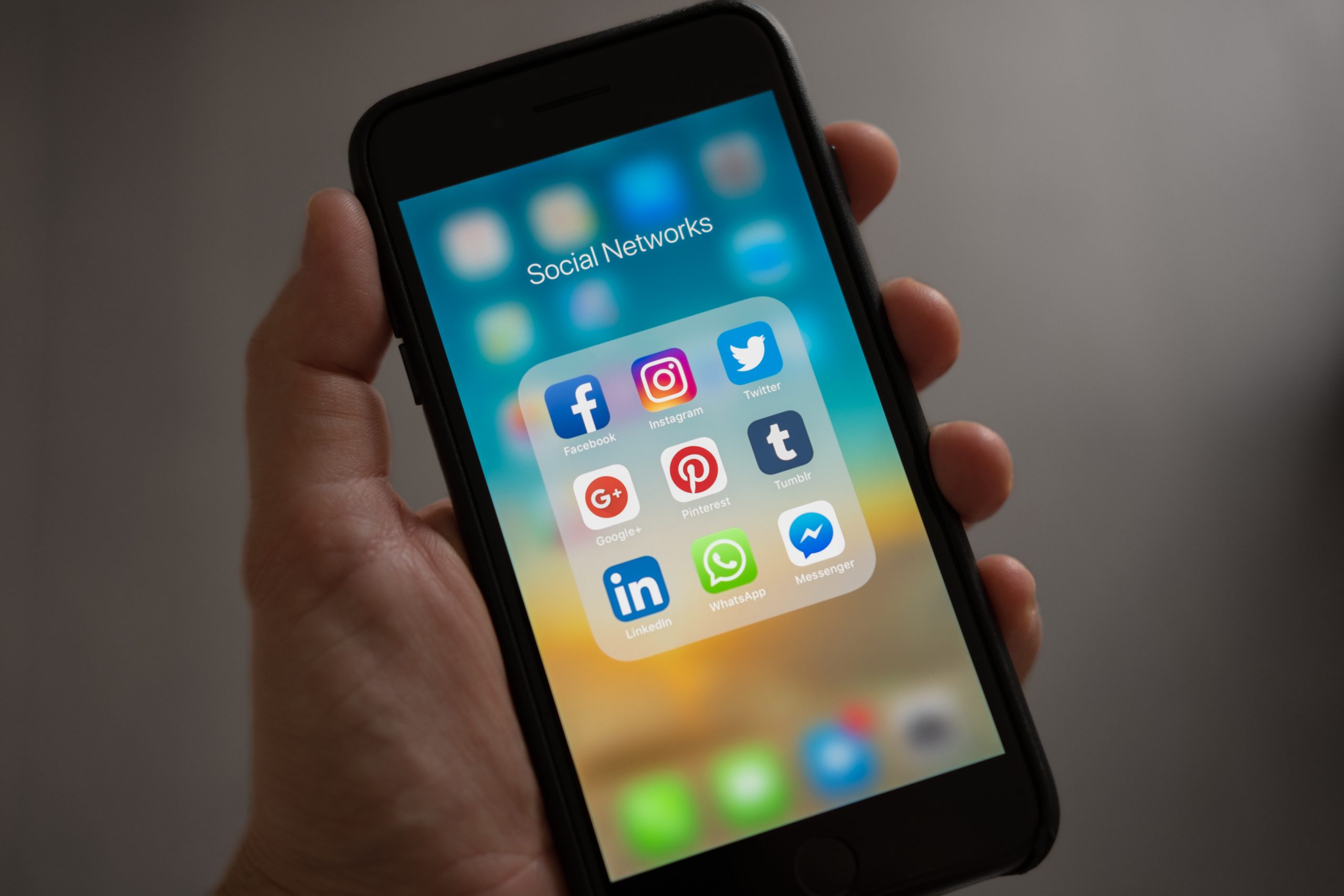 Why is social media engagement so important?
Engagement is so important because, frankly, social media platforms say so. Social sites have built algorithms to place the most relevant content for users in front of them, and they continue to get smarter as users continue to engage with content. Likewise, posts that get higher levels of engagement (both in numbers and in meaningful interactions) will be prioritized over those with simply the most likes.
As Facebook explains, "Interacting with people is associated with a greater sense of well-being… On the other hand, just scrolling through your Facebook feed, passively reading or watching without interacting with others, tends to make people feel worse."
How do I make meaningful content?
The first step is understanding that there is not a universally correct answer for "meaningful content". Meaningful is subjective, so it's important to consider what specifically would be meaningful to your audience.  To keep your engagement on the rise, you need to invest time into your social media strategy. Digital marketing agencies, like Bluetext, are particularly skilled at identifying, researching, and marketing toward your target audience, giving you the avenue to boost your engagement.
Here are three quick steps to help boost your engagement:
Be social.

You shouldn't just post something and not engage with your audience, especially after they put in the time and effort to respond to you. Take the time to reply to messages, comments, and engage with other brands online.
Have a consistent voice.

Remind yourself that different audiences prefer different styles. Take a look at your target audience and establish a voice that may be most interesting to them and less so your personal taste.

Know the social algorithms.

Make sure you understand how the algorithms work on the different platforms to ensure you are taking advantage of how they operate. For example, some platforms,

such as LinkedIn

, factor in the timing of engagement on posts with how great the reach will be. Others,

like Instagram

, don't incorporate timing into their algorithms.
Looking to boost your social media engagement? Request a consultation with Bluetext today to see how you can expand your reach.
Large-scale, in-person events have all but vanished since the pandemic rocked our world just a year ago. It seemed that nearly all hope was lost for event marketing ― but then came virtual events.
Over the past year, virtual events have provided companies and organizations the opportunity to host their events in the digital sphere, often attracting far more attendees than their in-person events. These virtual events provide hosts and attendees with opportunities that physical events simply can't. 
No venue, no problem
Virtual events are exactly what they sound like ― virtual. This means that attendees don't need to travel to attend a virtual event as they can enjoy them from the comfort of their own homes. No venue means no geographical constraints and the elimination of travel expenses. Attendees can join from all across the country, and all around the globe without costing their companies a dime. 
See how SonicWall successfully garnered a 135% increase in attendance over their previous high-mark partner event.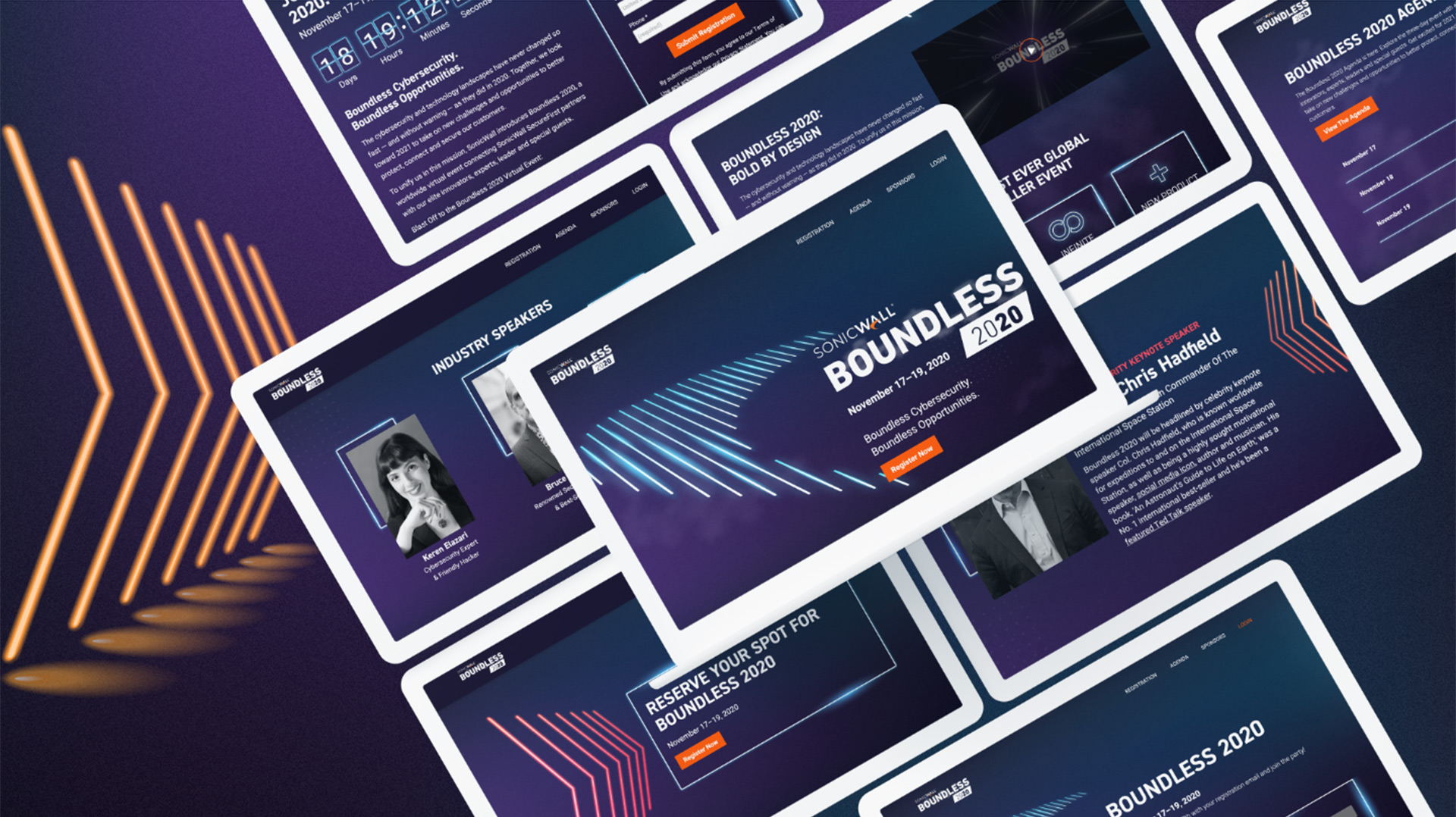 High-quality production for higher retention
Virtual events allow companies to shift their budget away from venue fees and reallocate it toward production costs for their event. High-quality production captures and sustains attendee attention. If your event is lacking in production value, your attendees will be more inclined to spend time on their email instead of participating and actively listening to your hosts and guests.
Equipped with Citrix brand assets, Bluetext designed a fully-customized virtual event experience for Citrix Boot Camp, marked by live video playback, a resource center, and extensive tracking to provide an interactive and enjoyable online UX. See how Bluetext worked with Citrix to bring their networking event to the digital sphere.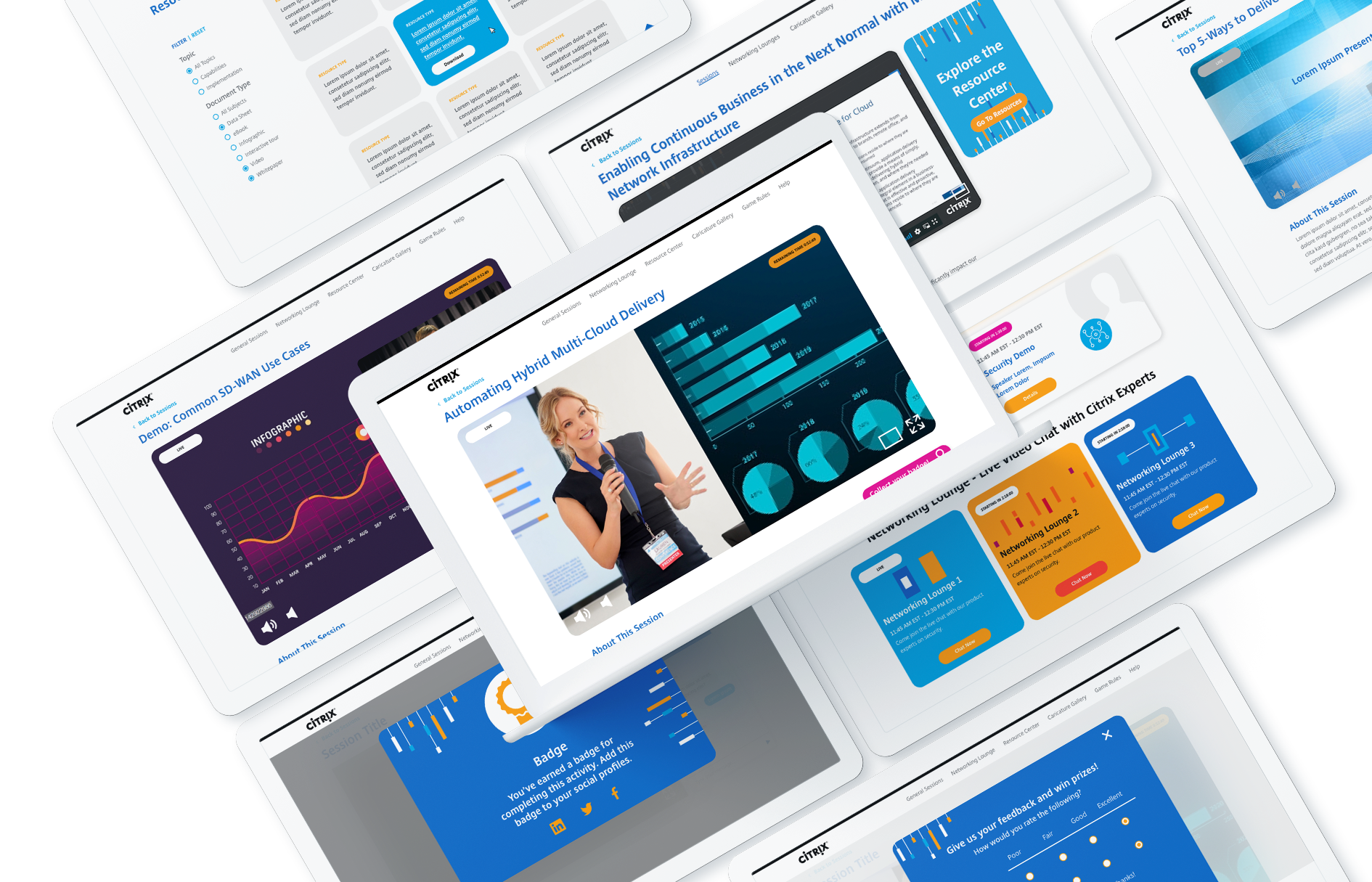 The restriction of in-person events was once seen as an obstacle, however, the recent success and advantages found in virtual events have brought new opportunities and exposed flaws of previous systems. Virtual events aren't going anywhere anytime soon. Even post-covid, the virtual event will continue to be a key component of event marketing and management where nearly all events will be hybrid, and many still fully virtual.
Watch Bluetext founder, Jason Siegel, discuss the future of virtual events with Travelocity Founder and keynote speaker Terry Jones in this week's Virtual Marketing Minute.
Read Part 1 of our Behind the Scenes of Citrix Boot Camp here.
After a tight two-and-a-half-month turnaround, the teams had done it – Citrix Boot Camp: Build a Ready-for-Anything Network was a success! The original goal was met as Citrix hosted a completely seamless and completely virtual networking experience. Citrix was able to offer its attendees the same quality of content and connectivity as an in-person event. This blog will discuss what new-found virtual empowerment means for long-term business goals, but first, Bluetext is proud to share some immediate virtual event tracking metrics… 
How Successful Was the Virtual Event?
The Virtual Event platform and marketing campaign delivered an engaging, data-rich and interactive digital experience that the Citrix audience (and revenue stream) loved. On Thursday, August 13th, 2020, Citrix Boot Camp: Build a Ready-For-Anything Network, succeeded in the following ways:
Unique web visitations: 2,317

Average page duration: 33:24

Bounce Rate: 37.9%

Total page views: 22,608

Average page views per session: 7.6
Bluetext was able to leverage additional reporting tools including:
Social Media engagement with an official event hashtag

Survey data related to the relevance and effectiveness of the speakers, sessions, and resources

Transcripts from live Networking Lounges Q&A 
Why This All Matters for Citrix?
True, the virtual event surpassed the metrics defined by the Citrix team. However, the real success came from the fact that Citrix was able to accomplish this at all! In-person marketing teams had the rug pulled out from under them when lockdown went into effect in Q2 of 2020, but lead gen was expected to continue despite familiar tactics being crippled for the foreseeable future. 
Nevertheless, businesses reinvented themselves at every opportunity. A virtual event signifies that brands can keep moving forward, offering delightful digital-first experiences for their audience wherever they are in the world or sales funnel. Connecting people is now harder than ever, but Bluetext's Virtual Event team helps enterprises build human relationships and drive growth. 
Where are they Now?
Bluetext and Citrix are both working hard to continually improve the reach, capabilities, and user experience of the next virtual event. However, the Citrix Boot Camp: Build a Ready-for-Anything Network is still alive and kicking as an on-demand platform through November 14th, 2020. 
Interested in learning more about Bluetext's Virtual Events? Contact Us!
There's no doubt that the past five months have looked quite different from what we're used to. Each day, we log onto our computers, join video conferencing lines, and do our best to make this new virtual work-from-home experience feel as in-person as possible. Day to day social situations may have been put on pause, but business certainly has not. Happy hours with coworkers? Via Zoom. Pivotal presentations with clients? Via WebEx. In-person large events and seminars? We have a solution for you.
Just two short months ago, Citrix turned to Bluetext to help bring one of their networking events into a completely virtual space. The Citrix team had one goal: create a seamless virtual experience that provided the same quality of content and connectivity as an in-person event.
With only six short weeks to build a fully custom microsite complete with new, event-specific branding, Bluetext hit the ground running.
First, came the wireframes. In order to fully understand the user journey, the Bluetext UX and design team worked closely with Citrix to understand their virtual event goals, which included providing a seamless user journey and navigation. Just as each in-person event has a lobby, there needed to be a 'home dashboard' where users could easily access all relevant sessions on the day of the event. With a maximum of eight general sessions, we explored a few different possibilities for displaying the session information.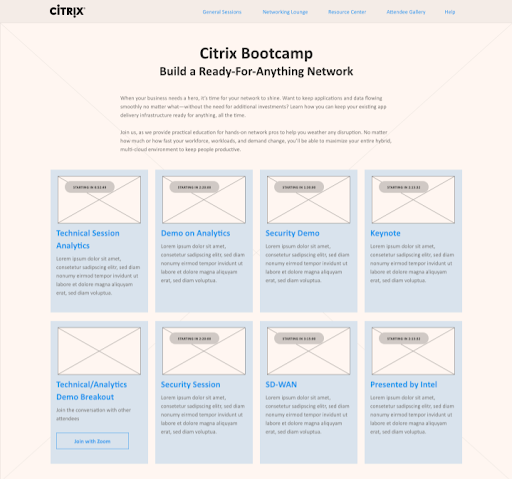 Ultimately, we landed on our two-column grid with a featured keynote session. This enabled us to include as many relevant details as possible, including a countdown clock that would show a user how much time was remaining until a certain virtual event session begins. Think of an in-person event: any attendee would have been provided an agenda of events, along with locations and maps. The same guidance and resources need to be readily accessible in a virtual event. Through the selected UX, the homepage of Citrix Boot Camp could provide a high-level overview of the event's itinerary. We explored a grayed-out 'completed' state for each session, which gave users the signal that the session has completed.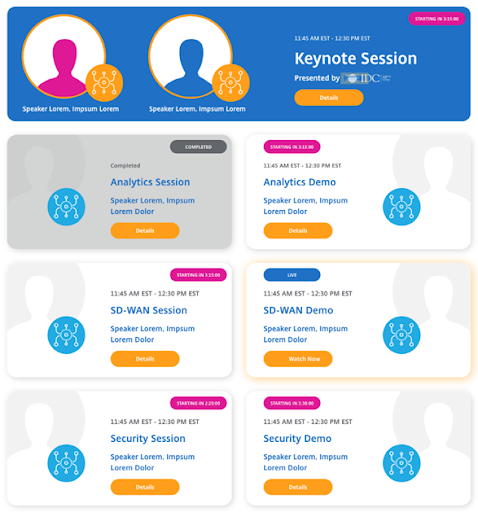 Not only was it important to create simple and seamless UI and UX that would provide all registrants an intuitive experience, but it was just as important to make the event feel as lively as possible. With no physical event staff to welcome, direct, or answer questions, the website had to serve any and all personal touches one would expect.  Bluetext designed a pair of pre- and post-event thumbnails to display before and after the live video play to transform the event microsite into an exciting and lively virtual space for all registrants.
Once we had a beautiful site ready for build, our team began to work through a major development goal of the site: the live-video playback. Our team leveraged the Zoom integration to provide live Q&A sessions for registrants to engage directly with Citrix representatives. This gave users the traditionally intimate networking experience that is generally lost when transitioning events into the digital world.
Read Part 2 of our Behind the Scenes of Citrix Boot Camp here.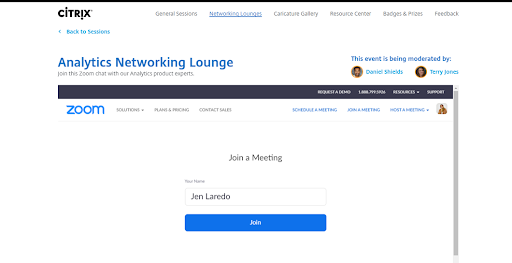 Looking to reinvent your company's event experience? Bluetext can help. Contact us today.
With polaroids and vinyl making a comeback and tiny sunglasses making their appearance on the fashion scene once again, the trends re-emerging over the past few years have solidified the value and power of nostalgia marketing. Regardless of if you are a millennial looking to relive 90's fashion, or a parent reminiscing about the good old days, nostalgia has something special to offer all customer groups – and that's why it is such a powerful marketing tactic.
A Jump Back in Time
Nostalgia marketing has been leveraged by brands from all industries. By tapping into positive cultural memories from previous decades, companies can drive energy into their modern campaigns and build trust for new ideas and brands. These campaigns allow companies of any age and background to link their brand purpose with old ideas to evoke feelings of security, comfort, and engagement in their audience.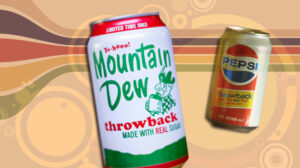 But why does nostalgia marketing work so well?
Science Daily reported that when people feel nostalgic, they tend to spend more money. When people have higher levels of social connectedness and feel that their wants and needs can be achieved through the help of others, their ability to prioritize and keep control over their money becomes less pressing. Naturally, this makes for the perfect sales and marketing tactic.
Let's take a look at four companies that have leveraged nostalgia as a marketing strategy to boost sales and brand awareness over the past decade.
General Mills
In 2011, General Mills partnered with Target to introduce retro cereal boxes in their stores. The cereal company released limited-edition box designs for some of their most iconic cereals, recreating the original packaging from the years they were released. Not surprisingly, the sales results were astounding.
The plan not only showed how deeply the brands connect consumers across all generations but also gives today's parents the opportunity to share memories from their own childhoods with their kids. The campaign has since transformed into an annual one, where sales [doubled] over the first year.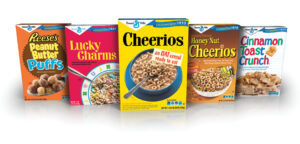 Adobe
Regardless of if you were around in the 1980s to experience the ingenuity of Bob Ross, you surely will recognize him after he surged to popularity again in 2016. Adobe rode the wave of the Bob Ross meme and leveraged the iconic artist's resurgence, creating a series of tutorial videos to promote their "Adobe Photoshop Sketch" application for the iPad Pro.
Not only did this ad campaign leverage nostalgia marketing to promote Adobe's new app, but the campaign also took advantage of the trends at the time.
Swiffer
Now, brands don't need to only use visual branding to evoke feelings of nostalgia. Music is a very easy and straightforward way to instill the feelings of comfort and happiness in your audience.
One very memorable ad campaign that we saw in the aughts was the set of Swiffer commercials that leveraged the song "Baby Come Back" and other early 80s hits. Both humor and nostalgia were hard at work in this campaign, giving the audience a chance to reminisce about the past in a longing way, helping promote the brand in a comforting light.
Apple
When Apple was promoting the release of the iPhone 6s, they notably leveraged a more nostalgic celebrity guest‒Cookie Monster. Everyone's favorite sweet-toothed Muppet graced our screens and showed us just how simple it is to use the Siri feature on Apple products.
Whether it is visual or auditory, nostalgia marketing can take many different forms. It frequently strikes a chord with audiences of all ages, promoting strong, positive feelings with the featured brand. Leveraging nostalgia marketing in your campaigns is often a smart tactic to help your brand resonate with a wider audience. When you're considering leveraging nostalgia in your next marketing campaign, be sure to keep in mind whether this strategy is best for your brand. Reach out to the top marketing and branding agencies, like Bluetext, to consult if this marketing strategy is best for your business.
In need of a brilliant campaign that you want to bring to life? Get in touch with Bluetext and see how we can turn ideas into ROI reality for your company.
There's no denying it. Our society is more digital now than ever. You, me, your neighbor, your neighbor's neighbor… we are all online. Most importantly, your prospective clients are online and are ready to consume high-quality digital content.
Now is the time to invest in your website and make it more user-friendly for your audience. There is a lot of low-hanging fruit to improve your site, ranging from basic content updates like changing imagery and posting blog posts. Or investing in more impactful measures such as consulting top digital marketing agencies to understand the most cost-effective way to improve your website.
So what exactly will make your website user-friendly for today's content consumers? Many UX designers will tell you that you should either keep your users either scrolling or clicking from one page to another within your site. So which is the better user experience? To scroll or not to scroll?

Keep reading (and scrolling) to understand why scrolling on a website is OKAY and why it is actually expected from the vast majority of online users.
Social Media
Today's world is used to scrolling. Why? The never-ending social media feed.
Social media sites are designed with one thing in mind: to get users to consume as much content as possible. The best way to do this is to get them to continue to scroll so that they can consume infinite amounts of new content. Most social media platforms are best used on mobile devices, which are easy to use for scrolling through as the flick of a finger takes very little effort.
The Computer Mouse & Track Pad
Okay, so this may be a given… but you know that little roller ball on your mouse? Okay, wait. That may be a little archaic… Do you know that trackpad on your laptop? Well, that lovely thing is used to invite the user to scroll down a page. We know that webpages are going to be lengthy, so much so that the actual hardware we use to "surf the web" has adapted to allow us to do so.
---
Okay, pause. Those two reasons are only related to how the physical interface prompts a user to scroll. You may be asking, "What are the different types of scrolling that you can include on my website?"
1. The Subtle Scroll
Design the page so that it appears as though you are scrolling through one long piece of content. Maybe the background color stays the same, maybe it slowly changes color, as shown on Palantir's About Page. Perhaps you're experiencing parallax scrolling – which in and of itself invites the user to fixate on one piece of the webpage at a time. With this effect, the user barely notices the page length, as the seamless design shift keeps them engaged and focused on the story.
Check out how Bluetext implemented this type of scrolling on the homepage of the Clarabridge website. We designed a seamless animation that invited the user to continue scrolling through the homepage to better explain the technical and analytical power behind the Clarabridge platform.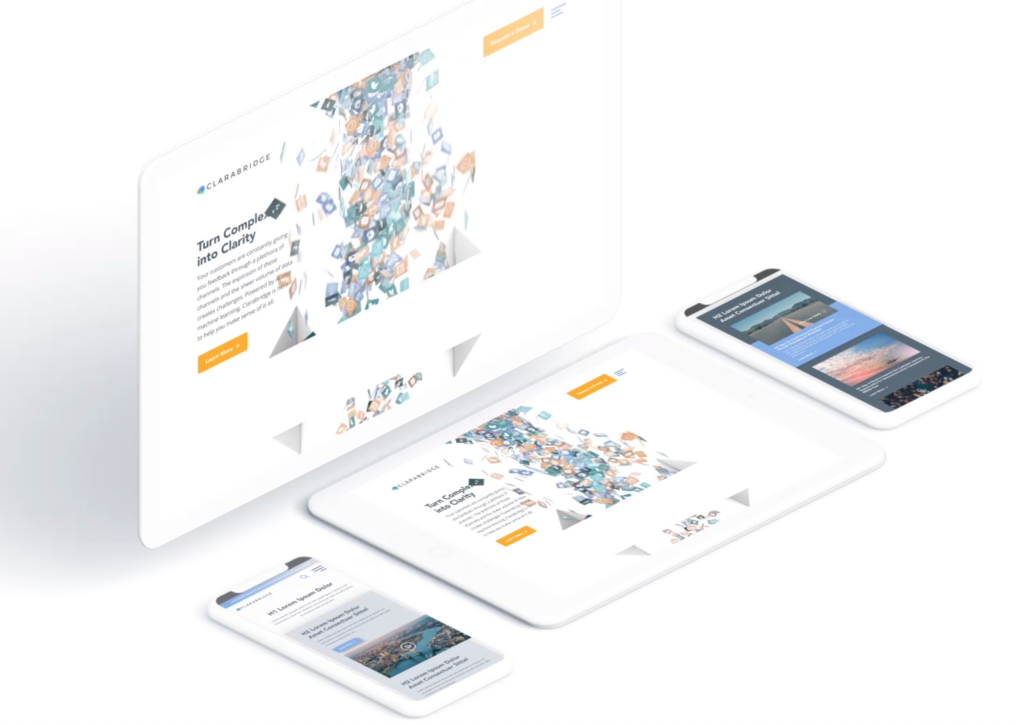 2. Fixed Long-Scrolling
Instead of having the whole page scroll, fixed long-scrolling allows for specific aspects of the content to remain static while the rest of the content scrolls around it. You can also set up the scrolling to shift to a new section when the user reaches a certain point. 
This is ideal if your website has important content or CTAs that should always be accessible to the user. For example, a sticky call to action button is often used to keep key conversion points always present and top of mind.
3. Infinite Scroll
This is most similar to the type of scrolling shown in social media. Is your website a news site? Do you have blog content that you want your users to explore? Consider implementing infinite scroll on your listing pages, allowing posts to continue to load so that the page gives the appearance of infinite content. Of course, this can often be overwhelming for a user who is attempting to find something specific, so we invite you to consider including intuitive filtering so that users can self-select the types of content they are looking for.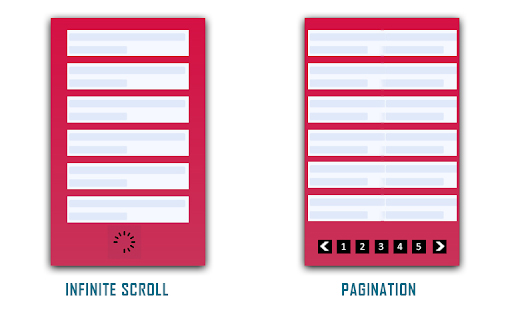 (Photo Credit: knowband.com)
4. Parallax Scrolling
Parallax scrolling is different from the previous three types of scrolling as it invites the user to see new pieces of content and animations with every scroll. Check out how Bewegen invites the user to scroll through their home page and explore their main product. For a personal favorite, give a scroll through Albino Tonnina's personal website.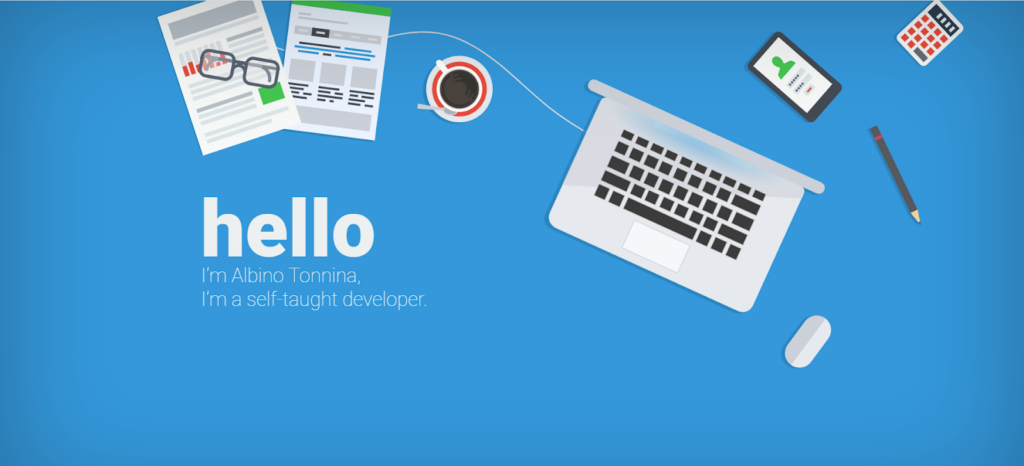 ---
Now that you have four great design options to incorporate into your website, it's time for you to choose the right design for the content on your website. Top web design agencies like Bluetext are great resources for you to turn to in order to gain expert insights on what is best for you.
Interactive content is here to stay. Just take a look at the 96% completion rate on BuzzFeed quizzes. Even more, a 2016 Content Marketing Institute (CMI) study found that just over 80% of marketers say that interactive content is more effective than static content when it comes to grabbing consumers' attention.
Well, what even is interactive content, anyway? Interactive content is "content that requires the participants' active engagement — more than simply reading or watching. In return for that engagement, participants receive real-time, hyper-relevant results they care about."
Digital branding agencies, such as Bluetext, will ensure you are leveraging all that interactive content has to offer. Here are the top 3 types of interactive content to look out for in 2020.
Quizzes and Assessments
Quizzes and assessments are pieces of interactive content in which the user provides answers to a few questions in order to receive insights based on them. They are fun for the user to complete, and if the results are what they were looking for, they will help you build trust with your audience.
This type of interactive content doesn't only boost engagement — they also help you get to know your audience. So when you plan to incorporate quizzes or assessments into your content plan, seek out a brand strategy agency to help you develop your content and ask yourself: What do I want to know about my audience? You may discover something new and gain some essential insights that can help you tailor your marketing efforts to be more effective.
Bluetext, a leading branding company, worked with the Graduate Management Admissions Council (GMAC) to develop a microsite to invite top-of-funnel business school candidates to learn about what is available to them in the world of graduate business schools. The introduction page on the website is an interactive quiz that helps direct users to content specifically geared toward them based on where they fall in the business school process.
Polls
Polls are the easiest and simplest way to introduce interactive content to your marketing plan. They provide a quick way to get in touch with your audience and allow you to build a genuine connection with your followers.
The most straightforward way to use polls is to ask your audience for opinions on your content, service, or product. This not only helps you drive engagement online but gives you great insight into how your audience is feeling about your brand.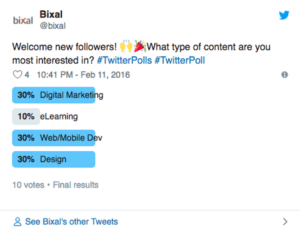 You can also invite your audience to interact with your profile by asking fun, light-hearted questions that invite them into learning more about what your company has to offer.

Contests
According to the CMI report, marketers believe that contests are the most effective type of interactive content you can use, especially in the early stage of the buyer's journey.
Contests can include traditional raffles or giveaways. They can offer the chance to win a prize if they refer a friend to your company's offerings. You can even introduce photos or hashtag contests where you invite your audience to submit their own user-generated content. 
We have seen a rise in these types of hashtag contests and challenges across all social media platforms, especially on TikTok. The platform allows companies to leverage a hashtag to promote their brand, and users are eating it up. 
Guess was the first brand in the US to release a marketing campaign as an official partner with TikTok. They ensured that every time a TikTok user opened the app, they were directed to the #InMyDenim hashtag challenge. Since its launch, videos with the hashtag have garnered over 38 million views and introduced the Guess brand to young Millenials and Generation Z.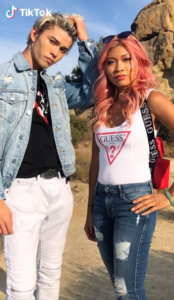 Contests are great at bringing out people's natural curiosity and competitive spirit, so encourage them to participate by providing an engaging contest.
---
Interactive content that is engaging and personalized provides your audience with a new way to engage with your brand and can build trust with your audience. Learn how Bluetext can help you leverage interactive content in your content marketing plan here.
Over the past month, we've taken a close look at Search Engine Optimization (SEO) and how you can use it to improve your website's performance. But how exactly does it work? We sat down with our resident SEO expert Joe for some insight on how to take advantage of Google's crawling capabilities and prepare your website for longevity.
Q: We know that using certain keywords can help your website appear higher in search results, but how does Google know to look for these words and display your page first?
A: Google's algorithms parse content from a holistic perspective. They index every word on your website based on thousands and thousands of criteria, but from a high-level, Google is looking at which words are being used frequently, commonly linked, and used in high-visibility positions (like an H1 heading). 
In essence, Google attempts to parallel how people use websites. If a certain range or set of related words and concepts is being frequently used on a page and is being consistently linked to from other internal pages and external sites, that's solid evidence that the page is likely a good source of content for those keywords. The more Google is assured of this, the more likely your search position will be strong.
Q: What is the real benefit of having blogs live on your site?
A: Like any other form of content, the SEO value blogs can have will depend on execution and positioning. I believe the biggest benefit of blogs is that they offer a consistent opportunity to diversify the content on a website, with little impact on the navigation and content hierarchy. 
Blogs enable site owners to feature content that can be otherwise independent of the site navigation. Blogs also allow site owners to publish content that may otherwise be too niche to present on the main menu, too broad to push into one corner of the site, or too seasonal to keep around permanently. The transience of blogs let content exist for the sake of content, rather than website politics. That freedom translates to a diverse range of content, and it's often the case that popular blog posts are not necessarily ones that communicate product features or service offerings, but those that articulate a peripheral topic of interest.
Without blogs, websites lack dynamism and diversity. Blogs help expand the reach of a website's overall audience, and Google's search algorithms will take that into account.
Q: What are the top five mistakes people usually make that cause poor search results?
A:
Losing the forest for the trees: People can fall into a black hole trying to identify every single small factor in SEO, but ROI is best maximized by tackling the major coefficients of the search algorithm – valuable content and a logical content hierarchy

Not optimizing meta titles and descriptions: Most people see these as throwaway tasks, but at the end of the day, a site's meta titles and descriptions are major factors in determining clickthrough rate at the search engine results page.

Internal linking: Google's crawlers are increasingly being programmed to replicate how humans approach and use a website. Internal links are more important than ever to guide crawlers and demonstrate what content focuses certain pages have.

Overstuffed keyword lists: The more keywords a website tries to optimize for, the less the website will actually be optimized for any of those keywords. Aim for a lean keyword list that is regularly reviewed and re-optimized for.

Content density: Aim to have at least 200 words for any page considered desirable for search. Anything less, and the search algorithms won't have enough physical text to parse for scoring.
Q: Do I have to use paid search to improve SEO? What are your top three suggestions for improving SEO organically?
A: Paid search is a bonus because it can be used to "crowd" the search engine results page, giving your brand a feeling of authority, but it in no way directly affects your SEO. Top suggestions for improving SEO through organic means include:
Researching and writing about relevant, popular content topics that people are interested in learning about.

Developing content about topics not covered by our competitors

.

Identifying local geographical opportunities for optimization.
Q: How often do I need to update my website to keep my position in search?
A: It depends on the nature of the industry that the website operates within. A mature manufacturing industry may simply not have new topics of interest week-to-week, while a growing or dynamic industry, like electric vehicles, may necessitate daily updates to stay relevant and up-to-date.
Q: What are some tools that I can use to learn more about my website and its SEO performance?
A: Google Search Console is a completely free service provided by Google that uses Google's own data to help site stakeholders benchmark keyword performance. More importantly, it provides data on visibility versus clickthrough, helping identify what keywords are underperforming despite their high position. All site owners should at the very least check it on occasion – the data there is incredibly valuable in understanding the nature of a website's organic traffic before and after they arrive on the site.
---
SEO is not something that can be done overnight. It takes time to strategically plan and develop relevant content. Digital agencies that specialize in SEO like Bluetext can help improve your site both for the short-term and for the long-haul.