Programmatic Advertising – No Signs of Slowing Down in 2020
If you spend any time at all surfing the web, you have encountered some form of programmatic advertising. The video ad that plays before you stream your favorite TV show? Programmatic. The banner ad that appears alongside the cooking recipe you're reading? Programmatic. The sponsored article content that shows up as you're scanning your favorite news site? You guessed it – it's programmatic.
Programmatic Advertising – What is it?
Programmatic ad buying is the use of software to purchase digital advertising in real-time, as opposed to the traditional ad buying process that involves RFPs, human negotiations, and manual insertion orders. It allows digital agencies like Bluetext to strategically select where we want to show display, video and native ads, and when.
A huge benefit of programmatic advertising is that the software grants advertisers access to the biggest data providers in the game. Not only are we choosing where and when to show ads online, but we have the capabilities to choose who actually sees our ads. Advertisers are able to hand-select from thousands of audience segments collected by these data providers and layer those segments onto programmatic campaigns.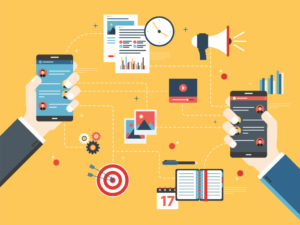 Why Invest in Programmatic?
While targeting capabilities and ease-of-use are two major benefits of investing in programmatic advertising, there are a number of reasons why digital agencies should hop on the programmatic bandwagon in 2020.
Here are Bluetext's top 3 reasons for investing in programmatic advertising in 2020:
1. Artificial Intelligence (AI) and Machine Learning
Programmatic advertising already makes digital ad buying easier for advertisers than it ever was before, but AI and machine learning have simplified the process even more. For years, media buyers and digital marketers relied on a manual process to review campaigns, manage budgets, make adjustments to ad creative, and more. However, AI and machine learning have become so sophisticated that the manual days of optimizing are nearly over. Once your campaign has launched, the AI will start to learn what's working and what's not, shifting budgets and making adjustments to enhance efficiency in real-time. Studies show that by 2035, AI will boost productivity and profitability by nearly 40%.
As a leading digital marketing agency, Bluetext has seen the benefits of AI and machine learning pay off in major ways. Not only is our digital marketing team more efficient, but the results we were able to drive for clients in 2019 far exceeded their goals. With AI and machine learning only becoming smarter, Bluetext is equipped to reach new heights with programmatic advertising in 2020.
2. Digital Out of Home (DOOH) Opportunities
Digital Out of Home (DOOH) advertising is a unique marketing channel that allows advertisers to reach users outside of their homes in digitally-displayed spaces. Though DOOH media isn't new, it's expected to grow exponentially in the coming years. Reports show that between 2016 and 2023, the DOOH media channel will grow from $3.6 Billion to $8.4 Billion.
With the average person spending 70% of their time outside of their home, investing in DOOH in 2020 is a no-brainer. From mobile geofencing to digital billboards, the opportunities to reach people on-the-go are vast. Most importantly, because DOOH is now offered through programmatic platforms, advertisers will have access to significantly more data from DOOH advertising than ever before.
Digital marketing agencies like Bluetext now have the ability to measure results from a digital billboard ad or an animated kiosk through the data and technology programmatic tools provide. Bluetext is looking forward to expanding DOOH capabilities in 2020 to connect the dots from in-home browsing to in-store purchasing.
3. Multi-Channel Advertising
In the past, advertising agencies had to leverage several different platforms, media vendors and direct buys to ensure they reached their audiences across all mediums. Programmatic advertising has simplified this process so that marketing agencies like Bluetext can execute all advertising efforts through one simple-to-use platform. 
Programmatic solutions include paid social, display, video pre-roll, native advertising, geofencing, DOOH, connected TV and more. Digital marketing agencies like Bluetext now have the capability to run one digital campaign across all different mediums and – most importantly – track user behavior across all touchpoints. With AI and machine learning, programmatic campaigns will optimize to reach users at the right time on the right medium, whether that's on the computer, on their smart TV, or in a store on their mobile device. In 2020, it's expected that even more multi-channel solutions will be announced, such as voice-activated ads powered through devices like Alexa and Siri.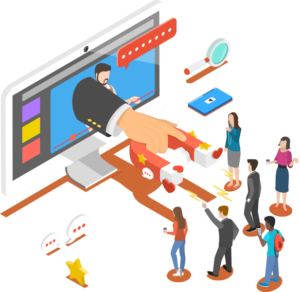 Programmatic advertising has opened the door for digital marketing agencies like Bluetext to effectively run and execute campaigns across a number of channels and mediums, making media dollars more efficient than ever before. With the expansion of programmatic solutions in 2020, there's no limit to the number of possibilities Bluetext will be able to leverage to drive digital media success for our clients. To learn more about our work with programmatic advertising contact us.