The Brand
After engaging Hughes in our brand discovery process, including stakeholder interviews, competitive research, and creative workshops, the new HughesNet brand was friendly and approachable, featuring a new logo and brand system with bright blues and orange. Brand guidelines and a complete collateral system were developed along with icon and image libraries.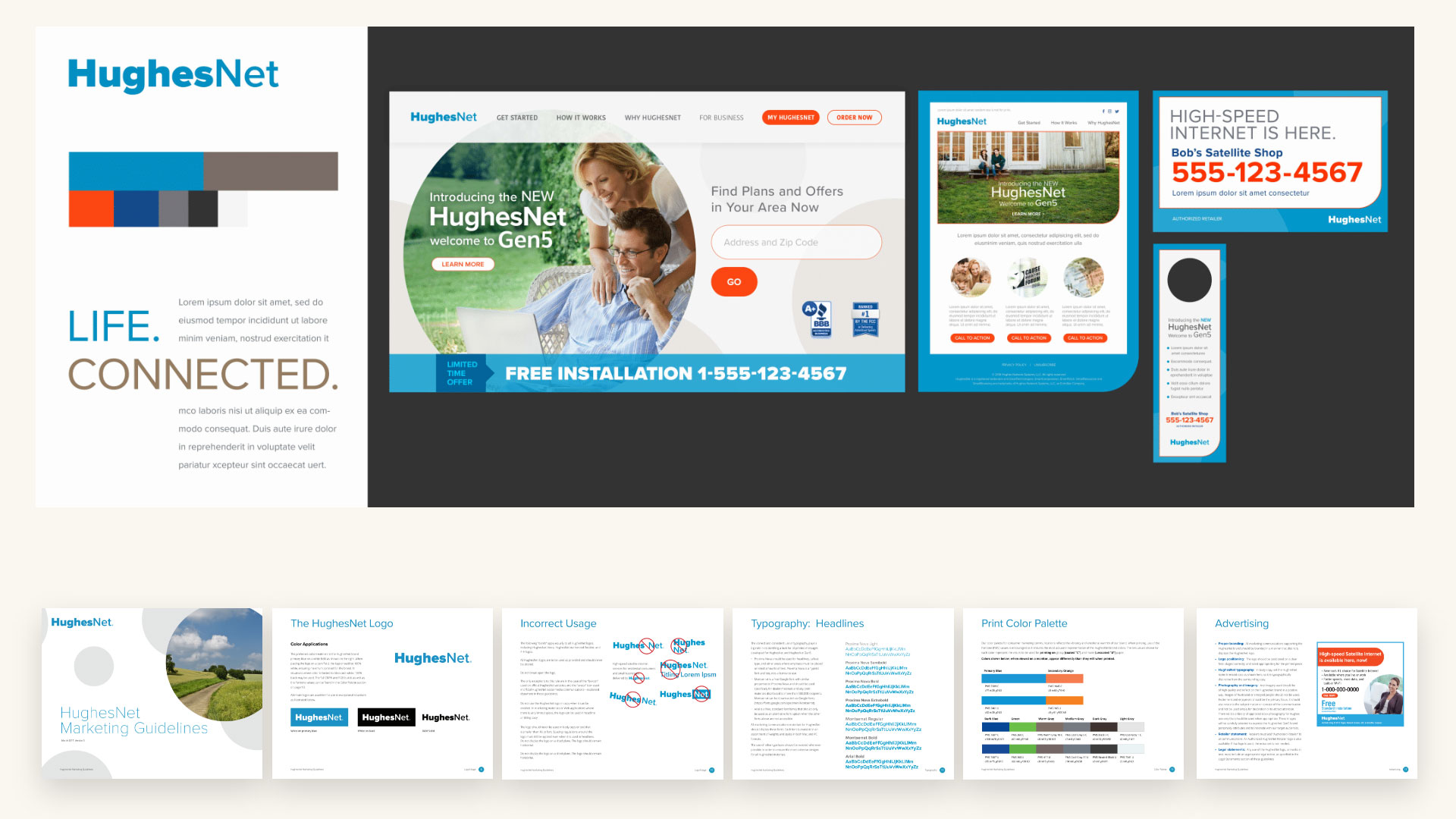 Application of the Brand
Bluetext has leveraged the HughesNet brand in many projects throughout the years, including a large volume of indirect channel materials for local authorized retailer to use, print ads, digital ads, emails, and video. In the past few years, HughesNet has expanded into Latin America, with our agency supporting Go-to-Market efforts and building all countries' websites, including Mexico, Colombia, Peru, Chile, and Ecuador.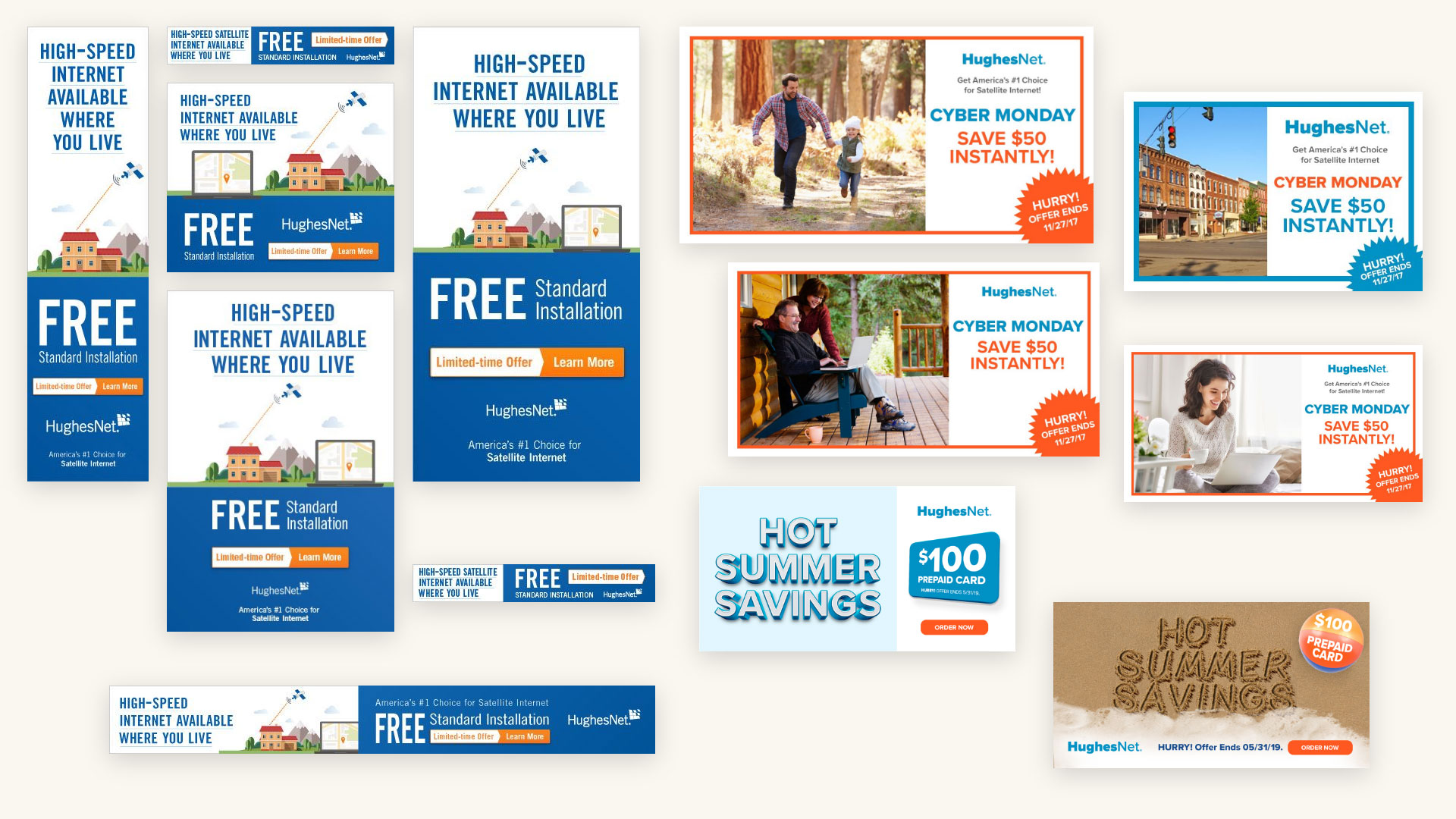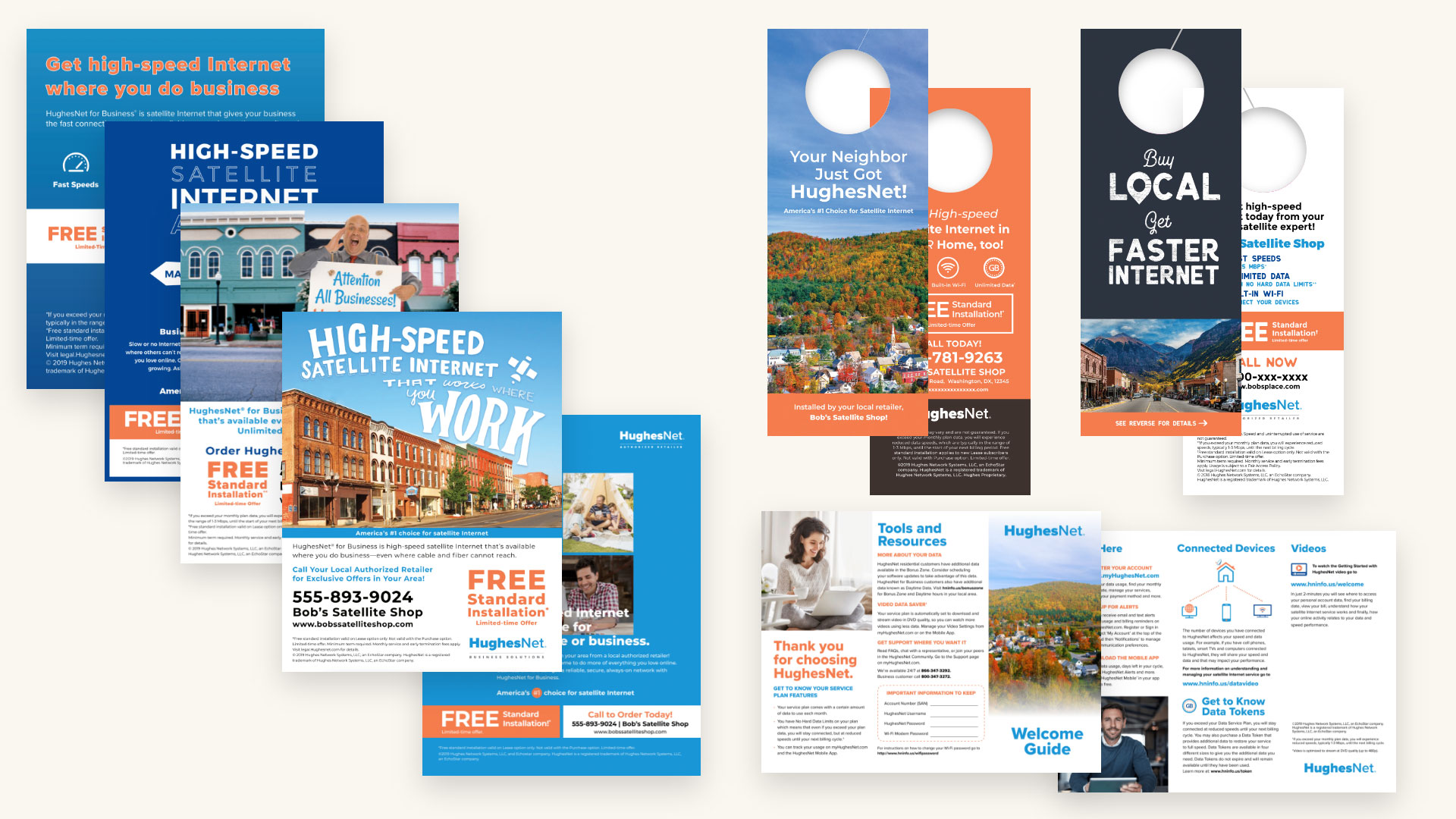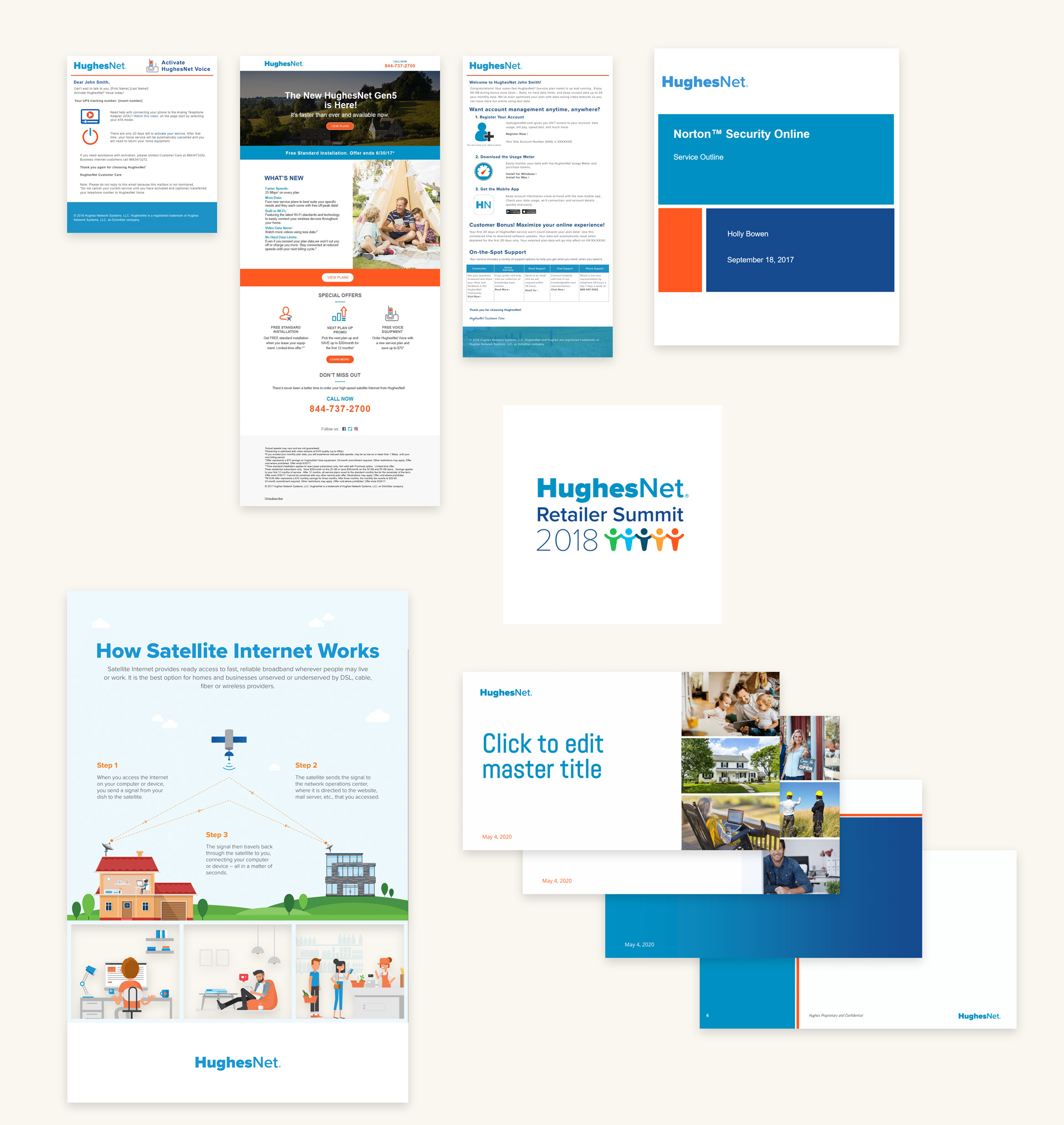 New Digital Architecture
Once the new brand and messaging was established, Bluetext began work on the new website. Mobile responsiveness and e-commerce capability were paramount for our audience. The B2C site was designed and developed to introduce the service while pushing users through a direct response funnel to order. Over time, the design of the website has evolved to keep up with changes in service, messaging, and marketing needs. The flexibility of the Drupal 9 platform has allowed us to do this efficiently.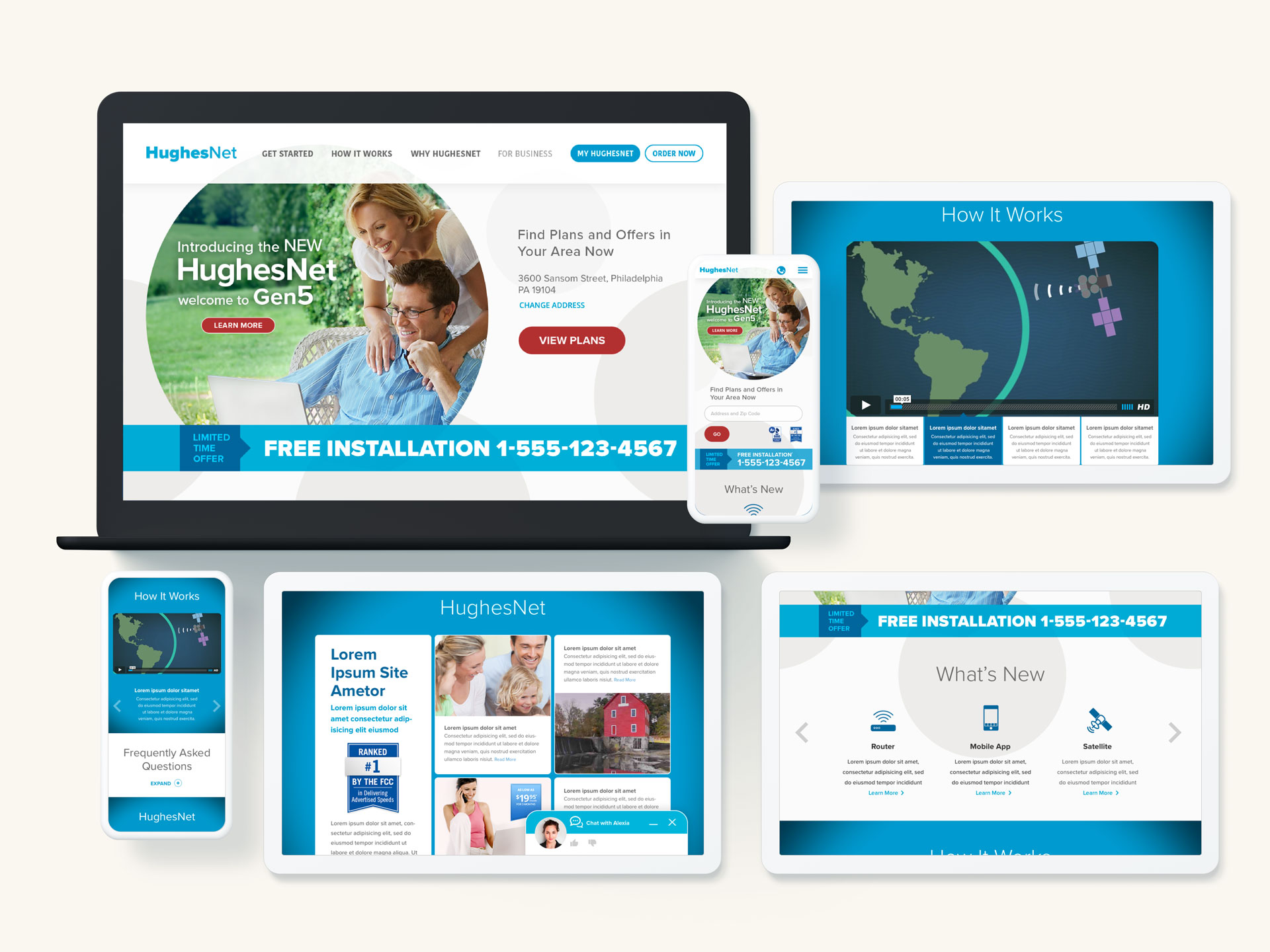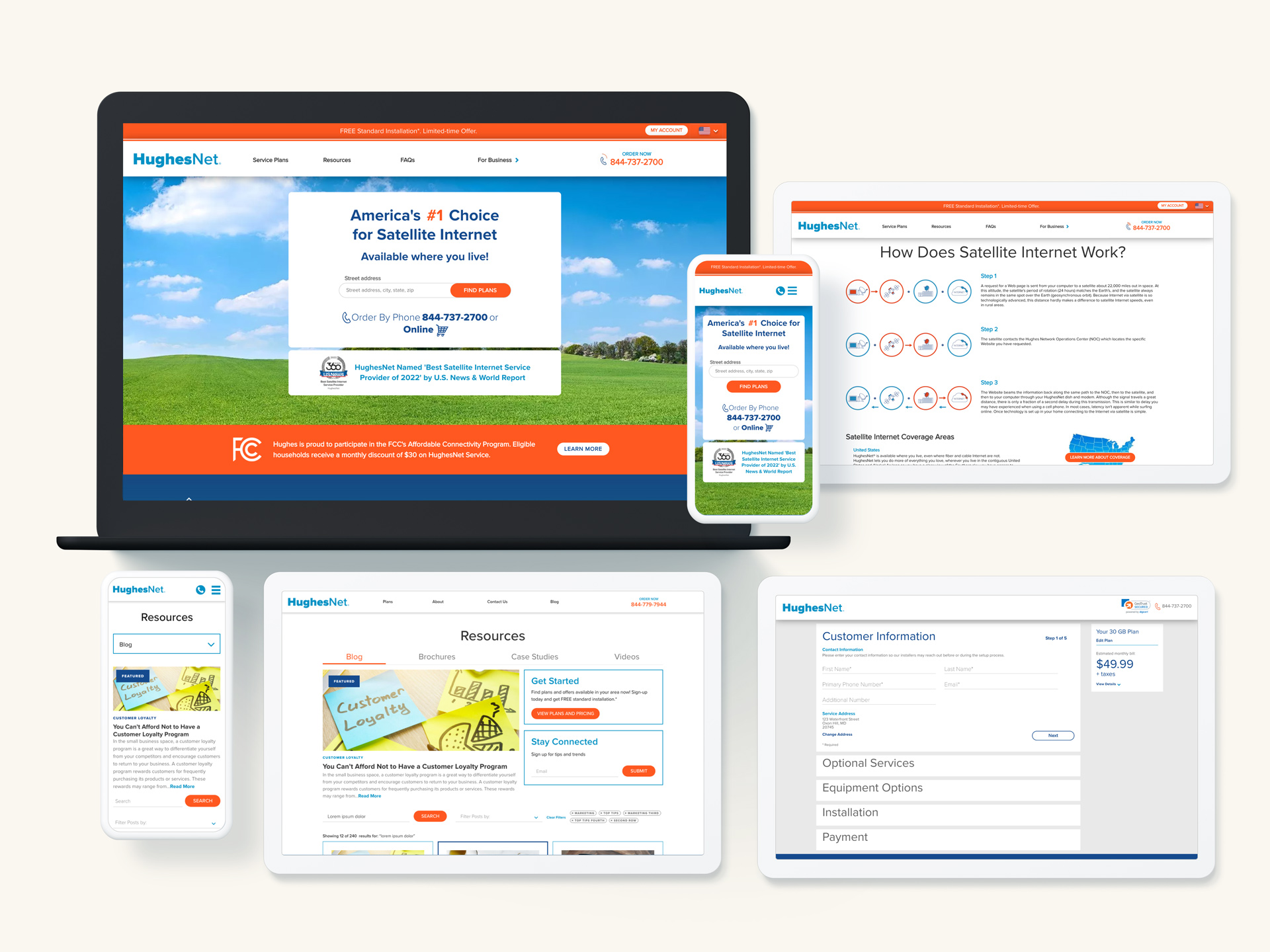 Tracking, Integrations, Optimization
Although the site is not robust in content, it is robust in its features and functionality. We are always working to optimize the site and reach sales goals. Understanding the complete marketing ecosystem and user behavior is critical for Hughes.
01 / 04
Google Tag Manager
With heavy online and offline advertising, tracking and reporting is key to monitoring the impact of marketing efforts. Custom Google Tag Manager tracking and a complex data layer integration with Tealium allow us to monitor changes in performance and identify key audiences and user behavior.
02 / 04
Google Analytics 4
Our campaign system allows for unique attribution, including Toll-Free-Numbers tied to individual campaigns, and our real-time logging UI provides detailed interactivity of all users. The site is currently being integrated with Google Analytics 4.
03 / 04
Proprietary APIs
Proprietary APIs are used to qualify users for service and serve up unique plans and pricing to then place online orders in a Payment Card Industry Data Security Standard (PCI DSS) compliant environment.
04 / 04
A/B Testing
A/B Testing has also always been a priority, with a test almost always running. Constant testing and iterative UX has resulted in an ever-increasing trendline for onsite conversion metrics.
SEO has always been a focus, in content optimization and technical architecture, with a recent focus on site speed due to Google's Core Web Vitals considerations. We provide content marketing services and ongoing development for SEO.
Video
We've also has the pleasure of working on a large number of videos for HughesNet over the years, including stock with voice over and custom illustration and animation work.