Modernized Brand Identity
After engaging Hughes in our brand discovery process, including stakeholder interviews, competitive research, and creative workshops, the new Hughes Corporate brand was developed featuring blues and teal with a "dot wave" key art element to convey connectivity. Digital brand guidelines and a complete collateral system were distributed to employees.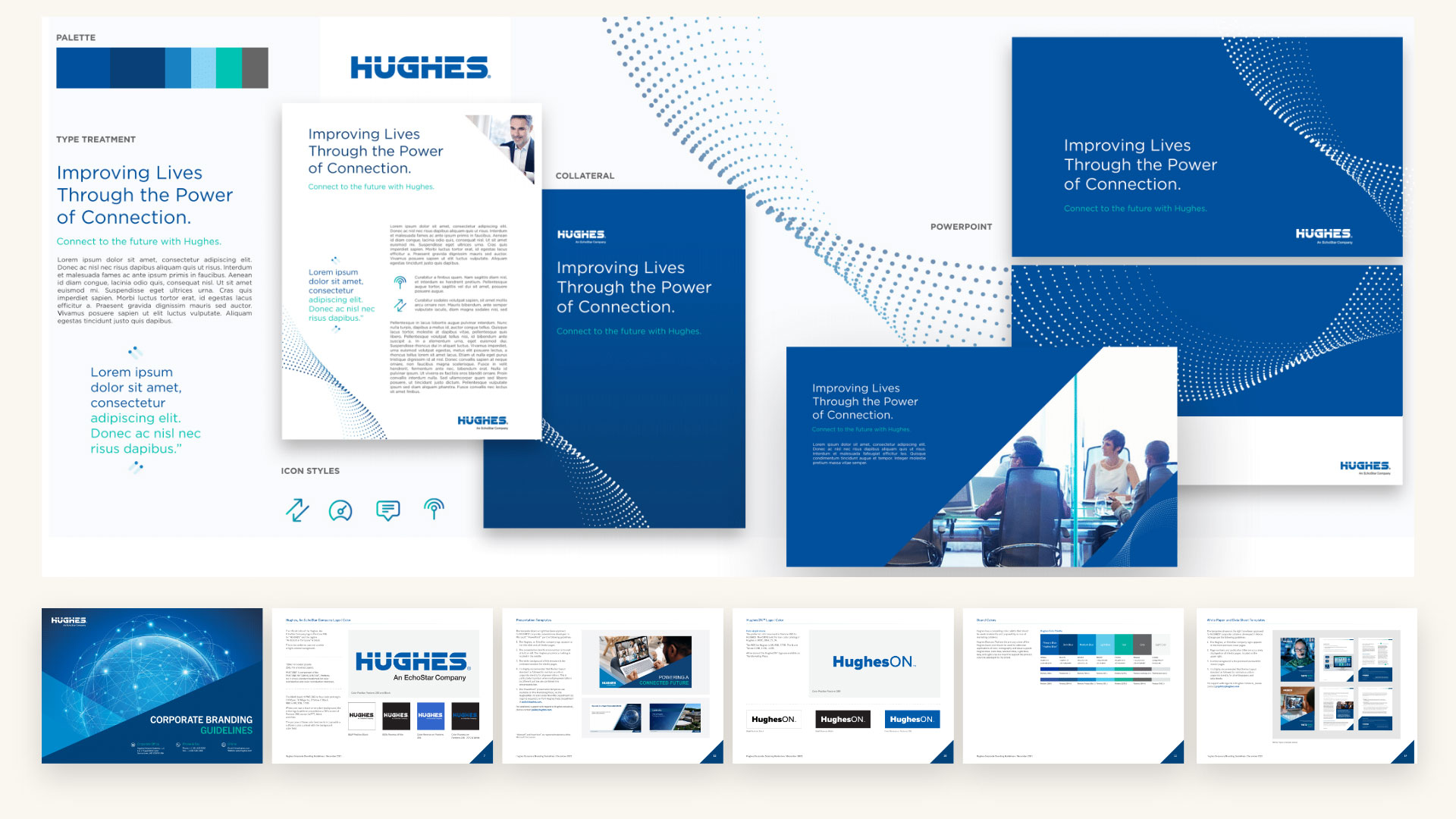 Application of the Brand
Bluetext has leveraged the Corporate brand in many projects throughout the years, including tradeshow booth designs, paid media campaigns, print ads, infographics, and more for various verticals including Large Enterprise, Government, Mobile Network Operators, and Defense.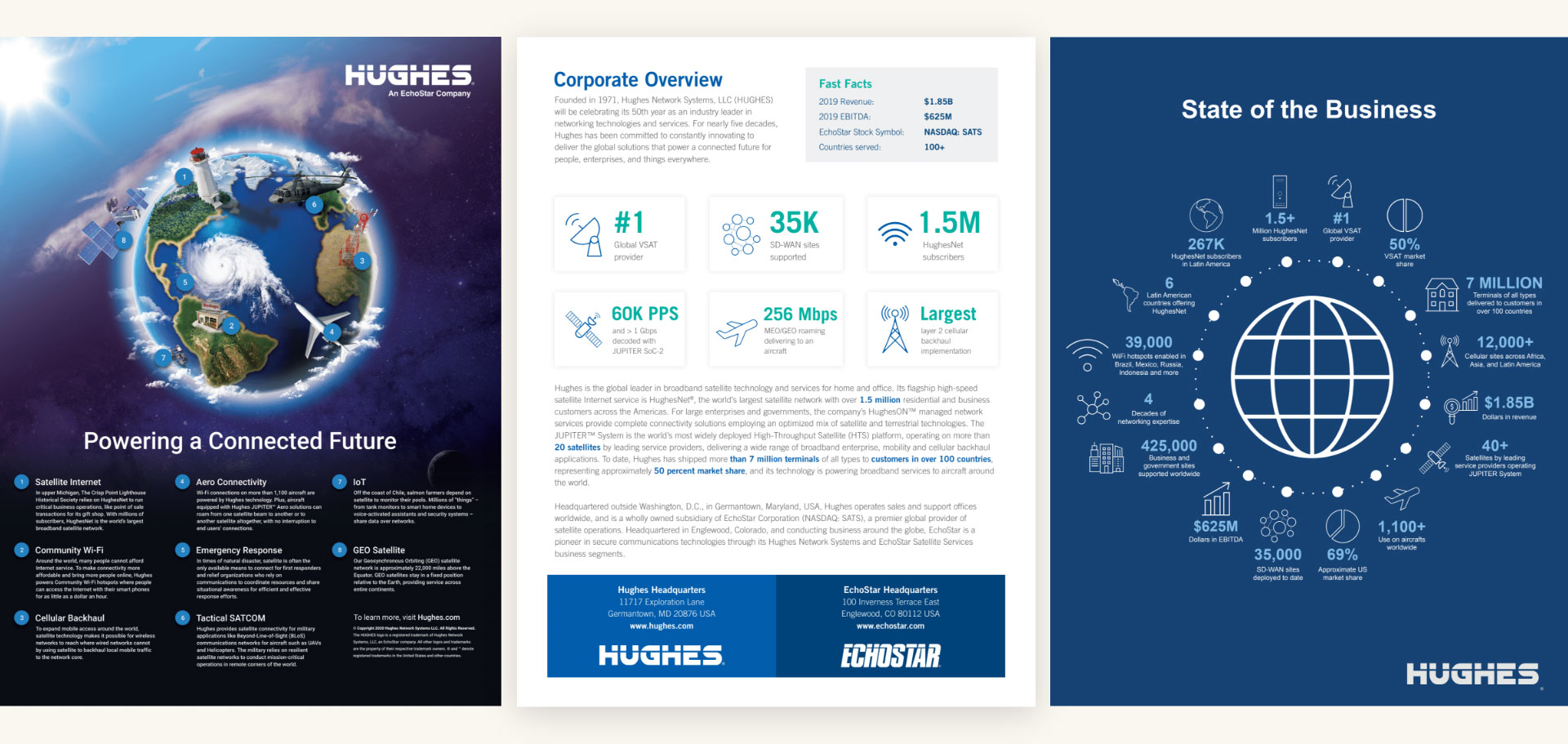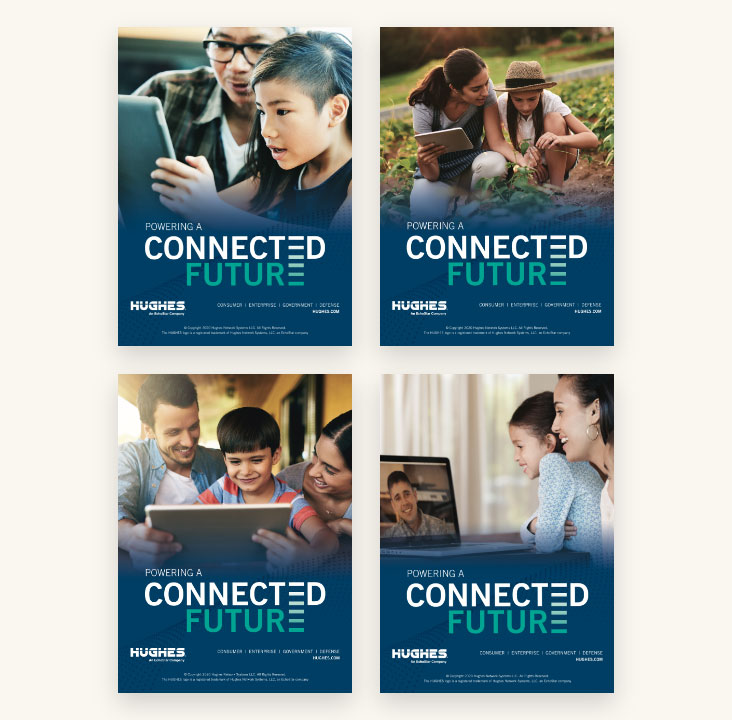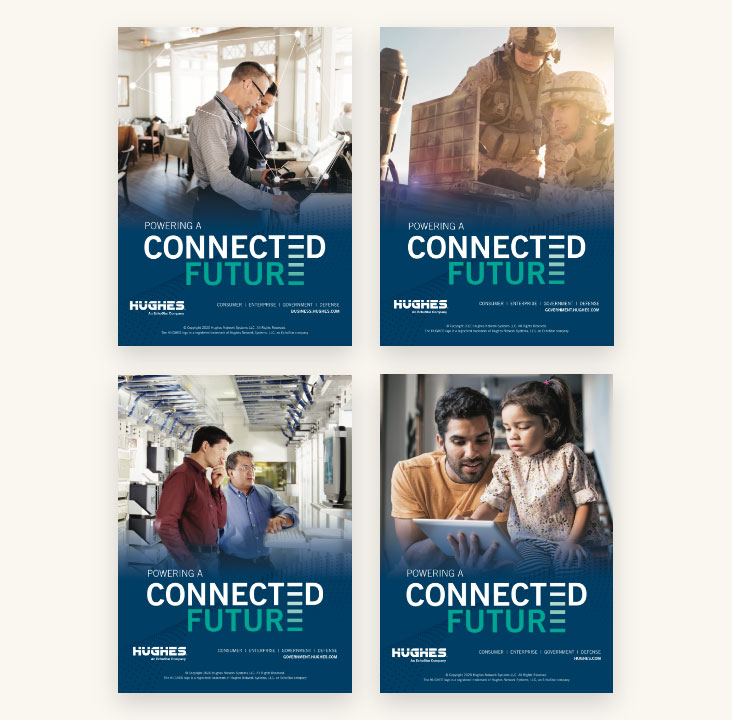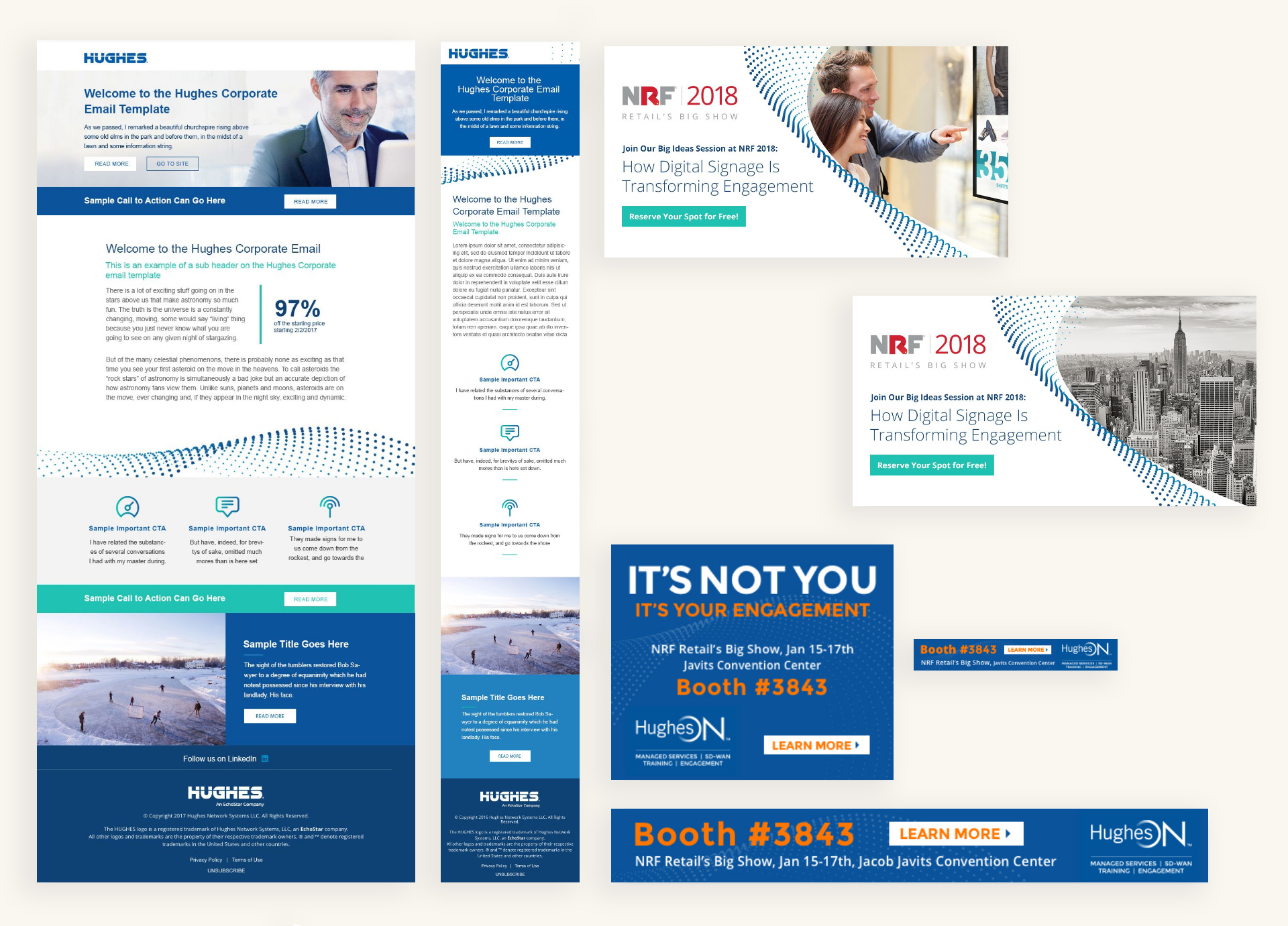 New Digital Architecture
Once the new brand was established, Bluetext began work on the Corporate digital infrastructure. Hughes had a number of requirements that made content strategy critical to the success of their digital platform, including a large number of domains, International sites in Europe and India, and a wide breadth of services and technologies across verticals.
After defining personas, solidifying sitemaps, and outlining KPIs, the design phase began. The new Hughes brand came to life in color across a number of responsive template designs.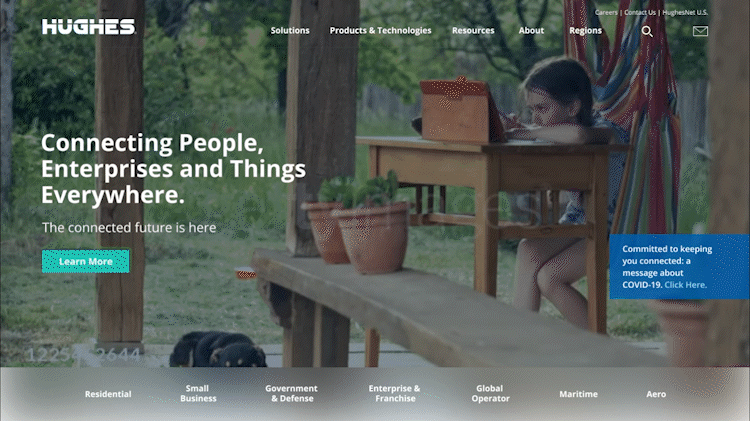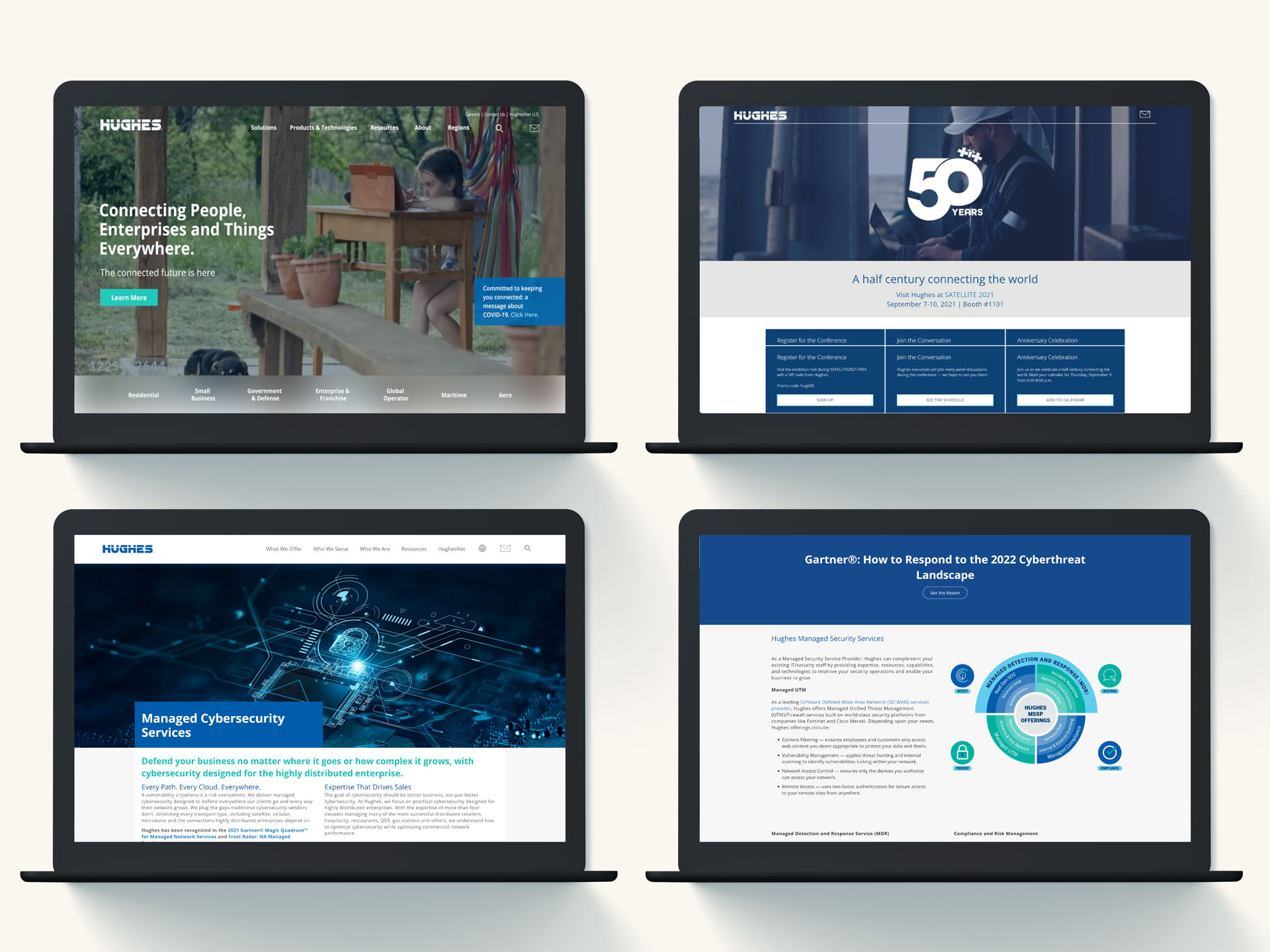 Evolving Digital Platforms
Over the years, the websites have been refreshed a number of times as new services and technologies have been developed, new markets introduced, and new marketing needs have surfaced. The flexibility of the platform has enabled us to continue evolving the platform with efficiency and ease.
We've had the pleasure of designing and developing a number of custom landing pages throughout the years for various events and campaigns, including Hughes's 50th anniversary.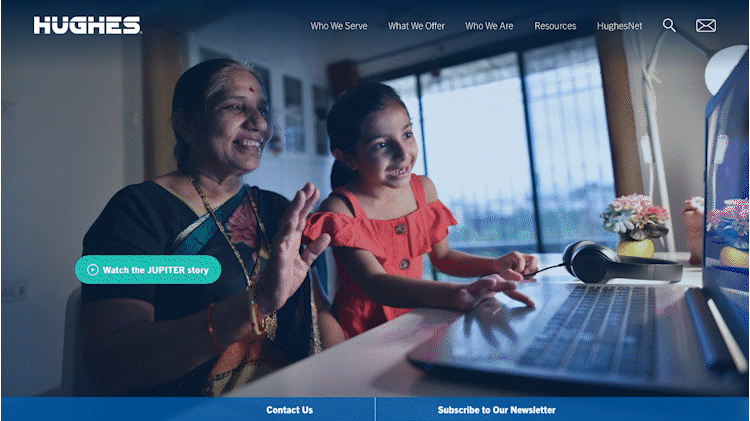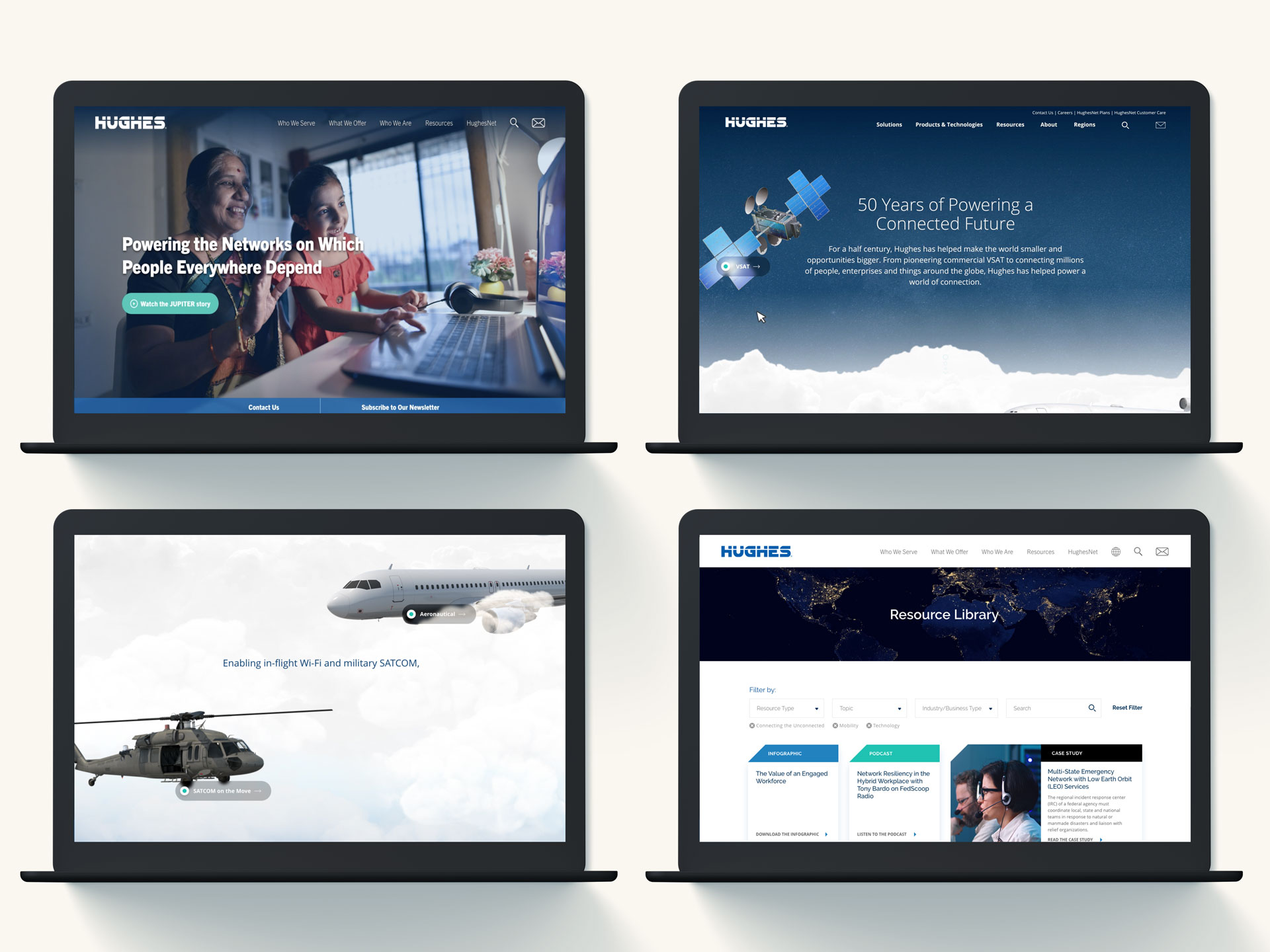 Constant Web Optimization
The work doesn't end when you launch a site.
Our dedicated team is constantly setting new goals and looking for opportunities to represent the brand, provide a better user experience, and ultimately garner more qualified leads. Over the years our scope with Hughes has included things such as site speed initiatives, SEO, testing, and platform translation. We also ensure the platform is secure and running efficiently. We operate on the latest Drupal 9 environment, regularly implementing security patches, core upgrade, and regression testing. All sites on the platform are now integrated with Google Analytics 4.
Increase in YoY Organic Traffic
Messaging & Positioning
We've also had the pleasure in working with various Hughes team members on messaging and positioning efforts, including for Defense services, managed security, and Hughes's flagship JUPITER™ technology. We take each project through a tried-and-tested process of discovery with interviews, workshops, surveys, testing, and competitive research to provide comprehensive messaging guidelines in a branding template. These guidelines provide brand lines, campaign ideation, key messages with supporting validation, and varying length summaries for use in short and long-form applications.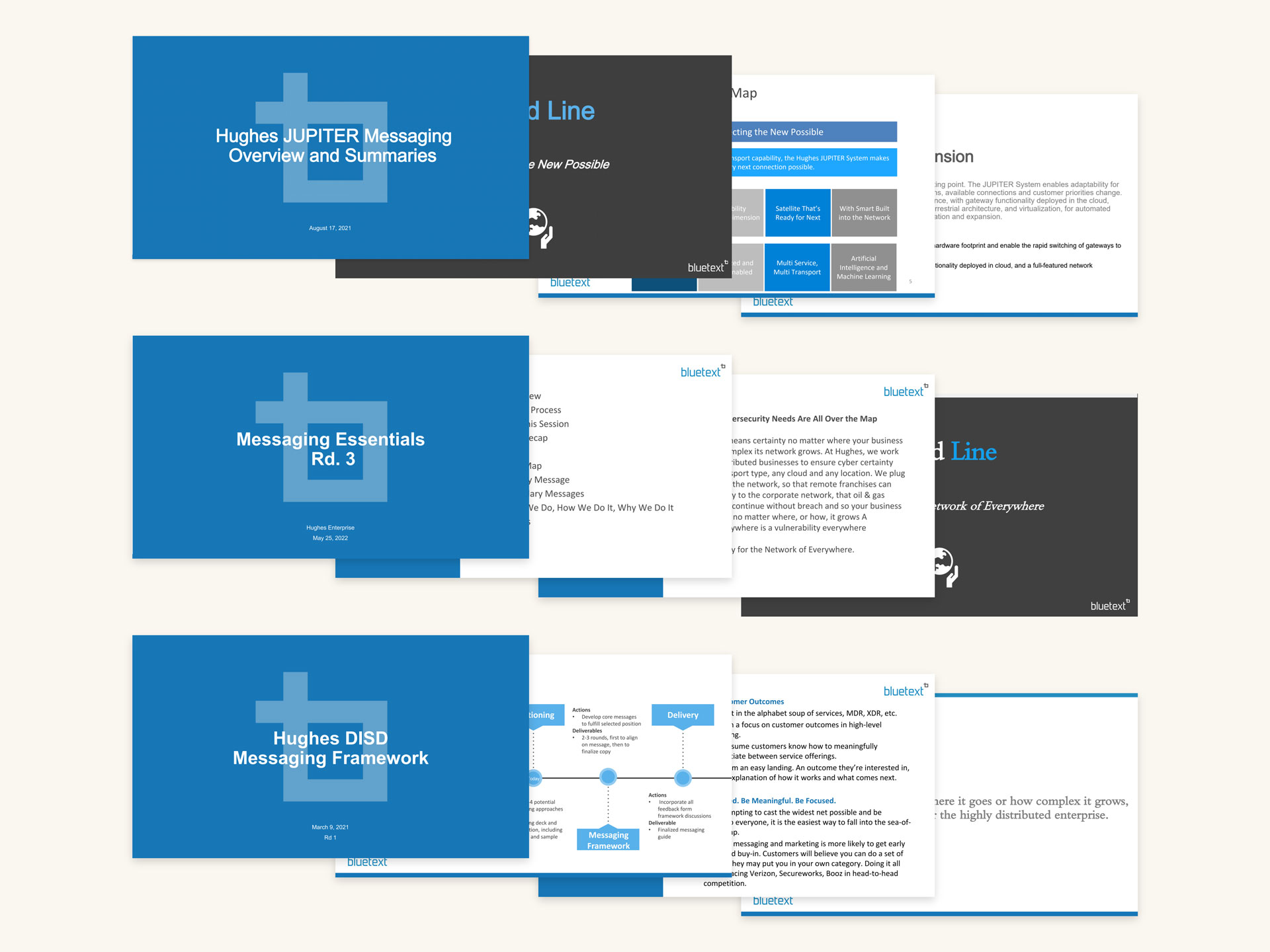 Miscellaneous Projects
As the agency of record, we often work on standalone projects as needed, including logos, videos, and iconography to name a few.