Our Challenge
It's tough to stand out at the nation's biggest cybersecurity conference, RSAC. It's even harder when the company you're marketing doesn't have a true brand, visual identity, messaging framework, or website. Some agencies would say that's an impossible task. Bluetext saw a blank slate for creating something truly novel.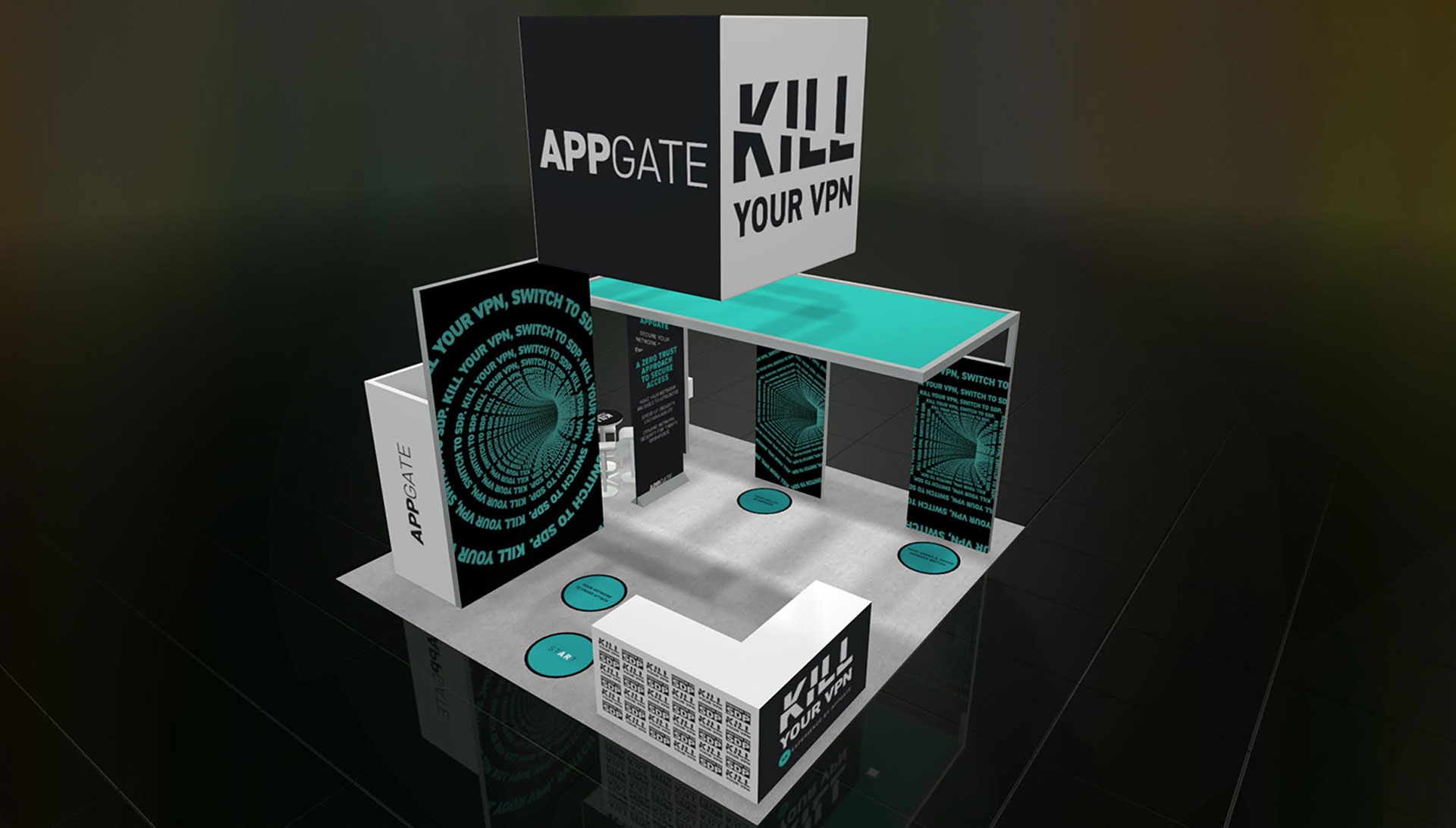 The Kill Your VPN and its educational AR experience fit the RSAC 2020 theme, We are the Human Element within Cybersecurity, as it exposed vulnerability within the cyber industry and encouraged the audience to recognize that cybersecurity is, fundamentally, about people protecting people.
AR Like Never Before
Designing a series of virtual tunnels printed on the walls around the booth space, like portals radiating in different directions, Bluetext was able to physically and mentally immerse the user in a vulnerable cyber scenario that AppGate needed to market. Each printed tunnel doubled as an AR marker. Correlating to VPN encrypted connections, the creative foundation of the AR experience was inspired by the idea of virtual tunnels. The booth showcased these tunnels as a gateway to danger, inviting the user to learn how they are exposed with a VPN and how AppGate can streamline their journey to safer network access with their products and services.
Engagement Across Digital Touchpoints
To drive the campaign messaging home, Bluetext created vibrant landing pages that matched the energy of the physical booth. Fully responsive with mobile conference users in mind, the pages were optimized for clear CTAs and conversions. Site traffic increased by over 500% following Bluetext's paid media campaign.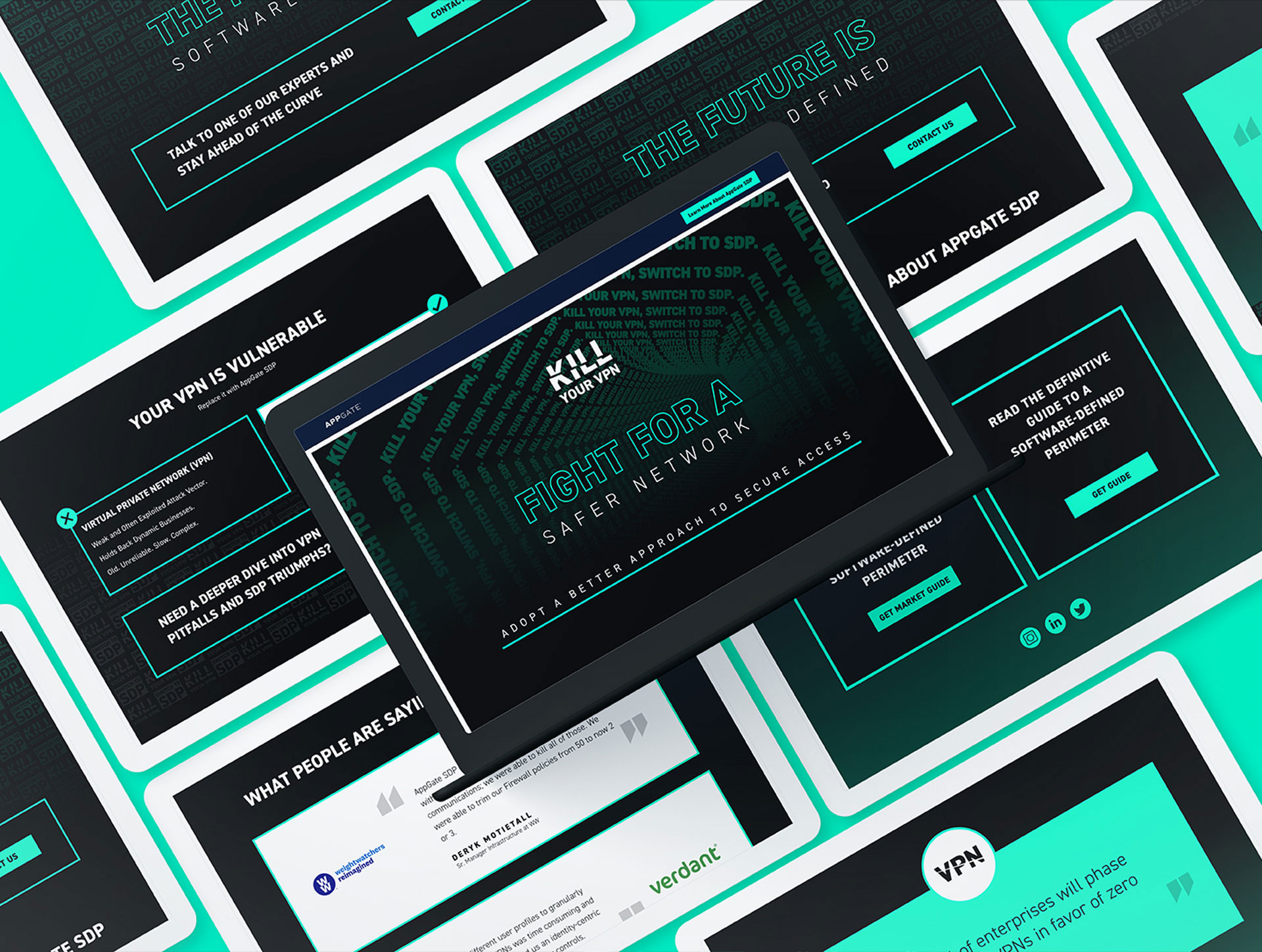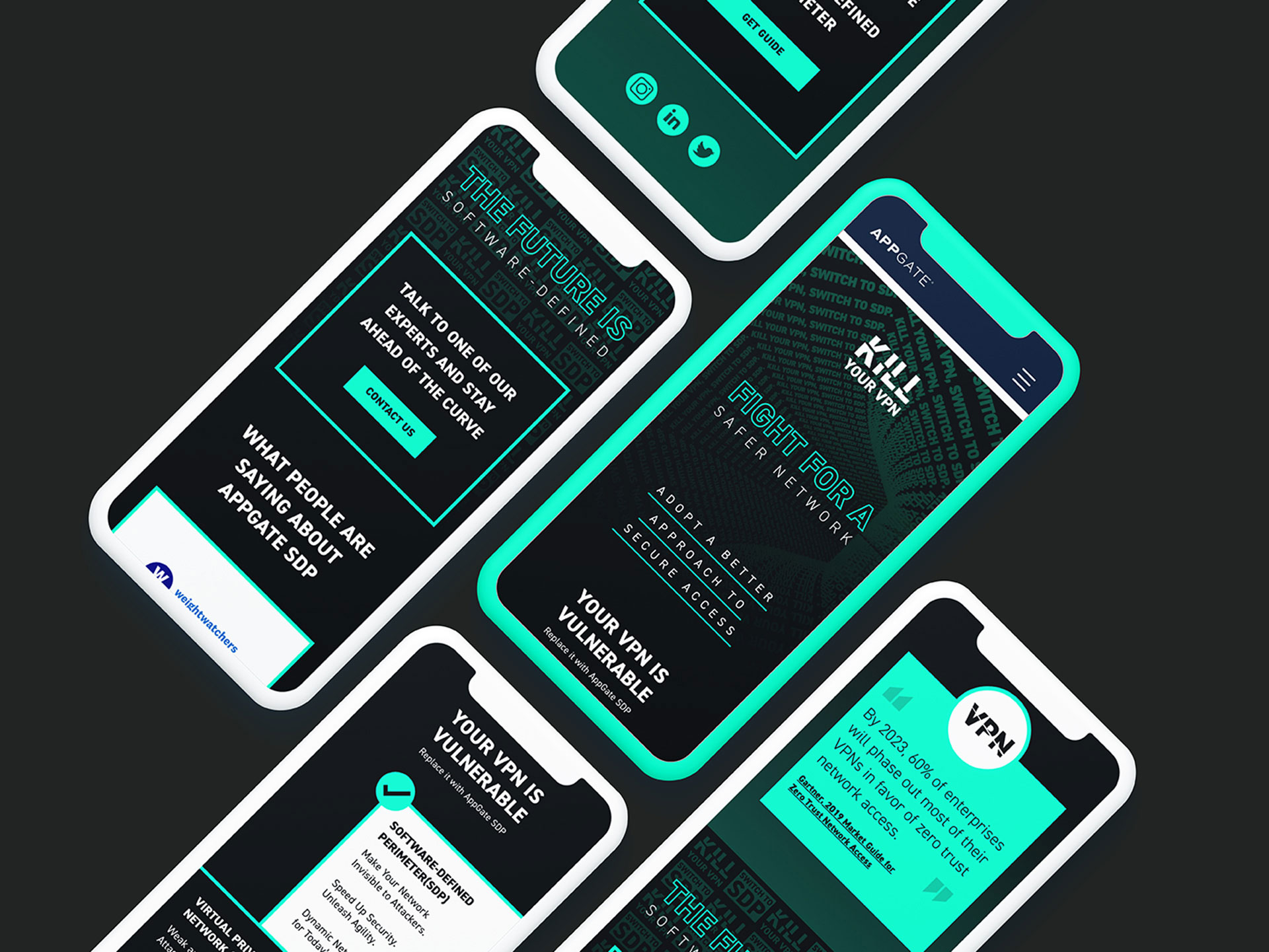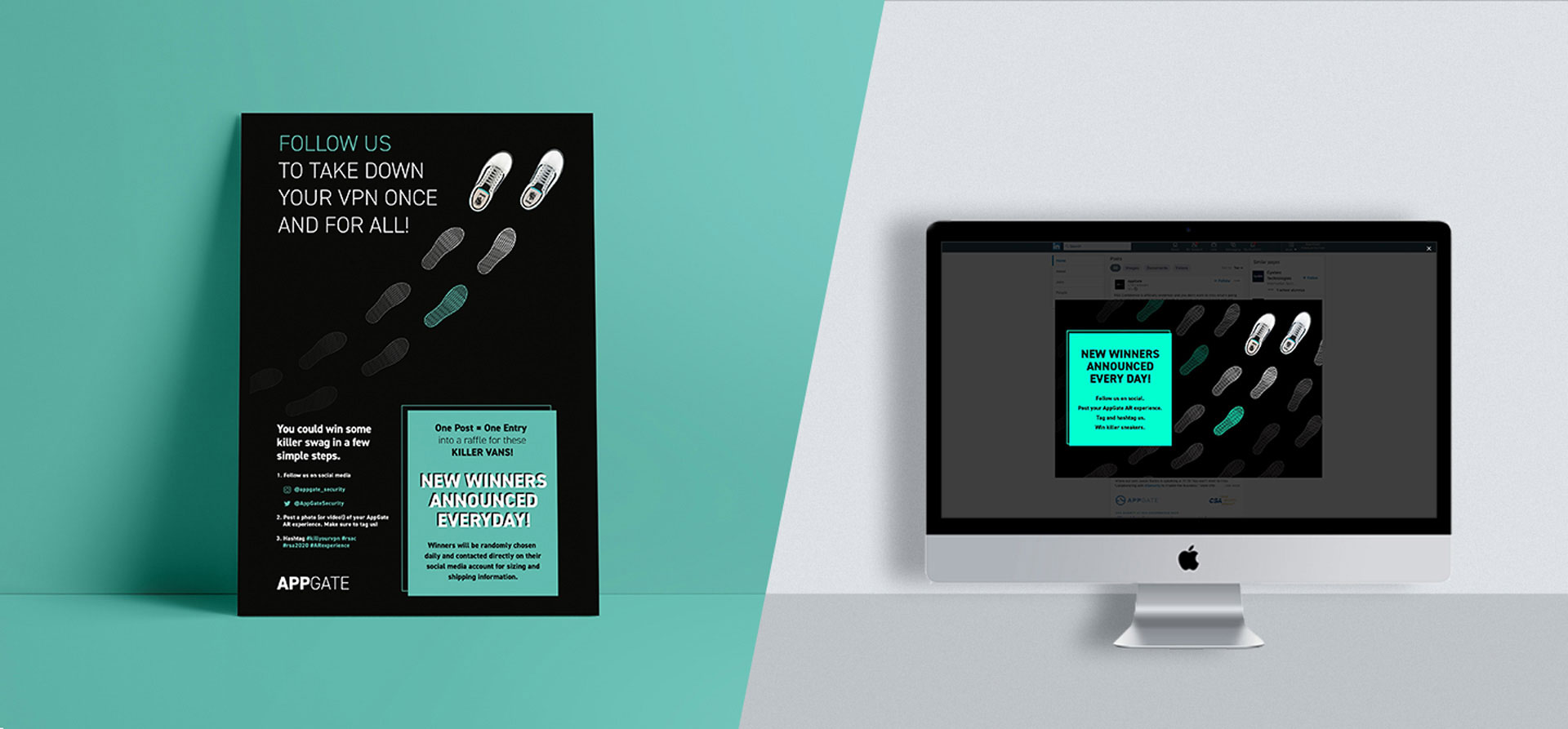 Reimagined Conference Experience
Imagine walking by a booth without anything written on the booth panels. Just think, in the midst of 36,000 attendees, seeing a black and white branded booth with nothing to tell you except for a big "START HERE" welcome mat. That was exactly what happened at RSA® Conference 2020, the world's leading information security conference in San Francisco, when Bluetext conceptualized, designed, developed, advertised, and coordinated the ground-breaking Kill Your VPN campaign and augmented reality booth experience to help AppGate stand apart from the 658 other exhibitors in 2020.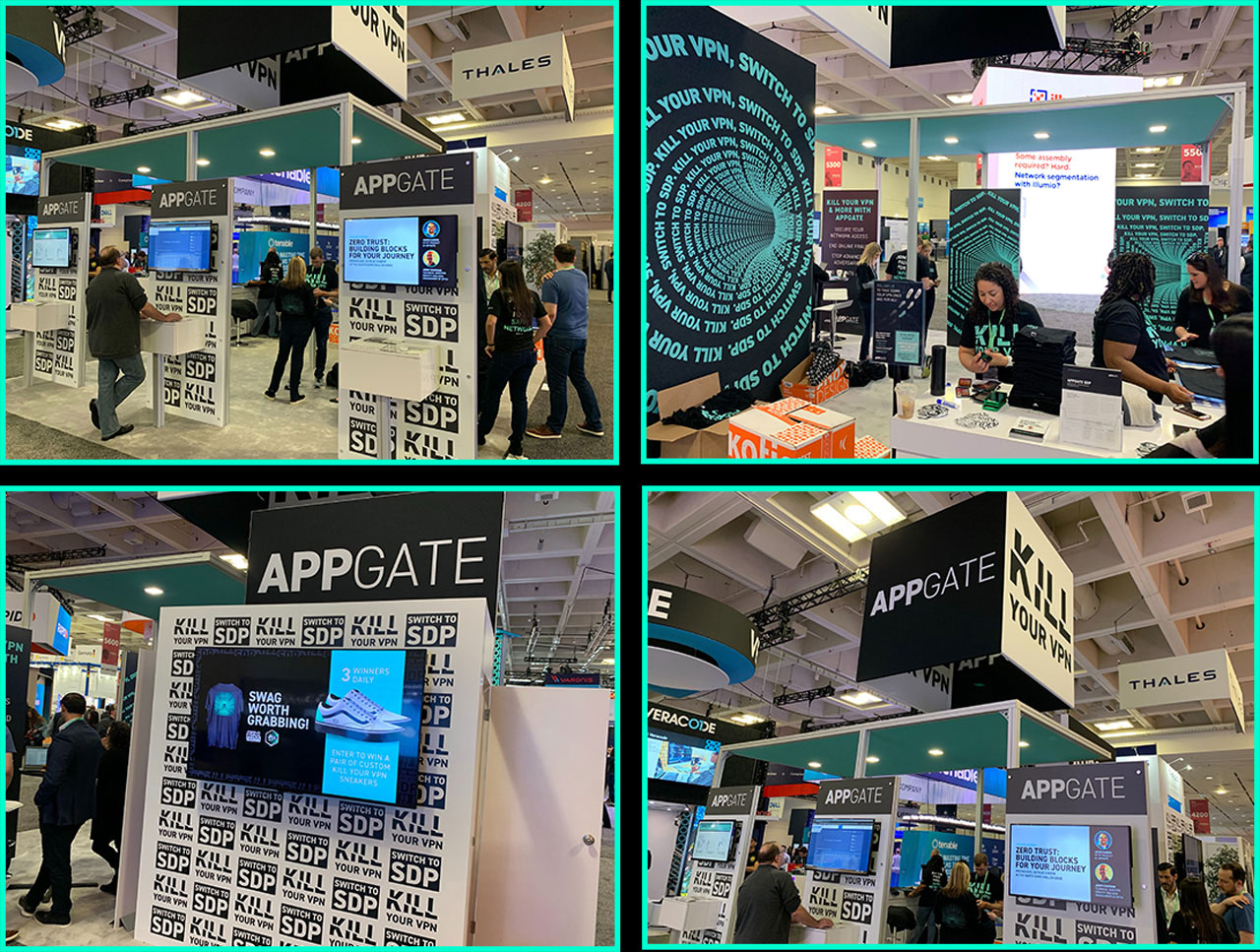 #killyourvpn Campaign
Bluetext created a social engagement strategy that leveraged Facebook, Instagram, Twitter, and LinkedIn as advocacy platforms for people who completed the experience and naturally encouraged others to go visit. Games and prizes using hashtags, #killyourvpn and #appgatevpn, created buzzworthy threads of social conversations. AppGate gave away custom-designed Vans sneakers to visitors who shared their experience and contributed to the hashtag thread. Every day new winners were randomly selected, keeping the contest vibrant and exciting throughout the weeklong event.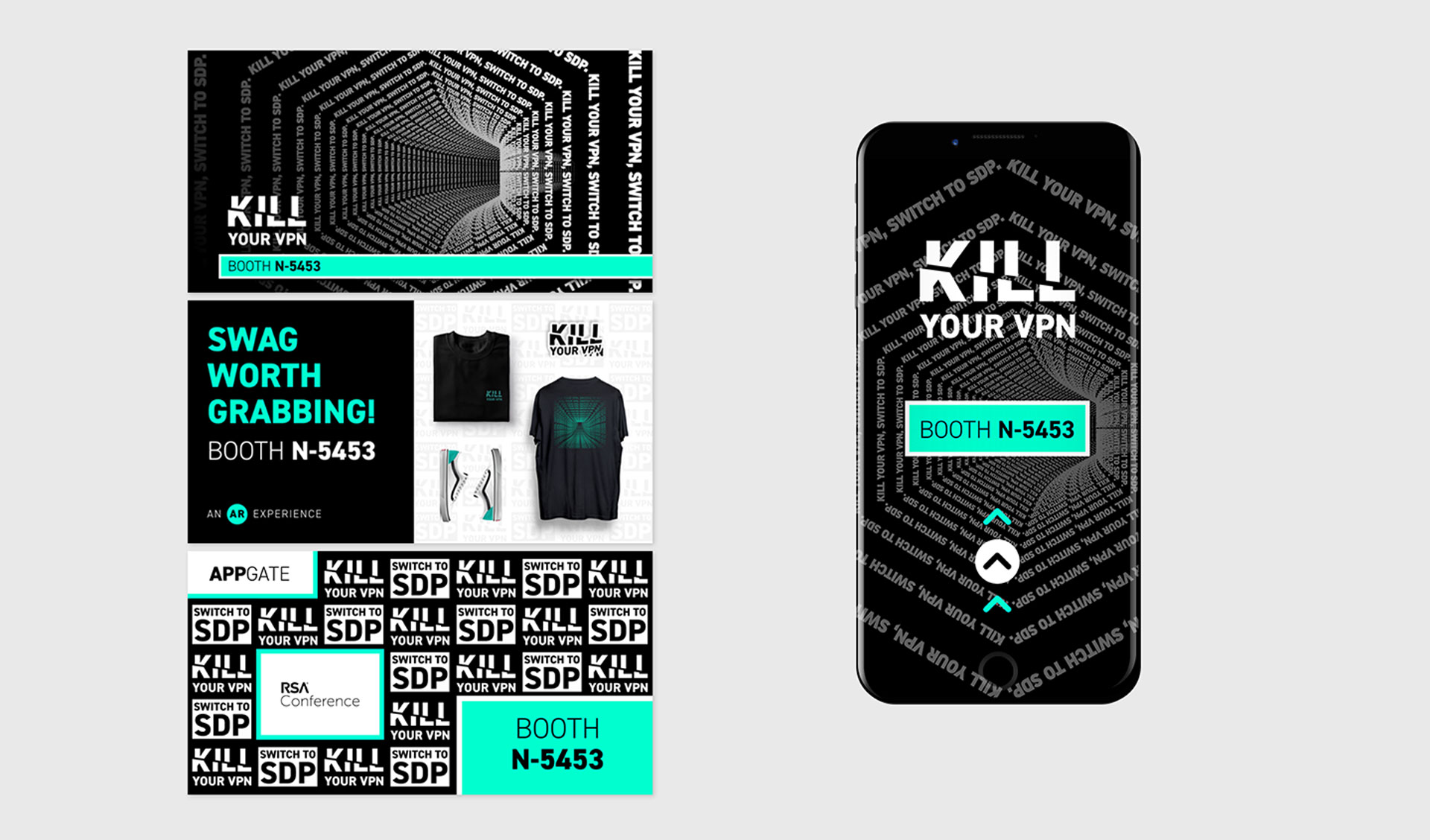 Exceeding Campaign Expectations
The campaign was a massive success for awareness and attendance, exceeding AppGate's expectations by 29% while remaining 20% under budget.
"Fight for a Safer Network" drove significantly more volume to the booth than in previous years at RSAC. Tightly geotargeted campaigns with smaller radius meant fewer users, and money wasn't wasted on irrelevant traffic during an expensive conference environment. Promoting a targeted, full-funnel advertising strategy reached the most valuable audiences, no matter where, when, or how they consume media.
increase in website traffic
"Bluetext and AppGate had the essentials to succeed: team chemistry, sense of humor, creative direction. Together they built a remarkable event experience, the Kill Your VPN Augmented Reality Exhibit, despite the lack of time or brand awareness."