Video has become an essential element in nearly every integrated marketing campaign. Whether it's to highlight a key executive or subject expert, capture a discussion that demonstrates leadership on a topic or issue, or provide a better explanation of a complicated subject, video delivers a strong platform from which to tell a story.
The challenge with video is that it can be of poor quality and doesn't hold the audience's attention when not done well. While it may seem simple to set an executive behind a desk and start running the video camera while he or she starts talking, there are a lot of stumbling blocks when taking this easy path. Offices and even conference rooms can be cramped, making it difficult to get the best angles. The lighting is always uneven. Shadows in the wrong places are a constant issue. And if you're doing a series of video interviews, each office will look and feel different on camera. In addition, sound quality is particularly hard, especially in today's modern offices where air is constantly moving through the ventilation systems. While often barely audible in person, lavaliere microphones are extremely sensitive and amplify that hidden sound.
A better solution is getting the individuals out of their office and putting them in a controlled setting before a curtain or green screen. This approach offers a number of important advantages for a compelling and quality video experience:
1) The lighting will be consistent across every video. Shadows can be controlled, and office clutter is removed from the scene.
2) Audio can be controlled, with ambient sound kept to a minimum.
3) Backdrops, colors and tones can be chosen to meet the mood of the topic or the intended feel of the interview.
4) Multiple cameras can be more easily used, offering more interesting ways to edit the final piece.
5) Multiple videos in a series can have a similar look and feel, making them look like part of the package rather than random takes shot in different locations.
Bluetext often uses black curtains as well as green screens to achieve the right look for our clients' videos. Here are a few examples that should get every marketer thinking about a better way to capture executives, thought leaders, experts and customers as part of successful marketing campaigns.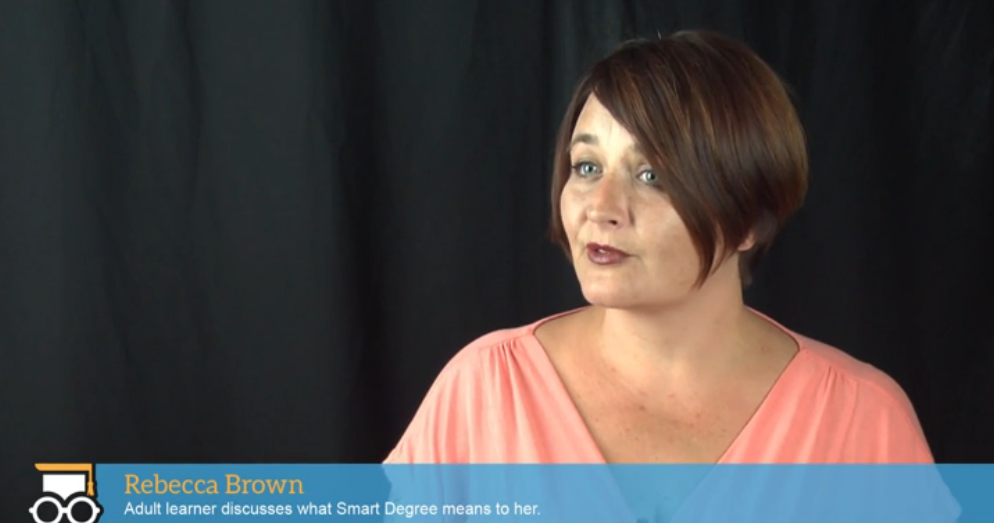 Use the Background to Set the Tone. For the launch of a new program called Smart Degree that enlists adult learners in college courses to complete their degrees, the education services company Nelnet enlisted Bluetext to capture a single mother explaining her challenges in obtaining those college credits. Because this was about those struggling to improve their career and economic status, we chose a heavy black curtain for a serious tone. We shot the video with two cameras, one from the front and a second with a side perspective, to give us room for close-ups and for editing. While we didn't use an interviewer in the shoot, we had the mother look slightly off-camera to suggest that she was engaged in a conversation explaining her personal challenges. We shot four different takes, and the two-camera shoot made the video more interesting to watch and easier to edit. We added a hint of soft focus to soften the features and tone down the intensity of the lighting.
For a second video in the series, we took a different approach. This time, we were capturing a university executive explaining the value and benefits of the Smart Degree program. We used a green screen and chose an off-white background in post-production. This color selection gave a totally different tone to the video, offering an upbeat perspective on the value of Smart Degree. It also allowed us to decrease the contrast and add warmth to the final product.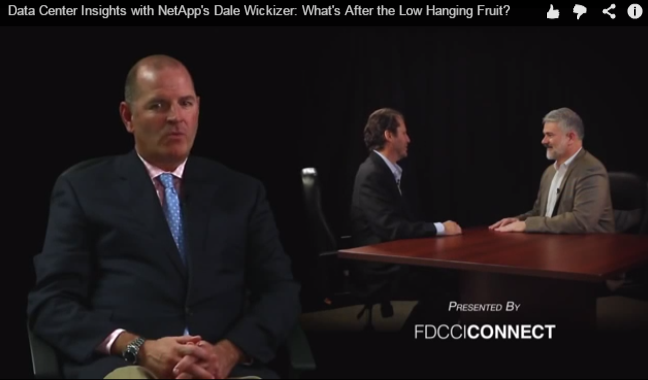 Combine a Green Screen and a Backdrop for a Series of Interviews. For a campaign aimed at the Federal market, NetApp and Thundercat asked for a series of five experts to discuss ways for agencies to consolidate their data centers for more efficiency and to meet government mandates. We created a network interview environment, emulating Charlie Rose and the way he uses a dark studio to impart a sense of gravity and weight to his interviews.
Using a long black curtain to absorb light and give a sense of "infinity" to the scene, for each interview we placed the expert at the far corner of a conference table and focused one camera slightly off-center at their face. I played the role of the interviewer, lofting broad questions that allowed them to talk about the subject. The second camera was slightly over my shoulder, setting up the interview scene. We also captured long-shots of the two of us talking before the interview began. To introduce each segment, we enlisted the services of a well-known journalist and influencer in the government technology space. We placed him before a green screen to make the short introductions, and then overlaid those shots onto the interview long-shots. The effect is as if the he were in the studio with us.
This approach serves several purposes. First, it allows each of the interviews to have the same look and feel so they don't seem random or disjointed. Second, the black curtains bring a professional tone to the videos. And third, the interview style and introduction make the segments more interesting and engaging to the audience.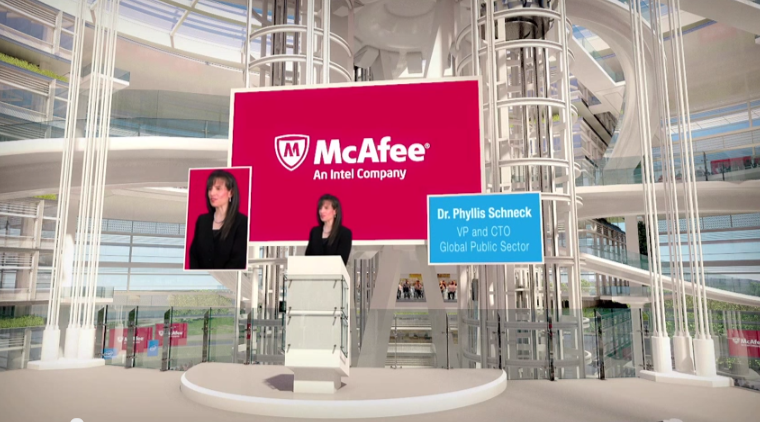 Try Something Different to Keep the Audience Engaged. Technology giants McAfee and Intel were looking for a more interesting way to provide video lectures when highlighting their new solutions. As an alternative to capturing their experts behind a podium, we created an entirely different look and feel. We captured each expert in front of a green screen as if they were speaking before a large audience. A still of the first frame of each video was captured and placed inside a digitally-created, 3-D modeled "Agency of the Future."
As the visitor to the site moves around the virtual building, they can select from each of the discussions by clicking on the still image. That image immediately comes to life as the video begins to play, and simulates a live presentation. As an added feature, we also placed the video inside a larger monitor screen in each video scene next to the speaker, similar to how jumbo screens are used in large auditoriums. That added feature gives visual interest and a touch of reality to a virtual environment. The Agency of the Future has been a huge success for Intel and McAfee, with visitors staying on site far longer than other campaigns they had run.
Video should be interesting, engaging and compelling to be effective. Understanding the options and the value of backdrops, curtains and green screens can make the difference between having your customers take notice and losing their interest.