Every agency today is buzzing with the word "digital", but only the best branding agencies understand that a company's brand identity must be executed both digitally and physically. Many traditional physical marketing tactics are still very effective at building and promoting your company's online brand. From business cards to branded gifts and accessories, the top branding agencies will tell you that consistency is key to bringing your brand to life on and offline.
It's important to note that physical and digital branding are not substitutes for each other; instead, they should serve as complementary parts of your marketing plan. To create a strong and recognizable brand, your company's visual identity should be carried out across all mediums. Marketing strategies that deliver the greatest impact use a combination of online and offline techniques.
Bluetext, one of DC's top branding agencies, recommends the following tactics for a creative, strategic spin on your brand. 
Bring your A-game to networking and recruiting events.
Especially important for trade shows or industry conferences, come prepared with fully branded Powerpoints, case studies, signage, and business cards. This will surely get competitors and potential customers' attention. 
George Mason sought out Bluetext, a top dc digital branding agency for a new brand look and feel. Their website rebrand was not complete without a modernized recruitment brochure to display a new logo and tagline.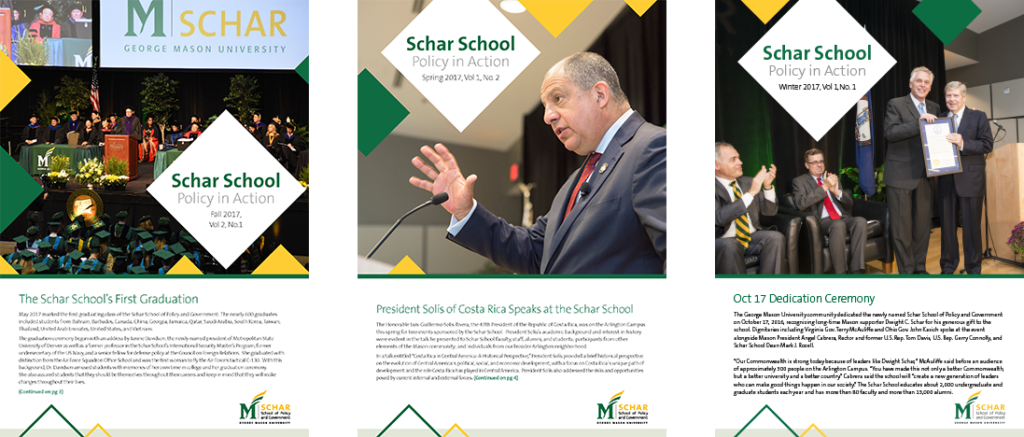 Be your own brand advocate. 
Employees are by far the best brand ambassadors! Equipping them with branded portfolios, notepads and apparel provide face-to-face reinforcement that your company is well-established and cohesive. It is also a subtle yet effective strategy to showcase your proud company culture without saying a word. 
Eye-catching Collateral
For any customer-facing company, using branded templates brings a sense of authority and confidence to any presentation or pitch. Take Invictus for example, whose recent website revamp was complimented by expertly designed templates to elevate their brand in future contracting proposals. Be sure to consult a top branding agency, though, to conduct thorough competitor research and ensure your brand is distinctive.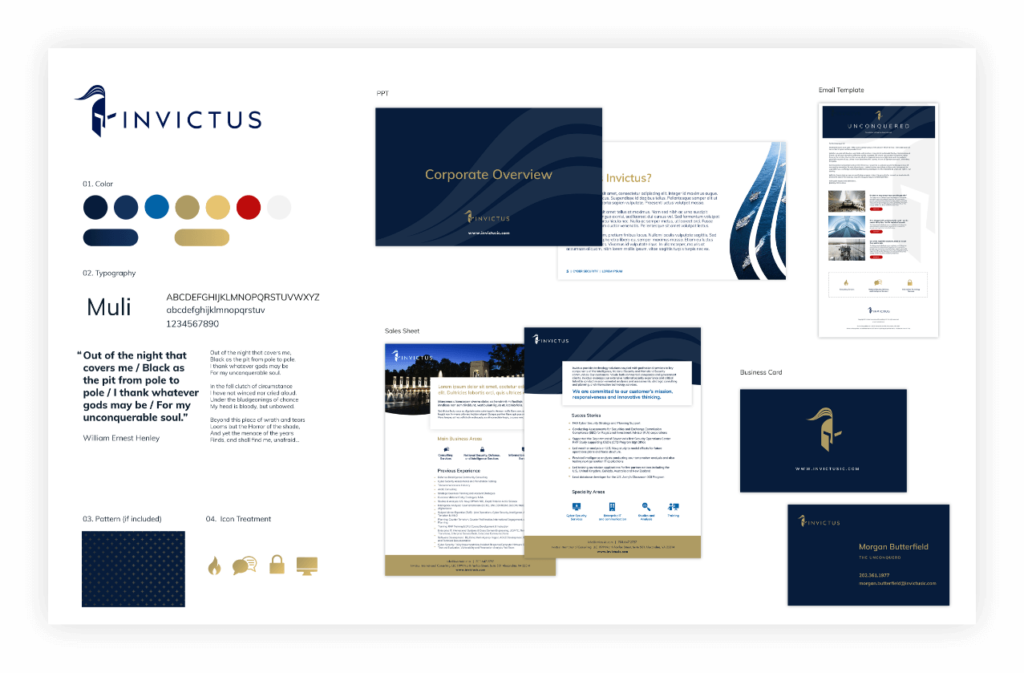 Celebrate Successes!
From a brand launch to a company anniversary event, don't forget to celebrate! Any corporate event provides an opportunity for brand promotion. Company banners, napkins, and decor may seem trivial, but they go a long way. Having branded elements at the event can do wonders for company morale, and create great photo ops!
Pro Tip: Hosting a happy hour? Design company Koozies! It's a savvy way to ensure drinks stay cold all evening and give employees a neat gift to take home and use in the future! 
The bottom line is a brand is more than just a logo. A top branding agency will tell you that first impressions and emotions are at the core of brand strategy. Impactful brands trigger these feelings across all platforms. Digital KPIs are often centered around impressions, and the same strategy should be applied offline. Brand recognition is built upon repetition, and seeing a brand's logo, colors or taglines carried out consistently in-person and online will trigger familiarity and ultimately conversions.
Ready to find out how a unified marketing strategy can amplify your brand? Check out our physical and digital branding services.