Bluetext's public relations client SAS has long been a trusted partner of colleges and universities around the world, leveraging their advanced analytics capabilities to provide safe, effective learning environments for students.
This year, the task of providing a safe and effective learning environment is much more challenging as an abundance of COVID-19 makes gathering in tight quarters like dorms, classrooms, and campuses without spreading the virus next to impossible. As a result, many universities have taken detailed measures to plan for student safety in the event of new outbreaks upon their return to campus. 
One of these is Oklahoma State University (OSU), where administrators are leveraging SAS technology combined with unique campus data to track the spread of COVID-19 using contact tracing and data analytics.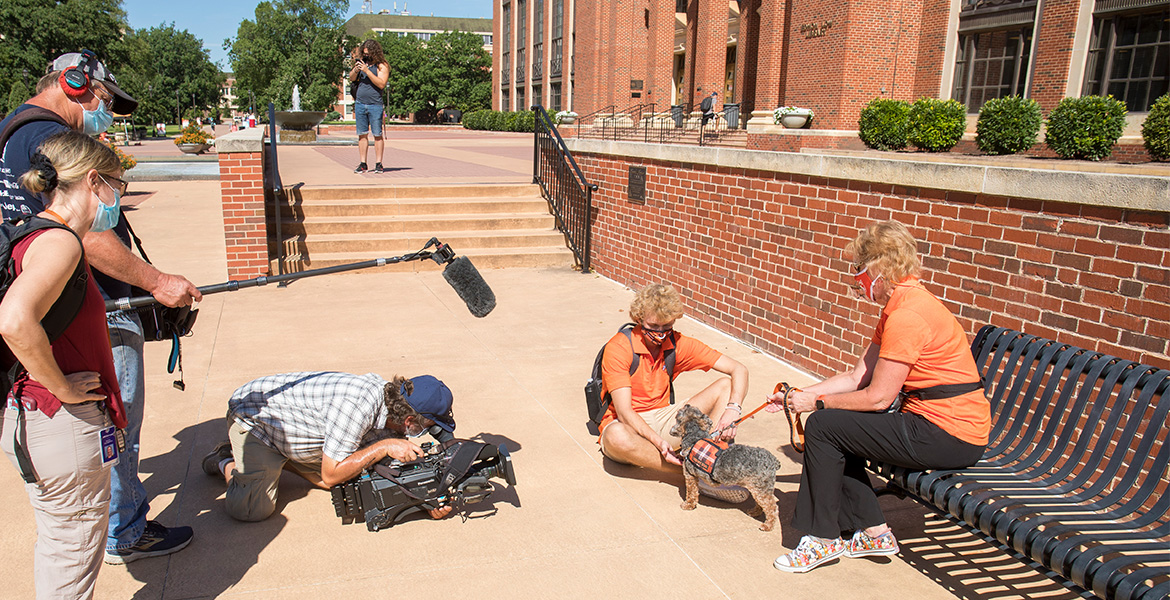 To be ready for the return of students, faculty, and staff, OSU has integrated different data sources to create inferred links between people, places, and times. OSU connected institutional data such as time and location-based information from its extensive campus Wi-Fi network with over 5,000 access points. This data is then combined with other location-based information such as campus store purchases, card swipes, class schedules and more, which can be linked directly to individual students and provide a more complete picture of anyone who has been in contact with a confirmed case of COVID and anyone who has been in the same location for more than 15 minutes.
These OSU data models generate alerts if the data indicates quarantines or isolations are broken, or if a super-spreader is suspected, and provides general alerts for faculty and students. The data will also be used to help identify areas in need of increased cleaning, social distance monitoring, and other education efforts.
The Today Show recently visited Oklahoma State University and followed a freshman student through a day in his campus life amid COVID, illustrating how the university is leveraging its campus data to track where students have been in the event that new cases of COVID are identified.
Watch this segment of The Today Show here.
PR and marketing have changed overnight. There is still a need to reach customers and prospects, but it goes without saying that priorities have shifted in the "new normal" brought on by COVID-19.
It is a challenging tightrope to walk; the news cycle is rightly dominated by the coronavirus pandemic, which means many narratives that resonated pre-coronavirus will struggle to reach your target audiences. For our technology clients selling to government and enterprise decision makers – as well as consumers – we've preached several key PR and marketing tenets.
Chief among them is "do no harm." If we have a client that can offer valuable expertise and insights to advance the conversation and help individuals and organizations navigate the current climate while protecting consumers and businesses, we support those efforts. But you can't force connections that aren't there and detract from those better positioned to make a positive impact. In other words, don't be an opportunist. Don't be an ambulance chaser. Those efforts will backfire and damage your brand.
Bluetext Digital Briefing Centers
Second, clients and their PR/marketing agencies need to be measured, but also creative and nimble. A government contractor or enterprise software company that relied on physical conferences and in-person sales meetings to engage with customers and prospects must now turn more attention to digital strategies.
Check out how Bluetext has developed Digital Briefing Centers (DBCs) for clients needing a dynamic way to digitally showcase to customers and prospects their full range of solutions in action. Customized presentations, live demos and in-depth discussions can be arranged while offering a proven short-term alternative and long-term complement to physical, face-to-face environments.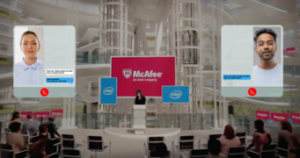 PR In the Age of Telework

Businesses can't just throw up their hands and wait it out; there is still a need for smart PR and marketing to grow or at least sustain sales for the near-term. Digital Briefing Centers address the fact that your website and digital presence is by far now the most important doorway to your brand and brand experience while traditional, physical doors remain closed.
On the PR side, the best way to illustrate how Bluetext thinks when it comes to remaining proactive and creative with clients is through a real-life case study. Transaction Network Services (TNS) is a leading global data services provider with a telecom unit that provides robocall detection technology to U.S. telecom providers. Recognizing that scammers seize on the fear, chaos and confusion caused by health crises, we knew this was an opportunity for TNS to share its important data to help protect consumers from risks to their savings and personal information. Coronavirus scams cost people $7 million in the first 9 days of April alone — so the stakes are high.
Bluetext worked with TNS to rapidly build a strategy to communicate the financial risk to citizens and analyzing data to determine which robocall scams were most prevalent in which parts of the country. Some of the media coverage generated in a two-week period is included below.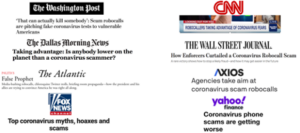 In addition to developing a rapid response strategy, we started to think longer-term about robocall risks in the coming weeks and months. First, we worked with the client to gather data on political robocallers who were capitalizing on confusion regarding postponed Democratic Primary dates in a way that could influence election outcomes – and ensuring the data could be easily visualized.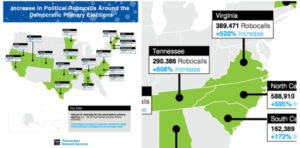 The bottom line is this: we are in an uncharted phase as a society, and it is a phase that may last for months and even years. The organizations able to adapt to the "new normal" will be those best positioned to support their customers, partners and employees.
This Sunday, the Kansas City Chiefs will square off against the San Francisco 49ers in Super Bowl LIV; anticipated to be one of the most entertaining sporting events of the year brought to you by gunslinging quarterbacks Patrick Mahomes and Jimmy Garoppolo.
Thanks to two electrifying football teams and the unofficial holiday that comes with Super Bowl Sunday, a projected 100+ million viewers in the U.S. will tune into FOX at the same time, creating an unparalleled opportunity for marketing pros to cultivate a memorable brand association with more than a quarter of the U.S. population.
But these opportunities do not come cheap
Outside of the cost of producing the commercials, (which anyone in marketing can tell you isn't cheap) you have to pay egregious dollar figures just to place it on the primetime Super Bowl stage. FOX sold out of its Super Bowl ad slots in late November, which reportedly sold for between $5 million and $5.6 million.
$5.6 million!
Let that number sink in. $5.6 million could buy you a five-bedroom house with a view of the Golden Gate Bridge in downtown San Francisco. Or 10 five-bedroom houses in the Kansas City-area. Suffice to say, there's a lot you could do with that money.
From a marketing standpoint, if your brand is considering purchasing a primetime 30-second Super Bowl ad, or you're simply wondering how you could make a splash during the event without blowing your entire annual budget, consider these marketing alternatives that you could buy for the same price:
1. 20 years of a PR retainer at 20K per month
While it probably does not make sense to stretch one year's marketing budget over the next two decades, this illustrates how far your marketing dollar could go over time with a PR budget as opposed to a single, 30-second Super Bowl ad. A monthly PR retainer could produce the ability for your brand to demonstrate expertise to more targeted audiences than the general public watching the Super Bowl at a fraction of the cost. This is typically executed with media relations and strategic placements of messaging within publications of interest to the brand's most important audiences. Spending your marketing dollars in this way would create a steady burn of messaging over a long period of time as opposed to one, 30-second firework explosion of your brand that a large portion of the Super Bowl audience could miss.
2. Multiple omnichannel digital campaigns
In order for any Super Bowl campaign to be successful, it must eventually migrate to the digital realm in one way or another. Outside of the $5.6 million it will cost to run the ad in the spotlight, brands also have to shell out at least another $1 million to market the ad via social media. So why not go straight to digital with your campaign?
Newcastle Brown Ale was among the first to attempt this digital-first Super Bowl strategy in 2014 with a satirical YouTube commercial featuring Anna Kendrick about the Super Bowl commercial they almost made but didn't have the money. By posting the video directly to YouTube and spending all of their resources marketing the commercial online, they found a witty way to poke fun at the nature of Super Bowl commercials by making one while also saving A LOT of money in the process. Digital campaigns can be an extremely effective (not to mention more targeted) way of maximizing your exposure to your key audiences. Ultimately the third-party validation that will come from individuals sharing your content will be the mark of a successful campaign, so digital-first strategies could be the next iteration of Super Bowl commercials.
3. Yearly platinum sponsorships in ten of your audience's favorite publications
If your brand is targeting audiences that congregate around specific media outlets, paid partnerships with those media outlets can be a great way to enhance your exposure to the people who matter most. Sponsorship packages at media publications vary based on their target audience, the type of content they typically publish, and what you'll get for your spend. But with big dollar figures in the hundreds of thousands, you could expect millions of unique viewers, digital ad space, thought leadership content, lead-gen, sponsored webinars, and more!
As Americans and football fans around the world tune in to the game on February 2, household brands will be vying for your loyalty and lesser-known companies will be introducing themselves to the world on the hottest advertising real estate money can buy. However, you can also expect to see many organizations turning to alternative marketing to make their splash during the game.
The real winners of this international media event will not be limited to just the Chiefs or the 49ers, but also to the organizations who strategically employ ALL of the marketing tactics available to them.
It's no question that the American media landscape has gone through growing pains in the past few years. From "fake news" allegations that branched from the 2016 general election to the decline of print sales, it's safe to say that the relationship between the media and its readers is in flux. Thanks to the pressure on the media industry to continuously seek online engagement as a key element in its current business model, public relations professionals now face the same pressures that incentivize reporters to develop articles that garner as much attention as possible.
Because of the tumultuous relationship between politics and media organizations, it's easy to believe that American citizens' trust in the news has declined. But new data shows that the pendulum may be swinging back. According to Cision's 2019 Global State of the Media Report, trust in the media may actually be on the rise. In fact, only 63 percent of journalist respondents feel the public lost trust in media over the previous year, a number that seems high except when compared to the staggering 91 percent who felt that way in 2017.
While the role of journalism in our society isn't dead, it is clear that it's in a state of metamorphosis, and as the industry evolves, it's important to remember that the public relations field also needs to adapt if it is to remain effective.
Where Journalism is Headed
Between budget cuts, a shaky business model and a larger emphasis on social media, journalism is now more than ever in flux. The biggest change comes from the move to online media and the role that social media plays within that relationship. According to Pew Research, the average unique monthly visitors to newspaper websites increased from 8 million in 2014 to more than 11.5 million in 2016 and 2017—a substantial uptick in only two years.
Not only does the mass exodus from print news mean that the pressure is on reporters to have an exclusive scoop, but it also means that they need to be the first to publish. Another symptom of focusing on digital rather than print is the need to receive a large number of clicks in order for a story to be deemed monetarily successful. According to the Cision report, 65 percent of reporters said that the availability of audience metrics—engagement measures such as the number of views, shares, and reposts—has changed the way they evaluate stories they are interested in covering. The old adage "if it bleeds, it leads" has never been truer in the age of click generation.
What This Means for PR Specialists
Because social networks and influencers are quickly bypassing traditional paper media, public relations practitioners have a growing opportunity to help our journalists colleagues with timely and relevant sources for the stories they're working on. In the Cision report, 42 percent of respondents said that they work on stories no more than a day in advance, meaning PR agencies and their clients need to ready to engage with the news cycle swiftly.
This change in strategy has benefits for public relations pros because they are able to better build relationships with the reporter. In fact, 27 percent of journalists said that their relationships with PR representatives have become more valuable since 2018, compared to only 9 percent who had the same response the year before.
How to Build Lasting Relationships with Reporters
Despite the fact that rapid response pitches are king in 2019, journalists often receive a slew of emails from PR representatives every day, many of which are offtopic or self-serving. To fight through this noise, it's vital to be prepared with all essential materials and contacts when reaching out– especially when pitching a time-sensitive story.
Another key to building a beneficial relationship with a reporter is to value their time. There's no question that reporters are extremely busy, so keep pitches short and remember that they don't just receive your pitches. Ensuring the correct reporter is contacted is vital as well. While someone may be listed as a technology reporter, for example, it's important to check what aspect of technology they cover. Do they cover consumer products? Business technology? Networking? The list can go on. But public relations reps need to do their research and ensure they contact the reporter with the appropriate beat.
It's also important to consider the content you're sending to reporters. It may come as a surprise, but 71 percent of journalists reported that news announcements and press releases are what they are most interested in receiving. This is followed by invitations to events and original research reports. While many PR pros spend their day perfectly crafting pitches complete with possible story angles, the most important part is to make sure the information is new and relevant.
Today's hectic media climate will require everyone in the newsmaking process to adapt. For PR pros, the evolving industry will provide new opportunities to create meaningful and mutually beneficial relationships with journalists to ensure quality reporting continues.
When it comes to marketing and communications, government contractors and public sector IT providers face a set of unique challenges. For one, the customer base of Federal, state and local decision makers responsible for purchasing technology products and services – ranging from CIOs and CTOs to program managers, IT managers and procurement officers –represents a finite group that can be difficult to reach.
Compounding this predicament is the fact that government contractors must not only market their brand, product and services to these decision makers, but also time these marketing efforts strategically. This means building awareness far enough in advance of a contract award, and then sustaining marketing and PR efforts throughout what can be a multi-year process from pre-RFP to the contract award – and even beyond due to potential contract protests, delays and budgetary obstacles.
Marketing to agency decision makers is just one piece of the puzzle. For small to mid-sized contractors, marketing and public relations efforts must often extend to larger prime contractors in order to ensure these lesser-known firms are on the radar when Primes are assembling teams to pursue contracts. Large contractors, for their part, must also market needs and capabilities to smaller partners that might hold an elusive product/service, market expertise, status or agency relationship.
We have assembled 6 ways that forward-thinking contractors and IT providers can grow their business and contract opportunities by looking beyond traditional marketing, advertising and public relations tactics.
Leverage B2G responsive landing pages
Responsive design is a critical website approach for providing customers with a seamless experience across all device sizes. With a responsive website, government contractors and IT providers can be in front of buyers at every step of their online journey. A user viewing a website on the go via a mobile device can have the same powerful experience as when sitting in their office.
Responsive websites provide continuity between different viewing contexts, remaining completely agnostic to the type of device used and the size of the screen the user has. Responsive websites also rank higher in search engines' rankings, as Google recommends responsive web design because having a single URL for desktop and mobile sites makes it easier for Google to discover content and for Google's algorithms – which are constantly changing – to assign indexing properties to content.
It was the need for a responsive website that brought GovDelivery, which enables public sector organizations to connect with more people and to get those people to act, to Bluetext.
As the number one referrer of traffic to hundreds of government websites, including IRS.gov, SBA.gov, FEMA.gov, IN.gov, and BART.gov, the GovDelivery Communications Cloud is an enterprise-class, cloud-based platform that allows government organizations to create and send billions of messages to more than 60 million people around the world. Bluetext was hired by GovDelivery to help them reach public sector organizations that can benefit with tremendous cost savings while reaching more people, automating complex communications and driving mission value through deeper engagement with the public.
For this responsive design project, Bluetext conceived and designed a responsive landing page with an infographic demonstrating the benefits of using GovDelivery for government agencies as the centerpiece of the campaign. We also developed a responsive email template and infographic poster to be used across many marketing channels.
Extend reach and share budget with B2G partner campaigns
While going it alone from a marketing and public relations perspective provides a company with more control over a campaign, it also can be costly and restrict the reach and impact that could otherwise be achieved by aligning in an innovative way with industry partners.
Bluetext has worked on numerous occasions with industry partners that align around a specific campaign targeting government decision makers. Govplace, a leading enterprise IT solutions provider exclusively to the public sector, turned to Bluetext to develop FedInnovation, a destination designed to help government agency executives get the latest information on current technology challenges and solutions for big data, cloud, security, mobility and storage. Developed in conjunction with leading technology providers including Dell, Intel Security and VMWare, it includes exclusive content, videos, blogs, and real-time social feeds.
FedInnovation combines relevant, fresh content, complementary offers, and financial resources to deliver an educational platform to drive awareness and leads for Govplace across its target market. The development of platforms is a continued focus for Bluetext as we look to conceptualize, design and develop creative solutions that deliver measurable business impact for our clients. It is increasingly clear that customers of our clients demand unique experiences with premium content delivered in an easy to consume manner.
Another partner campaign targeting U.S. public sector executed by Bluetext was FutureAgency.com, a digital content experience effort on behalf of McAfee and Intel that depicted virtually a "future government agency." For this project, Bluetext created a virtual experience around client subject matter experts in an effort to present content for government decision makers in a more engaging fashion. Rather than static white papers and marketing slicks that often go unread or unfinished, Bluetext created an experience whereby avatars of actual company thought leaders were created, and they delivered presentations on topics in a virtual conference environment. The clients found length and quality of site visitor engagement superior to that of traditional white papers and similar content.
Create compelling B2G digital experiences to reach decision makers
The web has become a go-to resource for decision makers to research products and services prior to purchase. Product sheets, white papers and other pieces of online collateral can be useful supporting resources for government decision makers, but will hardly help contractors stand out in a crowded marketplace.
Recognizing this, government contractors and IT providers are creating more dynamic, immersive digital experiences that can more effectively engage target constituencies and impact the decision making process. Additionally, these experiences are molded to be as valuable as any in-person interaction site visitors would have with products and services.
A recent Bluetext project showcases a forward-thinking technology provider, CSC, which was seeking to ensure prospective customers could have a similar experience as they would if they were physically at CSC's corporate headquarters.
Bluetext designed and built CSC's Digital Briefing Center, a virtual experience where clients and CSC's entire ecosystem can come to learn about CSC's key technology conversations across its target verticals.
Bluetext designed a virtual office building where each floor represents a specific vertical industry, and visitors can learn about CSC's key solutions and experience across cloud computing, big data, applications, cyber security, and mobility. While not specific to the government market, it is indicative of how "stickier" digital experiences are reshaping how existing and prospective customers interact with content.
Highlight customer innovation
No matter how large or well-known a government contractor/Federal IT provider is, gaining approval from an agency to speak publicly about a technology project is often mission impossible. Agencies must be careful not to appear to endorse a specific vendor in public comments or a press release quote, and even when project leaders are amenable, the process often grinds to a halt with the more conservative public affairs officers.
As such, vendors often have their hands tied on how to showcase a successful project so that other agencies – or even other decision makers within the same agency – will take notice. An approach that can bear more fruit involves shining the spotlight on an agency leader or the agency itself through awards and speaking opportunities.
Multiple editorial publications and associations hold annual award programs that showcase outstanding IT projects and agency leaders at the federal, state and local government level. Agencies tend to be more open to sharing an IT story through an award because it demonstrates innovation and can assist with employee morale and retention.
Beyond award programs, there is also significant benefit in generating media coverage and awareness of state & local customer projects. These agency customers tend to be more amenable to participating in public relations campaigns, and the drawing attention to these projects can demonstrate capabilities to prospective Federal customers as well.
Develop targeted B2G campaign to pursue a specific contract
As contractors and IT providers know all too well, winning an agency contract requires a very different sales cycle than a small business user signing up online for Dropbox or a similar "as-a-Service" software offering.
At some level, there will always be marketing activities designed to reach decision-makers across multiple civilian or military agencies – and in some cases both segments. These external efforts may involve communicating product capabilities, service chops, or the expertise of the contractor's team. But in today's hyper-competitive market for agency contracts, developing innovative, targeted campaigns in pursuit of a specific contract or that are designed to reach decision makers at a particular agency, can make the difference between a game-changing contract win and a devastating loss.
Bluetext is increasingly tasked to partner with contractors in developing innovative branding and outreach campaigns around a specific contract pursuit. In early 2014, L-3 Communications, in partnership with Harris Corporation, hired Bluetext to help them pursue the Air Force's $1B Satellite Control Network (AFSCN) Modifications, Maintenance & Operations (CAMMO) Contract.
Bluetext worked with the L-3/Harris Capture teams to develop a campaign strategy that would position them as a Prime by highlighting the many advantages they bring to the table. The overarching campaign theme Bluetext developed is:
"The Power of Partnership, From Vision to Reality"
The creative strategy of this project began with the core concept of the ad, "from vision to reality." The left side of the ad is a wireframe representing the vision with the right side representing its reality. After the wireframe of the satellite was created, it was overlaid on top of the red diagonal to create a striking visual element to draw attention to the campaign. The first series of ads were placed in high visibility areas inside of Colorado Springs Airport, a key travel hub for Air Force brass. The media plan for the campaign also includes online, print and OOH media placed strategically to maximize reach and frequency throughout the entire contract RFP and award lifecycle.
Focus on agency challenge, not yourself
Dramatic changes in staffing and mission of government IT media outlets means that the days of getting a product reviewed or corporate profile written are for the most part a thing of the past. As such, contracts and IT providers must get far more creative when it comes to communicating capabilities.
Government IT press don't want to hear about products. They want to hear about trends and challenges sweeping through agencies, and how contractors and IT providers are developing solutions to solve those challenges.
This was the backdrop for a media strategy Bluetext architected for Adobe Government. Over the past few years, government-wide budget cuts have been swift and relatively unsparing in their impact on agency in-person conferences and training events. This presented a significant challenge for agencies seeking to maintain the collaboration and education benefits these events delivered.
The challenge dovetailed with Adobe's web conferencing solution Adobe Connect, which was seeing a rise in demand in the public sector due to pullbacks in physical, in-person conferences. Bluetext built a PR campaign around this angle that included a pair of thought leadership articles (one targeting the broad federal IT community and one targeting military decision makers), generating multiple articles around this topic in key federal, state and local media outlets, including:
Federal Computer Week – Budget cuts push conferences online
Washington Technology – Budget cuts, scandal fuel videoconferencing boom
Federal Computer Week – Could virtual meetings replace conferences in sequestration age?
Defense News – Communicating in an era of canceled conferences
Federal Computer Week – Defense Connect Online hits milestone
State Tech – Mobile Video Conferencing Powers Collaboration on the Go
Federal Computer Week – DOD connects online to cut travel
Government Executive/NextGov – Agencies are saving millions with virtual events
Federal Computer Week – Cutting costs with virtual conferencing
Reaching and impacting government decision makers requires government contractors and IT providers to push beyond the status quo and engage with partners able to help develop and deliver innovative campaigns to grow their business and increase contract opportunities.
A few weeks back, I posted a blog about over-used PR terms to avoid. Needless to say, that post generated lots of responses and even a clever email from an old colleague that tried to use all them in one friendly note to me. The list of pr terms to avoid seems to be endless. So many to choose from, so little time.
So, due to popular demand, here are seven more PR terms avoid – to debate, disagree with, eliminate from your online dictionary, but above all else, to please stop using. And as with my previous post, I too am guilty of using some of these terms and will take my own medicine. I also recognize that language is defined by common usage, so that even though some of these terms may not be allowed in the Queen's English, dictionaries reflect how people actually use words, regardless of the Queen. Nevertheless, I am fighting a last stand to get these words out of the PR world, at least for now.
Leverage. This is a tricky one because as a noun, I think it's perfectly fine. The problem is when it is so frequently used as a verb, its meaning becomes vague and just seems lazy.
Impact. I know I'm losing this battle, but the word "impact" is a noun, not a verb or a gerund (ending in "ing"), and certainly not "impactful." That's just removing whatever impact it had in the first place.
Their. As in, "Bluetext is a cutting-edge digital marketing agency – their work is amazing!" While the sentence may be accurate, it still doesn't work. Agencies, companies and inanimate objects are "its", not "theirs." This is a pet peeve of mine, and I always correct this whenever I see it.
Unique, when preceded by "somewhat" or some similar modifier. The word "unique" is binary – something is either unique or it isn't –  there is nothing in-between.
Disruptive. This is a big red flag in a PR pitch or press release. Unless when talking about a student's behavior in kindergarten, let's all agree that this is both over-used and not used correctly. We can only look backward to see if a new product or technology was in fact disruptive. Predicting this in advance is wishful thinking.
Authentic. I was once guilty of using this word far too often. The idea was that campaigns would resonate better with target audiences through content such as social media and blog posts if they were "authentic" as opposed to "artificial" in their voice.  In fact, everything we do for our clients should be authentic, and pointing this out just undermines its credibility.
State-of-the-Art. Doesn't every client want to describe their product as "state-of-the-art"? Let the product speak for itself. The audience can decide whether it's new and different or not.
Part 3 of PR terms to avoid will be forthcoming.
Top PR agencies know that words really do matter. That's why crafting pitches that will grab a reporter's attention but not disappoint, confuse or otherwise lose their interest is essential to a successful campaign. Unfortunately, concise writing that doesn't rely on using the same old tired phrases but still gets noticed seems to be a lost art in the public relations realm. At Bluetext, we're careful to make sure that we always keep our writing fresh, clever, accurate, and to the point – without resorting to jargon. Here are eight over-used PR terms that are so tired that it's time to retire them.
"Unicorn." A unicorn in tech PR parlance is the next billion-dollar start-up that's just waiting to be discovered. Of course, every startup thinks it is the next unicorn. By throwing this term into the pitch mix, you're sending a clear sign of unreal expectations or hyping a company far beyond its real story. True unicorns don't need to be labeled as such.
"Synergy." We never were really sure what this dog of a word meant. It seems just like more marketing babble rather that a true description of how organizations (or even individuals) can create more value when working together than on their own.
"So,…" This is a big faux pas and is not allowed out of the shop here at Bluetext. Starting a sentence with "So" is simply sloppy writing. Your argument should speak for itself, and your reader should be able to figure that out without being instructed to do so.
"Arguably,…" Following on the heels of "So," this is another one of our forbidden words. As a writer and editor, I see the reason as part logic, part annoyance. Anything that can be argued is arguable, so using the term doesn't add anything, except for annoying me.
"Circle Back." Ok, I'm guilty of this one and pledge to police myself better. A reporter already gets that you are "circling back" because you do so in the email. Telling them again doesn't make it more likely that they will respond. Let the pitch do the convincing rather than the extraneous words.
"Honestly." One of my least favorites. Using this term is a signal that everything else you've written hasn't been honest. Not good.
"Thrilled." As in, "We're thrilled to announce our client's latest product/service/new hire/etc." Really? That's not an emotion I typically associate with client announcements. It gets less thrilling every time a reporter sees that word.
"Stakeholder." I'm also guilty of overusing this term. Technically speaking, a stakeholder is someone who owns stock in a company. Today everyone is a stakeholder if they even have a minimal relationship to the company. Calling someone a stakeholder doesn't really mean anything. Just use a more precise term, like the customer, employee, partner or vendor.
If PR professionals can dial back on these tired PR terms, they'll be forced to write more concisely with less confusion, and have more success with their pitches.
In a recent post, Bluetext Creative Director Jason Siegel described the differences between a top digital marketing companies, top marketing companies and top marketing agencies. The answer was in the range of services they provide. In this post, we'll answer another frequently asked question: What's the difference between a marketing firm and a marketing agency? This is more than a trivial question, and and it can be confusing. But here's one reason why it is an important question to address: The term "marketing firms" (as well as "top marketing firms") is by far the most widely used search term when looking for information on vendors that provide marketing services.
In the traditional use of these terms, there was a real difference. Agencies were typically made up of a collection of "agents," or independent individuals who operated under one brand for their own marketing and support services. Think about insurance agents who all sell State Farm services but run their own separate businesses. The same is true for real estate agencies and investment services. All sell one brand's services, but in the traditional sense act as their own companies doing so. Firms, on the other hand, tended to include individuals all working for the same company as employees (or partners). Yet, this hasn't been the cases in marketing for several generations.
What's particularly interesting about the use of the term is that most companies that provide these types of services–including Bluetext–don't refer to themselves as firms, but rather as agencies. There are several reasons why we prefer the term "agency" over "firm", none of them scientific or based on a common standard of use. First and foremost, a firm implies a smaller group of specialists that provide a limited range of services, in this case in the marketing field. It can be high-level strategy, but often not wide-spread implementation or execution. In other words, it limits the company in terms of perception about what it looks like and what it does. So for example, a research firm will only provide that type of service, while a communications agency might include research in its full scope of services. In the case of Bluetext, we provide a full-range of marketing and communications services–including high-level strategy–that includes implementation and not just consulting.
Second, the term "firm" is more often used to describe a smaller company that specializes in traditional public relations services, so that "PR firm" is an  accepted term for those types of service providers. As a provider of a full range of marketing services, including public relations and media outreach, the use of the term "marketing firm" is too limited for what we do. Marketing firms like ours do so much more than that, we cannot take the chance of being confused for a pure-play PR firm.
For clients, it's important that they recognize this distinction so that when they are looking for the right marketing partner, they know they are getting one with the broadest range of services. We tell our prospects that the advantage of an agency like ours is that once we understand your challenge, the problems you are trying to solve and the successes you are trying to achieve, we can craft an integrated campaign using all of the marketing services that will allow you to reach those goals. That might mean a combination of traditional public relations, content marketing, advertising and paid syndication, and a digital campaign to reach the target audiences. Only a full-service marketing agency can provide that type of solution.
And in today's communications landscape, there is no one magic bullet to drive customer engagement. It takes a range of options and approaches that require a full-service agency, and not a specialty firm. To learn more about the range of services Bluetext offers and view our Hall of Fame.

Designing, developing and implementing a new website can be very rewarding, especially when design and functionality work together to deliver a great experience for your audience. But it's not always easy. Understanding the audience, how it interacts with your site, how it likes to obtain information, and what it responds best to is complicated and takes a lot of insight and experience. We know. We do it for a living.
That's why we are proud to show off our own new website here at Bluetext. We are not the cobbler's kids who don't have shoes. Our website has been a key element in our success, and we keep it both cutting edge and fresh. One of our key objectives is to show off the great work we have done for our clients.
For our regular visitors, you may not notice some of the new design changes. There are additional case studies, the information is laid out in a more logical manner, and you will see new graphics and promotions. But from the back-end, it's a significant progression for us.
The site is hyper-optimized for search engines, leveraging the latest changes in the Google search algorithms to ensure that the site gets the most organic traffic. It is closely integrated into our analytics and marketing automation platforms so we can track how people are using and interacting with the site. It's also focused on delivering a personalized experience so that visitors can quickly get to the content they want and don't have to revisit the home page each time. We've improved the load times so that everyone should have a good experience on the site. This is partly in response to Google's rewarding good user experience, including load times for images and videos, in its search results.
We've also focused heavily on mobile as more content and sites are optimized for a mobile-first experience. The site is fully responsive. The creative displays are better and will provide examples of our work in more categories so that visitors can quickly find exactly what they are looking for. We've also enhanced the blog for greater industry insights on trends and best practices that we are seeing in the market, and have included an Ideas and Resources section on the home page.
So check it out, take it for a test drive, bang on the doors and kick the tires. Let us know what you think, and ask us how Bluetext can help you achieve greater success for your brand.
Trade associations that represent the interests of and provide services for their members, be they large companies and organizations or individuals, all face the challenge of retaining their current members every year, growing their member base and reaching non-members who may be involved in the policy or business arenas. Competition among associations is fierce. Even without competitive pressures, it's not always easy to convince individuals, organizations, small business or large corporations to devote resources and pay fees to an industry association year-after-year. They not only have to see the value, they need to feel part of the group and believe that it is looking out for their interests and providing them the services they want.
With industry associations as with other organizations, the website is the hub of activity for members and others who want to know about the group and its issues. Too often, the hub is ignored because it's not viewed as central to the mission of the group. We think a strong website is essential, because that is the first place that any target audience is going to look for information. Bluetext has helped dozens of industry and membership organizations leverage their web presence to better recruit and retain their members, grow their revenues and maintain a close relationship with their constituents. Here are our top five tips:
Make It Engaging. Compelling website design and graphics are extremely important to reach those key audiences and to keep them interacting with the site. First impressions are important, and if the design doesn't resonate, the visitor may leave quickly without engaging. A tired or out-of-date design signals that the association may not have the resources or digital savvy to have a modern and fresh look and feel. The design should also allow the visitor to find a wide range of information that spans their interests. Visitors come to association sites not to purchase a specific product, but to learn about a variety of topics, policy issues, and services that are relevant to them. Burying that information under layers of tabs may lose the target audience. A responsive design is a must, as more and more individuals are accessing the sites through mobile and tablet devices. We also recommend longer scrolls as visitors swipe to navigate the screen, rather than waiting for a new page to refresh as they move about the site.
Make It Personal. This should be fairly obvious, but it is surprising how many membership organizations and trade groups fail to highlight their own members. Why is this important? Because individuals need to be able to relate to the other people in the organization, to understand the types of people who are also part of the group and what value they get from their dues. Not only does this draw in new members, but it also serves to "humanize" the organization by putting faces and stories on what otherwise might seem like a faceless group.
We recommend setting up a section on the website that is full of videos and scrapbook-type photos of members and their families. For Forest America, which represents the nation's private forest owners, we set up a section called "Caretakers" on its website, with profiles of dozens of landowners and their families who are part of the organization. To capture the footage, we take a video crew to their annual meetings and film them during breaks telling their stories—with other family members at their side. We add in photos that they send us and any other materials that help tell a personal story. The Caretakers section serves three important functions:
1) It shows visitors to the site, including policymakers and other organizations, the human faces that comprise the organization;
2) It helps with recruitment, as other private forest landowners see that they can be part of the team; and
3) It energizes current members, who love to see their colleagues and friends—and their own families—in a scrapbook setting.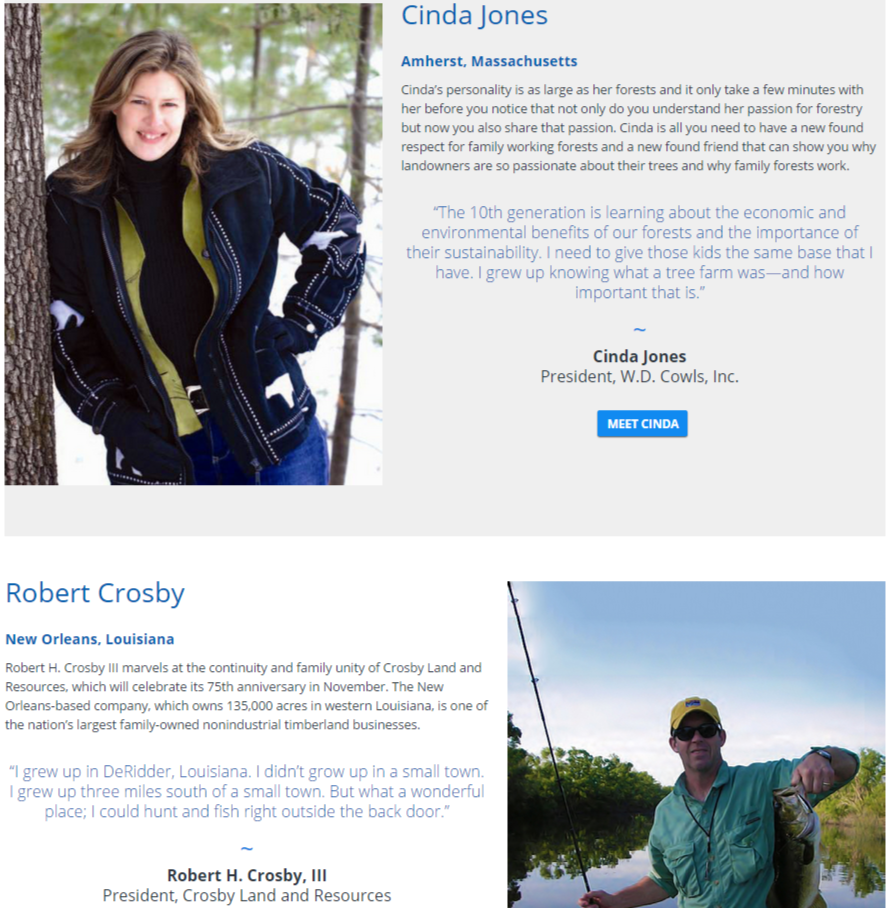 Give Them The Tools They Need. Members are busy, so any shortcuts that make their lives easier are welcome. For the Society of Human Resource Management, a membership organization that includes thousands of human resources executives, retention was suffering due to the economic downturn. HR directors needed an easy way to convince their CEOs that membership in SHRM paid valuable dividends in training and resources for their annual fees. Rather than their typical request for approval, which might be shuffled to the bottom of the in-box, we built a tool for members that with just a little bit of information would create a compelling brief presentation to be send to their top executives. The deck, which explains the value of joining or renewing their membership, was far more likely to get the attention and approval of the boss. After launching the new tool, SHRM saw its renewals increase dramatically.
Make It Easy. Not only do members appreciate better tools, they need easy ways to take action and interact with the organization. Having persistent Calls-To-Action across every page of the site is essential to get the type of engagement that demonstrates value for the organization. In some cases, those Calls-To-Action can be as simple as "Join Now." But for advocacy sites, having a sophisticated application built-in that can send a tailored email or letter to a Member of Congress or a regulatory agency serves many purposes.
First and foremost, individuals will contact policymakers only if it's a relatively simple process. Most do not have the time to write a note to their Congressmen, nor do they know the issues well-enough. In addition, they might have no idea how to find the right policy-maker and obtain their email or physical address. We have installed a number of effective applications for associations that take the burden off of the member. By filling out, for example, their zip code, these tools can auto-populate a letter with the correct Member of Congress and address, and offer a "Mad Lib" draft where certain fields can easily be completed.
Build In Engagement. There are excellent new tools to engage visitors to the site. The first is obvious: Make social sharing persistent on every page and section of the site. Whenever a visitor sees anything they like—a position paper, an infographic, a video or a blog post—encourage them to push that around to their larger network.
Another tool that we have implemented in a number of sites is a Tweet-Builder—a tool that poses a topic and then invites the visit to complete a tweet, with recommended hashtags that can be included. That tweet then goes in real-time into the associations Twitter Stream.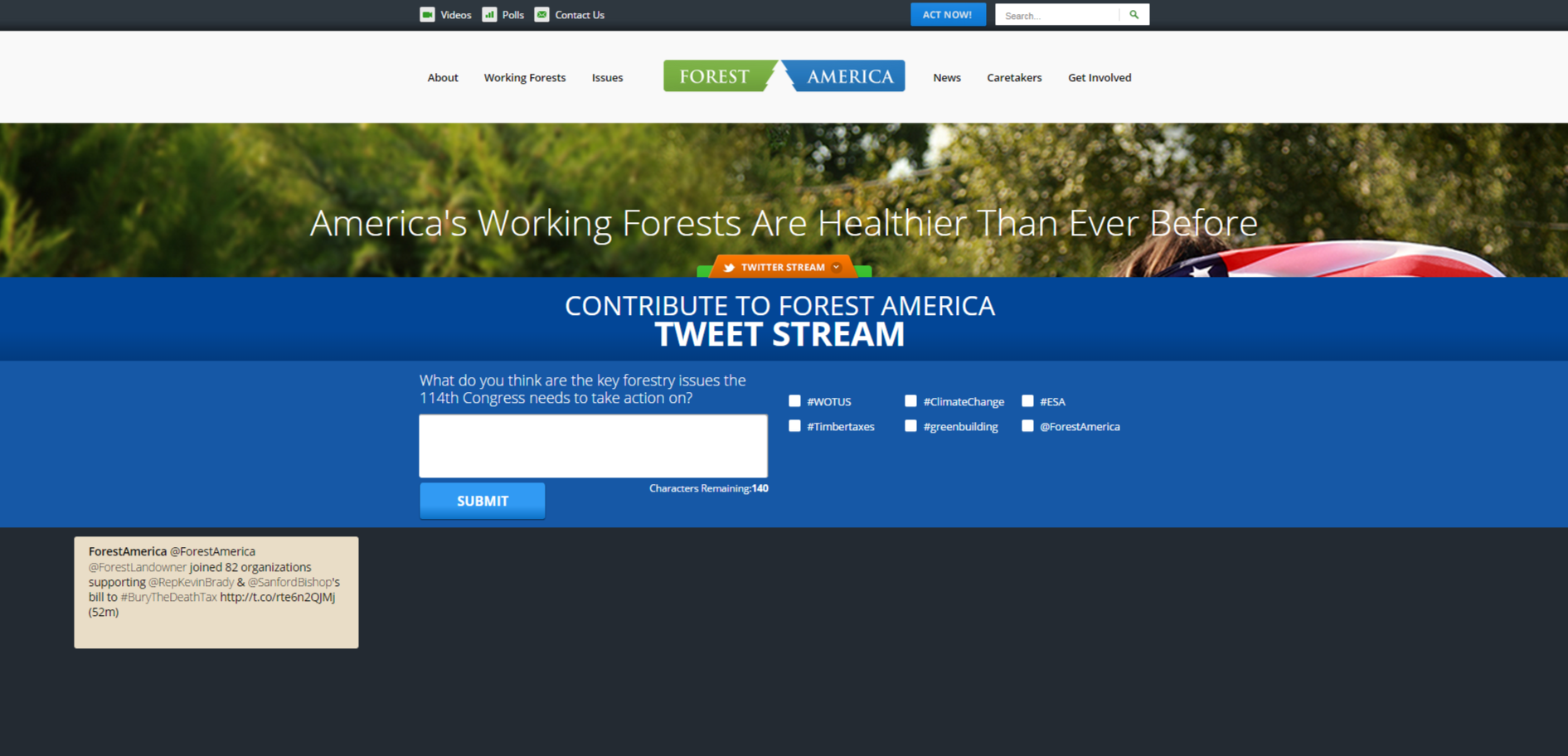 The benefits of this tool are that it encourages the visitor to participate while helping to populate the social media arena. It also gives an incentive for that person to follow the group on social media, and to broadcast posts out to their larger community.
A third tool that we implemented is a polling functionality—that poses questions on the site in the form of polling questions, and then displays the results on that same page. Designed to resemble a Pinterest Page, polling tools invite participation and give the visitor a reason to keep coming back to the site. This is one that we built for a media company that publishes a variety of sportsmen-focused magazines.