If Jon Favreau's character in Swingers met sponsored content at a bar a few years back and snagged its phone number, he might pin the number up on his calendar, but he would never call her. Ever. Because sponsored content lacked brains, beauty and charm.
But sponsored content – and content marketing in general for that matter – has come a long way from its origins as glorified and often ineffective native advertising. Today, Vince Vaughn's character would take a look at sponsored content, hop up on the table, swing his shirt around and yell, "You know what big boy? You're grown up. Cuz you're growns up and you're growns up and your growns up!"
While Vaughn's sentiments will have once again obliterated the English language, his point would be well taken. Sponsored content has "growns up." Publishers are taking sponsored content very seriously because it has become key to their financial lifeblood. Desperation leads to innovation, and experimentation – all good news for brands reluctant to part with traditional advertising dollars but that increasingly view mature sponsored content opportunities as a way to reach and influence target audiences.
In a recent interview, AOL Inc. CMO Allie Kline reaffirmed its view that content marketing is not advertising. While some of the campaigns she references stretch the limits of how we define content marketing, that is kind of the point; the definition is changing as the data, distribution and content becomes more sophisticated.
Sponsored content is one component of content marketing. Sometimes it is easily identifiable, while in other cases the sponsored content is cloaked within traditional editorial content. The latter development is a testament to the fact that display ads and other overt forms of online advertising are falling out of favor, and brands increasingly seek a way to have their content woven into earned editorial content, where it is less obvious to the reader, viewer, listener that the content is in fact "sponsored." When was the last time you clicked on a banner ad? For me, it only happens when the web page I'm viewing shifts unexpectedly at the last second and causes me to click on an ad rather than the editorial content I actually wanted to read.
In our work with clients, we've been increasingly evaluating and making recommendations on sponsored content for technology brands. Based on this work, there are a few considerations brands should keep in mind when embarking on a sponsored content program.
Publishers are upping their game
Traditional publishers are no longer ceding the curated content game to agencies and other players in the market. Look no further than The Guardian, a well-known global publication that in 2014 launched Guardian Labs, an in-house branded content agency. Brands such as Silence Circle, a hot encrypted communications firm, chose Guardian Labs this year for a sponsored content program to promote the company. It is reported that Guardian Labs has 133 staff members, and there is no doubt that other publications will be closely watching efforts such as these to gauge whether they can launch similar efforts.
Similarly, QZ.com, an up-and-coming news and tech site, has teams of content, video and design experts working with brands such as HP on this infographic-anchored sponsored content, to build high impact sponsored content that will grab the reader's attention. So what brands see today is a far cry from advertising and the full page "advertorials" that had an editorial flavor to them, but were still noticeably out of sync with a publication's earned editorial content.
The details are in the fine print
TechCrunch, Forbes, Re/Code, CIO.com, you name the technology out let and most likely there will be a sponsored content option. Before selecting one or more outlets to work with, the brand should get answers to several key questions:
Where will the sponsored content post direct the target? Some technology outlets will redirect users clicking on the sponsored content teaser to content that resides on the outlet's site and looks and feels similar to earned editorial content on the site. The benefits to this approach
What type of sponsored content works best? Sponsored content can, in theory, be self-promotional about a company or product, or it can be more traditional thought leadership whereby the goal is to attach the brand to a vision or market trend. While one could argue that self-promotional content can more directly link the target to a buying action, doing so makes the sponsored content more "ad" like relative to thought leadership content.
What happens to the sponsored content post? A typical sponsored content scenario is that the teaser will appear in a vertical scroll within the top 10 news stories on a technology site. Brands must understand how long the content sits in that position, what happens to the content after it leaves the prime position and is shifted to another part of the site, and whether this content leads to another part of a site or an external landing page the brand (or publisher) most construct for this campaign. In some cases, a sponsored content piece might only run in prime position for one day, so understanding where the content travels to from there is key.
Do they use CPM or fixed-fee model? In some cases, editorial outlets will use the 'cost per thousand impressions' fee structure, while in others it is a set fee determined by the publisher based on a broad range of factors. Each model has pro's and con's that should be evaluated.
Do listicles work for b2b brands? 
List + Art (icles), otherwise known as listicles, have exploded on the b2c side of the house. Scroll through Yahoo News or any other consumer content site and you are bound to bump into some inane list along the lines of "Top 5 ways to pay off your mortgage," "The 8 best places to eat fried chicken without a napkin," or "Top 10 reasons you shouldn't eat scallops." How much these listicles contribute to society is debatable, but the listicles are eminently clickable and work reasonably well. For B2B sponsored content however, listicles remain a work in progress and must have a more substantive theme and valuable content that relates to the user's pain points.
Does sponsored content work?
In January of this year, a blog post by SEO firm Moz did a fantastic job of analyzing the current state of sponsored content, and the potential for brands to see stronger results relative to advertising. In its "Content Promotion Manifesto," Moz estimated that brands spent, on average, 6.7 percent of their content marketing budgets on sponsored content in 2013– and surely that figure has increased measurable since then.
In terms of effectiveness, the Moz blog post also cites a Contently survey of Internet users that reveals brands have a real opportunity to influence decision makers with sponsored content. Nearly half (48%) of respondents believe sponsored content that was labeled as such was paid for by an advertiser that influenced the content produced. The majority felt the "sponsored content" label meant something else.
Equally encouraging is that the survey finds one-third of respondents are as likely to click on a sponsored article as they are to click on unsponsored editorial content. The Moz article also references a separate study that actually found consumers look more at sponsored articles (26%) than typical earned editorial articles (24%). Publishers have seized on the strong results and favorable consumer/business user data, charging brands five and six figure amounts for individual and limited-run campaigns (as the Moz chart below indicates).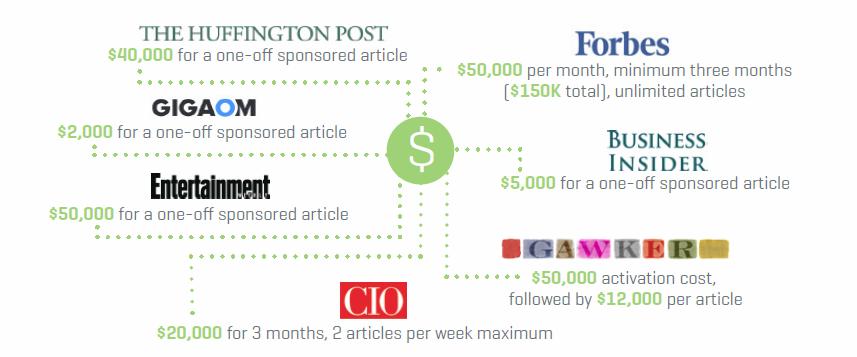 The bottom line for brands evaluating sponsored content is to build a clear set of goals and objectives for the campaign, and identify the right partners to execute it.