CSC turned to Bluetext to design and launch an industry-specific landing page around its approach to targeting the requirements of the manufacturing industry. CSC's vision is called Orchestrated Manufacturing, and it represents an age where manufacturing processes are orchestrated through digital interactions and cyber-physical production systems. CSC is working with clients to implement advanced solutions that leverage a new generation of systems is providing real-time awareness and autonomic interactions between machines, systems, assets and things.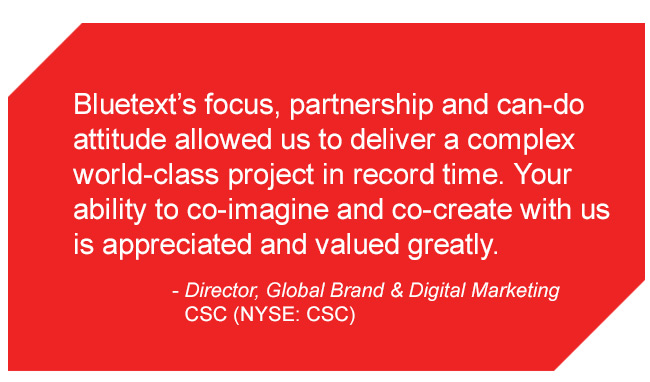 Bluetext worked with CSC's digital brand marketing team, as well as their Manufacturing industry marketing team, to design a landing page unlike anything CSC has ever launched inside of its corporate domain. It includes a modern design with one long, scrolling page to showcase the vision and its practical application to the market, and then lead visitors to download key content and interact with CSC.
At Bluetext, we find that many large companies with diverse industry focuses and solution offerings sometimes make it hard for target audiences to find exactly what they are looking for. The idea behind Orchestrated Manufacturing is for CSC to tell its story in a unique way with an online and offline strategy to drive a consistent visual message into the market. The landing page is complemented with two videos that can be used by sales teams to succinctly tell the story, as well as a highly produced poster for sharing at events.
Please check it out at www.csc.com/om. We would love to hear about how you are designing landing pages targeting unique audience groups and what strategies you are finding work best.