There's no doubt that the past five months have looked quite different from what we're used to. Each day, we log onto our computers, join video conferencing lines, and do our best to make this new virtual work-from-home experience feel as in-person as possible. Day to day social situations may have been put on pause, but business certainly has not. Happy hours with coworkers? Via Zoom. Pivotal presentations with clients? Via WebEx. In-person large events and seminars? We have a solution for you.
Just two short months ago, Citrix turned to Bluetext to help bring one of their networking events into a completely virtual space. The Citrix team had one goal: create a seamless virtual experience that provided the same quality of content and connectivity as an in-person event.
With only six short weeks to build a fully custom microsite complete with new, event-specific branding, Bluetext hit the ground running.
First, came the wireframes. In order to fully understand the user journey, the Bluetext UX and design team worked closely with Citrix to understand their virtual event goals, which included providing a seamless user journey and navigation. Just as each in-person event has a lobby, there needed to be a 'home dashboard' where users could easily access all relevant sessions on the day of the event. With a maximum of eight general sessions, we explored a few different possibilities for displaying the session information.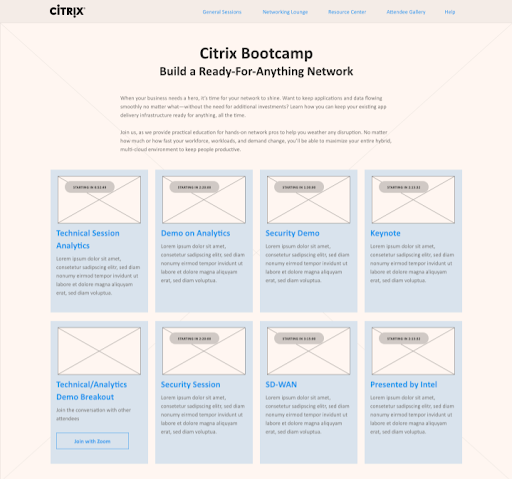 Ultimately, we landed on our two-column grid with a featured keynote session. This enabled us to include as many relevant details as possible, including a countdown clock that would show a user how much time was remaining until a certain virtual event session begins. Think of an in-person event: any attendee would have been provided an agenda of events, along with locations and maps. The same guidance and resources need to be readily accessible in a virtual event. Through the selected UX, the homepage of Citrix Boot Camp could provide a high-level overview of the event's itinerary. We explored a grayed-out 'completed' state for each session, which gave users the signal that the session has completed.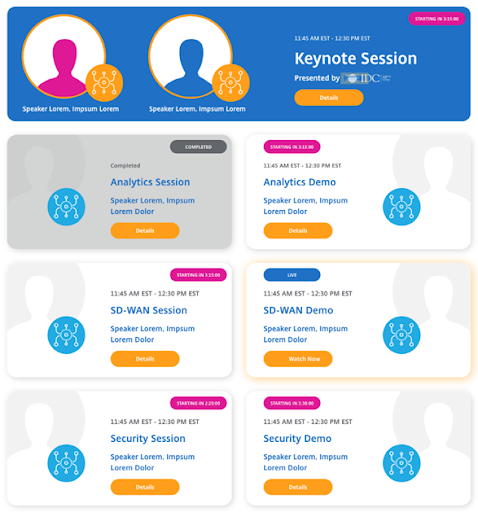 Not only was it important to create simple and seamless UI and UX that would provide all registrants an intuitive experience, but it was just as important to make the event feel as lively as possible. With no physical event staff to welcome, direct, or answer questions, the website had to serve any and all personal touches one would expect.  Bluetext designed a pair of pre- and post-event thumbnails to display before and after the live video play to transform the event microsite into an exciting and lively virtual space for all registrants.
Once we had a beautiful site ready for build, our team began to work through a major development goal of the site: the live-video playback. Our team leveraged the Zoom integration to provide live Q&A sessions for registrants to engage directly with Citrix representatives. This gave users the traditionally intimate networking experience that is generally lost when transitioning events into the digital world.
Read Part 2 of our Behind the Scenes of Citrix Boot Camp here.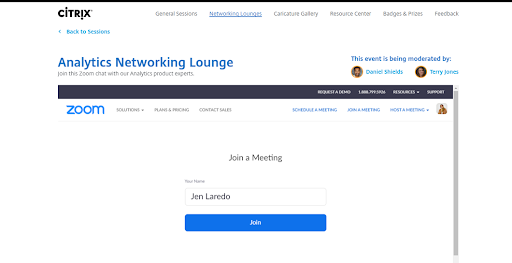 Looking to reinvent your company's event experience? Bluetext can help. Contact us today.
Have you ever taken a placement quiz on a website to determine which Internet package was right for you? Have you completely filled in your LinkedIn profile to get rid of the accomplishment bar at the top? Have you found something unexpected on a website that caused you to spend more time browsing? If you answered yes to any of the above questions, you've experienced elements of "gamification" in web design. 
What is Gamification?
Gamification is the act of taking a process that already exists (say, filling out a social media profile) and applying game mechanics to make it more engaging. Some examples of game mechanics frequently used in website gamification include: 
Points and Achievement – Usesf positive reinforcement that allows website users to set goals, earn badges, and "level up" or gain some sort of elevated status. 

Rules of Play – games typically have set rules of play, including fast feedback (i.e. a star for a correct answer, or a slight change in color for a completed answer, etc.).

Competition/ Status – Competition between other users or to get a personal high score, is also a common aspect of gamification. Often, winning will confer some sort of elevated status on users (i.e. a top tier loyalty customer, etc.). 

Self-expression – Social aspects or collaboration could also be considered aspects of gamification – a message board, for example, could be gamified.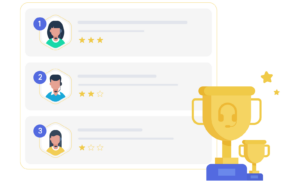 You may be thinking, "my business is too serious for a silly game!" However, that's not what we mean by "gamification". Gamification is about increasing engagement for an existing process. You could use it for everything from encouraging customers to return to your site to onboarding new employees in a fun way that will stick with them. 
Why Do People Use Gamification in Websites? 
Gamification can have many examples for websites, including higher levels of adoption (for loyalty programs, for example), conversion increases, or decreases in time spent onboarding clients or employees. In fact, even just one element of interactivity on your site can encourage a deeper level of attention and participation from website users because users intrigued by one element of a site are more likely to search for more engaging content. 
According to the Peak-End rule in modern psychology, content that sparks moments of joy or discovery, however brief, is much more memorable than other types of content. Gamification can spark these peaks – with something relatively simple like visual storytelling with minimal interactions (like on a marketing website for your complex product set) to a full-on competition with a leaderboard and diverse levels (like on a language learning website).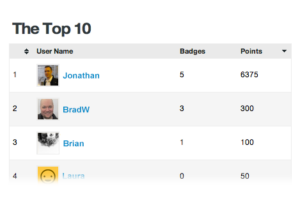 Gamification Guidelines
While gamification can be a great way to add interest and interactivity to your site, it also can increase the levels of expectation that users have for your site content and overall business. Here are some guidelines to consider when considering gamification in your web design:
Make it more than just a fun add on

: Gamification methods can't just be an add on. They must resonate with your business mission and strategy. Otherwise, they will take away from your site and business message. 

Include a way out

: Ensure your game elements don't block users from engaging in other ways with your site. You should use gamified elements to enhance engagement, but make sure you have other options for those who might not want to play or who might be looking for information about you and your products faster. 

Follow logic and keep it simple

: Knowing basic psychology is important when adding game elements to a site. If these elements don't make sense to users, the point of gamification is lost. In addition, you need to keep things simple. Remember, you're not creating an entire game, just using aspects of games to accomplish a business goal. Sudden realizations (sparks of discovery) are better in progression – you shouldn't expect your users to learn or retain too many things at once. 
Gamification Ideas for Your Business 
Everyone's business is different and will have different possible ways to include gamification in their site. Here are a few for different types of businesses: 
Quiz Mechanics

: A quiz or game to figure out which of your products or packages is right for the user. This can teach the user more about what you do and the differences between your packages in a fun way that will be memorable.

Real-world example: TravelZoo's literary map of the UK (to generate buzz for the different cities on the map) 

Social Mechanics

: A competition that displays rankings of different users so that more users complete reviews, order more, or come back to use your site or resource more often. A message board on your company website can also be implemented so that users can share good (and bad) experiences with friends and family. 

Real-world examples: Citroen's on-screen test to get users to scroll as fast as they can (to associate Citroen with speed and enjoyment) 

Problem Solving

: You provide users the tools they need to solve a problem that you pose to them. With more information, users receive more content and more control of the process. (To set up Vive's VR headset, the company put a game on their site – upon completion of which, the headset will be ready). 

Accomplishment and Completion

: You encourage users to complete a task that is already halfway done by dangling an accomplishment. (LinkedIn uses a status bar when you're filling out your profile to encourage you to fill it out more fully and to share on the platform with others).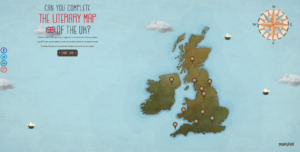 BadgeOS
A great gamification WordPress plugin that we recommend our clients to consider is BadgeOS. BadgeOS is a fully customizable add-on, allowing you to define an unlimited number of types and customize them as much as you like. Utilizing BadgeOS, company's can design their own badges, define required steps to achieving specific badges, track achievements via a leaderboard, allow users to share achievements via social media, and so much more.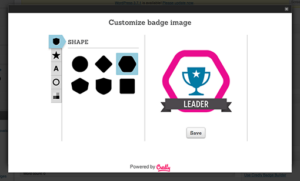 We Won't Play Games with Your Site – But We Can Gamify It 
Want to explore gamification and its possibilities for your site, but don't know where to start? We can help! Bluetext has a wealth of experience in creating engaging and successful sites, including gamification, from visual storytelling to quizzes, to choose-your-own-adventure experiences. We won't play games with your site, but you can bet that we can gamify it.
Bluetext is honored to announce that Creative Director and Co-Founder Jason Siegel has been named a Judge for The FWA website awards, one of the oldest and most prestigious awards programs for website design in the industry. First launched in 2000 as the Favourite Website Awards in the UK, FWA has grown into the global leader in identifying and recognizing the best in website design. FWA remains an independent voice in the world of website design and build, recognizing the top talent across the globe and highlighting the trends and technologies that are driving website experience and results.
FWA's Judges represent the top of the industry and come from more than 35 countries. As FWA explains on its website, "FWA is where you go to experience cutting-edge innovation in digital design and development. It's a space that encourages the digital industry to push the boundaries of technology, to show people what is possible."
For Bluetext's clients, Jason being a part of the FWA Global Judge Panel means more access to the most cutting-edge designs and talent in desktop and mobile websites, mobile apps, virtual and augmented reality projects, and any creative work that pushes the boundaries.
Q&A
Why is website and UX design so important to brands and other organizations as part of their tools to build engagement with customers and other audiences?
JS: Website design and UX design is so important because it's the #1 brand touchpoint for the customer. If done well, the digital channel, whether a responsive website, an app or an installation, can create the greatest upside with the customer and be a voracious capture-agent for user data.
What do you look for in websites that you are evaluating?
JS: In my role, I am looking for pixel-perfect execution and production consistently throughout the whole UX. I am looking for superb in-browser performance, mixed with lite-weight code, mixed with fantastical motion effects.
How should website designers weigh the look of a website versus its ability to convert visitors to customers? In other words, how do you balance style versus effectiveness?
JS: When brands live and die by their short-term conversion rates, it does allow them to stay alive and thrive while building a customer base. However, once a brand establishes itself and the many channels the brand lives on drive revenue and stabilize the brand for the long-term, it starts to get more interesting. We then look at richer experiences, more higher-level positioning, and deeper brand engagement. While this often doesn't convert faster in the short term, it does position the brand in new pricing categories, more accurate market positioning, and greater revenues and market share overall.
Content marketing is a consistently invaluable tool to increase conversions by educating your leads and customers. As we welcome a new year as well as a new decade, it's important to understand the emerging content marketing trends that will dominate 2020. How should you change your digital content marketing strategy to keep pace with the ever-evolving nature of content marketing?
In this blog post, we take a look at 5 content marketing trends that will keep you ahead of the curve in 2020 and beyond. 
Data-Driven Content
How are you, as a brand, determining what content is useful and relevant for your audience? That's where data comes in. By harnessing the lessons of previously successful content marketing initiatives, companies are able to reverse engineer the data and identify KPIs that preceded the success. Once those KPI's have been established, it is easier to create content in that same strain and capitalize on the proven success. A DC-based digital branding agency like Bluetext can assist you in determining successful KPI's and creating the rich content your audience wants to read. 
Smart Device-Centric Content
Although smart devices have been a key consideration in B2C content marketing for quite some time, this year, more focus will be placed on specific functions of smart devices such as voice search. Voice search is becoming such an integral mobile tool, 48% of consumers are using voice for "general web searches." Companies looking to stay ahead of the curve should look to optimize their content specifically for voice search purposes. Understanding how users search via their voice will help you tailor your existing content for voice-SEO and create more effective headlines for future content initiatives. A DC digital web design agency like Bluetext can help by conducting an analysis of your audience's voice searches and recommend changes to your existing content and future content to maximize the return on your investment.
Conversational Marketing is King
In the digital era which champions online shopping, consumers are looking to establish trust and connection through more personalized, authentic shopping experiences. Conversational marketing can aid your company in engaging with your audience in a more genuine way. By engaging in a conversation, your company gains access to more personalized data about your consumers such as their specific needs and future goals. Investing in tools such as chatbots or real human-to-human experiences can make all the difference in your competitive industry. As we progress through 2020, chatbots and other AI tools will continue to improve and positively impact lead generation.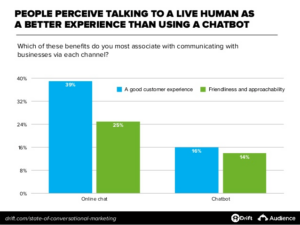 2020: The Year of the Snippet
As we know, Google dominates the search engine market share worldwide, with a resounding 92.71% of the market. When considering a user's search intent, Google will display what they call a "snippet" at the top of the page, which provides consumers with key points within a piece of content, allowing them to receive the information they're looking for faster. As such, it's becoming more commonplace for consumers to enter a longtail keyword into Google, knowing that they will receive the information they're looking for via a snippet, without clicking any page links whatsoever.
In order to win that highly coveted snippet spot, companies should look to hire an interactive web agency such as Bluetext. Bluetext's SEO analysts can conduct an audit of your current content and pinpoint exactly where changes need to be made in order to signify to Google crawlers that your content is important. Optimizing your content for snippets will greatly enhance user experience, as users will be able to find the information they are searching for concisely and quickly. Not only will an interactive web agency audit and enhance current site content, but they will also create a content strategy and editorial calendar so your brand can continually publish content your users are searching for.  
The Popularity of Podcasts
According to a recent study, 51% of the entire US population has listened to a podcast in 2019. That figure is up by 7% from the previous year. As we look ahead to 2020, podcasts will continue to dominate, as that number is expected to keep rising. Although it may seem like everyone has a podcast these days, there are still opportunities for brands to get ahead of the curve and start their own podcasts.
That being said, if you see a clear demand for audio content within your market, ensure that you create a podcast the right way. Podcasts should have clearly defined KPI's, a regular posting schedule, and content your audience will actually care to listen to. A Virginia internet & inbound marketing agency like Bluetext can partner with your company to assess the need for a podcast in your industry and among your competitors, help you create valuable content and even develop a paid advertisement plan to spread awareness via other podcasts your audience is listening to.
2020 is already well underway and in order to achieve success, companies need to get ahead of this year's trends with a thorough and achievable marketing strategy and plan of action. A DC digital branding agency such as Bluetext can audit your current digital content marketing strategy and suggest recommendations to help improve your current trajectory. To learn more about Bluetext and how we can help you, check out our work here.