If any industry vertical is a prime opportunity for metrics-driven PR, it's the public sector. Government agencies are a massive opportunity for technology and other companies that can help supply the products, services, and solutions that agencies need on a daily basis. Yet, many brands struggle with how to market to the public sector, especially at the Federal level. How purchasing decisions are made, the way agencies issue contracts and the buying cycles they follow are much different than the commercial sector.
More importantly, the messages that resonate with Federal executives are different. Return on investment, a key marker in the commercial world, isn't as much of a factor in the public sector. Agencies have fixed budgets; and while they have downward budget pressures, they don't have to answer to investors or the stock market. Instead, they focus on mission requirements, staying within budget parameters, and meeting legislative and policy mandates. They are risk-averse and look for solutions that will enable them to accomplish their goals without jeopardizing their own careers.
For these reasons, it takes a different approach to public relations to execute an effective campaign that will reach, educate, and motivate government buyers. There are fewer media outlets that cover the vertical, and fewer reporters available as the size of the publications have shrunk. Because of this demanding market, metrics-driven pr in the public sector is essential for implementing a successful media relations program.
One of our clients that has the public sector as one of its key target markets is Cloudera, an industry leader in open-source Hadoop big data solutions for enterprise organizations to leverage the intelligence in their systems. When Cloudera wanted to expand its presence in the Federal market, it turned to Bluetext to design and execute an effective metrics-driven public relations program.
Some of the key elements of the program, in addition to plain old-fashioned nuts and bolts media relations, was to "Federalize" Cloudera's messages and news. This included:
Identifying customer advocates early in their relationship to secure customers that would share their results with Cloudera for media relations purpose;
Identifying Cloudera-specific messages and differentiated angles on news topics;
Streamlining the pitch review cycle, especially for rapid response; and
Enlarging the spokesperson bench to establish early on the topics and areas of expertise that each expert could talk to.The results of this program have proven the point that when a sophisticated program is linked to metrics, it has the best chance of achieving the program goals.
Here are some of the results of the program over the previous 12 months:
39 stories, surpassing the target goal
18 target publications hit, including American City & County, FCW, MeriTalk, The Hill, Federal News Radio, and NextGov
7 bylines placed in NASCIO, FCW, GovLoop, American City & County, SIGNAL, Fifth Domain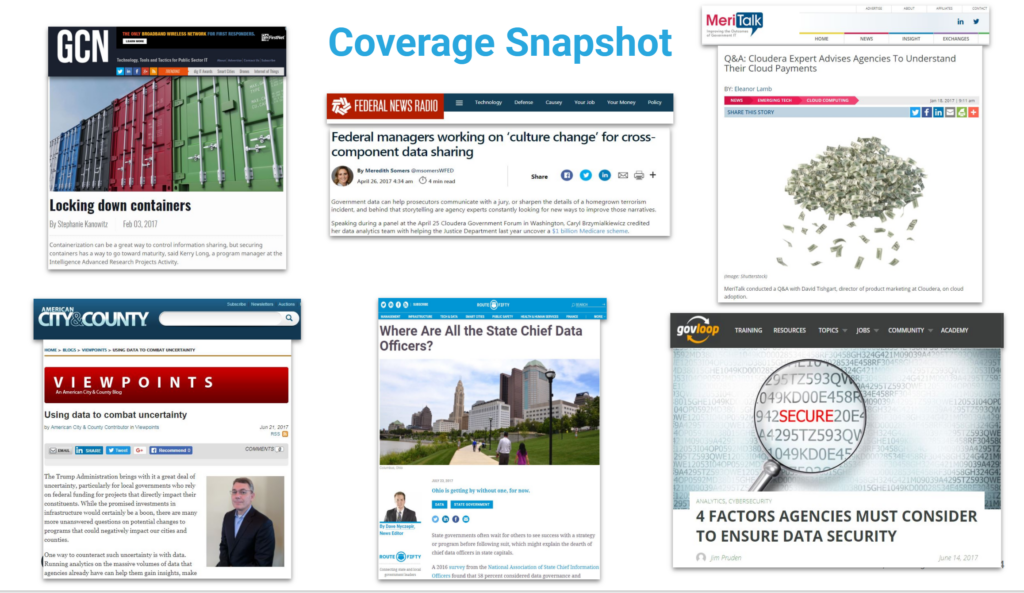 More importantly, we were able to garner a more than 44 percent Share of Voice in the market against Cloudera's main competitors.