As the world has changed in the blink of an eye, so has the way we market to consumers. Now, more than ever, your website exists as BY FAR THE MOST IMPORTANT doorway to your brand and your brand experience. While stores stay shut, and face-to-face interaction is vastly limited, brands will rely on reaching their target audiences via their websites. Therefore, your website is mission-critical to your success.
Bluetext has published a 5 part blog series to help you think about and pressure test if your website is the best it can be.
Virtual Executive Briefing Centers are a valuable resource for companies wishing to show customers and prospects their full range of solutions in action, especially new solutions that the partner may not have implemented yet in its own organization. Customized presentations, live demos and in-depth discussions can be arranged. VEBCs offer a lot of great benefits for organizations including:
Present your brand in a very innovative way with the latest HTML5 and video technologies
Reach a wider audience, save money and drive efficiencies by reducing travel costs to visit a physical center
Get your thought leaders delivering their message to a wider audience than their physical weekly calendar allows
Deliver vertical specific messaging and solutions in a customized fashion
Personalize the experience based on the understanding of the audiences job title, history with the enterprise, and other components the digital environment can capture and feed into the site
Juice up your SEO with a smart build and customer journey that enhances your SEO footprint
Bluetext has had a lot of experience designing and developing Virtual Briefing Centers.  Here are just a few examples of the innovation we have helped drive for our clients:
McAfee and Intel Security's Future Agency
McAfee and Intel turned to Bluetext to design a campaign to demonstrate the advancements in cyber security that the companies are driving across the Federal Government. Named The Agency of the Future and found on the web at futureagency.com, the solution integrates an interactive, 3D experience and a series of videos with lead generation integrated throughout. The experience was enhanced with a continuous monitoring webcast that targeted federal IT security experts and drew more than 3000 leads. The campaign won major kudos at McAfee corporate.
CSC's Digital Briefing Center
CSC's Digital Briefing Center is where customers, partners and prospects from across the globe can come to learn more about the key technology conversations and market shifts CSC is driving into the market.
The center is driven with immersive 3D video technology that is completely interactive through Html 5 overlays throughout the user journey.
Following launch, Bluetext's collaborative creation with CSC's Digital Marketing team became the top performing component of the csc.com global web presence, a huge feat for a Fortune 500 corporation.
Version 2.0 features new capabilities spanning: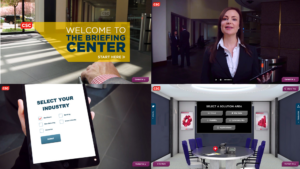 Multi-floor scalability

Triple screen experience

Dynamic social media integration

Triggered infographic visualizations synched with briefing videos

Chaptered video interactivity
The following video of CSC's head of global brand and digital marketing talks about this project:
TalkShop by Cooper Thomas
From corporate meetings to conferences and workshops, connecting with your workforce and customers is an essential element of business. Bluetext was hired by Cooper Thomas to help enhance their virtual training and meeting services and next-generation virtual platform that can help their customers get the most out of their customers' virtual events.
With their virtual event platform, you can now connect with employees, customers, and clients conveniently and cost-effectively. The unique speaker-training program guides your presenters to deliver more effective and engaging virtual presentations. The speaker coaches provide focused support to help busy subject matter experts become polished presenters. They also provide project management and program support for events ranging from single training sessions to multi-day conferences, as well as on-site support for virtual and face-to-face events.