Time to be honest – PR is a what have you done for me lately business, which can make the expectations for any media relations program extremely demanding. Especially if there is an appetite from clients or senior leadership for a consistent, constant cadence of tier-one coverage hits.
Tier 1 media outlets – the New York Times, NBC News, and CNBC's of the world – are a beast when it comes to obtaining coverage placements. The news cycle moves extremely quickly and tends to focus on the top issues facing the nation. Securing opportunities in that ecosystem requires the right story angle, timing, and media contact. It can be challenging to strike that balance. As a result, finding that precise combination means Tier-1 coverage hits should be thought of as grand-slam home runs rather than singles.
But hitting singles and getting on base is critical to any good baseball team's success. They build momentum, threaten the competition, and continue to drive attention. As does constant coverage in local and trade media. 
So How Do You Build Momentum?
A proper media relations strategy includes not just grand slam dingers but also a holistic approach that includes trade and local media. Let's examine how B2B PR agencies can leverage local and trade press to drive the maximum eyeballs back to your client or company.
Local Media – Everyone Needs A Friend
Local news channels are great opportunities to reach an audience close to your company's headquarters, pitch stories with a local data tie-in, or if a client indicates a particular market is of specific interest.
Newspapers, radio stations, and broadcast news outlets are critical targets. These outlets have a broad reach within their communities and can serve as valuable reps for spokespeople starting their media relations journey.  
When it comes to Bluetext's DC media strategy, we prioritize WTOP, WJLA-TV, the Washington Business Journal and the Washington Post.
For up-and-coming PR professionals, cultivating relationships with reporters at local outlets drives coverage in the short term, and staying in touch with those journalists could lead to further opportunities as they progress in their careers.  
Trade Media – Find Industry Trades That Cover Your Beat
Trade outlets are critical to improving your brand's awareness within a specific industry. Industry news via press release announcements, thought leadership content, or even investing in sponsored content or sponsored imagery at conferences and webinars will help announce your business' presence as a leading player within the industry.
For example, we have several government contracting and government tech clients. To drive meaningful coverage for those companies, Government PR firms like Bluetext will prioritize FCW, NextGov, FedScoop, Federal News Network, and WashingtonExec to highlight new contract wins, leadership changes, and the latest trends within federal agencies.
To be successful in their pitching efforts, B2B PR agencies must emphasize a holistic media relations strategy that does not solely rely on national coverage but leverages local and trade momentum to build brand awareness. Consistently securing opportunities with local and trade media will bolster a company's profile, eventually enabling companies to secure that critical Tier-1 grand slam.
Reach out to pr@bluetext.com to learn more about how we would build a holistic media approach for your business.
Digital transformation creates challenges and opportunities for B2G marketing leaders seeking to sell to government agencies. The appetite for digitization of citizen services accelerated during the pandemic as agencies recognized a more intense need to transform communications and engage with citizens. At the same time, the DoD moved forward with a digital-forward strategy to guide the industry on how to best deliver transformative technologies.
B2G brands competitively positioning themselves to pursue and capture digital transformation-driven contract opportunities benefit from a smart, holistic public relations program aligned with the pace at which agencies are evaluating, adopting, and deploying new technologies.
So much of Bluetext's PR and marketing work with government contractors and IT providers involves a keen understanding of how government buyers evaluate, procure and deploy technologies and services – and the messages that resonate most with them. For B2G marketers creating PR programs that tap into public sector digital transformation, there are a few key considerations:
Agencies Don't Transform Overnight
Less than one in ten (7%) government leader respondents in an EY 2022 report said they believe their organization has achieved its digital transformation goals. This doesn't mean that digital transformation isn't moving forward but serves as a gut check that B2G brands must stay attuned to the pace of change.
The tricky balance for B2G CMOs is to effectively communicate how their products, technologies, and services can future-proof agencies while acknowledging that legacy technology investments cannot be unwound overnight. In other words, media coverage and thought leadership cannot ignore where agencies are today.
Similarly, there are nuances to digital transformation messaging, for example when it comes to workforce automation. PR may be required to address the fact that, among government workforces, transformation can create uncertainty. Artificial Intelligence and automation can equate to fears of employees being replaced. If B2G brands leave it up to the agency customer to overcome workforce resistance to new technologies, adoption can be slowed and contract opportunities will dwindle.
Match Thought Leadership To Right Hype Cycle
There are perils to spinning wheels on Gartner Hype Cycle™ "Innovation Trigger" technologies that may be garnering media coverage but are years away from commercial viability. The "Innovation Trigger" hype cycle phase refers to when "A potential technology breakthrough kicks things off. Early proof-of-concept stories and media interest trigger significant publicity. Often no usable products exist and commercial viability is unproven."
In the 2022 Gartner Digital Government Services Hype Cycle, the research firm identifies technologies such as Metaverse, immersive meetings, and influence engineering and machine customers that are years if not decades away from reaching a plateau.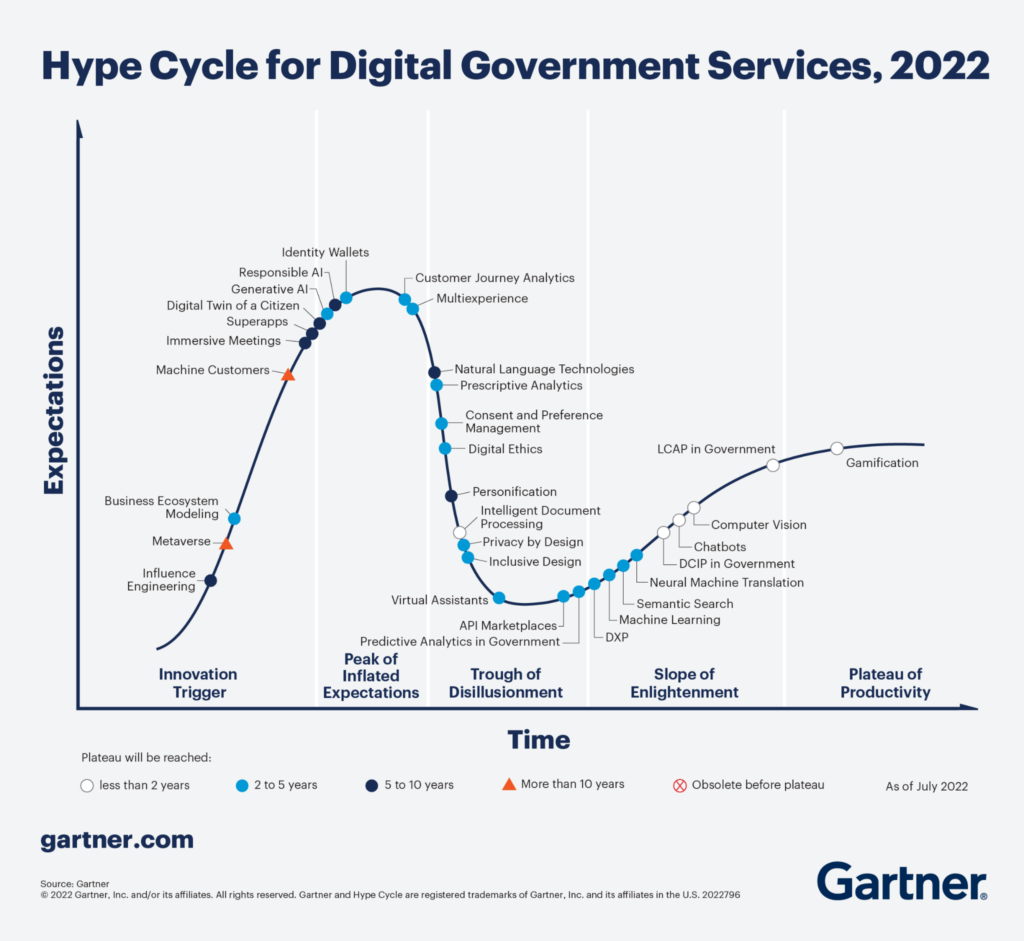 In the same way that CIOs need to keep their eyes on potentially transformative technologies and practices that are years from widespread adoption – and start developing positions on these trends – marketers must think about how best to associate their brands with these emerging technologies. Thought leadership programs are a good place to start.
We work with B2G brands that face diverse challenges on the sales side. For some, they may be an established, credible brand seeking to sell a product or technology their brand isn't traditionally associated with. This could be a result of mergers and acquisitions that have unlocked new product portfolios and capabilities. In other cases, behemoth brands are being challenged by nimble, upstarts perceived to have more cutting-edge solutions. Hundreds of challenger brands have turned to Bluetext for PR services to help provide air cover for the sales team – so that they aren't spending half the meeting establishing credibility and can just sell based on merits.
Finally, disruptor technologies can create sufficient confusion to paralyze the buying process. Thought leadership can educate target markets to prevent this from occurring. Case in point: ChatGPT, which is spinning the heads of marketers and communications professionals across all industries. If you provide automation technologies to the public sector, agency decision-makers may wonder if a costly solution will be rendered obsolete by ChatGPT in 12-18 months and decide to wait it out. More likely, ChatGPT can be used to augment a solution, but buyers will never know that without effective earned and paid content campaigns.
Thought leadership programs are an effective way for B2G marketers to:
Start associating your brand with trends and technologies that you will be offering in the near future without creating headaches for the sales team by sending traffic to a source with no product
Educate the market on pain points that your solution will address, so that when you do launch the value proposition has been established
Build up a Subject Matter Expert (SME) program with experts who can become sources on these technologies for journalists or generate interest from conference organizers
Data-Driven PR Can Make Or Break The Transformation Case
B2G brands often sit on access to PR-valuable data that is untapped for various reasons. Are state and local government leaders tapping AI to deliver citizen services? Will federal healthcare leaders increase their spending on data analytics in the upcoming fiscal year? There are external entities that track some of this data, and there is always the option to drop $25,000 on a research firm to create a survey vehicle. But most firms have built valuable mechanisms to reach customers and prospects via email and other channels, and there are seamless, non-intrusive approaches to acquiring market data that can be used to anchor PR initiatives (media pitches, bylines, social media posts, etc.).
The value of the data is to gain a stronger foothold on where your customers and prospects are as it relates to digital transformation. Leveraging that data for media pitches, byline articles and social media strengthens the business case that there is a need and appetite for your technologies.
Get Creative Telling Customer Stories
From a PR and marketing perspective, it isn't the word of the B2G brand that will have the greatest impact on an agency prospect – it is the voice of the customer. Because agencies moving forward with digital transformation want to see that what they want to do has been done before. That digital transformation is possible, that ROI is quantifiable and that investments are justifiable.
The problem? It can be extremely difficult to secure approval to publicize government customer stories through press releases, media coverage, website case stories or via social media. This is a common frustration our clients and prospects often mention right off the bat. Traditional methods of securing agency approval rarely work, which is why Bluetext deploys creative approaches to tell a customer story through award programs, events and other mechanisms.
If you would like to learn more about how to effectively create a B2G PR program that taps into public sector digital transformation, reach out to Bluetext at https://bluetext.com/contact-us/.
Executive visibility is a critical component of any effective communication strategy. Through well-thought-out and strategically developed programs, organizations can increase employee engagement and retention, establish trust and credibility, and ultimately foster growth and success by making leaders visible to stakeholders, customers, and employees.
To optimize the ROI of your executive visibility program, it is necessary to do more than simply make executives more visible. Organizations need to approach these efforts with a focus on best practices and concentrate on key strategies in order to fully utilize this potent instrument.
We'll review some of the most effective methods and approaches to help you maximize your executive visibility program's return on investment.
Specify your goals
Defining your goals is the first stage in any effective communication strategy. What do you want more executive exposure to accomplish? Is it to increase credibility and faith among stakeholders? Increase retention and interest among employees? For prosperity and growth? Developing a robust executive visibility strategy will help create a clear road map to success by defining your goals.
Choose Your Primary Audience
The next stage is to determine your key audiences after you have defined your objectives. What customers, partners, clients, and staff do you want to reach with your executive visibility initiatives? You can customize your messaging and communication channels to reach and engage your key audiences by having a solid knowledge of who they are and where you can engage them.
Leverage Multiple Channels
In order to increase executive visibility, it's crucial to use a variety of contact channels. This can include conventional media like email and newsletters, as well as contemporary ones like social media, webinars, and live events. Working with your communications team, you can ensure that your message is engaging and compelling to your target audiences by using a range of mediums to reach them where they are.
Focus on Authenticity and Openness
Authenticity and transparency are two essential components of effective executive visibility programs. Your executives can establish confidence and credibility with your key audiences by communicating in a genuine and honest manner. Sharing one's own experiences, triumphs and failures, and even vulnerabilities can create stronger connections and boost stakeholder involvement and loyalty – all by being open and sincere.
Involve Your Team
Finally, it's important to involve employees in your efforts to increase executive visibility. You can cultivate a culture of openness and transparency by encouraging team members to share their own experiences and viewpoints. This helps expand your sphere of influence, and as additional team members join in serving as brand ambassadors for your company, this can also aid in establishing credibility and trust with outside stakeholders.
Reap the Benefits with Bluetext 
Increasing the prominence of executives within your company generates a competitive advantage and positions your business as innovative and customer-focused. It helps improve the executive's communications and leadership skills, both directly and indirectly, while developing trust and rapport with customers and business partners and can be a mechanism for thinking through industry problems and solutions and testing new ideas. 
At Bluetext, we see you and hear what you have to say, and we help make sure that your stakeholders do as well, whether they are your customers, employees, prospects, or investors. Every leader is unique, as are their voices, platforms, and messages. Because of this, we tailor our executive visibility strategy to be specific to you and your brand to cultivate and highlight the inner strengths of your executive(s) and company in ways that will provide the greatest opportunity to achieve a significant return on investment for your executive visibility program.
Contact us to learn more about our public relations & earned media services.
Finding Success in Public Sector PR
According to Fortune, Walmart is considered the largest company globally, with an annual budget of approximately $524 billion dollars. However, one entity dwarfs Walmart with a massive $1.5 trillion dollar budget – The Federal Government of the United States. Although many analysts predict a slump in procurement spending in 2022, the United States federal government is still the most lucrative and prized customer globally. 
Finding success in communicating with government customers is an area many companies fall short of due to a fundamental misunderstanding of the golden rule of the public sector: Communicating to the government is uniquely different from any other audience, whether it be businesses or consumers.
To navigate these unique waters, you need an experienced team that understands the government agency and worker from top to bottom and who works and breathes the ins and outs of the ever-changing and complex world of communicating with the public sector. Also, know that a true public sector communications professional is a rare breed. While some PR professionals have worked for a public sector client, there are painfully few that specialize in this area, and they are becoming harder and harder to find. 
Give it to the pros. You go to a doctor when you are sick. You seek a lawyer when needing legal advice. Even the military has special forces to handle the most difficult tasks. It is imperative to know when to seek the skills and guidance you need for a specialized task. The communications and networking landscape that is more complicated than ever, so don't attempt to navigate it without qualified public relations guidance.
If you have a public sector division, you need a specialized team to support your engagement and communications efforts. It's a lot like the intro to the 80's TV show the A-Team. 

If you have a problem, and no one else can help, and if you can find them, maybe you need to hire. . . 
the Public Sector PR team.
Without having to get into any arguments on where Mr. T fits into the grand scheme of my symbolism, the important takeaway is simply this: a public sector PR team is a lean, highly-specialized group of professionals that will provide support and guidance for your organization to maximize success in the government space. Full Stop. 
Unique Needs of the Public Sector
Government agencies and the people that work within have uniquely different needs and offer challenges not seen in private sector businesses. They respond to their own language and terminologies – and traditional marketing buzzwords fall flat in the government sector. In order to engage and communicate effectively, your public sector PR program needs to speak to the distinct demands and needs of both the government official and their respective agencies' core mission.
Simply inserting words like 'federal' and 'government' into your existing enterprise messaging is not going to cut it with government audiences. Government employees have their own language, with each agency having a distinct dialect with mandates, certification requirements, and other factors that dictate how they shape their needs as well as find vendors. Federal, state, local, and education entities each have needs and challenges you need to hand-tailor your approach, messaging, and engagement to truly resonate with these audiences.
By having a B2G Public Relations team, you gain the proficiency and experience required to establish your organization, brand, people, and offerings to the public sector customer in a manner that provides long-term stability and success. 
State, Local, and Education (SLED) PR
Much like federally public sector PR – state, local, and education comms require a specialized approach and methodology in order to educate, help drive leads, and raise awareness for your brand and services – often in multiple target regions. This is where your public sector PR team will also show extreme value in that SLED communication programs can be executed from any location, giving your organization both awareness and presence in multiple target areas without the need to have permanent 'boots on the ground.'   
Why is this important now? Government contracting dollars and opportunities for state, local, and education (SLED) budgets have made a comeback in 2022, with states showing the largest annual spending increase in more than a decade and many reporting tremendous tax revenue growth from 2021. This, coupled with federal aid from the American Rescue Plan Act and the infrastructure bill, point to substantial opportunities with SLED entities – and the right PR and marketing strategy can help you take full advantage of these opportunities.

A public sector SLED team is specially equipped to handle multiple regions with different cultural, governmental, and social norms to help you project an expansive market footprint for your brand and expertise in mission-critical areas. Whether it's in Houston, Texas, or Fairbanks, Alaska, a strategic SLED PR campaign will help establish your presence where you need it.    
Public Sector PR Expertise
Public sector teams, their missions, and definitions of success come in all shapes and sizes, many times wholly different from the rest of the business – and your communications program and PR team need to as well.  
I can't tell you how many times I've heard, 'I can just use my corporate communications team to handle public sector comms.' The response to this is a simple question – 'Are you using your corporate sales team to sell into the public sector?' Of course not; you need your sales team to know your customer base and the specifics of the marketplace – so you have a team that specializes in the public sector customer. Your organization is making a strategic investment to go after government customers, and that investment should include communications that specializes (just as much as your sales team) in that customer space. While your in-house comms team or corporate agency might be able to help get you started, these efforts will only be table stakes if you don't have a team that truly understands the federal, state, local, and education sectors. 
There are countless unique differences between the public sector and business/consumer corporate communications. Understanding sales cycles, trends that will gain traction, how social media works in the government space, and how to most effectively engage the people who are going to help make a difference in your public sector strategy are just some of the key differences and capabilities a public sector PR team will bring to your team to help drive success.     
Measuring Success for Public Sector PR
Historically, measuring PR success has always presented challenges, and traditional means of measurement are not conducive to adequately measuring or portraying success in the public sector. Most companies rely on measuring PR efforts directly back to sales, which in the public sector is a tough row to hoe. Our public sector teams are adept at benchmarking and measuring the metrics that count the most in the public sector.
They have the ability to measure web traffic, inbound leads from content and social media, the share of voice, and qualitative comments from customers and partners – data points your team can rely on to justify and optimize your public sector engagement and confidently measure your public sector PR success. 
Find Your Public Sector PR Team
You are now asking yourself – where can I find highly specialized public sector communications professionals to support my needs? Regardless of the size of your company or government division, Bluetext can help you establish, engage and scale your communications to the public sector and get the most out of your communication efforts! Contact Bluetext to help your organization drive B2G brand awareness and lead generation through public relations.
When it comes to reaching and selling to government agency decision-makers, a colleague of mine often smartly reminds our clients and prospects of the following: there is no "government." By that, he means there isn't this single, monolithic entity you can build B2G PR and B2G Marketing campaigns around. 
It is far more nuanced; not only between DoD, civilian, homeland security, intelligence, federal, state, and local but often down to specific agencies. Or in the case of DoD, specific Bases, Programs, and Offices you may want to reach, such as The Joint Artificial Intelligence Center (JAIC), Project Convergence 21, Army Futures Command, DHS Science and Technology Directorate (S&T), StateRAMP and so many others. 
The Account-Based Marketing (ABM) approach (which encompasses Account-Based PR as well) has been around for decades – often a core concept for B2B enterprises to leverage data on a prospect's specific needs and priorities that they can then build highly customized lead generation campaigns around. ABM and ABPR are also relevant for government contractors, Federal IT providers, and others selling to the "government", because as we noted each stakeholder target is driven by different needs and priorities.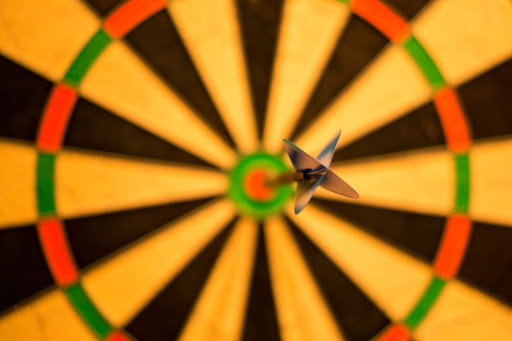 In my last blog post I looked at B2G PR and Marketing strategies for government contractors involved in M&A activity. Today's post is more broadly geared towards organizations looking to develop a highly targeted B2G Account-Based PR strategy to effectively reach, influence, and sell to specific government stakeholders.
Before embarking on this effort, consider these 6 strategies:
Tailor efforts to government acquisition cycle.
Sounds basic, but when you are working backward to build out a multi-month strategy it matters. If you build a PR campaign that starts too late (or early) you will not be hitting decision-makers at the optimal time when they are primed to be thinking about buying new products and technologies. 
You know the Federal fiscal year by heart (Oct. 1 – Sept. 30), and that State fiscal years vary slightly state-to-state but most run July 1st-June 30th). Recognizing that agency decision-makers will cycle through various stages of the buyer's journey during these months, PR programs should tailor content and PR efforts to align with that calendar. Depending on how well known your brand is to the decision-maker(s) you want to reach, winter and spring may be better suited to awareness and education campaigns. Thought leadership in the form of speaking, byline articles, ads, and sponsored content can start the process of making your brand more present to relevant audiences. As summer approaches the buyer mindset shifts more to decision mode, so pushing PR efforts further down the funnel can mean case studies, webinars, white papers, and lead gen paid social campaigns speaking to highly specific target pain points and solution benefits make more sense. PR during this time should also call out clear differentiators relative to competitors. As September approaches and agencies accelerate buying, PR can be utilized to really hone in on specific individuals to make sure they have the full brand and solution story.
Account for contract vehicle structure 
Indefinite Delivery/Indefinite Quantity (IDIQ), GSA Schedules, Governmentwide Acquisition Contracts (GWACs), BPAs, Small Business Set-Asides and, well you get the picture. There is no shortage of contract vehicles that a B2G organization is pursuing at any given time. Each vehicle has its own requirements, which means that decision-makers may be looking for different messages. For a single-award IDIQ, you may need to center PR activity around your own capabilities and ability to deliver as a single vendor. For other vehicles, PR needs to account for the strengths of multiple vendors. Each account or agency-based PR campaign should account for contract vehicles if your efforts are specific to one vehicle. 
Approach B2G PR as you would advertising
PR and advertising are not the same. But they share commonalities when it comes to effective campaigns. For one, you can't just hit agency decision-makers once or twice and expect those efforts to be sufficient to make an impact that lasts weeks or months through the buyer's journey.
Like advertising, repetition matters. Unless it is the Super Bowl, brands don't just buy a single ad and then return to regularly scheduled programming. For B2G, you have to not only hit prospects over time but do it through multiple channels. If you are targeting a specific Army base, a PR campaign can develop messaging and content around specific programs at that location. These efforts can be buffeted by paid media campaigns that are geo-targeted around the base locations. 
Finally, despite COVID-19 and expanded remote work, your buyer is likely to still be commuting to and from government offices, bases, or facilities at least part of the time. Beyond reaching decision-makers through earned and paid media, consider Out-of-Home (OOH) advertising on billboards, transportation, and public transportation in the early brand awareness phases of your ABPR campaigns. The diversity of channels you can push messages across – in addition to the frequency – is a powerful combination if correctly targeted.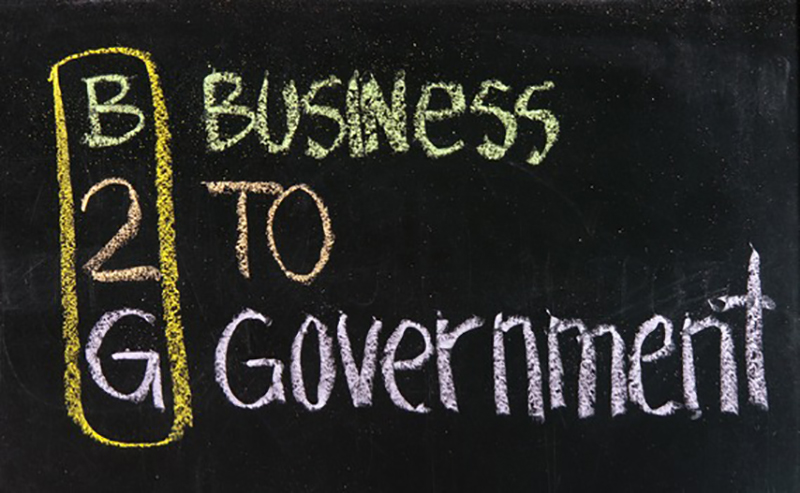 Participate, differentiate, dominate
If you are a well-known commodity within the public sector great, PR to support contract pursuits won't require a lot of focus on establishing brand credibility. But there are thousands of firms selling to the government, and even if one agency or DoD unit knows you, others may not. Or they may know you for some products and services but not others. 
The point is, securing inclusion in articles in government publications about trends and challenges of interest to agency decision-makers can be critical. So if you are a lesser-known brand, step one is to participate: start participating in conversations even if it is alongside competitors. "No one gets fired for buying Microsoft" is an enduring adage, but if your brand is listed alongside larger competitors and multi-billion dollar government contractors, it can raise brand credibility. Then, once you start participating in media articles, there is an opportunity to differentiate your technology from competitors. What makes you different? How are you better positioned to enable mission success? Finally, you can start dominating conversations, driving the conversation as a market thought leader and innovator. 
Tailor PR content for top-down and bottom-up approaches
The straightest line to securing government contracts often leads to the senior-level leadership involved in direct buy-in for vendor products and services. But depending on what you are selling, bottoms-up PR and content development can have value. Think about the ultimate users for services like DevOps, technical audiences that can get exposed to your brand and capabilities. If a team of developers or developer managers pushes senior leadership to evaluate your solution that will carry significant weight.
As you develop a PR and content strategy, consider the level of content to reach varying audience levels. Technical content that resonates with product/technology users won't have the same impact with senior leaders more focused on mission success and doing more with less. 
Get creative
Account-based PR for B2G has been upended by COVID-19. In-person conferences, events, and demo days that offered an opportunity to reach agency decision-makers directly pre-COVID are gone and will be slow to return in full force. At the same time, large chunks of the sales process have shifted from physical to digital. 
B2G firms that have succeeded over the past year stayed nimble and creative in reaching these audiences. Some are evaluating and deploying Digital Briefing Centers as a way to surround prospects with thought leadership, rich content, and interactive UX and recreate the in-person premium briefing experience lost during the pandemic. Elevating your brand and solutions above the crowd is always a challenge, even more so in a digital world where the barriers to entry drop dramatically.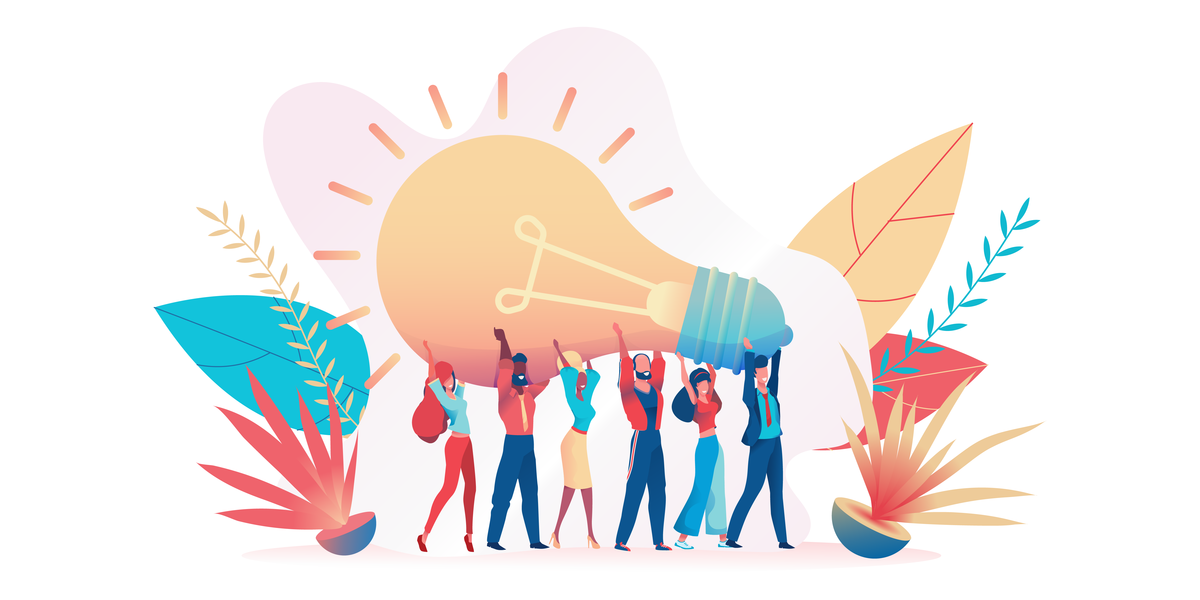 If you are a B2G brand interested in exploring integrated PR and marketing campaigns that target specific government agencies, programs, or decision-makers, give Bluetext a holler as we'd love to chat.
PR and marketing have changed overnight. There is still a need to reach customers and prospects, but it goes without saying that priorities have shifted in the "new normal" brought on by COVID-19.
It is a challenging tightrope to walk; the news cycle is rightly dominated by the coronavirus pandemic, which means many narratives that resonated pre-coronavirus will struggle to reach your target audiences. For our technology clients selling to government and enterprise decision makers – as well as consumers – we've preached several key PR and marketing tenets.
Chief among them is "do no harm." If we have a client that can offer valuable expertise and insights to advance the conversation and help individuals and organizations navigate the current climate while protecting consumers and businesses, we support those efforts. But you can't force connections that aren't there and detract from those better positioned to make a positive impact. In other words, don't be an opportunist. Don't be an ambulance chaser. Those efforts will backfire and damage your brand.
Bluetext Digital Briefing Centers
Second, clients and their PR/marketing agencies need to be measured, but also creative and nimble. A government contractor or enterprise software company that relied on physical conferences and in-person sales meetings to engage with customers and prospects must now turn more attention to digital strategies.
Check out how Bluetext has developed Digital Briefing Centers (DBCs) for clients needing a dynamic way to digitally showcase to customers and prospects their full range of solutions in action. Customized presentations, live demos and in-depth discussions can be arranged while offering a proven short-term alternative and long-term complement to physical, face-to-face environments.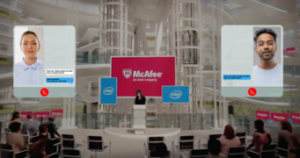 PR In the Age of Telework

Businesses can't just throw up their hands and wait it out; there is still a need for smart PR and marketing to grow or at least sustain sales for the near-term. Digital Briefing Centers address the fact that your website and digital presence is by far now the most important doorway to your brand and brand experience while traditional, physical doors remain closed.
On the PR side, the best way to illustrate how Bluetext thinks when it comes to remaining proactive and creative with clients is through a real-life case study. Transaction Network Services (TNS) is a leading global data services provider with a telecom unit that provides robocall detection technology to U.S. telecom providers. Recognizing that scammers seize on the fear, chaos and confusion caused by health crises, we knew this was an opportunity for TNS to share its important data to help protect consumers from risks to their savings and personal information. Coronavirus scams cost people $7 million in the first 9 days of April alone — so the stakes are high.
Bluetext worked with TNS to rapidly build a strategy to communicate the financial risk to citizens and analyzing data to determine which robocall scams were most prevalent in which parts of the country. Some of the media coverage generated in a two-week period is included below.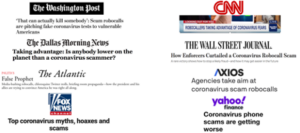 In addition to developing a rapid response strategy, we started to think longer-term about robocall risks in the coming weeks and months. First, we worked with the client to gather data on political robocallers who were capitalizing on confusion regarding postponed Democratic Primary dates in a way that could influence election outcomes – and ensuring the data could be easily visualized.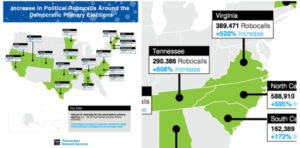 The bottom line is this: we are in an uncharted phase as a society, and it is a phase that may last for months and even years. The organizations able to adapt to the "new normal" will be those best positioned to support their customers, partners and employees.
It's long been said that public relations media outreach is an art, not a science. But getting the attention of a media target for a client's pitch is, in fact, both an art and a science. The reason may sound simple: The most effective pitches are not always formulaic but require some creative thinking. And that's where the art comes in, because what compels one editor may not resonate the same way with others. 
Yet, there is a place for a formulaic approach. In our experience, the majority of successful public relations media outreach strategies have four components: a strong relationship with the media contact, the quality of the pitch, newsworthiness and the pitch brevity. 
Below are 4 creative ways to re-think your public relations media outreach, starting with the pitch.
Make the uninteresting interesting! If you're challenged with pitching a mundane announcement, you might want to consider including additional newsworthy elements. For example, pitches don't always have to be about the announcement itself but can focus on what will happen as a result. 
Consider this:
What's the current news surrounding this topic? Pick one angle that connects to your pitch.

Does this announcement go against any trends? Maybe your pitch is announcing a new trend.

Is there any significant upcoming event that can be tied into your announcement?
Pitch People, Not an Institution. Editors at seldom interested in X company that received a high customer service score, reached its ten-year anniversary or had some other milestone that may seem important internally. What reporters do care about is how the company got there, who made it happen and who else will be affected.
Your source for these otherwise mundane announcements might include celebrities, customers, suppliers, vendors, industry groups and industry thought leaders. And when offering these sources, keep in mind that journalists tend to evaluate sources based on:
Credentials: what are their qualifications?

Content: what will the source say?

Clarity: how will the source say it?

Convenience: how easy will it be to reach them?
Help Reporters to Help You. One way we can help out reporters these days is by sending news tips that are aligned with their coverage. In the pitches you write to your top media targets, it's a good idea to adjust the writing style to match that of the reporter's. This makes it easier for them visualize your pitch as their own story. And to give them no reason to ignore you, provide everything they would need to write the story including images, quotes, graphs, backlinks, and other relevant information. 
Brevity is Key. These days reporters are overwhelmed with the 24-hour news cycle and keeping an eye out for scoops on social media. One of the most important things about today's successful pitches is brevity. That means, ideally, a pitch is around 150 words (there are exceptions). A good rule of thumb is that reporters should see the end of your email when they open it. If they have to scroll, it's probably too long!
Keep in mind:
Omit proper nouns unless they propel news value

Resist the temptation to introduce yourself and your organization

If your pitch is longer than 150 words and the extra content isn't newsworthy, it can be left out
With reporters receiving more pitches on a daily basis than ever, it has become increasingly difficult for PR pros to stand out in a crowded inbox. While rethinking your approach to public relations media outreach is an adjustment and takes practice, these small changes can pay dividends in the end. 
Securing the attention of journalists and editors in the modern media landscape is becoming increasingly difficult as journalists are busy with tighter deadlines, lower budgets, and more news to cover than ever before. According to the US Department of Labor, PR professionals now outnumber journalists by a ratio of more than 6-to-1, after employment dropped in newsrooms by 23% between 2008 and 2017.
Now, with more PR pitches flooding media inboxes, it's critical to operate in a way that isn't going to get your (or your entire agency's) email blacklisted. Still, the value of a public relations practitioner according to PRSA is advocacy, i.e. "providing a voice in the marketplace of ideas, facts, and viewpoints of our clients."
An effective public relations program establishes legitimacy with journalists by contributing thoughtful, accurate and newsworthy information to help the media better inform public debate. Above all, we're here for our clients to help promote their ideas and insert them into the conversations which they belong. But as PR pros, we also must understand and have a deep appreciation for the fact that our ultimate goals depend on the efforts of the hardworking media personnel we interact with on a daily basis.
Here are four tips for how effective PR professionals improve their relationships with the media:
Think before you pitch. The most common piece of feedback journalists give to PR professionals is that their pitch isn't a fit for their reporting. Often times, PR teams legitimize pitching an announcement to a large audience for "general awareness" without doing substantial research on the people who will receive the pitch. More often than not, the announcement will not be relevant to a large percentage of that list. Even if the news is relevant, the reporter may have just written a story about it and will not likely be interested in a follow-up.
When a journalist receives a pitch that is out of their editorial scope, it's important to recognize that this lack of interest can have more permanent effects than just an ignored email. If this "spray and pray" approach comes through on a repetitive basis, then the communications agency can develop a reputation for thoughtlessly spamming news outlets with client announcements, and run the risk of being blacklisted from their reporters. Other small fixes like typos, using a journalist's common name, and pitching in the context of other recent pitches you've sent that outlet can be crucial in gaining attention and having a real conversation with the reporter.
The best way to avoid these types of problems is to simply take time to research media contacts and the types of stories they want to tell before sending news their way; it saves time for all involved.
Be authentic. The cardinal rule of PR is "legitimacy." Looking legit in the eyes of the public starts by being authentic and telling the best true story you have the ability to tell. Especially when talking to reporters and stakeholders who are regularly contacted about a client, it's important to use language that is both professional and sounds like something that would be said in a normal conversation.
Too often, pitches and public statements get bogged down by bureaucratic language and technical descriptions to the point that they lose their effectiveness on the audience because no one can understand the take-home point. It's natural to want to use jargon, but it's the job of a PR pro to usher a client's message into the pool of public discourse and help people understand the larger story behind a given announcement.
Provide true news value. Anyone can write a press release about how great their company is, but getting a news reporter or editor to do so is a different story entirely. News outlets have editorial teams to filter content for audiences and help them distinguish between a self-serving company announcement and news that can help inform public discourse. As a journalist once told me, "we wouldn't run a story from McDonald's about the benefits of eating cheeseburgers."
Considerations like these must be top of mind for any PR professional's strategy when interacting with media. Distinguishing between the news that is valuable for a company and the news that is valuable to reporters and editors is a difficult task, but one that is critical in establishing the third-party legitimacy of being covered by a news publication.
Don't burn bridges. Having perseverance is a critical value in PR. Many PR pros have long refined the art of "checking in" repeatedly with journalists. However, if this perseverance turns into pestering reporters to talk to a client, it can often cause the opposite of the intended effect. It's important to keep in mind that journalists are incredibly busy people, and injecting yourself or your client into their schedules unwanted can quickly rub them the wrong way. A simple rule of thumb: if following up multiple times doesn't get their attention, they're just not interested.
Incorporating these tips as a part of your larger PR strategy can have lasting effects with the media contacts you're going after. Ultimately your media relations strategy should build (not burn) bridges and create a strong rapport with media personnel. These relationships are an intangible business asset that can cultivate mutually beneficence for clients and the media.
Rapid response is a core component of Bluetext's public relations services. We focus on having messages and media targets teed up when there is an opportunity for our clients to contribute expertise to breaking news events, whether it is a cyber attack, tech policy development, or in this case the horrific wildfires raging across Southern California. As the leading Emergency Mass Notification Services (EMNS) provider, Bluetext positioned client OnSolve's CEO to speak about the challenge local officials face to alert citizens when wildfires, hurricanes and other natural disasters hit; ways for citizens to stay safe; and innovative new capabilities available through providers like OnSolve. Multiple interviews were arranged for OnSolve, including this live segment with The Weather Channel.
A few weeks back, I posted a blog about over-used PR terms to avoid. Needless to say, that post generated lots of responses and even a clever email from an old colleague that tried to use all them in one friendly note to me. The list of pr terms to avoid seems to be endless. So many to choose from, so little time.
So, due to popular demand, here are seven more PR terms avoid – to debate, disagree with, eliminate from your online dictionary, but above all else, to please stop using. And as with my previous post, I too am guilty of using some of these terms and will take my own medicine. I also recognize that language is defined by common usage, so that even though some of these terms may not be allowed in the Queen's English, dictionaries reflect how people actually use words, regardless of the Queen. Nevertheless, I am fighting a last stand to get these words out of the PR world, at least for now.
Leverage. This is a tricky one because as a noun, I think it's perfectly fine. The problem is when it is so frequently used as a verb, its meaning becomes vague and just seems lazy.
Impact. I know I'm losing this battle, but the word "impact" is a noun, not a verb or a gerund (ending in "ing"), and certainly not "impactful." That's just removing whatever impact it had in the first place.
Their. As in, "Bluetext is a cutting-edge digital marketing agency – their work is amazing!" While the sentence may be accurate, it still doesn't work. Agencies, companies and inanimate objects are "its", not "theirs." This is a pet peeve of mine, and I always correct this whenever I see it.
Unique, when preceded by "somewhat" or some similar modifier. The word "unique" is binary – something is either unique or it isn't –  there is nothing in-between.
Disruptive. This is a big red flag in a PR pitch or press release. Unless when talking about a student's behavior in kindergarten, let's all agree that this is both over-used and not used correctly. We can only look backward to see if a new product or technology was in fact disruptive. Predicting this in advance is wishful thinking.
Authentic. I was once guilty of using this word far too often. The idea was that campaigns would resonate better with target audiences through content such as social media and blog posts if they were "authentic" as opposed to "artificial" in their voice.  In fact, everything we do for our clients should be authentic, and pointing this out just undermines its credibility.
State-of-the-Art. Doesn't every client want to describe their product as "state-of-the-art"? Let the product speak for itself. The audience can decide whether it's new and different or not.
Part 3 of PR terms to avoid will be forthcoming.