In the ever-evolving landscape of website development, choosing the right Content Management System (CMS) for your company is a critical decision. Webflow has gained popularity as a robust and visually-driven CMS, providing a unique approach to web design and development since its inception in 2013. 
What is Webflow?
When it comes to web design, tools that empower creativity and streamline the development process are highly sought after. One such tool that provides a range of capabilities is Webflow—a cloud-based, 'software as a service' (SaaS) design tool that runs in a web browser. According to builtwith.com, there are currently over 368,000 websites built on Webflow. If you're new to the realm of website creation or curious about exploring innovative solutions, let's break down the pros and cons of this particular CMS option. 
Pros:
Intuitive Interfaces
One of Webflow's standout features is its user-friendly, drag-and-drop interface. This allows designers to create visually appealing websites without delving deep into complex code. The intuitive design empowers individuals with varying levels of technical expertise to bring their creative ideas to fruition, and they're also able to collaborate simultaneously. 
2. All-In-One Hosting Solution
Webflow offers hosting services as part of its package, eliminating the need for third-party hosting solutions. This integrated approach simplifies the deployment process and ensures a high-level of security with Webflow's free SSL certificate. 
3. Optimized SEO
Webflow provides a range of features and tools that can positively impact SEO. It generates clean and semantic HTML, ensuring that search engines can easily crawl and index the content of your website. There are also the impacts of having fast loading speeds, control over meta tags, 301 redirects, alt text, etc. 
4. Improved Site Speed
Webflow's hosting infrastructure is designed for speed. There are multiple factors contributing to improved site speed through Webflow, such as the minification of CSS and JavaScript, browser caching preloading, automatic lazy loading of images, and much more. 
5. Unique Animation Capabilities
From simple transitions to complex animations, Webflow empowers designers to bring websites to life without relying on external tools or complex code.  
Cons:
Restriction on eCommerce
While the platform does provide e-commerce capabilities, it may not be as feature-rich or as customizable as some dedicated e-commerce platforms. Users may find limitations in terms of advanced e-commerce functionalities, complex product management, or intricate sales processes. Additionally, the available payment gateways might not be as extensive as those offered by specialized e-commerce solutions such as Shopify. 
2. Cost Considerations 
Webflow's pricing may be a concern for smaller businesses or individuals on a tight budget. While it offers various plans to cater to different needs, the cost can add up, particularly for those requiring advanced features or increased customization. It may also be challenging to choose a pricing plan that best suits your business and needs. 
3. Limited Plugins Available 
Unlike some other Content Management Systems that may offer extensive libraries of plugins and extensions, Webflow's plugin options are more constrained. On the other hand, however, there are quite a few WordPress plugins that Webflow actually accounts for, such as Forms, Askimet, Yoast SEO, Elementor, and more. 
Webflow is more than just a website builder; it's a platform that unleashes creativity, simplifies development, and provides a holistic solution for bringing digital ideas to life. Whether you're a designer aiming for visual excellence, a developer seeking efficient workflows, or a business looking for a robust online presence, Webflow offers a versatile and powerful toolkit for achieving your goals. However, when it comes to choosing a CMS, it's important to consider Webflow's pros and cons based on your project's specific requirements—it may not be the perfect fit for every project. By weighing these factors, you can determine whether Webflow aligns with your goals or not. 
If you're still not sure what CMS may be right for you, contact us. Bluetext's experience and expertise with WordPress, Drupal, and Webflow can help you build an effective online presence no matter what CMS you choose. 
In today's world, if you own a business, you have a website. It is a way to showcase your products and services, but it also serves as a first impression to new users. It is important you put your best foot forward. The first step is determining the right CMS for your business. Drupal has emerged as one of the most popular CMS platforms in the world, allowing users to create compelling and dynamic websites. In this post, we will explore the key features of Drupal and guide you through the process of determining whether it's the right fit for your company's website.
Reasons to Consider Drupal 
Drupal has all the functions needed to build large, modern websites in one place. If your business has the time and resources to support a steeper learning curve than other CMS options, you will be able optimize Drupal's performance and security benefits with maximum flexibility. 
Holistic Web Management Experience
Drupal offers power and adaptability with its flexible platform supporting content and web experience management. It is an ideal solution for businesses looking for a scalable, flexible, and secure platform with robust architecture and simplified content management. 
Managing large amounts of content can be daunting. Drupal provides powerful tools and features to handle content challenges efficiently. Drupal creates an intuitive interface experience that allows for simplified collaboration and tracking with functions like versioning, taxonomies, tagging, and categorization. Content has never been more organized and accessible.
Customization 
Drupal's modular architecture allows businesses to customize and extend its functionality. This type of flexibility allows users to choose which modules to enable and what workflows to define based on the specific requirements of your site. This enables businesses to build tailored websites that meet unique needs and experiences without unnecessary bloat.
Search Engine Optimization (SEO) Friendliness
Businesses looking for online visibility, look no further. Drupal excels with its SEO-friendly features! Drupal has built-in SEO modules like clean URLs, customizable meta tags, and XML sitemap generation to enhance search engine visibility. These features empower businesses to improve their organic search rankings, drive increased website traffic, and attract a wider audience.
Enhanced Reliability & Security
Businesses should prioritize trust and security when choosing and maintaining their CMS platform. Drupal's focus on security makes it a trusted choice for businesses. Drupal remains secure against potential vulnerabilities with regular security updates and secure coding practices. Your data and customer information will be safeguarded with Drupal. 
Open-Source Community
Drupal's open-source architecture encourages developers to contribute new modules, themes, and functionality to the community. Drupal has a supportive community of developers and non-developers, this community-driven ecosystem ensures that Drupal stays up-to-speed with emerging technologies and best practices. Drupal keeps you at the forefront of CMS innovation and your businesses can take advantage of these cutting edge module functionalities, unlocking limitless possibilities.
Is Drupal Right for Your Company?
While Drupal has a solid foundation of features and functionalities, it's essential to evaluate whether it aligns with the specific goals of your company and also with your website's content. Consider the following factors to make an informed decision:
Where is Your Business Now?
While Drupal can support more basic uses of a site, like a blog or portfolio, what sets this CMS apart is its capability to support complex custom integrations. While Drupal is very powerful, it is more advanced than what most pure marketers need. It will be worth your while to consider what your business needs are before you commit to a Drupal CMS.
Do You Have Maintenance Resources? 
Prioritizing maintenance tasks and providing ongoing support to ensure the longevity and success of your Drupal website is crucial. Website maintenance is an ongoing task that significantly affects your Drupal site's success. Your business must be able to support the consistent update of Drupal core and modules, monitor performance, apply security measures, manage content, and conduct regular testing. These are all foundational steps needed to maintain a secure, efficient, and user-friendly website. 
What is Your Expected Growth?
Think about your business plan for future growth and expansion. The unparalleled adaptability of Drupal allows you to tailor your online business presence and create unique digital experiences. Drupal's scalability and customizability ensures your website can grow with you. Making it a strong choice for expanding businesses that need to support complex integrations and experiences. 
Drupal stands out as a robust CMS with unparalleled customization and flexibility. By assessing your business's unique requirements, ease of maintenance, and future growth plans, you can determine whether Drupal is the right choice for your company's website. Let Bluetext help you implement a new Drupal website today.
In the world of website development and content management systems (CMS), WordPress has emerged as a powerhouse, catering to the diverse needs of businesses across the globe. WordPress has humble beginnings as a blogging platform, but has evolved into the world's most popular CMS with a plethora of capabilities. In this post, we will explore the key features of WordPress and guide you through the process of determining whether it's the right fit for your company's website.
Reasons to Consider WordPress
WordPress's core strengths lie in several key capabilities that make it a great choice for businesses of all sizes.
1. User-Friendly Interface:
At the heart of WordPress is an intuitive and user-friendly backend interface. This ensures that even those without extensive technical knowledge can navigate and manage their websites effortlessly. Content creation, updates, and customization become streamlined processes, allowing you to focus on what matters most – your business.
2. Versatility Through Themes and Plugins:
The real magic of WordPress lies in its extensive library of themes and plugins. Themes dictate the visual appearance of your website, providing a range of options to suit your brand. Meanwhile, plugins extend the functionality of your site, offering solutions for e-commerce through plugins for WooCommerce, SEO, security, and more. This flexibility allows you to tailor your website to meet your specific requirements. Check out some ways Bluetext has integrated e-commerce functionality to WordPress websites.  
3. Search Engine Optimization (SEO) Friendliness:
WordPress is inherently designed with SEO in mind. Its structure and the ability to easily integrate SEO plugins like Yoast contribute to better visibility on search engines. This is crucial for businesses striving to enhance their online presence and reach a wider audience.
4. Scalability:
As your business grows, so should your website. WordPress scales seamlessly, accommodating the evolving needs of your company. Whether you're a startup or a well-established enterprise, WordPress provides the tools necessary to support increasing traffic, add new content, and create new features and components. Discover how Bluetext has helped clients scale their digital presence with WordPress websites. 
5. Community Support:
The vibrant WordPress community is a valuable asset. With a vast network of developers, designers, and users, the community ensures continuous improvement and innovation. Access to forums, tutorials, and extensive documentation means that help is readily available whenever you encounter challenges.
Is WordPress Right for Your Company?
While WordPress boasts an impressive array of features, it's essential to evaluate whether it aligns with the specific goals of your company and also with your website's content. Consider the following factors to make an informed decision:
1. Nature of Your Business:
WordPress is incredibly versatile and can accommodate a wide range of business types. If your website requirements include a blog, portfolio, or e-Commerce functionality, WordPress is an excellent choice. However, if your website has highly specialized needs, such as complex web applications and custom integrations to surface content, an alternative CMS may warrant consideration.
2. Ease of Maintenance:
If you prefer a platform that allows for easy updates and maintenance without extensive technical knowledge or an in-house developer, WordPress is a solid choice. Its user-friendly interface makes routine tasks like updating plugins and keeping your website secure and manageable. Your host provider can also help with this if you do not feel comfortable doing it yourself.
3. Future Growth Plans:
Examine your strategic objectives and anticipate the potential expansion of your business. WordPress's scalability ensures that your website can adapt alongside your company's growth, making it a sustainable and prudent choice for the long term.
WordPress stands out as a robust CMS with unparalleled versatility and user-friendliness. By assessing your business's unique requirements, ease of maintenance, and future growth plans, you can determine whether WordPress is the right choice for your company's website. Let Bluetext help you implement a new WordPress website today. 
Selecting the right content management system, or CMS, can be a challenging decision for many businesses. While there is no one-size-fits-all website CMS, certain criteria can help you downselect potential options of WordPress, Drupal, Webflow and many more. Take our interactive quiz to help determine which CMS may be right for you and your business needs!
In Part 1 of our marketing acronym series, we reviewed over 50 sales and advertising-centric acronyms. In today's blog, our listed acronyms focus on the website design and development aspect of marketing as well as the technology and data side, listing out the top 17 acronyms. While you may know most of the concepts described below, we hope you're able to learn one or two new acronyms.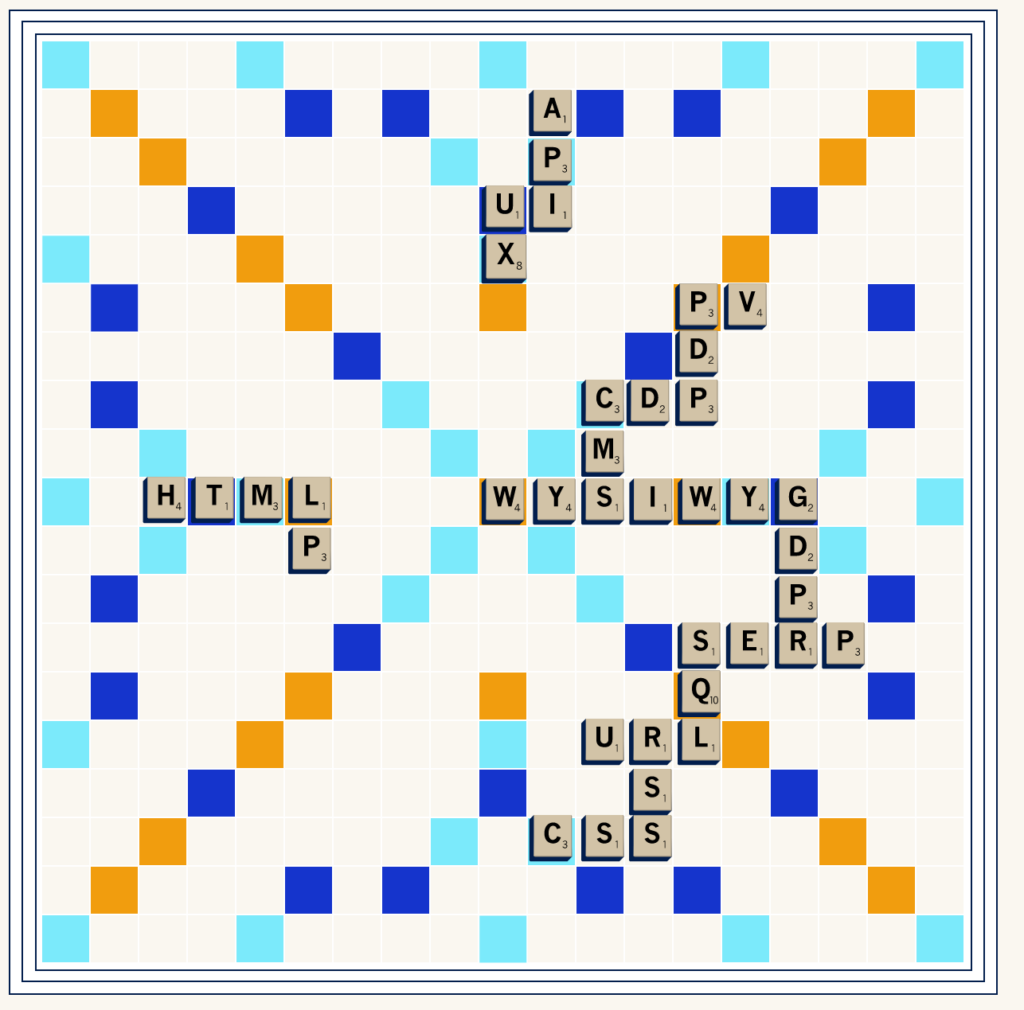 URL (Uniform Resource Locator)
The address of your website or web page on the internet.
RSS (Really Simple Syndication)
A super convenient way to keep up with your favorite blog posts, podcasts, news articles, and updates without having to constantly refresh a website.
GDPR (General Data Protection Regulation)
The EU law regulating data privacy and protection for individuals.
The face of your product that users see and interact with.
The total package of a user's interaction with your product.
API (Application Programming Interface)
A set of protocols and tools for building software applications.
CSS (Cascading Style Sheets)
The language used to style and format web pages.
HTML (HyperText Markup Language)
The standard language used to create and structure web pages.
WYSIWYG (What You See Is What You Get)
A fancy way of saying, "what you see on the screen is exactly what you're gonna get in real life."
The number of times a single page has been viewed.
SERP (Search Engine Results Page)
The page you see after you type in a search query on Google or another search engine. The goal is to get your website at the top of the list.
3PL (Third-Party Logistics)
A company that provides logistics services, such as shipping and warehousing, for other companies.
The page visitors to your website arrive when they click a link to get your website.
PDP (Product Detail Page)
The ultimate destination for all the deets on your product.
CMS (Content Management System)
The tech that helps you manage and publish your website content with ease.
CDP (Customer Data Platform)
A centralized hub for all customer data.
SQL (Structured Query Language)
A programming language used to manage and manipulate databases.
If you missed Part 1 of our marketing acronym series on sales and advertising-centric acronyms, check that out here. Additionally, review Part 3 of our acronym series here, where we explore the world of acronyms at the office and in the contracting department. 
To learn more about Bluetext and our marketing services, contact us today. 
We've all heard about website accessibility, but what does it really mean, why does it matter, and how can we design and build accessible websites?
What is Web Accessibility?
Web Accessibility is the inclusive practice of making websites usable for all visitors, including those with disabilities such as blindness, low vision, learning and/or cognitive disabilities, deafness or hearing loss, speech disabilities, and physical disabilities.  It's important to be passionate about website accessibility because it allows equitable access and interaction to your site's content and functionality.
To be as inclusive as possible (and avoid legal issues), ensure your website doesn't prevent anyone from retrieving, navigating, or understanding the information and functionality your website shares. Luckily, there are established guidelines by WCAG (Web Content Accessibility Guidelines) to follow that can help your site's accessibility.
Understanding WCAG Standards & Guidelines
The most recent WCAG 2.1 standards are based on four main guiding principles known by the acronym POUR: Perceivable, Operable, Understandable, and Robust. Each of these principles has web accessibility guidelines you should reference and apply on your site.
Perceivable: Information and user interface components must be presentable to users in ways they can perceive. Perceive doesn't mean just visually; uers who are blind often use screen readers which convert text into speech or braille. The most important and common applications of these guidelines include:

Add text alternatives (aka alt text) on non-text items like images, videos, and audio content.
Ensure high color contrast. There are free color contrast tools like Stark that check your contrast in Adobe XD before you get into the development phase.
Structure content intuitively. Implement proper heading structure and ordered/unordered list elements in the html files.
Provide transcripts for audio recordings and ensure video captions are in sync with the audio.

Operable: User interface components and navigation must be operable.

Make it keyboard friendly! Some users don't use a mouse or touchpad, so all functionality of the content should be operable through just the keyboard. A great way to test this is by tabbing through your site. By tabbing through, you should have all items of the menu/navigation accounted for with focus states.
Ensure there's enough time for users to properly engage. If anything has a time limit, users should be able to extend or cancel it.
Ensure it's easily navigable with clear headings, labels, and page titles that relate to the on-page content. The page content should have focus states and navigate in an order that makes sense. The text for links should also make sense based on the context of the content. Breadcrumbs are also key in helping a user identify where they are within the site.

Understandable: Information and the operation of the user interface must be understandable.

Language should be obvious and programmatically determined.
Implement secondary education reading level. In other words, make it easy to read. Avoid big, complicated words that some people might not know or some mechanisms might not be able to define/pronunciate/translate.
Consistency is key. Implementing a consistent navigation structure and components with consistent functionality provides a consistent and expected user experience.
Use error identifications. Ensure that if an input error is detected, that the item with an error is easily identified and described to the user in text. Labels should also be used when content requires user input.

Robust: Content must be robust enough that it can be interpreted by a wide variety of user agents, including assistive technologies.

The HTML should be clean enough to be parsed so assistive technologies can render its contents into a different format. Elements should have complete start and end tages, should not contain duplicate attributes, and should be appropriately nested.
WCAG is considered the go-to guide for building accessible websites for ADA (American Disabilities Act) or Section 508 compliance, but there are multiple levels of compliance to consider.
Accessibility Compliance Levels
There are three levels of compliance (level A, Level AA, and Level AAA). Level AA is the level that most developers aim to meet regardless of their industry. It is also the level that is legally required for certain sites when tasked with making a website accessible. For example, Section 508 of the Rehabilitation Act requires federal agencies to ensure that their information and communication technology (ICT) is accessible to people with disabilities. So government sites need to be at least Level AA compliant, ideally Level AAA, to avoid legal troubles.
When redesigning a website, it's important to understand the level of compliance the site should have because it will impact the design and functionality. But remember, when in doubt, follow the guidelines for Level AA compliance.
At the end of the day, accessibility is subjective because no one cannot account for every design and development possibility. However, following the guidelines outlined by WCAG 2.1 gives your design and development team the best chance at creating an accessible website.
Web Accessibility Tools
There are many tools (many offering free scans and trials) available to check your accessibility and level of compliance. Some of our favorites include:
Hopefully now you have accessed all the necessary tools to design and build an accessible and compliant website. If you want to learn more about accessibility or are looking to partner with a top-tier agency in creating a beautiful, best-practice, memorable, easy-to-use, and accessible website, contact Bluetext to get started.
Ping — new text message! For the average American this notification is nothing new, appearing 32 times a day…even more for the younger demographics.
As more and more consumers turn to their mobile devices for online shopping, text marketing has emerged as a powerful way for businesses to connect with their audience in a personal and engaging way. In this post, we'll explore the reasons why text marketing has become such a popular form of marketing, why it's poised to become an even bigger player in the e-commerce landscape, and even emerge in B2B businesses' marketing strategies in the coming years. 
First, what is text marketing? 
But before we dive in, let's take a moment to consider what text marketing actually is. Simply put, text marketing involves sending promotional messages, coupons, and other marketing content directly to consumers' mobile phones via SMS or MMS. Seems simple right? Deceivingly yes, but many nuances and personalized targeting capabilities are hidden behind these messages. This approach allows businesses to reach their audience in a way that is immediate, intimate, and highly targeted. 
So why has text marketing become so popular in recent years? There are several factors at play. For one, mobile devices have become an increasingly important part of our lives – we carry them with us everywhere we go, and we rely on them for everything from socializing to shopping. Text marketing takes advantage of this trend by delivering marketing messages directly to consumers' devices, where they are most likely to be seen and acted upon.
In addition, text marketing offers a number of advantages over other forms of marketing. For one, it's highly personalized – businesses can tailor their messages to individual customers based on their past purchases, preferences, and behaviors. This makes the messages more relevant and engaging, which in turn increases the likelihood that customers will take action.
How can text marketing be useful in a B2B landscape? 
While at first glance text marketing may feel like a more beneficial strategy for the B2C segment, the tactic can also add value as a supplemental channel in the B2B segment. While B2C text marketing is centered around quick touchpoints and quick results, B2C text marketing is more focused on building a relationship with your customer and improving your brand reputation. Here are a few ways that B2B businesses can leverage the power of text marketing:
Lead generation:

One of the most important goals of any B2B marketing strategy is to generate leads. Text marketing can be a highly effective tool for this purpose. For example, businesses can offer a special promotion or incentive in exchange for customers opting in to receive text messages. This allows businesses to build a list of interested prospects who are more likely to convert into paying customers.

Event promotion:

Many B2B businesses rely on events and conferences to generate leads and connect with potential customers. Text marketing can be a great way to promote these events and drive attendance. For example, businesses can send out text messages with event details, special offers, and reminders to register.

Customer engagement:

B2B businesses can also use text marketing to engage with customers in a more personal way. For example, businesses can send out text messages with exclusive content or behind-the-scenes insights, or offer special deals to loyal customers. This can help businesses build stronger relationships with their customers and keep them engaged over the long term.

Account management:

Text marketing can also be useful for B2B businesses looking to manage customer accounts more efficiently. For example, businesses can use text messages to send invoices, payment reminders, and other important account information directly to customers' mobile devices. This can help streamline the account management process and improve the overall customer experience.
These are just a few examples of how B2B businesses can use text marketing as part of their marketing strategy. By leveraging the power of SMS and MMS messaging, businesses can connect with customers in a more personal and engaging way, generate leads, promote events, and more. So if you're a B2B business looking to take your marketing to the next level, consider adding text marketing to your toolbox.
So what does the future hold for text marketing? We believe that it will continue to grow and evolve, becoming an even more important part of the e-commerce landscape. Whether you're a B2B business looking to connect with your customers in a more personal way, or a consumer looking for deals and discounts, text marketing is a trend that you won't want to ignore.
The technology industry, especially B2B, is high-paced, extremely complex, and simply put overly saturated. From start-ups to the legacy giants, the constant evolution of cybersecurity, managed IT, SaaS, AI, and not to mention the emergence of FinTech, HealthTech, and EdTech has widened the competition pool. Beyond a sea of overly hashtagged buzzwords, there are millions of companies trying to make or sustain a name for themselves. This makes marketing more critical than ever. 
Marketing technologies start with building brand awareness but involves consistently showcasing proof of concept, case studies, and current customer experiences with the ultimate goal of driving lead generation. As technology companies grow, those that leverage marketing strategies in partnership with engineering, product development, and sales will become market leaders.
Taking a technology start-up to an enterprise, accelerating company growth, and disrupting the status quo require a powerful marketing strategy that solidifies and shares core messaging, generates attention, and creates demand. But no marketing strategy exists without challenges. Here are the top challenges Bluetext sees across marketing in the technology industry:
1. Messaging to Experts, Not Decision-makers
Let us state the obvious: technology is built by smart people. Highly educated, highly technical and well versed in a technology tongue the average person doesn't use day to day. But when companies attempt to explain their product or service to primary audiences (usually the person with the purchasing power) as if they were an insider with perfect knowledge, they don't support the customer decision process. Successful marketing strategies acknowledge and accommodate a natural learning curve to deliver digestible information. No matter how impressive the technology product or service, it still must serve a business benefit.
Marketing teams should strive must meet the audience halfway, understand where they are in the decision-making process and deliver ongoing, accessible, and understandable value.
2. Riddling With Industry Jargon
When you have mere seconds to capture prospects' attention on a website, it's critical to make the product relevant, instill its value, and motivate the prospect to learn more. Getting deep in the weeds with specs and jargon-filled content wastes everyone's time because it often has no meaning to the prospect, and simply wastes time as for a user to scan, find no interest, and give up. A common mistake in attempts to establish expertise; is alienating the user.
Instead, marketers must speak in the prospects' language, not their own. Messaging should convey everything a customer needs to know and lead with high-level business value.
3. Overlooking the Journey
Marketing is a journey, often not a straightforward linear point solution. When done successfully, it guides prospects and customers through the twists and turns of purchase decisions. Technology marketers should work backward from the business value of their products. No matter how flashy, impressive, or advanced the technology your prospect is tasked with solving a business challenge. To prove you can offer a business benefit, break down the steps your prospect must take to find a solution, evaluate the effectiveness or get the ultimate purchasing decision.
Rather than focusing on immediately driving revenue, technology companies must understand their target audience and the overall journey so that marketing efforts can weave in the right information at the right times.
4. Fine Line of Pushing vs Telling
Marketing and sales teams in any industry have a bad rap for coming on too strong, too soon. Cold calls, aggressive or unsolicited emails, and unqualified leads rarely result in success, because they don't account for their audience's stage of the decision cycle. Your sales and marketing team can shout impressive stats and flashy specs all day, but unless you convey a relevant and necessary value, you may as well be on mute. Consider how can you establish credibility by illustrating, not telling, and specific ways your technology impacts their business.
Technology marketers should strive to anticipate what information prospects need to learn in advance of purchasing — and create compelling, helpful content that will answer their questions before even asked. While we know marketers can't be mind readers, but you can leverage historic customer profiles and past learnings to cater your content. 
So How Can You Be Sure Your Strategy is Effective?
Data, data, data. The amount of data available from a tech product creates unique opportunities for marketers to make decisions quickly, optimize products, develop campaigns, and reach customers where they are. The effectiveness of your technology marketing efforts depends on your organization's unique goals. Whether that be selling more products, raising awareness in a new audience, or solidifying a reputation to an existing customer base, make sure your marketing campaigns are adaptive and always optimizing. 
Regardless of industry, marketing is getting the right information in front of the right people. Successful technology marketing comes with its fair share of nuances, especially in identifying the right target audiences and ensuring your message resonates to enhance the customer experience. Partnering with an expert with the right skills and experience in the technology industry landscape, such as a technology marketing agency like Bluetext, can help your organization overcome these challenges and reach your goals.
Sound as a Brand, Voice as a Channel
We know sound plays a pivotal role in brand marketing. Sound helps your brand tell a story and feel like something real and memorable.  But the power of Sound exceeds bolstering brand identity; it also introduces a world of more inclusive opportunities and easier ways for users to communicate, search, consume, and transact via Voice as a channel. 
Voice marketing has been booming the past couple of years and for good reason. What exactly is voice marketing? It's a channel of marketing that utilizes voice technology to reach customers. Think the Alexas, Siris, and Google Assistant's of the world that seem to have taken over our homes, cars, office settings, and more. 
Voice enables increased information accessibility, and effective task automation, and populates quick results in a hands-free, interactive way. Voice is intuitive, fast, more efficient, and easier for our brains to process compared to reading/typing text. NPR and Edison Research state 57% of "voice command users used voice commands daily in 2022." From Siri to Google Assistant, to Alexa – AI (Artificial Intelligence) and voice search has been infiltrating our lives, and there's no sign of it slowing. It's expected that by 2024, voice marketing will reach 8.4 billion people. With this explosion of voice as a channel, let's take a minute to voice our thoughts on the benefits of this rapidly growing channel. 
Why might Voice trump Keyboard?  
Nearly everyone in the modern world has a voice assistant in their hand or pocket, and likely a smart speaker not too far away. But aside from easy access, voice as a channel helps more people with disabilities (both physical and language based) to use technology. For example, dictation software enables people without vision or the function of their hands to operate a computer by using their voice. (Of course, voice marketing can create challenges for people who are hard of hearing or Deaf. Provide a transcript with your audio content to be more inclusive). All markers should aim to be as accessible as possible, and Voice can be a huge aid in the quest for accessibility. 
Improved CX  = Increased Engagement
With text-to-speech and AI tools, the process of content creation becomes more manageable and allows companies to reach consumers in a new, engaging way. Voice marketing content captivates, converts, and retains customers, especially customers that don't like to consume long-form written content. It's not just more engagement in personal audio books or articles, consumers are using voice as a means of education and communication for business-related research and transactions. It allows users to multitask; it's efficient and more productive for the user, and more manageable for the content creator, making for a digital marketing strategy that is results-driven and prioritizes the customer.
Voice can be used to ask prospective customers questions like "what's your name and email" and then populate the responses on the form. It can also help answer customers' questions. Customers now don't have to sift through lengthy FAQs and knowledge bases to get the exact information they're looking for quickly – they can connect with a voice assistant to get their questions answered. This approach of course can't answer every question, but it is a great starting point to help guide users to the content they're looking for quickly and easily. 

Sounds great right? Voice as a channel is still constantly evolving and as we've seen has huge benefits for both companies and consumers, but we know our old friend Mr. Keyboard isn't going anywhere any time soon, either. So how can marketers optimize their more traditional marketing strategies to better accommodate voice as a channel? Contact Bluetext today for help on improving your digital marketing strategies, and check out our tips for optimizing a website for voice. 
It's here! While it may seem like just yesterday that Drupal 9 arrived, the Drupal community has obviously been hard at work releasing Drupal 10 this past December. 
Drupal, an open-source Content Management System (CMS), is increasing in popularity as new versions tout continued innovation and improvements. Coupled with relatively low cost to implement and scalable architecture, its vast features and flexibility meet the demands of today's modern website requirements for businesses and organizations globally. Let's take a review of what's new with the latest version.
In general, most seem to agree that Drupal 10 does not come with major upgrade headaches or a learning curve for content administrators. The upgrade path and UI should feel seamless for current users. But what are the benefits? Here's what Bluetext website developers are excited about:
New themes!

The administration theme Claro, replacing Seven, provides a modern look while remaining familiar to content editors for ease of transition.
The new front-end theme Olivero, replacing Bartik, works with the popular Layout Builder and will be WCAG AA compliant.
The Starterkit Theme,

according to Drupal

,

will provide a theme to be copied for front-end developers to easily start from, while also allowing Drupal to provide more frequent updates to the default markup and CSS shipped as part of Drupal core. Sub-theming will still be possible. 
Automatic Updates

,

which will reduce the maintenance burden for core updates as they are automatically integrated as they are released

Project Browser

, though still in its infancy stages, is intended to provide a one-stop shop for exploring and installing contributed modules.

Enhanced content editing as the WYSIWYG is replaced with CK Editor 5, including cleaner and easier copy and paste functionality from external documents.

Better decoupled development experience, in particular for menus and URLs, as Drupal lays the groundwork for future headless capabilities. 
This may be enough to sell you on the upgrade now, but if not, keep in mind that Drupal 9 support will end in November 2023. It's better to begin the upgrade process sooner rather than later to mitigate any risk. At a high level, you'll need to do the following:
Upgrade in order. Meaning, if you are on Drupal 8, you'll need to upgrade to Drupal 9 before 10.

Test your site for readiness using Drupal's

Upgrade Status

tool. The tool will validate your compatibility requirements and provide helpful planning. 

The Drupal Rector tool

can help fix deprecated code and ensure all of your modules are ready.

As with most upgrades, a number of core modules and deprecated code with be removed.

Some use cases of jQuery will also be replaced with modern JavaScript components in an effort to move away from browser-dependent functionality. 

Ensure you have also upgraded to PHP 8.1 and Symfony 5 or 6.
Whether you're looking to upgrade or are considering Drupal for the first time, an experienced digital marketing agency, like Bluetext, can ensure your project benefits from everything Drupal 10 has to offer.  Get in touch to learn more about our website development services!