Ever heard the phrase "if you're not first you're last"? A little extreme, but not untrue when it comes to search results. Businesses of every industry are scrambling to refine their content strategy in hopes of ranking within the first page of search results for relevant searches. However, the advice for how to do so is muddled by different strategies and outdated information. Keywords. Inbound links. Outbound links. Content velocity. Imagery alt text. Which one is it? Well, the simplest answer is all of the above…plus more. The truth is Google search algorithms are not completely transparent. If you feel like you've been shooting in the dark for a stronger search ranking, you're not alone. Thankfully, Google does hint to what goes into its search algorithms and what search crawlers are prioritizing in rankings. And the latest news from the tech giant is the consideration of page experience. 
Beginning mid-June, Google will be factoring Page Experience metrics into how they rank websites on the search engine's results page. Is your website ready for this update? Before you panic over years of perfecting your organic search and content strategy, let's break down exactly what Google means by "Page Experience". 
Despite the subjective phrase, Page Experience is actually dependent on measurable technical factors that affect how a website visitor interacts with your content. The latest update will concentrate on Web Core Vitals, but also include the following UX considerations, such as:
Mobile-friendliness

Safe-browsing

HTTPS-security

Intrusive interstitial guidelines
Breaking Down Core Vitals:
Largest Contentful Paint:

The time it takes for the main content (defined as "above the fold", first viewport or hero zone) of a page to fully load. Websites should strive for a LCP measurement of 2.5 seconds or faster.

First Input Delay:

Reaction time of user's first action (click, hover, tap). This measures the time it takes for a page to become fully interactive. An ideal measurement is less than 100 ms for 75% of pages.

Cumulative Layout Shift:

Time for

all content

on page to load and position correctly. This refers to the amount of unexpected layout shift of visual page content. For example, ever visiting a web page that loads, then jerks and shifts a couple seconds later? It's a frustrating user experience, especially if you have begun reading or interacting with content. The ideal measurement for CLS is less than 0.1 seconds for 75% of pages.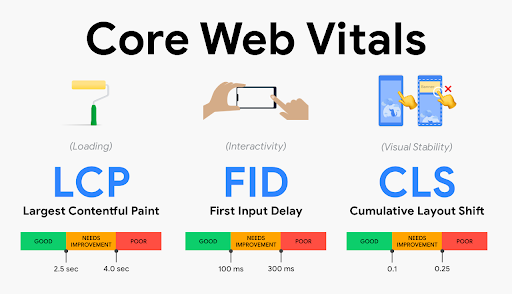 75 and Sunny Rule 
Each of these benchmarks have defined benchmarks that Google recommends for 75% of pages on a website. This is what Bluetext refers to as the 75 and Sunny Rule. Especially with an older website build, it may not be achievable to reach these metrics for every page. However, if you prioritize pages by traffic level or content hierarchy, you can isolate the 75% highest value pages that should reach these measures. With these prioritized pages in mind, site speed and page experience optimization can be made by website developers to meet Google's recommended benchmarks. 
There is even rumor of visual tags being implemented on Google search results to show which websites are meeting these Core Vital criteria. It's likely that in the near future there will be no hiding whether or not your site meets these benchmarks. 
How often do I need to check my core vitals?
Well, how often do you visit the doctor? Just like your health, your website's Page Experience should be evaluated on a regular basis. You should be checking the pulse of your website every 3-6 months to ensure everything is running smoothly and not getting dinged by Google search crawlers. There are a number of site speed and page experience tools available, each providing varying levels of detail. Google PageSpeed Insights will most prominently display core vitals with lab data (measured by single, predefined device, location, and internet connection.), field data (aggregate measure of real time user experience), diagnostics and recommended solutions. However, use caution. This tool is not known for consistent accuracy. Most experienced website development agencies will cross check site performance across multiple tests, such as: Google Search Console, Lighthouse and GTMetrix.com.  Consulting a website development agency offers many advantages in optimizing your website, as they are best equipped to diagnose a problem, address and resolve an issue and conduct regular maintenance to continue optimizations.  
If you've been ignoring your site's technical health, there is no better time than now to ramp up your site speed and site experience to give you a competitor an edge on the search engine results page. SEO is a marathon, not a sprint. A strong SEO strategy involves a multi-faceted approach to cover the bases across multiple fronts. Keyword strategy, site speed, page experience, mobile compatibility, and more still need to be considered to reach or maintain a top search ranking. As a digital marketing agency that specializes in website development and SEO content strategy, Bluetext understands the importance of page experience in both initial site build and ongoing maintenance. 
Ready to be proactive and take the pulse of your website core vitals? Contact Bluetext for a website assessment and learn how we can optimize your site to meet Google's – and your user's – expectations.
Given the speed at which news is consumed today, timing is everything. Latching onto a rapidly developing news cycle is a great way to gain visibility for your brand, establish thought leadership on a topic and build relationships with reporters. Rapid response, or newsjacking, opportunities are when brands capitalize on breaking news to provide relevant commentary on the story while drawing attention to their own content.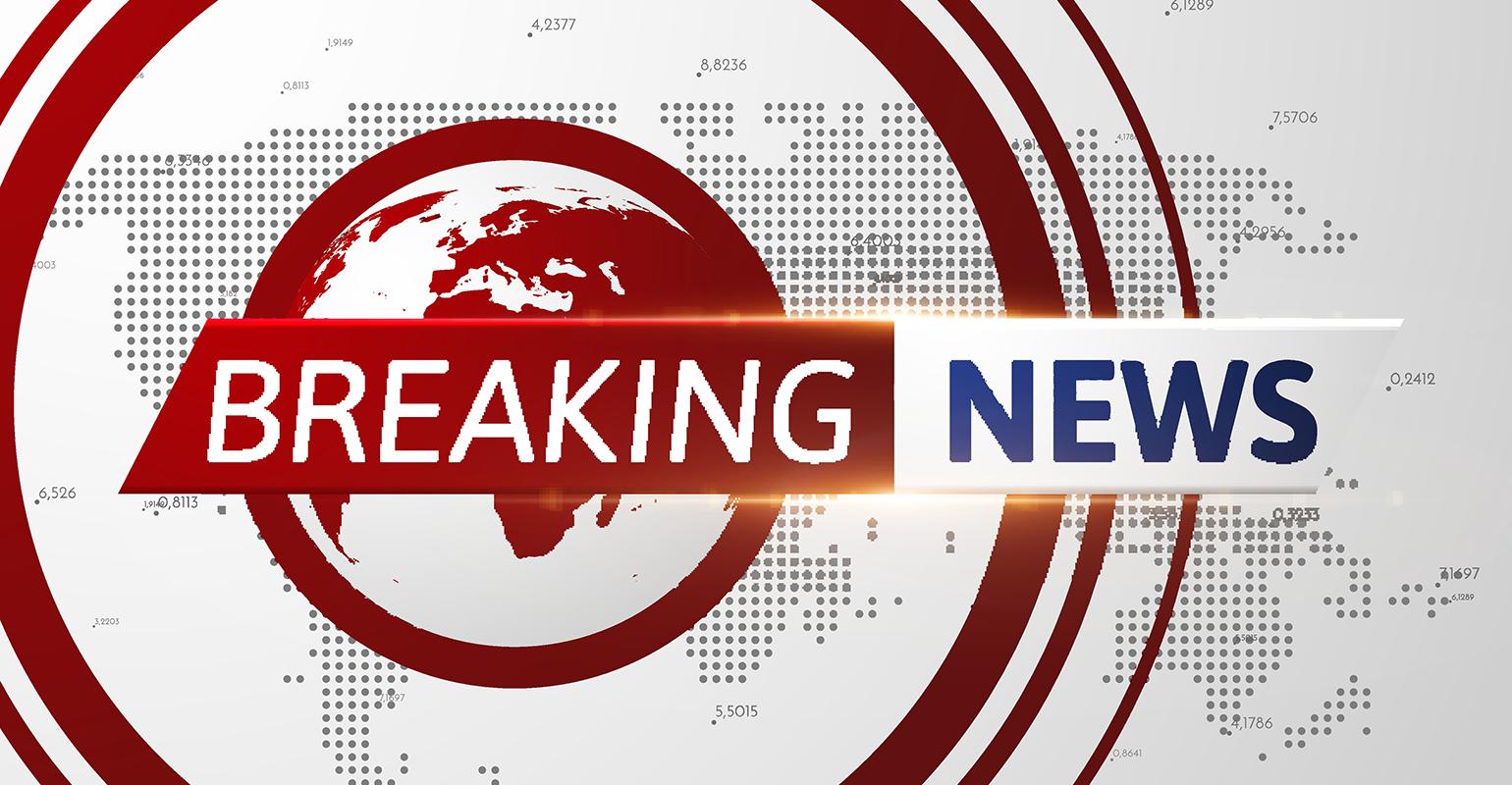 As brand storytellers, we're scanning the news daily for what's happening in the industry, what brands are standing out, how our clients are showing up and more. Thus, implementing a rapid response strategy during your daily news scans is easy, time-efficient and can be very fruitful. However, there are a few things to be wary of, including sensitivities around the news, reaction time and offering valuable insights. 
Read the Room
Not every breaking news story needs commentary. Consider the sensitivities around the developing story, read the room and evaluate if a comms strategy is necessary around this cycle. If yes, then designate who your spokesperson will be and develop your commentary. 
Amid tragedy at a global scale, like social unrest, natural disasters or pandemic, it is best advised to redirect external communications to focus on internal messaging and making sure employees feel supported. Exploiting tragedy and proactively telling a reporter how a company's software product might have altered a tragic situation can be perceived as insensitive and will put your brand in a negative light. 
A prime newsjacking market is cybersecurity. There are countless hacks that offer  opportunities for cybersecurity firms to comment on topics like how the hack occurred, how that kind of hack or bad actor will evolve throughout the year and beyond, background on the hack or bad actor, what cybersecurity protocols can be implemented to prevent the hack from occurring again and more. But the noisier the market (and there are thousands of cybersecurity vendors with something to say), the more you will have to carve out a defined lane and message that reporters will find of value. 
Timing Is Crucial
News comes and goes fast. Rapid response opportunities work best when you're the hare, not the tortoise. In your daily scans, once you see a trending piece or developing piece and think that news cycle will pick up, get ahead — reach out to your spokesperson, pick their brain about how the story will develop, compile their thoughts into a pitch and ship it off to relevant reporters. From there, wait for the story to develop and see if the reporter has any other questions.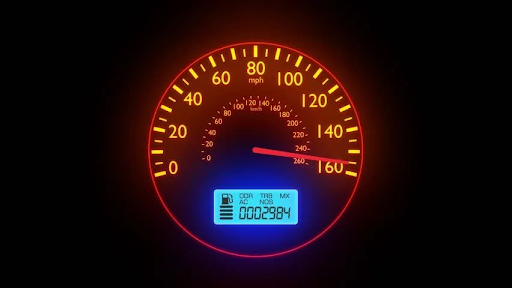 Yes, and ?
While timing is crucial in rapid response opportunities, it isn't everything. Messaging is just as important. It does help to be the first to comment, but other brands won't be far behind, and if your messaging does not add value to the conversation, it will not be included. On top of that, given the opportunity is industry-wide, keep the commentary broadly applicable but nuanced enough to stand out. This is not the time to gush about your company and the latest products. 
There is a time and place for everything. While we as communicators want to jump on as many opportunities as they come, we need to be cautious about the ever-changing news landscape, the sensitivities of the world and the reputational risk that comes with it. 
To learn more about how Bluetext can improve your newsjacking processes and timing, contact us today. 
Thank you for joining us for the Q1 2021 Bluetext Cybersecurity Summit. Exclusively open to CXO's, our goal with this summit is to deliver a value-add platform to network in the C-Suite with businesses facing similar opportunities and challenges.
Topics:
We plan to discuss the following items:
Technology Customer Investment Trends
Technology Consolidation Trends
2021 Trends
Date/Time:
2:30pm-4:00pm EST
Thursday, January 28th, 2021
Where:
COMING SOON: A link will be distributed with a calendar invite to all invited.
Agenda:
Welcome from Jason Siegel: 1 minute
Welcome and Introduction from Moderator, Morgan Wright, SentinelOne: 3 minutes
Introductions of each business by one of the representatives (2 minutes each): 15-20 minutes
Five questions will be softballed out, each receiving 5-10 minutes of airtime.
Summit Specifics: Things to Know
We will mute all microphones for audio clean-ness
The raise hand functionality will be used to orderly unmute speakers
A recording of this conversation will be archived so keep it clean, friends
Moderator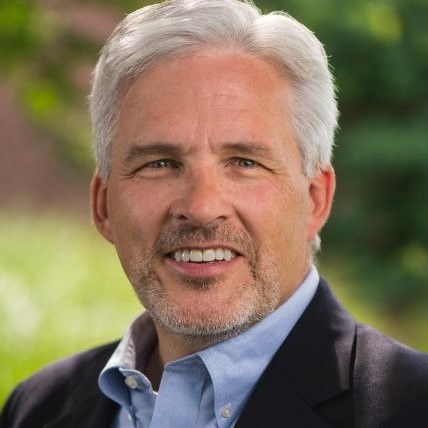 Morgan Wright
Chief Security Advisor, SentinelOne
Morgan is an internationally recognized expert on cybersecurity strategy and cyberterrorism. He currently serves as a Senior Fellow at The Center for Digital Government, Chief Security Advisor for SentinelOne, and is the chief technology analyst for Fox News and Fox Business on cybersecurity, cyberterrorism, national security, and intelligence.
Companies in Attendance:
AffirmLogic
About: AffirmLogic's Hyperion platform applies advanced Mathematical Behavioral Computation that enables security teams to detect, analyze, and defend against even the most insidious malware—including advanced persistent threats (APTs) and other sophisticated, potentially devastating forms of attack.
Invited:
Larry Roshfeld, Chief Executive Officer
---
ArdentMC
About: ArdentMC is a trusted provider for geospatial information, cloud migration, and DevOps in the federal, state, and local business spheres, delivering quality products and outstanding performance initiative to every client.
Invited:
Michael Matechak, Chief Strategy Officer
---
CI Security
About: CI Security provides Managed Detection and Response and Cybersecurity Consulting services to help their customers to be secure, compliant, and resilient against threats to the life-safety, life-sustaining, and quality-of-life systems and services they provide to customers and communities.
Invited:
Jake Milstein, Chief Marketing Officer
---
EnHalo
About:
EnHalo is a group of global companies under one brand that is locally engaged, while globally operated. EnHalo focuses on three business pillars: Reducing Risk through its cybersecurity offerings, Reducing Cost through digital transformation, and Increasing Revenue through automation.
Invited:
Chris Beard, US President
Carol Watson, Director, Sales & Operations
---
Illusive Networks
About: Illusive Networks, the leader in deception-based cybersecurity solutions, empowers security teams to preemptively harden their networks against advanced attackers, stop targeted attacks through early detection of lateral movement, and resolve incidents quickly.
Invited:
Claire Trimble, Chief Marketing Officer
---
Infinite Group (IGI)
About: IGI works with organizations on all levels of IT security. Its areas of practice include managed security, incident response, social engineering, physical & perimeter security, administrative security, and internal security. 
Invited:
Andrew Hoyen, President & COO
---
Kryptowire
About: Kryptowire provides software assurance tools for mobile application developers, analysts, enterprises, and telecommunication carriers.
Invited:
Alex Lisle, Chief Technical Officer
---
Obrela Security Industries
About: Obrela Security Industries (OSI) provides enterprise-class professional and managed IS services to assess and manage information risk in complex enterprise environments.
Invited:
George Patsis, Chief Executive Officer
---
Phosphorus Cybersecurity
About: With a 7 year half-life for vulnerability patching, and infrequent, if ever, credential rotation, IoT is the softest target on the network today. Phosphorus automates remediation of the biggest vulnerabilities in IoT.
Invited:
Chris Rouland, Chief Executive Officer
Rebecca Rouland, Chief Financial Officer
---
Sertainty
About: Sertainty technology implements a proprietary zero-trust architecture by embedding actionable intelligence into data-files. Sertainty makes it possible for data to be self-aware, self-protecting, self-acting. This gives software developers, systems integrators and their end-users a better way to monetize valuable information, lower the cost of compliance and mitigate risk in real time.
Invited:
Rivers Nesler, VP, Communications & Legal Affairs
---
Securonix
About: Securonix delivers a next generation security analytics and operations management platform for the modern era of big data and advanced cyber threats.
Invited:
German Fabella, Creative Director
---
SonicWall
About: SonicWall Boundless Cybersecurity safeguards organizations with seamless protection that stops the most evasive cyberattacks across boundless exposure points and increasingly remote, mobile and cloud-enabled workforces.
Invited:
Geoff Blaine, Senior Vice President, Corporate Marketing
---
SpyCloud
About: SpyCloud is laser focused on preventing online fraud with our proactive solutions, which protect billions of employee and consumer accounts worldwide from account takeover.
Invited:
Company CXO's
---
Stage2Security
About: Stage 2 Security is an Adversary Simulation, Protection, and Prevention company focused on building confidence in our clients' IT systems.
Invited:
George McKenzie, Chief Executive Officer
This Sunday, the Kansas City Chiefs will square off against the San Francisco 49ers in Super Bowl LIV; anticipated to be one of the most entertaining sporting events of the year brought to you by gunslinging quarterbacks Patrick Mahomes and Jimmy Garoppolo.
Thanks to two electrifying football teams and the unofficial holiday that comes with Super Bowl Sunday, a projected 100+ million viewers in the U.S. will tune into FOX at the same time, creating an unparalleled opportunity for marketing pros to cultivate a memorable brand association with more than a quarter of the U.S. population.
But these opportunities do not come cheap
Outside of the cost of producing the commercials, (which anyone in marketing can tell you isn't cheap) you have to pay egregious dollar figures just to place it on the primetime Super Bowl stage. FOX sold out of its Super Bowl ad slots in late November, which reportedly sold for between $5 million and $5.6 million.
$5.6 million!
Let that number sink in. $5.6 million could buy you a five-bedroom house with a view of the Golden Gate Bridge in downtown San Francisco. Or 10 five-bedroom houses in the Kansas City-area. Suffice to say, there's a lot you could do with that money.
From a marketing standpoint, if your brand is considering purchasing a primetime 30-second Super Bowl ad, or you're simply wondering how you could make a splash during the event without blowing your entire annual budget, consider these marketing alternatives that you could buy for the same price:
1. 20 years of a PR retainer at 20K per month
While it probably does not make sense to stretch one year's marketing budget over the next two decades, this illustrates how far your marketing dollar could go over time with a PR budget as opposed to a single, 30-second Super Bowl ad. A monthly PR retainer could produce the ability for your brand to demonstrate expertise to more targeted audiences than the general public watching the Super Bowl at a fraction of the cost. This is typically executed with media relations and strategic placements of messaging within publications of interest to the brand's most important audiences. Spending your marketing dollars in this way would create a steady burn of messaging over a long period of time as opposed to one, 30-second firework explosion of your brand that a large portion of the Super Bowl audience could miss.
2. Multiple omnichannel digital campaigns
In order for any Super Bowl campaign to be successful, it must eventually migrate to the digital realm in one way or another. Outside of the $5.6 million it will cost to run the ad in the spotlight, brands also have to shell out at least another $1 million to market the ad via social media. So why not go straight to digital with your campaign?
Newcastle Brown Ale was among the first to attempt this digital-first Super Bowl strategy in 2014 with a satirical YouTube commercial featuring Anna Kendrick about the Super Bowl commercial they almost made but didn't have the money. By posting the video directly to YouTube and spending all of their resources marketing the commercial online, they found a witty way to poke fun at the nature of Super Bowl commercials by making one while also saving A LOT of money in the process. Digital campaigns can be an extremely effective (not to mention more targeted) way of maximizing your exposure to your key audiences. Ultimately the third-party validation that will come from individuals sharing your content will be the mark of a successful campaign, so digital-first strategies could be the next iteration of Super Bowl commercials.
3. Yearly platinum sponsorships in ten of your audience's favorite publications
If your brand is targeting audiences that congregate around specific media outlets, paid partnerships with those media outlets can be a great way to enhance your exposure to the people who matter most. Sponsorship packages at media publications vary based on their target audience, the type of content they typically publish, and what you'll get for your spend. But with big dollar figures in the hundreds of thousands, you could expect millions of unique viewers, digital ad space, thought leadership content, lead-gen, sponsored webinars, and more!
As Americans and football fans around the world tune in to the game on February 2, household brands will be vying for your loyalty and lesser-known companies will be introducing themselves to the world on the hottest advertising real estate money can buy. However, you can also expect to see many organizations turning to alternative marketing to make their splash during the game.
The real winners of this international media event will not be limited to just the Chiefs or the 49ers, but also to the organizations who strategically employ ALL of the marketing tactics available to them.
Whether you work with B2B Marketing Agencies, B2C Digital Agencies, or the any of the Top North America Agencies, 2018 will drive more innovation and change. Here are my predictions of what top brands, challenger brands, and startup brands should expect.
1. Don't Call it A Comeback, Twitter
Somehow Twitter will make a comeback…or completely die. Twitter has owned the short form text / new wave of communication, and it has dominated sports, entertainment, and politics. But can they make it relevant to marketers? To survive they need to focus on delivering a strong API backbone that makes it a utility to the world.
Prediction: Top marketing agencies will channel more of their clients' paid media dollars to digital media other than Twitter.
2. Snap Has The Power
A great re-branding from SnapChat. Owning the brand SNAP, "just snap it", will be the new "just google it."  Like everything else, they must innovate or be merely a short-lived flavor of the day.
Prediction: As SNAP goes public the amount of advertising products will be innovative and robust. Top digital agencies will enjoy great success with SNAPs portfolio of targeting offerings and creative opportunities. SNAPs demise will come from an oversaturation of monetization that drives users away like Myspace, Tumblr, Twitter, Bebo, and many more social platforms before them.
3. Take It Personal, Or Else
The power of personalization will be so compelling and plug-and-play that everything digital will incorporate it. Delivering your personalized DNA via mobile to other media will work seamlessly.
Prediction: Top digital branding agencies will not be the only firms that are installing sophisticated personalization technology into their clients' digital platforms. Personalization offerings will be robust and simple to integrate and configure. Costs will come down, everyone will implement them and a personalization optimization role will emerge with every digital agency team you hire.
4. Jump into Kris Cross-Device Marketing – and Quickly.
As technology matures in 2017, all brands will enjoy cross–device targeting – which is the practice of identifying and delivering a specific audience, across their devices. This omni-channel strategy allows marketers to reach users with consistent messaging across all their screens: desktop, laptop, mobile, tablet, wearable, and TV.
Prediction: Following your targets cross-device in real time will be a demand from media consumers. Top digital agencies will consult clients to implement cross-device digital marketing tactics. Any top creative agency will know how to extend and make creative respond and optimize to all devices as their creative hops from Hulu in the living room, to YouTube at work, to Pandora while eating lunch, to the Apple Watch as you end the day watching your child's soccer game from the sidelines.
5. Search? Mobile? Social? Display? Content?
ALL OF THE ABOVE
Your personas all digest content from your brand and your influencers across many different channels.
Prediction: Media budgets will get more and more fragmented as brands try to drive omni-channel, hyper-personalized campaigns.
What's your prediction for 2018? Let's talk about it over coffee or lunch.  Contact me to chat.
Budget deficits, sequestration, program cut-backs—these are scary times for technology companies that view government agencies as a key vertical market. With spending down at all levels of government, many IT decisions have been slowed down or put on hold, especially those lacking the urgency of mission-critical programs. In the first half of the Federal government's 2013 fiscal year, the IT budget across all agencies was cut by nearly $300 million. Yet, at least one type of government spending, cybersecurity, is going in the opposite direction, increasing year-after-year as cyber threats increase exponentially.
Marketing executives at enterprise companies who target government agencies need to increase their efforts with smart programs that break through the clutter in this increasingly crowded space. As companies recognize that their competitors are also ramping up efforts to go after these mission-critical opportunities, a business-as-usual approach to marketing could leave them behind the curve.
Scarcely a day goes by that doesn't include news on new threats to government agencies from adversaries. According to US-CERT—the agency that tracks cyber attacks—cyber threats have increased 782 percent since 2006, from 5,500 to nearly 49,000 last year. Attacks jumped 13 percent last year alone. As a result, budgets are on the rise. A recent article in The Washington Post projects increases from $10 billion on cybersecurity contracts in 2012 to over $14 billion in 2017—a growth rate of 7.6 percent. A survey by Deltek of industry and government technology leaders finds that they expect cybersecurity spending to be the fastest growing area of Federal IT investment over the next few years.
IT company executives will find this new landscape a marketing challenge. As one Deltek official has stated, "it's a chaotic, evolving field that isn't easy to crack." Federal buyers will look for industry partners who recognize the difficult budget environment and can offer technologies that combine hardware and software products into more efficient and effective security solutions.
Perhaps most important, companies need to be aware of their reputation within the government. As Deltek's John Slye wrote in the Post, "Cybersecurity is a nerve-wracking subject for the federal agency leaders who will likely be held accountable for any highly public failures. Enabling the government to secure its technology resources on a tight budget is as much about trust and cultural acceptance as any new piece of hardware or software."
That's where effective marketing comes in. Marketing executives need to reinforce not only the technical capabilities of their products, but also the value that they can bring to the agencies. This requires multi-touch campaigns that alert government decision makers to their offerings, educate them on the benefits of their solutions, and that also bring a comfort level that communicates the reputation and trust that comes along with their brand.
This is what we call a smart campaign, and the messaging it contains must be as well thought out as the tactics used to deploy it. To be effective in this market, it must span direct outreach, have engaging and eye-catching digital assets, leverage social media channels, and employ both earned and paid media—all working together to reach decision-makers at each point in their journey from research to purchase.
It's both an exciting time for companies with cybersecurity solutions and a challenging time for marketing executives. Learn more about cybersecurity marketing. 
If your digital marketing agency team doesn't have a SMAC roadmap, you may find your company drifting off-course in 2017 and beyond. Here's brief refresher course on SMAC.
Social Media
Social Media continues to evolve.   Platforms rise and fall by the year vs the decades of old.   Some new trends we see emerging that we see potentially continuing to gain momentum.
1. Snap's Evolution Will Result in Interesting New Opportunities.
2. Twitter Fatigue Will Worsen.
3. Users Will Crave More Vicarious Experiences.
4. New Areas of Communication Will Emerge.
Mobile
Mobile devices are the cornerstone of how new business is being built and legacy businesses are reinventing themselves. Mobile devices allow users to constantly update their profile, stay aware of deals and promotions, and track locations and buying habits by virtue of connecting to various wireless signals and near-field communication (NFC) devices.
Some new trends we see emerging that we see potentially continuing to gain momentum.
1. Consumers redefine purchase boundaries; mobile marketing, brand partnerships deepen
2. Department stores, mobile marketing partners tackle the 'Amazon Effect'
3. Programmatic accelerates: brands, tech, marketing continue to invest
4. Next-generation creative, video redefine mobile engagements
Analytics
As databases have grown larger and processors and memory have become capable of chewing through hundreds of millions of records in a short time, we have begun to see how analytics can do more than just track clicks. Analytics can establish links between entities and make intelligent predictions about customer behavior based on knowledge a system has about a customer — knowledge that has been informed by social networking.
To keep up with the explosion in Big Data, companies and corporations are beginning to invest in BI projects and more and more sophisticated analytics infrastructure.  Some new trends we see emerging that we see potentially continuing to gain momentum.
1. Multi-channel Attribution
2. Focus on 'Return on Analytics Investment
3. Monetization of Data
4. Exciting new players in the MarTech arena to complement the core analytic platforms
Cloud
The cloud element of SMAC refers to the capability a business has to spin up vast amounts of capacity that are paid for by the minute or hour. Businesses do not need to spend millions of dollars building another data warehouse – they simply rent it from a cloud provider, do their work and turn it off. When the business environment changes, they simply spin up another cluster in the cloud, pay another few hundred dollars and continue building insights.
Some new trends we see emerging that we see potentially continuing to gain momentum.
1. Artificial intelligence (AI) will make personalization a reality in 2017.
2. Self-service will be the new normal.
3. Enhancing the Buyer Journey
4. Google Tag Manager and other granular analytics modules being the norm
With buyer sophistication growing daily, marketers need to deliver increasingly smarter strategies and campaigns. Are you taking the time to measure how your efforts are working and think about how you might enhance your efforts, or do you find yourself quickly moving from one campaign to the next?
A lot happens every 60 seconds online across digital platforms. In fact, a staggering amount of posts, uploads and emails take place in the space of a minute – every minute of every day. By looking at this data in detail, and comparing trends over the past three years, marketers can glean a lot of useful insight as to where to focus their brand's attention when developing media programs – whether for specific targeted campaigns or for ongoing outreach.
A collection of these stats across the most important platforms was recently published by SmartInsights, and it reveals some significant trends. First and foremost, the 800 pound gorilla platform in terms of activity isn't Twitter and it isn't email. It's Facebook. While there are nearly 450,000 Tweets every minute, there are 3.3 million Facebook posts in that same amount of time. In fact, if you said that Facebook literally dwarfs the other contenders, that would be accurate.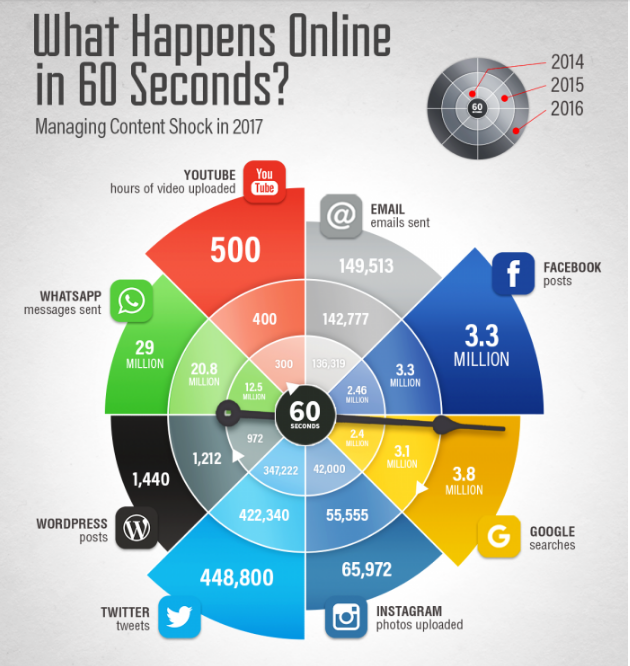 Except when it isn't.
As the stats show, the outlier that is the largest by far is What'sApp, the free cross-platform app that can do just about what every other app does, and encrypt it in the process – with more than 29 million messages sent every minute. It's widely popular around the globe (although not so much in the United States yet).
And who owns What'sApp? Facebook, of course. See a trend here?
60 Seconds Online: Where to Focus?
So where to focus your media campaigns? Look at some of the trends for what's growing the fastest, and what's being left behind. For example, Twitter's 2014-2015 growth line came way down for 2016. Yes, there are more Tweets than a year ago, but not by much. Facebook shows no growth from 2015 to 2016 – which could mean that it has reached its upward potential. On the other side of the spectrum, YouTube and Instagram have increased their activity significantly.
Let's not forget – Facebook also owns Instagram, while Google owns YouTube. So the upstarts are really just growth opportunities for the giants who continue to battle it out for dominance.
What does all of this mean for marketers? We tell our clients to look at where the growth is, not what was hot two years ago. Twitter is great for sports, entertainment and politics, but not so strong for b2b marketing. Instagram, on other hand, is expanding its reach across demographics, and can reach new target audiences that may have not been a focus of previous campaigns.
Google has done it again, quietly making a significant change to the way its algorithms process Google AdWords that could be significant challenge for digital marketing if not understood and managed.  At Bluetext, we closely monitor all of updates to how the Google's search engines returns query results, and we have posted a number of blogs to let our clients know about these changes and how to address them.
This time, it's a little different because this change, which Google announced on March 17, addresses AdWords, the tool companies use to implement their keyword purchasing strategies, rather than a revision of its organic search functionality. With this change, marketers may need to adjust their spending programs for purchasing the keywords that drive traffic to their sites.
In the past with AdWords, marketers would select a set of short-tail search terms that would be part of their search advertising mix. For example, a hotel chain might include simple key phrases like "best hotels in Nashville," mirroring the way customers search for a list of places to stay. Up until the latest change, that exact phrase would drive the Adwords results. But Google has decided that people don't always type their searches as that exact phrase, dropping the "in" by mistake or even misspelling it as "on." As a result, Google has decided to expand its close variant matching capabilities to include additional rewording and reordering for exact match keywords.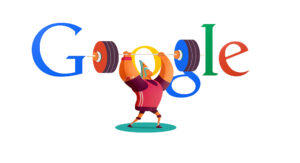 What does that mean? In layman's terms, Google will now view what it calls "function words" – that is, prepositions (in, to), conjunctions (for, but), articles (a, the) and similar "connectors" as terms that do not actually impact the "intent" behind the query. Instead, it will ignore these function words in Adwords exact match campaigns so that that the intent of the query will be more important that the precise use of these words.
Sounds like a good move, because if you search for "best hotels in Nashville" or "Nashville best hotels," the result will be the same in AdWords.
But what if the search is for "flights to Nashville," which isn't the same as "flights from Nashville"? Ignoring the function words "to" or "from" would change the purpose of the query. Google says not to worry, its algorithm will recognize the difference and not ignore those words since they do impact the intent.
Hopefully, Google will make good on that promise. But advertisers who have been briefed on this revision aren't too certain. Their carefully constructed AdWords investments might take a hit if the function words are not managed precisely to meet this new approach.
We like the old adage of "Trust but verify." While we take Google at its word, we know there are always growing pains with these types of revisions. For our clients, we are recommending that they carefully review the terms they are including in their AdWords mix. Our advice: Be as precise as you can and factor in how these functions words might be perceived before pulling the trigger. Losing traffic to your site because of placement of a simple word should be a real concern.
Well…given the polarizing nature of the 2016 presidential election, it's a fair bet that families will spend as much time on Thanksgiving "talking turkey" as they will devouring it. The phrase "talking turkey" has an interesting history, with some tracing it back to colonial times to describe when colonists and Indians would barter over wild turkeys.
Since then, the phrase has been primarily associated with stating something frankly and matter-of-factly. I'm sure there will be plenty of frank comments at the Thanksgiving dinner table about how a Donald Trump presidency will impact the stock market. The energy sector. Foreign relations. The economy. How about the cupcake industry? Ok, so Red Velvet cupcake sales will probably not be materially affected by a new president, but you get my point: When a seismic news event occurs, an avalanche of commentary soon follows on how, in this case, a Trump presidency will impact every nook and cranny of society.
Rather than speculate in those areas, the focus of this post will be to view Trump's victory through a publicity lens. Is there a "teachable moment" for the marketing and public relations industry given the uniqueness of how Trump used his brand and marketed himself? What does his victory say about the value of the estimated millions upon millions of dollars in "free" earned media coverage national and local media lavished upon him for several months, reducing his need to spend on traditional TV, radio, print and online advertising?
Depending on which way you bend politically, each person will no doubt have their own opinion on why Trump won. Either way, ad and marketing agencies across the country are re-evaluating what they know and thought they knew about consumers in the wake of the election results. An article in today's Wall Street Journal cites how ad giant McCann Worldgroup assembled top execs to dissect what Trump's victory means from an advertising perspective. The broader article theme postulates on whether brands have overlooked the same rural voters who fell under the big data and polling radar to propel Trump in key battleground states.
The uniqueness of the presidential campaign offers some insights for marketing, advertising and PR agencies wondering if consumer behavior will match voter behavior in the coming months and years.
Modesty doesn't always sell
Imagining how and why Trump's message resonated with so many people harkens me to a person watching infomercials at 3am. Deep down, you know that the BackMassage 3000 can't possibly cure your back pain in five minutes or less, but its three o'clock in the goddamn morning. You're tired, and everything else you've tried hasn't worked, so why not give it a chance?
Trump as a brand was not modest about what he thought he could accomplish during the campaign, and the results suggest many voters responded favorably to his ambitious promises. Perhaps some knew deep down that he wasn't going to be able to deliver on all of it, but like the BackMassage 3000, it sounded bigger and bolder than anything they heard before.
Jargon can obscure the brand promise
As an acronym, keep it simple stupid (KISS) has been applied to endless use cases, from politics to sports to sales. KISS traces back to a U.S. Navy design principle in the 1960s, and has served as a reminder to avoid adding unnecessary complexity. Trump kept his messages very simple; and these messages were either embraced or reviled by voters because the messages were easy to understand. Brands often complicate the product message with jargon that may be technically accurate, but falls flat when it comes to establishing a connection with everyday users.
It pays to be memorable
And then there was one. The Republican party began the 2016 presidential campaign with 17 candidates. My bet is that if voters were asked to describe 1-2 unique ideas that the other candidates had – whether it was Scott Walker, Marco Rubio, Rick Perry or Jeb Bush – they'd be scratching their heads for quite some time.
Think about the commoditization of budget to mid-level hotel chains, who typically offered similar rooms, at similar prices, with similar amenities. How does a traveler pick one over the other? It can often come down to creating some calling card that is memorable. For Hampton Inn, it was the Belgian waffles at the free breakfast buffet. Guests remembered the Belgian Waffles, and returned to Hampton Inn just for the breakfast.
Trump marketed campaign promises that were very, very different from other candidates, which made these promises memorable and, by default, Trump memorable with voters struggling to figure out how each of the 17 candidates was difference from one another.
You can't build a brand overnight
One of the most overlooked but critical elements of Trump's success is that he had spent decades building an oversized brand that could be immediately activated for his campaign. This was critical, because while 17 candidates on the GOP sides sounds like a lot, many ran out of time and money to develop brand awareness – not only around who they were but what they represent. For every Jeb Bush and Chris Christie entering the fray with baseline brand awareness, there was a Bobby Jindal, George Pataki, Scott Walker and Jim Gilmore – folks known inside the beltway but certainly not to most Americans. Trump came in with an established brand known to probably most every single voter, and the media fed this brand throughout the campaign with free publicity that negated his need to advertise heavily or introduce himself to voters.
Big data has its limits
Marketers and advertisers are stepped in big data today, but the previously referenced WSJ article makes another good point: Big data may not be telling them everything they need to know, and if this data skips over important source blocks such as rural voters, then it is by default flawed data. Finally, if the data misses key demographic segments, brands might make assumptions about who their customers aspire to be. Rural voters may not aspire to have the latest iPhone that celebrities and athletes use, but may just want reliable phone and data service that can be hard to come by in rural areas.
Will Donald make sales of Red Velvet cupcakes great again? Only time will tell.